Social media has proven an excellent method for building links. Social media offers an opportunity for engagement and interaction that naturally lead to link building. Today, you will come to know how to leverage social media to gain top ranking in SERPs and grow traffic to your website or blog. You get to know the tips for social link building.
Here, we will share with you the basics as well as the more advanced ways for link building through social media. These are the tested methods for social link building. It will allow you to utilize the full potential of social media for link building thereby helping you to improve SEO performance, generate traffic and boost brand exposure.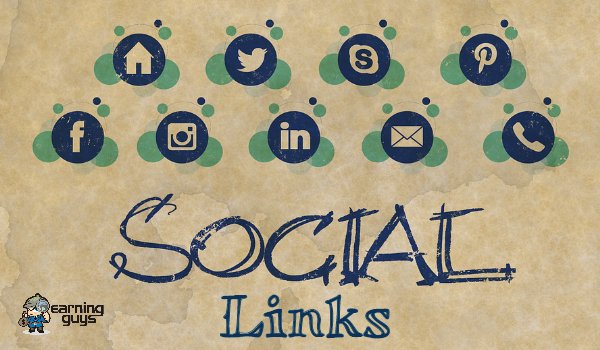 So, you will be able to leverage the power of social media in your link building strategy to gain those precious links through social media.
Social media has now become a widely accepted tactic (and an effective one too) for link building. A large number of SEO professionals use social media for link building. Here we share with you the results of the largest industry survey that show how SEO professionals were doing link building in 2017:
As much as 88% of SEOs go on to include links in social media profiles
81% have shared their social media content
53% have carried out viral campaigns (such as social media contest)
So, we see that social link building has come a long way and is being used by many specialists and professionals for improving traffic to their blog or website. Social media has now become the new marketing buzzword over the Internet.
Sites like Facebook, LinkedIn, and Twitter, have become so prominent that more and more companies are competing to get a piece of the action on these sites. They feature in the top 20 most visited websites in the world. They have a domain authority of 99 to 100. Nofollow Link or not, social backlinks to your websites have the potential of getting tons of traffic.
Moreover, search engines like Google are giving importance and respect to social shares and behaviors of real people on social media sites.
The reality is that social media is the future of online marketing. It's only a matter of time when social signals begin to play a much bigger part in organic rankings.
So, Social Media and SEO cannot be separated.
You will witness that more and more social factors being incorporated into the ranking algorithms. If you are looking to race ahead of your competitors, you simply cannot ignore and let go social media marketing or link building through social media.
Well, social link building is well on its way to become the most prominent tactic for digital marketing. It enhances the overall SEO process and helps to procure precious links through social media thereby helping to increase the volume of traffic to your website or blog by manifolds.
Although social links are no-followed still the fact remains that social signals play a big role as a ranking factor. So, if you're ignoring social link building, you're losing out a large portion of your potential audience.
Moreover, you should know that social media has become one of the most prominent techniques for SEO professionals for link building purposes. It's the third most efficient way for building links just behind paid methods and research.
Social Media & Link Building
It is traditionally believed that SEO is all about creating quality content and building links, whereas social incorporates engaging with people and building relationships.
However, those who do not see a relationship between SEO and Social Media, tend to forget one important factor. It is a fact that social media shares can also lead to a huge number of natural links being built, as well.
Let me illustrate it to you.
A Social share allows people to see your content, talk about it, and snowball it into many, much more. Moreover, these are the people, who may not have seen your content in the SERPs. They like your content and begin to share it across to their friends and social circle. It helps to create a buzz within the social community.
So, a single social share has the potential to bring in lots of interested users to your site. You may be lagging in the SERPs, but it does not matter as far as the targeted traffic is concerned. You are getting visitors just because your post has become viral on social media sites.
This is what social link building does. It gives you prominence in SERPs and helps to bring in a large number of traffic to your website or blog.
So, a social share is as potent as link building.
Plus, it is simple. You just have to put your content on social media sites. Visitors start coming thick and fast.
Let's take another example to show how social media can be instrumental in link building.
Suppose, you have shared a piece of content on Twitter.
It garners more than 1000 retweets.
Will Google give your content a prominence in SERPs?
The answer is simply, "No."
However, it may happen that because of all these shares an influential blogger or an editor or a journalist notices your content and decides to feature it on their website.
Now, does this influence Google?
Certainly, Yes.
It is just because of social shares that you have managed to get the attention of top bloggers, editors, and journalists. You have got the all-important backlinks because your content created a buzz on social sites and it was noticed by bloggers and editors who linked to it on their site.
When your content starts to create a social buzz, it is naturally spotted by bloggers, editors, and journalists. More than search engines, the eyeballs are focused on what's happening on social media sites. So, the biggest SEO benefit of social shares is the increase in the number of indirect links which help in improving rankings.
You may not get a link for every share, but still, you are getting brand mentions which are important for brand awareness. It is an excellent linking opportunity though it may take weeks or even months to get one.
Plus, search engines frequently crawl social media sites. So if you share content on social media sites, the new links and pages are indexed quickly by the search bots.
Many social sites have high domain authority and ranking potential. When you list your pages – including profiles – on these sites, they are ranked for targeted keywords. It goes on to create multiple search listings for a brand.
So, if you are active on social media, you are preparing to get ahead on SERPs.
Social signals are increasingly playing an important part in SEO rankings. Social media allows you to put your content or brand directly in front of potential customers.
You simply have to generate quality content and put in on social media sites. Do remember to interact with your social following. When you connect with your audience, they feel involved and go on to share your content on a regular basis.
So, Social Media is all about driving real traffic to your website and not just about improving rankings in the hope of getting the link. Moreover, the traffic that you get from social media sites is of high quality. You get visitors that are interested in your brand and will eventually turn into customers.
How to do Social Link Building?
Up till now, we have shared with you the conceptual ideas about using social media for SEO link building. Now, we put across the techniques and tips for link building with social media.
These are the tested methods & top strategies for social link building that will help you to race ahead on SERPs and increase the traffic to your blog or website. Here we have shared the best ideas that you can use for building links with social media.
Let's explore:
Profile Link Building
Building online profiles on the major social networks are one of the best ways to increase online visibility and grow your network. By creating public profiles on social media networks, you get an opportunity for online visibility in the digital space. It is a helpful technique for getting more inbound links for your content.
You can build real profiles and share your information, background, and accomplishments on social networks that will help people to find you online.
So, you can use profiles and get quality links to improve traffic to your blog or website.
You can use profile creation sites and point backlinks to your site. You can sign up and create a public profile to drop a link in that profile. It will help you in gaining link juices from these social profile pages to yours.
It's important that you sign up with high-quality profile link building sites to get high-quality backlinks.
Gravatar is one of the best examples of high-quality profile link building site that allows you to drop a link in your profile. You need to sign up and click on the "Websites" link available on the sidebar and add a backlink to your site.
Once you have completed your profile and added your site, you can click on the "View Profile" link that is shown at the bottom. Here, you can see your profile page with the link to your site.
So, you need to find out sites where you can enter a link to your site on your public profile. It will simply take just a couple of minutes to fill out your profile and add a link to your site on your public social profile. It will be published, and the search spiders will index the page together with its links.
Gravatar.com is just one of the many profile creation sites where you can drop a link to your site. There are other very popular social networking sites (such as Facebook, Twitter, Pinterest, Google+, LinkedIn, and Instagram) where you can create your account to feature your profile updates and post your website link.
You need to explore the setting option or profile updates option where you can find a box for your website link. Simply put your website link in the box to create profile backlinks.
What are the Profile Backlinks?
Profile backlinks are one of the most widely used Off-page SEO techniques for creating backlinks for your website. It helps you to build authority backlinks to your site. You can use social media sites for creating your profile. Here, you get an option to add your website link with your profile. These are known as Profile Backlinks.
As we have already pointed out, Gravatar is one of the high PR sites that allow you in creating your profile and submitting your website links for creating Profile Backlinks. However, there are many high-quality profile creation sites where you can create profile backlinks to boost your traffic, backlinks, and keyword rankings.
Dofollow Profile Links
You got to know that only Dofollow profile links are counted for SEO purposes. So, Dofollow links deliver SEO power to you and help drive search engine traffic to your website or blog. Getting great Dofollow profile links should be your main goal when you go for social link building.
In Dofollow links, the rel= "nofollow" attribute is not added to the link.
Dofollow links are one of the major considerations for Google when they assess your website for ranking on search results. One of the easiest ways to get do-follow links is to comment on Comment Luv (Comment Luv is WordPress comment plugin) enabled blogs which can allow dofollow comment links.
Moreover, you should create profile links on Dofollow high-quality profile creation sites such as LinkedIn, Reddit, Flickr, Digg, and more.
So, Dofollow profile links tend to be an important SEO factor.
However, you should not ignore social media link building just because it's Nofollow. The social signals still count and can result in lots of traffic.
For example, with Facebook, you should add:
Your site link under Contact and Basic Info provided on the "About" tab
You should include your website URL anytime you post something on your wall
You should include a link to your website with your group's pinned post
Plus, you should include links to cover photos, bios, images, and descriptions on other social media pages, as well. A rich description with links means potential traffic is coming your way.
Here are some more tips on link building with popular social media platforms:
Link Building with Facebook
It is the most popular social network. For link building with Facebook, you need to add your website link on your About Tab.
You have to mark this field as public so that everyone can see it. When you post on your Facebook wall, do add your website URL. Your followers who visit your profile will see your website link in your latest update.
It is always a good idea to create a separate page for your business/brand, website, etc. so that people can follow your blog or business on Facebook.
Always share the latest post, product, and useful info on your Facebook page. This will help you to spread your content on Facebook.
Link Building with Twitter
Twitterprovides a website field on your Twitter profile. However, you can also have a link in your bio, thereby getting an opportunity to share your link twice. So, you get a chance to share two different links to your website.
The link that you had added in your bio will show up in other places on Twitter. When you share photos or videos on Twitter, do include a link to your website, blog post or your product. When your post is retweeted, the link is available for everyone to click.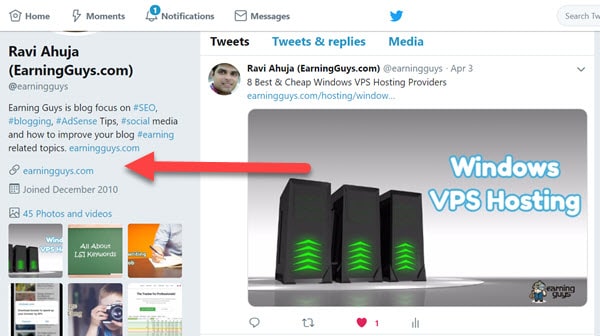 Link Building with Pinterest and Instagram
The Pinterest profile enables you to add one website link. So, don't forget to add your website link. Likewise, you can also add a link to your Instagram profile. You should use icons to draw people's attention to it. The trend is to tell people to click on your profile link for knowing more about your Instagram photo.
Make sure that every profile of yours is up to date on each of the social media platforms that you are using. Moreover, you should ensure that they all include a working link to your website.
You have options for different types of profiles:
Personal Profile
Business Profile
Fan Page
Group Page
However, it's also important to share quality content from your website or blog across these social media channels. All this will help you to get high online visibility and more backlinks.
Focus on Creating Viral Content
Going the "viral" way is both the quickest as well as the hardest way for earning links. So, you need to focus on creating social media campaigns that go viral and allow you to earn links with no further effort from you. You need to attempt and create viral content that's a dream for many marketers out there.
The most basic key to viral marketing is outstanding content. Here, we have shared some essential elements that will help you to create viral content:
You should aim your social media marketing towards teens and young adults. They are precisely the audience (the potential buyers) that makes something go viral. Moreover, you should make sure that your conversations have the "funny" element in them. It is much liked, appreciated, and shared by the young audience out there.
The key lies in keeping up a conversation that goes on to attract more attention than usual as well as engaging out with any mentions of the campaign. You should look out for what's trending and jump on the trend at the perfect time. So, you should react to what is already trending on social media platforms. However, you should first know what the trend is actually about and understand the risks that may come with any sensitive trends. Going "viral" actually means that you are creating an opportunity for loads of discussion, traffic, and links.
Creating viral content calls for creating something that can easily stand out from the rest. It's more than just creating better, deeper, or colorful content. One of the easy ways out is to look at your competitors and come out with something opposite. Your campaign will then have the punch to go viral, earning you loads of links and traffic.
Create Social Content
For many out there, social media is simply a place to share content from your website. However, it's not the only dimension to social media. Social media is also a medium/platform for creating content. So, you can use social media networks for creating webinars, podcasts, video tutorials, and more.
Whenever you go about doing this, you should link it back to your website and build links. When people go on to share it, it will help to build links to your website.
Online videos have grown in popularity tremendously throughout the world including the USA. As much as 85% of the US online audience watches videos over the Internet.
So, when you create videos, it will increase your traffic as well as your share rate. Moreover, you should focus on creating Facebook videos. Facebook native videos tend to enjoy a much higher share rate as compared to other video formats. Plus, the popularity of podcasts is also on the rise every year.
So, social content offers the opportunity for increased exposure, links, mentions, and quotes. You are recognized as an authority in your industry and can connect directly with your target audience.
Build Relationships
Social media offers the opportunity to build relationships with people out there. In the long run, these relationships will help you to build links and improve rankings.
The amount of likes and shares that you get from your audience is recognized as social proof and offers credibility to your content. So, your content appears more trustworthy.
However, you should understand that building a relationship is not a quick-run process. Moreover, it tends to be personal and requires you to be honest and natural. You will gain good links only when contacts trust you. So, you should not automate interactions that though can save time but fail to bring results in the end.
Building relationships call for taking part in conversations about your service or product. You need to answer people's questions, share their content, as well as comment on what they share on social networks, forums, and other places.
Moreover, it is not necessary to exhibit your expertise. Even a simple comment such as, "Hi, it's a great post" can also be useful for bringing the desired results.
All this will help you to build your presence. You will be recognized in social media circles. You will gain brand awareness. People will like to share your content and learn about your products.
Outreach
Social media offers the opportunity to find influencers and outreach with. These are the people who have a strong following and are well respected in what they do. You need to identify those people (influencers) for your business and start engaging with them.
These influencers can give you a valuable link back to your site or blog. You can use social media tools for outreach. Platforms such as BuzzSumo are great for this. You can find key influential voices that you can reach out in your sector. Once you have the list of influencers, it's just a matter of interacting with them.
Social media offers a great platform to do that. You can outreach directly through Twitter. You can comment on their tweets. One can even email or phone up. You should spend some time to engage with their content.
You can approach them and request to get mentioned. There's always have a good chance of getting a positive reply. They could start linking to you. So, outreach can pay rich dividends in terms of link building.
Using Infographics
Infographics happen to be one of the most shared types of content over the Internet. In fact, the popularity of infographics can be gauged by the fact that many websites have been built exclusively to create and sell infographics content.
Infographics make use of "visual" element.
People like visual content more than any other type of content. Infographics are liked because they provide special information appealingly and interestingly by making use of visual elements. They offer a visual summary of the huge document.
People choose visual option over articles that just include text. People like to pick up infographics because it's visual and easy to understand. So, infographics get the shares as well as links.
That's why it's for your advantage to use infographics in your social media. You can use web tools such as Infogram and Piktochart for making infographics. These tools are available in both free as well as paid options. You can even opt out for people who can build infographics for you.
When you have designed out your infographics, go out and post it on your site and include an embedded link. So, when you and others share it on social media, it will link back to your website or blog. Infographics have the potential to become popular on social media. For instance, they get Facebook likes, shared on LinkedIn, and pinned on Pinterest.
You can start with any of your content that's getting a lot of traffic. It can be a blog, podcast, or even a video. These contain multiple facts and tidbits of interesting information. You need to build infographics around such type of content and post in on your website or blog. You can even go for posting it within the content that you repurposed. For example, you can add infographics to the blog post that was used to create it.
Then, you have to share the infographics (together with its embedded link) across all of your social media channels. It will offer an opportunity to get more links back to your blog or website. People are more likely to re-share the infographics than a simple text article.
Link Building through Infographics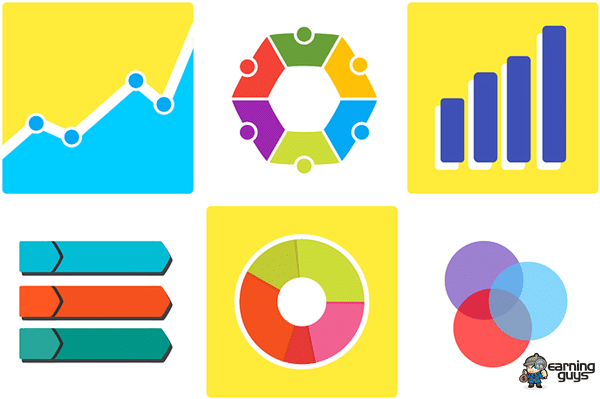 You may also like: 16 Best Backlink Checker Tool
Wrapping it up
So, we see that link building through social media is certainly possible and rewarding. Nofollow or not, but social media certainly provides real and targeted traffic to your website. It helps to create brand awareness about your products and services. It would be a grave mistake not to use Social media as part of your link building strategy.