Edugram is one of the top rated CPA Affiliate Network for educational traffic monetization. It offers opportunities to earn educational traffic from all around the world. Today, we share with you the Edugram Educational CPA Affiliate Network Review.
Edugram CPA Network is a specialist in the educational niche. It covers the entire range of educational services.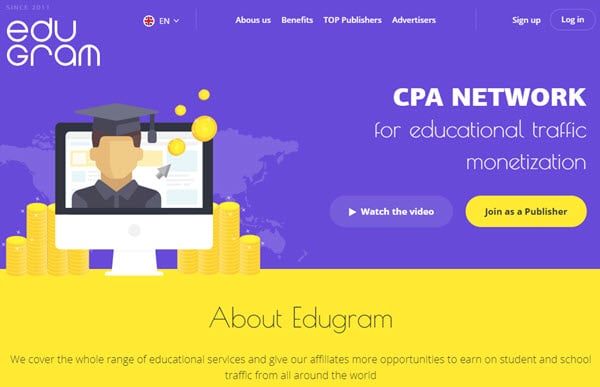 Edugram was founded in 2011. They have generated more than a million conversions and have paid more than 10 million dollars in commission.
Moreover, Edugram is very newbie friendly. They provide you with case studies and offer advice suitable for each traffic source.
Edugram is suitable for anyone who owns and operates an educational website or a website that has student traffic. However, that's not all. There are opportunities for people, who operate a website in jobs and careers, retraining, business opportunities, online writing, make money online, etc.
So, if you can connect your niche with these EDU offers, Edugram can prove a vital source for making money online.
What's more interesting with Edugram is the fact that it accepts not only SEO traffic, but also social media traffic, and paid traffic including Facebook, and Google Ads.
Benefits for Publishers
Edugram provides its publishers with profitable and interesting offers. Edugram is also known for providing advanced promotional materials. They have daily payouts and are punctual about it. They cooperate with publishers and provide them with detailed statistics.
What's the joining requirement for publishers?
Edugram has not set out any specific joining criteria for publishers. Moreover, publishers don't need to have thousands of page views per day to get approved on this CPA Network. However, publishers must ensure that their niche is a good fit with Edugram to maximize their revenue potential.
Payment Methods with Edugram
Edugram has a couple of options for payments. They transfer through PayPal, Payoneer, WebMoney, and ePayments. Moreover, they transfer money each day.
Publisher Point of Contact
In case publishers have any queries, they can contact them at support@edugram.com.
Minimum Payment: $21
Commission Type: CPA, Revenue Share

How to get started with Edugram?
Getting started with Edugram is extremely easy. They have no vetting process for new affiliates. You simply have to click on the "Join as a publisher" button. You need to enter your email address and password. That's it for having your affiliate account.
When you get logged in for the first time, you'll see five clear slides that explain the process that you have to follow to promote their offers. Navigation is simple and clear. You can start promoting Edugram offers easily.
Benefits for Advertisers
Edugram is undeniably one of the best CPA Networks in educational traffic. So, working with them, you get a sheer guarantee of making good money. They do not delay your offers from being noticed. Moreover, they attract publishers at a go. They offer detailed online statistics and 24/7 support to help you at every stage.
What's the joining requirement for Advertisers?
They discuss all conditions and criteria in person with the potential advertiser. StudyBay is one of their popular advertisers. Some of its most converting advertisers are those that offer essay writing services, test and preparation papers, etc.
Edugram happens to be one of the most recommended CPA Networks for advertisers who look out for educational traffic to promote their offers with more than 5000 publishers and 1 million conversions.
Point of Contact for Advertisers
Advertisers can get in touch with Edugram to sort out their queries and discuss any issues at advertising@edugram.com. Edugram offers fully equipped services to help you at any stage of difficulty.
Dashboard Overview of Edugram
Edugram offers exceptionally convenient and easy to use dashboard with a variety of functions. Even if you are new to affiliate marketing, their dashboard would seem easy to use and pretty much a cakewalk. Its dashboard offers an array of features making advertising, monetizing, and publishing extremely easy.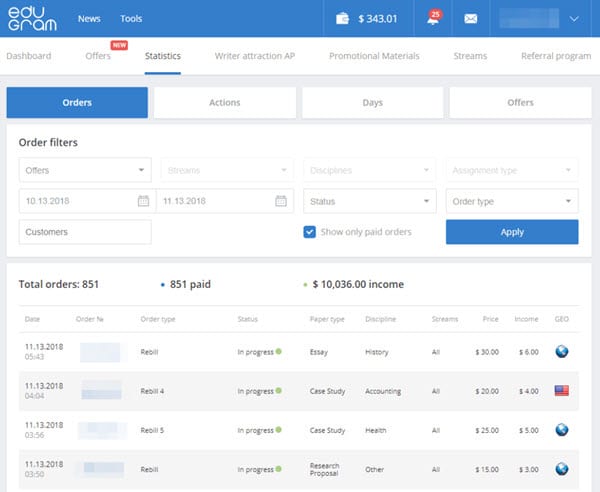 Which offer should you promote?
Edugram is a great way to start earning foreign currency. They have offers from StudyBay, the best help service for students in the USA, Author24, which is the largest academic writing marketplace, StudyBay Brazil and so on. For finding the right offer to promote to your audience, you need to visit the "offers" page. You get the details of each offer on that page.
Let's take a look at their most popular offer StudyBay: an offer for academic papers writing.
What is StudyBay?
It's an academic writing platform connecting students with qualified teachers and experts for having original content as well as academic papers. It includes reports, term papers, creative writing, essays, dissertations, business plans, and much more. With StudyBay, a student can get the paper written for him by an expert, all for a few dollars per page.
Moreover, the content is guaranteed plagiarism free. It comprises of more than 10,000 authors that are spread over different fields and disciplines. It ensures the highest quality and service.
Plus, there's StudyBay Affiliate Program that offers you an opportunity for earning big commission by promoting StudyBay.
For further information on StudyBay, you can visit the link.

Moreover, the StudyBay offer at Edugram accepts traffic from the USA, United Kingdom, Canada, and Australia. In fact, this offer is paying up to $150 per valid lead. Another good thing with this offer is that the advertiser approves as much as 99% of the submitted leads.
Now, let's give you an example of how this offer works. When someone clicks on your affiliate link, you make 60% of the first order. However, they need to place an order within 30 days. Moreover, if they place any new order after that will make you earn 15 percent.
There is also an opportunity to promote this offer to writers. If someone signs to become a writer for StudyBay, you will earn $10.
Get started with Edugram
So, there's much reason to get started with Edugram and create an affiliate account and start earning money. For more information, you can visit the Edugram website. We hope that you found the article useful. We welcome your feedback and comments.
Amazing offer for EarningGuys readers, join Edugram and earn extra $100.
Use Promo Code: earningguys
Edugram will pay additional 100$ to everyone who earns 300$.