You might be having a superb piece of content but how do you go about driving visitors to your site.
Ultimately, you want people to visit your website, and for this you want them to click on the link in the search engine result pages (SERPs).
So, CTRs or Click-Through Rates are important.
A user comes to your website only when he or she finds a valuable piece of content and clicks through your link in SERPs.
Moreover, you want high CTRs so that more and more users can see your content or offering.
You might be wondering how to go about it and increase your CTR?
Well, there is an easy way out to achieve high CTRs and get a boost in organic search rankings.
It can be achieved by having appropriate Meta Descriptions and Title.
Meta Descriptions are one such element which plays an extremely important role in improving click-through rates from SERPs.
The crux lies in making Meta Descriptions more relevant to related search queries so that users don't ignore your link on SERPs and come to your website.
This post is all about Meta Descriptions.
Here, you will come to know:
What is a Meta Description?
How do you write one?
Why are Meta Descriptions important?
And lots of other facts about Meta Descriptions.
What is a Meta Description?
Meta Descriptions are short snippets of information intended for users of what they can expect to find by clicking on your website.
Meta Descriptions can be seen below a website URL in search engine result pages. It incorporates a strong marketing message and encourages users to click through to your website.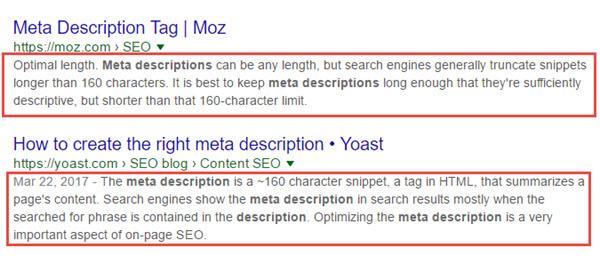 Specifically speaking, a Meta Description is an HTML and XHTML element that helps to describe your page to search engines.
This is a 160 character snippet used to summarize the content of a web page. It is used by search engines in SERPs to let visitors know what a web page is all about before they go on to click it.
Meta descriptions are a helpful resource for webmasters as it serves an opportunity to advertise content to searchers. Meta descriptions help searchers figure out whether a given page has the information they are looking for.
A Meta description should carry the focus keywords. It should contain a compelling description that will motivate a searcher to click on your website link in the search results.
It should be directly related to the page's content and should be unique. It should optimally be between 150-160 characters.
A Meta Description Tag is added in the <head> section of your website's HTML. It looks something like this:
<head>
<meta name="description" content="The meta description comes here">
</head>
What is the Meta Title?
The Meta Title is the HTML Code that provides the title of a certain web page. It can be seen at the top left corner of your browser when you open a web page. With respect to coding, the Meta Title is embedded in the header of a web page just above the Meta description tag.
<head>
<title>Meta Title </title>
<meta name="description" content="The meta description comes here">
</head>
Every web page should have a Meta Title.
It sums up your site's topic.
It is the main header that is seen by the users when they open your website through search engine.
You should have a concise and direct Meta Title. Ideally, you should have one or two keywords in your Meta Title. However, a solid title is more appealing than a series of keywords.
A Meta Title determines the relevance of your site and has a big effect on your search engine rankings.
The most effective Meta Title uses keyword and is concise and attractive to users. Moreover, every page on your site should have a unique Meta Title.
Why are Meta Descriptions important?
As pointed earlier, Meta Descriptions are one of those elements that can motivate a searcher to click through on your content in the search engine result pages.
So, if a Meta description is attractive, descriptive, and relevant, it will go on to increase the chances of content being clicked by searchers in the SERPs.
Improves CTR
Meta Titles and Descriptions help to improve the CTR of your content on search engine result pages. So, you should spend some time in creating relevant Meta Title and descriptions for your pages.
In fact, your Meta title and description should carry focus keywords, emotional triggers, and call to action to make it more attractive and relevant for searchers.
Moreover, if your Meta description has keywords that match a search query, then such keywords will be highlighted by Google within the description.
So, your Meta Description should include keywords that you are targeting on any given page and should be framed in such a manner that goes on to encourage searchers to click on your listing.
Social Sharing
When you go on to share a page on Facebook, it will look for what is known as open graph markup on your site. If the open graph markup is not available, Facebook, as well as other social networks, will go on to use your Meta description as the default description that comes with the link that has been shared.
So, if you want to get more clicks on social media for your shared content, then you should have a strong Meta description which will encourage users to click on the shared content.
Moreover, with open graph plugins, you don't have to duplicate your efforts for search and social. You just need to have an attractive and relevant Meta description in place for each page.
The open graph plugins go on to auto fill the 'og:description' field with the Meta description field. If you want to have a different description for social sharing, then you can use OpenGraph Tags or Twitter Cards to your site.
Avoid Gobbledygook in Search Results
When you don't have a Meta description on your page, Google simply takes the most relevant copy on the page in question and displays it in the search result as a description. This often produces truncated descriptions in the search results which in turn hampers the CTRs.
Moreover, if you have limited text-based content, then you should not forget to add Meta descriptions for increasing organic CTRs. For video pages, Google pulls out the first piece of code that they find on the page and show it in the search listings.
How to write a better Meta description
Here's the Meta description checklist for you. I have compiled it so as to help you to come up with great Meta Description for your web pages.
Keywords: Don't forget to include the most important keywords for the web pages in your Meta title and description. It will be highlighted in the search results when searchers query match with your snippet.
Write attractive, relevant and readable copy: Although it is important to include keywords in the Meta description, keyword stuffing is bad.
The searchers should not assume that your result takes to a spammy website. So, your Meta description should look like a human-written sentence.
The Meta description is an advert for your web page: Make the Meta description of your web page as appealing and relevant as possible. It should match the content on the web page.
Length: Your Meta descriptions should ideally be from 135 to 160 characters long. Google will chop the end off if the Meta description is longer than 160 characters in length. So, remember to include important keywords near the front of your Meta description.
Avoid duplication of Meta Descriptions: Just like Title Tags, your Meta descriptions should be unique for every web page. It should be written differently for every web page. In fact, Google penalizes for mass duplicating your Meta descriptions.
Use Rich Snippets: Consider using schema markup for increasing the appeal of your Meta descriptions. You can add star ratings, product information, customer ratings, calorie counts, etc.
Include a call-to-action: In fact, Meta description is the sales text that you want to pitch to the searchers. So, don't forget to include call-to-action like Learn More, Find out More, Try for free, Get it now, etc.
How to Create or Change Meta Description
First of all, you should remember to create a unique Meta description for every page of your website. If you don't have one, Google will go on to pull information from your web page content and show it as Meta description in the search results.
If you are using a content management system (CMS) such as WordPress then adding or changing Meta descriptions is a simple process and can be accomplished via SEO Plugins such as Yoast.
However, if you are not using a CMS, then you can affect your Meta description by using the description tag itself.
It looks like this:
<meta name="description" content=" meta description "/>
Conclusion
As we have seen, Meta Descriptions and Meta Title can be regarded as a short sales pitch that goes on to encourage searchers to click on your link in the organic search results. So, your Meta descriptions should include focus keywords and should be as relevant, readable and attractive as possible.
By ignoring Meta Descriptions, you tend to lose out on a huge opportunity for improving click-through rates. Although Meta Descriptions do not constitute a ranking factor, they still have a huge role in optimizing the CTRs.
So, don't miss out Meta Descriptions and Title for your web pages.