Here, we have shared the top pay per click affiliate programs that you can use for earning more as a publisher or affiliate. You will find the 10 Top Pay Per Click Affiliate Programs/Networks.
Now, before we move down to the list, let's quickly share with you how PPC advertising works in general.
In fact, PPC stands for Pay per Click.
It is an advertising model where advertisers go on to pay commission to the publishers (bloggers/affiliate marketers who show their ads on their sites) when one of their ads is clicked.
So, the publishers get paid per click.
Here, we have made sure to list out the best affiliate programs that make use of highly advanced technology and pay only for high-quality referrals.
The best thing with these affiliate programs is that you can even earn money with affiliate marketing without a website.
Below you'll find the top pay per click affiliate programs.
They are all high quality.
You may also like: 15 Best PPC Networks for Advertisers and Publishers
Let's get started:
10 Pay per Click Affiliate Programs
Adsterra is regarded as one of the most reputed PPC networks in the world. It allows you to monetize both your website's desktop as well as mobile users with PPC ads.
It supports various ad formats for desktop as well as mobile devices such as display banners, pop-unders, push-ups, interstitials Ads, direct links, and slider ads. So, you get a wide range of options for increasing your website clicks for making more money.
The commission payouts are well on time. They pay you on a Net-15 basis. So, you get paid twice a month. The payment dates being 1 or 2 and 16 or 17 of each month.
Adsterra comes with various payment options such as PayPal, Paxum, ePayments, Webmoney, Wire Transfer, and Bitcoin. The minimum payout threshold is $100 ($1000 for Wire Transfers).
The sign-up process is free.
Best of all, Adsterra runs a referral program wherein you can earn 5% of the revenue generated by the publishers that you referred to them for a lifetime. Moreover, Adsterra pays you recurring commission for a lifetime. When new publishers join using your referral ID, you'll get paid 5% of their revenue.
Here we have listed out the main benefits of using Adsterra Pay per Click Program:
100% fill rate for all ad formats
Payouts are made twice a month
Monetizing options include display banners, pop-unders, interstitials, direct links, slider ads, and push-ups
You get no language barriers on this platform
Adsterra can be used along with other monetization methods, including Infolinks, AdSense, and so on
Once your submission gets approved, you can contact your Dedicated Affiliate Manager to get the requested ad codes for using within your site for monetizing your traffic.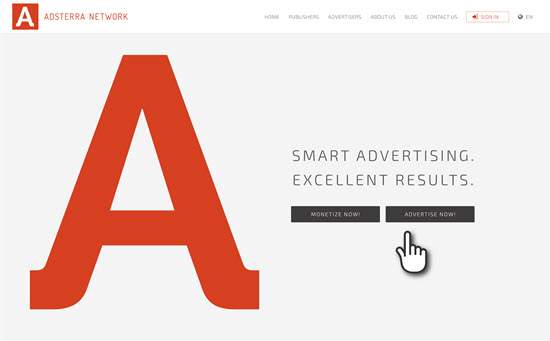 Founded in 2011, Propeller Ads happens to be one of the fastest-growing ad networks out there. It offers display, native, video, as well as mobile ads along with the affiliate services.
In fact, Propeller Ads offers one of the best CPM rates in the market. It has worked with over 150K publishers. The platform is equally suitable for both advertisers and publishers.
Propeller Ads come out as a self-serve platform for advertisers with which they can create and design their ad campaigns. It allows publishers to create and paste ad codes on their own.
Propeller Ads has a massive advertiser pool from around the globe. So, websites with non-English content can get advertisers who want to show ads to a specific native language audience.
Propeller Ads makes use of high-end technology and manual automation to monitor the quality of ads on the website. It filters out ads with malware and obscene content. So, it serves high-quality and risk-free ads to users.
The platform has been designed to work smoothly with AdSense on the publisher's website.
Propeller Ads offer OnClick PopUnder Ads, also known as ClickUnder Ads. This ad format provides more details to the users with a link that directs to the advertiser's website. It helps generate more revenue for publishers. It also offers a clear picture of the user's interest to advertisers.
Highlights:
No minimum traffic requirement
Payment options include PayPal, ePayments, Skrill, Payoneer, WebMoney, and Wire Transfer
The weekly payout on Thursday (NET-07)
Minimum payment threshold: $5
Supported Model: CPM, CPC, CPL, CPA, and CPI
Supported language: English & Non-English
Reporting: Real-time reporting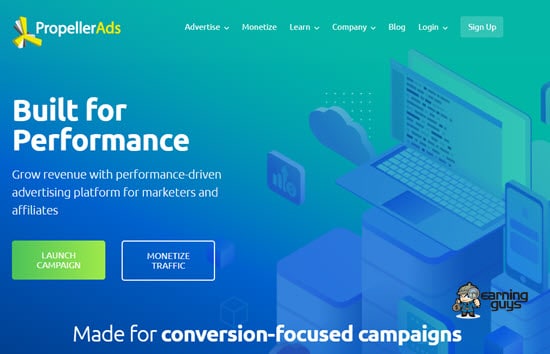 3. Media.net Pay per Click Affiliate Program
Media.net is one of the most popular choices as far as pay per click affiliate programs is concerned. It's a Yahoo! Bing Network contextual ads program that is being used by worldwide publishers for making money. It's one of the best alternatives to Google Adsense to start monetizing your website.
Media.net serves simple text-based ads that tend to be contextually relevant to the content that your website users are reading. So, there are higher chances of getting more clicks on ads. It means more earnings for you. Moreover, you get high-quality and high-paying ads through Media.net.
Some notable highlights of Media.net ad network:
It's free to join, and you never need to pay anything
Ads are shown based on the context of the page
You get a powerful dashboard
Its RPM (Revenue per Thousand Impressions) is currently the best in the industry
It serves high-quality ads
Hosting of mobile ads
It offers dedicated account managers
One account for unlimited websites
It provides intuitive advert designs that result in high CTR
They come with one of the best customer support in the industry. They offer a customer representative that is dedicated to your account
Works well with other ad networks
Mobile responsive ads
It provides 'Native Ads' to blend with the layout and design of your website
Two payment platforms namely PayPal and Wire Transfer
The minimum payout threshold is $100
They pay on a NET-30 basis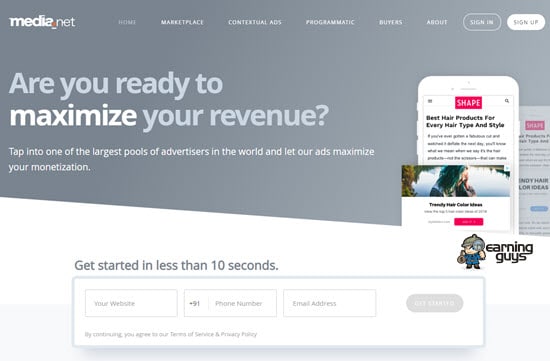 4. Bidvertiser PPC Affiliate Program
Bidvertiser is a direct advertising network that runs a self-service affiliate program for monetizing your websites by placing various ad formats, including PPC Ads.
It allows you to monetize everything, such as websites, toolbars, extensions, mobile apps, search, and domains. It offers various ad formats like display banners, pop-under, Smartlinks, sliders, programmatic, etc.
You can even promote their referral program and earn money as an affiliate.
Bidvertiser has a vast experience of more than ten years in the display direct advertising industry. So, it gives you access to thousands of advertisers worldwide. It offers you an instant account set up with 100% full coverage for desktop and mobile worldwide together with real-time optimization models.
With Bidvertiser, you can start monetizing your website within a few minutes.
Here's why you should be using Bidvertiser PPC affiliate program:
The minimum payment threshold is just $10
Various payment options such as Pay Pal, Payza, Wire, and Check
A wide array of ad formats such as banners, pop-under, direct links, sliders, programmatic, XML.JSONP, etc
Instant & free set up
You get completely safe ads for monetizing any level of website traffic
You can monetize your website, tools, and mobile apps, etc
The affiliate program contains a real-time bidding ecosystem with which you can access billions of impressions
Powerful targeting capabilities relevant to your advertising campaigns
Moreover, much more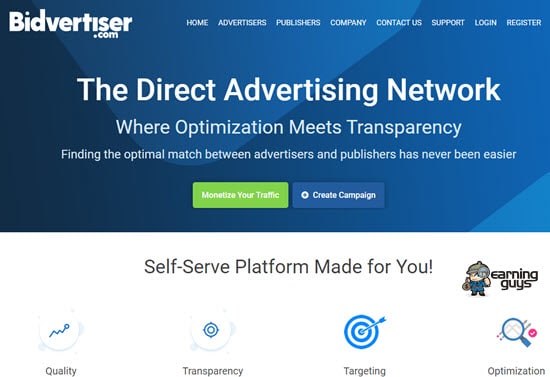 5. Infolinks Pay per Click Affiliate Program
Infolinks is a very powerful alternative to Google AdSense. It is being used by more than 100,000 publishers worldwide. Moreover, it's a global advertising platform for both publishers as well as advertisers. It's known for its innovative ad solutions for publishers.
Infolinks mainly focuses on contextually relevant ads. It offers a wide array of ad format units for monetizing your website's traffic such as:
In-Fold
In-Screen
In-Tag
In-Frame
In-Article
Its in-house algorithm offers advertisers with the right audience as well as maintains optimal profit for publishers. It's available to all kinds of publishers and does not consider their website business size.
It's known for the effortless integration process with no setup fees. Moreover, its policies are quite straightforward, which doesn't allow illegal, offensive, or adult content.
It works fine for publishers that use AdSense. So, Infolinks AdSense compatibility helps you to generate maximum revenue. Plus, Infolinks has no requirements for traffic and comes with a quick approval span.
Here, we have shared with you some of the reasons for using Infolinks PPC Affiliate Program:
It makes use of a smart ad unit targeting system for showing highly relevant ads on your website
Has a large pool of thousands of advertisers
Has a variety of ad formats for monetizing your site
It even offers mobile ads for monetizing your mobile traffic
Various payment options like PayPal, eCheck and Payoneer.
Minimum payout threshold of $50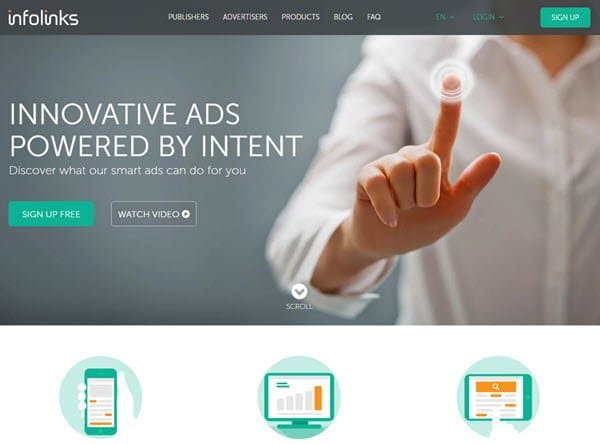 Revenue Hits is one such pay per click network which offers very competitive payouts through an excellent affiliate program.
It is being operated by the leading media tech company Intango Ltd, which is known for its digital advertising optimization solutions for publishers for earning money with their website traffic.
With Revenue Hits, you get access to over 5000 advertisers across different industries such as Dating, Travel, Shopping, Mobile, Coupons, Gaming, Software, Entertainment, and Lead Generation.
Revenue Hits offers you industry-leading commissions per click. Its minimum payment threshold is $20 for PayPal and Payoneer and $500 for Wire Transfers.
Revenue Hits runs a referral program wherein you can refer publishers such as bloggers, email marketers, and affiliate marketers for signing up for Revenue Hits for free. You can make up to 10% of their earnings for one full year, i.e., 12 whole months.
You get a referral link with a unique ID that can be shared on your website or anywhere else on the web. For each successful sign-up, you can earn 10% of their revenue.
Some of the main reasons for using Revenue Hits PPC Affiliate Program are as follows:
A wide array of flexible pricing models such as CPA, CPL, CPM, and CPI
Industry-leading payouts
Instant set up
Free to sign up
Over 5000 advertising pool to choose from
So, Revenue Hits is an excellent source for building an attractive income stream.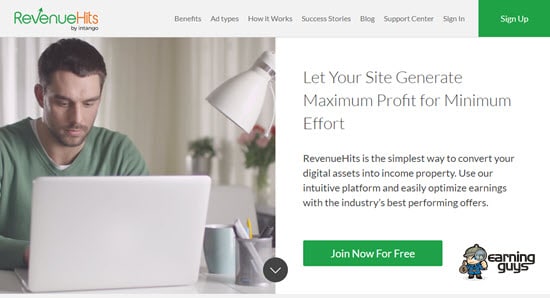 7. Shareasale Pay per Click Affiliate Programs
Shareasale runs one of the best pay per click affiliate programs. It allows you to earn money by PPC (pay per click), PPL (pay per lead), and PPS (pay per sale). It's one of the largest affiliate marketing networks out there.
They have been in business for more than 17 years. Shareasale holds a reputation for being an honest and fair company. They are known for providing excellent customer service, efficient tools, as well as accurate reporting.
This platform is for both merchants as well as affiliates. It comes with a real-time tracking system that can quickly generate the commission. Shareasale comes with clickstream attribution technology, which allows you to view recent clicks before the purchase.
It has come up with a free and easy sign-up process that can be done in a matter of minutes. It makes sure that signing up isn't complicated for new publishers.
They have an incredible variety of merchants in over 40 different categories, filled with over 4800 different merchants. It has some big names such as Viator, WP Engine, Mod Cloth, NBA Store, and more!
So, there are over 4800 merchant programs available to you on Shareasale. Moreover, it offers fantastic search options with which you can find the one that fits your business the best. You can filter your searches based on specific keywords, sale commission, category merchant EPC, or merchant status.
It prides itself on excellent customer support for both merchants and affiliates. Its customer support team can answer your questions by phone or email.
Your affiliate earnings are directly sent to your bank account on the 20th of each month. However, you can even receive a check or be paid through Payoneer. The minimum payment threshold is $50 for affiliates.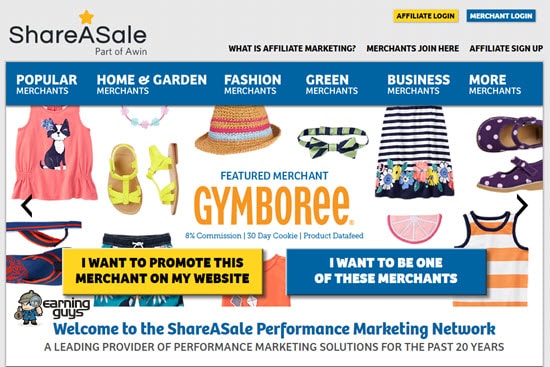 Skimlinks is a well known in-text and contextual advertising platform that offers excellent earning opportunities to its publishers.
Being an affiliate with Skimlinks gives you access to their referral program wherein you can promote Skimlinks to earn 35% of what Skimlinks makes for a year with each publisher that you refer to them.
You get a variety of promo materials such as disclosure badges, text & custom Banner ads for promoting their referral program for making money as an affiliate.
Once you get signed up with them, you get access to a unique referral ID that you can use to send new referrals to them. The commissions that you earn from publishers that you refer get credited to your account automatically.
Here, are some of the main reasons for using Skimlinks PPC Affiliate Program:
Affiliates get 75% of the revenue split from the Skimlinks platform
WordPress users get access to their plugin which can help to integrate with Skimlinks on a website easily
You can convert user product references into affiliate links
Payments get credited by Direct Deposit or PayPal to publishers that have US or UK bank accounts. However, if you're located outside the US or UK, then the payment gets credited through PayPal only. They operate on a NET-90 basis. The minimum payment threshold is $10.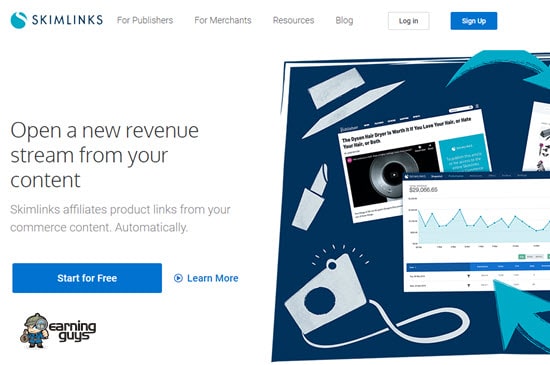 Taboola is a highly renowned ad publishing network. It serves more than 450 billion recommendations to over 1.4 billion unique visitors each month worldwide.
Taboola allows you to make money as an affiliate as it helps you to promote across all platforms online, such as apps, newsletters, websites, and so on.
Moreover, you can make money with the Taboola publisher network through:
Sponsored content
Sponsored videos
It offers a wide array of ad units along with video ad monetization so that you can easily monetize your video content too.
Taboola comes with a unique feature known as User Visit Value. It allows you to calculate the effectiveness of your campaigns. It can tag URLs with UTM codes enabling you to drive more traffic to your websites, thus increasing your overall earnings quickly.
Here are some of the main reasons for using Taboola Pay per Click Affiliate Program:
It gives you access to highly actionable data insights, A/B testing as well as alerts thereby helping you to increase your earnings quickly
It allows you to monetize your video content by embedding your own video player to include PPC ads and analytics using the Taboola platform
You can exchange the audience by driving quality traffic to your website and exchanging traffic with partner & third party sites easily
Payments are made to your Payoneer account 45 days after the end of the service month.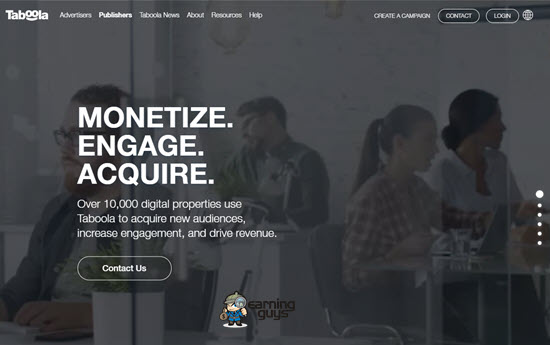 Adblade is a content style ad platform. It pays you for every click that you get on the PPC ads that are placed on your site. It comes with excellent tracking and reporting offering everything, including real-time reporting, number of impressions shown, click-through rate, cost-per-click, cost-per-action, and so on.
Adblade makes payment through PayPal only. The minimum payment threshold is $100. The payments are made on a NET-30 basis.
Here are some of the reasons for using Adblade Pay per Click Affiliate Program:
Widely used PPC Affiliate Program
A large pool of advertisers
Standard IAB Units
Adblade Proprietary News Bullets
Real-time Reporting
It comes with two types of payment options – Check or ACH Direct Deposit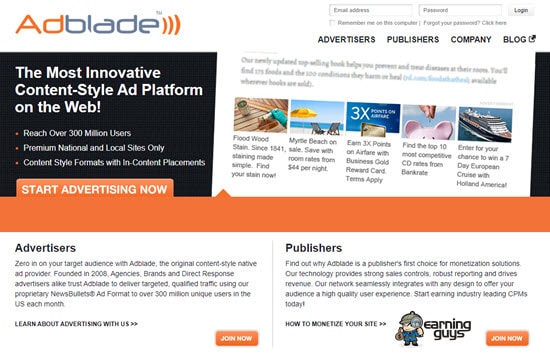 So, that's it from us in this post on the top pay per click affiliate programs. We are certain that you would be satisfied with one of the above!
Also check: 21 Best Ad Networks for Publishers