Your landing on this article means one of two things, you are either a newbie having a hard time receiving Pinterest traffic or are willing to start using Pinterest for blogging.
You may have heard that Pinterest is a significant traffic source for most bloggers. Pinterest alone generates about 30-40% of traffic, the rest 60% being Google search results for many bloggers. Social media platforms like Facebook, Twitter, and other referral traffic generate less than 10% of traffic for most blogs.
Pinterest is often referred to as a Visual Search Engine than a social media platform. While it is often associated with finding inspiration for home decor, fashion, and recipes, Pinterest offers tremendous opportunities for bloggers and content creators. Since it is a Visual Discovery Platform, most of the effort goes into creating stand-out images. Pinterest is also one of the fastest-growing platforms.
What is Pinterest?
Founded by Ben Silbermann, Paul Sciarra, and Evan Sharp, Pinterest is a widely used online visual discovery platform allowing users to discover, save, and share images, videos, and other visual content called pins. Launched in 2010, Pinterest has become immensely popular and a platform for individuals looking for inspiration, ideas, and information on various topics.
Beyond personal use, Pinterest has become a valuable platform for businesses and content creators. It allows you to reach a large audience and drive website Traffic. With rich pins, advertising options, and analytics, Pinterest can help businesses enhance their online presence, increase brand visibility, and boost sales.
Pinterest stands out as a highly unique social media platform that offers a range of features, setting it apart from other platforms. One of Pinterest's remarkable aspects is its focus on visual content. Unlike text-centric platforms, Pinterest revolves around captivating images, videos, and visual media. This emphasis creates a pleasing and visually appealing user experience, fostering inspiration and creativity.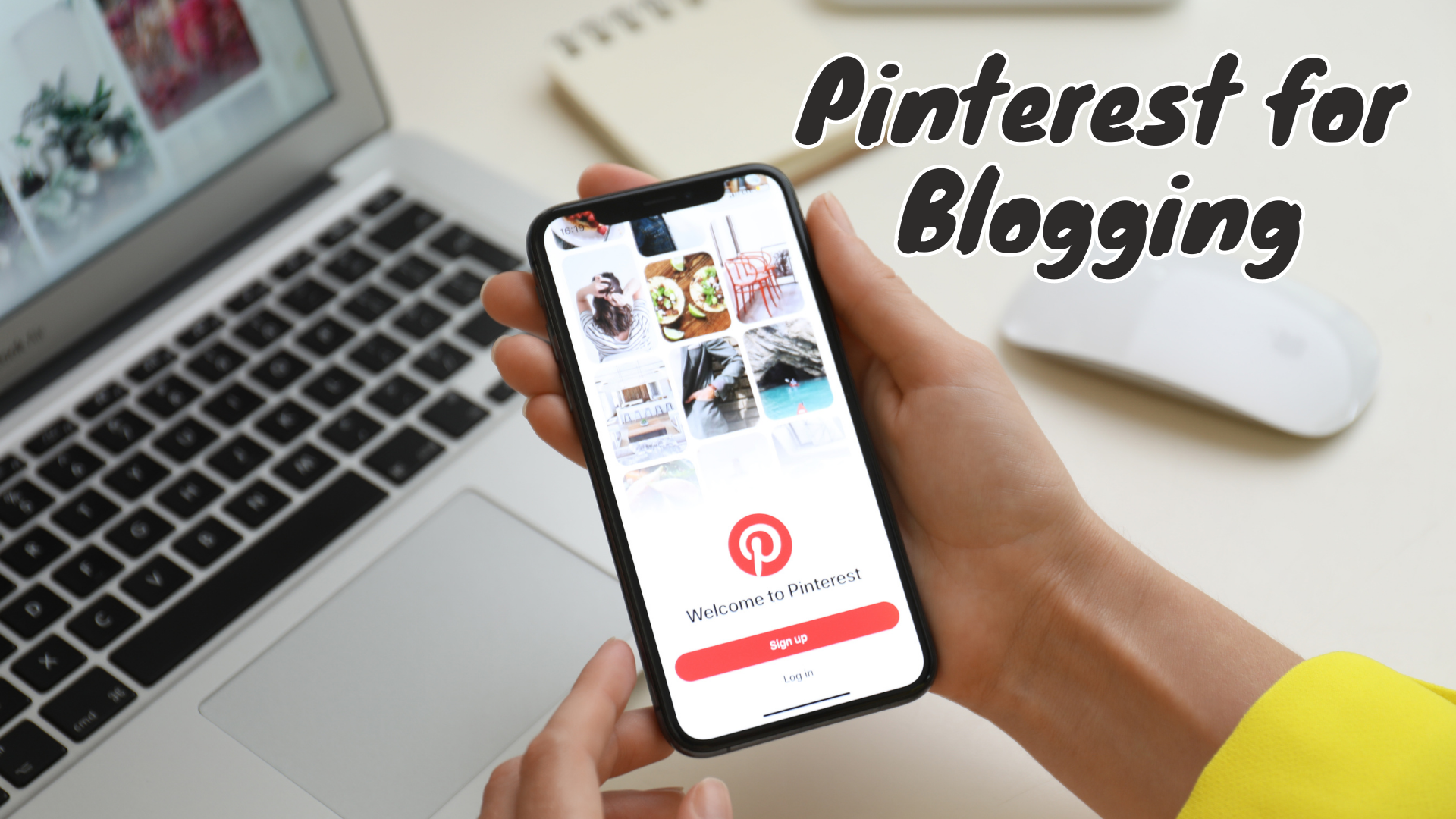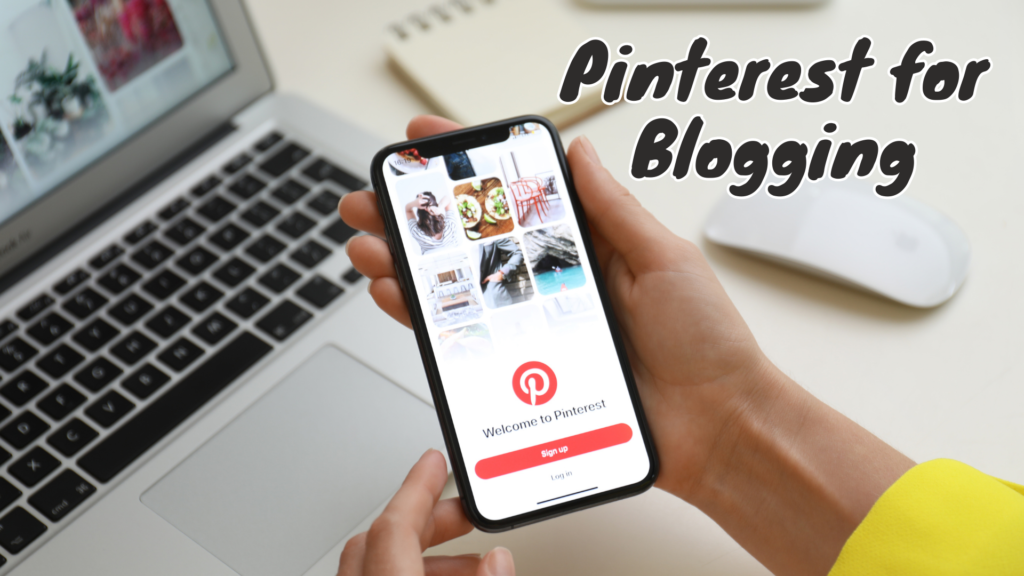 Why should you use Pinterest as a Blogger?
If you like traffic, then you should most definitely use Pinterest.
While other social platforms do not make Content with links much visible to the users organically, Pinterest is known for letting people leave and visit other platforms. Platforms like Facebook and Twitter do not want you to leave their platform so that they can show paid ads and earn through them.
If you wish to get good traffic without spending a dime, then Pinterest is the way to go! It is the best way to promote your blog and gain visitors organically. Although you should make content in all forms on Pinterest, a simple image pin with an attractive outlook can often help you drive traffic in massive amounts.
Pinterest can even help you with SEO as it may act as a ranking signal for Google.
Pinterest will be another traffic source; as they say, the more, the better. It will also be easier as you can find inspiration for your content from others in your niche. People who follow you may have similar interests, thus building a community. Creating a solid social community will always work in your benefit.
You can even use Pinterest for cross-promoting other platforms. Pinterest is growing year after year, enlargening its user, which will add to your benefit.
Benefits of using Pinterest for Blogging
Endless Inspiration: Pinterest is a treasure trove of stunning images, ideas, and creativity that will spark your imagination and give you ideas for your next post

Traffic Magic: Pinterest is known for driving traffic to blogs. Create captivating pins, sprinkle them with relevant keywords, and watch as your blog becomes a magnet for enthusiastic readers.
Targeted Visitors: Unlike other platforms, Pinterest's boards allow you to attract the right audience. When someone follows a board related to your niche, they actively seek content like yours, ensuring that your blog is discovered by the most interested readers.
SEO Superpowers: By optimizing your pins with keywords, Pinterest helps search engines find your content easily. This means traffic from Pinterest and increased visibility in search engine results. It helps you with Google SEO to boost your blog's discoverability.
A Thriving Community: Pinterest is not just a solo endeavor. It's a place to connect, collaborate, and support fellow bloggers. Join group boards, make friends, and become part of a vibrant community that uplifts and encourages you every step of the way.
So, if you're looking to infuse your blog with magic, inspiration, and targeted traffic, Pinterest is your secret weapon. Unleash its powers, watch your readership grow, and be part of a supportive community that will cheer you on as you embark on your blogging adventures. Using Pinterest for Blogging can be very beneficial.
Types of Pins on Pinterest
Image Pins
Image pins are simple images posted on Pinterest that usually contain an outbound link. It is one of the most popular formats on Pinterest.
You can either upload an image from your device or save an image you find online as a Pin. Pinterest will include a link to the website so people on Pinterest know where to find the original image.
Video Pins
Video may consist of a single video or multiple videos and images in a single Pin. You can jazz them up with cool effects like text overlay, music, stickers, and more, making them fun and interactive.
Whenever Video Pins pop up in your home feed, they automatically start playing, catching your eye immediately. And to make them even more attention-grabbing, they come with cover images that entice you to click and watch.
Rich Pins
A rich Pin pulls information directly from your website to make your Pins more informative. There are three types of rich Pins, each serving a different purpose:
Recipe Pins: When you save a recipe from your website, Recipe Pins automatically include helpful details like the recipe's title, serving size, cooking time, ratings, preferred diet, and a list of ingredients. So, when someone comes across your recipe Pin, they immediately get all the essential information.
• Article Pins: If you have an article or blog post on your website, Article Pins come to the rescue. They fetch your article's description, author, and headline or title. This way, when people stumble upon your Article Pin, they get a glimpse of what your content is about and who wrote it.
• Product Pins: They display the most up-to-date pricing, availability, and product information directly on the Pin. This means that when someone encounters your Product Pin, they can quickly see important details about your product.
Collection Pins
Collections Pins are like a curated set of product Pins grouped together in a collection. When someone clicks on a Pin within the collection, they are shown and can explore and shop for similar products.
Product Pins
Product Pins are all about showcasing products that are available for purchase. Some product Pins direct users to external websites. In contrast, others enable them to purchase directly on Pinterest without leaving the platform.
• Try On Product Pins – With this feature, people can virtually try on products they discover on the app using Pinterest Lens. This feature is currently limited to mobile devices in specific regions. Users can understand how certain products look or fit before purchasing.
• Collections Pins – They are a fantastic way to group together related product Pins. When you click on a Pin within a collection, exploring and shopping for similar or complementary products from a specific merchant becomes effortless. It's important to note that creating Collections Pins requires a business account.
• Carousel Pins – These pins take product Pins to the next level by incorporating multiple images. When you come across a carousel Pin, you can easily navigate through the images to delve deeper into a particular product or explore related products from the same merchant. Remember that creating Carousel Pins is exclusively available to business account holders.
*Note- If you're not a merchant but still want to share products with others on Pinterest, the best approach is to add a product tag. This helps you provide relevant information about the product and make it more discoverable for users.
Try On Product Pins
It allows people to try on products using Pinterest Lens virtually. It is my favorite feature. However, it's currently only available on mobile devices in selected regions.
Well, these were the types of Pins on Pinterest. Let's move ahead and discover more on the topic.
Setting up Your Pinterest Account
Pinterest is one of the best ways to grow your blog if you are willing to put work and patience into it. To grow on Pinterest, you need to optimize your account and make it look presentable and appealing. So, here are a few easy steps that are necessary for your growth on Pinterest:
Create a Business account.
The first and most crucial step is to create a business account. A business account is necessary to access full Pinterest analytics, promoted pins dashboard, and make your pins more visible. Choose an SEO-friendly username that can easily be found on search results.
If you have a personal account with followers, you can convert it into a business account. Followers always look good on an account and attract visitors. Otherwise, create a new business account. Click this link to learn to create a business account.
Complete your profile and fill out everything necessary for better targeting. You can also use related hashtags in the About section or your board description. You should also add what your page is about with your name. For example, "EarningGuys | Blogging, SEO & Digital Marketing"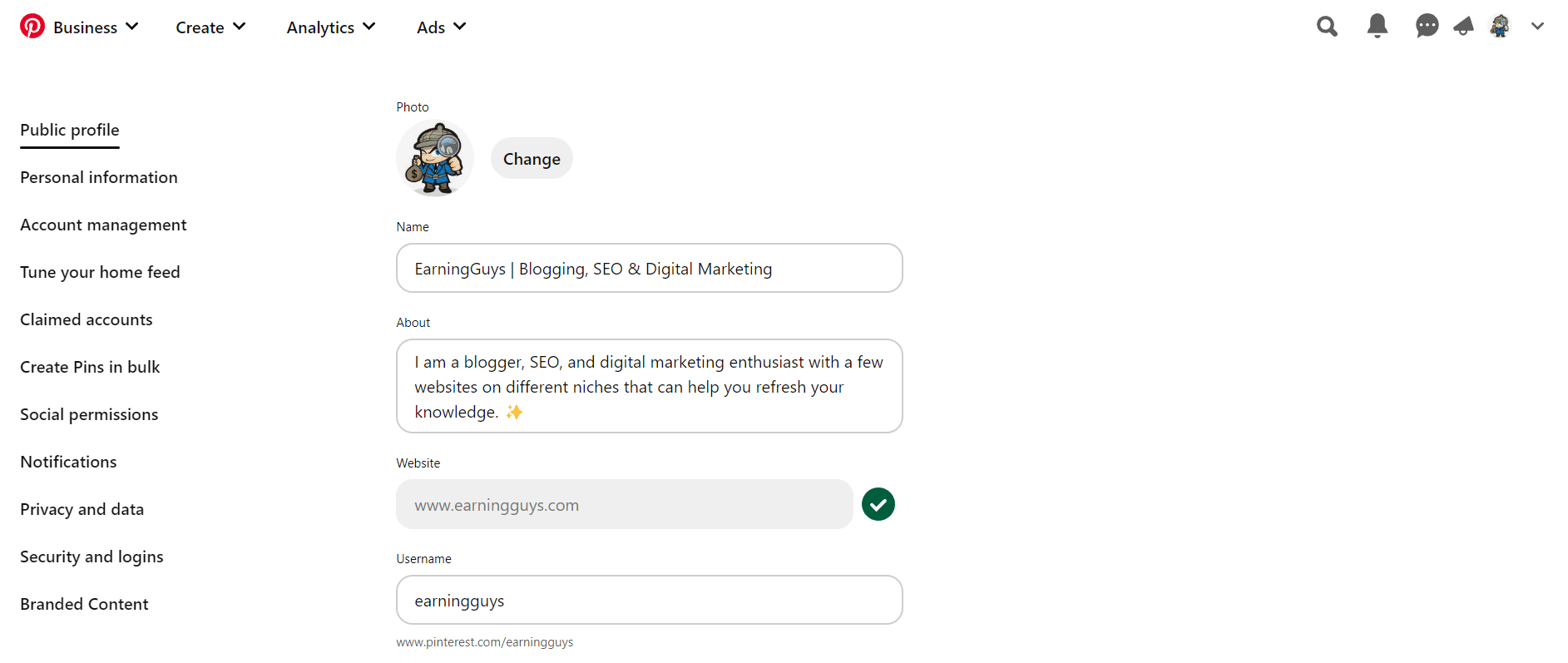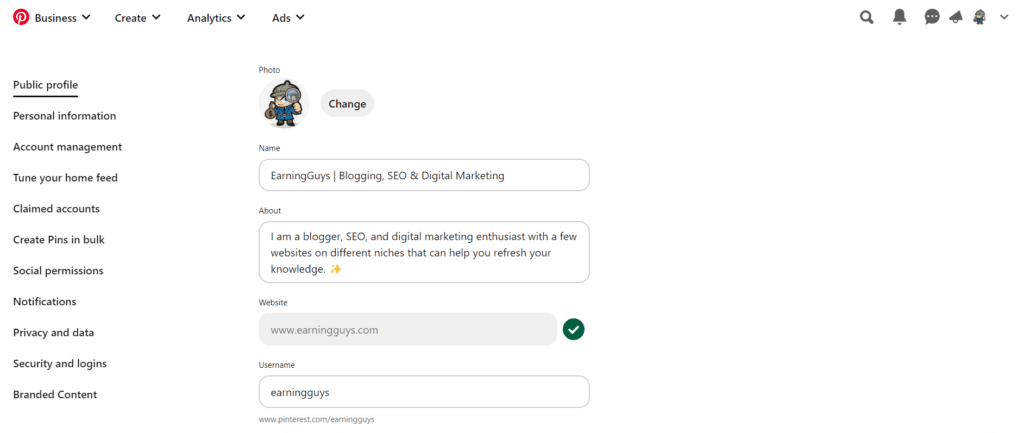 Claim your Website and Enable Rich Pins
Now that you have a business account, the next important step is to claim your website. This is done so that Pinterest knows you own the account and everything is authentic.
Claiming your website can help you get more traffic since the website link will now appear in your profile. You can read here how to claim your website. You will have to add html tag to claim your website, but if you find difficulty doing it, you can use the Rankmath plugin (affiliate link) too.
After having claimed your website, you are advised to enable rich pins. Rich pins help your content stand out. Rich pins sync from your website and pick data from there without you having to update it every time you change something on your blog. Enabling rich pins also makes the title appear bold.
To know more about how to enable rich pins, check this out.
Create Boards According to Your Niche
One of the most asked questions is, How many boards should I create? It is a very subjective question that depends from niche to niche. If you have a broad niche, it is advised to have 5 to 10 boards according to the need, but not more than that. If you have a narrow niche, 2-3 boards are enough.
The idea behind creating boards is to keep your Content organized and more accessible for people to find in search results.
The board names should have commonly used keywords. Use words often searched for instead of uncommon creative words to appear in search results.
You should put an appealing board cover to make your boards look attractive. To set a theme on your Pinterest account, you can make board covers look similar or on a specific theme.
Create High-quality Pins
Pinterest recommends using a 2:3 aspect ratio or 1000×1500 pixels for standard image pins. .PNG and .JPEG formats are acceptable for the same.
Video pins should not be shorter than 1:2 (width: height) or taller than 1.91:1. Pinterest recommends making your videos square (1:1) or vertical (2:3, 4:5, or 9:16).
It is recommended to use all forms of pins offered by Pinterest.
Creating original, high-quality pins for better traffic and higher clicks would be the best. Many people use Canva for creating pins since it is easy to use, and you can customize the images, videos, and audio to any extent.
You can even use Unsplash and Pixabay for free images.
Pinterest SEO- Optimizing Content to gain higher traffic on Pinterest.
Now we have landed on the real part, which will make you money. I am already excited to share some of the best insights that will explode your traffic. But before we get into it, here's something important that you should know.
Consistency is the key; you won't get any results if you are inconsistent. And it will take at least 3 to 6 months to grow your page. So if you are still up for it, make sure you put time and effort into it.
So let's get straight into it!
Understanding Pinterest Algorithm
Understanding the Pinterest algorithm is a significant step to success. Pinterest currently has more than 450 million+ active monthly users. Pinterest's algorithm keeps making changes to show what's in the best interest of its users.
The algorithm of Pinterest considers various factors, including domain authority (DA) or domain quality, engagement on pins, user quality, and overall relevance. Now here are a few steps you can take to be made seen by the algorithm:
• Use High-quality images, don't use blur or poor-quality images.
• Add hashtags and keywords in the heading and description of your Pin to appear in the search results.
• Act like a genuine user, i.e., interact with other posts and users. Be active on the platform.
• Use the right image size.
• Be consistent and try to pin eye-catchy and popular content.
Analyzing Pinterest Analytics
This is one of the best features that Pinterest offers. Using Pinterest analytics, you can check what people are currently interested in and create content accordingly. This way, you can improve topic relevance and reach out to more pinners. You can directly visit- https://trends.pinterest.com/ and select the country you want for better targeting.
If you cannot find the top trends related to your niche, scroll down a little, and you will find an option called "Interests" Use it and select option(s) related to your niche. Don't see an option related to your niche? You'll find an option right below interests where you can type your keyword and see top trends related to it. (refer to the screenshot below)
Taking this step can be very helpful in driving you some Pinterest traffic.
Everything takes a little time to happen, and so will this. Just be patient and consistent with your content. You can make about 3 pins for a blog. Make sure to use a different image for each Pin. Pinterest does not like repeated content on your page.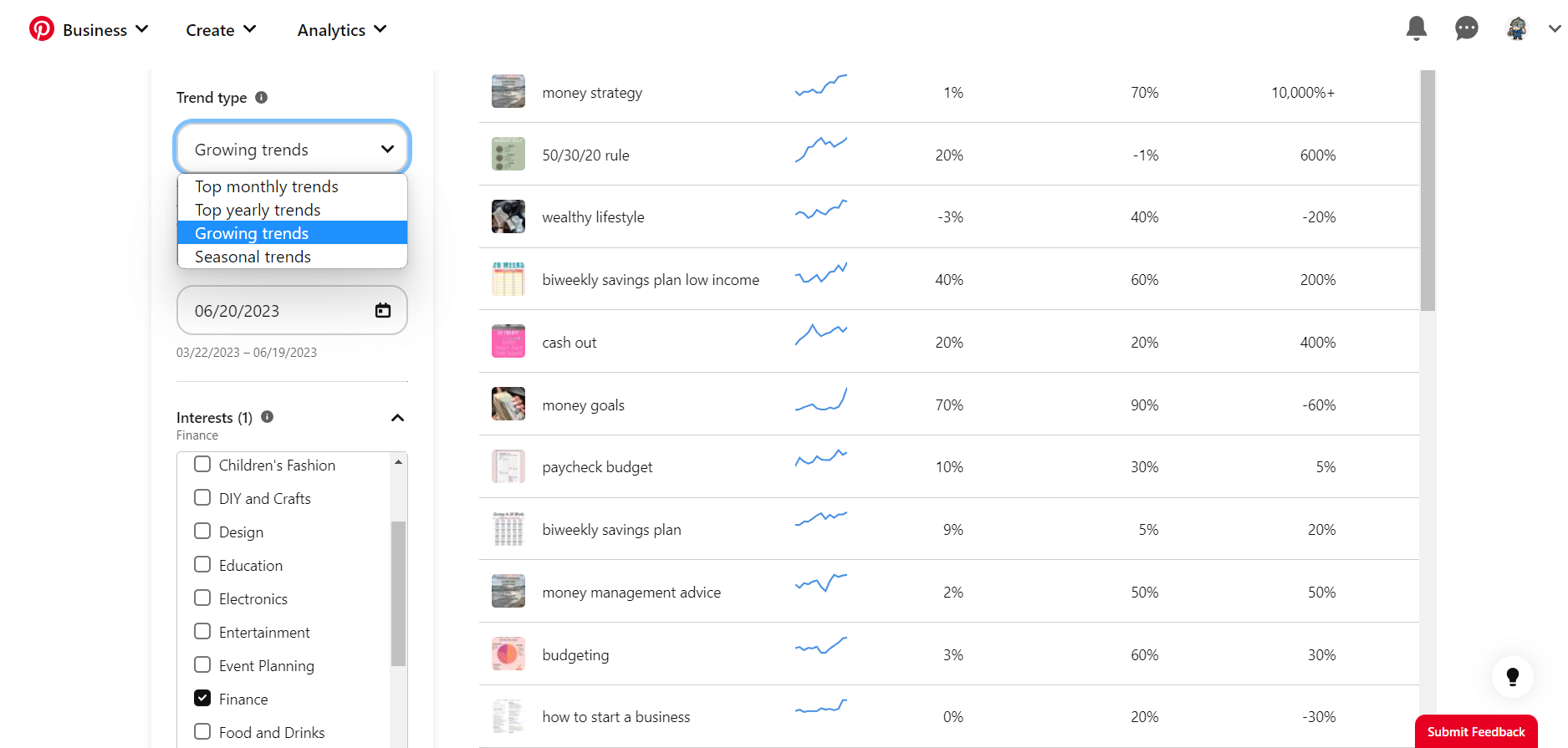 Follow other accounts of your niche.
It may not sound as necessary, but it really is. Following other accounts from your niche will give you ideas for new pins, and the Pinterest algorithm with help you grow. You'll have better targeting. Sometimes you even get follow-backs. Please note that Pinterest does not promote "follow for follow." So, Do not follow 100 accounts altogether; it may look spammy, and your account may get blocked.
When users from the same niche follow each other, they can be repining you; this will bring you traffic. Do not follow and unfollow accounts. People often do this after gaining what they want, but this can put your account in Danger! Do not do anything that may look unauthentic or spammy.
Add text to your Pin.
Adding text to an image attracts people and lets them know what the Pin is about, thus increasing their chances of visiting your website or blog. It also looks professional.
If you want to target the right audience, add text to your image so that people can understand what the Pin is about at a glance.
Staying up to date with Pinterest Trends
Checking the trends once is not enough; you must stay updated. Checking trends and analytics weekly or monthly is essential.
You do not want to miss out on trends to help you grow your page. Sometimes one viral Pin can be the game-changer, so you should be consistent and updated on the Trends.
Additional Tips
We would like to present some additional tips:
• Create a theme or color palette for your pins to make your page attractive. You can also create pins based on your brand color palette.
• Your font should be big and bold so it's easily visible without clicking on the Pin. The text should be placed in a strategic way to be clearly visible.
• Do not write the text everywhere on the image; it'll look inordinate. Leave some background space.
• Create attractive text for the image, but it shouldn't be clickbait.
Now, some Tips as per the Curalate study are as follows:
• Pins without faces get 23% more repins than the ones with faces.
• Red and Orange tones in the image get more repins than the blue tones.
• Very light or very dark pins do not perform as well.
• Images that are neither highly saturated nor highly desaturated tend to perform better.
• Images with less than 30% of blank space get more repins.
Want to stay updated on such posts? Follow us on Pinterest.
Bookmark this post if you found this informational, as we keep updating it with every change and new tips as we discover them.
If you liked our post on "How to use Pinterest for Blogging," share it with your friends too.
Thank You.