Starting a Blog is a Great Idea!
But …What do you need to do to Start Your Own Blog?
How would you get started with it?
As a blogging newbie, it might sound quite confusing to start your own blog. Although there's a lot of information on the web, starting your own blog might get quite confusing for you.
You eventually need a step by step guide that can help you to build your own blog. Most importantly it should be simple and easy to understand.
Herein I present to you a detailed and definitely easy to understand How to start WordPress Blog Step by Step Guide with which you can move ahead and build your first blog.
However before we move ahead and show you the step by step guide to building a blog, you also need to understand the purpose of building a blog. So, you need to know why you should come up with a blog.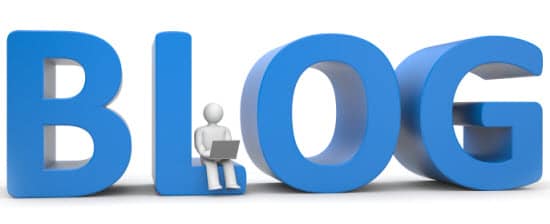 Purpose of Building A Blog
Actually, a blog acts as a powerful medium of expressing yourself and sharing information with others. It is one of the most powerful ways of spreading information and news in the online world. It provides you the opportunity of becoming a fantastic writer, and last but not the least; you can also make money doing it.
So, if you have any of these goals in mind; you should definitely think of starting your own blog.
This step by step guide to building WordPress blog will go a long way in helping you to come up with your first blog.
Let's Start WordPress Blog
1. Select your Blogging Platform
The first and foremost move you need to make for building your blog is to choose your blogging platform. As a matter of fact, there are many blogging platforms that are available such as WordPress, Blogger, Drupal, Joomla, Tumblr, TypePad, and more…
However, WordPress is the best platform for building blogs with over 72 million active users. Moreover, there are several reasons why you should go with WordPress for building your own blog. Here are some of the reasons which make it a clear winner.

First of all, WordPress is a free platform including themes, layouts, and add-ons which most other blogging platform doesn't provide.
It is superbly easy to set up and require no technical skills.
It's a highly secure platform. There is no worry of your blog coming under hacking attacks. It is frequently updated and keeps everything sound and secure.
It's thoroughly customizable. There are several free themes and plugins that provide more functionality to your blog and improve blog performance.
Seeing the above features, freedom and customization options that WordPress provides; it is undoubtedly the best blogging platform for your blog.
Moving on, you need to appreciate the fact that you require to self-host your WordPress Blog. This is a must for bloggers who want to look credible, build an audience and make money out of blogging.
This just requires having your own blog, on your own domain name and with your own hosting. This way, you get an opportunity to make the rules and control your content.
Domain Name and Web Hosting Provider
For setting up a self-hosted blog on your own domain name, you require two things:
Domain Name: This is your personal blog address where people find you over and over again on the web. For example Google's domain name is www.google.com. Likewise your new blog domain name will be www.yournewblogname.com. Usually, the cost of your domain name is around $10/year.
Book Domain Name from 1and1.com price starts from $0.99
Web Hosting: This is the home of your blog address and content that's on the blog. Without web hosting, you will not be able to use your domain. It is like a computer hard drive that stores all the content that is on your blog including images, blog posts, etc. Usually, the cost of web hosting ranges from $2 to $5 per month.
From where to get Domain Name and Web Hosting
Web Hosting is essentially about Page Load Speed and Uptime. There are numerous web hosting providers which provide similar service of (domain + hosting); however you should go for the one which delivers high Page Load Speed and 100% Uptime.
For the purpose of this "How to Start WordPress Blog Step by Step Guide" I have used SiteGround for domain names and web hosting.
Why?
Essentially because SiteGround delivers great performance regarding blog load speed and uptime. It is also easy to use and probably one of the best picks for beginners.
Having said that, you can always choose another web hosting provider as long as it is fast, reliable and offers unlimited storage and bandwidth.
2. Setting Up a Blog (self-hosted WordPress)
Here I have used SiteGround for (domain+hosting) service. However, you can always choose another hosting provider if you want.
A. Go to www.SiteGround.com and click on "Sign Up" or "See Plans"
B. Choose a Domain Name for your Blog
It is essential to choose a good domain name for your blog. Your domain name should be unique, trustworthy and easy to remember. You should be creative in choosing your domain name. It should reflect your identity. You can choose domain name on your name or related to your blog niche. Say you want to start Gardening blog; you can name your domain like everydaygarening.com, kitchengardening.com etc.
You need to Type the domain name in the box, then click "next". If it is available, you will be able to claim it, else choose another one. SiteGround will suggest some alternatives that are similar. You can also punch in a new name and try again.
C. Choose a Hosting Plan for your Blog
SiteGround offers "StartUp" plan which is more than enough for a newbie blogger. However, you can always choose another advanced hosting plan with more features if you want.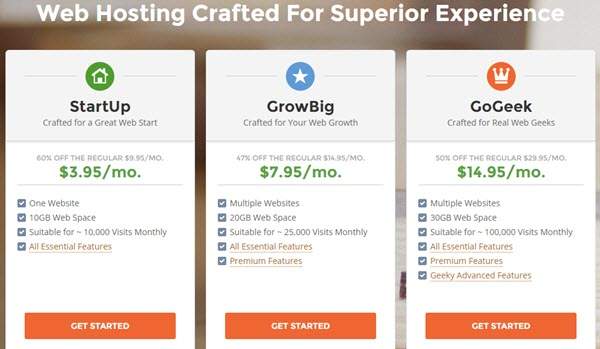 D. Complete the Registration Process
Once a domain name and hosting plan have been selected, you need to register it by filling in your contact and billing information. SiteGround also provides an opportunity to customize your package. So don't skip this step.
E. Login and Install your WordPress Blog
SiteGround sends you a confirmation email when your account is ready. You need to log in to your control panel to install WordPress. It's simply a one-click process and includes the following steps:
You need to Login to your SiteGround Control Panel
Look for WordPress preinstalled option
Click "Proceed"
For in-depth WordPress installation on SiteGround please go ahead and read this WordPress installation post.
F. Log in to Check Out Your New Blog
Once the installation is completed, you will receive an email that provides your login information including Admin URL.
To login to your blog, you have to click on the Admin URL, which is nothing but www.yourblog.com/wp-admin (here "yourblog" is your domain name).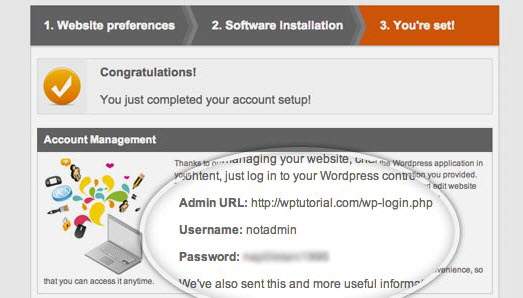 Congratulations to You – As these are the necessary steps of making a blog with WordPress. You have successfully installed WordPress and have set up your own blog. It is really easy, isn't it!
3. Tweaking Your Blog
Once you have set up your blog, it's time to start customizing your blog using WordPress. Here I share some of the basics of WordPress Blog such as:
WordPress Dashboard
Designing Your Blog
Installing New Plugins
Making your blog Search Engine Friendly
All this is pretty easy and fun at the same time.
You can login to your blog through www.yourblog.com/wp-admin/ by using the credentials that you set with SiteGround or any other hosting company.
The WordPress Dashboard
When you log in to your WordPress Blog; you will see the WordPress Dashboard or Admin Panel. Some of the important items you notice include the following:
"Dashboard"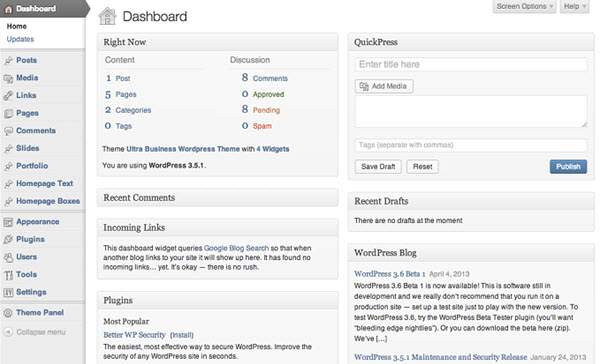 This shows you the Recent Activity including how many posts, pages, and comments you have. It also provides a section which enables you to write a quick draft post. Plus, you get all the latest WordPress News.
"Posts"
Here you can add a new blog post or edit an existing post.
"Media"
It contains all the pictures, audios, and video files that you have uploaded to your site.
"Pages"
Allows you to add a new permanent page and manage the pages that you have created.
"Comments"
This is the place you have to go to manage comments.
"Appearance"
Here you can install new themes and layouts. You can also edit the design of your blog.
"Plugins"
It allows you to install a new plugin.
"Settings"
Here you can manage your site's important settings. For example, you can change your site's title and tagline.
Changing Themes & Layouts for your WordPress Blog
The look of your WordPress site is determined by design templates called "Themes." There are thousands of professionally designed free themes however if you are looking for additional features and functionality you can always go for Premium WordPress Themes.
Installing a New Theme
Click on the "Themes" option under the "Appearance" tab.
You will be presented with several Themes that are already installed. If you want to search for other Themes; just click on the "Add New" square.
Now, you will see Tabs, which present you with Featured, Popular, Latest Themes. You also get "Feature Filter" and Search Bar.
Once you have chosen a Theme you like; click on the install button. After the installation is completed; you need to click on the "Activate" on the next screen. This is it!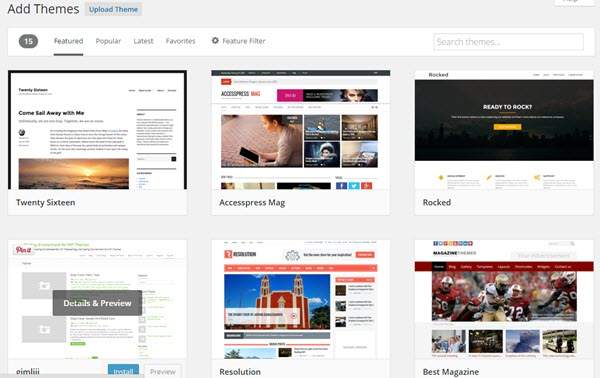 Installing a New Plugin
Plugins are the best way to add features and tools to your WordPress Blog. Installing Plugins is really easy. You get the "Plugins" tab in the sidebar of the WordPress Dashboard. Mouse-over to the "Plugins" option in the sidebar. Then click on the "Add New" button. Once you have found a Plugin of your choice, simply click "Install Now" and then "Activate Plugin" on the next page.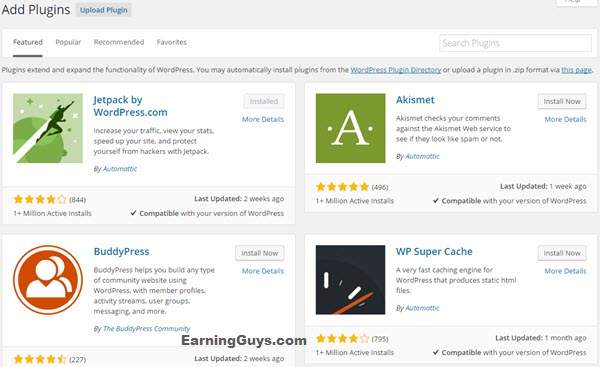 However, before you install any plugin, it's always a good idea to Google its name and read reviews about it. This saves you from any problem that might occur due to poorly developed Plugins.
Making Your Blog Search Engine Friendly
To make your blog more Search Engine Friendly, you need to do these two things:
A. Do not use ugly and clumsy URLs.
Your links or URLs should be short, clean and neat.
To make your links cleaner, click on the
"Settings"-> "Permalinks" and check on the "Post Name" option.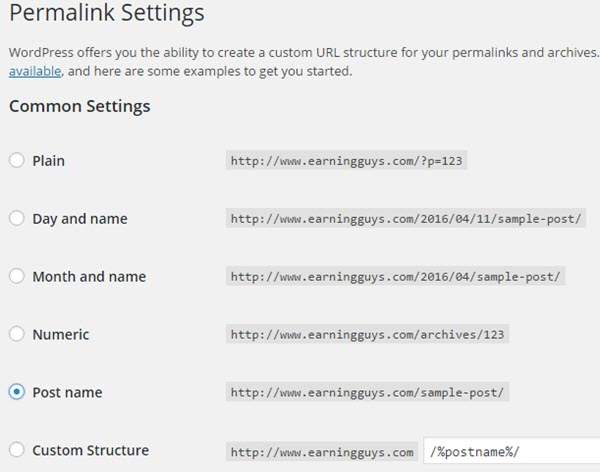 B. Avoid Spam Comments.
Lots of people want to automate spam comments on your blog because they want to get people from your blog and also because they want to advertise their products or services.
However, to avoid this, you have to moderate your comments. You can do this through:
"Settings" -> "Discussion" where you have to tick these two options:
a. A comment is held for moderation.
b. The comment must be manually approved.

4. Adding Blog Posts and Pages
At this point, you should have a fully working WordPress Blog on your own domain name. Plus, you should be using a custom blog theme that suits your blog's topic.
In this last section, you will come to know how to write your first blog post in WordPress. Plus, you will also come to know how to add images, links, and format texts.
How to Add a New Post to your WordPress Blog
In order to add a New Blog Post; you have to access the "Posts" section on the left-hand side menu. Click on the "Add New" option. On the next screen, you will be able to add a New Post.
Here, in the top field; you can add a title to your blog post. Your main content goes in the big text box that is present below the Title Field.
WordPress provides you the option of saving the draft or publishing your content. This is done through the box menu that is present on the far right of the page.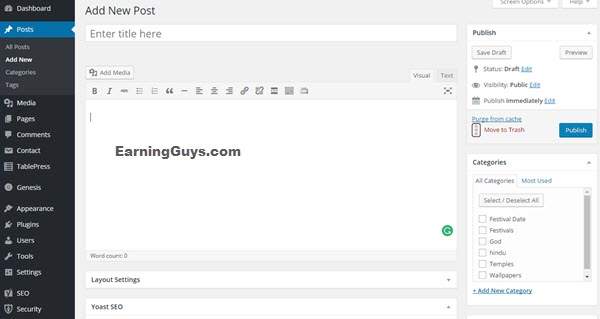 Once it is published, your new post can be found on the "All Posts" section under the "Posts" Tab which can be edited any time.
How To Get Content Ideas For Your Blog
20 Types of Blog Posts For Creating Successful Blog
Adding Images
Adding Images to your post requires you to click on the "Add Media" button present right above the lower content field. Then a screen will pop-up where you have to click "Upload Files" tab and finally, click "Select Files". Once you have found the file that you want to upload, double click it. It will be uploaded automatically by WordPress. When the upload is successful, click the "Insert into Post" button for adding Image to your post.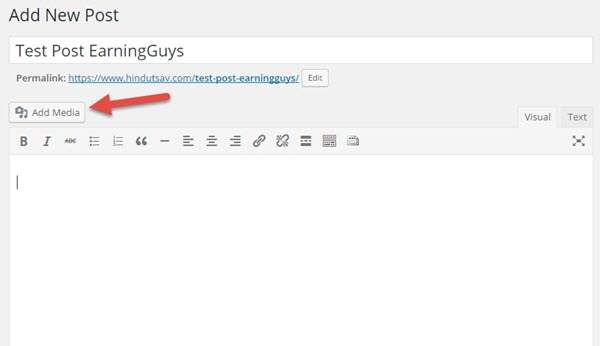 How to Add a Link
Linking out to other websites is very helping in building relationships and sharing interesting and useful content.
For adding a link, you have to click on the icon in the toolbar that resembles like a chain link.
Once the pop-up screen appears, you have to enter important bits of information such as
URL
Link Text
Open link in a new Window/Tab
Finally, click on the "Add Link" Button. Your Link will be added where the cursor was positioned in the post you were writing.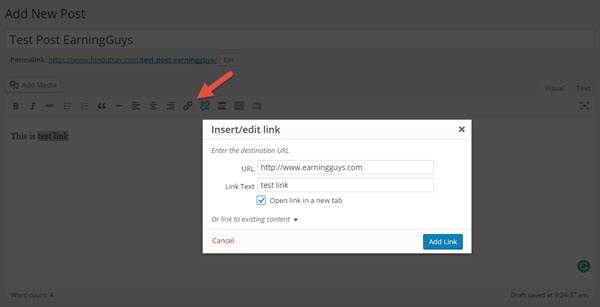 Adding Headers and Text Editing
Adding Headers is a great way to make your content easy to read. For adding Headings, you have to click on the drop-down menu on the bottom left of the toolbar.
"Heading 1" is usually used at the top of your post while "Heading 2" or "Heading 3" for other sections in the post.
You can also Edit Fonts. WordPress provides you the options of bold, italicize, underline, and change the color of your text. All these options are provided in the toolbar above the big text box where you add your post or content.
Concluding Remarks
This completes the "How to Start WordPress Blog Step by Step Guide". It will enable you to start a blog quickly. Starting a new blog is pretty easy if you follow this Step by Step Guide. I have illustrated all the basics you need to start a blog on your own. I hope this Guide proves to be quite useful to you for starting your own blog. It will help you get going!