Traffic Exchange is an interesting concept. Today, we talk about what is Traffic Exchange and show you the list of best Traffic Exchange Sites.
In fact, Traffic Exchange is a service that allows you to exchange your website traffic with other websites for free.
Traffic Exchanges work on the concept – "you get what you give."
So, you have to send traffic or visit websites yourself for receiving traffic in return.
Nowadays, many websites offer free traffic exchange.
In return, they get webmaster exposure to their ads, plus a webmasters database.
What is a Traffic Exchange?
A traffic exchange is a membership site that allows members to surf and view other members' sites.
Here a system of credits is applied wherein one credit equals one random member of the site who visits your page for a set amount of seconds.
Plus, the credits can be converted into banner and text ads for promoting your sites even more.
Each exchange offers upgrade options which help you to get more credits as well as a higher commission rate.
You need to refer others to these visitor exchanges whereby you earn a portion of their credits while surfing along with commissions when they upgrade or buy advertising on the site.
Once you are successful in creating a solid downline of active members, you can drive more traffic for doing so.
You can even earn cash paid to you via PayPal.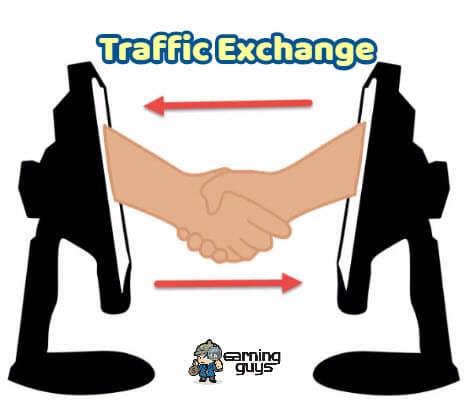 The Concept of Traffic Exchanges
A traffic exchange website goes on to receive website submissions from webmasters who join traffic exchange networks.
Next, the person submitting the website is required to browse other member sites on the exchange program for earning credits.
It allows their sites to be viewed by other members via the surf system.
This way the number of visitors is increased to all the sites that are involved.
The exchanges go on to enforce a certain credit ratio.
It requires the surfer to view a certain number of websites for receiving one hit through the program for their promoted website.
Here, the viewers are mostly website owners or affiliates.
The traffic programs come with a time limit when members are browsing. It can range from 10 seconds to 60 seconds. Some make use of Captcha for ensuring user interaction.
Most of the visitor exchange programs are free to join.
However, they do provide the possibility to become a paid member and offer credits for purchase.
Moreover, the traffic exchange programs allow users to build their referral networks for increasing the referrer's number of credits.
In practice, the traffic exchange programs are used by marketers as well as small business owners who make use of it for free advertising purpose or low-budget advertising campaigns.
The Working of Traffic Exchanges
A traffic exchange involves a central hub site that runs a specialized kind of software.
Website owners need to sign up to become a part of the exchange. Their website is then added to a list.
Likewise, another publisher signs up and has its site listed as well. This process is repeated until there is a big list of websites on the exchange.
In fact, the biggest exchanges involve millions of sites. However, the smaller ones might be having a few thousand.
Now, the important question: where does the traffic come from?
In traffic exchanges, the visitors to your site need to be earned.
It is earned by browsing the list on the exchange.
The list on the website traffic exchange is made up of publishers who want traffic. These publishers go on to do the same browsing.
So, the traffic to your site comes from these publishers. In most of the cases, these are the publishers to the site you're viewing.
When your views on the websites you find through the list, the publishers earn these views.
The website visitor exchange or the central hub regulate all this.
It works by keeping track of the number of views a publisher has received. It puts their site into the rotation until it receives that much traffic.
When the publisher stops earning views, they stop receiving traffic.
The important point to be noted is the balance between earned views and paid out views. Ideally, there is a 1:1 ratio.
The traffic exchanges regulate this by "taxing" views.
It is known as the listed "ratio" on a traffic exchange site.
For example, the 0.5 ratio means that you have to browse two websites for earning one view of your website.
However, nowadays, website traffic exchange has evolved much from this relatively simple concept.
Now, they come with additional features such as buying large amounts of traffic directly or entering contests with credits for jackpots.
Moreover, there are traffic exchanges that incentivize more incoming traffic. They offer payouts to regular users who don't have sites or care about claiming traffic.
These users earn credits and then exchange those credits for cash rather than traffic.
Autosurf and Manual Traffic Exchanges
Autosurf traffic exchanges allow the use of the bot, a piece of software for browsing for you. So, you can earn credits while you did other things in the background.
These credits can then be claimed for traffic.
Thus, you get something for nothing.
This is how Autosurf traffic exchanges work.
However, there are traffic exchanges that restrict bot access.
These are known as Manual Exchanges.
The essential difference between Autosurf and Manual Exchanges is traffic quality.
When you use a bot to browse, you're giving "views" that are not real. In fact, you're putting nothing into the system.
Moreover, nobody wants bot traffic coming to their site simply because it doesn't convert, it doesn't subscribe, and it doesn't click ads.
Let's view this from another angle.
If you are putting your time and energy into browsing, you want the views you earn are good.
It's really pathetic and frustrating when you put efforts into earning credits, and the traffic you get comes from bots that are used by others to earn their credits.
Here, lies the advantage of manual traffic exchanges.
They ban the use of bots for surfing and ensure that the traffic you get from the network is of high quality.
On the other hand, Autosurf exchanges sanction the use of bots. They even provide the bots themselves that come in the form of specialized browsers or browser extensions. They work almost like StumbleUpon in practice.
So, a manual exchange is good for earning and redeeming legitimate traffic.
By using Autosurf networks, you can make a few dollars a day when you use a piece of software in the background of your computer.
However, you can try both out and find out which provides better traffic.
Pros of Traffic Exchange
It can be used to advertise your website's product and services.
You can use traffic exchange sites for promoting your business. You can get your website to a large number of viewers.
It helps in increasing daily traffic to your website. As a result, many advertisers can buy ad space on your site.
You can refer many downlines and get rewarded with credits.
It's an easy way to get as much credit as you love to.
Users can promote your site on social networking platforms or media. However, your site must have good content.
It promotes your site when viewers give a good review.
You get exposure to competitors' products and services. As you go on to browse other webmaster's sites, you can get new ideas from their sites and can incorporate them into your site for attracting more customers to your content.
Disadvantages of Using a Traffic Exchange
One common problem with traffic exchanges is that the traffic is not very targeted.
Although the exchange segments sites into categories, the users are still publishers.
They have not come to new resources or new products to buy.
Their sole motive is to earn traffic with as little effort as possible.
So, the chances for conversion on traffic exchanges are abysmally low.
Moreover, the Autosurfs are virtually worthless regarding generating traffic. The bot traffic is not accepted as legitimate views.
That's not all; a traffic exchange can be detrimental to your site as a whole. The invalid traffic coming from an exchange can have your ads accounts terminated.
For example, Google Adsense consider traffic exchanges as a risky technique.
Moreover, the use of traffic exchanges can result in a lot of spam backlinks.
It is obviously a bad thing.
Google hates sites that have a lot of backlinks from poor quality sites. Lastly, it is very hard to recover from the Google penalty.
How to Prevent Exchange Damage
Here, we list out the things you can do to avoid any potential damage from traffic exchanges.
It is necessary to keep the groundwork in place before you go on and sign up for an exchange and spend your credits for bringing in traffic.
Firstly, you should endeavor to filter bots from your analytics. It will help in figuring out how much traffic from a traffic exchange is legitimate and how much of it is bots.
It requires some manual monitoring and ongoing blocking.
You can also filter common bots with a click in Google Analytics.
Secondly, you should optimize your site so that it quickly captures the attention of the visitors.
Thirdly, you should adopt a soft-sell approach and try to gain leads. You should go for a long-term email campaign and convert the users.
Fourthly, go for high-quality traffic exchange.
Lastly, go for quality hosting.
Moreover, you should not limit yourself to just one good exchange.
You should have accounts on as many traffic exchanges as you can and set up landing pages for each one of them.
Finally, the moment has arrived that you have been waiting for.
Here's the list of 5 Best Traffic Exchange Sites:
5 Best Traffic Exchange WebSites
1. EasyHits4u Free Traffic Exchange
It is by far the most popular free traffic exchange site. It is regarded as one of the top manual visitor exchanges on the web.
EasyHits4u has way over 1,000,000 members and is very easy to use.
It has a fifteen-second timer and a 1:1 exchange ratio (100%). There is no limit to earning with EasyHits4u. It helps to increase the number of visitors to your links.
For every site you visit, you get one visitor back to your link.
You can receive 10, 100, or even 1000 free visits per day. If you don't have time to view sites, you can go for purchasing visits right after signup.
It offers detailed statistics and tracking, 1000+ of images to use, domain filtering, and geo-targeting.
So, there's every reason to get started with EasyHits4u.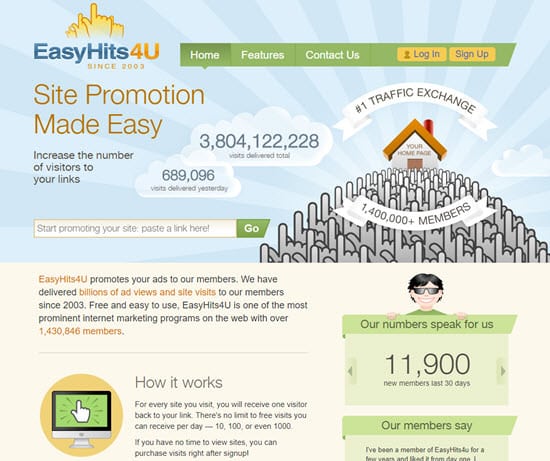 2. Hitleap Best Website Traffic
It's a leading, moreover, the cream of the crop in Autosurf exchanges. It's a traffic exchange service that delivers free traffic to your website.
Its working is simple.
You are required to submit your website. Watch others' websites. They will watch you.
With Hitleap, everything is simple.
You can earn free traffic or buy a traffic package from them. It's all you have to do to increase your website traffic.
Plus, their Support Team is always there to help you out.
You can choose a traffic quality level as per your needs. You can configure Geotargeting and traffic source for the visitors.
The site offers a dynamic timer. You can even change a bunch of options for your surfer. The rate is 0.7.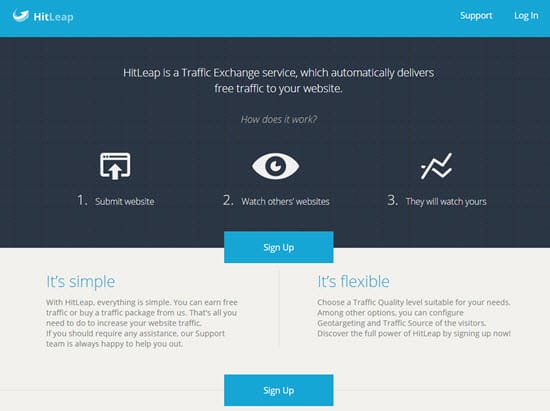 3. 10KHits Free Traffic Site
It is the best traffic exchange to get free website traffic to your site. It offers scalable, on-demand results to webmasters.
It's a traffic exchange that lets you continuously surf and earns points without any interruptions, or pop-ups.
It's a well-rounded application with a nimble dashboard.
With 10KHits, you can earn your first points and receive visitors to your site instantly.
With its white-label traffic, you can change the traffic source of your hits from default to anonymous, custom, social, or organic.
It is best for traffic resellers and webmasters who want to hide the 10KHits footprint from their clients.
You can even mask traffic so that it looks as if it is coming from a major search engine. It has delivered billions of hits to webmasters over the years.
Lastly, their support team is there for you 24x7x365. Plus, you can access its large knowledge base that features hundreds of articles on search engine optimization, search engine marketing, website performance, and much more. And it's all free at your disposal.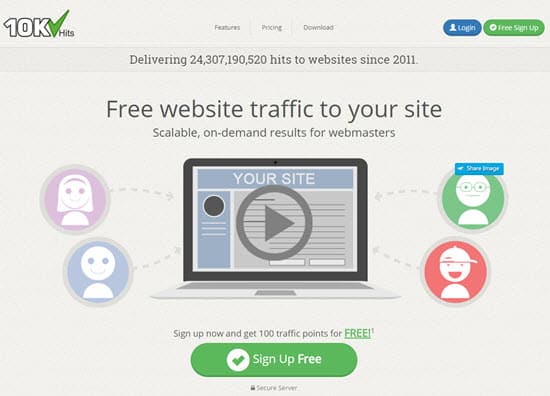 4. Rank BoostUp Website Traffic Exchange
It is another leading website visitor exchange sites on the Internet with an advanced set of features of any service. It helps to get quality relevant traffic to your site.
Its advanced platform integrates mobile traffic into the mix which helps you to rank better on mobile devices.
It offers country targeting. You get targeted website traffic from specific countries or geo-regions.
You can choose what keywords you want to rank for, and that will appear on your Analytics dashboard.
It's a traffic exchange that offers scalable results.
You can choose how many hits you want per day.
It offers an auto-surf browser that automatically goes through and browses sites on the exchange. It can be left running in the background while you work.
Lastly, its support team is there for you 24 hours a day to answer any questions that you may have on Rank BoostUp.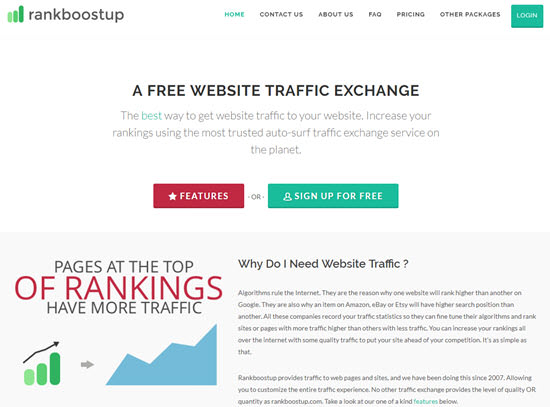 5. TrafficG Exchange Traffic
It's another well-known targeted traffic exchange for driving free, guaranteed visitors or traffic to any website of your choice. The best of all, it's free.
With its traffic exchange system, you are guaranteed a great stream of ever-changing visitors.
It has a 1:1 exchange ratio.
You can promote unlimited sites.
It offers 5 level reward programs.
You can access the best banner exchange on the Internet.
With TrafficG you get a free listing in the TrafficG directory.
You get your own special promotions page.
It supports 38 languages.
There's Geo-Targeting, Contests, and lots more with TrafficG.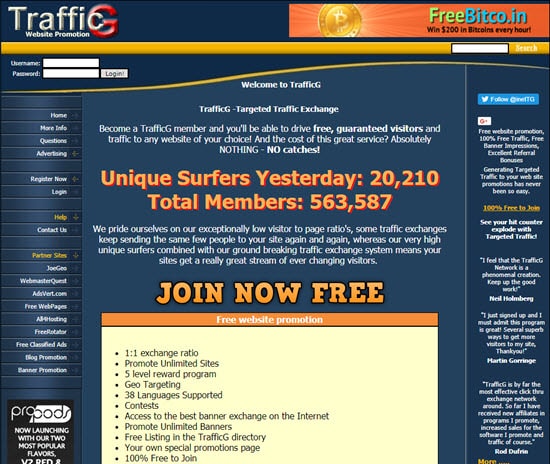 That's all in this presentation on Traffic Exchange and Best Traffic Exchange Sites.
We hope that the article proves highly useful to you.
Please share the post on Facebook, Google Plus, and Twitter.
We welcome your comments and suggestions.