Email marketing is one of the best ways to engage with visitors as well as for getting more subscribers and customers. Here, we have featured 10 Best Single Opt-in Email Marketing Service Providers.
As you would already know, there are two opt-in methods that your visitors can use for subscribing to your emails:
Single Opt-in
Double Opt-in
Each of these methods has its own implications for list growth, conversions, subscriber engagement, & more.
Here, we have shared valuable insights about both single opt-in as well as double opt-in methods so that you can make out the difference between the two and make an informed decision on which one will get you better conversions.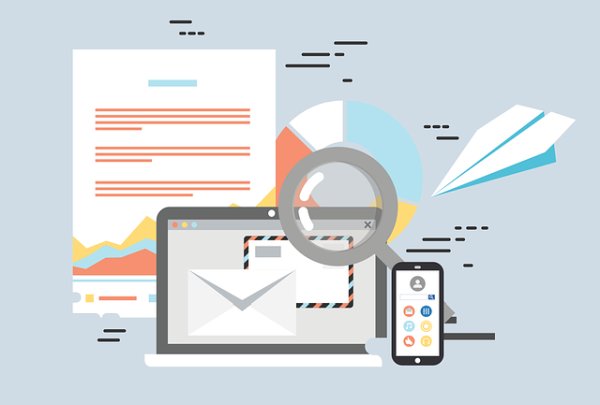 So, let's get started with it.
Single vs. Double Opt-In
In a nutshell, single opt-in means that your subscribers get signed up when they submit their email addresses. However, in the case of double opt-in, subscribers have to confirm signing up for your email list.
Let's get to know the difference between single opt-in vs. double opt-in in detail.
In single opt-in, users have to complete "one" opt-in action for receiving emails from your company.
It means that subscribers sign up using a subscription form and are immediately added to your email list. They do not need any further confirmation for getting your emails.
So, they start getting your emails right away.
Here's an example of a single opt-in in action.
Suppose a box pops up when you visit a website and it asks you to sign up for the mailing list for getting updates in the future. That's an opt-in prompt that you have to fill it and submit. That's all.
You will instantly receive a welcome email and start receiving the daily/weekly/monthly emails that the company sends out.
This is a single opt-in as it required you to complete one action for receiving emails.
Here are some key features of Single Opt-In for you:
It allows you to build a large list quickly
There is no contact 'leakage'
There is potential for unengaged subscribers
More time needed for list maintenance
Higher risk of spam complaints
However, a Double Opt-In is somewhat different from Single Opt-In.
In double opt-in subscribers have to sign up via your subscription form, and they get an email with a link that they need to click for confirmation that they want to get emails from you. It's called the confirmation email.
So, in the case of double opt-in subscribers must confirm; otherwise, they will not get your emails.
It means that in double opt-in, there's a confirmation step to the process. Here, you get a "confirm your opt-in" email. You need to click the verification link, and then you'll receive the welcome email and start getting the mailing list updates.
Essentially, the difference between the single opt-in vs. double opt-in is the "second" action. In double opt-in, you have to confirm your enrollment in the mailing list for receiving the emails from the company.
Here are some key features of Double Opt-In for you:
'Cleaner' list
Active & engaged database
Slower list of growth
There is potential for contact 'leakage'
Benefits of Single Opt-In
Single Opt-In offers a considerable benefit in the sense that when a subscriber signs up, they're immediately on the list. So, with a single opt-in, you can grow your list fast. You're able to connect with new subscribers easily.
Single Opt-In offers a win-win scenario for both you and them. You benefit as you get quick results, and your visitors get the instant gratification of getting to your list. There's no worry about "unconfirmed" subscribers. Everyone who signs up is on your list.
Benefits of Double Opt-In
The biggest highlight of the double-opt-in method is that you get a "more" engaged list. In double opt-in, subscribers need to confirm, so the people you get on your list wanted to sign up.
It means that the people you get on your list will be more responsive to your emails. They are "more" likely to open and click your emails. With double opt-in, the subscriber engagement is on a higher level, which is a "huge" plus for your business.
The advantage with confirmed subscribers is that they do not report your emails as spam. In fact, too many spam reports can damage your sender reputation and can affect email deliverability.
This should be avoided at every cost as with poor sender reputation, and your emails never reach subscribers at all.
However, with double opt-in, there is no such problem as subscribers are already engaged, thereby enhancing your sender reputation resulting in higher deliverability.
Another good thing with double opt-in is that it keeps your email list clean. Spammers can sometimes target single opt-in email lists, but this is not the case with a double opt-in method.
With double opt-in, you get more accurate subscriber data as all list members are confirmed. You don't need to email people who aren't interested. It's a list that has been built on quality rather than quantity. So, these are the main benefits of a double opt-in method.
How do countries regulate subscriptions?
Each country has formulated its own laws against spam. For example, in the USA, there is the CAN-SPAM Act. To follow it, the single opt-in is enough. However, in the EU, a new GDPR policy has been implemented, which requires that a user needs to provide a verifiable consent for receiving emails from a company.
The trend nowadays, with most email marketers, is that the double opt-in is seen as a sign of "clear" consent. Having said this, it's not the case that it is absolutely required. However, the double opt-in does make it easier to prove sender legitimacy.
When you choose between the two options, you have to consider the "specifics" of your business, its location, and the laws of the country of your audience.
Moreover, you need to consider the quality of your mailing lists that you get with double or single opt-in. Eventually, you should send emails to the audience who agreed to receive them.
Now that you have a good idea about Single vs. Double-Opt-In, it's time to share with you the list of 10 Best Single Opt-In Email Marketing Service Providers.
Let's begin.
10 Best Single Opt-In Email Services
Here's the listing for you:
1. Aweber Single Opt-In Email Service
Aweber is one of the renowned email marketing programs out there. They offer a single opt-in import option. It is helping businesses to grow their audience and get more customers.
Aweber allows you to run a successful email marketing campaign. It includes various signup forms, scores of template designs, as well as auto-responder services. It comes with highly efficient customer support and offers cost-effective pricing plans, as well.
Some of its key features of Aweber:
You can set up an automated email series
You can shoot one-time broadcast emails, including newsletter and promos
Hundreds of mobile-responsive email templates as well as signup form templates
Includes email tools to grow your business
Allows you to run A/B tests so that you can ascertain that your design choices impact signups
You can run email campaigns for selling more
It offers plenty of educational content for mastering email marketing that includes video library, educational guides, blogs, knowledge base and more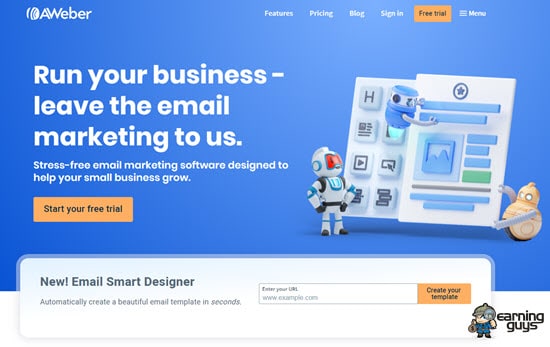 Pabbly is a well-trusted email marketing service with a single opt-in. It allows you to populate different types of emails for promotional, educational, marketing, etc.
This service offers the built-in SMTP option as well as lots of other vital features such as the list cleaning, drip automation, custom tags, etc.
It has the most reliable inbox delivery. You can send emails with its in-built delivery server.
Moreover, it's one of the most affordable email marketing service providers out there.
In fact, Pabbly Email Marketing is loaded with an extensive set of features to boost your email marketing performance.
For example, you can connect your SMTP services like SendGrid, Amazon SES, MailGun, and others. It facilitates marketing automation by allowing you to deliver emails on a pre-set schedule for engaging your subscribers.
Some of its key features include:
Drag & Drop Email Builder
The in-built lead capture tool
Subscription Forms
Autoresponders
Add Multiple SMTPs
Email Tracking
Moreover, much more
Pricing Details:
Starters – You can connect up to three SMTPs. It includes all the basic features of Pabbly Email Marketing
Rookie – $29 per month. You can send emails to 5000 subscribers. It offers advanced features of 3 SMTP connections, email builder, automatic follow-ups, unlimited monthly campaigns, and more
Pro – $49 per month. You can send emails to 15000 subscribers. Plus, you get features such as live chat support, SMTP routing, unlimited SMTP connections, and more.
Advanced – It offers different pricing schemes such as $99 per month for sending 50,000 emails along with many enhanced features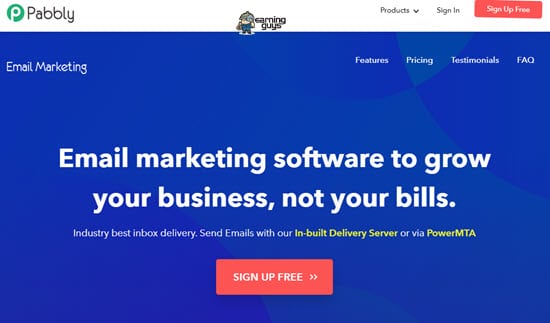 3. Sendy Single Opt-In Email Software
Sendy is a powerful email management app that allows you to send trackable emails with Amazon's simple email service (SES).
It's a self-hosted email newsletter program that comes with an autoresponder, allowing tracking and offers results & reports, managing lists, and subscribers, as well as with lots of other features.
It works quite well as long as you don't have to handle excessively complicated tasks. Moreover, it's aimed to be simple. It offers the usual manual imports or CSV imports.
In fact, you can use Sendy with a single opt-in. However, it also supports double opt-in. So, you can manage your list. Moreover, you can use it as either double or single opt-in according to your requirements.
Sendy allows you to import contacts manually by either cutting or pasting the email addresses. However, it also allows you to import contacts by uploading a CSV file in the list.
Pricing:
Sendy can be purchased at a very economical price of $59 using a one-time payment option. Furthermore, you can use this email newsletter application for sending bulk emails with Amazon SES at only $1 for 10,000 emails.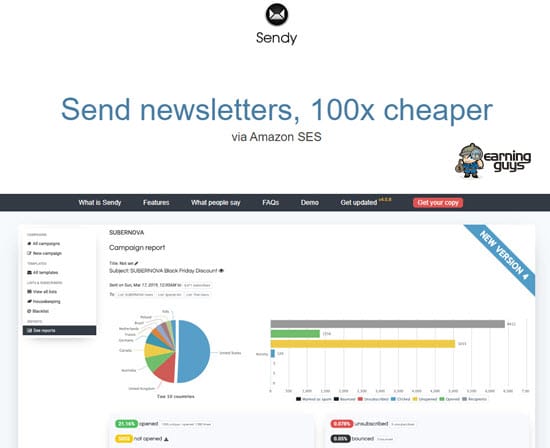 Mailchimp is a top-rated email marketing service providers out there. It comes with single opt-in importing options. They have great tools and offer a user-friendly interface with a fabulous support system. With Mailchimp, email marketing becomes a delightful as well as affordable experience.
Mailchimp comes with different pricing plans to fit your specific requirements.
With its Forever Free Plan, you can send up to 12000 emails per month to 2000 subscribers. However, the emails that you send to your subscribers will have the Mailchimp Badge in the footer.
Its paid plans begin at $10 per month.
The good thing with Mailchimp is the fact that it integrates with WordPress, Shopify, Magento, and lots of other platforms as well, thereby making it a highly robust email marketing service.
It comes with Autoresponders, merge tags, email creators, and enables the segmentation of contacts with groups.
It even offers simple tracking and analytics. You get pre-designed templates with which you can customize your sign up forms.
It has a top-notch support system that is delivered through email and live chat. Plus, it has a massive knowledge base with tons of videos, how-to guides, and tutorials.
Another notable aspect with Mailchimp is that it wants you to be highly proactive with filtering your list & keeping it up to date. So, if you have a high bounce rate or a large number of your subscribers mark you as spam, then it will suspend the single opt-in option in your Mailchimp account.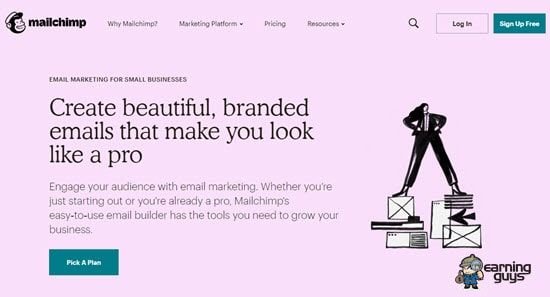 5. GetResponse Single Opt-In Email Service
GetResponse is another very popular email marketing service with a single opt-in option. It is also known for providing solutions for building landing pages, webinars, marketing automation, as well as email marketing.
GetResponse has been loaded with superb features that are super easy to set up. It is very easy-to-use & simplifies email marketing for absolute beginners.
GetResponse proves one of the best platforms for increasing your conversions, growing your lists, as well as optimizing your audience engagement.
It is known for its high-converting web forms, unique delivery tools, Autoresponders, laser-sharp segmentation, as well as beautiful emails.
Moreover, GetResponse features advanced optimization tools and Drag-and-drop editor for creating promo pages. Plus, it comes with as much as 100 mobile-ready templates.
You can use its marketing automation tools for creating automated campaigns. You can create effective email campaigns and boost your profits.
Their support is top-notch through email, live chat, and phone. You also get lots of free learning material such as videos, guides, webinars, and how-tos.
The pricing starts at $15 per month.
They also have a 30-day free trial.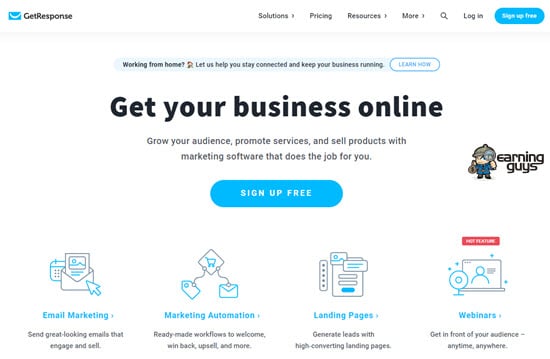 SendPulse is a top-rated email marketing service provider with a single opt-in. It is mainly known for its free bulk email service. It comes with a powerful set of features to make you successful in your email marketing campaigns.
Some of its noteworthy features include:
Convenient Email Editor: Its drag-and-drop email editor allows you to create professional email templates easily & quickly.
Automation 360: This Automation feature allows you to set up email send-out, web push notifications, and SMS flows, taking into account variables, events, and actions that your users take.
Subscriber Rating: You can analyze the activity of your subscribers. You can even segment your mailing list.
Personalize your Emails: For example, you can address your customers by name. You can insert any information about them into your emails.
Subscription Forms: You can create a unique subscription form for collecting subscribers and sending emails to them.
Statistics: You can monitor the opens and clicks for improving your email campaigns
It offers more than 100 ready-made templates for creating emails that look good on any device of any resolution.
Pricing: Starts at $5.2 per month for up to 500 subscribers with professional features and unlimited emails.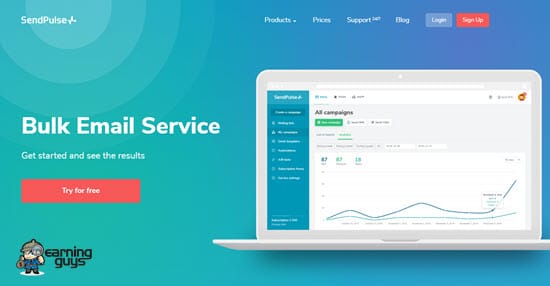 Campaign Monitor is another highly rated email management platform that offers a whole set of customer experience tools for guiding the user experience from opt-in to conversion.
It allows you to create & send beautiful email campaigns by using drag-and-drop email builder, tracking of emails, email automation, and lots more.
You can import single opt-in lists through spreadsheets, CSV, .txt files, Vcard files, and even by using archives such as .zip or .rar file, which contains one of the above.
The pricing scheme available with Campaign Monitor is based on a different number of subscribers. Here, we have listed the plans for 10,000 subscribers:
Basic: It has all the core email marketing features. It allows you to broadcast 50,000 emails to your contacts.
Unlimited: This plan allows you to send unlimited emails with options such as unlimited spam testing, time-zoned sending, and unlimited inbox preview, advanced marketing automation, etc. It's available at $149 per month.
Premier: The plan allows you to send unlimited emails. It's available at a price tag of $249 per month. It supports lots of advanced features such as template management, link tracking, advanced marketing automation, as well as all the core marketing features.
Subsequently, you will find pricing variations based on the number of subscribers. For 25,000 subscribers, the pricing for plans mentioned above is as follows:
Basic – $199
Unlimited – $399
Premier – $499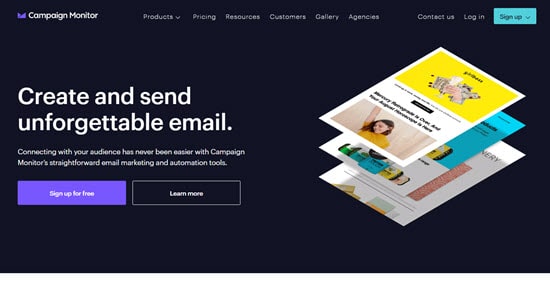 ActiveCampaign allows you to create smart email marketing campaigns. It's powerful yet easy to use. With ActiveCampaign, you can deliver the most effective message easily and quickly. Moreover, it allows you to convert your visitors to leads, customers, and advocates.
ActiveCampaign is known for its beautiful email template editor as well as mobile-friendly signup forms. It allows you to segment contacts based on their behavior, location, social data, and actions.
You can fetch additional data from your contacts by using their email addresses. It can also integrate with third-party software such as WordPress.
ActiveCampaign allows you to send personalized messages for engaging contacts and converting more customers.
You can design eye-catching campaigns by using its Drag-and-drop Campaign Builder. It completely manages customer data so that you get good knowledge about your customers.
So, if you want marketing automation that's powerful and easy-to-use, then ActiveCampaign turns out to be a good choice.
Pricing starts from $9 per month.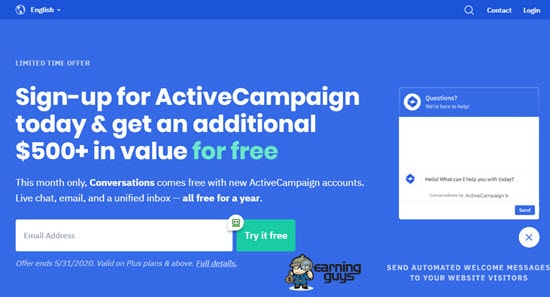 Constant Contact is another fastest-growing email marketing service providers in the world.
It is known for developing a customer relationship by providing highly efficient email marketing solutions. It allows you to carry out email marketing easily and affordably.
Constant Contact is a beginner-friendly email marketing service provider in the world. You can manage email lists, contacts, email templates, and more efficiently.
Its Email Editor is one of the best in the industry that allows you to create and share awesome emails in minutes. You can use its list-building tools for developing your contact list.
Constant Contact offers excellent email list management capabilities. It even includes numerous customizable email templates. Constant Contact also allows tracking of the sent emails. It supports social media link integration with Facebook & Twitter. Constant Contact is also known for its prompt customer support.
Most importantly, its pricing models are really affordable. It even includes a 60-day free trial offer.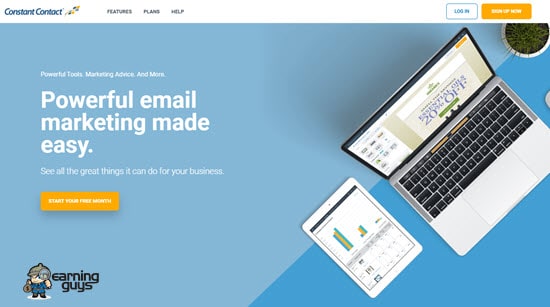 ConvertKit is one of the top email marketing service providers with a single opt-in option. The platform is useful for anyone who wants to build audiences. Moreover, it is equipped with advanced features.
You get attractive forms, trackable data, as well as powerful automation. With its customizable opt-in forms, you can convert casual readers to repeat customers.
ConvertKit is studded with top-notch reporting capabilities allowing you to keep track of your growth. It can even display subscriber data as well as opt-in conversions. ConvertKit is powerful and yet extremely easy-to-use.
It allows you to use Autoresponders for sending drip emails. You can also segment contacts based on interests & purchase action. In fact, ConvertKit proves useful in marketing automation.
It allows you to send the right message to the right person at the right time. You can embed forms on your website for growing your audience. You can shoot automated emails that feel personal. Moreover, it offers the right tools for growing your business.
Simply put, ConvertKit is best at email marketing. Pricing starts at $29/mo for up to 1000 subscribers with premium support and lots of features.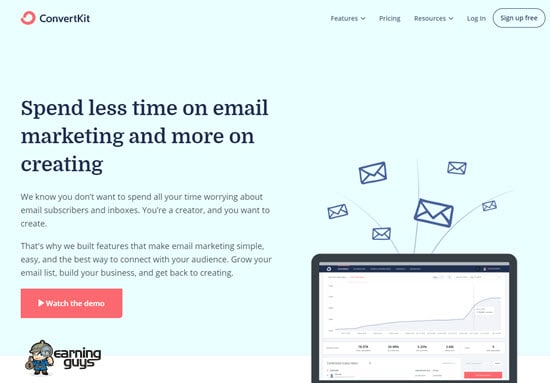 So, that's all in this post on 10 Single Opt-In Email Marketing Service Providers. We hope that it proves useful to you. Thanks for visiting. Please share the post across popular social networking sites.