Do you know the most important factor that governs the volume of sales on eCommerce sites?
To let you know, it's the "Trust" factor that makes a HUGE impact on sales on eCommerce sites.
So, it becomes necessary for you to build trust for your eCommerce site.
Well, there are lots of ways to build trust, but the best way to do it is to include Trust Badges into the mix.
Today we take a look at the 6 Best Trust Badges to Increase your site conversion rate.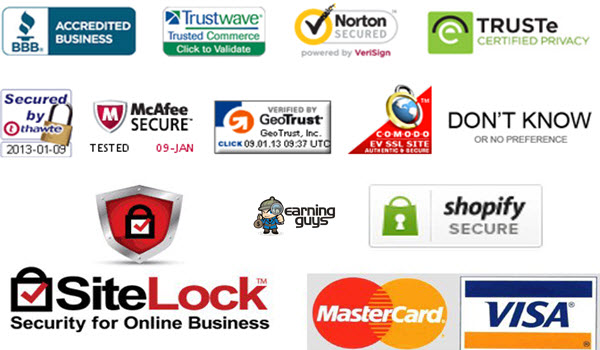 Let us put forward some stats to back the claim on the utility and necessity of trust badges.
In fact, stats from CyberSource reveal that as much as 85% of UK online shoppers actively search for trust signs on eCommerce sites to ensure that they are safe for online shopping.
Moreover, it has pointed out that use of trust badges increase conversion rates by as much as 40%.
So, trust has a vital role not only in eCommerce but all forms of businesses.
Here's one more stat that shows the importance of trust in the success of online businesses.
A study conducted on online shopping behavior showed that as much as 70% of shoppers are likely to cancel their orders just because they don't trust the website.
So, if you want to propel sales, you need to win the trust of your target market by keeping your website secure.
The best way to do this is to use a trust seal/trust badge on your site.
In fact, trust badges are a sign of "Peace" to online shoppers. They are used as signs of "Verified and Secured."
Site Seals are put as technical and third party recommendation security. They are integrated into the site in the form of an image file or javascript.
The important thing for you is that it is easy to build trust using these seals of security known as trust badges, website badges or trust seals.
What are Trust Seals/Trust Badges?
A trust seal is a secure site seal displayed as small badges on a website, particularly on store or payment pages.
The function of trust seals depends on the company who vetted or granted its use. It reveals the trust score of the websites and points out to the visitors how safe is the business for them.
It also indicates the presence of SSL/TLS showing that the site connects over HTTPs thereby ensuring that the data transmitted between a visitor's browser and the server is encrypted.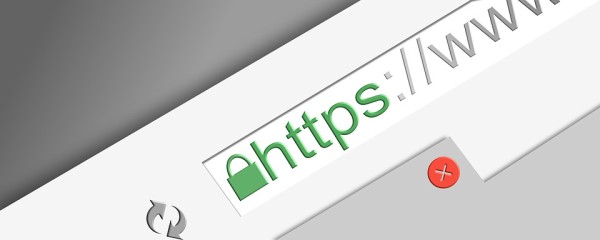 Trust seals come in various shapes and sizes. Some even have animations. In fact, a typical trust seal shows the organization's identity information upon clicking it.
In most cases, a trust seal is used to demonstrate to customers that the business is secured. It establishes a secure method for transactions.
Most importantly, it is used to establish the verified existence of the company. They verify the legitimacy of a web page and even confer a special status.
Hence, the overall purpose of using these symbols is to establish the legitimacy and credibility of a brand to show that it is successful and safe for conducting business.
Moreover, the use of trust seals has a significant effect on consumer behavior. Studies have shown that use of trust logos have increased the trustworthiness of a brand in 75% of the respondents.
In fact, a large chunk of respondents has opted out of a transaction just because trust logos were absent.
That said the key lies in selecting a trust logo that is easily recognized by the customers.
The main purpose is to make the customers feel comfortable so that they continue to browse your website or complete a transaction thereby converting on your landing page.
Some of the most popular forms of trust seals include data security seals, business verified seals, and privacy seals.
Trust seals can have from a variety of companies for a fee.
Trust seals can be either active or passive.
Moreover, most of the trust seals are validated while creating. Post expiry of trust seals, the business process has to be re-validated.
Nowadays, businesses use different types of trust seals for propelling prospects to take a specific action.
For example, they place a security badge on an eCommerce page thereby making visitors feel comfortable when they enter sensitive information (such as credit card number) and complete a transaction.
Sometimes an industry award is used to highlight an accomplishment.
It is used to propel prospects to view a demonstration, request a free consultation, download a white paper, or even go and register for a webinar.
All in all, companies are using trust seals for making a great impression on potential customers.
Here, we highlight the best places where you can include trust seals.
Yes, the location of trust seals on your website or landing page can make an even greater impact on consumer confidence.
When you place the trust seals close to the important fields, you reassure consumers, and they feel comfortable in entering sensitive information.
Trust seals are placed commonly in the following locations:
In the header: A trust seal can be placed in the headline of a landing page where it is visible to potential clients right away. Here, it can be placed close to actionable items such as next to the phone number.
Near a form: Trusted logos can be positioned below the lead capture form. It helps to remind and reassure prospects that reputable & established brands trust the services of your website.
In the navigation menu: Navigation links can be used as website trust seals. It can direct visitors to a dedicated page where you can showcase popular brands that use your services.
For example, you can have a separate "Customers" navigation links that direct visitors to a page that highlight companies that use your products or services.
On Checkout Page: This is the place where the customer will finalize the order and ready to make payment. This is one of the best places to display your security seals.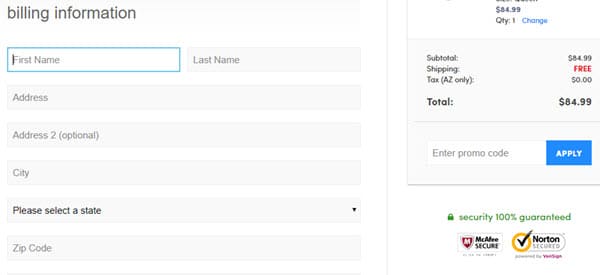 Why your site need Trust Seals?
You need to understand and appreciate the fact that security consciousness grips today's online shopping.
This could be better understood when you imagine yourself as a customer who has ventured out for online shopping.
Let's suppose; you want to buy a sophisticated watch for your wife, and decide to buy it online. Everyone is aware of online fraud these days, so you are already much cautious about buying online.
You put in hours searching the right brand, and after much deliberation, you narrow your search to two brands from two online shops.
Let's name them OnlineShop-1 and OnlineShop-2.
OnlineShop-1 comes with a clean layout.
It displays the product from all angles and supplements it with good reviews below the item. You are pretty convinced and decide to head over to the checkout page.
Right below the payment forms, you see a small badge of a trust seal. You click on it and see the company's full profile and contact details.
Plus, the URL of OnlineShop-1 begins with https.
So, you are sure that the payment information will be encrypted once you go on to submit it. So, you make up your mind to transact on the site.
However, you need to check out OnlineShop-2, to be sure.
OnlineShop-2 also offers a clean website with plenty of product images and reviews. However, its payment form does not carry any trust seals. It's just a plain, blank payment form.
Its website URL begins with HTTP so you can make out that it's not safe for entering credit card information.
You conclude that OnlineShop-2 is not a trusted one for making a transaction.
You immediately close this website and head over to OnlineShop-1 for placing your order.
Now, it's evident from the above example that anyone who is interested in online shopping has much concern for security in transactions.
In fact, more than 50% of online shoppers look for trust seals to make sure whether the website is trusted one or not.
So, the presence of trust seal or trust badge is a security indicator.
Now, OnlineShop-2 could have been a legitimate online shop.
It's the lack of trust badge (no https) that has made you shun it and prefer OnlineShop-1 for going through the transaction.
So, the presence of trust badge or trust seals heightens the trust quotient in the mind of a cautious online shopper.
Nowadays, websites with trust seals are preferred over the ones without them.
Having a trust seal ensures credibility and trust.
You stand to win the confidence of your visitors and see sales coming your way.
Now, if you are running OnlineShop-2 type of business, then you should take immediate action to improve the online security of your website.
Here, SSL/TLS is an essential component of your online security as it encrypts information that is submitted to your website. So, it remains safe from interception by malicious parties.
Many TLS Certificate providers even offer trust seals for sites with TLS.
Sites with TLS connect over https:// and show a padlock in the URL bar. Together with the trust seals, they serve as security indicators and increase your visitors' trust in your website.
You can even use an Extended Validation (EV) TLS Certificate.
It brings your company's verified identified front by displaying your company name right in the URL.
It establishes that your site is legitimately operated and isn't an imposter or phishing site.
Different Kinds of Trust Badges
You can acquire trust badges or trust seals from SSL Certificate Providers. They can also acquire from your hosting company, your payment processor, and even from third parties such as Better Business Bureau. They can even be created by yourself.
Here, we provide a complete breakdown of each kind of trust badge that you can implement as an eCommerce store owner for increasing trust.
Shipping/Payment Badges
These are trust badges that display logos of your accepted shipping and payment methods. When you display trust logos of the big and established companies, it increases the trust of your visitors for zero spends.
Moreover, most of these icons are free. You can display these badges in the footer, header, body, or check out areas of your site.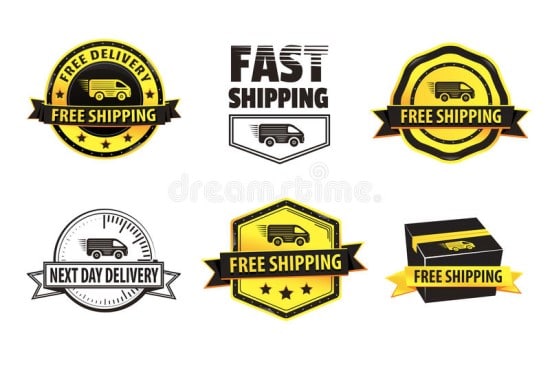 Money Back Guarantee Badges
As you can make out by the name itself, Money Back Guarantee Badges are visual seals that offer a money back guarantee to the buyer in case they are not satisfied.
Studies show that using the money back guarantee badges on your website can increase your conversion rate by as much as 30% (according to Visual Website Optimizer).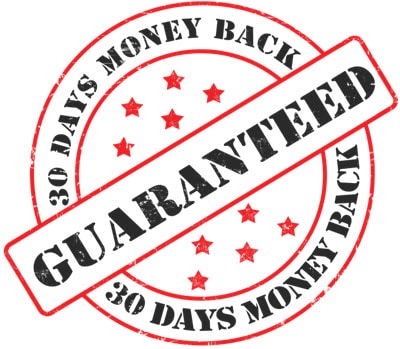 Third Party Endorsement Trust Badges
These third-party trust badges go on to add credibility to your store. Some of the examples of third-party endorsement trust badges include Better Business Bureau Trust Badge or eCommerce Stores Google Customer Reviews Badge.

Security Badges
These are security seals which signal that your online store meets industry security requirements. The most trusted security seals include the likes of Norton and McAfee that you can include in your store.
These security badges can be bought for your site if your site matches their requirements.
SSL Badges
The SSL Certificate Badge shows that your site is secure. These badges show that your store is secured via SSL. A green lock appears in the browser on a secure site.
With the SSL Badge, the online customers can make out that your online store is safe and secure. In fact, Shopify provides an SSL certificate to all stores by default.
How to use Trust Badges?
The Trust Badges can be displayed on your website once the SSL Provider authenticates your business and the initial malware scan does not detect any malware. You will be notified by email informing that the trust badge is available for you to add to your website.
The site owner needs to access the Trust Seal installation page for generating the trust seal code that you can add to your web pages. After that you then have to accept their terms and conditions under Secured Seal Services Agreement. You can select the size and format of the secured seal.
Finally, you can generate the secured seal code and use the normal HTML or web development editor for adding the secured seal code to any page of your website.
You need to copy and paste the seal code into your web page code where you want to display the trust seal.
6 Best Trust Badges
Here, we share some of the best trust badges that you can use on your website for increasing its credibility as well as the comfort level of your visitors.
Symantec which was formerly known as VeriSign offers enterprise-class strength SSL/TLS Certificates. It is regarded as the most established Certificate Authority in the World. It offers the opportunity to display the Norton Secured Seal – the most recognized trust mark on the web.
The daily malware scanning is built right into every Symantec SSL/TLS Certificate that provides added protection against malicious infections.
Plus, it comes studded with 24/7 customer support. The pricing for Symantec SSL/TLS Certificates starts at $399/yr. With Symantec, you can focus on running your business, safely.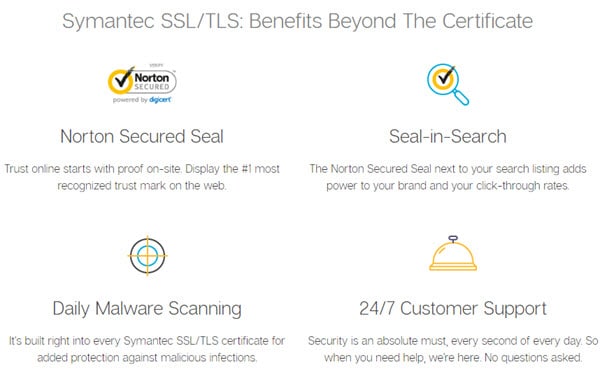 The GeoTrust Secured Seal is one of the most trusted "trust signs" on the web. It is available with every GeoTrust SSL Certificate. It shows to the website visitors that their information is protected.
The GeoTrust Secured Seal can be placed on your homepage, buy page, log-in or any other page on your authenticated site where visitors want to verify your website.
Nowadays, online visitors look for trust signs when they transact online. With GeoTrust Secured Seal, you can assure your visitors that they are safe while transacting on your site.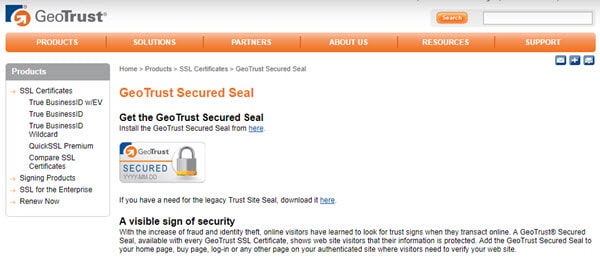 Comodo SSL is the quickest and the most cost-efficient way of safeguarding customer transactions for your online business. In fact, Comodo SSL is the best way for protecting all communication and data that is being transmitted through the websites.
It offers a great value to small and medium-sized businesses.
With Comodo SSL, your site is empowered with the highest security levels. You also get to have additional tools for winning customer trust and increase sales conversion.
Studded with 'point to verify' technology, Comodo SSL offers real-time verification of your business credentials. You get 2048 bit signatures, 256-bit encryption and highest levels of security for your customers.
So, the Comodo SSL Certificate will secure your site with full 256-bit encryption. Plus, there is dedicated support for you whenever you need it.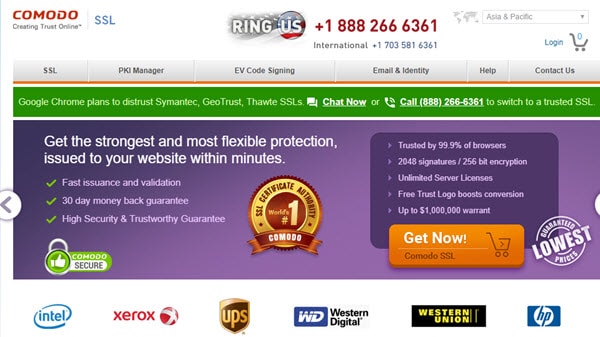 GoDaddy SSL Certificate is one of the best ways to secure your data and transactions. It comes with a "Verified & Secured" badge. With GoDaddy SSL, you can secure your data and boost your Google rank. It offers the opportunity to improve SEO by showing Google that your site is secure.
GoDaddy offers SHA-2 and 2048-bit encryption which is among the best in the market. It displays a security seal on your site and compatible with all the major browsers. You get to have unlimited 24/7 security support. It includes McAfee Secure trust mark on every page to reassure visitors that your site is safe.
So, GoDaddy SSL is one of the best ways to protect your customer's sensitive information.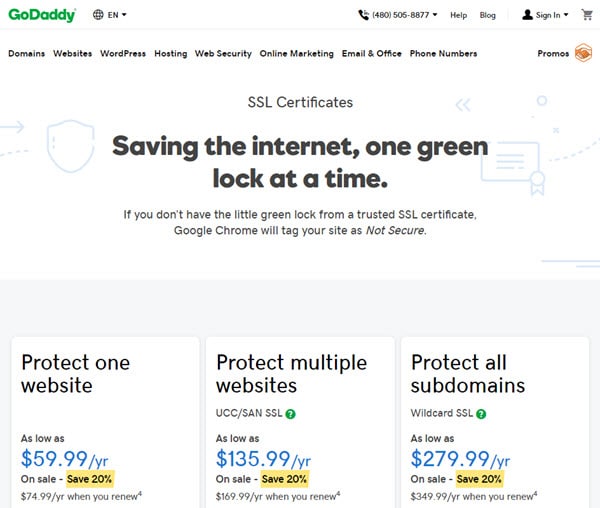 TrustLock verification badges are the easiest way to increase your sales and conversions on your website quickly.
So, if you sell online, TrustLock verification badges can improve your sales. The TrustLock seals help you to turn questioning shoppers into confident buyers.
With TrustLock, you become verified business, safe privacy, and SSL Secure. It opens doors for higher conversion rates, increased credibility, and buyer confidence. With TrustLock, your visitors get a reason to trust you.
TrustLock badges address security, privacy, and business identity concerns. You go on to build your business trust, reduce bounce rate. The website can boost your opt-in rates. You can resolve security concerns and increase buyer confidence. You get over 108 badge designs for the perfect look.
With TrustLock badge, your visitors will trust your website and decide to buy as it verifies that the business is legitimate.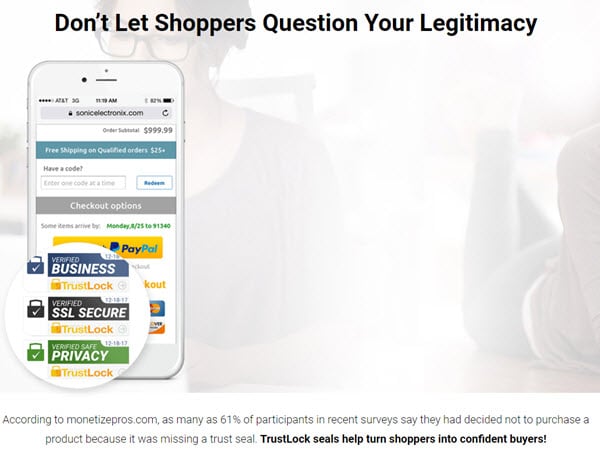 Truste certification seal ensures that your websites, apps, and cloud platforms meet privacy best practices. It ensures that your potential customers and business partners trust you with their data in a world which is heightened with data privacy awareness.
Truste offers enterprise privacy certification standards. It is based on the Fair Information Practice Principles, OECD Privacy Guidelines, APEC Privacy Framework, and the EU-U.S. and Swiss-U.S. Privacy Shield Principles.
You can display Truste certification seal on applicable digital properties. It provides real-time verification and meets globally recognized privacy requirements.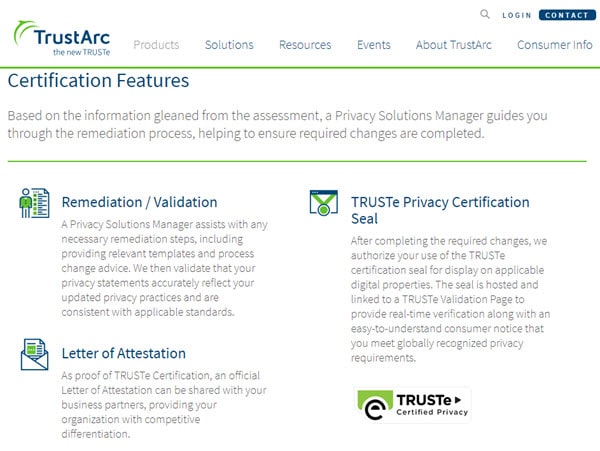 So, if you have an eCommerce site, having a trust badge is probably the best decision that you can take to propel the growth of your online business.
Its small image has a profound impact on conversion rates, and you end up generating more revenue from your existing traffic.
That's all we have for you in this presentation on Trust Badges.
We hope that the article proves immensely useful to you.
If you liked this Trust Seal article, do share it on Facebook, LinkedIn, and Twitter. We welcome your comments and suggestions.