The way to become popular on YouTube is to increase your YouTube Subscribers. It is the best platform for hosting videos. It's a huge traffic source. As a matter of fact, YouTube receives over 30 million visits per day.
So, if you also want to take advantage of this powerful Video Platform, you have to increase the number of subscribers for your YouTube channel. In this post, I have shown How to get Subscribers for YouTube channels.
The popularity of Video-Blogging is growing by leaps and bounds.
The reason being that a Video has the inherent capacity to connect with people on a deeper level. Moreover, the future is for Video Marketing. It is estimated that in 2017, 74 percent of all internet traffic will be video.
So, if you have a large subscriber base for YouTube Channel, there is every likelihood that you end up getting more viewers for your videos hosted on YouTube Platform.
Whenever subscribers login to their YouTube Account, your Videos get featured on their list which invariably increases the chances of it being viewed.
With increased viewership on YouTube, your videos get a favorable lift on Google SERPs. So, Whenever viewers search for Video Results on Google, your Videos get featured amongst the top results.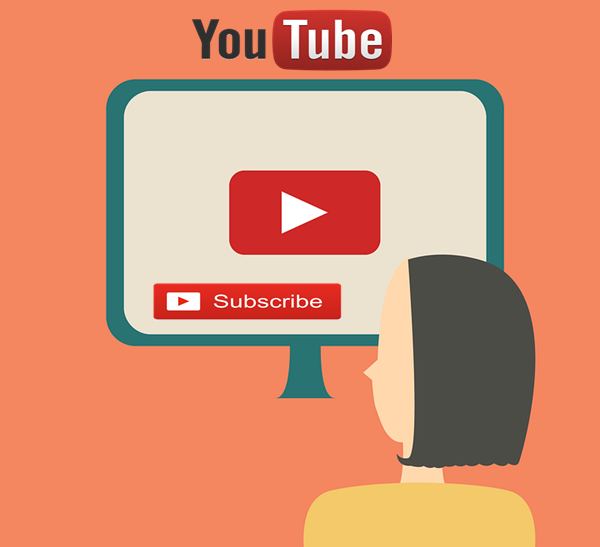 So, there is a boost in the organic traffic for your Video Channel. Thus, it pays to do YouTube SEO.
Here, is a list of powerful tips which will help you to elevate your YouTube presence and increase your subscribers on YouTube.
Tips to Increase YouTube Subscribers
If you are looking to get more YouTube subscribers to your channel and want to increase the reach of your YouTube Videos, just go through this list featuring the methods to increase your Subscribers on YouTube.
So, let's go ahead and see how to get subscribers on YouTube fast and easy. There's surely a lot of audience waiting to be grabbed for your uploaded video.
YouTube is the best platform to broaden your Internet Reach. Use these smart ways to get more YouTube Subscribers and Viewers.
Get Going by Posting Quality and Useful Content
It is one of the essential prerequisites for getting more subscribers and viewers for your YouTube Channel. So, post quality and useful content on your YouTube Channel.
Terrible quality videos utterly disappoint viewers. It lowers your brand value when viewers see useless content coming their way. So, if you want to promote your brand then make it a thumb rule to post unique and quality content.
You can take inspiration from trending and popular topics and go on to post your unique twist on those. You can even come with a Q&A Video and help your target audience in solving their popular problems.
Remember that only those videos are a hit with the audiences that goes on to address their main pain points.
So, you should create Video Content that addresses their needs.
Be Consistent
One of the keys to getting more subscribers on YouTube is to be consistent with your uploads. So, you should focus on providing as much content as you can.
You should make a point to upload videos at least once a week. More videos will get you more search result which in turn helps to get more subscribers.
However, you should avoid posting too many videos per week as it can clog up your channel and make it difficult for viewers to find what they want.
Here, a good habit is to group videos into playlists so that it becomes easy for people to find videos they are interested.
Come up with a Schedule and Stick to it
It is good for your subscribers to know when your next video will be available. So, make a schedule and stick to it. You should be uploading your videos at regular times throughout the week.
It enables your subscribers to know when the next video will be available so that they can return to your channel when the video is uploaded.
If people know that you regularly produce content, they are more likely to subscribe to your channel. You can even consider the live streaming your videos as they are often placed higher in YouTube Search Results.
Tag your Videos properly
Proper tagging of your videos is important as it enables your videos to show up in relevant searches. Here, it is important to note that all of your tags should match the content of your videos.
On the other hand, if your videos are not properly tagged, people will leave after few seconds and will never return again. When it comes to tagging your videos, you can use multi-word tags as well as single words.
Make sure that you use relevant tags that are mostly searched by people. Plus, you should not use more than 15 hashtags per video as YouTube will ignore all such hashtag and may not display your video in the search results.
Come up with a Proper Title and Description
Titles and descriptions are the first impressions of your YouTube Video. If you want to make your presence felt on YouTube Channel, then you should choose your title and description wisely.
YouTube has set the maximum title length at 100 characters. So, your title should be as clear and concise as possible. In fact, a title is the first thing viewers will look at before they go on to click your content.
The title has the potential to attract the attention of your audience. It should be descriptive and accurate. Make your title and description as straightforward as possible.
Never leave your description as blank. Instead, write unique and keyword rich content in the description.
You can even include URLs in the description so that you can send traffic to your website or other social channels.
Have a Clear Call-to-Action
YouTube provides a big opportunity to build a relationship with your target audience. It has built-in features which enable you to incorporate a Call-to-Action (CTA) in your videos easily.
You have already tasted success as viewers go on to click on and watch your video content.
As they have shown interested in your content; you can get them to complete the desired next step.
So, it is important for you to let your audience know what they have to do to further the relationship.
So, if you want to grow your subscriber's list then you're Call-to-Action should be something like "subscribe now."
There are different ways by which you can include a Call-to-Action on your YouTube Videos. Some of the prominent ways you can do this:
Include Call-to-Action Buttons to your content
Have a vocal Call-to-Action wherein the person speaking in the video can tell the audience what action to take next
Include a Text Call-to-Action wherein you can use titles or captions for sharing information and suggestions with your target audience
Come up with an engaging YouTube Trailer
An engaging YouTube Trailer has the potential to attract new YouTube Subscribers to your channel. With a YouTube trailer, your potential audience members can have a look at what your content is all about.
An engaging YouTube Trailer has clear CTA encouraging viewers to subscribe. It entertains the viewers and indicates the type of videos your viewers can expect.
Craft the look of your YouTube Channel
Your YouTube Channel should carry your brand style and brand voice wherever possible. It should be professional as well as aesthetically pleasing.
The overall look of your channel should carry the sentiment and vision of your organization. Branding your channel is an important means of getting more subscribers.
So, besides focusing on the content, spend time on your channel icon. It visually represents your channel across Google and YouTube.
Another important element in crafting your YouTube Channel is the Channel Art. It is the banner across the top of your channel. It is used to show off your channel's personality.
Personalize your Video Thumbnails
It is important to package your video series with a consistent look and feel. So, it's a great idea to personalize your video thumbnails.
You can make use of branded fonts, colors, and images. Moreover, custom thumbnails enable viewers to pick your video out from other thumbnails.
Use Annotations
It is important to make your videos engaging and interactive to gain subscribers on YouTube. An easy way to do this is to use annotations. Using annotations, you can layer text, links, and hotspots over your video thereby enriching the video experience by adding information and interactivity.
Some common annotation use:
Allowing viewers to skip ahead
Suggesting other Videos
Adding a Call-to-Action
Linking to your website
Linking to your subscribe button for your channel
By using annotations, you can encourage viewers to watch more thereby boosting your channel's watch time.
Keep Your Videos Short
An average YouTube video runs for 4.4 minutes. So, it makes sense to keep your videos of shorter duration so that you can easily keep your audience's attention.
Some experts suggest that three minutes is the ideal length of a YouTube Video. So, keep your videos short. However, if you have an interview or speech, you will need to extend the limit to convey the story properly.
The underlining thought is that the video should be liked and appreciated by viewers. A positive review will only help to gain more subscribers.
Some study says videos of about ten minutes get more view. So you should test videos with different length.
Collaborate with other YouTubers
Like other social media networks, YouTube also provides the opportunity to connect with numerous communities relevant to your organization or brand.
So, you can collaborate with such YouTubers within your industry on a video or series of videos. It is beneficial as it gives your brand visibility in new markets and you can also gain new subscribers on YouTube.
Here are some good ideas for YouTube partnerships:
Uploading your videos to each others' channels
Collaborating through social media
Guest Appearances in each others' videos
Exchanging shout-outs
Collaborating with Google Hangouts on-air
Interact with your audience
YouTube isn't a place for just dumping your content and then forgetting about it. Rather, it's a place for social media engagement where you interact with your audience.
So, you should not only take up to answering questions from your audience but also encourage them to ask such questions by providing quality content that warrants comments.
You should also find out what members of your specific community are interested in. The crux is to establish yourself as an active member of the community.
It will help you to gain more subscribers. So, you should take some time out to view other YouTubers Channels and post appropriate questions and comments.
You should also encourage your audience members for asking questions and contributing ideas for your future content.
Use 'Subscribe' buttons on your blog
The YouTube Channel can be used to link to your official web page. It's a good idea to channelize your YouTube visitors into your blog or website.
So, make sure you use the YouTube option to link to your website or blog if you got one. Moreover, it also verifies your channel as an authentic representation of your brand on YouTube.
For this, you have to add your website's URL in the channel's settings of your YouTube page for linking your channel and its associated web page.
Similarly, you can add 'Subscribe' buttons on your blog for driving more subscribers to your YouTube Channel.
End your Videos on a High Note
Whatever may be the nature of your published videos, always make a point to end your videos on a high note.
Don't forget to ask for subscription and like. If you never ask, the answer will always be no.
End your videos on a positive note with a stride of confidence in helping your audience. It helps to keep your visitors eager for more.
You can even create an Outro with a standard banner across all your videos. You can also have annotations for a subscribe button.
Reward your Subscribers
One way of getting more subscribers on YouTube is to reward them. When you give them a reason to subscribe, they would certainly like to follow your YouTube Channel.
So, give them a chance to win free things, prizes, and valuable assets. When you give out an incentive, you certainly advance on your way for getting more subscribers.
Never miss a chance in showing gratitude for your subscribers. You can host a contest, or offer a giveaway in exchange for them being loyal fans. It shows your dedication and makes them feel appreciated.
So you see that there are countless ways of getting new subscribers on YouTube. You just have to focus on what your audience wants, and then you have the opportunity to build a dedicated community.
Always create quality content that is associated with your audience's interests and needs. You will certainly see that your subscriber base is growing on YouTube.