The whole effort of digital marketing is to facilitate user engagement. As such, it employs various techniques to achieve user engagement. One of the popular techniques used is website push notifications. Today, we share with you the 12+ Best Website Push Notification Services.
Website Push Notification is also known as Web Push Notification or Browser Push Notification. These are messages delivered directly to users' browsers, even when they are not actively on the site. It includes a message along with a picture.
What Are Website Push Notifications?
Website Push Notifications is a digital marketing technique used to get users back on your website. It intends to achieve user engagement by sending a simple push notification.
Web/Browser Push Notifications are simple to implement as you do not need user's contact information for marketing.
Users have to click on the 'Allow Notification Button' on the browser when they visit your website for the first time. Once this is done, you can send push notifications to your users easily.
So, you see that push notification is totally based on the users' permission. With web push notifications, you neither infringe upon anyone's privacy nor do you annoy them in any way.
Here, we have penned down the benefits of using a web push notification service.
Benefits Of Using Website Push Notification
You can send notifications to your subscribers about every new article you publish. So, push notifications help to increase your website traffic.
Browser/Web Notifications can be used to share various offers with your subscribers.
You can also use Web Push Notifications for sharing any news with your subscribers before your competitors do.
You can increase sales or even affiliate earnings using push notifications.
Take Surveys
Promote CPA/CPI Campaigns
Ability to re-engage with users without knowing their contact details.
And many more benefits.
So, you see that website push notifications have a unique place in the entire spectrum of digital marketing.
Unlike mobile app push notifications, which are limited to mobile devices and tablets, web push notifications also cover desktops.
Desktop usage still accounts for a good percentage of total internet time. So, website push notifications go on to deliver the power of real-time push notifications to this large percentage of internet users, as well.
Another factor that makes web push notifications very important for e-commerce is the cost factor. In fact, building a quality app turns out to be an expensive affair.
Moreover, for small and mid-sized companies, mobile websites may reach more people than mobile apps do. With website push notifications, businesses can send push notifications without investing in an app.
On the whole, website or browser push notifications prove an instant and viable communication channel used on all devices, be it desktop, mobile, or tablet.
How Does Website Push Notifications Work?
In the case of a mobile app, whenever you install an app, the app sends out push notifications to your device by default. On the other hand, websites have to explicitly take their users' permissions to send them to push notifications.
Here, we illustrate how website push notifications work:
1. The first step in getting web push notifications up and running is to get opt-in from visitors. When a visitor arrives on a website, an opt-in box is triggered. If the visitor clicks on "Allow," he or she is added to your subscriber list.
2. When a 'visitor' becomes a 'subscriber,' you can trigger push notifications from your website. You can incorporate a title message and a text message (which are customizable within certain character limits), and a URL needs to be specified. These notifications arrive in real-time even when the website is not open at that point in time. When the subscriber clicks on the notification, he or she will be directed to the URL specified.
Things to keep in mind while Copywriting Push Notifications
Effectiveness is the key to success for push notifications. As push notifications impose character limits on the title and the message, you have to crisp, concise, and still effective in crafting push notifications.
You have to keep in mind that people will only click on the notification if they find it valuable. The purpose of the notification copy is to get subscribers to click.
Here are some tips for copywriting for push notifications:
Write a clear message – Do not come up with vague messages. Rather, be clear and precise in what you say in your notification. A clear message is action-oriented and gets a greater click rate than vague messages.
Identify important value proposition – The limit of 40-120 characters in your push notifications requires that you have to be crisp and concise in what you say to your audience. Identify the one most important value proposition of your message and make it prominent the notification copy.
Make use of Social Proof – Use of social proof in push notifications to increase the click rate. For example, you can come up with slogans pointing to social proof as, "The post has over a thousand Facebook likes" if you want subscribers to click through a blog post. However, you should write stuff that is credible and should never go overboard.
Have a sense of urgency – Create a sense of urgency in your push notifications copy. When your subscribers find out that the opportunity is closing, they want it much more. It is known as Fear of Missing out (FOMO). So, if you are running a sale on your online store, come up with a push notification that says something like this: "Flash Sale! 10 Hours only".
Timing and Frequency for Push Notifications
Plus, you should take note of the timings when you send out push notifications. So, you should take into account the time zone your subscribers are located. You should be having a clear understanding of how your subscribers are spread across the globe.
For example, you will only annoy your subscribers if you send out the push notification, "10 inspirational songs to start your day," when the stars are twinkling.
Thus, different kinds of notifications work at different times of the day.
Further up, you need to come up with an optimal frequency of sending push notifications. You should consider factors such as click rate, time on page, bounce rate, and opt-outs after every push notification to determine what optimal frequency works best for your audience.
What do you need to Track?
Click rate is the most important metric that you should track in website push notification is click rate. It is the percentage of people who clicked on your push notification message. The maximum click is better.
However, you should also consider the business goals for which you offered push notifications. It includes sales, visits to the checkout page, ads to cart, etc.
You can tag notification links with the UTM parameters for determining how many people are coming to your website through push notifications that have performed the above actions.
This covers almost everything related to website push notifications. Now, it's time to see the 12 Best Website Push Notification Services.
12 Top Website Push Notification Services
Here's the list for you:
1. Sendpulse Best Push Notification Service
Sendpulse not only offers to push notification service but lots of other services, as well. Apart from offering push notifications, Sendpulse offers Email Marketing, SMTP Server, Bulk SMS, and API.
Sendpulse comes with a lot of unique features.
Key Features include:
Supports Google Chrome, Safari, and Firefox on Desktop PCs.
It supports Google Chrome on Mobile Devices.
High level of subscriptions much to the web push request.
Highly effective messaging. Users get notifications as soon as they are connected to the World Wide Web.
Customized notifications for each audience member and can be sent on a segmented basis.
Developer APIs are provided by default.
Trigger Messages and bulk messages.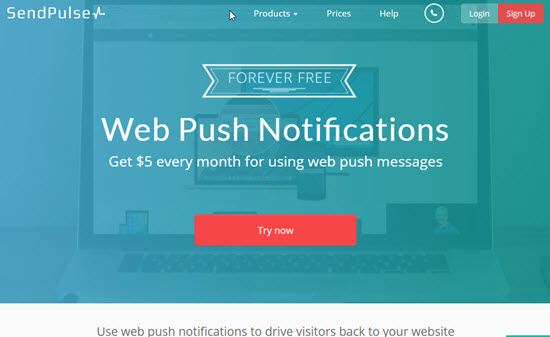 2. PushEngage Top Push Notification Service
PushEngage is one of the most trusted push notification services. Over 5500 websites in 115 countries are using it. PushEngage is easy to setup. It supports Chrome and Firefox. Using PushEngage, you can target desktop and mobile users through push notifications.
Some of its Key Features include:
Single-step optin for HTTP sites
Schedule Notifications
Automatic segments using URL Pattern
Automatic Notifications with RSS Feed
Multi-Site & Multi-User Login with Access Control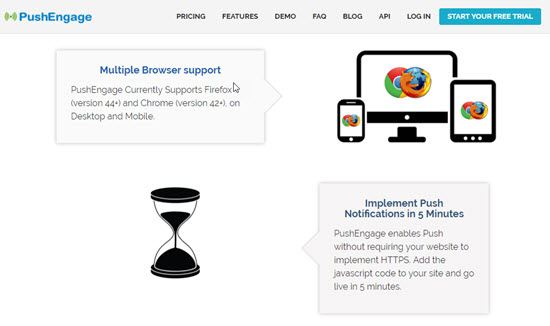 AdPush offers a more advanced business to customer messaging system by improving upon tools seen on other web notification platforms.
The AdPush UI is well-polished and easy-to-navigate. All features are accessible through the browser-based service, meaning you do not need to download any software to send, schedule, and track your messages. Setup is easy. You can start exploring AdPush with a free 14-day trial.
Key Features:
Daily stat reports show subscriber fluctuation.
Real-time tracking presents data from recently sent messages.
Subscriber lists let you send by geolocation, signup URL, or time zone.
The scheduler makes it possible to set notifications to go out in the future.
RSS-to-push functionality
Dynamic previewer enables you to see what your notification will look like on your customer's various devices.
Welcome drip puts your messaging in front of customers when they are the most likely to notice
Big Image in notifications

4. OneSignal Best Free Push Notification Service
OneSignal is one of the best website push notification service for beginners, and it is free to use. So, you can use OneSignal to send an unlimited push notification to unlimited subscribers without spending a single dime.
It can send the push notification to both mobile devices and PCs (through its Web Push API). It supports the biggest platforms such as Android, iOS, Windows Phone 8, Windows 8.1, etc.
OneSignal is being used by clients such as www.uber.com and www.9gag.com. So, they already have the trust of people and businesses alike.
Some of the key features of OneSignal Push Notification Service are as follows:
Easy Setup
Faster Delivery
Automated Push Notification
Real-Time Tracking
A/B Testing
Segmentation Targeting
They offer support for Google Chrome, Safari, and Firefox on Desktop PCs.
Google Chrome is supported on mobiles.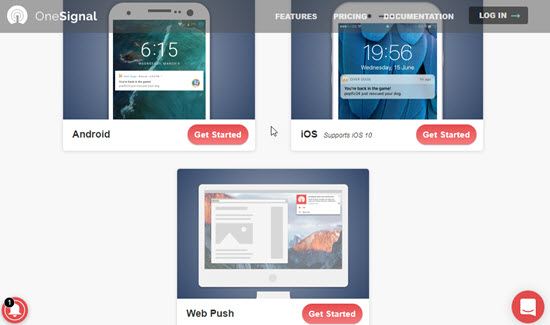 Pushcrew is one of the most popular web/browser push notification services. It is easy to set up, nicely designed, with a clean UI. You need to edit the default values, paste the given authentication code section, put it in your RSS feed, and it's ready to function. It is being used by clients such as www.seo-hacker.com and www.hindustantimes.com.
Some of the key features offered by Pushcrew push notification are as follows:
They support Google Chrome v.42 and above and Firefox v.44 on desktop PCs.
It supports Google Chrome on Android enabled Smartphones.
They offer the opportunity to schedule your notifications.
Add images to your notifications.
Send notifications to specific segments.
Multi-website and multi-user support
RSS to Push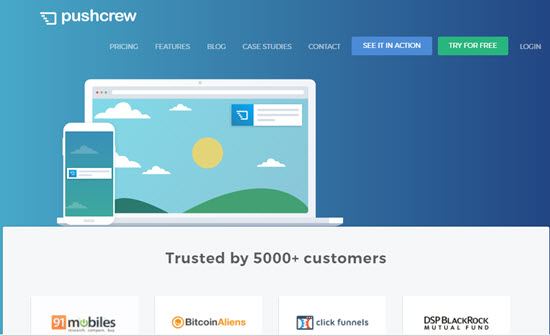 Although relatively a new entrant in the push notification industry, LetReach lets you engage your audiences comprehensively through web push notifications. Presently, about 1000 websites are using LetReach as their Push Notification Service.
Available in three plans of Standard, Pro, and Elite with $15, $60, and $175 per month, respectively, they come loaded with an awesome set of features.
Here are some of its features:
It's incredibly easy to set up.
Customizable multiple Opt-ins
Notification Management
Notification Scheduling
Adaptive Notifications
Geo-Targeting
Multiple Domains Support
Real-Time Metrics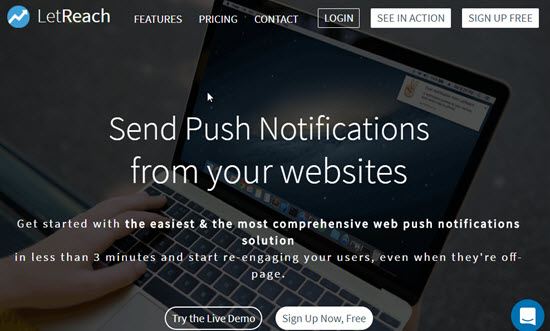 Like a few other tools on this list, push notifications are a small but significant part of what Omnisend has to offer. In fact, Omnisend is a full omnichannel marketing automation suite that can replace many of the smaller tools you're probably already using.
This tool offers marketing automation for email, SMS, Facebook Messenger, Web Push notifications, WhatsApp, Viber, and many more. What makes Omnisend stand apart from many marketing automation tools is to combine these channels in the same automation workflow to create an omnichannel experience for your customers.
This tool contains some robust features, including:
Add push notifications along with other channels in the same automation workflow.
Smart segmentation for precise targeting of notifications
A/B testing and dynamic reporting
Easy to use push notification builder
Targeting on shopping behavior for abandoned cart push notifications
Visual composer to see how push notification will look across platforms/browsers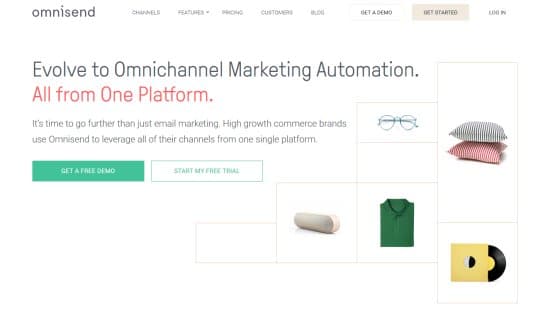 FoxPush is one of the most popular web push notification services worldwide. In fact, more than 3.5 million are using the FoxPush Notification Service. Moreover, FoxPush guarantees an average CTR of 20%, which itself is a huge number.
FoxPush is available for free as well as paid options. The Basic Plan, which is free, is suitable for most users. The rates go all the way up to $199. FoxPush supports all the popular platforms, including Windows, Android, and Mac.
Here are some of the key features of FoxPush:
Quick and Easy Setup
Instant delivery
Multi-Brower Support
Live Tracking
Multiple-Device Support
Device Targeting
GEO Targeting
Emoji-Support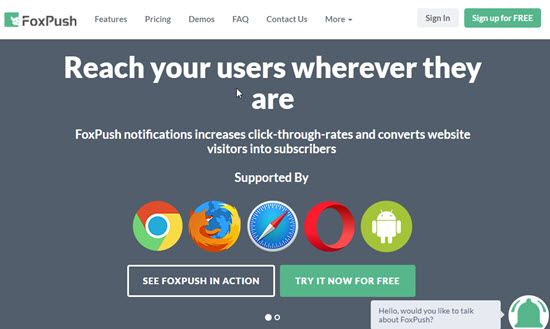 Izooto is another top-rated web push notification service. The likes of www.jabong.com and www.mahindra.com are using it. In fact, Izooto sees over 25,000,000 clicks on its notifications, which proves that its campaigns are very successful.
For publisher iZooto also offers monetization option by this publishers can earn by displaying promoted push notifications to their subscribers and earning some good extra money.
Key Features:
Multi-browser support, including Google Chrome, Firefox, Internet Explorer, and Safari on desktop PCs. Google Chrome is supported on mobiles and tablets.
Notifications with two call-to-actions are offered, including either "sign-in" or "sign up."
Offers multiple-language support. The notification language is set according to the audience's location.
Offers an in-depth analysis of campaigns.
Re-targeting users so that even the usual traffic is prompted to visit again.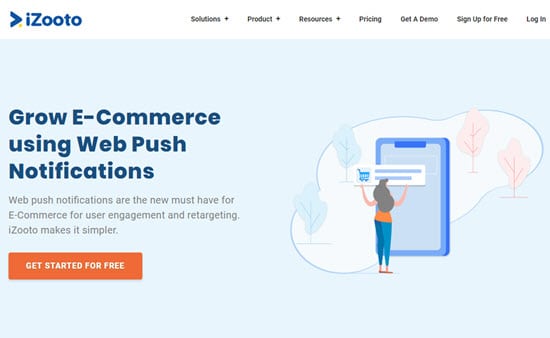 PushWoosh has the status of being one of the best web push notification service providers out there. They send out almost 250,000 notifications within a single day, showing that they hold a strong base.
Key features:
Allows user-segmentation so that you can send out notifications that are personalized and thus more appealing.
It provides detailed statistics to gauge the progress of your campaign.
Offers multi-language support.
Notifications are sent out only when users in a specific region are most active.
Allows building media-rich messages so that it is appealing to audiences.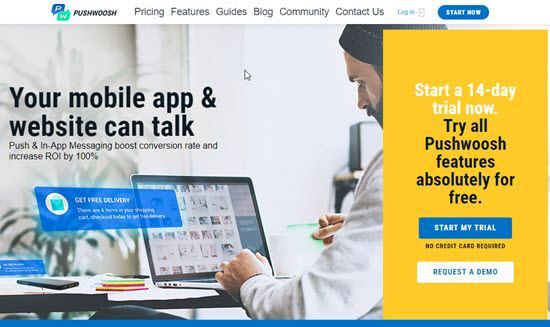 PushAssist is one of the most user-friendly browser push notification service. It powers more than 10,000 websites and stores worldwide. PushAssist supports push notifications on most popular web browsers, including Google Chrome, Safari, and Firefox. It is easy to set up. You can send your first push notification on desktop and mobile in just five mins.
Key Features:
It claims to have easy integration with WordPress, Drupal, Magento, OpenCart, and GitHub.
It supports multiple devices to engage your audience on mobile or desktop as per your campaign goals.
PushAssist offers support for real-time tracking, which helps you to determine the success of your campaigns.
It also supports user-segmentation so that you can send notifications to the targeted audience based on location, buying the record, interest, and more.
The push notifications can be scheduled for a specific date and time.
PushAssist also supports multi-channel messaging and personalization.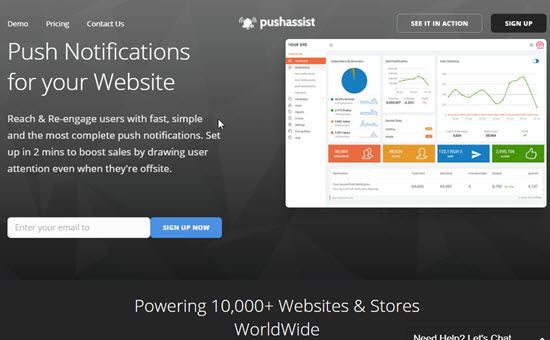 MoEngage is one of the fastest-growing push notification service providers. Businesses like www.snapdeal.com and www are using it.airtel.in. Currently, MoEngage only supports Google Chrome both on the desktop as well as mobile devices. However, they are likely to introduce support for Firefox and Safari soon. MoEngage offers personalized notifications, i.e., the notifications are customized according to each audience.
Key Features in MoEngage:
Offers detailed statistics
Support for real-time tracking
You can build rich media messages so that it becomes appealing to your audience.
Notification Management & Scheduling.
Quick and easy setup.
With auto-optimization for generating high conversions.
A personalized experience for each user.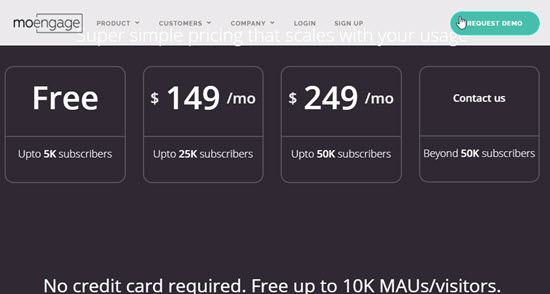 Truepush is the world's most preferred push notifications company. Truepush currently provides web push notifications for both desktop and mobile browsers.
There are no limits on the number of subscribers, and one can send unlimited push notification campaigns. The company's vision to empower brands with free re-engagement tools also builds up the acquisition funnel for the new paid tools coming this year by Truepush. Truepush has a free WordPress plugin and provides support for PWA as well.
The tool supports all major browsers and provides features like audience segmentation, RSS-to-push, Triggers, Project duplication, and various other customization options.
Truepush has also been awarded in the Top 10 Push Notifications company in 2021 by G2 and four other awards like Easiest admin, Easiest setup, High performer, and more.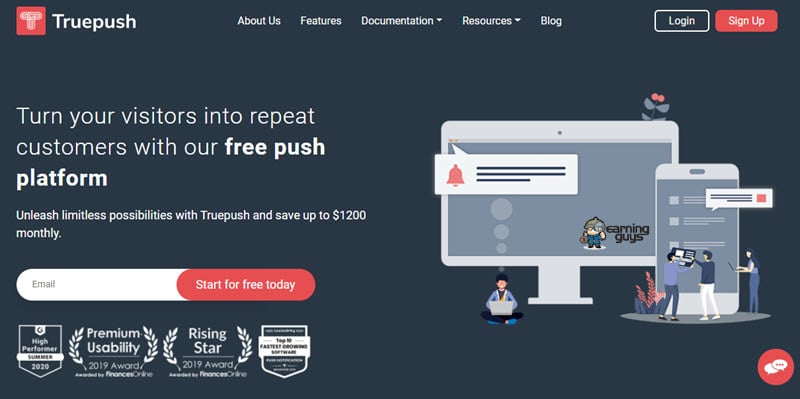 We hope that the list of 12+ Best Website Push Notification Services proves immensely helpful to you. Web Push Notifications are the best way to drive user engagement. Unleash the power of push notifications and get more traffic to your website with these Browser Push Notification Services Providers. If you liked the post, don't forget to share it with your friends and colleagues. We welcome your comments and suggestions.