Landing pages are the key to conversions for any digital marketing campaign. However, building and managing landing pages can be a time-consuming process in itself. The good news for you is that there are plenty of tools that make the job of building landing pages easier for you. Here, we share with you 15 Best Landing Page Builders that help you to create landing pages which convert.
A well crafted and dedicated landing page is one of the key elements for running a successful digital marketing campaign.
It helps to generate more traffic as well as improve the overall user experience. These pages are simple in design and help the visitor to take a certain action.
The goal is to make the visitor sign up for a form, click on a specific area, or even drive the visitor to make a purchase.
So, the landing page is a crucial element in the conversion funnel. They pinpoint specific consumer needs and generate targeted leads that have the proven potential for buying.
A landing page enables you to focus on your product and share its best elements. It invites people to sign up and learn more about the product. Landing pages with images, forms, and funnels are game-changing.
Let's know more about landing pages.
What is a Landing Page?
A landing page is a website page that is specifically designed to capture a visitor's information using a lead form. It's a standalone web page that is specifically crafted for the purpose of a marketing or advertising campaign.
It is a specific web page where visitors' traffic is sent to generate the desired action from them or to get some specific result.
In simple words, a landing page is where a visitor "lands" when they click on a Google AdWords Ad or similar. It fulfills the single focused objective of "Call to Action" (CTA). It lowers your cost of acquiring a lead or sale and increases the conversion rate of your Google AdWords Campaigns or your site traffic to that landing page.
You can have more than one landing pages for your website, each catering to a specific online marketing campaign.
Importance of Landing Pages
Having landing pages on your website, you greatly enhance the chances of converting your website traffic into leads and thus can also greatly increase your online sales.
The importance of a landing page arises from the very fact that whatever online marketing efforts you have made should ultimately result in converting your visitors into leads or actual sales.
The stream of visitors that you are getting due to online advertising campaigns should not leave your website without performing the "call to action" that you desire.
This "call to action" may vary according to your business goals, but a landing page highlights it, and your visitors are then able to perform the action that you want.
It may be subscribing to your weekly newsletter, going for a free e-book or some other offer. It may also be related to buying the products or services you offer.
A well-designed landing page clearly illustrates your offer to the visitors and makes the process of receiving the offer thoroughly simple and easy.
So, a landing page tells the offer(s) to the visitors and makes it possible for them to receive that offer. Your visitors are clear about what they have to do to receive the offer(s).
Let us take an example to explain this further to you.
Suppose you are running a PPC Ad Campaign for the keyword "Online Marketing Techniques." You are getting a stream of interested visitors who search and click to come to your website. Instead of directing visitors to your website page, you choose a landing page.
When the visitors click on your Ad Campaign for "Online Marketing Techniques," they come to your landing page. Here, you provide them with the offer details and the method by which they can subscribe to the offer.
You can provide them with the opt-in form where they enter their email details to receive the offer. You can also offer those different plans and pricing, together with their advantages.
So, your visitors get what they are looking for and that too easily and effectively.
Thus, you see that a landing page talks about the offers you have for your visitors together with the method to receive them. Your visitors do not lose their interest, and you get to convert them into leads or even into actual buyers.
Here, to augment the effectiveness of your landing pages, you can follow certain methods. You need to have an attractive and concise title, together with a description of the offer to bring out the value and usefulness of your offer to the visitors.
Use of social sharing links removing distractions and navigation links and focusing the visitors on subscribing for your offer should be the points around which you should design your landing page.
You can even come out with different landing pages and test and compare their effectiveness in converting visitors into leads.
So, the effective and efficient use of landing pages can greatly increase the conversion rate of your visitors into leads. Having realized the importance of Landing Pages for your website, you can also use this element to popularize and increase your online business.
Now, that you know about a landing page and its importance, it's time to check out 15 Best Landing Page Builders that help you to create landing pages which convert easily.
15 Top Landing Page Creators
Here's the list for you:
1. ClickFunnels Sales Funnels Creator
If you aren't a programmer and don't know how to code, yet want to build beautiful pages inside of a sales funnel, then you should surely turn to ClickFunnels which is a website and sales funnel builder for entrepreneurs.
So, ClickFunnels allows you to quickly create beautiful sales funnels that convert your visitors into leads and then customers.
All this can be achieved without having to hire or rely on a tech team.
In fact, there are more than 92,000 entrepreneurs who are actively using ClickFunnels for getting their products out to the world.
It allows you to build sales funnel that convert quickly. You can create simple and beautiful sales funnels that allow you to quickly capture your visitors' contact information and generate new leads to follow-up with again and again.
It helps you to create beautiful landing pages that have been pre-designed to take your traffic through each step of the sales process, thereby converting them from visitors into actual paying customers.
ClickFunnels offers you the highest converting funnel templates for free. It allows you to sell any product online. You can pick your sales funnel. You can pick your design. One can upload some custom elements such as a logo. Its drag-and-drop editor allows you to modify your page as per your requirements making the entire funnel ready to roll.
Moreover, ClickFunnels is one of the easiest landing page builders on the market. Its templates are very simple and beautiful, allowing you to capture leads with forms in an easy format. It makes it super easy to build a landing page. It's a great solution for internet novice that has no programming or coding knowledge.
Pricing: Plan Starts from $97 /month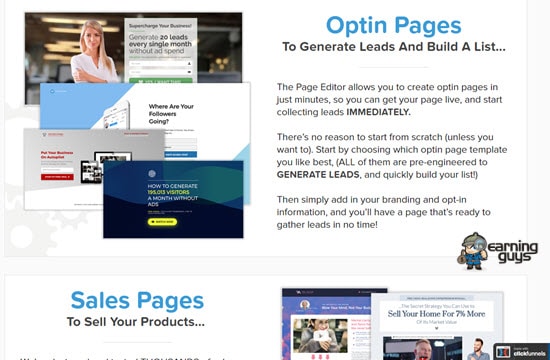 2. Leadpages Best Landing Page Creator
Leadpages is a complete conversion toolkit that enables you to engage your audience from the first click to final sale. You can connect with your audience and collect leads as well as close sales. With Leadpages, you can easily build websites, landing pages, pop-ups, alert bars, and more.
Creating high-converting websites & landing pages is easy with Leadpages. You can start with a conversion-optimized, mobile-responsive template. You can then customize it using the Drag & Drop Builder to launch a professional-looking landing page that's made to convert.
Leadpages offers you with an easy-to-read analytics dashboard; a/b split tests, as well as real-time conversion tips that you won't get anywhere else. It allows you to test multiple versions side-by-side so that you can use what's working and discard what doesn't.
Here, we have shown some of its key features:
150+ out of the box templates
Works with 40+ tools
A/B Testing
Unlimited Mobile Responsive Pages
It can be integrated with WordPress
Captures lead with forms in an easy format
Truly drag and drop
Has plugins, form creation, and page design
It can edit pages to make them mobile responsive
So, Leadpages is thoroughly simple and one of the top landing page builders. It's one of the best solutions for creating forms. It's easy to use and one of the cheapest options out there. It allows you to build a professional and beautiful landing page.
Pricing: $25/mo for the Standard Plan; $48/mo for the Professional Plan; $199/mo for the Advanced Plan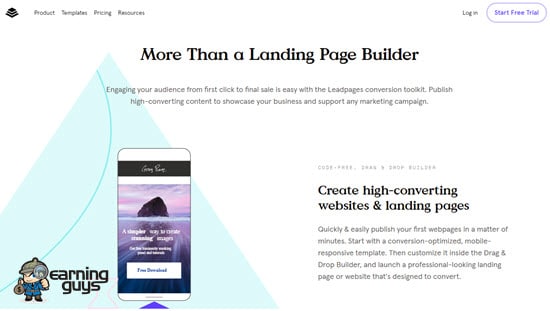 3. Instapage Top Landing Page Builder
Instapage is a very powerful Landing Page Builders platform for marketing teams and agencies. It allows you to create beautiful and professional landing pages from one of 200+ templates. It turns out to be the most useful tool for the online small business owner as well as bloggers alike.
Instapage offers a large and high-quality selection of templates. With over 200 templates, you get plenty of options with Instapage. Plus, Instapage comes with an extremely simple and user-friendly interface. In fact, it is one of the easiest landing page builders out there.
However, the biggest highlight of Instapage is the fact that it makes collaboration easy. It also facilitates teamwork with real-time edits. It allows you to launch a landing page as quickly as possible.
Plus, it offers features such as A/B testing, heatmaps, advertising attribution analytics, and dynamic text replacement with its higher-level plans. Instapage offers top-notch support with its robust Help Center that comes with video tutorials and a live chat feature.
Here, we share some of its key features:
Over 200 out of the box templates
A/B testing
Codeless integration with Facebook Advertising, Google Analytics, and more
It allows you to add custom code to pages
Heatmaps
Dynamic keyword insertion for PPC Campaigns
Direct integration with Google AdWords, Facebook, and Google Analytics
Pricing: Its core plan is priced at $99/mo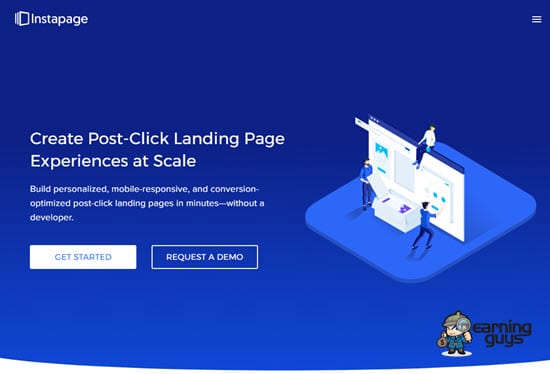 Unbounce is a well-known name in the world of digital marketing. Its Landing Page Builder is extremely easy to use. In fact, it offers one of the easiest platforms to build and test custom landing pages. It comes with a powerful and flexible editor and is even compatible with WordPress. So, Unbounce is one of the best landing page software in existence right now.
With Unbounce, one can create custom landing pages with diverse page elements. It offers beginner-level customization options and highly advanced options, as well.
For example, you can add basic elements. You can run high-quality A/B tests. You can even use dynamic text replacement. Its DTR feature allows you to replace the landing-page keywords based on the user's search query. So, the landing page can automatically adjust the keywords based on each search.
You don't need to have hundreds of landing pages for all your keywords. Moreover, you can dynamically replace them on a single page and save tons of your time.
Plus, it offers features such as overlay CTAs and exit intent for increasing your chances of converting visitors. Unbounce also offers unlimited integrations to the top email programs as well as top CRM platforms on the market.
Here, we have shared some of its key features:
Easy user interface
Easy drag-and-drop editor
Over 100 out of the box templates
WordPress integration
A/B testing
Landing pages can be integrated with the most popular email, CRM, and analytics tools
Allows dynamic keyword insertion for SEM campaigns
Friendly plugins, form creation, and page design
However, Unbounce is one of the most expensive landing page software options out there.
Pricing: Its Essential plan comes at $79/mo.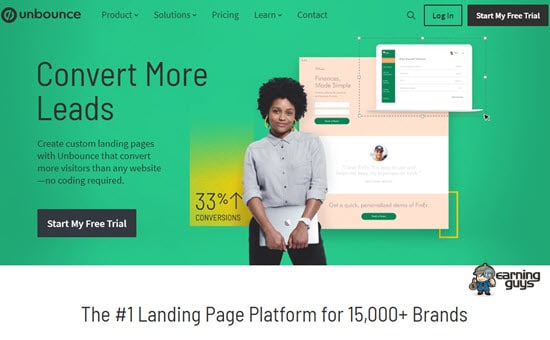 GetResponse is one of the leading digital marketing platforms out there. They offer a full range of services, including email, marketing automation, as well as landing page creator.
Its landing page builders has been loaded with different features that give your online efforts a big boost. With GetResponse, you can create high-converting, mobile responsive landing pages.
In fact, GetResponse offers templates that are 100% responsive. So, they accommodate the screen size on which they are watched.
GetResponse allows customization. So, you can edit the landing page layout as well as other visual elements.
Features:
Easy setup
Built-in analytics
Integrates with numerous platforms such as Bing, Facebook, AdWords, KissMetrics
A/B testing
Allows you to add PayPal button so that you can take payments on the fly
Build customized forms that generate leads
It can be integrated with social media and other platforms
Dynamic templates that have high conversion rates
A large internal stock image library
A vast collection of forms
Pricing: Plans starts at $15 per month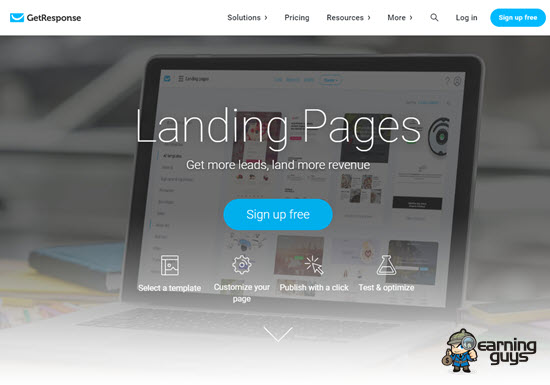 If you are looking for an insanely fast landing page builders, then you should surely check out the Carrd landing page builder.
In fact, Carrd is best when you want to build customized landing pages insanely fast. With Carrd, you can build a personal profile, a landing page for capturing emails, and even something a bit more elaborate.
It's simple, responsive, and free.
Carrd allows you to start with one of the dozens of templates or even with a blank canvas. Its designs look great at every screen size right from phones to tablets to desktops.
Well, you can build up to three sites per account as well as use all of Carrd's core features for free.
There's also a Pro option from just $9/year with features such as:
Custom Domains: It allows you to publish sites to any custom domains that you own and that too with full SSL support
More Sites: You can build and publish more than three sites from your single Carrd account
Forms: You can add a contact, sign-up, custom, and payment-enabled form
Google Analytics: You can add Google Analytics tracking ID to each of your sites for tracking and reporting traffic
No Branding: There's no "Made with Carrd" branding in the footer
Pricing: Free and Paid Plans, Pro Plan at $9 per year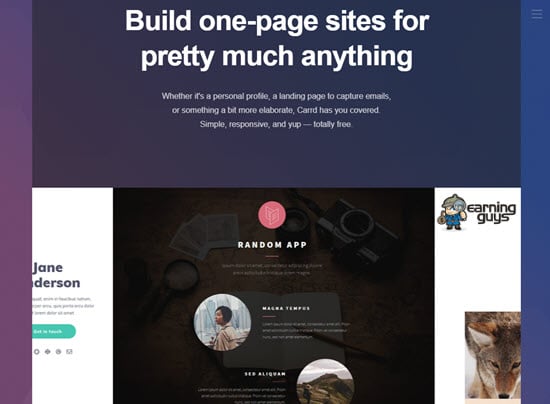 Wishpond is more than just a landing page builder. Besides building landing pages, you can also create social contents, Popups, contest, sweepstakes, coming soon pages, and run the basic automation tasks with ease.
It's a platform that is designed specifically for your growth. The best part is that you need no coding skills to use this platform.
In fact, Wishpond bundles four marketing tools in one powerful platform, such as:
Landing pages: With its drag-and-drop editor, you can create and test beautiful, mobile-responsive landing pages in just minutes
Popups and forms: You can easily create customizable and powerful Popups, overlays, sidebar forms, and more
Contests and Promos: You can run sweepstakes, photo contests, Instagram promotions, and more
Marketing Automation: You can automatically nurture leads into sales which are based on real-time activity and powerful lead profile details
Moreover, those who specifically want to build landing pages; Wishpond allows them to create professional-looking landing pages. Plus, you can create a thank you page, collect and store email leads, view conversions, and email leads. All this can be achieved with one handy package in the form of Wishpond.
Salient Features:
Unlimited landing pages, social contests, and Popups
Includes basic marketing automation features
Lower starting prices
Pricing is based on number of leads, and not features
Pricing: Starts at $49 for up to 1000 leads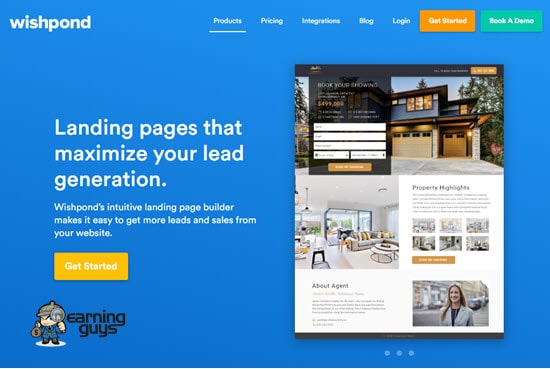 Hubspot offers an array of digital marketing solutions that can be used by large and small businesses alike. It helps companies to automate their online marketing efforts.
Hubspot offers an easy and efficient landing page builders, which allows you to create beautiful landing pages. It generates leads and looks great on any device.
Its landing page builder allows you to:
Carry out A/B testing
Image insertion and linking
Add Calls-to-Action
Create forms
Build landing pages that have fast loading times
Integrate with most of the major tools and platforms
Their landing pages adjust to the user's screen size and layout and provide the ultimate experience.
Plus, the Hubspot Landing Pages can be heavily customized, allowing you to add forms, images, and other layouts that help your site.
Here, we have shown you some of its unique features:
Connect to Hubspot CRM
Track statistics through Analytics
A/B testing capabilities
Local or independent hosting
Superb customer support
Templates are very simple and mobile-optimized
Easily add videos, tracking code, etc
Blog & content creation tools
Price: Its lowest tier is priced at $50/mo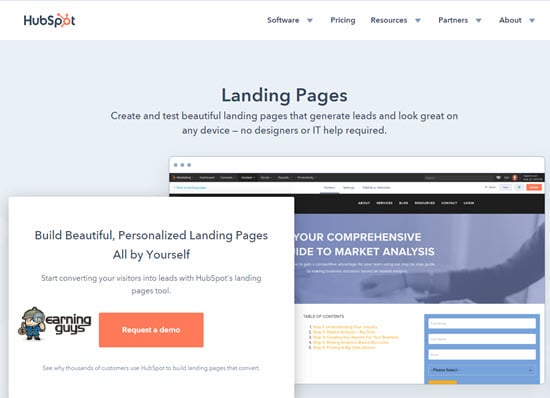 Landingi sets it apart from other landing page builders in the sense that it allows you to call on the Landingi team for building landing pages for you. However, it also allows you to build landing pages using templates, or you can also create your own from scratch.
It's a flexible platform that gives you options for converting traffic from your digital campaigns into customers. It works as an end-to-end platform for building landing pages that don't require any IT or coding skills.
Its drag-and-drop editor allows you to create a landing page with ease. It offers more than 100 high-converting templates.
Moreover, it makes it easy for you to create landing pages. You can get from start to finish in a few minutes. Integrations with Salesforce, Hubspot, MailChimp, and many more. You can capture leads and can perform automation using those leads.
Pricing: Its Automate Plan comes at $49/mo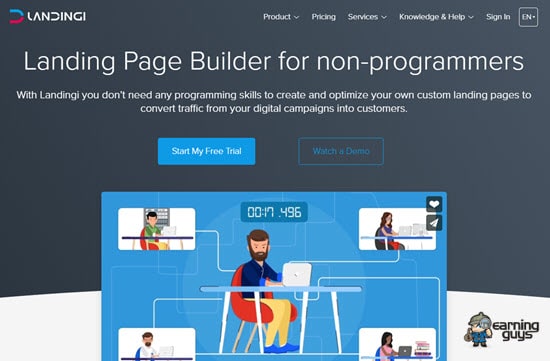 Launchaco is one of the best landing page builders for launching a basic landing page in just a few minutes.
So, Launchaco offers you one of the fastest ways to build a landing page.
You can build a full page for your new product in not more than five minutes without feeling rushed. Launchaco is the app to use for building startup websites without any fuss. You can even download the completed site if you want to host it on your server.
Launchaco allows you to add Google Analytics to your page when you want to monitor your site's traffic. It's easy to use. You need to click the "Create Your Website" button on their website and enter your product's name.
You then need to pick a color and typeface scheme. So, you have a basic landing page for less than five minutes. You can type a heading and subheading for your page. One can add a logo and background color or graphic. You can go on and add a photo or GIF of your product.
Launchaco pages come with a button by default that allows you to share an App Store link when you need to promote an app. When you want to gather leads, you can add a Mailchimp sign up to your Launchaco page settings.
So, you can get contacts from your landing page. You can even add extra blocks (such as features, pricing, FAQs) to your page. Launchaco proves one of the fastest ways to build a landing page.
Pricing: Free as well as Premium Plan ($50/year)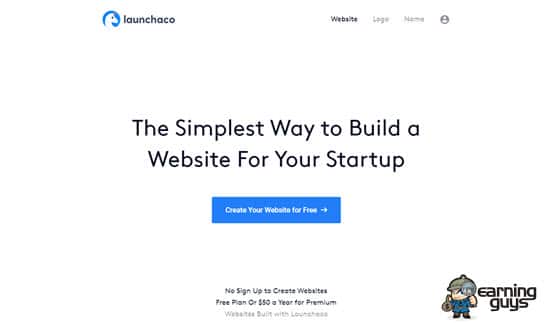 Google Sites allows you to make free landing pages with forms. In fact, this app is available in G Suite. Its new version is available at https://sites.google.com/new. You need to click the + button in the bottom corner to create a new site.
It allows you to customize the site's text and colors. However, nothing much can be done with its core style. The pages have a large header and background color with a handful of typeface themes. You can add in sections for text, images, as well as upload files.
It allows you to add a Google Docs document, Slides presentation, YouTube video, and more. So, it is the best way to make a site with Google files. You can even add Google Analytics to keep track of your site's traffic. The Google Site's editor allows you to embed the full form page that you have built using Google Forms.
Pricing: Basic Plan $5/mo per user as a part of G Suite plan. It is also available free with a Google account.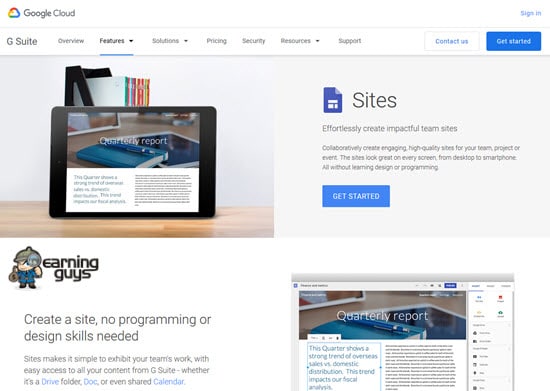 12. Lander Landing Page Builders
Lander is one of the world's leading landing page creators that allow you to create free landing pages. It's easy to use. It allows you to build landing pages in minutes.
Lander offers over 100 ready-made landing page templates. It has the best landing page designs in almost every category such as events, products & services, website landing page, app landing page, eBook, lead capture, and more.
Its visual editor makes it super easy to design a landing page. You simply need to drag-and-drop the elements you want, and you're ready to go. Its comes with A/B testing tool with which you can test three different versions of your landing page.
It even allows you to create your Facebook tabs in minutes so that you can integrate your pages with Facebook. It also features dynamic text replacement (DTR) to save time and money on your PPC Campaigns.
Further up, Lander allows you to make mobile-ready landing pages. You can add Google Analytics and know where your visitors are converting.
The best of all, you can make as many landing pages as you need. Plus, you get many more features with Lander that empowers you to create stunning landing pages in minutes.
Pricing: Plan starts at $49 per month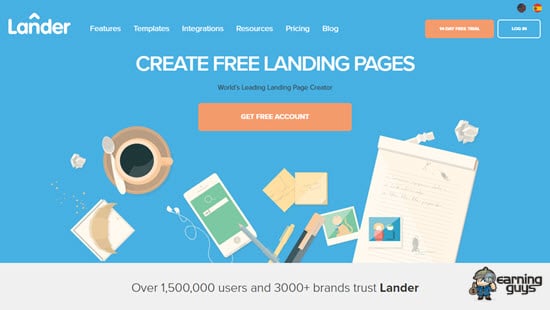 KickoffLabs is much more than just a landing page creator. Here, you can set up a campaign wherein you'll build a page, gather leads, and have a thank you page, and finally add them to your email lists or CRM for keeping in touch with them.
So, instead of building a page, KickoffLabs allows you to make a campaign with a specific goal. Well, you can make a landing page, as well. You can set up a reward by using KickoffLabs-powered social widget.
In fact, it is much faster to create a landing page with KickoffLabs. You can also add an image, video, logo, or file download. It offers pre-made content blocks that help you to speed up your page design. Finally, you can publish the page directly. You can even download an HTML copy of it and host it on your servers.
Pricing: Premium Plan at $79/mo for five campaigns and 20,000 unique visitors per month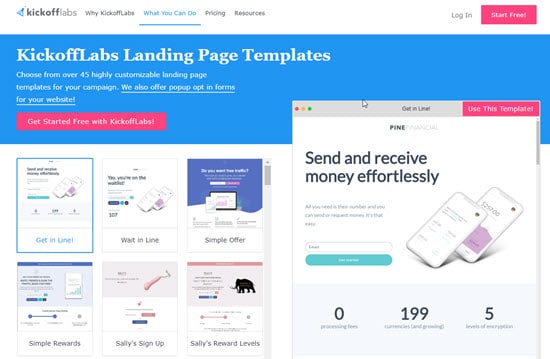 14. Thrive Architect WordPress Landing Page Plugin
Thrive Architect is a fast and truly visual WordPress Page Builder. It allows you to create engaging, visually impressive, and beautiful content and layouts in WordPress easily.
So, if you want to build better landing pages, then you should surely check out Thrive Architect. Moreover, it's an easy to use tool that saves your time as well as energy.
It's one of the most reputed visual page builders that's built specifically for business and conversion-focused websites. It has an obsessive focus on being as "fast" as possible to use.
It comes bundled with 276 beautifully designed, and 100% conversion-focused landing page templates. Thrive Architect includes infinitely customizable buttons, testimonials, lead generation forms, as well as countdown timers that integrate with your favorite email marketing tools.
Thrive Architect allows you to create high-converting home page, sales pages, landing pages, beautifully formatted blog posts, webinar pages, product launch pages, and more.
Some of its core features include:
Ultra-flexible column layouts
Attention-grabbing text as well as image combinations
Total font customization
Full-width layouts
Advanced hover effects
No coding needed at all
Mobile-responsive templates
Dynamic animations & actions
Conversion-focused building blocks
Moreover, much more
Pricing: Starts at $19/mo (All plugins and themes) and max out at $97 (5 Site License)
15. OptimizePress WP Landing Page Builder
OptimizePress is one of the best tools for creating landing pages as well as sales pages for increasing leads and sales on your website. It allows you to create conversion-optimized sales pages, landing pages, webinar, event signup pages, and blogs as well as membership sites.
OptimizePress comes bundled with over 60 templates included. Moreover, the OptimizePress Marketplace offers more than 300 templates that are available for purchase.
OptimizePress has a proven track record. It's landing pages, and templates are proven to convert. In fact, its websites across the web have collected more than 4.5 million opt-in every month in total. Moreover, you can create unlimited pages with OptimizePress.
Its landing pages allow you to build your list fast. You get the following functionality with its landing pages:
You can create opt-in forms easily and quickly
It can be integrated with any of the leading email marketing & CRM systems
Its landing pages have been optimized to give you maximum conversions
It allows you to customize everything on your pages
Its LiveEditor makes editing your pages quick and simple
It offers mobile-responsive templates
OptimizePress offers a huge library of elements and style
It works with your existing marketing tools
Pricing: Core – $97; Publisher – $197; Pro -$297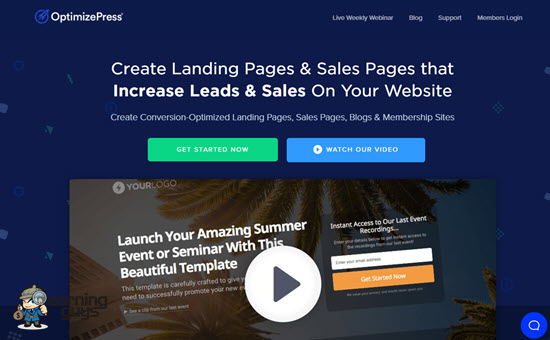 With this, we have come to the end of this post on best landing page builders. We welcome your comments and suggestions.