In this post, you'll come to know how to get good Twitter username ideas. Here, we have taken up the following topics, namely:
Twitter Handle Already Taken
How to get Twitter Username Ideas
How to change Twitter Handle
We must point out that your "perfect" Twitter handle does hold value and is pretty essential for Twitter success.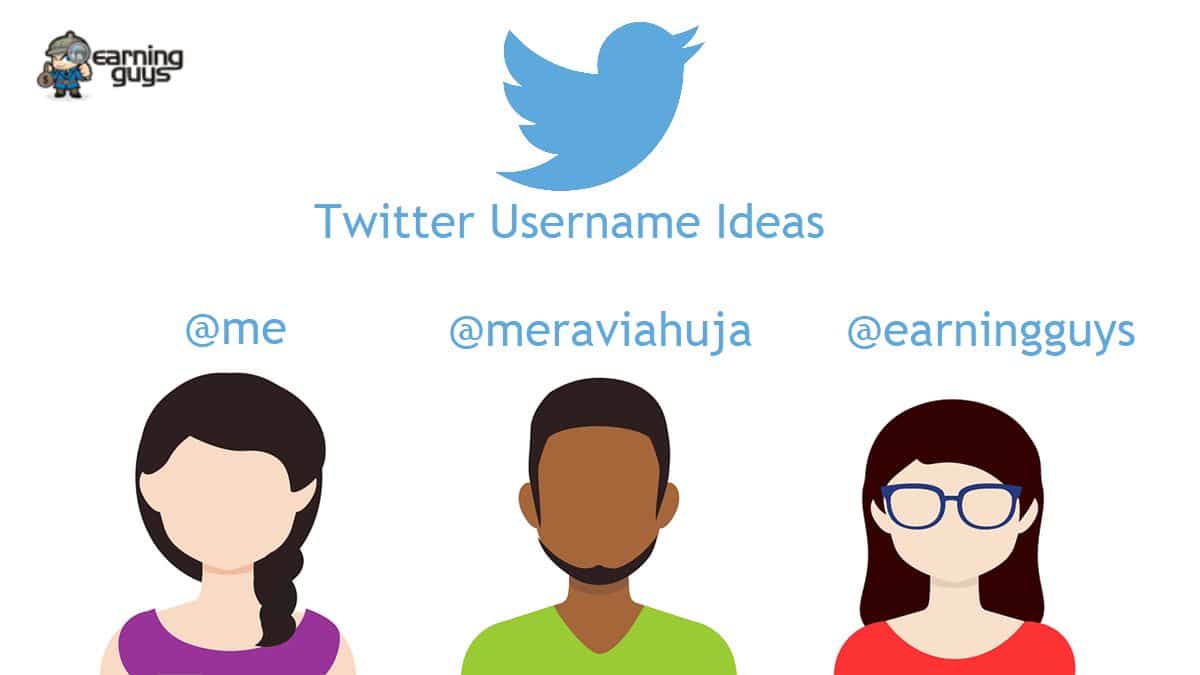 Now, let's get started.
Twitter Handle Already Taken
First up, you need to secure your user-name.com. You can even go for .net, .org, or use any other popular Top Level Domain (TLD). However, you should try to get .COM as it is the most widely used and recognized TLD.
Now, you need to list that .COM – as the "primary" site in your account.
You should proceed further and ensure that the target username's profile is inactive.
You can even report an account for impersonation with Twitter.
You can fill out the form by selecting:
"An account has been pretending to be me or someone I know," and then,
"I am being impersonated."
Now, enter the Username you want for:
"Username of the account you are reporting."
You also need to enter your email, which should ideally match the same syntax as the Username.
There's another field which you need to fill, i.e.
"Anything else you'd like to tell us?"
Here, you need to cover off:
"Why you should be the rightful owner."
The evidence that suggests that the target username's account is inactive."
Finally, you need to upload images of identity information such as a passport and driver's license.
That's it.
Now, you can submit your info.
You'll immediately receive an email from Twitter acknowledging your request.
In case Twitter accepts your request, you will receive an email from Twitter.
You need to email them back stating that you already have a Twitter account and you would like to keep all your tweets and followers in place. You can even request them to replace your Username.
Lastly, you'll receive one final email from Twitter stating that the transfer had been completed.
Moreover, you can even invent an alternative Twitter handle by using the following options:
You can use a part of your name such as:
@Oprah – Oprah Winfrey – Individual
@Benioff – Marc Benioff – Individual
@levie – Aaron Levie – Individual
@hodgman – John Hodgman – Individual
You can chop out letters. You can even use abbreviations or shorter words.
Examples:
@JLo – Jennifer Lopez – Individual
@brits – BRIT Awards – Organization
@MissVzla – Miss Venezuela – Organization
@randfish – Rand Fishkin – Individual
Examples:
@ddlovato – Demi Lovato – Individual
@nytimes – The New York Times – Organization
@jtimberlake – Justin Timberlake – Individual
You can use certain words such as:
"the," "real," "official," "this is," "we are."
So that your name looks like the 'real one.'
Examples:
@realDonaldTrump – Donald Trump – Individual
@RealHughJackman – Hugh Jackman – Individual
@officialjaden – Jaden Smith – Individual

In the case of companies and products, you can ask people to "try," "use," "get," or "ask." You can even welcome them with "hello."
Examples:
@TryGhost – Ghost – Organization
@UseClear – Clear – Organization
@AskPayPal – PayPal – Organization
@hellodigit – Digit – Organization
You can add words that describe what you're about.
Examples:
"App", "News", "PR", "hotels"
@TellyApp – Telly – Organization
@HiltonHotels – Hilton – Organization

Doing this might also help your Twitter account to be found easily.
You can use clever wordplay, nicknames, or even plain randomness.
Examples:
@hotdogsladies – Merlin Mann – Individual
@aplusk – Ashton Kutcher – Individual
@KingJames – LeBron James – Individual
You can spell out your domain
If you're all about your website, then you can spell it out.
Examples:
@aboutdotme – about.me – Organization
@AskDotCom – Ask.com – Organization
@wordpressdotcom – WordPress.com –

You can add Mr, Mrs., Miss, Doctor, or whatever title that suits you best.
Examples:
@MrJamesMay – James May – Individual
@MissKatiePrice – Katie Price – Individual
Sometimes if you ask the current owner of your Twitter handle, you want might give it away.
In case your "ideal" Username isn't available right now, there's still a chance that it could become available one day.
You may also like: 40+ Best Social Media Apps and Sites
How to Get Twitter Username Ideas
Here, we share some very useful Twitter Username ideas when your 1st choice is taken.
Your Twitter Handle should reflect your real identity. So, you should use your first and/or last name in your Username.
You can use underscores to separate words in your Twitter username.
You can use cool & clever adjectives in your Twitter username that describe you well.
In case you're using Twitter for business purposes, then you should be using your business name in your Twitter handle.
You can use "The" in front of your Twitter username
You can introduce yourself by using "This is" or "I am."
Just add "We are" in front of your company name for your Twitter handle
Use your name and Industry in your Twitter handle
Businesses can use the term "HQ" (headquarters), a universal symbol for headquarters. It's not very long and works great.
Service-oriented businesses or apps can include a call to action by adding "Try," "Use," "Get," and "Join" in front of their Twitter username. This gives you an extra edge.
You can include the word "App" in your Twitter handles if yours is an app company.
Include your location (country, state, and city) to tell your fans where your company is located. It's a great idea to use in case you're holding a local business.
You can use the words such as "dot," "dotcom," or "com in your Twitter handle to enable your fans better remember your website.
Include the word "Inc" if you're running a corporation
You can include the word "Ask" in front of your Twitter username
These are some of the ways that you can use it to crafting the perfect Twitter username.
Final result – You will have the perfect Twitter username.
How to Change Twitter Handle
Go to "Settings and privacy" by using your profile icon drop-down menu
Under "Account," you should click on the text box beside Username. Here, you need to type a new username in the space. In case the Username is already taken, Twitter will prompt you to enter a new one. If the Username is available, you'll get a green "Available" notification.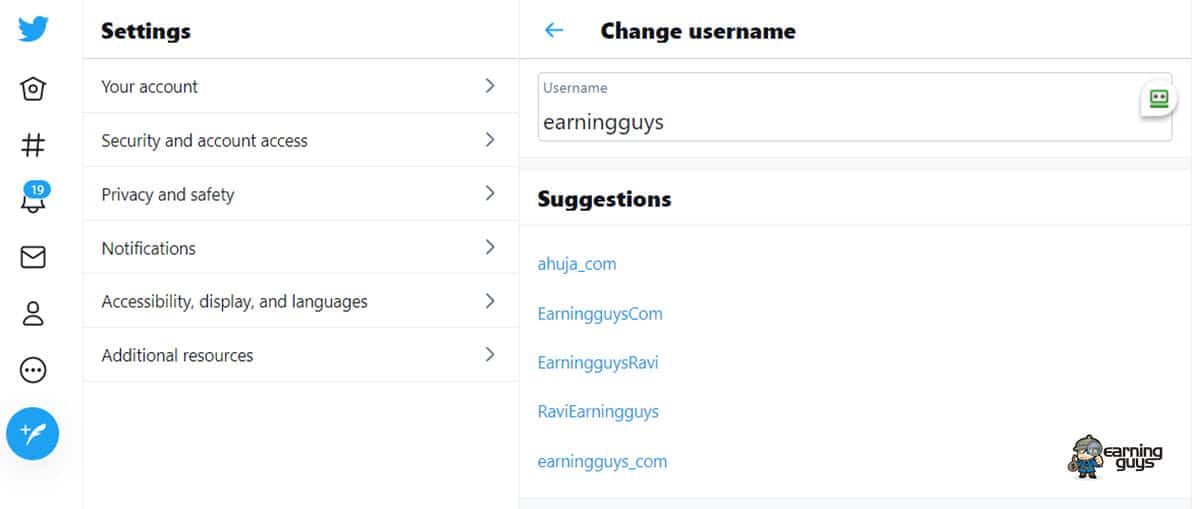 Now, click on the "Save changes" at the bottom of the screen.
That's it.
Your Twitter Handle will get changed.
So, that's all from us in this post.
We hope that this post proved beneficial to you.
Thanks for visiting us at EarningGuys.