Today we are going to cover the grammar and spelling mistakes problem for everyone's day to day writing. In this Grammarly Review post, you will find why you should use this tool, and how it will help you in your writing and blogging.
If you are focusing on the top positions on search engine rankings, then you invariably have to come up with unique and quality content.
In fact, any piece of quality content should be devoid of grammatical mistakes.
Moreover, Google goes on to detect any grammar mistakes in your content. It can penalize your content for grammar and spelling mistakes.
So, how do you go about making your content free from grammar mistakes and errors?
Well, you require "Writing Assistant" which improves grammar everywhere in your content.
Grammarly is the best and my favorite Grammar Checker Tools that make your writing error-free and easy to read.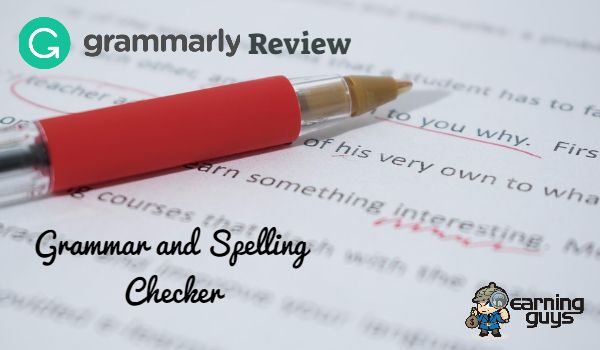 It helps you to proofread your work.
Today, we put across to you an in-depth Grammarly Review to show you its powerful features that help to make your writing error-free and easy to read.
Grammarly allows you to check grammar and spelling mistakes in your content.
It's an online grammar and spelling assistant that suggests spelling, grammar, and style changes in real time.
So, if you want to impress your readers with nice word forms, accurate spelling, and great style, then you should surely check out Grammarly Writing Assistant Tool.
This Grammarly Review describes the instrument in detail.
Let's begin.
About Grammarly
Grammarly is the best online grammar checker tool.
It comes free of charge for personal uses.
Grammarly was launched in 2009 by Alex Shevchenko and Max Lytvyn. Headquarter of Grammarly is in San Francisco.
Well, its products have been licensed by over 600 universities and corporations. It has been included in "Inc. 500" as one of the top 500 fastest growing companies. Grammarly has won many awards including the Great User Experience Award for 2018.
Its robust grammar comes loaded checker software that with best-in-class grammar checking features.
In fact, Grammarly goes beyond fixing misspelled words & overlooked grammar mistakes.
For instance, the app can identify words (albeit spelled correctly) used in the wrong context ensuring that you don't overlook any aspect of your copy.
So, Grammarly is best for uplifting the quality of your content.
Moreover, the tool also comes as a handy add-on and can be easily embedded in your Chrome or Firefox browser. It can automatically correct and polish the text that you are preparing on different sites and applications.
Grammarly is an AI-powered tool making sure that your message gets delivered in a clear, error-free and compelling fashion.
The world's leading language authorities build it.
Moreover, it's constantly engaged in improving their online grammar-checker algorithms.
Well, its operation technology is both technical and contextual.
So, it allows you to correct hundreds of spelling, grammar, and punctuation mistakes. Plus, it also improves your vocabulary by highlighting and fixing contextual errors.
It even suggests ideas to enhance your writing style making your messages more effective as well as engaging.
Grammarly is suitable for anyone who writes copy.
For example, students can leverage their writing quality on essays, theses, reports, dissertations, and even college entrance applications.
World's leading corporations and universities are using Grammarly for checking the quality of their written materials.
Professionals from various fields such as journalism, engineering, healthcare, law, academia, and marketing are using Grammarly to ensure accuracy and credibility.
Grammarly is also useful for English language learners, and non-native English speaking professionals, job seekers, and foreign students.
Grammarly also endeavors to meet your specific needs.
The Grammarly Edu focuses on educational institutions.
The Grammarly Business is geared towards businesses which can incorporate the app into their team's workflows. It offers enterprise-ready controls and monitoring.
Plus, the Grammarly Keyboard is available for iOS and Android devices. It works as a personal editor for proofreading your copy on-the-go.
The Grammarly Advantage
The best thing with Grammarly is the fact that it's not just another grammar and spelling checker tool that corrects mistakes and moves out of the way.
The tool focuses on contextual issues and helps you to improve your knowledge and usage of the English language.
Grammarly goes on to catch, pinpoint and fix even the tiniest mistakes that other similar tools might overlook.
Grammarly drills down to details. It fixes repetitive words, misspelled words, and comma usage.
It even replaces weak adjectives with stronger suggestions. Grammarly emphasizes making your message correct.
It makes you write with confidence.
You can easily understand its modifications and suggestions and go on to improve your writing style altogether.
For example, Grammarly takes charge of modifier placement. It takes care of all the aspects of the subject-verb agreement with a complete change of context.
Grammarly can easily integrate with any popular Word Processor. So, it can be used to perfect your email communications as well as social media interactions.
Grammarly caters to educational purposes.
It offers online writing assistance and is studded with a plagiarism checker improving the grammar and overall writing style.
Grammarly comes with LMS integration and offers real-time grammar checking on your web browser and MS Office.
Grammarly is also meant for organizations and improves collaboration, efficiency, and productivity. It is studded with admin and user management tools and oversees the processes effectively.
Best of all, Grammarly is an easy-to-use platform.
It allows you to copy and paste your text into your text Editor. It lists down the errors for modification. Grammarly suggests words for replacement together with an explanation for the detected error.
Grammarly browser extension is available free for Firefox, Google Chrome, Edge, and Safari. It automatically shows you corrections as you type.
You can even download Grammarly for MS Office on Windows.
Grammarly is available for free with no limited timeframes.
It offers powerful and critical grammar and spelling checks.
The Premium version of Grammarly is also available with more advanced features.
You can upgrade to Grammarly Premium for tiered pricing packages. It is a duration based subscription for which you want to use the service.
It offers vocabulary enhancement suggestion, plagiarism detector, genre-specific writing style checks, and advanced checks for sentence structure, grammar, as well as context.
Last but not least, Grammarly offers a wealth of educational material on using the platform as well as improving your grammar.
You can also reach the Grammarly Community for discussions and tips with fellow users through the app's social media platforms including Facebook and Twitter.
Grammarly Features in a Nutshell
Critical grammar and spelling checks
Genre-specific writing style checks
Grammarly Editor
Grammar rule explanations
Comma splice
Comma usage
Microsoft Office integration
Missing articles
Misspelled words
Multiple device document access
Native desktop apps (Windows and MacOS)
Personal dictionary
Performance stats
Outdated spelling
Plagiarism detector
Weak adjectives
Repetitive words
Vocabulary enhancement suggestions
Word definitions and suggestions
Here, it's important to note that Grammarly (grammar checking software) comes in both free as well as premium versions.
The free version has no obligation to upgrade and is free for lifetime.
The premium version comes loaded with some additional features.
Below you can find the various features included in each version.
Features in Free Grammarly Version
The free Grammarly version offers more than 150 grammatical checks. Below you can find some of its main features.
Spelling mistakes are recognized as one of the most common forms of mistake while writing. They are much annoying for the readers.
The Grammarly detects spelling and grammar mistake.
Grammarly checks the context of the word and gives you the best possible suggestions at the top. It also takes note of commonly misspelled words and gives appropriate suggestions.
For instance, "Loose" instead of "Lose" or "There" instead of "Their."
It shows you all the spelling mistakes on the right side instantly as you type. The good thing with Grammarly, unlike other grammar checking tools, is that it can detect all the spelling mistakes.
The speed of proofreading is also good.
Grammarly employs an intelligent algorithm for detecting grammatical errors in your writing. In fact, Grammarly does an excellent job with the same.
That said, at times Grammarly does give out wrong recommendations. Moreover, if you select the ignore option for a particular suggestion, it pops up again after a page refresh.
Certainly, it is annoying but not a deal breaker.
If you are having trouble framing sentences correctly, then Grammarly can save your day. It addresses this issue very well. It checks the piece (article) for missing words, misplaced words as well as incorrect sentences. With Grammarly, you can write in English like a Pro.
Punctuation mistakes are the most common with writers on any category. Many newbie bloggers skip commas or go on to add some redundant commas.
Using Grammarly, you can improve upon your punctuation mistakes easily. You can rely on Grammarly to correct these errors.
It easily detects missing commas, redundant commas, and even use of a colon instead of a semicolon.
Grammarly checks for any errors in writing style. It checks for passive voice and helps to avoid redundancy and wordiness.
Grammarly comes with a built-in dictionary.
You can use this feature by double tapping on a word on any website. It opens up a pop-up and shows the meaning of the word in question.
Features in Grammarly Premium Version
Grammarly Premium offers some advanced grammar checking options. It is loaded with features that you will not find in the free version.
The vocabulary enhancement feature will suggest you replace those existing words that are repetitively used in your article.
(As a blogger when you have to use specific keywords in your articles, this feature seems much annoying. However, to a casual writer or even to a student, this feature is very helpful.)
This feature in the premium version of Grammarly warns you of passive voice, wordiness, preposition at the end of the sentence, tautology, unclear antecedent, and repetitive use of the same word, etc.
Genre Specific Writing Style Checks
This feature will allow you to select a document type from over 30 different categories. It allows you to fine-tune the same.
Grammarly Plagiarism Checker
At times and especially for bloggers, it is indeed very important to make sure that the article is unique and not copied from elsewhere.
In such cases, one can use Plagiarism Checker.
It checks and finds out whether the article has been copied from somewhere else or not. If the article has been copied, it provides the link to the original website from where the article (or a part thereof) was copied.
Using Grammarly
For using Grammarly, you need to register first a free account with them. You can later upgrade the account if you wish to go for its premium plans.
Once you go on to create and verify your account, you can use Grammarly in four different ways both for a Free and Premium account.
One of the best ways of using Grammarly is through its Browser Extension. Presently, the extension is available for Chrome, Firefox, and Safari.
After installing the Grammarly extension, it starts checking for grammar and spelling errors wherever you type. It works on any site like while typing on Gmail, posting on Facebook or commenting on any blog.

Grammarly offers an online version that allows you to directly type your content, or copy-paste, or upload your articles for proofreading.
The Grammarly app is useful in cases when you have to proofread your content to be posted on websites that are not supported by the browser extension.
The app allows you to write and edit your documents from multiple locations. Grammarly goes on to save your documents on its server.
The Grammarly Office Add-on integrates all the Grammarly features with all the MS Office Apps such as Microsoft Word and Microsoft Excel. It is useful for business professionals as well as for the ones who need to pen down emails and articles.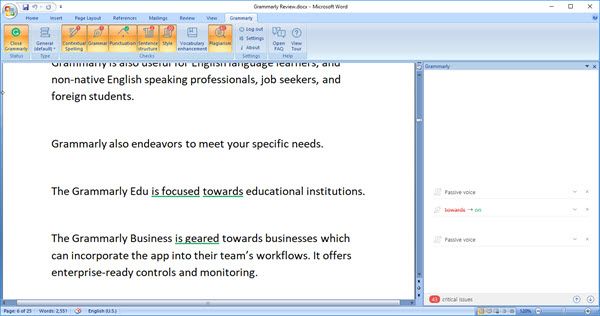 Grammarly Desktop App (Windows & Mac)
Grammarly is available as a native application for Windows and Mac. You need to drag and drop a document into the application. It does spell check, grammar check, plagiarism detector, and gives performance stats.
It works same as the web version. You can check the documentation for a lot of options including casual, general, business, creative, medical, technical, and academic.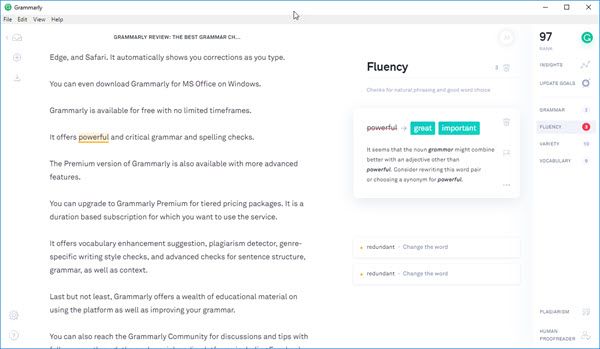 Grammarly is a universal tool suitable for everyone including the following people:
Students who need to write case studies, essays, and admission letters, etc.
Working Professionals who need to write reports and business emails.
Creative Writers for writing a novel.
Bloggers and content writers who need to write blog posts.
Doctors and Medical Transcriptionists.
Grammarly is useful for Casual Writers that need to draft personal emails.
Grammarly Free or Grammarly Premium?
Now, comes the ultimate decision for you. Should you go for Grammarly Free or Grammarly Premium?
It essentially depends on the quality of the article you need.
For example, if you are a blogger, your readers judge you for your grammar and writing skills. In such cases, you should upgrade to the premium account.
It will help to make your articles and blog posts error free and devoid of any grammatical errors. It will fine tune your grammatical skills.
However, for casual users, the free account is sufficient enough as it detects all the major grammatical errors.
If you go for Grammarly Premium Plans, you have the facility of paying for it monthly, quarterly or annually as per your convenience.
Monthly – $29.95 per month
Quarterly – $19.98 per month
Annual – $11.66 per month
Common Grammarly Questions
Grammarly free version is available to everyone and for a lifetime.
One can use Grammarly with MS Office using Grammarly Add-on and works great with MS Word Documents
Grammarly Desktop App is available for Windows and MAC.
Grammarly Plagiarism: This feature is available with Grammarly Premium only
Now Grammarly works with Google Docs, but you need to login Grammarly Premium account.
Grammarly Mobile App Grammarly is available for both Android and iOS.
Grammarly is an Online Tool. It uses your internet connection for checking the content for errors.
Concluding
So, you can see that Grammarly comes out as one of the best online grammar checking software in the market.
It is very powerful and goes on to detect as well as suggest a correction for almost all the spelling, grammatical and punctuation errors.
It is available in free version.
Its premium version offers plagiarism checker and vocabulary enhancement options.
If you want your content to be unique and error free, you should surely check out the Grammarly application.
Have you tried Grammarly?
If yes, please share your feedback with us.
We hope that this Grammarly Review has offered much insight into this powerful grammar checker tool.
Now, it's your turn.