Is your Ad Revenue still very low?
Are you struggling to make money with Ads on your site?
Are you not satisfied with your Ad Optimization Platform?
If you are facing the same issues, then I must tell you that you should employ a powerful and comprehensive Ad Optimization Platform so as to maximize your Ad Revenues, improve user experience, and minimize Bounce Rates.
Here, I have come up with a detailed review of AdNgin Ad Optimization Platform, which by every means is a powerful platform that will help you to grow your Ad Revenues.
I surely believe that this review will go a long way in helping you comprehend the features, abilities and usage of AdNgin Ad Optimization Platform. So, if you are by any means bewildered as to what Ad Optimization Platform you should go for, this review will surely prove a valuable aid for you and help you in choosing a right Ad Optimization Platform.
But before we dwell into AdNgin Review, let us first understand what are the key issues that plague a decent Ad Revenue generation. This is important as it will highlight the need to use a powerful Ad Optimization Platform.
It has been noted that are some critical issues which hamper Ad yield. Primarily, publishers face banner blindness by visitors. Website users don't click on Ads and Ads fail to convert. Then there are Ad Layouts to which visitors do not respond. User experience is low, and there are issues with Ad Layouts that do not properly show up on various screen sizes.
Also, Google Adsense Ads are not optimized and face Google compliance issues, as well. It is also seen that most publishers do not employ effective Ad Monetization strategies which seriously affects revenue generation. Moreover, publishers do not have time to invest in testing Ads and using Ad testing services.
That's precisely the reasons why most website publishers fail at making money with Ads. This is where the need of Ad Optimization Platform is greatly felt which can help publishers to optimize the monetization of their website Ads, particularly Adsense Ads.
This is where AdNgin comes into the picture.
AdNgin helps to maximize banner ad, Adsense ad revenue through testing and layout optimization.It comes with software for testing Ads and offers customized help with its reps. AdNgin primarily works with Adsense publishers and helps them in improving their sales and helps them in engaging more customers. It functions as a right platform for publishers who want to create user-friendly websites and empower them with strategically placed ads for gaining optimum revenues.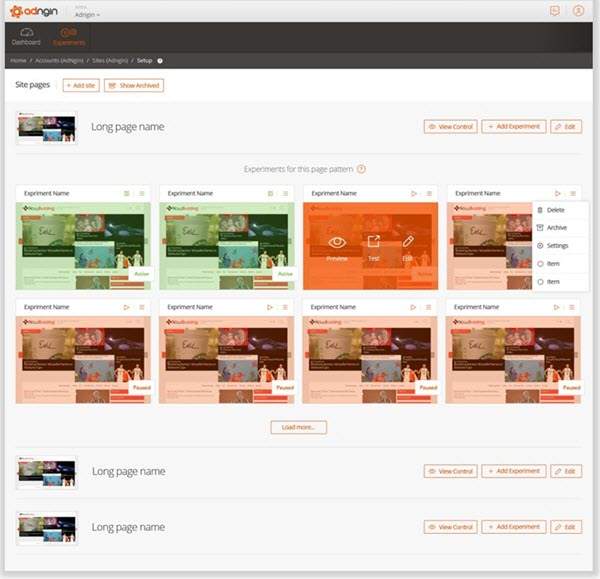 In short, AdNgin helps publishers to increase their RPMs, reduce bounce rates, and provide them with right advertising and research solutions so as to sore their online business to new heights of glory.
Now, let us understand how AdNgin can specifically help you in optimizing Ads:
• Get the best Ad Placements, color palettes, sizes, device specific setups that work for your website audience.
• AdNgin provides optimized CTR Metric.
• AdNgin provides you with a perfect platform for rigorous Adsense Testing. Hence, publishers get an opportunity to earn more Ad Revenue.
• AdNgin makes testing easy.
• It delivers full control over website layout, and Ads used.
Setting up AdNgin
AdNgin is free for publishers who get up to 10,000 daily page views for a website. For those having more than 10,000 daily page views, their package starts at $250 per month. They don't charge any percentage of your ad revenue at all. They only charge a flat fee; that's all. They provide you with a dedicated manager that does the entire optimization task for you. Plus, live support, as well.
You start up with signing up for a free account on AdNgin. Once you have successfully signed up, you need to login to access your admin dashboard. Then scroll down and click on the "Add Site" option. Now, you need to fill up your site details.
Once you have done this, you need to connect AdNgin to your website. For this, you need to click on the "Snippet Setup Guide". Copy the code and paste it into your header file. If you are a WordPress user, you can simply use their WordPress Plugin. Activate the Plugin and then enter your "API key" in the WordPress Plugin.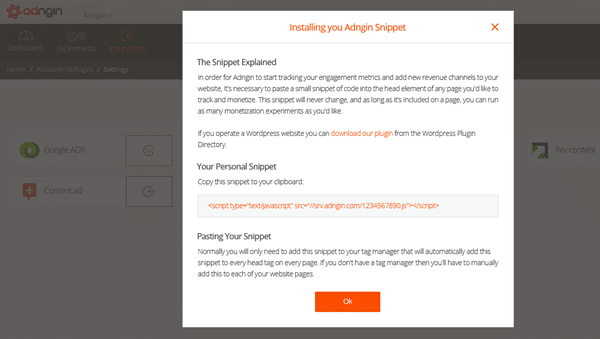 After connecting your AdNgin Account with your website, you are required to connect AdNgin to your Google Adsense. For this, you have to access the AdNgin dashboard. Click on the "Connect to your Adsense" option and log in to your Google Adsense. Finally, click on "Allow".
Now, you are ready to test with AdNgin. Experiment with your most popular posts using different Ad Units, styles, and color palettes.
Let's take an example to illustrate this:
Select one of your most popular posts.
Then click on the "Experiments" option in your AdNgin dashboard that is shown in the upper menu. Then click on the "Add Page" and details such as name, URL of the category of your post, and the example URL of the post you want to experiment. Lastly, click on the Save Button.
You can follow the above steps to experiment with other posts of your website, as well. Once you can ascertain which Ad Units or Ad Groups are performing well, you can start applying them to other categories, as well. Results will follow soon, which you will surely appreciate.
AdNgin Dashboard
AdNgin provides two main tabs such as the Dashboard Tab and the Experiments Tab. The Dashboard provides the Analytics with its Earnings Tab and the Performance Tab.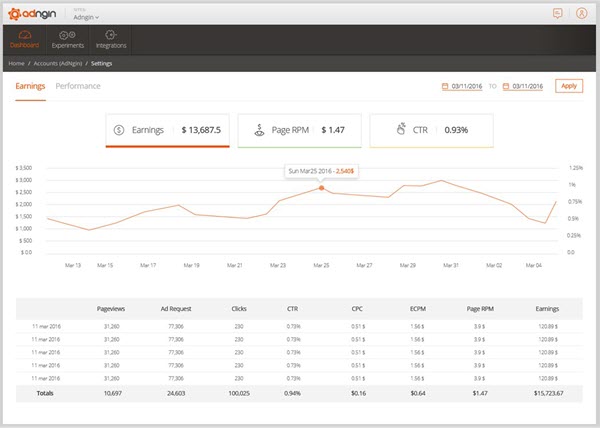 The Earnings Tab pulls up results from Adsense and shows how much you have earned. Whereas, the Performance Tab provides you with results that AdNgin measured such as clicks, RPMs, CTR, etc. It also shows up the results of your experiments.
AdNgin automatically determines which version of your Ad is performing better. It automatically selects better version and displays it more often. So, AdNgin delivers a kind of AB Testing experience. AdNgin also allows you to compare data from Google Adsense with itself. For this, you have to define pages, that is, sub-types of pages on your site. Once you have defined your pages, you can go ahead and set up "Experiments" on these pages. Experiments allow you to tweak with Ad Placements that you place within a live preview.
Its editor is easy to use and allows you to select Ad Placement, Ad Sizes, and Ad Types. You can even create variants for each placement within an Experiment. This helps you to determine whether a text ad or an image ad is best suited for a particular placement. You can even come to know what is the best format for a text ad.
Final Words
Overall, AdNgin is a pretty intuitive Ad Optimization Platform. While starting with AdNgin may seem a little bit complicated, but one quickly comes to terms with its usage. Moreover, the result it delivers is absolutely amazing for sky-rocketing your Ad earnings coupled with its Adsense experience. It automatically manages Ad Testing and implements what is best suited for your users. All-in-all, AdNgin is a dependable Ad Optimization Platform for Adsense Publishers who are looking to skyrocket their Ad Revenue.