Your success in the online world is determined by how effectively you can monetize traffic.
Whether you are a publisher or an advertiser, your success quotient will depend on how well you are using internet marketing techniques for monetizing traffic.
Contextual Advertising is one such internet marketing technique that enables you to monetize your website traffic effectively.
If you are new to Contextual Advertising and missing out the benefits of Contextual Advertising, this post can be an eye opener for you.
What is Contextual Advertising?
Let us first understand the meaning of "Contextual."
Contextual means – "related to or determined by or in context."
So, Contextual Advertising is a type of online advertising technique in which the Ads are shown as per the content of the web page.
In Contextual Advertising, Ads that appear on a web page are related to or determined by the content on the web page.
In simple terms, Contextual advertisement display ads related to Website content.
For example, if a website is dedicated to sports, Contextual Advertising will make sure that a user is served with Ads related to sports. Likewise, if there is an entertainment site, a user will be shown Ads of music, movies, etc.
So, in Contextual Advertising, a user is always shown relevant Ads as per the content on the web page.
The whole idea of Contextual Advertising is to tap targeted customers by serving those Ads that represent products or services in which they are already interested.
For example, let's say a user is browsing a sports website. Contextual Advertising will serve Ads related to sports. For instance, the user could be shown Ads on sports shoes. If he is interested, he will click on the Ad to check out the latest sports shoes.
So, Contextual Advertising values every user. It is based on the principle that every visitor is a potential customer. Thus every visitor is served with Ads that is related to what he is searching on the Internet.
Automated systems run Contextual Advertising. These automated systems select and serve Ads which are related to the web page content. Contextual Advertising usually has a high click-thru-rate as it shows relevant Ads in which users are interested.
It allows companies to place Ads on major websites that are carrying relevant content for their product or service. Overall, Contextual Advertising is successful in generating a good response from website visitors as the whole advertising is centered on their needs and interests.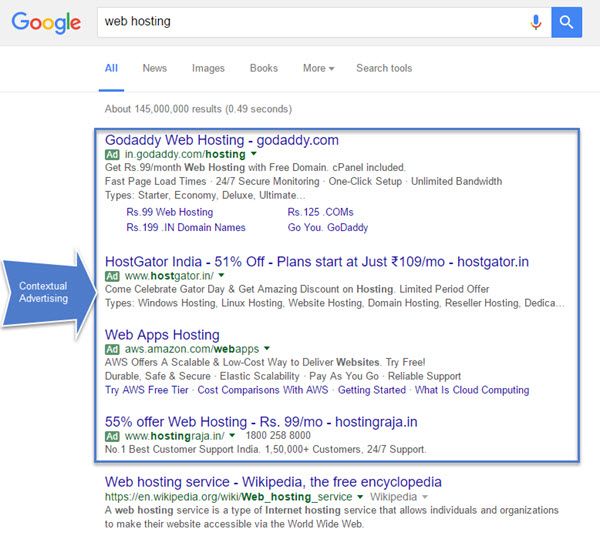 How does Contextual Advertising work?
A Contextual Advertising system operates by scanning the text of a website and serves relevant Ads to the web page based on those keywords.
The contextual advertisements are shown on the web page or as pop-up ads. So, if a user is browsing a sports website and that website uses contextual advertising system, the user will be served with ads from sports-related companies.
Search engines also show up contextual advertisements on their search results page based on the keywords used by users in their search query.
A piece of code (which is Javascript code) is put on a website page. The code scans the content on the web page and pulls relevant ads that match the content on those pages. The code passes information (keywords) to an Ad server. The Ad server interprets this information and serves content specific Ads to the web page.
Contextual Advertising Networks
Google Adsense is a contextual advertising network. It shows contextual ads in search results as well as on websites that come within Google's Content Network. Media.net, MSN Ad Center, Yahoo Publisher Network is also popular contextual advertising networks. They provide publishers the opportunity to run contextual advertisements on their sites without having to deal with an individual sponsor.
Contextual Ads for Publishers
If you are the owner of a Website and want to earn from your Website, then you can earn by displaying advertisement on your Website.
You can earn by different ways like displaying Contextual ads, direct ad space selling, affiliate marketing, etc.
However, the most popular way of earning is a Contextual advertisement for publishers.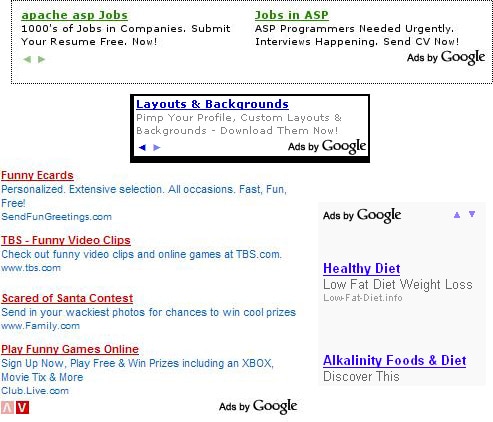 How can you earn by Contextual advertisement?
Normally Contextual advertisement pays you on Pay per Click basis. By this way, you earn whenever any visitor clicks on ads displayed on your Website you earn money on every click that ad gets. Earning depends on what advertiser is paying for that ad. It can be $0.01 or $50 per click.
Contextual Ads for Advertisers
As contextual ads are highly specific and are related to the interests of users, Advertisers can profit by joining contextual ad networks which serve contextual ads on publishers' sites.
The click-thru-rate for contextual ads is high. Plus, there is no waste on ad impressions. So, Advertisers get a good response by serving contextual ads.
Google AdWords is for advertisers where an advertiser can advertise on Google.com search result page and also on millions of other Website, and they have just to pay when someone clicks on their ads.
Benefits of using Contextual Advertising
With Pay per click contextual advertisement, you can make money when anyone clicks on ads.
Here are some benefits of using Contextual Ads:
• Greater Engagement
• High Conversion Rate
• Serves relevant Ads to website visitors
• Ads are automatically matched to your content
• Publishers get High Click through Rate on Advertisements
The above text is a short explanation on the contextual advertisement. Hope this will be helpful for you to understand about the contextual advertisement.