"Blockchain Advertising" is the new buzzword. This new technology has revolutionized the digital advertising supply chain and has created ripple effects throughout the marketing industry. The article shares with you the 10 Best Blockchain Ad Networks.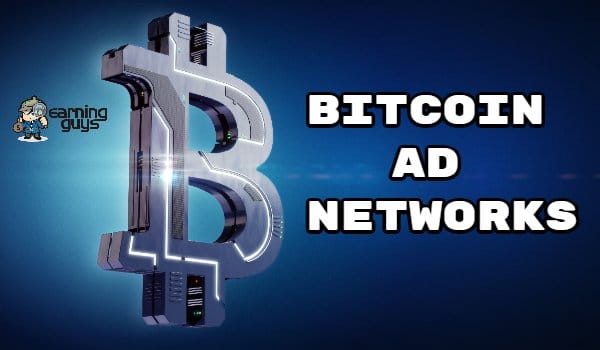 Although blockchain seems to be a complicated term, the concept is actually very simple.
Blockchain is a particular type of digital ledger that records transactions (using cryptocurrency such as Bitcoin) in a manner that is both chronological as well as public.
It allows two parties to make a secure transaction on a decentralized network. So, the data that is stored on the blockchain peer-to-peer network is authentic and can be verified at any given instance throughout the network.
Moreover, the data is fully encrypted and can never change. It means that blockchain technology creates full transparency in digital advertising services, offering increased efficiency, reducing costs, and eliminating fraud.
A blockchain transaction can be broken down as follows:
When somebody requests a transaction, it is broadcasted to a P2P network
The transaction is validated as well as the status of requesting user through a series of sophisticated algorithms
After complete verification, the transaction is combined with other recent transactions and creates a new block of data
This new block of data is added to the ledger. It's permanent and publicly available. It's also totally unalterable.
At this point, the original transaction becomes complete.
So, the blockchain technology involves verification as well as permanency of the record to offer the much-needed visibility and solve the double-spending problem that Bitcoin users encounter.
With Blockchain technology, there is no such problem of counterfeiting cryptocurrency. It's secure and valuable in the world of digital currency. It offers visibility, security, and accountability to the online advertising industry.
What're the Implications of Blockchain
Well, the biggest impact of blockchain is on digital display advertising. With blockchain, the middlemen (that connect the advertiser with the end-user) become totally irrelevant.
Advertisers don't need to go through companies such as Google or Facebook. It connects advertisers with their potential customers in a more direct way.
Moreover, the media buying process would cease to exist. It offers critical visibility to the advertisers. They can confirm that someone viewed an ad before the exchange of currency takes place.
Blockchain results in more direct business between advertisers, publishers, and users. Blockchain changes how people interact with ads (particularly display ads). The ads become less intrusive, as well as more effective and relevant.
Blockchain brings transparency to the world of online advertising. It can verify that every user is 100 percent genuine. With blockchain, advertising becomes far more effective as advertisers can build customer profiles using information that customers share with them. As a result, it improves targeting and relevance and, hence, conversions and revenue.
There's no fear that you will fall into someone's trap in a blockchain-powered model. You instantly come to know what that product is and where it came from. So, you know the complete story of the product behind an ad. Thus, blockchain puts the power back into the hands of users where it always belonged.
As of now, blockchain exists, and people are already using it across the online advertising space. Blockchain has great potential for brands and allows them to use advertising to build deeper relationships with consumers.
Advertisers, as well as end-users, have everything to gain from the blockchain. It offers full transparency in transactions between advertisers and publishers. It creates a new cryptocurrency-powered ecosystem detecting and reducing fraud at scale. So, blockchain has a bright future ahead as far as digital advertising is concerned.
With the rise in popularity of cryptocurrency, there are now dedicated Blockchain Ad Networks (Bitcoin Ad Network). These ad networks allow you to display Ads on your site so that you can earn additional Bitcoin/ cryptocurrency income. The Bitcoin Ad Networks differ in several aspects, such as the websites that they allow on their network, their payout model, as well as support score, and more.
You may also like: 21 Best Ad Networks for Publishers
10 Top Blockchain Advertising Networks
Here, we have reviewed the top 10 Blockchain Ad Networks. So, let's get started. Here's the list for you:
Mellow Ads is a leading name in cryptocurrency advertising networks. In fact, it's a very popular ad network and was set up in 2015.
Mellow Ads offers banner advertisements as well as pop-up advertisements. It offers CPC and CPM campaign models allowing advertisers to buy a specific number of unique clicks or views respectively.
Publishers can make daily revenue, which is based on the number of views, clicks, or pops provided to the network.
However, becoming a publisher with Mellow Ads is not that easy. One needs to get at least 100,000 Alexa ranks and a minimum of three months of website history.
There's even a referral program available with this network. You can earn as much as 50% referral commission when you refer someone new to the network.
Moreover, Mellow Ads charges very low fees (10%) for network campaigns. It means that there is an opportunity for higher potential earnings with this network than with other Bitcoin advertising networks.
It's a super fast and reliable Bitcoin advertising network. Its customer support is also good.
The minimum payout amount is 0.001BTC, and payment is made only in bitcoins. It runs an automatic payment system with 10 percent pay for ad campaigning.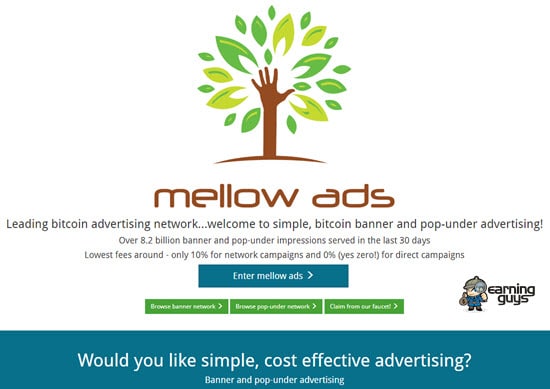 2. CoinTraffic Bitcoin Advertising
CoinTraffic is recognized as a leading digital advertising partner in the blockchain as well as crypto sectors.
It's one of the best crypto advertising networks. CoinTraffic was started in 2014 and is based in Tallinn, Estonia.
CoinTraffic specializes in CPM campaigns and offers a wide range of advertising format options such as static banners and pop-under ads. The platform is quick as well as easy to use. It makes checking daily payments and even withdrawing commissions particularly easy. Moreover, the requests for payouts are processed within 24 hours.
The platform comes with GEO targeting and device targeting, as well, including desktop and mobile. The network provides traffic from all around the world. One thing with CoinTraffic is the fact that they are selective about the number of advertising partners they go for.
So, they are careful about avoiding ICO scams. Moreover, they concentrate on high-quality traffic and partner with reputable advertisers as well as publishers. CoinTraffic typically offers very good support. They have a quick response time. However, it may take quite a long to get your website approved or rejected. Sometimes it can take weeks.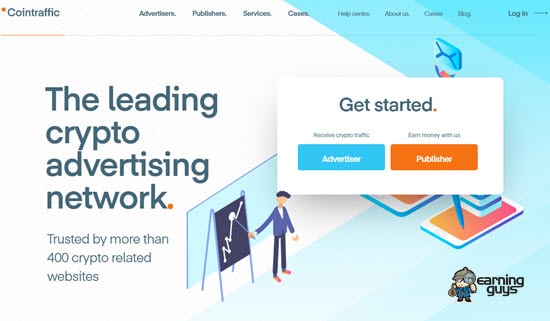 3. A-Ads Bitcoin Advertising Network
A-Ads is probably the oldest and one of the best Bitcoin Ad Networks around. Moreover, A-Ads is one of the safest platforms for digital advertising. It does not track your personal details, nor does it allow any cookies to be left on your user's computer. A-Ads is also known as Anonymous Ads.
The main payment method on this platform is Bitcoin. However, it has plans to add other crypto coins as well in the future. This advertising platform promotes anonymity. So, there is no need for any personal information or verification is required. However, it offers a sign-up page where you can choose to sign up with your Bitcoin address without the need to register for an account.
A-Ads is famous for making prompt and punctual payments. You get the choice to withdraw to an A-Ads account or even to a Bitcoin address. You're unlikely to face any problems. Plus, if needed, the support is very good to help you out.
A-Ads comes with a tagging tool for distinguishing between advertisers. So, every ad in the network gets a tag, such as shady, risky investments, etc. Moreover, publishers can use manual pre-moderation to ban unwanted tags. Its minimal withdrawal threshold is 0.001 BTC.
It offers a simple online advertising platform that's user-friendly and focused on privacy. Moreover, there is no such requirement for personal data submission whatsoever. It's super simple and takes only a few minutes to start your campaign or create an ad unit. A-Ads is known for offering transparent statistics, automatic payouts, and sweet traffic from scores of websites and applications.
These guys make global advertising a reality. Its ads don't contain Adobe Flash, JavaScript, or use Cookies. So, you can embed them safely anywhere. There's no minimum deposit, and advertisers can work with a daily budget. A-Ads has a very good reputation. It always pays on time and approves websites relatively fast.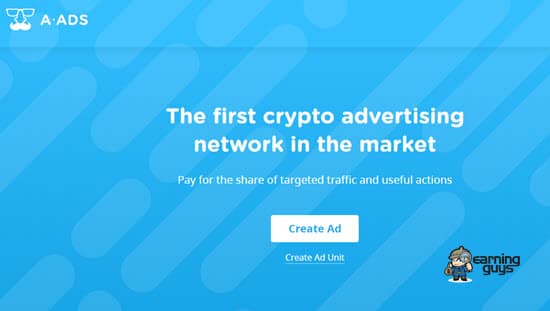 4. CoinZilla Blockchain Ad Network
CoinZilla is a comparatively new Bitcoin Ad Network. It was launched in 2016. However, CoinZilla has become a very popular Bitcoin Ad Network. It offers CPM and CPC advertising, Native, Pop-Under Ads, and many more. Interestingly, Adverts could be funded using Bitcoin and also with Ethereum.
CoinZilla runs a referral program wherein you can make 50 Euros when your referred user deposits at least 500 Euros. It accepts only high-quality websites. The websites must be at least three months old. The websites should have a good loading speed and must be user-friendly.
Moreover, CoinZilla happens to be one of the most reliable Bitcoin Ad Networks around. It regularly checks for any kind of fraudulent activities in the network. The minimum payout with CoinZilla is 0.001 BTC. However, users need to pay a transaction fee of about 0.0001 BTC. Withdrawals are processed daily. The minimum deposit is 100 Euro.
CoinZilla comes with top-notch customer support. Its responses are typically helpful. You can contact CoinZilla through Skype or submit a support ticket through the website. CoinZilla provides a complete advertising solution. It has promoted over 200 brands and helped over 400 publishers to monetize their online content. It supports deposit and payment through BTC, ETH, Bank Transfer, WebMoney, and Credit Card.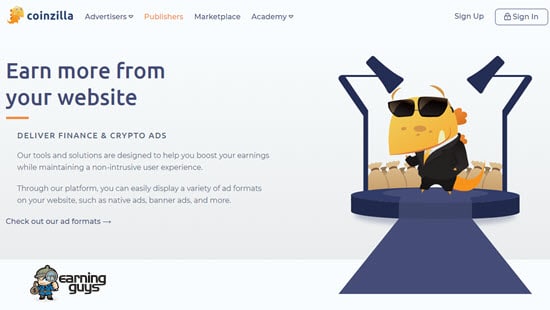 5. BitMedia Blockchain Advertising Network
BitMedia is another well-known crypto ad network. It is a London-based Bitcoin ad network that was founded in 2014. It offers effective ads to its advertisers at affordable prices.
This ad platform has been built from scratch and involves many experts from big-data and high-load technologies. The result is a top-notch advertising platform that promotes the Bitcoin community.
BitMedia offers both CPC and CPM campaigns. So, the payments are made for every click or per 1000 impressions. The minimum amount for withdrawal has been put at 0.001 BTC. Usually, BitMedia allows Bitcoin as well as cryptocurrency-related websites as its publishers. However, they may also allow non-crypto websites if they offer good and lively traffic.
So, with BitMedia, there's a big emphasis on quality. It has developed a smart algorithm that shows ads to relevant users only. It even conducts deep learning of the user's behavior to further the improvement of its algorithm. Its UI is very user-friendly and intuitive. Plus, their support is fast and helpful.
They go on to verify and validate each publisher manually to offer the best possible ROI to their advertisers. There are many targeting options for advertisers, such as GEO, Device, Timing, and Frequency. They offer ads in the text as well as banner format, and their publishers get payments in BTC only.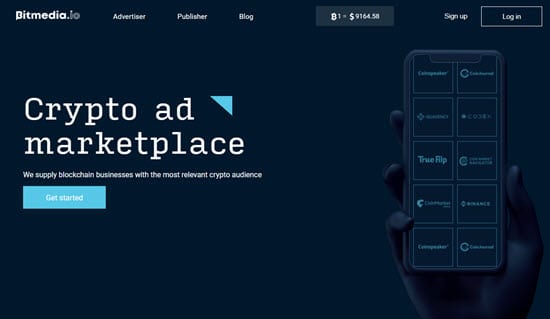 SmartyAds implements Blockchain technology to offer you a truly transparent environment with numerous opportunities for demand and supply partners. Its digital ledger technology is decentralized, incorruptible, and secure by design. All the transactions and data remain safe and functional.
It's working easy and simple to understand:
Buyer purchases an ad impression through a smart contract
The impression event is encrypted and represented in the form of a "block."
The encrypted block is then broadcasted to each participant in the blockchain
The impression block gets added to the blockchain and is a part of the permanent decentralized ledger
Finally, the impression event is approved
So, you get high-quality inventory from premium suppliers. You can close profitable deals and receive an automated record of each transaction. The data cannot be copied, modified, or deleted.
The Blockchain network is decentralized, so there is no single point of failure. Moreover, every member is verified and approved. It's protected by public and private keys.
The Blockchain products include:
SmartyAds Blockchain DSP
It's technologically advanced, transparent, and ultra-secure. It allows media buyers to buy online media from premium publishers at guaranteed prices.
SmartyAds Blockchain SSP
It offers a transparent trading environment, greater value for each impression, as well as competitive pricing. Its revolutionary SSP functions on a decentralized and distributed digital ledger technology.
SmartyAds Blockchain Ad Exchange
It's built on the top of a digital ecosystem with integrated DSPs, SSPs, and Ad Networks forming an ultra-secure Ethereum-based network of public nodes. It offers full user privacy for media buyers, owners, and networks.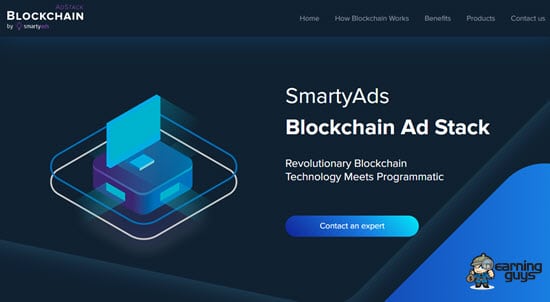 7. Adconity Crypto Advertising Network
Adconity is a relatively new Bitcoin Ad Network that was founded in 2017. It's a Zurich-based ad network, and it offers CPM, CPC, and CPA campaigns. They have many interesting partners on their list, including GoDaddy. It's a blockchain, rich media advertising platform that comes with competitive pricing.
Adconity is known for its high-quality traffic as well as a wide variety of ad types such as text, image, native, pops, and more. Their approval time is quite fast. It usually takes up to 24 hours, with some exceptions. Their customer support is top-notch; its representatives are quick and helpful. The minimum payout threshold is $50. It offers a good revenue share.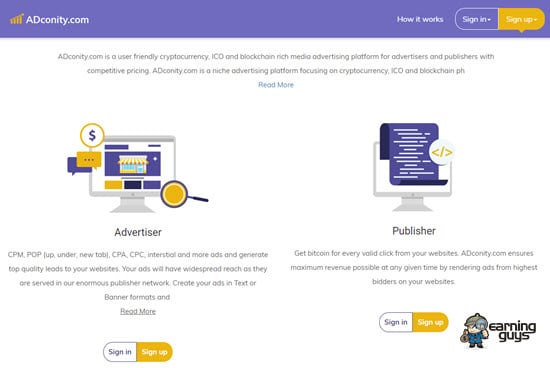 Ad Dragon is a relatively new platform that is regarded as the world's first DeFi Ad Platform. It's a blockchain-powered advertising marketplace that allows you to advertise peer-to-peer media platforms, influencers, and top websites.
It brings something completely new and is not an imitation of Google's model.
Publishers can create an online store on the Ad Dragon marketplace to sell their advertising services through sponsored posts, press releases, banner ads, etc. Publishers have the freedom to price their products as they see fit. Plus, they can sell almost any advertising service they want.
Ad Dragon allows advertisers to browse the marketplace. Advertisers have the advantage of finding a wide variety of advertising opportunities for promoting their crypto business and a project in the price range that suits them.
It's a marketplace that allows you to buy advertising products and services directly from independent media & content creators without employing the middle-man. Instead, it sells advertising from independent media, influencers, and content creators who can sign up as sellers using the platform.
Ad Dragon is built entirely on Ethereum. It makes use of decentralized wallets like Metamask making payouts instant. It's something unique and effective if you're on the lookout for the best blockchain ad networks.
It makes buying advertising online simple for independent sellers and peer-to-peer by using its robust platform.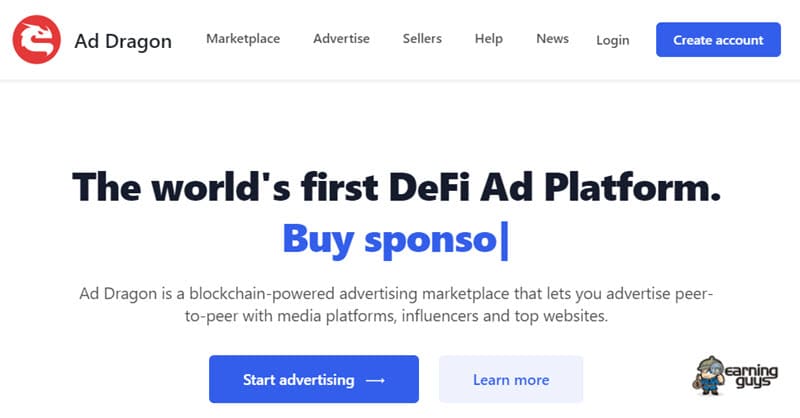 9. AdBit Blockchain Ad Network
AdBit is for high-efficiency blockchain empowered advertising. It's a Bitcoin and Blockchain empowered ad network that works on a "Smart Bid Auction" and a real-time payment system. Moreover, AdBit is completely transparent for advertisers as well as for publishers.
Advertisers have the opportunity to get the highest return for their advertising budget. They can use the tools to figure out the right target audience for their message. Millions of unique users can see their ads on its publisher's websites. They can even pick out their favorite websites or allow AdBit to do the network campaign for them.
Moreover, publishers also reap a lot of benefits from AdBit. They can set up AdBit ad spaces on their websites and enable AdBit to monetize the space for them. All payments are made in real-time directly in their account. AdBit is completely transparent and highly efficient.
AdBit makes payments with Bitcoin. These Bitcoin transactions are recorded transparently in the public blockchain.
Its working is simple.
An advertiser needs to bid against each other to get a share in the ad space. The higher the bid, the more you can earn with the platform.
A publisher needs to set up ad space on their website. An ad is randomly chosen, which is based on its share of the ad space. Returns on AdBit are quite good.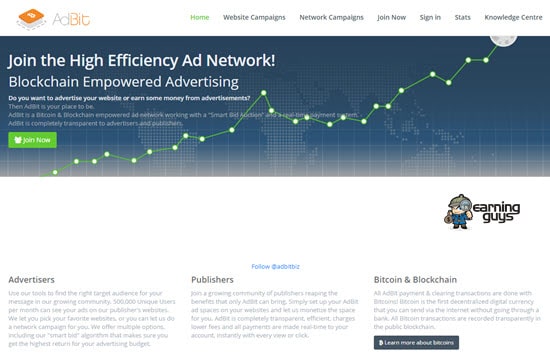 10. Adshares Blockchain Advertising Network
Adshares offers a decentralized platform for online advertising. It's a platform where publishers and advertisers can make direct deals without going through any middlemen. It offers cheap, transparent, and censorship-free advertising to users.
It's powered by reliable ADS blockchain that's capable of 1M transfers per second. So, it serves the global advertising market fairly well. Moreover, it can handle large volumes of instant micropayments. With Adshares, publishers get instant payment in tradable ADS coins that have been listed on CoinMarketCap.
In fact, Adshares offers many advantages as a digital advertising system. For example:
There are significantly lower fees
It minimizes the possibility of ad blocking through decentralization of ad servers as well as innovation in ad delivery.
Almost instant payments from advertisers to publishers
It offers increased transparency and freedom for publishers
Adshares favors small advertisers as there is no need for significant funds for joining the network
It offers a new market structure with Real-Time Settlement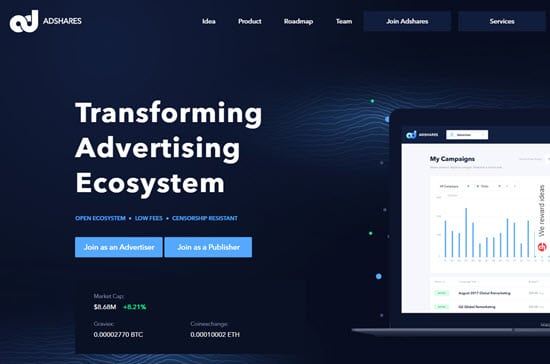 Blockchain has revolutionized the digital advertising industry. So, it's perfectly the right time to make the switch and invest your marketing dollars in Blockchain-based ad networks.
Here, we have listed the top ones for you so that you can get the best ROI. Blockchain Advertising is the future of digital advertising. So, take the first step and pick the best Blockchain Ad Networks from the above listing. Thanks for reading!