Are you looking for Keyword Research Tools? Then the 22 Best Keyword Research Tools showcased hereunder can certainly prove very helpful to you in doing keyword research.
Well, Keyword Research is one of the most important tasks in search engine optimization. Besides quality content, proper and thorough keyword research is necessary to drive traffic to your website. You need to find what keywords resonate best with your target audience.
As keyword research is an ongoing task which consumes a lot of your time and effort, and need to be done before you publish any of your posts; a simple and efficient keyword research tool can prove very helpful for you.
Hereunder, we have come up with a collection of 21 Best Keyword Research Tools which can assist you tremendously in doing proper and thorough keyword research.
As a matter of fact, Keyword Research Tools have become a necessity for every website owner. If you are running a website or a blog, you need to find out which keywords have high search volumes.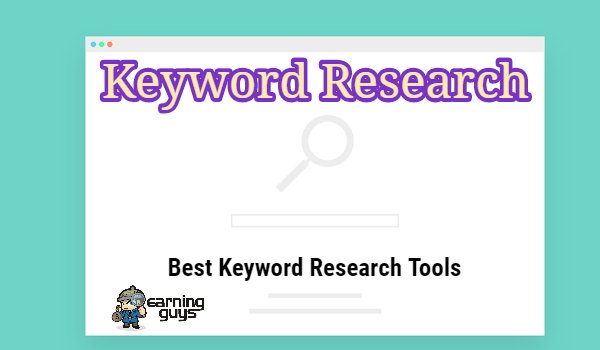 In addition to this, you also require to know how competitive your keywords are. You need keywords which have low competition so that it is easy for you to rank high in search engine results.
Keyword Research Tools help you in carrying out all of these tasks efficiently, easily, quickly and effortlessly.
Apart from these features, Keyword Research Tools help you to provide a figure of global monthly searches as well as search volumes specific to a country. You can select a category and can apply various filter criteria, as well. They also assist you in Competitor analysis so that you can know which keywords are bringing traffic to your competitors. You can also perform rank tracking and carry out other SEO tasks, as well.
So, you can go through this awesome collection of 22 Best Keyword Research Tools, and we surely believe that you will come across a keyword research tool matching your requirements.
22 Top Keyword Research Tools
1. SemRush Best Keyword Research Tool
If you're serious about SEO, then you must check out SEMRush.
SemRush is one of the best Keyword Research Tools out there. SEMRush is a "Paid" Keyword Research Tool. Let's find out why SEMRush is known as one of the best Keyword Tools out there.
To start let me tell you that SEMRush works a "little differently" than most other keyword research tools out there. Here, you have two different options. You can research for the keyword by entering the main keyword, and it will suggest you related keywords with their difficulty score.
The second and my favorite way is to research for the keyword is by spying on competitors keyword. SEMRush gets you the keywords that your competition is already ranked for. Now, it should be noted that these are outside-the-box keywords that are rather impossible to get using any other tool.
Let's see how SEMRush works.
First, you need to enter the competitor's domain name or its URL which it is ranking for a particular keyword in the field that is shown at the top of the page. In case, you want to do SEO for a country outside the US (let's say, Google.co.uk), then you can choose and see information about that particular market. You need to select that country from the menu. Once, you do this; you get to see the results. There's the "Organic Search" section.
Let's get to know the different terms in this section:
First, it shows the SEMRush Rank where you get to see the site's ranks in the SEMRush Database. It's based on total estimated organic traffic.
Then it shows the Keywords that give the estimated number of monthly organic visitors from Google.
Third and the last term is Traffic Cost. It shows you how valuable the traffic is which is based on Google Ads CPC.
So, if you find a domain that has a lot of Organic Search Traffic but a low Traffic Cost, then you can make out that although they are ranking for keywords, their visitors don't really convert well into buyers.
However, that's not all with SEMrush.
The real value of SEMRush lies in its "Organic Keywords" data:
The box goes on to show five of the top keywords for which your competitors are ranking for. You can also click on "View full report" and get the complete list of all the keywords that the site or URL ranks for. This itself will give you a handful of solid keywords.
However, if you want more keyword ideas, then go back to the domain's overview and inspect the "Competitors" in the sidebar. You will get to see that site's first-page competition.
Clicking on one of these results will let you see the exact search queries they are ranking. You end up digging up some real gems.
All said you could also do your SEMrush search with a keyword instead of using a competitor's site. Here, you get a "Phrase match report" with a list of long tail keywords that has the keyword you entered. It pulls keyword suggestions from SEMRush massive database of 800+ million terms.
Price: Paid Plans
Pro: $99.95/mo
Guru: $199.95/mo
Business: $399.95/mo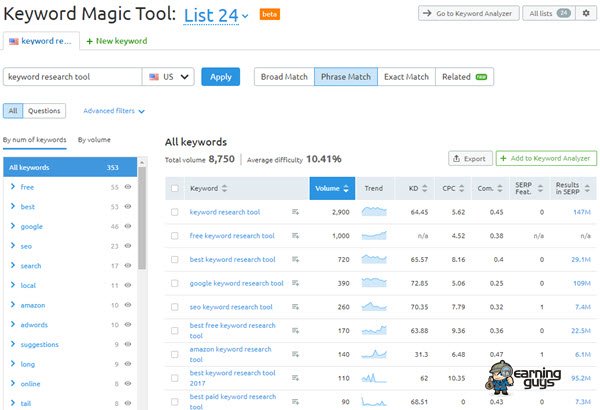 Google Keyword Planner is another gem of a keyword research tools. It taps into the massive keyword database that is offered by Google. It's a simple yet highly effective keyword research tool. The biggest highlight of Google Keyword Planner is the fact that it pulls data straight from Google.
So, you can be assured that's it's legit. The data from GKP is the most reliable one out there. However, it should be remembered that Google Keyword Planner is primarily designed for ads or advertising. (Its features "Top of the Page Bid")
That said you can use it for SEO-focused keyword research. You can use it for doing organic keywords research. You can customize the results for one of your competitors.
Google Keyword Planner allows you to do:
Search for new keyword
Search for ad group ideas
You can find search volume for a list of keywords
You can even have traffic forecasts for a list of keywords
Multiply the keyword lists and get new keyword ideas
So, with Google Keyword Planner you get both keyword ideas as well as ad group ideas.
In fact, the ad group ideas have a set of related keywords that are not shown in general keyword ideas. So, GKP is helpful for SEO. We must point out that you should take note of average monthly searches, competition, as well as other relevant metrics so that you come to know the appropriate keywords to target. As a matter of fact, GKP is outright useful for SEO as well as PPC. It lets you know the keywords which can be targeted organically or with advertising.
Plus, you can use Keyword Planner's suggestions as a base and can build long tail keywords using some of the other tools listed below. Last but not least; Google Keyword Planner is totally FREE. So, you can use GKP as and when you want to do keyword research.
Price: Free (Need Google Ads Account)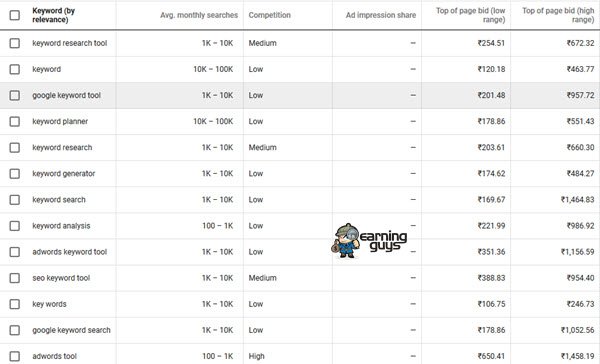 Ahrefs Keywords Explorer is one of the most powerful keyword research tools out there. It pulls out the maximum number of keyword suggestions and leaves all other keyword research tools far behind.
Its Keyword Generator is powered by clickstream data. Its database is updated with fresh keywords every month. Its working is simple, straightforward and easy to understand. Ahrefs goes on to filter the whole list of keyword suggestions by search volume and keyword difficulty. Moreover, these metrics are cached and are available for the whole keywords database. The tool offers some unique metrics not found in other tools.
These include:
Clicks
Clicks per Search
Return Rate
However, these get pulled once you click "Get metrics" Button. Ahrefs Keywords Explorer Tool shows you the search volume trend starting from September 2015. Further up, it breaks it down based on whether the searches turn into actual clicks.
It should be noted here that the search volume trend graphs are merely visualization. It does not offer the search volume numbers for the past months. Ahrefs Keywords Explorer also does the keyword difficulty calculation. It is based entirely on the backlink profiles of the top ten pages in SERP. Ahrefs also shows you a very detailed SERP analysis. It gives you the accurate backlinks numbers for the search results.
Moreover, Ahrefs is the only tool that gives you how much search traffic the top ranking pages are getting. It's shown from all the keywords they rank for and not just your target keyword.
Price: Paid Plans
Lite: $99/mo
Standard: $179/mo
Advanced: $399/mo
Agency: $999/mo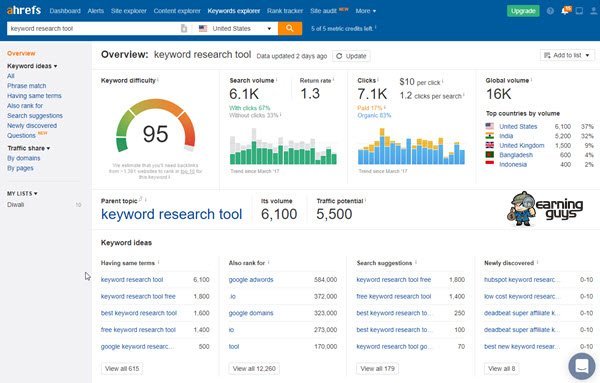 Google Search Console is another highly popular tool to find the right keywords. It does it smartly and gets you "awesome" keyword ideas marking your keyword research easy and fruitful.
Google Search Console is not a keyword research tool it instead provides the report for your website for various parameters.
It gives you hundreds of "Opportunity Keywords." Its biggest highlight is the Performance Report. This itself assists you in keyword research. Moreover, it finds out the "Opportunity Keywords." It shows you the pages on your site that have the most number of clicks from Google. Plus, the exact keywords that showed the results.
To let you know "Opportunity Keywords" are those for which you are ranked between #8 to #20 in Google search results for a particular keyword. So, Google Search Console is exactly for finding these keywords that you have already ranked for. It gives you insights about these existing keywords.
GSC is easy to use. Simply access:
Search Console > Search Traffic > Search Analytics > Queries
Then you can hit the impressions, CTR, and position checkboxes. Here, you get to see the queries that sent you the most number of clicks to your site in the last 28 days.
You also get:
Impressions
CTR
Average Position (For each query)
So, the report tells you a lot. Just be clear as far as what you are looking for. For example, the starters can look at the impressions column. If you are positioned at ~7 or under, it's most probable that you are showing up for the majority of searches.
So, the impressions are an estimate of the search volume. Plus, another good thing with this tool: You can combine Google Search Console as well as Google Analytics account. It's very useful. You have in-depth keyword data in your hand.
Price: Free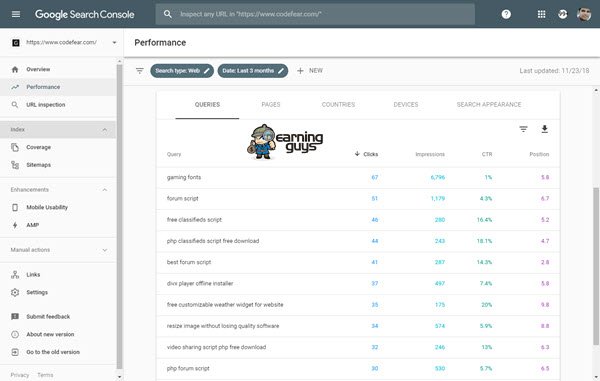 Moz Keyword Explorer (KWE) is another "awesome" keyword research tool. Moreover, there's an entire suite of SEO tools with Moz. It will help you to know the keywords that generate the most traffic.
It offers you with "lateral" keyword ideas. Upon entering a seed keyword, you get the list of closely related keywords.
That's like most other keyword research tools. However, Moz offers more to you. It's smart and unique. It offers outside-the-box suggestions that you won't get anywhere else.
If you want to know the most outstanding features, it's certainly:
Organic CTR: It is the number of clicks you can expect when you hit the top 10
Priority: It measures CTR, search volume, and difficulty. It shows you an overall score and lets you know whether you have to target a particular keyword or not.
These help you to know the number of clicks to expect from your target keyword. So, with Moz Keyword Explorer, you can come to know the keywords that bring the most traffic from Google.
Moreover, Moz Keyword Explorer goes on to automate the keyword research process giving you valuable insights about actionable data and keyword ideas.
The KWE throws back as much as 1000 keyword terms when you search on a specific term. Its SERP analysis tab is much comprehensive. It offers the top-level stats for the search term.
You come to know which keywords to target based on keyword volume and other data. It indicates which keywords are worth going after. The Keyword Explorer Tool is available for all Moz Pro subscribers. It's also available as a standalone tool with two service levels.
With Level One you get:
5000 full keyword reports per month
10 Keywords lists and up to 500 keywords per list
With Level Two you get:
30,000 full keyword reports per month
Up to 30 keyword lists with 1,000 keywords per list
However, if you are not a Moz Pro Member, you can do two free searches per day or have another five searches with a free community account.
Now, it's your turn to take advantage of this tool's functionality.
Price: Free and Paid
Free: Limited Data
Standard: $99/mo
Medium: $179/mo
Large: $249/mo
Premium: $999/mo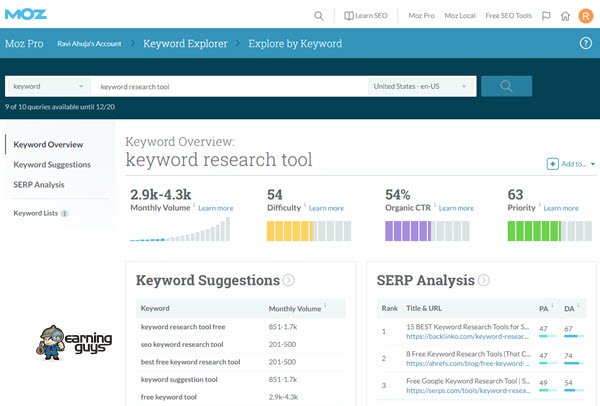 Keyword Tool is one of the best free keyword research tools. Let us tell you why: First up, its free version generates up to 750+ long-tail keyword suggestions for each of your search term.
Plus, Keyword Tool is extremely reliable. It works almost 99.99 percent of the time. And you don't need to create an account. You can use Keyword Tool absolutely free.
So, Keyword Tool is most useful for content creators, business owner, and online marketers. It allows you to create content for your websites around topics that are being searched by your potential customers or readers on Google.
You can analyze search trends on Google and get search terms that are related to your business domain which allows you to customize content for the needs of your customers.
You can discover thousands of new long-tail keywords. It gives keyword suggestions based on a Google domain and language that you choose. It uses Google Autocomplete and generates hundreds of relevant long-tail keywords around any topic. (Google Autocomplete helps to speed up the search function on Google.)
The tool employs Google Suggest for keyword research. It offers Google keyword suggestions in an easy-to-understand interface.
Best thing is that all this happens in a split of a second. There is also an advanced version of Keyword Tool: Keyword Tool Pro. It's loaded with a handful of other useful features and offers two times more keywords in comparison to its free version.
Both free and the paid version of Keyword Tool offers the facility to find and analyze thousands of relevant long-tail keywords.
You can use the keyword suggestions for search engine optimization, content creation, PPC advertising, as well as other marketing activities.
Price: Free & Paid
Free Plan: Limited Data
Pro-Lite: $48/mo
Pro Basic: $68/mo
Pro Plus: $88/mo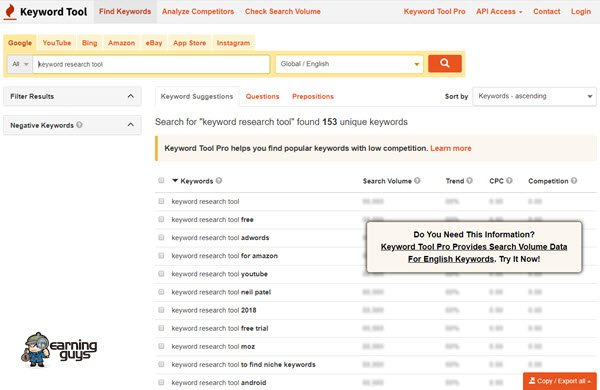 Serpstat is one of those SEO platforms that offer keyword research as one of its functions. In fact, Serpstat comes out as an all-in-one SEO platform. It's a complete SEO suite with tools for content, link building and more.
Serpstat is loaded with some extraordinary features that help you to optimize your website and stay ahead of your competitor's sites.
It's a SOLID keyword research tool. Serpstat offers a page-oriented platform that is best for in-depth competitive analysis. It helps you to find competitors. You can define missing keywords for a single URL as well as for entire domains.
Its gets you historical position data for a range of pages that are organized by phrase. You can also find out which pages have dropped in rank. You can even find out rank distribution as a percentage. So, Serpstat allows you to compare data from two different time periods. You can view changes over time based on algorithm updates and other factors.
You can view search questions and suggestions. All this data is offered based on real search queries. So, the tool helps you to come up with fresh ideas that people go on to search. Moreover, Serpstat comes with a unique "tree view" algorithm. It can be used for checking your pages' positions so that you can improve the ones that are just behind the first page.
Serpstat also comes with advanced filtering options. You can set your custom parameters. It allows you to research PPC keywords. All in all, Serpstat is a solid, cost-effective all-rounder when it comes to keyword research.
Price: Paid Plan
Free Plan: Limited Data
Plan A: $19.00/mo
Plan B: $69.00/mo
Plan C: $149.00/mo
Plan D: $299.00/mo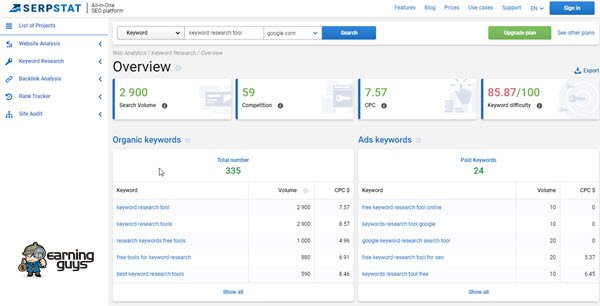 Ubersuggest comes as a free keyword research tool by Neil Patel. It offers data on a keyword, and you can use it for SEO or PPC. It offers an overview on volume, to seasonality as well as cost per click data. You can use it as much as you want without any limitations. Ubersuggest is a tool for getting keyword ideas.
You can get hundreds of suggestions from head terms to long-tail phrases using this free keyword research tool. You also get to see volume, the competition, and even seasonal trends for each keyword.
They have also added negative keywords and filtering so that you can get the right keywords for your business.
It pulls in keyword data from Google Keyword Planner and Google Suggest. It's the cleanest and easiest keyword research tool out there.
There's a lot more to Ubersuggest. You can come to know how expensive a keyword is. You can also find out how hard it is to rank it organically. You come to know how realistic it is to run after competitive keywords and phrases.
It's a great tool for competitive intelligence. You can find out who ranks for specific keywords organically. Its competitive overview section will show you all of your competitors as well as their ad copy.
You can come to know if it is worth targeting a specific keyword. If your competitors are bidding on specific phrases, it means that you can go after the keyword. So, Ubersuggest turns out to be a splendid tool for generating keyword ideas so that you can get scores of traffic to your website.
Price: Free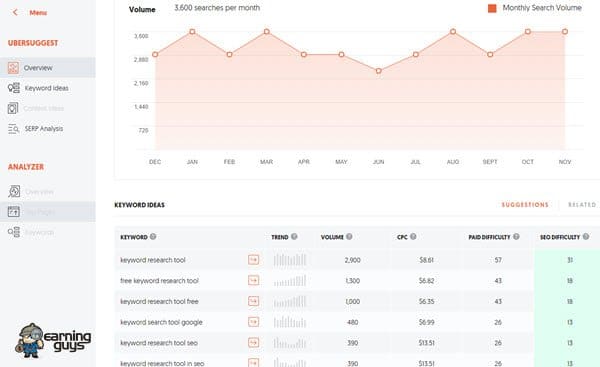 KWFinder is powerful and easy to use a keyword tool. It offers a lot of pro features and is ultra intuitive. One of its key features is Keyword Difficulty. It lets you know how difficult it is to rank for that keyword.
It gives you Keyword Difficulty Score next to every keyword. So, you don't have to click on every single one and see its difficulty score. KWFinder has a simple and straightforward interface that makes it easy for you to do keyword research.
Regarding performance and ease of use, KWFinder is pretty much on par (or better) than the majority of other keyword research tools. It helps you to find easy to rank, profitable and long tail keywords. KWFinder offers perfect keyword ideas. They have more than 1,350,000,000 keywords in the database. It's a super user-friendly keyword tool.
It gives you an ideal combination of search volume and keyword difficulty helping you to score on your SEO potential. KWFinder has a Pro version at $25/mo, and that's a great value for a keyword tool.
Price: Free & Paid
Free: Limited Data
Basic: $49/mo
Premium: $69/mo
Agency: $129/mo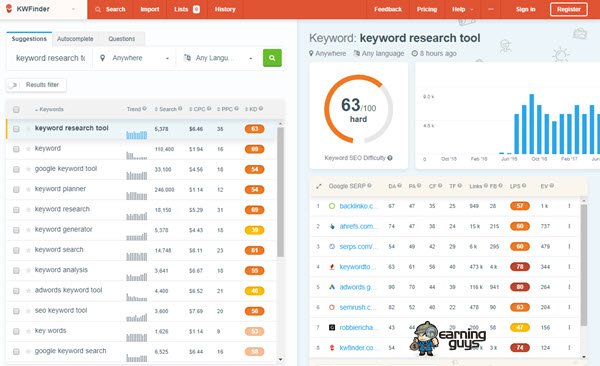 10. SpyFu (Paid)
SpyFu is just as it sounds. It is an SEO tool that "spies" on your competitors' strategies as well as SEO history and gives you an edge with keywords, rankings, and pay-per-click campaigns.
SpyFu proves an ultimate tool in PPC Research. It finds out new opportunities for campaigns based on the data collected. SpyFu researches your competition's keywords that you may not use in your SEO campaigns. The data provided can be used to learn from your rival's mistakes.
In case, the keywords have been unsuccessful for your competitors; you can come to know them instantly and revise your strategy. It also means that you can find the problematic keywords that might be impeding the rankings as well as the visibility of your website.
According to SpyFu claims, it crawls as much as 75 million domains and indexes more than five billion results. So, it is a substantial pool of domains which is used by SpyFu to assist in your SEO campaign.
With this SEO analysis tool, you can purchase the PPC ads more confidently. It can spy on your competitors and investigate your competitions' keyword campaigns. The data is represented in helpful reports which can be branded with your company logo. This is useful if you share or sell your SEO reports.
So, with SpyFu, you can learn from your competitors' mistakes and develop a successful SEO strategy for your own business.
Price: Paid Plan
Basic: $39/mo
Professional: $78/mo
Team: $299/mo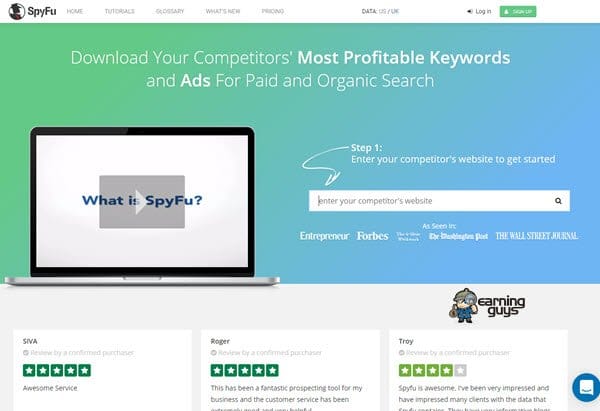 Google Trends is another useful keyword research tool which enables you to know how often a term or keyword is searched for. So, with Google Trends, you can find new keywords and search trends. It is best for comparing keywords and phrases. It lets you know where the searches came from.
You also come to know how the volume of searches changes with time. The Google Trends engine analyzes and finds out how many searches have been done for the terms entered about the total number of Google searches over the time frame.
However, it should be noted that although Google Trends is updated on a daily basis, it may contain some inaccuracies due to data sampling issues and other approximations to compute results.
It allows you to enter five search terms at a time. The results are shown on the same graph as the Search Volume Index by Google. In fact, there are two ways of using Google Trends for carrying out keyword research:
Firstly, it allows you to search for a specific keyword. It shows the details in the "related queries" section.
Secondly, you can find out whether or not a keyword is growing in popularity.
All this proves useful when you are debating between two keywords. However, it's just one factor and should be kept in mind.
Price: Free
Bing is an organic keyword research tool. It has up to six months of historical data available. So, you will not be limited to the last 30 days of data from "other tools." Bing Keyword Research Tool is best suited for long tail keyword research as the data is based on organic information and not on paid data.
This keyword research tool has many key features:
Firstly, it performs key phrase research based on organic queries. It offers the actual numbers without rounding or averaging. You get six months of historical data that you can mine based on custom date ranges. It offers global volume, drilled down by country.
Some more features:
• Language filter
• Export to .CSV
• Last 25 searches are saved to your history
Price: Free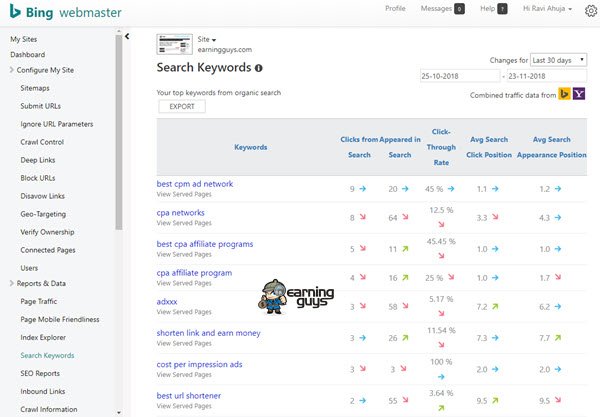 If you are acquainted with the Google's Autocomplete feature and use it to generate keywords or a blog post title, then you would certainly love what Soolve has in store for you.
Soolve is a free keyword research tool that offers Autocomplete suggestions not just from Google but also from a variety of other sources. In the process, it helps to boost your search volume.
It can be used for Google suggestions and various other sources such as Yahoo, Bing, YouTube, Wikipedia, as well as Amazon. First up, you need to choose your source. Google being the default. However, you can change this easily enough when you click one of the icons below the search box.
That said the search results are not the most advanced ones. Still, you get to have a few suggestions that make sense for your blog. The results change when you jump to other sources. For instance, when you choose Yahoo, the results change.
You can experiment using a variety of keywords with Soolve. However, you need to pay attention to the results from each source. Using Soolve is simple. You need to enter your keyword and review the results. Most importantly, Soolve is quick and efficient. It shows a few good keywords.
Price: Free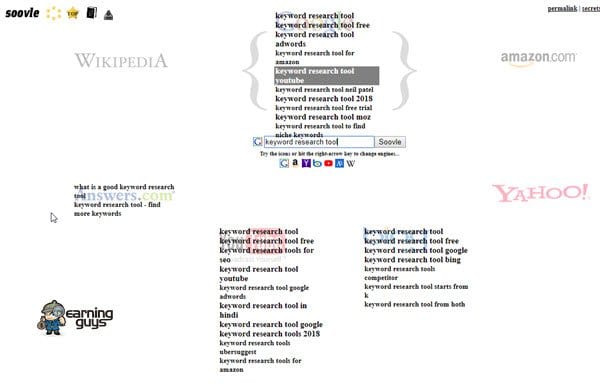 Wordtracker is more than a keyword research tool. It functions as a market research tool. It's all about competitors' keywords, in-depth PPC and SEO insights. It combines data from Google as well as its own proprietary search technology.
You just need to begin searching. You can use Wordtracker as a tool for keyword research.
Key Features
It shows you search trends
It gets you the actual keywords
You get the SEO competition metrics
It offers live chat customer service
Wordtracker performs a related or lateral search
It gives you Amazon Keywords
You can have YouTube Keywords
It can also perform a negative keyword search
Wordtracker uses its own proprietary data and toolset to give you as much as 10,000 keywords per search. With Wordtracker, you can optimize your pages more effectively and outrank your competition. It gets you the related keywords for stronger content and ranking better.
It has the SERP preview that allows you to see the search results as well as the difficulty of competition right in the tool. Wordtracker goes on to show the results from multiple sources such as Google, YouTube, and Amazon results.
Price: Paid Plans
Bronze: $27/mo
Silver: $69/mo
Gold: $99/mo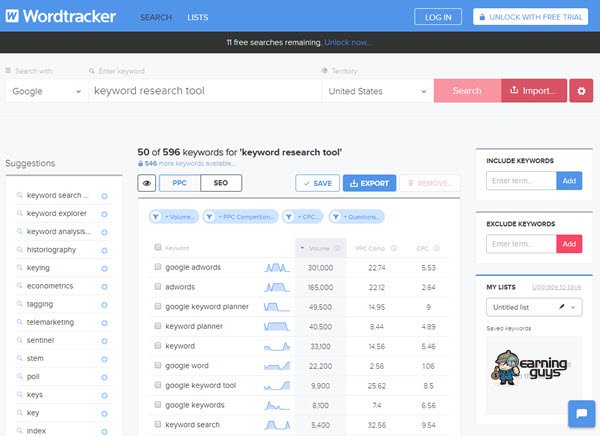 Semscoop is a smart out of the box keyword research and SERP analysis tool. SEO, bloggers, digital marketers and small can improve their site's overall ranking. It helps to find true ranking opportunities & low SEO difficulty terms to create smart and competitive contents.
With Semscoop you can find the perfect low competitive keyword which can easily rank. Semscoop suggests related searches along with how difficult it is to rank for the particular keyword.
Price: Free and Paid
Free: Limited Keyword Searches
Basic: $9/mo
Pro: $27/mo
Business: $47/mo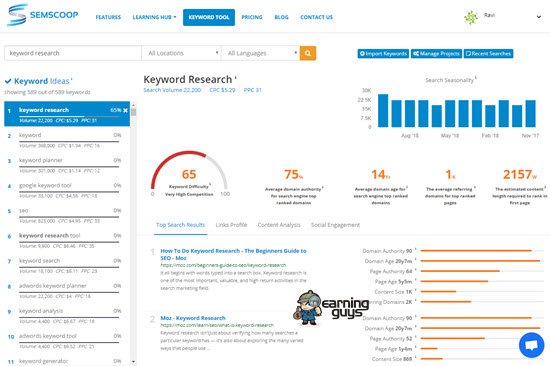 16. SE Ranking Competitor SEO/PPC Research Tool
SE Ranking has come up with a reliable and powerful Competitor SEO/PPC Research tool. The tool allows you to discover your competitors' keywords and ads for paid as well as organic search. You come to know for which keywords and ads a domain/URL are ranked for in paid as well as organic search. You can discover the full list of competitors for a particular search query.
The tool allows you to know all the historical advertisers per certain query. You can discover the most popular and effective ads. It's also useful for finding similar meaning keywords to expand your research. You can get ranking data segmented by periods. You can come to know more paid as well as organic competitors.
So, it's a comprehensive competitor research tool for checking competitor website traffic. It's a must-have SEO tool for SEO professionals, website owners, bloggers, and digital marketing agencies.
SE Ranking Keyword Suggestion Tool
SE Ranking offers you one of the most reliable, competent, and easy-to-use Keyword Suggestion/Research Tool for getting only relevant keywords for your projects. The tool offers access to one of the largest keyword database with more than two billion unique queries. You get an internal database and search engines suggestions for Google, Yahoo, and Bing that is updated on a monthly basis.
So, you can add the keywords to SE Ranking projects or use them for any other purposes. It's one of the best tools that you can get for performing keyword research. It allows you to find and select keywords for the pages you want to optimize for getting top rankings in SERP.
Moreover, it makes keyword research a very easy process by following a one-click routine. It offers a fantastic set of short tail and long tail keywords in just one click. You get detailed statistics on the selected keywords including monthly search volume, keyword efficiency index, suggestion bid, competition, rankings, and more.
Price: Paid Plans
Personal: $4.20/month
Optimum: $23.4/month
Plus: $53.4/month
Enterprise: $113/month

LSIGraph helps you to generate LSI Keywords. It offers you all the profitable semantically related keywords for your SEO and paid marketing needs.
To let you know LSI keyword is that keyword that is semantically linked to the main keyword. These are the keywords that are generally related to the main keyword.
From an SEO perspective, these are the keywords that should be used in your content. With this, the search engines can understand your content better. So, with LSIGraph, you gain the competitive edge over your competition and stand to rank better in SERP.
It helps you to get the LSI Keywords that are just right for your topic & niche. LSIGraph makes you create your own ranking story. You can steer away from your competition with contextually unique content.
You come to know which LSI Keywords you can use. Moreover, LSIGraph uses the Latent Semantic Value (LSV) proprietary formula. So, you can pick the keywords with the best LSV and use them in your content, anchored text, backlinks, and witness to see that your keywords climb up the SERP.
Key Highlights
LSIGraph offers unlimited LSI Keywords
You get precise search volume data
It uses the proprietary Latent Semantic Value
Endless White Label CSV & PDF Reports
Project Manager Library
And more
LSIGraph also comes in premium plans:
• Basic ($24/mo)
– Unlimited Searches
– Unlimited LSI Keywords
– Search Volume Data
– Top Performing Content Analysis
– Semantic Keyword & topic classification
– CPC, Competition And Trending Data
– Export Keywords
– (PDF & CSV)
• Premium ($27/mo)
– Unlimited Searches
– Unlimited LSI Keywords
– Search Volume Data
– Top Performing Content Analysis
– Semantic Keyword & topic classification
– CPC, Competition And Trending Data
– Export Keywords
– (PDF & CSV)
– White Label Report
– One Account for All
– Project Manager Library
• Premium VIP ($76 per year)
– Unlimited Searches
– Unlimited LSI Keywords
– Search Volume Data
– Top Performing Content Analysis
– Semantic Keyword & topic classification
– CPC, Competition and Trending Data
– Export Keywords
– (PDF & CSV)
– White Label Report
– One Account for All
– Project Manager Library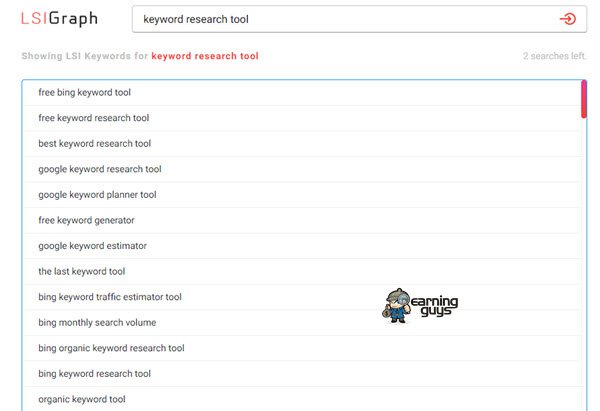 Long Tail Pro is another very popular keyword research tool. It offers a reasonable number of keyword suggestions (as much as 1000). However, it does impose limitations in "Max results per seed keyword."
You get quite a few filtering opportunities which prove very helpful. It calculates Keyword Competitiveness using the page title, Majestic Trust Flow, as well as Citation Flow, Links, and other factors from the top 10 results found on Google.
Moreover, Long Tail Pro offers accurate Keyword difficulty score which is comparable to the keyword difficulty test. It also offers SERP analysis with plenty of solid data. It's a tool for finding the best long tail keywords for ranking high in Google. You can discover thousands of profitable, targeted keywords. You can also calculate Keyword Competitiveness for almost any niche.
The Long Tail Pro Cloud offers hundreds of low competition keywords with its Rank Value feature. It offers detailed metrics. You can filter, sort, and export results as needed. There are also in-depth domain and page level metrics.
So, Long Tail Pro turns out to an excellent keyword research tool for any SEO or internet marketer.
Price: Paid Plan
Starter: $37/mo
Pro: $67/mo
Agency: $147/mo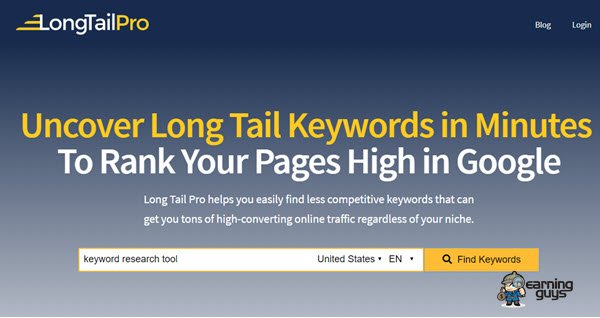 BuzzSumo is one of the most valuable tools for content research and monitoring. It allows you to find content that is mostly shared on social media channels. You can choose to enter your domain or another domain and find out what has been shared socially.
One can even find out influencers that are related to particular topics. You can even have alerts based on keywords, links, brand name, author name or domain. You can get to track your competitors and do analysis based on their content. BuzzSumo allows you to find great content ideas for posts.
You can do competitor analysis and have data reporting empowering your content creators. It shows you the most influential people on Twitter who have shared out the content. It allows you to find content in your niche that gets a lot of shares. They have created a search specifically to find great authors.
That's not all. BuzzSumo also goes on to show you the top-performing content for your domain or even your competitor's domain.
You can enter your competitor's domain and get information such as:
You can come to know their best or even worst performing content
Websites linking to their best performing content
Channels that have the most shares
Authors of the content
It's amazing research, and you can do it on your top competitors. So, you can do much with BuzzSumo.
Here, we have mentioned some of the key features of BuzzSumo:
It allows you to do audience targeting
Campaign Management
Brand Management
Distribution Management
Multi-Channel Publishing
Social Media Management
Publish Scheduling
SEO Management
Categorization/Grouping
Video Management
Altogether it's an amazing tool for content research.
Price: Paid Plans
Pro: $99/mo
Plus: $179/mo
Large: $299/mo
Enterprise: $499/mo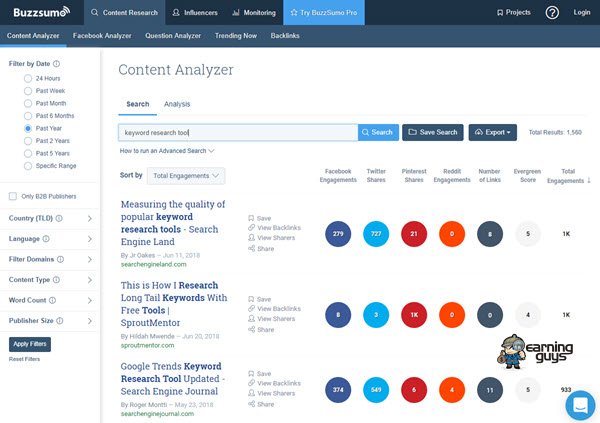 20. Google Correlate (Free)
Google Correlate allows you to find a search pattern that corresponds to real-world trends. It's one of the best SEO Research Tool.
Google Correlate uncovers keywords that are based on regional or time-based search patterns and the data series or search query you provide. It's more of a Google Trends antonym where instead of keywords producing patterns, there are patterns which point to keywords.
Moreover, there are many marketers, anthropologists and even economists use Google Correlate for studying and predicting human behavior. In fact, Google Correlate offers trending data for all phrase-match search terms which go on to exceed a minimum threshold of search volume and endurance.
Google Correlate goes on to use an Asymmetric Hashing algorithm and strikes a balance between speed and accuracy. Last but not least, Google Correlate uses the Pearson correlation and compares normalized query data and surface the highest correlative terms.
On the homepage of Google Correlate, you have to choose between a time-based and U.S. state-based correlation. You need to type in a keyword, and press "Search correlations" and you are immediately provided with a list of highly correlative terms.
The list includes ten words sorted by correlation. It has 1.0 representing a perfect correlation and a -1.0 a true negative correlation. That said, Google Correlate don't show anything below a 0.6. You can also select down the "Show more" at the bottom of the keyword and see the next ten most correlative terms. You can continue this until 100 words are displayed. All of this can be exported into a CSV.
Price: Free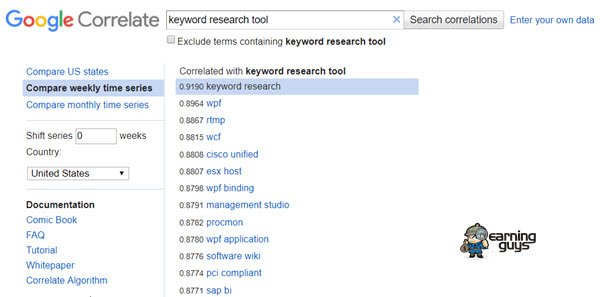 Keywords Everywhere is a handy and free keyword research tool (in the form of an extension) for free search volume, CPC & competition data out there. It goes on to add search volume, CPC as well as competition data to all your favorite websites.
Keywords Everywhere can be easily installed on either Chrome or Firefox. It goes on to show you Google keyword search volume, cost per click, as well as competition data of keywords on multiple websites.
So, Keyword Everywhere helps in SEO research. It's a useful extension that saves you a lot of time.
It helps you in finding long-tail phrases and gives you their accurate search volume, CPC, and competition data. When you use this extension, you no longer need to switch between your keyword tool and Google Keyword Planner. It finds out the exact keywords that your audience is looking for. With Keywords Everywhere, you don't need to spend countless hours researching and comparing keywords on multiple platforms.
The tool goes on to append search volume data, CPC, as well as competition data into the interface of your favorite tool for keyword research. It offers all the relevant search volume data in real time while you are on Google Search, Ubersuggest, Soolve, Google Analytics, and others.
You can even access keyword metrics for any list of keywords. You can download the list in Excel, CSV, or PDF file formats.
It supports websites such as:
Google.com
Google Search Console
Google Analytics
Google Trends
Google Keyword Planner
Google Search
YouTube
Amazon
Price: Free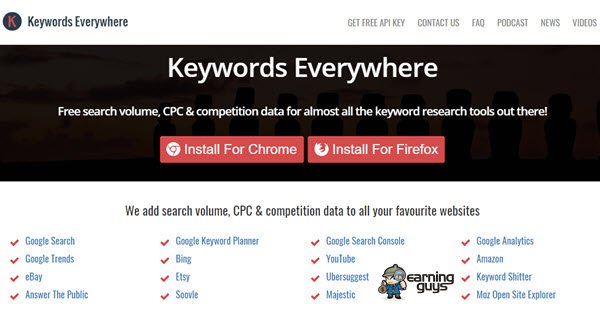 Answer The Public is a very useful tool for keyword research and helps you get started without spending anything. The tool goes on to compliment the auto-suggest results that you get to see in Google and Bing with some relevant words.
You can append search term with words such as "for" and "with" and get a much richer starting point for content ideas. On its homepage, you are greeted by the Seeker. Here, you need to enter your keyword idea and your location.
The Seeker then shows you some content ideas that are divided into three categories.
Its:
Questions – what, where, why, which, how.
Prepositions – with, to, for, like.
Alphabetical – a, b, c, etc.
You can even download the complete results in a CSV file. (There's a button in the top right corner) When you scroll down the results, you can see the results presented in two easier to read formats. The first one gives a one-page visualization of the results. You can even switch to Data and see the results listed in sections.
The advantages with Answer the Public are that it's a free tool which presents an excellent visualization of content ideas. However, you get no keyword difficulty score.
Price: Free and Pro
Pro: $99/mo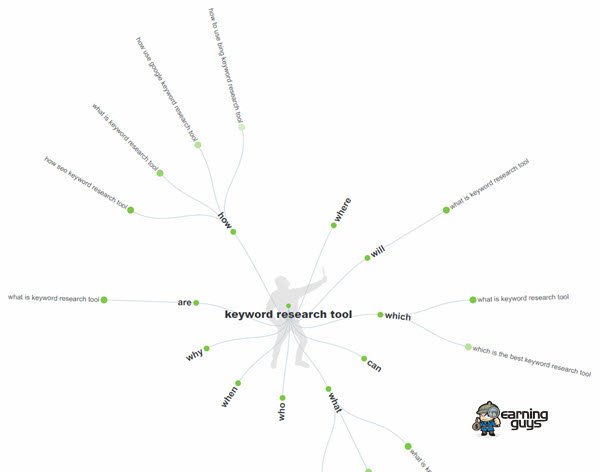 We hope that you would have liked our presentation of 22 Best Keyword Research Tools. We eagerly look forward to your comments and suggestions.