Online advertising has become very popular in recent years. It helps business firms reach a broader set of the audience all over the world, thereby playing a crucial role in their overall growth and expansion.
Nowadays, there are plenty of companies offering ad services to businesses and are helping them reach a wider audience throughout the globe.
Clickadu is one such ad network company that has made a big name for itself in the online advertising world.
Here, we have come up with Clickadu Review to give you a good idea of what this advertising network has in store for you.
About Clickadu
Clickadu started as a pop-under advertising platform that is offering services for both advertisers and publishers, now has grown to a multi-format advertising network.
Founded in 2014 and located in the Czech Republic, Clickadu is serving potential advertisers and reputable publishers worldwide.
In fact, Clickadu is grossing at over 2.8 Billion impressions/day, which is impressive. It is delivering ad impressions in over 240 countries. The ad Network follows the CPM Revenue Model.
It reviews sites before approving them. However, they lay down very few requirements that sites must follow. Generally, the review process is completed within 24 hours.
The best thing about Clickadu is that it allows advertisers and publishers to use multiple ad variations through their network and mix them to get the most profitable combination.
1 – Popunder:
Pop-under Ads are non-intrusive in nature since they do not hamper the user's experience as they go on to navigate your web page. Instead, they show up once the user has decided to leave your website.
The Pop-under ads do not bother the user and still create the opportunity for ad revenue once they are done. Moreover, Pop-under Ads have one of the highest click-through rates for all ad types.
They are highly effective in generating revenue as they command the user's full attention before they are closed. They specialize in Pop-Under Advertising and are one of the best at implementing it.
2 – Push Notifications:
Push Notifications are a well-known display advertising format with the advantage of ongoing monetization with users that aren't even browsing the web.
A permission-based condition helps users to decide whether they are interested in the advertisement or not.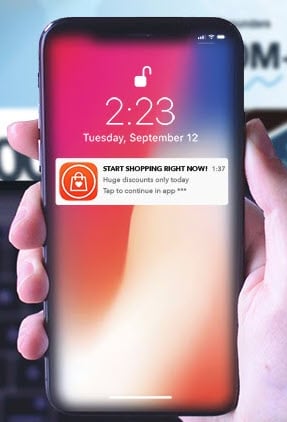 3 – Instant Text Message:
Instant Text Message is a native advertisement designed exclusively for mobile devices. It looks like a system mobile notification with two CTA buttons for users to decide whether the content is relevant.
Instant Text Messages works on desktop devices too; however, they show more profitability on Mobile. Got a lot of mobile traffic? This is your choice.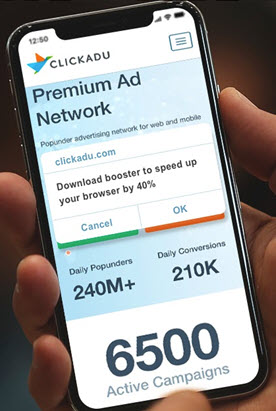 4 – Video Pre-Roll:
Video hosting or TV series websites might enjoy Pre-Roll advertising. It's a short commercial video (15 seconds) that users will see before the desired video content.

Clickadu provides both VAST and JS solutions integrated into any video-player, even the embedded ones. Besides, traffic demand in Tier-1 countries is very high, which has a beneficial effect on the CPM.
5 – SKIM:
SKIM format acts as a mimic and can be implemented to any active website element. Sounds easy; however, this format is for Monetization PROs only.
6 – Banner Ads
The banner ad is the most Google-friendly display ad format that looks like a commercial image or an animation on a web page. For now, it's available in two sizes: 300х250 и 300х100 and for CPM, CPC, SmartCPM pricing models. Perfect for promoting a single product or brand.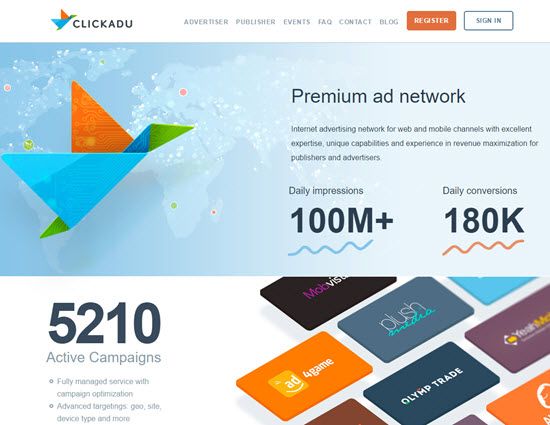 Features of Clickadu
The network has no minimum traffic requirements, enabling even entry-level publishers to join and use the network immediately.
So, Clickadu is helping smaller publishers in extending their reach across the web. Clickadu endeavors to establish good working relationships with webmasters in their early stages and hopes to continue that relationship as they grow their online business further.
As per the installation is concerned, it is simple and easy to install. Moreover, their easy installation and quick approval process make them one of the best advertising networks out there.
In fact, Clickadu is a great option for those that have just started with online advertising and do not have the traffic to sustain more traditional ad types.
Plus, the network offers multiple and on-demand withdrawal options for publishers. They have a reliable payment process and pay their publishers promptly.
Their ads provide higher conversion rates than traditional ad types and regularly outperform display ads across all networks.
Benefits of Clickadu for Advertisers
There are a number of reasons that will attract advertisers for Clickadu. Some of the main ones are listed below:
Top Quality Services and Tools: Clickadu uses top-quality ad server technology, helping advertisers reach the maximum audience, thereby supporting them to expand their business and achieve milestones. They have successfully built a widespread network in over 240 countries.
Easy Sign Up: Advertisers willing to join Clickadu Ad Network are required to fill a sign-up form. It is an easy and simple process. Once it is done, an account manager will contact you and guide you through the further procedure.
Easy Promotion: Advertisers can promote their products and services on their publisher websites easily. However, they have to ensure that the Clickadu terms and policies are not violated. They prohibit the promotion of links containing viruses.
Payment Methods: Network offers many payment methods for adding money to your account. Payments can be made through Paypal, Payoneer, and various other payment options available; they pay on a bi-weekly and monthly basis. Advertisers can start their advertising campaigns once they have made the deposits.
Minimal Budget: The minimum amount to start an advertising campaign is just $100. Plus, advertisers get full control over their daily expenditure on advertising. So, advertisers get to plan their budget and spend accordingly.
Specific Ad Targeting: Clickadu enables advertisers to target a specific audience by choosing websites on which they want to post their ads. So, you can make sure that your targeted audience sees your ads.
Monitor Frauds: The network ensures that no fraudulent activity happens with your ads. It monitors, detects, and prevents fraud clicks on ads posted by you on the publisher site.
Benefits of Clickadu for Publishers
Apart from advertisers, publishers can also benefit from using the extensive ad network of Clickadu. Here we are listing some of the main benefits of the ad network for publishers:
No Restriction on Website Type: Clickadu accepts different types of websites such as microsites, entertainment sites, gaming sites, blogs, adult sites, and much more. However, the ad network prohibits the use of illegal websites and fraud clicks attempts.
Different Ad Formats: Besides specializing in pop-under ads, they also serve Push Notifications, Instant Text Message, Video Pre-Roll, SKIM. You can also combine any other ad formats, including Adsense. It provides a JavaScript code that must publish on your website. Once the code gets validated, you can show the ads on your website.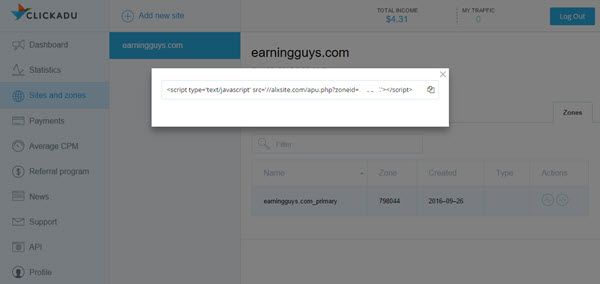 Finding Advertisers: Clickadu makes sure that you get the most relevant advertisers for your website from all over the world. It ensures that suitable persons see the most appropriate ads.
Anti-malware Protection: Clickadu provides numerous tools for anti-malware protection with auto-detection of harmful campaigns.
Analysis System: Clickadu provides an excellent analysis system that enables you to easily track the earnings and clicks by logging into your account and accessing the dashboard.
Payments: Network has adopted the bi-weekly and monthly basis payment method. The minimum payout threshold is $50. Payments are made through Paypal, Payoneer, Wire Transfer, Web Money, Paxum, and Crypto wallets. This ad network has a clean track record of making payments to its publishers.
Once approved, publishers have to paste Javascript code into their blogs or websites. They allow publishers to use any number of pop-under ads per page.
Clickadu has Community in Telegram https://t.me/affiliateconfEng where you can find up-to-date information about affiliate marketing conferences, news, and articles.
Final Takeaways
Overall, Clickadu Ads is an excellent platform for those who are new to ad publishing. Moreover, they come out as a great alternative option to using in place of Adsense. Plus, they employ an easy approval process and do not have any traffic requirements as well. Clickadu is a good option for newbie bloggers and webmasters who are still in their traffic-building phases for their websites.
Ever since its inception, Clickadu has proved as a safe and reliable ad network of choice. It is a good option for site owners that do not have interactive sites.
If you are looking to expand your audience reach and monetize your website easily and affordably, Clickadu is the right ad network for advertisers and publishers.

We hope that this Clickadu Review has successfully provided valuable inputs for Clickadu, a fast-growing premium multi-format ad network.