Are you looking for some creative and unique art or image for your website, project, or your collection? If so, then AI art generators are the perfect solution. Artificial Intelligence (AI) has become a powerful tool in creating stunning artwork and images that can be used for your project or art collection. Today we are sharing the 11 Best AI Art Generators to help you create amazing artwork or images in minutes!
These AI-powered tools will have something for everyone, from abstract designs to realistic portraits. So get ready to explore the AI-generated artwork world and see what masterpieces you can create!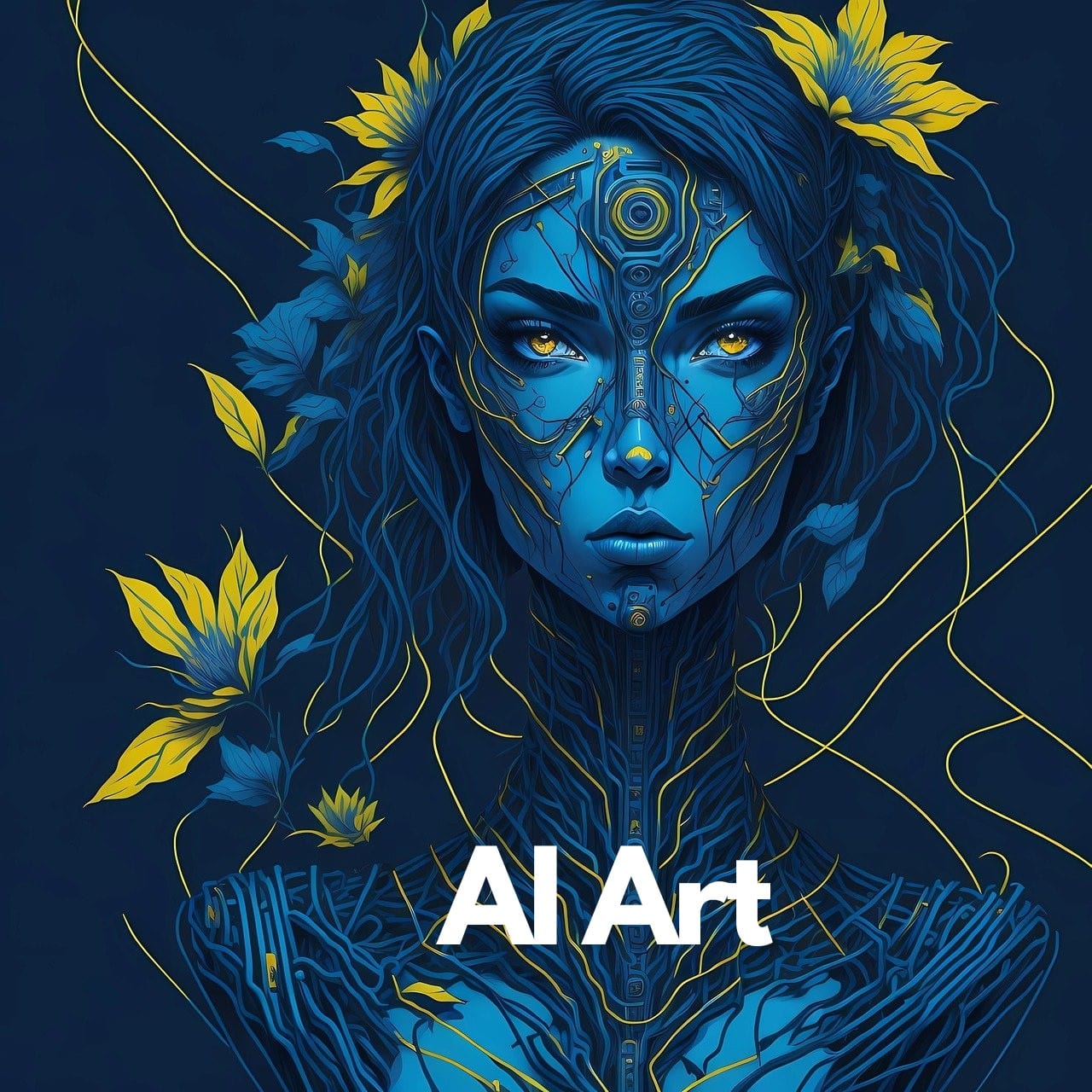 Why AI Art or Image Generators are Getting Popular
AI art or image generators are becoming popular because they offer an easy and efficient way to create beautiful art. With these tools, users can quickly generate high-quality artwork with minimal effort. Additionally, the AI algorithms used in these tools can produce unpredictable and creative results, allowing for artistic experimentation without the time and expense associated with traditional art creation methods.
Furthermore, AI art tools can be more affordable than hiring a professional artist or commissioning original work, which makes them attractive to a wide range of audiences. So it is for all, from hobbyists to students who may be on a tight budget to businesses looking for unique visuals for their projects. As technology advances in this area, we will likely see even more uses of AI in creating beautiful digital artwork that can capture our imaginations.
You may like: Best AI Content Writer Tools
Another good reason to choose an AI art generator is you don't need to know any programming language or sophisticated techniques to generate artwork. You can create unique and beautiful images or artwork with a few prompts.
For example: Create a jungle artwork with a few wild animals.
It is so simple to create beautiful artwork. Now, move on to find some of the Best AI Art generators.
11 Best AI Art Generators
For those of you who are after a more refined creative experience, Freepik offers a powerful AI image generator built around its vast and expanding creative community, providing accurate and highly detailed visuals thanks to its progressive machine-learning algorithms.
Leaving nobody behind, visitors to the website are presented with a simple guide, an experience in itself, explaining what's needed to achieve the best results when writing their first prompt.
The experience is rewarding in speed and quality. Once a prompt is written or pasted in, all that's needed is to pick from its various styles and hit the generate button. Seconds later, you will be presented with four AI interpretations and a bunch of customizable options, including aspect ratio, style, and color.
What boosts the performance of this pioneering feature is the ability to take your AI-generated image into Freepik's very own in-browser image editing tool, which has the full support of its colossal asset library. This essentially enables users to create the most imaginative posters, banners, and social media posts on the go.
In a nutshell, Freepik's AI image generator not only provides the tools to make out-of-this-world visuals but envelopes the user into an immersive experience with all the support needed to boost the user's creativity, inspiring them to create truly exceptional pieces of art.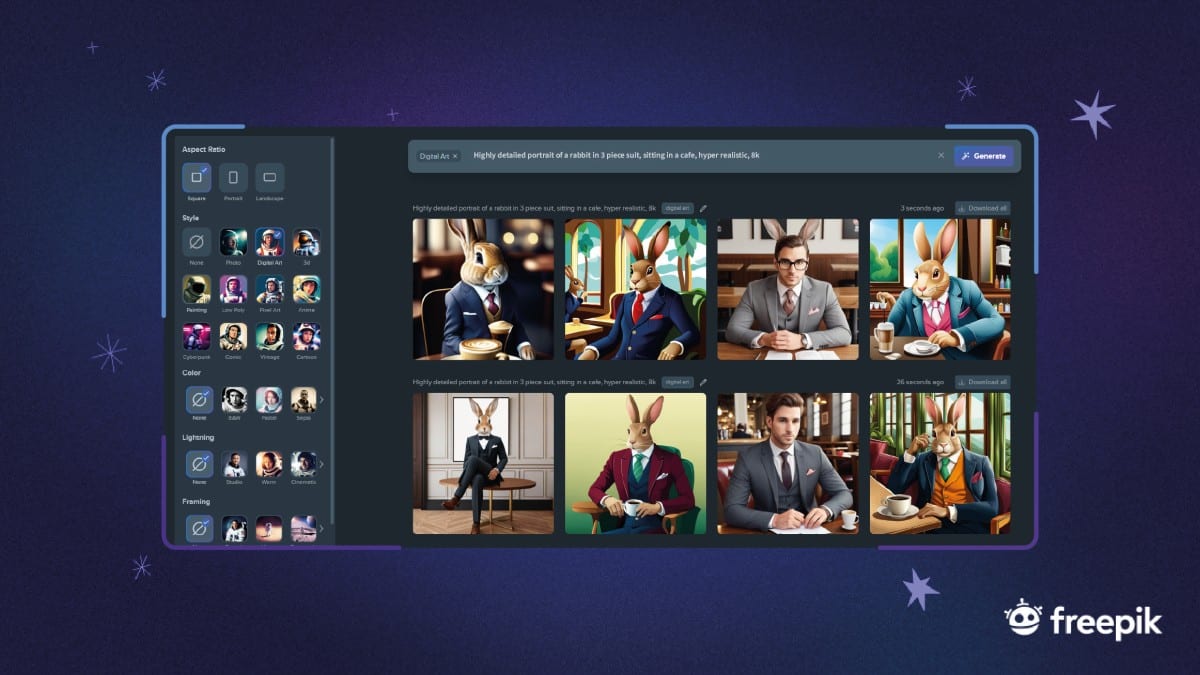 Bing Image Creator is an AI-powered image generation tool that helps you create unique images by entering just a few keywords or concepts. It uses a deep learning artificial network to analyze the meaning behind the user's input and generates ideas per their intent.
The exciting thing about Bing Image Creator is it offers excellent customization. We can adjust the size, color, background, and style to achieve the desired results. Additionally, it provides a wide range of templates that one can choose from, consisting of abstract art, landscapes, animals, and many more.
Features:
Easily customizable
Wide range of templates
Improves over time using personalization
Exemplary AI technology
Multiple uses
Another fascinating feature of Bing Image Creator is its ability to learn and improve over time. As one continues to use it for creative needs, the tool's algorithms analyze its input and user behavior to improve its output in the future. The more you use Bing Image Creator, the more personalized and accurate the generated images become.
One significant advantage of Bing Image Creator is that it is backed by Microsoft – a major tech giant known for its excellence in research and development.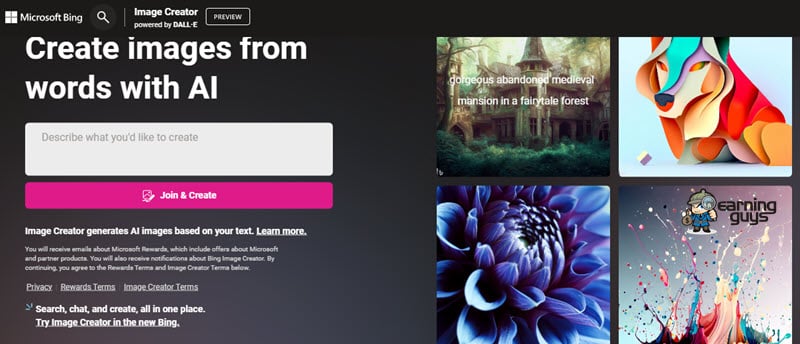 DALL-E 2 by OpenAI is a fantastic AI art generator that has revolutionized the world of digital art. DALL-E 2 takes image generation to a new level with its ability to create complex scenes and objects using user text input.
The word DALL-E 2 originated from a combination of Salvador Dali, the famous surrealist artist, and Pixar's WALL-E, the cute and quirky animated robot. The tool is inspired by Salvador Dali's favorite quote, "Surrealism is destructive, but it destroys what it considers to be shackles limiting our vision." DALL-E 2 applies this principle by using semantic input to generate surreal and imaginative visuals that challenge our perception of what is possible with AI.
One of the great features of DALL-E 2 is its ability to generate images that involve multiple objects and scenes, such as a snail made of harpsichord keys or a school bus on a beach. The resulting images are often surprising and creative, offering endless possibilities for artistic expression.
Another unique aspect of DALL-E 2 is the level of detail it can achieve in its generated images. With remarkable accuracy, it can generate complex textures and patterns, such as a cat's fur or a city skyline's complicated details, which makes it suitable for a wide range of creative applications, from advertising and marketing to film and game design.
What sets DALL-E 2 apart from other AI art generators?
The answer is "its reliance on pre-training." The tool has been trained on a broad dataset of images and texts, allowing it to better understand the relationships between words and pictures than other models. In addition, OpenAI's state-of-the-art GPT-3 language model makes DALL-E 2 one of today's most advanced image-generation tools.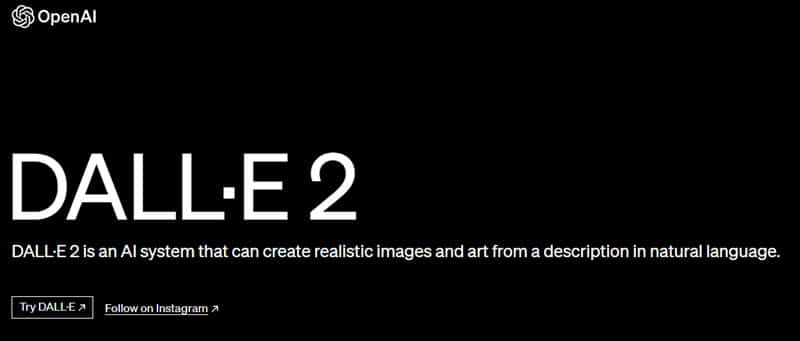 Fotor AI Image Generator is a versatile and user-friendly tool that allows users to create unique and stunning images easily. This powerful image generator uses advanced AI technology and an intuitive interface to deliver a fantastic experience catering to professional designers and amateur users.
One of the main features of the Fotor AI Image Generator is its ability to generate high-quality images that can be customized to fit any specific need.
It utilizes a vast library of images to create new and original artwork in various styles, including abstract, contemporary, and classic. This tool allows you to create artwork for your website, social media, or even wall decor.
One of the critical benefits of Fotor AI Image Generator is its powerful customization options. The tool offers a wide range of editing tools, such as crop, rotate, contrast, and saturation, to ensure that users can get the perfect image for their needs. It also offers advanced design features such as layering and transparency, giving users the flexibility and freedom to create complex images easily.
Just a few texts or a line can create amazing images, but what if you need a unique image from an image? Fotor can also do that; you can upload an image, and AI will generate an amazing image.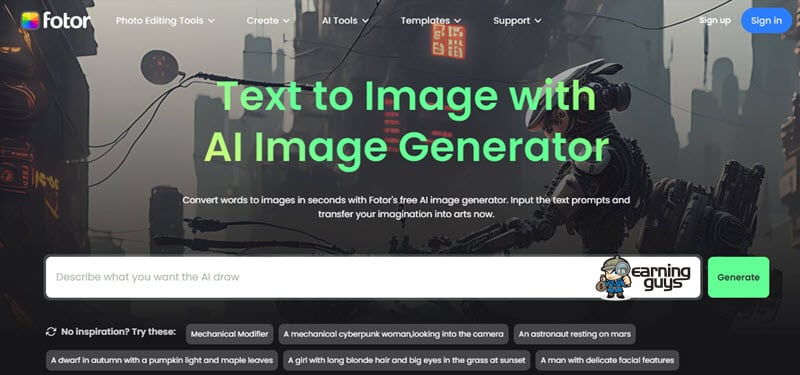 Dream by WOMBO is an AI image generator considered one of the best in the field. It was created by WOMBO, a Canadian startup specializing in artificial intelligence. To use the tool, you only need to provide a brief description of what you want to create, choose a style, and wait a few seconds for the software to work its magic.
One of the best features of Dream by WOMBO is the ability to upload a reference image to ensure that the generated images match your vision. The tool uses the CLIP-guided method algorithm, an open-source neural network that identifies specific data patterns. This algorithm provides the best possible image-caption pairing option through the internet for any user-fed caption related to photos.
With this algorithm, Dream by WOMBO generates various visual output images with different themes, such as video games and cartoon characters. This enables you to select the image that best matches your specifications. In addition, Dream by WOMBO provides an excellent opportunity to extract abstractions from any realistic realm.

Continuing our exploration into the world of AI art, we came across another remarkable tool – Midjourney AI Art Generator. This impressive platform allows users to create unique digital artworks using advanced machine learning algorithms.
It offers many customization options, allowing users to adjust settings to achieve their desired outcome. In addition, the software uses deep learning algorithms to analyze images and generate entirely new ideas from the learned patterns and styles.
Midjourney's AI Art Generator can produce several styles, from traditional art styles such as oil painting, watercolor, and charcoal to more modern interpretations such as surrealism, cubism, and pop art. In addition, the tool's intelligent algorithms have learned from millions of images, allowing it to generate artwork of exceptional quality with a high degree of specialization.
One of the most significant advantages of Midjourney is its ability to generate high-resolution images. Making them ideal for printing on large canvas or paper, making them more accessible to people who want to create high-quality prints at an affordable price.
Hence, Midjourney's advanced machine-learning algorithms have enabled users to create unique digital artwork with high accuracy and precision. Its tool is undoubtedly one of the best AI art generators available today, with its user-friendly interface, various styles, and high-resolution images. So whether you're a professional artist or just starting, Midjourney AI Art Generator is a tool worth exploring.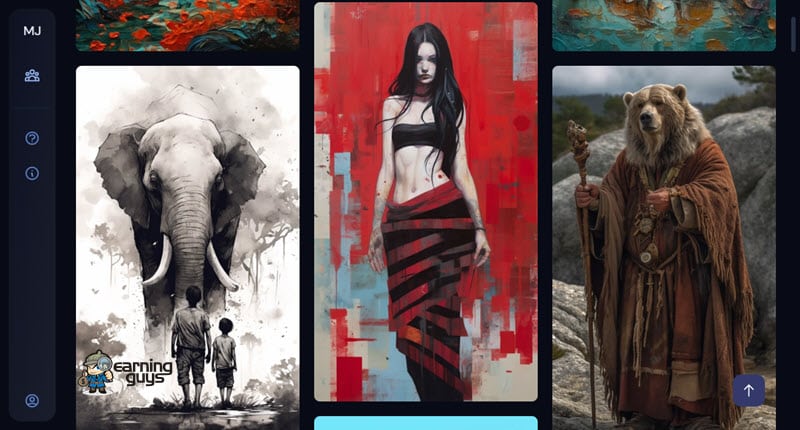 Jasper Art is an AI-powered platform that allows artists and enthusiasts to create beautiful and unique digital art. The platform's interface is straightforward, making it accessible to artists of all skill levels. One of the most significant advantages of Jasper's Art is its ability to learn from its users. As more artists use the platform to create their artwork, the algorithms become more sophisticated and can generate even more impressive results.
Jasper Art's AI algorithms can create art in various styles, from abstract and surrealism to realism and impressionism. In addition, the tool features an extensive collection of templates and elements, allowing users to combine different styles and create truly unique works of art.
Furthermore, Jasper Art allows users to customize various parameters, such as color, shape, and texture, to achieve their desired visual effects. The software can generate high-resolution images, making it ideal for digital art prints and other commercial applications.
The platform also includes a social component, allowing artists to share their artwork with the community and receive feedback and support. Jasper Art's society is incredibly active, with artists worldwide using the tool to create and share their works of art.
In conclusion, Jasper Art is a unique AI-powered platform that has revolutionized the world of digital art. Furthermore, with its ability to generate high-resolution images and active social community, Jasper Art is undoubtedly one of the best AI art generators available today.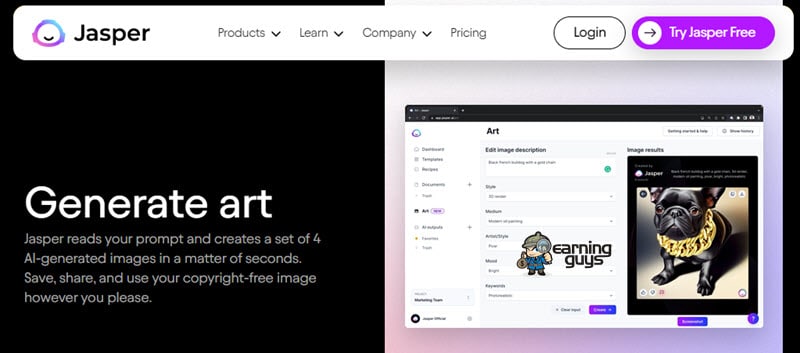 NightCafe is an AI art generator that creates stunning digital artwork in various styles. A sophisticated machine-learning algorithm powers the platform. It is trained on millions of images to recognize patterns, color combinations, and visual effects commonly found in different art genres.
One of the most exciting aspects of NightCafe is its ability to mimic human creativity when generating new artwork. The algorithm can make creative decisions such as adding subtle variations to brush strokes, changing color palettes, and applying different textures to create a unique look and feel in each artwork.
The tool offers a vast collection of pre-made templates that users can choose from, each with a distinct style and visual theme. In addition, users can customize the artwork by selecting different color palettes, textures, and effects to give it their personal touch.
NightCafe also offers the option of creating high-resolution images of up to 4K. This makes it ideal for creating digital art prints that can be used for commercial purposes. In addition, the software is compatible with various image formats, including PNG, JPEG, and TIFF, and it's effortless to export the finished artwork. NightCafe boasts many artists and art enthusiasts who regularly share their creations. This provides users with inspiration and opportunities to receive feedback and support.
NightCafe is a highly advanced and versatile AI art generator that provides users with a vast collection of styles, textures, and tools to create amazing digital artwork. Its mimicry of human creativity, extended community, and high-resolution image output make it one of the best AI art generators in the market today.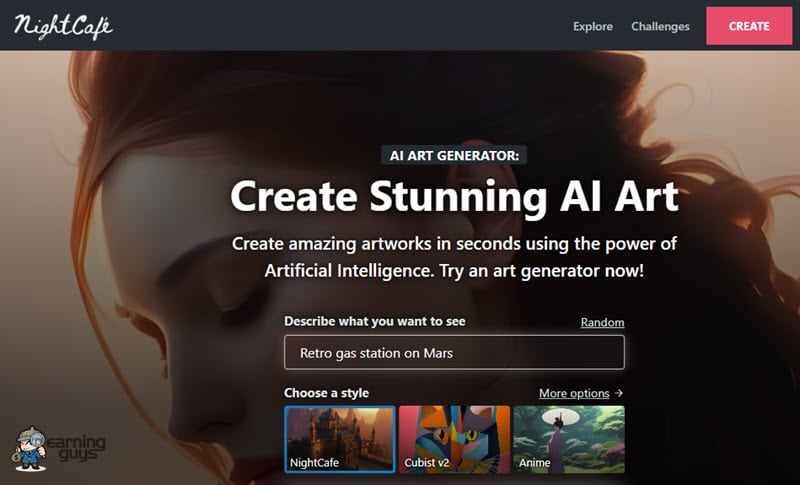 Starry AI is an AI art generator designed to replicate the iconic style of Vincent Van Gogh's famous "Starry Night" painting. The platform uses advanced machine learning algorithms trained on Van Gogh's paintings to produce digital artworks that resemble his work's stylistic patterns and visual elements.
Starry AI offers various customization options, allowing users to adjust the artwork's color palette, texture, and brightness. These options create a unique look and feel for each painting, making them stand out from other platforms.
One of the most impressive features of Starry AI is its attention to detail. The tool can produce intricate brushstrokes, sharp angles, and vivid colors, all reminiscent of Van Gogh's style. Moreover, it can create artwork in various sizes, ensuring the finished painting is high quality. The platform also has a fast rendering speed, generating artwork within a few seconds of selecting the settings.
The platform's success is not limited to providing users with stunning digital artwork but also creating a community of art enthusiasts who can share their creations with the world. Starry AI's active community offers users a platform to showcase their creativity and receive feedback and appreciation, making the entire experience fulfilling and exciting.
To conclude, Starry AI is an impressive AI art generator that has succeeded in replicating Vincent Van Gogh's unique style. With its advanced machine-learning algorithms, attention to detail, and customization options, it is undoubtedly one of the best AI art generators. In addition, its user-friendly interface, fast rendering speed, and active community make it an ideal tool for creating digital art.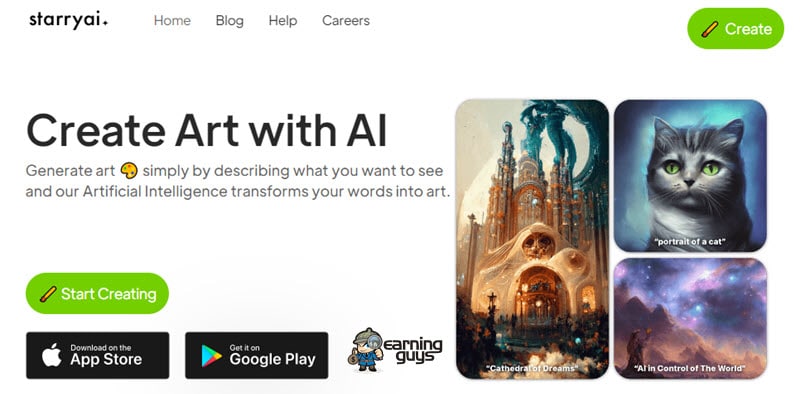 Photosonic is a web-based AI tool that enables users to generate realistic or artistic images based on any given text description. The tool's AI model is designed using latent diffusion, a process that gradually transforms a random noise image into an image that matches the text description.
Users can create an AI image by either entering a prompt or using an existing image that can be transformed into unique art. Photosonic offers a range of applications, including inspiring creativity, visualizing ideas, exploring concepts and scenarios, or just enjoying AI-generated images.
Additionally, each generated image can be adjusted and customized to suit specific content requirements. This feature ensures that users can create unique and original images that are not limited to the same old stock images, providing a competitive edge in the creative industry.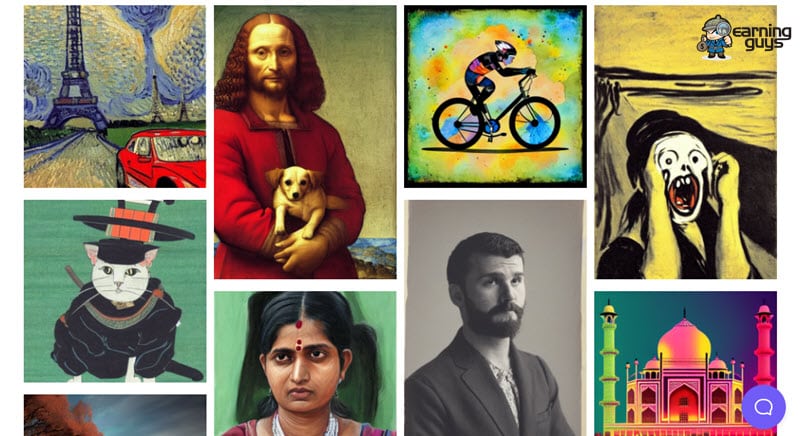 BigSleep is an AI art generator that uses a machine learning algorithm called GPT-3 (Generative Pre-trained Transformer 3) to create staggering artwork. The tool can generate realistic portraits, landscapes, and abstract art by analyzing thousands of images and producing new images based on the learned patterns.
One of the standout features of BigSleep is its ability to create artwork from simple text descriptions. For example, users can input a short description of the image they want to make. Then, the platform will generate an image that matches the description. This feature is handy for designers and artists who want to create a piece of art based on a specific concept or idea.
BigSleep's machine learning algorithms continuously improve, resulting in better quality and more realistic images as the tool learns from its mistakes. The device also offers various customization options, allowing users to adjust parameters like the color scheme, shape, and image style. This level of control ensures that each artwork is unique and tailored to the artist's specific vision.
Additionally, BigSleep can create high-resolution images of up to 1024×1024 pixels, ensuring that the finished artwork is of excellent quality. The platform is also compatible with various file formats, including JPEG and PNG, making it easy for artists to export and share their work.
BigSleep's user interface is straightforward to use and easy to use for both beginners and experienced artists. In addition, the platform's active community of artists and enthusiasts creates a collaborative and inspiring environment that encourages creativity and innovation.
Its ability to generate art from simple text descriptions and comprehensive customization options make it an ideal tool for artists who want to create digital art that matches their vision. Its high-resolution image output and active community of artists also make it an excellent platform for artists to share their creations and receive feedback and support.
In conclusion, AI art generators are a powerful tool for creating unique and captivating digital artworks. All the AI Art Generators offer a wide range of features to make stunning images by writing a few words.
From real-time analysis capabilities to text description inputs and high-resolution image output, these platforms provide artists with the tools to create beautiful artwork quickly and easily. With their user-friendly interfaces, active communities of artists, customization options, and more – there is no limit to what you can achieve using AI art generators! So, whether you're looking for creative inspiration or want to produce professional quality work in record time –AI art generator platforms have something for everyone.
I hope you liked this article on AI Art Generator and share this post with your friends and family on social sites.