Do you want to write content that people want to read but don't have the time needed to invest in the process?
I bring you good news! With the current advancements in AI, there are tools out there that can produce in-depth, accurate, and error-free content for your business.
I'm not exaggerating when I say that these tools can be a game-changer for your business. Keep reading to know how?
What is an AI Content Writer?
It's no secret that writing a simple piece of web content can take days, not to mention the time, energy, and effort required to craft content with both Google and readers in mind.
But now, we can beat AI using AI Content Writer tools.
An AI content writer tools or program designed to provide content that goes into a blog/e-commerce website. From short ad copy and meta descriptions to a full blog post, AI is becoming capable of it all with every update.
The job of an AI content writer is to gather up information (on any topic, niche, or keyword) fragmented across the internet, customize and structure it in a way that sounds authentic and sensible, as if a human has written it.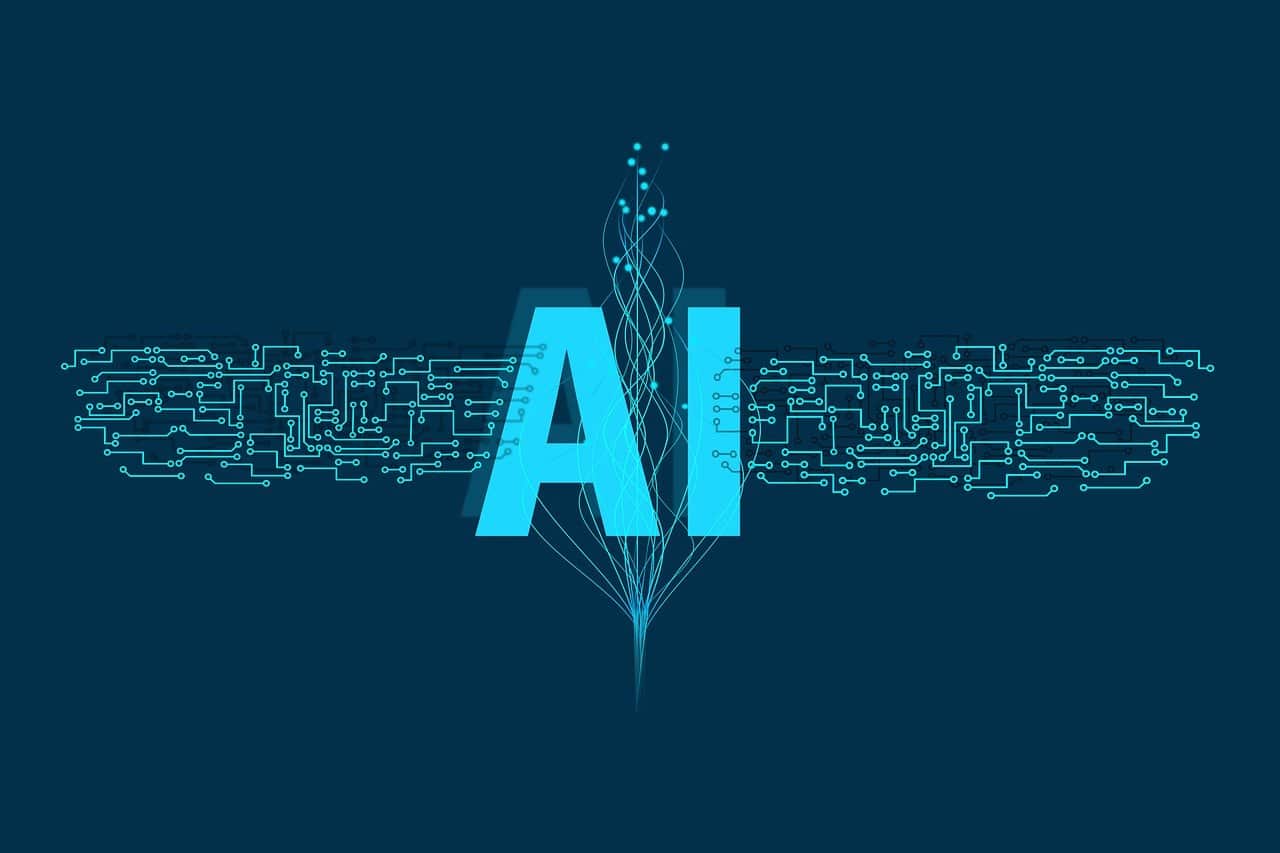 Benefits of AI Article Writer
Saving Time Hasn't Been Easier!

You know what they say, "time is money," but spending it on processes you can easily automate, you are wasting it.
The most common benefit of using AI content writing software is that it saves you a ton of time.
After going through potentially every post related to your keywords, an AI article writer brings you quality content within a few minutes that would have taken days otherwise.
Reliable Content

Instead of going through every piece of data and their source to find content backed up by facts, AI, being software, can be programmed to only collect statistically proven data.
In addition to that, most AI content writer tools out there already have the feature of providing free content from grammatical errors and plagiarism, which further saves the hassle of going through the whole content before posting it.
Breaks Language Barriers

The best part of using an AI content writer is that you can eliminate common language barriers.
Many AI writing software has the feature of translating content from one language to another without majorly affecting what it's trying to convey.
This allows you to share your services and expertise in the global marketplace as well.
SEO – Optimization

Artificial Intelligence primarily works on rules set by the user. As the AI software uses keywords you provide, it researches and structures content based on your input, giving you the most relevant data regarding your query.
The more detailed the input is, the more efficiently the content will be targeted and useful. As a result, Google will see it as a reliable source and push your website up the ranks.
Cost-Efficient

Besides saving time, you are indirectly saving money by using an AI article spinner.
Since the latest AI content writer tools are better than ever in terms of understanding the search intent and thought process that goes into creating a perfect piece of content, it eliminates the need to hire content writers and proofreaders.
Demerits Of An AI Content Writer
Lack of Emotional Writing
An AI can only write how it has been programmed to. Although it can get things done quicker and increase the quantity of work, it lacks the ability to inculcate emotion into the writing.
In instances like writing for an Ad or for a fundraiser event, one major thing that attracts the readers to read a piece of writing is relatability. If the content doesn't spur any kind of emotion in the reader's mind, chances are it won't have an impact on his/her mind.
In essence, AI-generated content is a great tool to get the flow of the content going, but to write compelling content, you'll have to add the necessary tone and emotion.
One major drawback of AI is its ability to sound fresh. The AI algorithm is designed to write in a specific format, gathering data from previously published articles; it can't generate anything different from that.
This kind of content is very superficial in the sense that it says what every other web page is already saying, so there's no reason for the readers to choose your content over others.
Moreover, an AI doesn't have the real-time experience of the thing it is writing about. For instance, an AI can, of course, write about how to operate a product, but it can't give any original opinion since it has no actual experience of using it.
The AI content writer tools aren't perfect, not yet anyway. Even after so many upgrades, you can't trust it to provide you with 100% error-free content.
Considering it's a machine, it is programmed to think in binary, classifying everything as either completely positive or negative.
As a result, there'll still be errors in regards to the context, references, reliability, and readability that you need to be on the lookout for.
12 Best AI Content Writers In The Market
Here are some of the best AI content writer tools which will help your write amazing content in seconds.
Copysmith is an online tool designed to use artificial intelligence to write content. Copysmith is marketed as a tool that is really quick in brainstorming content ideas for your needs. Copysmith is one of the most popular AI content writer tools.
It specializes in four types of services including,
Content Rewriting
Product Descriptions for e-commerce
Generating Content Ideas which includes ads for Google, Shopify, Youtube, Facebook, and Instagram, to name a few.
Blog ideas further expand into blog headlines, intros, blog outlines, or even a full blog post.
Their simplistic process allows users to generate what type of content they want just by typing the keywords in its "Article Writing Assistant".
Its new users have a 3-day free trial; otherwise, their plans start from $19/per month for the starter pack.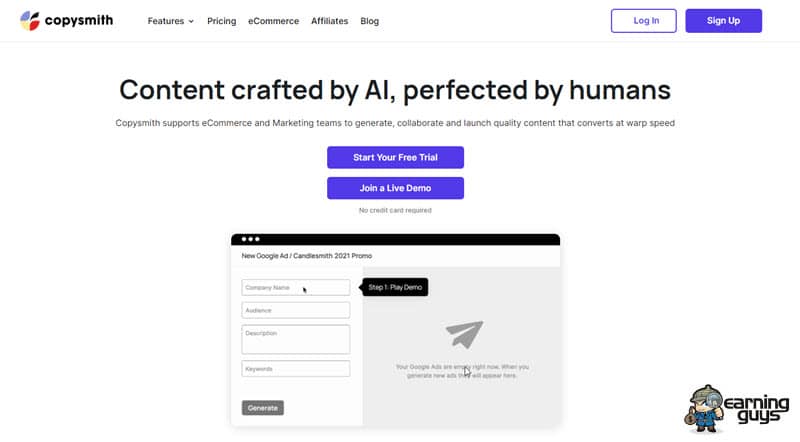 Formerly known as Conversion.ai/Jarvis, Jasper.ai is an AI content writer that generates artificial intelligence material. You can get content for ads, books, marketing campaigns, and even a full article using only a few simple instructions.
Jasper.ai has two typical ways to produce content: the premade templates and the long-form editor.
The templates can primarily be used to create short-form content like Facebook ad copies or product descriptions. Meanwhile, the editor is designed to help you create longer content, such as a blog post or perhaps an e-book.
As a matter of fact, Jasper.ai is one of the most advanced AI content writer tools available today. It has over 50 pre-made templates and 25+ languages available for translation.
Jasper.ai comes with three plans :
Starter pack at $29/ month
Pro pack at $109/ month
Lastly, Pro+Boss Mode at $119/ month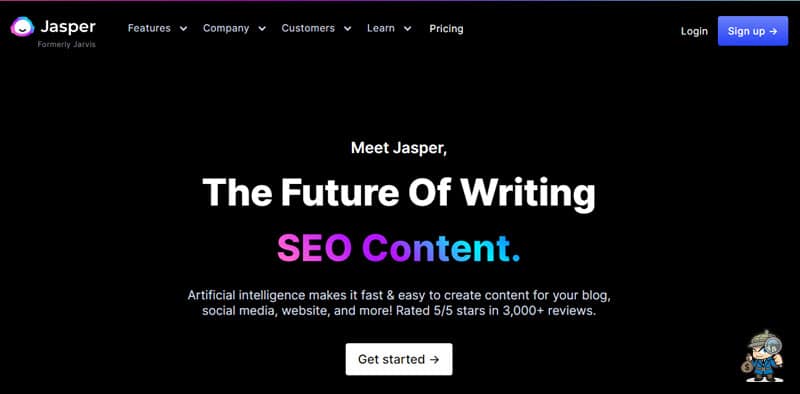 Much like Copysmith and Jasper.ai, Rytr is also an AI software capable of generating content by gathering data from all around the internet.
Though it has features for both long and short content, Rytr specializes in generating the latter. It's often praised for its capability for reworking and refining current text.
Rytr has some impressive tools to offer, such as the paragraph tool (wherein you can generate a complete paragraph using a few words) or the rephrase tool, grammar checker, etc.
What makes Rytr stand out from its competition is its affordability. Rtyr comes with a basic free plan, a saver plan, and an unlimited plan being as low as $9 and $29, respectively.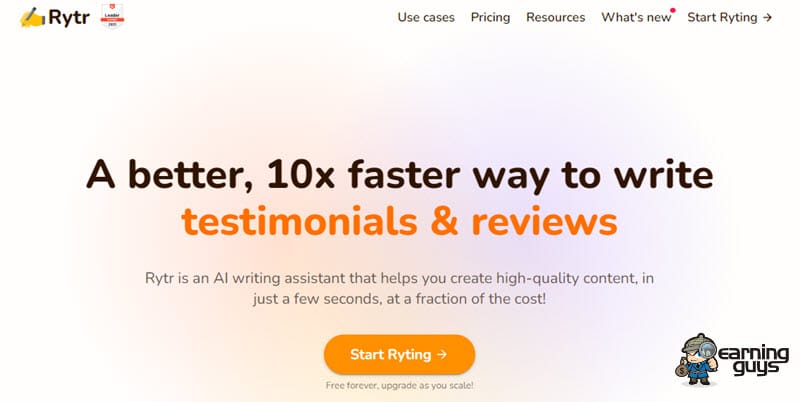 Frase is another such AI content writer platform that primarily offers its users two services: Content and Answers.
Frase is designed to approach content creation in a very different way. It doesn't necessarily write content for you; instead, it provides you with all the necessary information to write that piece of content.
In simpler terms, with the help of Frase's question researcher tool, you can find out what question people are asking about a subject matter on websites like Quora, Reddit, etc.
Furthermore, using Frase, you can get an accurate content brief wherein it crawls your competitors' websites and creates a detailed outline of the article mentioning factors like primary and secondary keywords, number of words, headings, and more.
To add to that, Frase also has a unique feature where it can answer user queries on your website. However, this feature isn't included in the plans mentioned below. You have to pay an extra monthly fee to access it.
Frase comes with four plans :
Free plan
Basic Plan – $44.99
Growth Plan – $114.99
Answer Engine – $199.99
Article Forge is an AI content writer designed to write and make your content more than a block of text.
With its advanced design, it automatically suggests images, charts, links, and headings that keep the reader hooked.
Article Forge offers its user the amazing feature of SEO optimization, wherein you could automate different SEO practices like keyword suggestions schedule posting content on apps like WordPress and Wix.
Article Forge has two pricing plans
Standard – $57 for 250,000 monthly words
Unlimited – $117 for unlimited words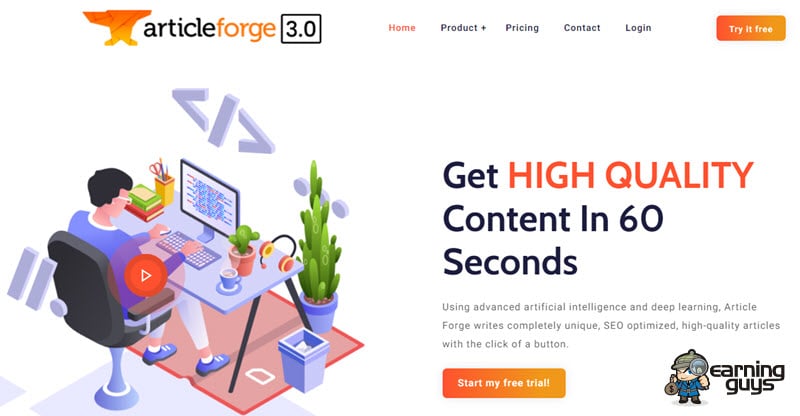 Wordtune is an AI content writer tool that understands what you're trying to express and recommends ways to improve the fluency, assertiveness, and originality of your writing.
Wordtune goes well beyond the basic grammar and writing assistance; thanks to its powerful AI technology, it has a deep awareness of context and interpretation.
Wordtune Is cross-platform software that can run everywhere you write. Just install the free extension onto your web browser, which allows you to edit your emails, online docs, blog, etc., while you are writing them.
Wordtune offers three plans:
Free plan with no additional services other than rephrasing tool
Premium plan – $9.99/ month
The premium for teams – Not mentioned on their website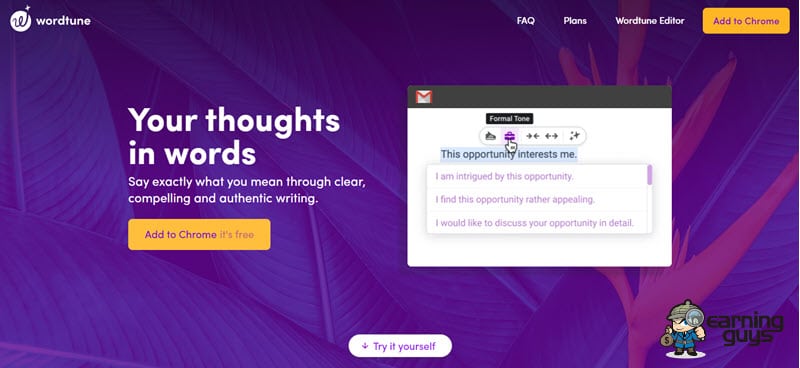 Peppertype is one of the best AI content writer tools you could choose to generate content for your brand.
From short-form content such as headlines, tweets, and social media captions to long-form content such as blogs, product reviews, AIDA copywriting, and product descriptions, Peppertype.ai offers you more than 30 content types to choose from.
Peppertype.ai has a user-based price model, meaning the more users you add, the more you have to pay irrespective of the plan you choose.
Their starter plan is priced at $25 for a single user, $50 for two users, and so on.
Meanwhile, the growth plan is priced at $165 with a requirement of having a minimum of 5 users.
It also has a third plan called the enterprise plan for full-fledged organizations.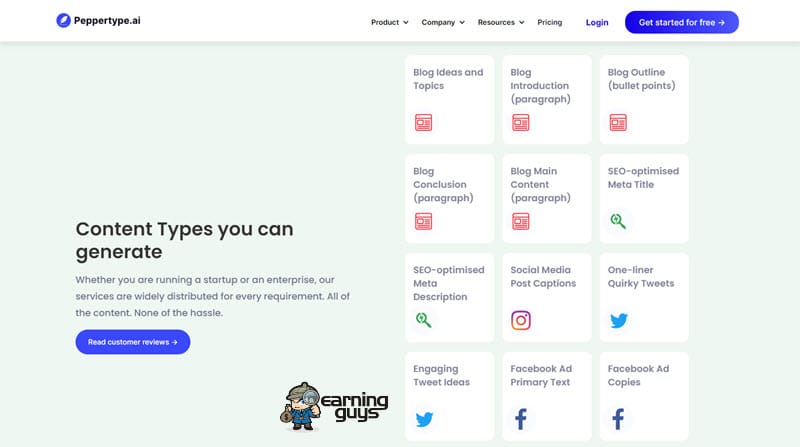 INK editor is AI-powered software that primarily provides four services which are AI Write, Re-write, Expands content, and Summarize.
Moreover, INK allows its users to generate 60+ types of content just by providing a short brief on the subject matter. These include,
Advertising Tools: Ad headlines, CTAs, Landing page texts, etc.
Growth Tools: Social media captions, video intros & titles, meta descriptions
In-depth writing and grammar tools: Noun checker, readability checker, blog outlines, and much more
The bottom line is INK editor can be a one-stop for everything when it comes to writing online.
As for their plans, they have
A free version,
Pro version ( $35/month) for maximum 1 user
Pro unlimited plan ( $ 99/month ) for a maximum of three users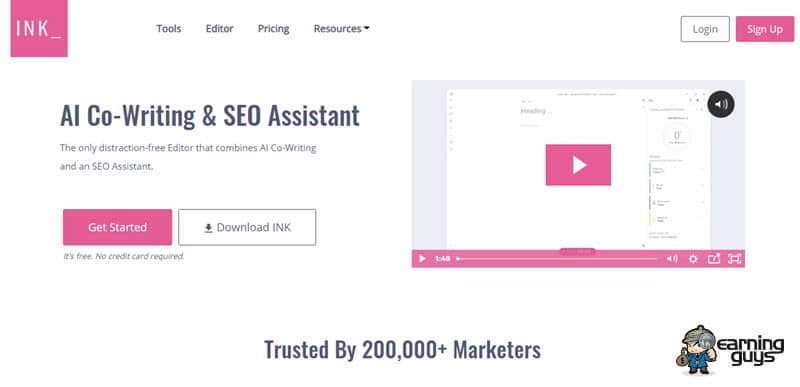 The Kafka text generator is quite simple to use AI content writer tool. Simply choose a niche (from the 39 niches available), the number of articles you want, and within minutes, it will generate a series of original content.
You can also choose to add more inputs using the advanced settings. These inputs allow you to provide Kafkai with a content brief or keywords to work with.
Kafkai was designed with search engine optimization in mind. You can be confident, knowing that the outcomes are geared towards ranking.
Their pricing starts from $29/ month and goes up to $199/ month.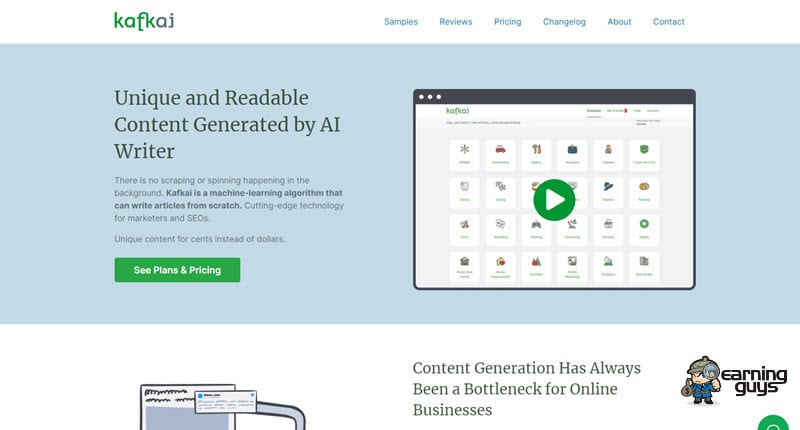 Outranking is a tool built to help you quickly generate web content. Using it, you can either choose to generate a full blog post or just a particular section of it.
As a matter of fact, Outranking has different tools to help you customize every part of your article.
On one end, where its AI wizard tool helps you with meta-titles and description, on the other end, the concepts tool helps you generate the main body of the article by gathering data from elsewhere.
Lastly, Outranking also has dedicated SEO tools to optimize your content.
Outranking has only one plan, i.e., $29/month.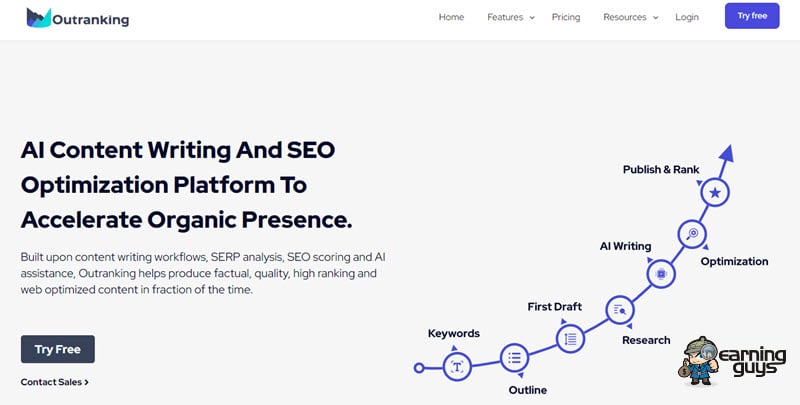 Yes, that's the name of the tool, pretty self-explanatory, don't you think?
AI offers the same features as any other writing software mentioned above, the only difference being that it gives you verifiable citations to back up the credibility of the generated content.
At the same time, it also promises to generate accurate and detailed content within 2 minutes.
It has three plans:
Basic Plan for a single user – $29
Standard Plan for a single user – $59
Power plan for up to 10 users – $375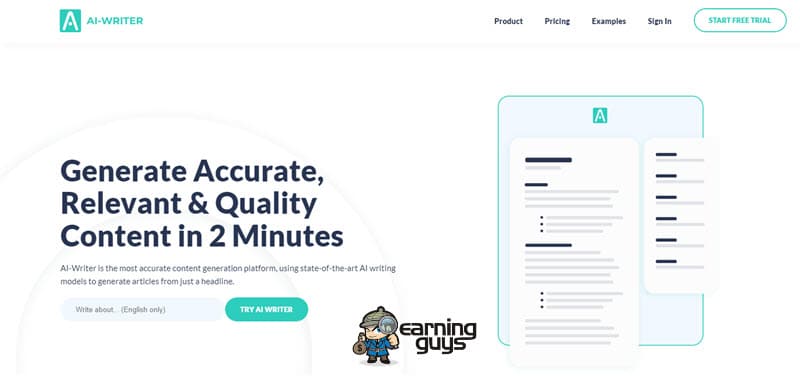 The final entry on this list for the 12 best AI content writer tools is Writesonic.
Powered by AI, Writesonic is marketed to be designed for marketing agencies and e-commerce. This is because the tools available in Writesonic are primarily designed for generating copywriting content like website copy, blog copy, and digital ads.
The process is made to be very convenient. Firstly you have to choose one of the 40 available templates. Then provide a Writesonic with a short description of the product/service, and it'll come up with dozens of variations of the same copy.
Other than the free trial, they have four plans ranging from $15 to $195.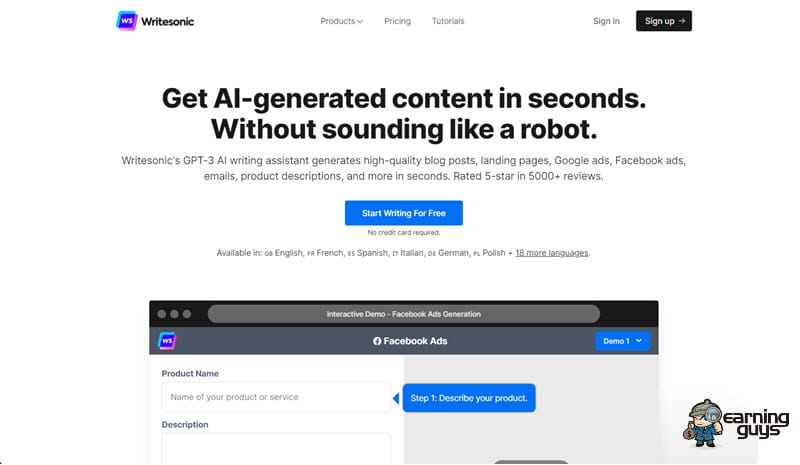 Conclusion
All the tools listed above have the capability to generate detailed and reliable content or simply provide you with ideas to get you started.
Every tool has its own pros & cons, and you can choose any of them depending upon your requirements.
I hope you liked this post on AI content writer tools. Please do share this post with your friends on social media.