YouTube is by far the most widely used platform available today. Although it has all the essential features that any typical user needs, did you know you could do so much more with YouTube?
If you're anything like me, you mostly use YouTube through your browser; hundreds of YouTube Chrome extensions are available to improve your YouTube experience. And the best part about extensions is that all of them can be used completely from your browser.
Regardless of whether you are just a regular user or a YouTube creator, these extensions are bound to enhance your experience.
All extensions on this list cater to YouTube creators and offer some super useful features. These features will help you in 3 major aspects of creating content, i.e., Recording, Editing, and sharing.
For instance, some extensions on this list enable you to capture and edit videos without installing any external app. Meanwhile, some of them make it way easier to share your content with your audience (both within and outside of YouTube).
11 Best YouTube Chrome Extensions
Let's get started! Here's a list of 11 Amazing YouTube Chrome Extensions for Creators:
TubeBuddy is one of the top-rated YouTube Chrome extensions for creators, and for a good reason. It offers creators a plethora of tools and features designed to help them improve the performance of their channels and videos.
For starters, Tube Buddy has a lot of tools to help you customize every aspect of your YouTube content. It Uses pictures, logos, or text overlays to assist you in creating professional thumbnails, tags, and descriptions for your videos. Also, you can use this extension to create tags, descriptions, and thumbnails in bulk.
Secondly, Tube Buddy also offers great insights and analytical tools to help you understand what works and what doesn't. It does thorough research of the views, subscribers, daily uploads, and engagement of you as well as your rivals.
Tube Buddy helps you connect to your subscribers by sharing all their necessary data with you.
Since it gets fully integrated with YouTube, you will only notice it whenever you decide to use it. As a result, Tube Buddy is a must-have tool for creators at all levels.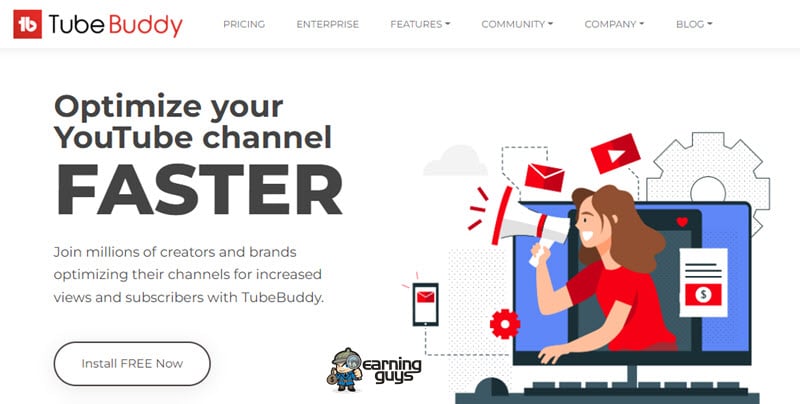 Starting off our list with one of the most popular YouTube Chrome extensions for content creators, vidIQ Vision.
vidIQ Vision can assist you in growing your YouTube reach by getting into how YouTube actually operates. For example, you'll get information about how YouTube selects its related videos, how videos are chosen, and how YouTube selects which videos to recommend when people search for a topic.
This chrome extension also provides a thorough optimization report outlining the primary strategies used by the top creators to boost traffic and growth. Using this will help you make viral videos for your subscribers and increase engagement.
Here are some crucial metrics vidIQ provides its users:
A video ranking system called a "vidIQ Score" helps determine how likely it is to appear in suggested or related searches.
Social media statistics include the number of likes, shares, comments, and tweets for your videos across different social networks, such as Instagram, Facebook, and LinkedIn.
vidIQ also tells you other details, like the average user retention or how often users engage for all your videos.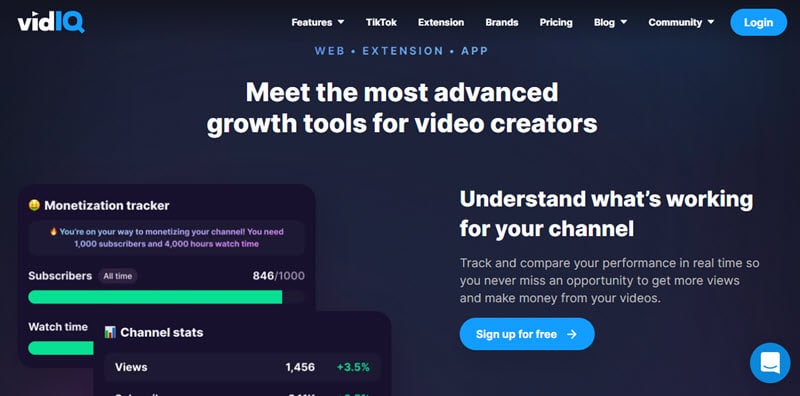 The next tool on this list is Keywords Everywhere, a Chrome plugin that collects keyword data from various websites and social media platforms, including Google, Amazon, Bing, and YouTube.
It also enables you to collect a ton of other useful information from these websites and get thousands of video ideas.
For instance, when you search for a topic on websites/social media using this extension, it'll show you the top 5000 keywords from all relevant Google pages and websites. Additionally, it displays trends, associated keywords, popular searches, and more.
Using this extension for YouTube, you can analyze video insights, tags, search insights, and analytics for search engine results.
When you combine all the data, you can determine precisely what material users seek at any particular moment. This is a sure-short way to create content that people are bound to watch.
Though Keyword Everywhere's extension is free, they do offer premium services. This includes additional features like monthly search traffic, cost-per-click analysis, competition and trends statistics, and more.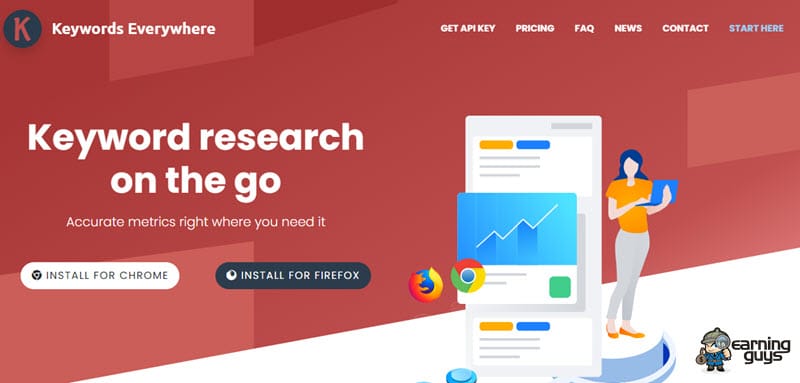 Social Blade is an analytics tool for YouTube and other major social channels. This YouTube Chrome extension assists YouTube creators in monitoring user data across all social media sites such as Instagram, Twitter, Facebook, and others.
Social Blade makes user metrics, growth, and trends comprehensible for creators. It is designed to collect massive data on YouTube channels, including the number of subscribers, views, and other statistics. Using the plugin, you may quickly and easily access any channel, including your own.
After studying the behavior of other content creators, it ranks their data. Better channel growth and subscriber numbers are indicated by higher ranks, whereas the inverse is true for lower ranks. If used smartly, Social Blade can give you a direct peek into the best and worst YouTube strategies.
Additionally, once you integrate this extension into your chrome profile, it will show you the data of every YouTube video you watch regardless. Due to this, your research will become a lot easier and faster since you will need to watch videos related to your topic and analyze the data shown side-by-side.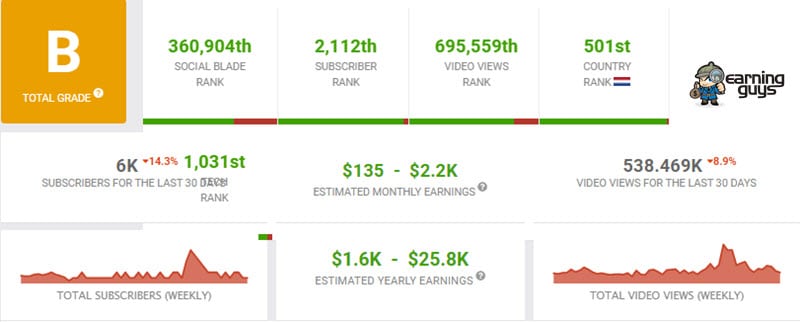 Nimbus is one of the finest screen recording applications available for YouTube creators. It is the ideal tool to use if you want something fully equipped yet still remarkably simple.
Nimbus is designed to capture five types of screenshots, i.e., you can either capture the full screen or adjust the ratios. Other than that, it can also be used to record your screen and modify it in various ways. For instance, Nimbus makes it very simple to annotate a video by adding text and emphasizing particular parts of it.
Once you are done, you may quickly save the recorded video with Nimbus Screen Recorder in a variety of formats, such as MOV, MP4, and GIF, making it much simpler to share those clips.
This extension is free to integrate into Opera, Firefox, and Google. Since the recordings are saved directly in Google Drive, you can share the screenshots and videos to any platform in a matter of minutes.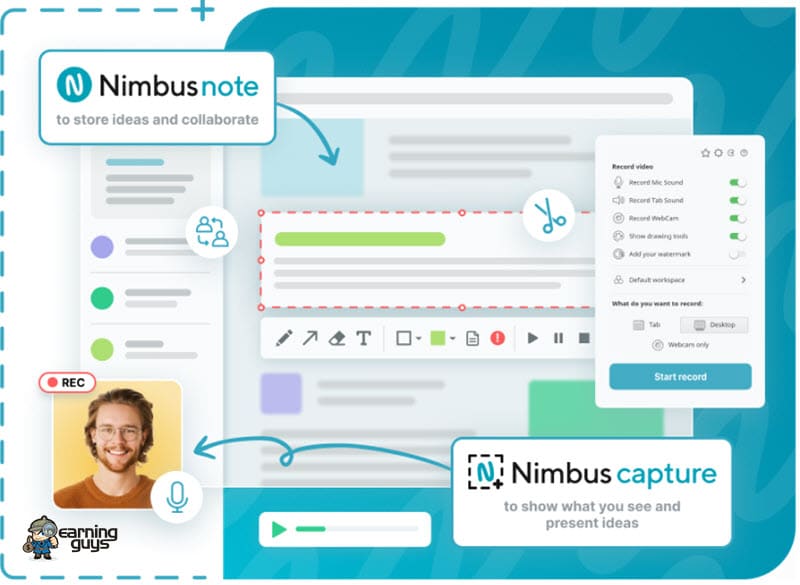 You've probably heard of Grammarly thousands of times. However, There's a big misconception regarding this tool. It is seen as something only useful to authors/bloggers, but what if I tell you that regardless of your profession, if you are a content creator, Grammarly is a must-have extension for you.
Grammarly is a writing tool that can be used to edit and proofread writings. It offers you a lot more than other writing software like MS Word or Google Docs.
Grammarly's AI system reviews every sentence and searches for appropriate replacements for errors when any are found. In addition, it tests every sentence for more than 250 different kinds of spelling, grammar, and punctuation mistakes. You also get to choose from 4 different writing tones, i.e., Business, casual, technical, and creative.
I'm sure you would agree with me when I say that a lot goes into a video. It's not just the camera work and the editing but also the video script and long descriptions that play a huge factor in making good content.
Using Grammarly, you can be sure that whatever you write is easy to grasp, conveys what you want, flows smoothly, and, most importantly, has no grammatical errors.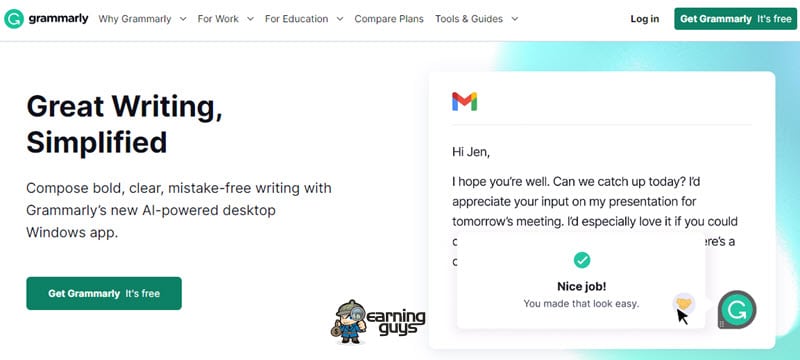 Combining the ease of communicating with video, Loom is a fresh, more productive method to interact with coworkers and customers while also enjoying what you do.
Using Loom, you may simultaneously record with your desktop, microphone, and camera.
Besides recording and sharing videos, Loom also offers some great editing tools to ensure beginners and pros can create perfect videos for their audience.
Once you are done recording the video, you have 5 options: transcripts, video preferences, trimming, adding call-to-action, and uploading a thumbnail. Making these edits ensures that your videos explain what you mean in a very simple and clear way.
As for sharing those videos, Loom presents you with several options. You can either copy the link, email it, or post it directly on Twitter and Facebook.
Loom is primarily marketed for people with a team to work with, but don't underestimate its capabilities. It is an amazing tool, even for your personal projects.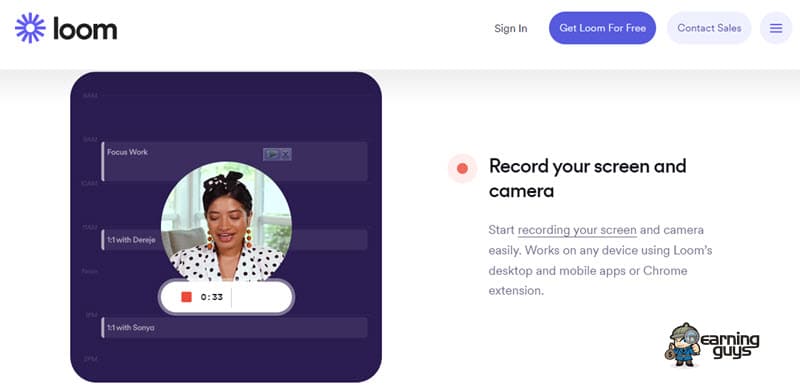 I need not tell you how important it is to have a good editing extension for YouTube. Sure, some advanced software like Premier Pro or iMovie for that. But wouldn't it be better if you could edit your videos without installing any app on your PC?
Clipchamp is an online video editor to help anyone in creating compelling videos to express ideas worth sharing.
Users of Clipchamp have access to a variety of expert tools and features, including simple editing and cropping, effective online screen recording, and even some distinctive features like Green Screen.
Additionally, users can access over 800,000 video and audio assets in the Clipchamp stock collection. Even better, it has built-in connectors for Google Drive and Google Photos.
Following editing, users can export their videos using Clipchamp in various formats and aspect ratios suitable for major sharing sites like YouTube, Instagram, and more.
At Present, Over 14 million users worldwide use Clipchamp to quickly edit movies for business, academic, and artistic applications and all that right from their browser.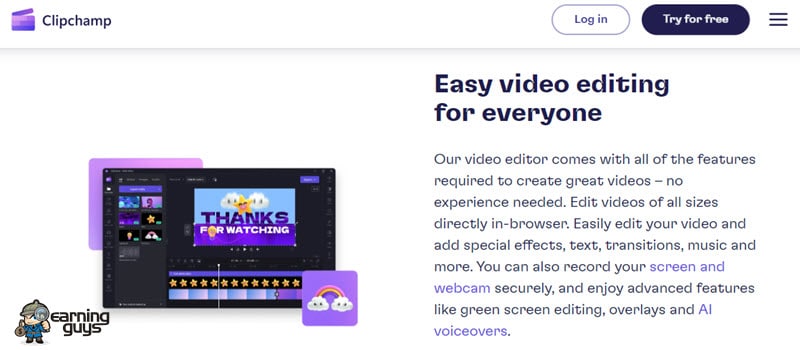 This next YouTube Chrome extension is useful if you create informative and educational content. Screen Castify is a tool that is designed to share your computer screen with anyone in the world.
With this tool, you can generate product demos, meeting recaps, make announcements of new products/features, tutorial videos, and much more.
Talking about the main features of ScreenCastify, it is a 3-in-1 tool enabling you to,
Record: With ScreenCastify, you are given the option to record the whole screen or just select ratios. Not to mention it also supports webcam recording and voice recording through a microphone.
Edit: ScreenCastify offers its users one of the best web-based editing software. You can edit any video regardless of whether it was recorded with this tool or not. Not only you can do all the basic stuff like trimming, re-arranging, and merging videos, but you also get access to some advanced features like selective blur, text overlays, and smooth zooming. You also have the option
Share: All your videos get saved in google drive (in MP4 or GIF), making it all the easier to share. You can directly share the videos on YouTube.
Screencastify is free to use the YouTube extension and won't even annoy you with ads.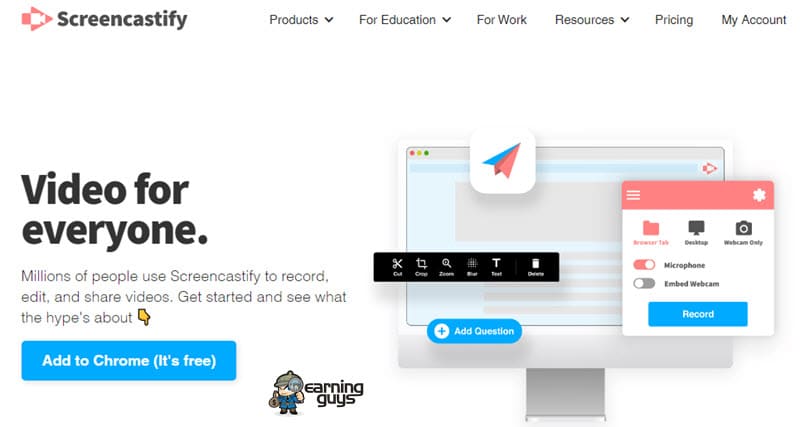 Whether you are a YouTube creator or not, there's no denying that Ads can be frustrating. While sometimes they aren't a big deal but recently, the whole of YouTube has been bombarded with these ads.
Most videos today have 2-3 ads, and on top, many YouTubers also include unskippable mid-video adverts, which makes matters worse.
In these cases, using YouTube without an ad blocker enabled might be intolerable.
A strong and effective ad-blocking plugin, Adblock for YouTube, can prevent all forms of advertising, including pre-roll video commercials, text and picture overlays, and adverts that display in the right column or before/after videos.
Once installed and turned on, it immediately and, by default, blocks all YouTube advertising. So you don't need to configure any manual settings.
But suppose you want it to customize even further. In that case, you can use additional settings like permitting unobtrusive adverts or safely listing specific channels.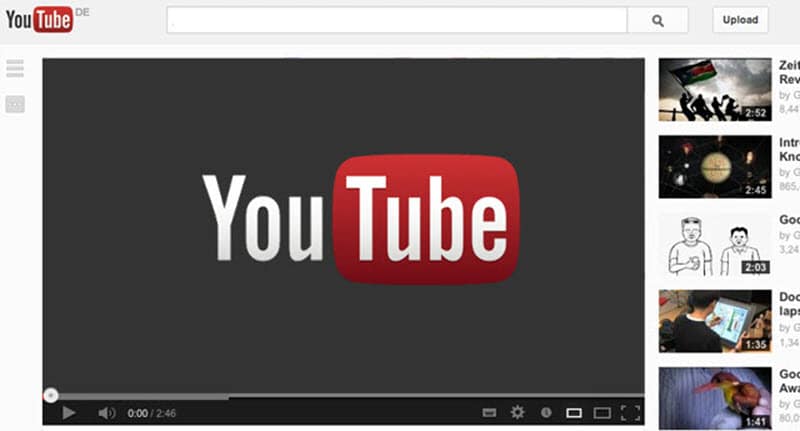 YouTube has over 2 billion users today and, when used in conjunction with other social channels, becomes the most effective method to market yourself.
However, because the network uses distinctive URLs, also known as "vanity URLs," promoting it on social media and driving traffic from it can be difficult. If you've also faced this issue, Rebrandly is perfect for you.
Rebrandly is a YouTube URL shortener used to advertise a YouTube channel and its content. Vanity URLs were formerly limited to channels, which were difficult to measure and manage.
With the help of this powerful YouTube Chrome extension, you can generate personalized short URLs for your videos. Not only that, but it has also made it simple to manage your own customized URL shortening.
You can go as far as to modify what text is displayed on the link and how it is formatted.

Bottom Line
Whether you've been a creator for years or are just starting, adding these YouTube Chrome extensions will help you record, edit, and share your content. In fact, some of these are used by top creators even today.
Utilizing these top YouTube Chrome extensions will provide you with many more features and insights that are just not offered on the website alone. Plus, none of them require any technical knowledge, and you can start using them as soon as you install them on your browser.
Try all the tools on the list above when working on your next piece of content to make the laborious and time-consuming procedure less agonizing.
We hope you liked this article on YouTube Chrome Extensions For Creators. Also, don't forget to share this post with your friends and family on social sites.