In recent years, online shopping sites have taken the world by storm, and for good reasons. What was once a tedious task can now be done with a few simple clicks on your phone. But with these many eCommerce websites floating around the web, you may get confused about who to buy from. That's where we come in! To help you buy the perfect product at a reasonable price, we have assembled a list of the best online shopping sites in the world.
Although people now have the option to compare and choose from 100s of websites and thousands of products to find what they need, searching the entire web for one product sounds so cumbersome.
All shopping websites mentioned have generated billions of revenues in the past years and continue to be the top companies in the world.
Not only do these stores offer great deals and discounts on what you might be looking for, but they also have a plethora of categories/products for you to further choose from.
10 Top Online Shopping Sites Worldwide
Without any further ado, let's get right into it. Here are the 10 top online shopping sites in the world!
Starting off our list with probably the biggest and the best online shopping site globally, Amazon.
Amazon started in 1994 and has become one of the biggest multinational companies over the years. Jeff Bezos, the founder of Amazon, started as a door-to-door bookseller. As things began to pick up, he expanded his online store by adding several other products and services.
Amazon has nearly every product one can look for. From phones, laptops, gadgets to groceries, everyday essentials, toys/games, books, and more.
Alongside being the biggest eCommerce Store in the U.S, Japan, and India, Amazon is also known for providing cloud computing, digital streaming, and A.I. services worldwide.
Jeff Bezos has always stated Amazon's motto to be "Customer is King," which may be the sole reason why it offers good deals and discounts so frequently.
Besides that, one can also avail of additional benefits like Same-Day delivery, Free shipping, special prime gaming deals, etc., by subscribing to Amazon Prime.
Collectively, factors like variety of products, timely delivery, reasonable return policies, and the overall customer shopping experience are what has made Amazon worth more than $1 Trillion today.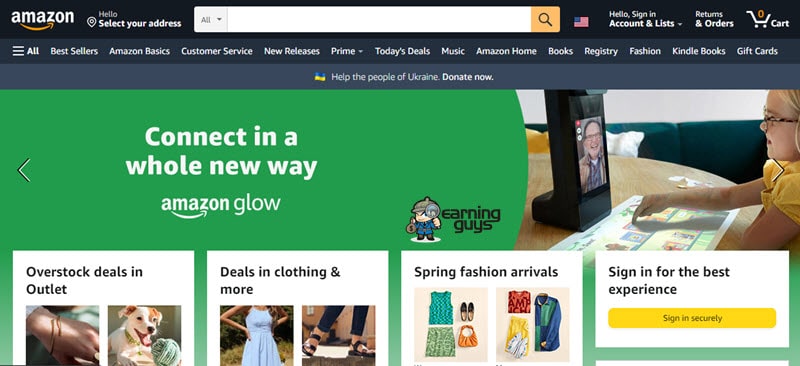 J.D. (previously known as 360Buy) is a china-based Ecommerce company founded by Liu Qiangdong in 1998. J.D. launched its online platform in 2004 and since then has been competing with the other biggest shopping sites in the world like Walmart and Alibaba.
Similar to many other eCommerce platforms on this list, J.D. started with one category of products, i.e., magneto-optical storage. However, it wasn't until 2007 that J.D. shifted its priorities from electronics to a generalized product line and added several other categories like clothing, spare parts, essentials, etc.
You can find the majority of products at a lower price than on the market. J.D. regularly hosts sales days, discounts, and price drops, making it one of the best shopping sites globally.
What made J.D. such a big name in China and the world is the fact that J.D. has its own logistics company. At present, it is said to have over 480 million users, earning it 2nd place in the list of biggest online stores.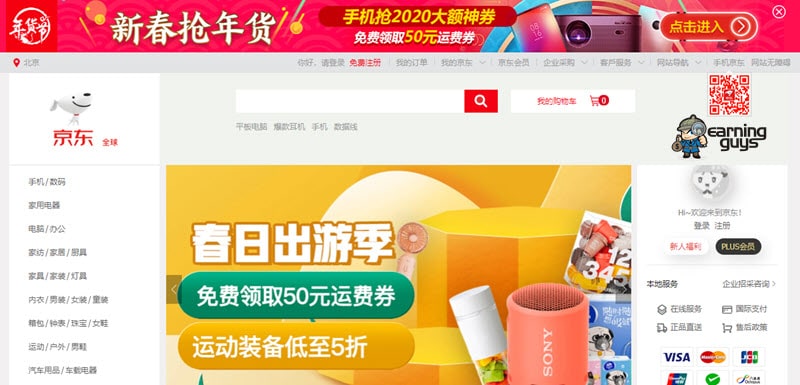 Launched in the mid-nineties, eBay has become one of the best shopping sites in the world. However, eBay is primarily known for consumer-to-consumer sales as a marketplace.
eBay has over 100,000 products spread across 13 categories, including clothing, electronics, home decor, pet supplies, etc.
It is available in many countries and also supports worldwide shipping. Here, sellers list a product they want to sell; however, eBay follows a different price strategy than most eCommerce stores.
On eBay, you can choose to either buy the product at the listed price or bid on a new price. If the seller is willing to negotiate, they will sell the product to you.
What made eBay one of the top 10 online shopping sites globally is the security procedures it has introduced over the years. For instance, to save buyers from fraudsters, eBay has a rating system wherein the buyers can rate the sellers' products/services. As a result, the new customers can be wary of who they are buying from.
Moreover, Buyers have the option to pay through safe channels like Debit/Credit cards, Paypal and Google Pay.
Alibaba is yet another Chinese-origin eCommerce company. This Chinese giant is the third largest eCommerce website in the world after Amazon and its Chinese rival, J.D.
Alibaba was launched in 1999 by Jack Ma and soon became a very popular shopping website in China primarily because of the discounted prices it offered. It launched a trustworthy platform for people (both nationally and internationally) to buy decent-quality products at very cheap rates.
You can select a product you want to buy and choose from hundreds of wholesalers offering different prices and delivery options.
Alibaba offers its sales services to B2B, B2C, and C2C companies. They also provide a price-comparison website (TaoBao.com), cloud computing, and an electronic payment portal (Alipay) for faster and smooth day-to-day transactions like groceries, movie tickets, and taxi payments.
Alibaba has a website in 15 languages, specifically to allow sellers and buyers across the world to access their platform. Moreover, you can also use their app (available for IOS and Android) to shop.
Etsy was launched in 2005 as an online shopping site for small, independent sellers looking to sell handmade items such as gifts, cards, toys, jewelry, furniture, etc.
The whole trading is solely run by the independent sellers who've listed their products across 8 categories like Home, Jewelry, Clothing, Vintage, to name a few. You can filter your search results using criteria like brand, price, size, features, and consumer ratings and reviews.
Other aspects like inventory, prices, and delivery are managed by sellers. Most sellers offer worldwide shipping (both free and paid) and accept Debit/Cards, Amazon cards, Etsy gift cards, Paypal, and other local payment options depending upon your country.
According to a 2019 report released by Etsy, 87% of all sellers are women. That being said, the platform does have great products for both genders.
Similar to eBay, Etsy also has a seller-feedback rating system where buyers can check the authenticity of sellers before buying.
You can shop on Etsy using a web browser or the Etsy app.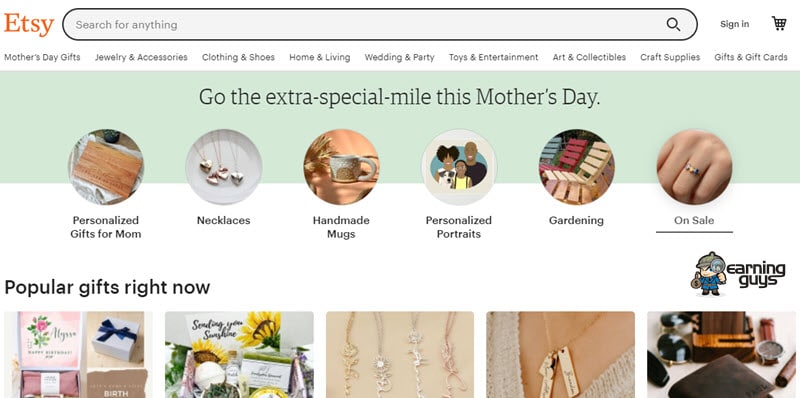 Flipkart Private Limited is an Indian eCommerce company founded in 2007. Like Amazon, Flipkart started selling books and then moved on to add different categories as the company grew.
Today the company deals with a whopping 80 million products spread across 80 different categories such as Electronics, Lifestyle, Clothing, Groceries, etc.
It is India's second-biggest eCommerce site, competing directly with Amazon.
Like any other online shopping site, Flipkart also has nationwide shipping, return policies, and Debit/Credit/UPI payment support.
Besides its online shopping store, Flipkart also owns other big eCommerce stores in India like Myntra, Jabong, eBay India, and PhonePe (India's leading UPI Payment platform).
In 2018, Walmart (as a means to enter the Indian market) acquired Flipkart for USD 16 Billion. With its revenue being USD 56 Billion in FY21, Flipkart is now worth USD 40 Billion.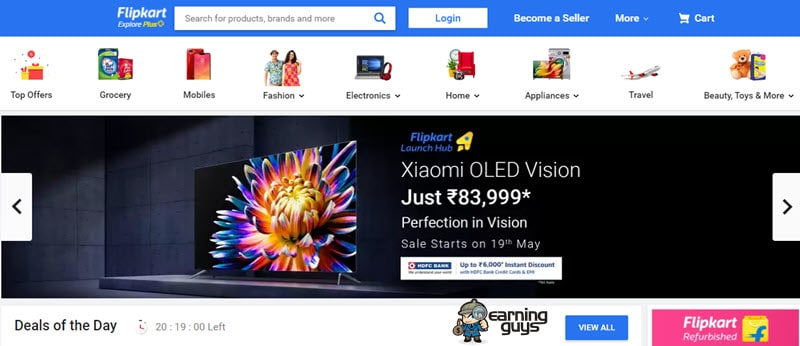 Started in 1962 by Sam Walton, Walmart has become a household name in the United States.
It is a global marketplace dealing in various products ranging from Electronics and Clothing to Toys and Movies. Moreover, it has also started selling Financial, Medical, Grocery delivery, and Auto-care services in recent years.
Walmart's primary reason for attracting so many Americans is hidden in its tagline, "Save Money, Live Better." 0 As a result, Walmart products have always offered discounted prices than their current market value.
Not only that, to this day, Walmart hosts several sales, offers, and discounts to compete with other market giants.
Walmart first started its online store in 2009 and has seen rapid growth since then. Walmart currently has 11500+ stores across the globe, earning it the title of "the biggest retailer in the world."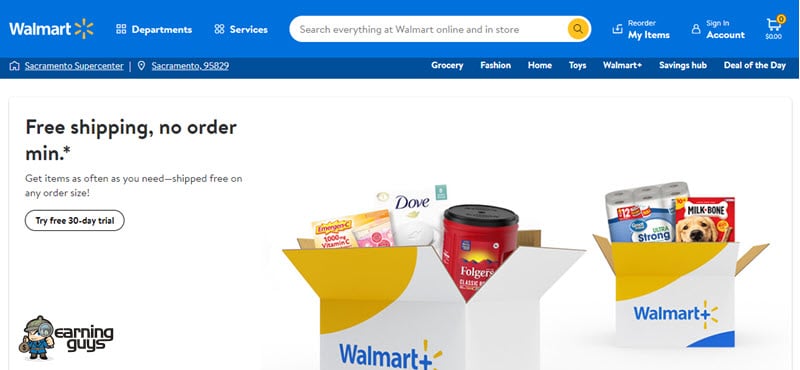 IKEA (the founder's initials) is a Swedish brand and a multinational company that deals in kit furniture, kitchen, and home appliances. The company was started in 1943 as a direct-mail order business. 5 years after that, they went on to manufacture and sell furniture.
The first physical store was opened in 1958. Because of its unique furniture designs, it quickly gained popularity among the masses. As of 2021, IKEA has 458 stores globally and an eCommerce website with a catalog of over 12000 products.
Besides furniture and home-ware, IKEA has always taken environmental initiatives by innovating their products to be more sustainable and eco-friendly. For example, nearly a decade ago, in 2013, it launched solar P.V. kits for people to switch to a renewable source of electricity.
Moreover, in recent years, IKEA has been entering several other domains. For instance, in 2016, IKEA decided to help customers design minimalistic smart homes. In 2019, it launched a furniture-rental feature, allowing people to use a piece of furniture many times before recycling it.
Today, IKEA has become the most popular choice for people looking to get quality furniture delivered to their doorstep.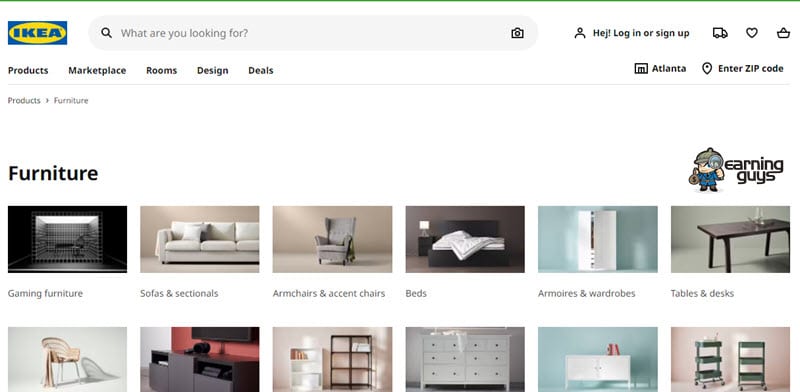 Launched in 1966 as an audio equipment store, Best Buy is an American multinational company dealing in electronics.
In its initial years, the company was known as Sound of music. However, at that time, they only sold music-related equipment. Finally, in 1983, the founders renamed it Best Buy. In addition, they decided to expand their store by adding several other sub-categories under electronics.
Best Buy uses 3 channels for sales, i.e., call centers, online websites, and retail stores. Best Buy has a website and 1159 physical stores worldwide, with thousands of products available at very affordable prices.
What makes Best Buy one of the best shopping sites in the world is its price comparison policy. It compares prices of the online and offline stores with local retailers and big brands like Amazon, HP, Dell, etc. Then, if they have a lower price, you can ask for a refund of the difference.
Besides being an eCommerce giant, Best buy also offers its customers other features like online forums (where people can post their opinions and issues), computer repair services, and warranty plans.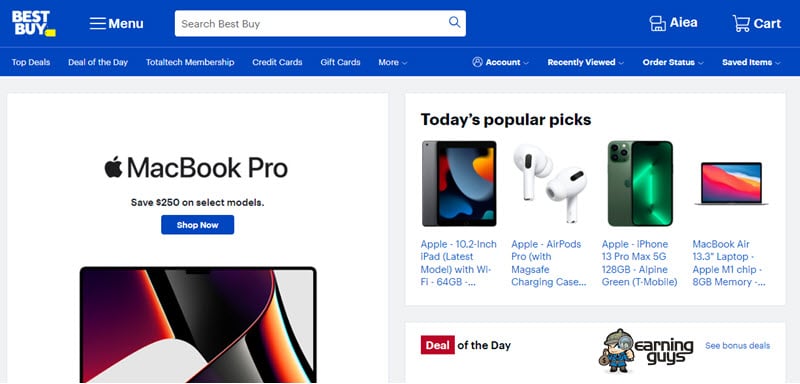 Target is another American multinational corporation dealing with products/services across 23 categories. Target commenced in 1902 under the name of Goodfellow Dry Goods.
The brand underwent many name changes until 2000 when the founders finally settled on Target.
Target has always had a very varied inventory of products under popular categories like Electronics, Lifestyle, Toys, Home and decor, etc.
The company follows a similar approach to Best Buy and Alibaba. Over the years, it has established itself as a marketplace of lower-priced and discounted products.
Moreover, it has a lot of good deals and discounts almost every day. Regardless of whether you decide to shop, you will always see heavy discounts on specific products.
But, Target has always differentiated itself from its competitors by claiming that although they offer low prices, its products are of higher quality than similar discounted stores.
In 2013, Target tried expanding its reach to Canada, but all stores soon closed in 2015 due to a lack of profits. Even today, it still only operates in the United stores and doesn't have a worldwide shipping service.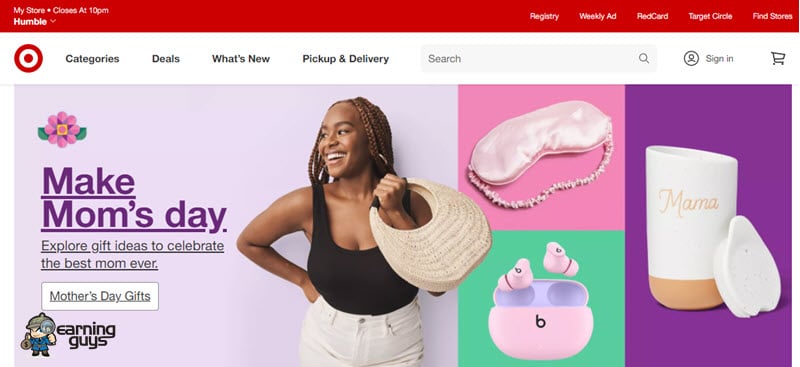 Conclusion
This concludes our list of the top 10 online shopping sites in the world. All companies mentioned in this list offer a wide variety of products at reasonable price points. Moreover, they also give you the option to choose among several sellers of the same product.
Since they are backed by top investors and famous businessmen and have millions of monthly buyers worldwide, they have a great and genuine rapport in terms of payments, return policies, and delivery.
If you want the best deal on your purchase, consider comparing prices between these websites before you make any purchase.
I hope you like this article on the 10 Best Online Shopping Sites In The World. Also, please do share this post with your friends on social sites.