Over the years Amazon has been one of the world's biggest online marketplaces. Millions of people go on to spend millions of dollars on Amazon every year.
You can also become a part of Amazon's success story by signing into the Amazon Affiliate Program. Here, we present to you each and every aspect of Amazon Affiliate Program. The presentation serves as a Amazon Associates Beginner Guide for Affiliates.
The Amazon Affiliate Program also knows as Amazon Associates Program presents a nice way to monetize your blog. It can turn out to be your biggest revenue generator.
Already thousands of bloggers and online marketers are making huge sums of money by promoting Amazon products on their website.
You just have to incorporate Amazon Affiliate Link on your website. When a visitor clicks on this link and goes to buy the product from Amazon website, you earn a commission.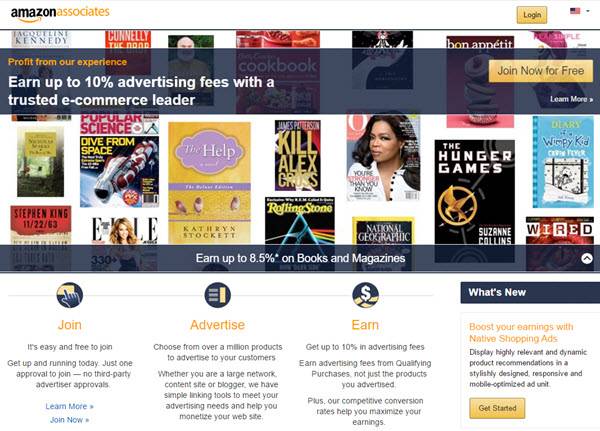 For example, you are running a gadget blog and have featured a post on a new Samsung Smartphone. In the post, you go on to add a text link to the product page on Amazon.com. You might also mention users' reviews on this post.
The link that directs the users to the product page on Amazon.com is known as affiliate links. When a user clicks on one of those affiliate links and buys from Amazon, you get a commission for referring a customer.
You are using Amazon Affiliate Program for monetizing your blog.
The Amazon Associates Program has become one of the most popular Affiliate Programs in the world. However, there are still many people who don't use the Amazon Affiliate Program.
They are of the opinion that the Affiliate Commission is too small. The commission usually starts at 4% and can go as high as 8% depending upon the products that get sold.
Moreover, they say that people usually buy low priced products such as books. So, 4% of $10 priced book does not produce a worthwhile commission.
They also argue that people have to make a purchase within 24 hours otherwise the affiliate cookie stops working.
Not denying the fact that the above reasons are valid, the advantage with Amazon Affiliate Program simply outperforms their limitations.
Let's see why being an Amazon Affiliate is a good option for you.
Reasons why you should go with Amazon Affiliate Program:
Firstly, the main advantage with Amazon is the fact that it is one of the most trusted brands for buying products online. So, anyone who wants to buy online would prefer a safe option like Amazon.
Moreover, Amazon is one of the biggest and most popular online marketplaces that are preferred by millions of people from all around the globe.
Secondly, Amazon offers substantially high Affiliate Commission on high valued products. It can be as high as 10%. So, you stand to earn a good commission by promoting higher value products.
Examples of high-value products are gadgets like cameras, Smartphones, Laptops, etc.
Thirdly, when you refer a customer to Amazon, you earn a commission on whatever they buy. And people usually end up buying more than one item at a time. So, your commissions add up when people load up their cart with various items.
Fourthly, being an Amazon Affiliate can be much rewarding as it offers some good seasonal sales. For example, the Christmas time can turn out as a profitable time to promote.
Fifthly, Amazon offers lots of tools and widgets for integrating the sales channel into your website.
Last but not the least, Amazon offers a wide array of products. So, you have plenty of promotional options relevant to your target audience. Nowadays, Amazon is much more than just books.
What's the Amazon Affiliate Commission?
Once you are convinced about Amazon Associates Program, the next big question that comes to your mind is – How much you can earn as an Amazon Affiliate?
Although the Commission structure at Amazon starts at 4%, this rate keeps rising to a maximum of 8.5% depending on the number of items you sell in a given month.
So, if you happen to sell anywhere between 7-30 products in a given month, the commission rate would rise to 6%. Likewise, if you sell 3131+ products per month, your commission rate will shoot up to 8.5%.
(Note: This Commission rate structure applies to General Products)
The good thing about this commission rate structure is the fact that the new percentage applies to all the sales from that month and not just for the later ones.
So, if you register ten sales in a month, you would get a commission rate of 6% on all the ten products that you have sold in that.
It would be not that you would get 4.00% on 1-6 product sales and 6% on 7-10 product sales. It would be 6% in all the ten products that have been sold by you.
As mentioned, this commission structure is only applicable to General Products. Amazon offers a fixed commission of 15% on all sales generated through Amazon-owned myhabit.com and Amazon Supply.
Then there are certain product categories (such as electronics, Video and Game Downloads, MP3 Downloads) which offer a fixed commission rate of 25%.
The best thing about Amazon Affiliate Program is the fact that you still get a commission even when a user buys a different product from the one you linked to.
So, you get paid for everything bought on Amazon through your affiliate link within a period of 24 hours of arriving on Amazon.
How to join Amazon Affiliate Program?
It's free to join Amazon Affiliate Program. You should sign up for Amazon Associates Program according to your geographic location or your target market.
Suppose, your target audience is located in the U.S., then you should sign up for Amazon U.S. Affiliate/Associate Program. Likewise, if your target audience is in India, you should opt for Amazon India Program.
However, if you want to promote products from all geographic locations, then you should sign up for Amazon affiliate program for all countries such as .uk (United Kingdom), .au (Amazon Australia), and so on.
You can expect Account Approval within 24-48 hours.
Which Products should you promote?
You should promote products related to your site niche. Amazon offers a wide range of products so you should not have any problem selecting products related to your site niche.
Here, we would recommend you to choose products that are closely related to your site niche. So, if your site focuses on compact cameras, don't be tempted to promote SLR cameras just because you can get a better commission.
Cater to your readers' requirements and you would end up getting high click through and purchases from your visitors.
High or Low Priced Items?
Although there are many buyers of low-priced items, the trouble is that the commission is quite low. For example, a book purchased through an affiliate link would give you a commission of around $0.50-$1.50.
Wherever, high priced Items offer large commissions, but they see fewer buyers.
So, the ideal approach should be to go with medium priced items in the range of $150-$300 mark.
The medium priced items still sell quite easily, and they offer a decent commission. Plus, you can find plenty of medium priced items in most of the categories.
For example, there are large numbers of consumer electronics items in the medium price range.
What should you use – Banner, Widget or Text Links?
The Amazon Affiliate Program offers plenty of ways to generate affiliate links. The easiest of them is to use a banner ad.
However, it proves the least effective way to generate sales. Likewise, widgets don't convert well. They look like an ad and people don't click on them.
By far the best way for referring a visitor to Amazon is to use a Text Link within the text of a post.
You're writing Strategy for Generating Sales
Your writing style should be focused on providing information about the products which makes it easy for the person to buy the product.
However, in doing so, you should not be after selling the product. So, your writing should not sound like a desperate salesperson who is looking to close a sale.
Usually, the potential buyers look for price, features and compare with other products. You should cover these areas thoroughly and should provide an extra bit of insight for the products.
Come up with the pros and cons of the items. Portray yourself as a reliable and trustworthy source. You should write a balanced article.
It will help you win the trust of your visitors who would click through producing sales and affiliate commission.
What should you Link To?
If you wish to get high conversions, you should link directly to the product page. The transition process should be kept as smooth as possible so that there are no hiccups in reading about the product on your site and then buying it on Amazon.
Here, you should take a note that if you link to products with positive reviews, you will increase the probability of conversions.
The social proofs backing the products go onto drive more conversions for the products. You should also not forget to link to special offers.
Everybody loves a bargain, and if you link to offers and deals, your visitors will go on to love it. The conversion rate would surely climb.
How to Add Amazon Affiliate Links to your site
Sign into your Amazon Associates Account.
Then search the product page on Amazon which you want to sell.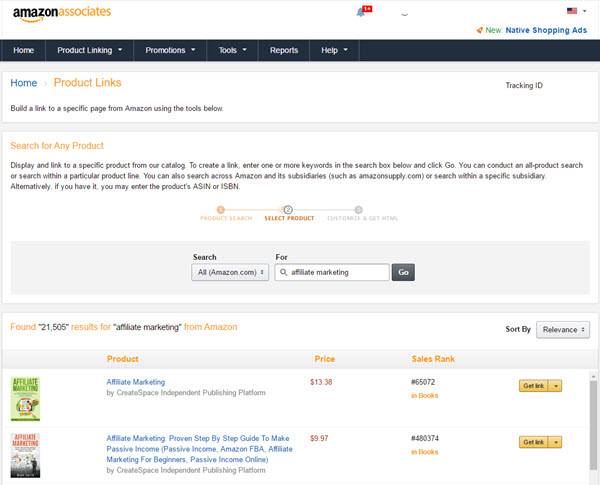 At the top of the page, you would find a link which points as Link to this page. Then Click on it.
Select the Text Link Option.
Edit the link text.
Copy the HTML Code.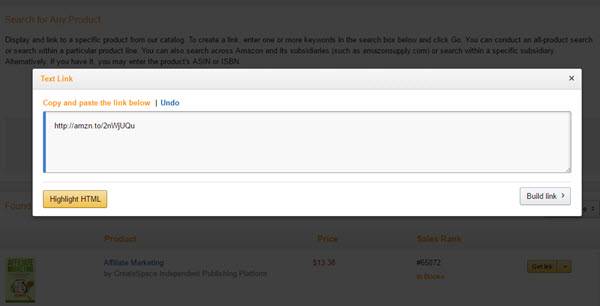 Paste it into the Content where you want the Link.
Or,
You can also use Amazon WordPress Plugins for Affiliates
To learn more, Check out our post – Best Amazon WordPress Plugins
Some Useful Tips for Making Money with the Amazon Affiliate Program
Build Traffic to Your Blog
Find Relevant Products for Promotion
Use Readers Reviews
Make Genuine Recommendations
Share Contextual Links
Share multiple affiliate links per post
Promote Specials and Discounts
Use "Buy Now" Buttons
Focus on Holidays
Promote Pre-Orders
Track your Promotions
Concluding
So, we can conclude that Amazon Associates Program can result in a big revenue resource for bloggers and online marketers. You simply need to familiarize yourself and learn the right way of using it.
As we have seen above, choosing the right product mix is invariably important for generating sales and the desired level of commission.
Keeping your sales writing balanced with both pros and cons helps in winning the trust and confidence of your visitors. You should also pay attention to the linking strategy for best conversions.
Overall, Amazon Affiliate Program provides a big opportunity for monetizing your blog. The biggest plus is the fact that it is free to join the Amazon Affiliate Program. So, why not have a go and see the results yourself.