CPA Marketing is still regarded as one of the best monetization strategies for affiliate marketers.
In fact, CPA Marketing has taken a whole new dimension with TerraLeads, the World's first ever CPA HUB for affiliates.
Here, is a detailed post that introduces TerraLeads – A CPA HUB for Affiliates.
TerraLeads is a new entrant in the affiliate marketing space.
They have named themselves as a 'hub' instead of calling themselves a 'network.' And that's not for no reason
TerraLeads have brought in a completely "innovative" and "creative" perspective to the affiliate marketing industry.
In fact, TerraLeads are recognized as the first ever CPA hub that goes on to produce high-quality products on their own and provide full support to their partners.
The best thing with TerraLeads is that they enable you to earn great profits and rewards on the Internet.
What is TerraLeads?
Basically, TerraLeads is a CPA Affiliate Network that goes on to list offers from reputable brands, as well as their in-house offers.
The registered affiliates are paid when someone goes on to purchase a product or service from the promoted link.
Plus, the affiliates are allowed to track their performance and commissions on TerraLeads dashboard.
The webmasters can use their websites or blogs for promoting offers. Even non-webmasters can promote TerraLeads offers through search, social media and by running own campaigns.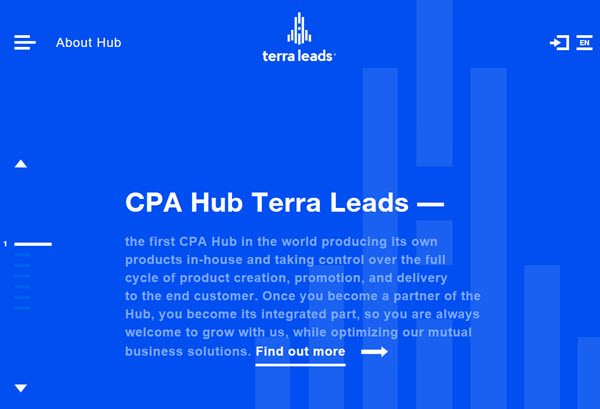 TerraLeads comes with a lot of features that help to scoop up your business more.
It is complete in all aspects offering a new and innovative form of affiliate business.
TerraLeads comes with its own tracking technology.
They have their call centers with workers who are native speakers of European languages.
In fact, TerraLeads is the only known CPA hub till date.
TerraLeads is growing rapidly and is found in the countries such as France, Italy, Hungary, Germany, Austria, Poland, Romania, Greece, Portugal, Cyprus, Bulgaria, Poland, Spain, Czech Republic, etc.
Deeper into the definition of a "Hub"
TerraLeads is known as a Hub because of the following three elements. In fact, it consists of 3 different components, such as the merchant, the publisher, and the network.
Each of these components plays a very significant role in the proper execution of the CPA Hub.
Merchant: TerraLeads are the ones who create offers of their own production. In fact, the products pass all clinical tests as prescribed by the European Standards.
Publisher: They have their arbitrage team who create educational as well as promotional material for their partners. It helps publishers in making money easily.
Network: TerraLeads only work with those who possess experience in affiliate marketing. They have made their system transparent and safe for all affiliate marketers.
Getting Started with TerraLeads
The registration process includes two simple steps.
You have to enter your email ID and account password.
Next, you need to mention your name and Skype ID.
However, it should be noted that the account registration is only based on Invitation.
Once you finish the registration, the details are verified, and they revert back to Skype or Email.
You have to share your experience in Affiliate Marketing. Plus, you need to clarify things such as targeting, traffic, as well as promotional strategies.
If they are convinced, TerraLeads will activate your affiliate account.
When you log in with your credentials, you will come across a user-friendly interface (dashboard).
You get to track your successful leads, cancel leads, as well as to trend offers on the same page.
The dashboard lists out the left menu from where you can directly access leads, streams, offers, statistics, news, TerraStore, Webmaster API, as well as support ticket options.
When you want to see the offers, you have to click on the Main > Offer. You will get the below interface.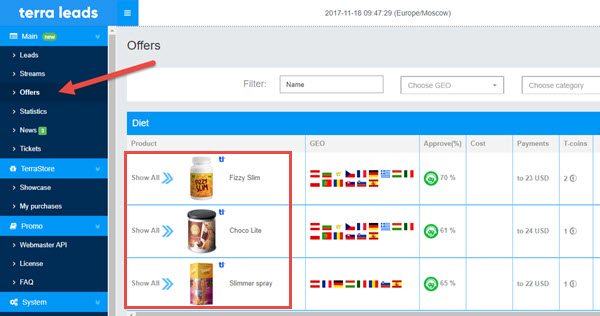 For knowing the GEOs, Approval (%), Cost, Payments, T-Coins of a product, you have to press "Show All" option.
For example, when you choose the first offer, "Fizzy Slim" for creating a stream, it can be done with a single button.
Streams are useful as you don't require creating landing pages on your own. As you fill in the fields, the landing page will be ready for targeting users.
API is a tool for webmasters and advanced developers. For generating API, you can either do with "Webmaster API" (left menu) or use the same row in the product offers.
Affiliate Marketing within TerraLeads
At present, TerraLeads does not have tons of affiliate offers.
However, they do offer valued services and selection of offers that are difficult to find elsewhere.
We have presented a screenshot showcasing some of the offers from TerraLeads. Most of the payouts are in the range of $20 to $25. Moreover, TerraLeads is continuously adding new offers for the mass market.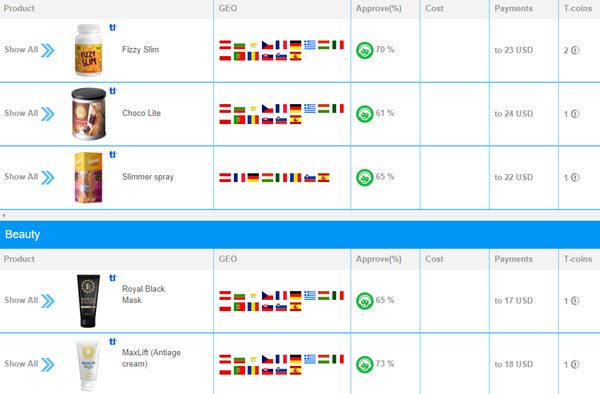 TerraLeads offers are mainly focused on health, diet, beauty, and adult health niche markets.
So, you will get physical products such as creams, pills, and weight loss solutions that will always have a market and new customers.
It's proved to be a great industry to be in.
Each product listing shows a featured image, together with a listing of GEOs, the approval rate, cost, payments, and T-coins (that you can earn on each transaction).
If you want to get more information on an offer, you need to click on the expand button. You will get to see different payouts, payments, conversion rates, and T-coins by location, as well.
For example, the Germitox offer has a payout ranging from $15 to $19 depending on the country you choose to promote it.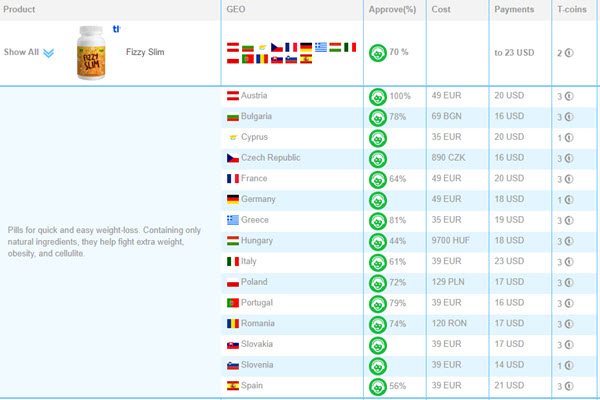 Once you get an offer that you want to promote, you have to generate an API. You can also create a stream from within your account.
A stream is used for promoting the offers through pre-landing pages and landing pages that are available on the TerraLeads Hub.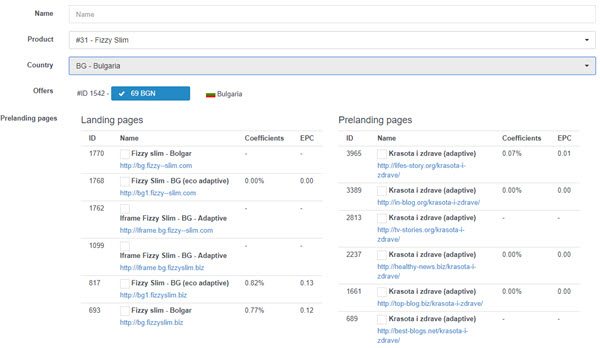 When you choose an offer, you should make sure that there are quality landing pages to choose from.
When you look at an individual offer, you will see pre-landing pages and landing pages within one area.
You have to click on any of the URLs.
They open up in a new window for easy viewing. The ad copies are available in the appropriate language for the selected country of promotion.
Advanced tracking, redirect URLs, and URL postbacks are also available in this area.
Affiliates can also set up sub-parameters for controlling and tracking their campaigns.
TerraLeads also provides split testing capabilities and easy Facebook Pixel tracking.
TerraStore Reward Program
One of the unique features of TerraLeads is their reward program called TerraStore.
TerraLeads offers a lucrative opportunity for affiliates to get valuable presents apart from earning much money.
So what are t-coins? They are the bonuses given for every approved order.
When an affiliate sells any product, TerraLeads will automatically credit a certain amount of t-coins defined for this particular offer.
So, the more you sell, the more t-coins you can make.
Further up, the t-coins can be redeemed in the form of a wide range of products that include gadgets, as well as luxurious cars.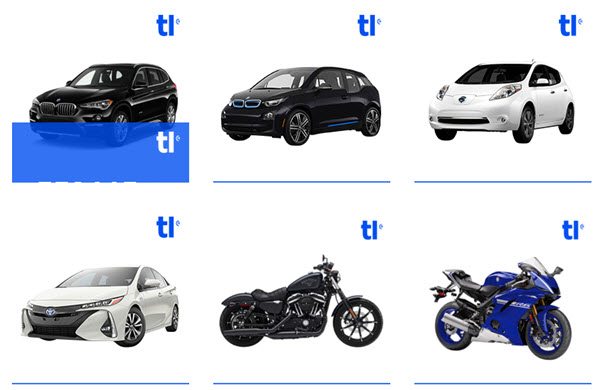 The t-coins balance can be seen from the Balance under user menu.
Payment Details
The minimum payout with TerraLeads is $50.
The affiliates get paid on an everyday basis.
The payment options include PayPal, WebMoney, Wire, Paxum, ePayments, and Capitalist.
Benefits of Joining TerraLeads
TerraLeads offers a high approval rate. In fact, you don't have to wait for a long time to get approval.
They have a quick lead system.
With TerraLeads, you get high conversion rate. It employs cutting-edge UI/UX technologies and CTA features. TerraLeads also runs A/B split testing before handing over the landing pages to its partners.
TerraLeads offers top payouts in Europe. The commissions are quite high for European conversions.
TerraLeads delivers instant payouts upon request.
TerraLeads has a user-friendly system interface.
It has local call centers in all GEOs with native speakers on board.
They produce exclusive Nutra offers produced in-house.
There is a special bonus system, TerraStore (t-coins).
There are dedicated account managers to provide you multilingual support 24/7.
Conclusion
Described as the only CPA Hub available in the market, TerraLeads has managed to impress and astonish all its users with its remarkable performance.
It has helped marketers grow and expand at a very fast pace.
In fact, TerraLeads turns out to be the ideal affiliate program for all the affiliate marketers. It is offering huge commissions to its partners. Plus, its t-coins Reward Program is frankly great.
So, if you want to scale your affiliate marketing with high revenue, then you should opt for TerraLeads – the World's first CPA Hub.
We hope that this presentation has been successful in providing you with useful information about TerraLeads – A CPA Hub for Affiliates. If you liked the article, please share it with your friends and colleagues. We welcome your comments and suggestions.