If you are among those thousands of affiliate marketers or native advertisers who use native ads, then it's surely the time to know your competition's deepest secrets.
Herein, we have featured Anstrex Review that is one of the best Native Ad Spy Tool.
For a native advertiser and even for an affiliate marketer, it's really important to understand the audience truly.
Well, it's important to know the effectiveness of native ads so that you can maximize your ROI.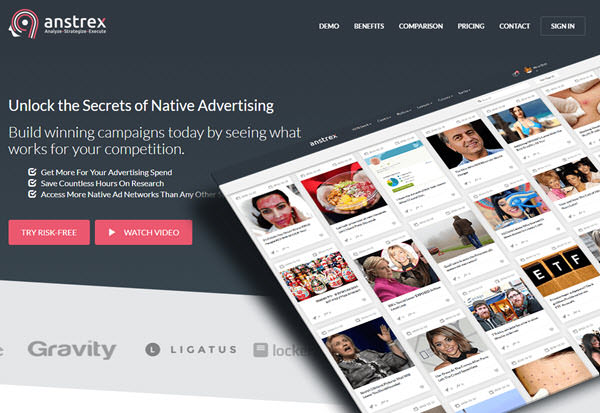 Although Native Ads are popular Ad type as they are masked as content and function non-intrusive for the visitor, still the fact remains that not all native ads work.
You can't just waste your resources (time and money) and hope for the best results simply by using any native ads.
Moreover, you will be (literally) killed by your competition when your native ads don't perform.
So, you have to ensure that you stay ahead of your competition.
Well, that's exactly where the use of native ad spy tool comes into the picture.
Why should you use Native Ads Spy Tool?
A Native Ad Spy Tool helps you to analyze your competitors' native ads so that you can know what's working for them and can then devise such native ads that rocket your ROI.
You can explore the current trends in the native advertising industry and get the much-needed intelligence data to meet your marketing needs.
You can view the best native ads online and also the best landing pages. You can view native advertisements from different ad networks. You can discover successful ad campaigns that have won the hearts of customers online.
You can go on to explore new niches. You can get relevant details about native ads including statistics, traffic overview, Geo, and much more.
They help you in discovering and analyzing best native ads online so that you can come up with winning campaigns.
Well, Anstrex is one such Native Ad Spy Tool that does all these tasks for you and much more.
Anstrex Review: Getting to know the Anstrex Advantage
With Anstrex you can certainly become the best advertiser online when you have all the competitive intelligence data with you.
It has the biggest database with over 10 million native ads from 27 ad-networks and 15 countries.
It is the only tool in the market that allows you to rip high converting landing pages, customize them with your own affiliate links and deploy the optimized landing pages directly to your server with a few mouse clicks.
This feature alone is worth the subscription costs as it will save you hundreds of dollars in hiring a freelancer to design your pages and not to mention all the time spent in finding the killer landing pages.
Affiliate marketers will appreciate that Anstrex even provides affiliate network details and that's certainly a welcome bonus for them.
They also have a huge gallery (500+) of high converting landing pages that you can quickly deploy on your server.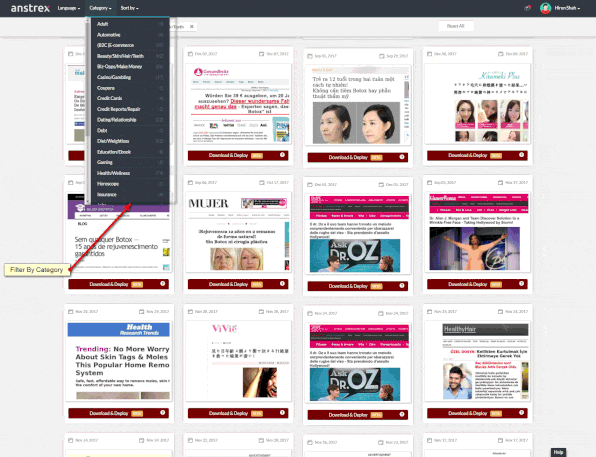 The alert feature will enable you to keep a close eye on your competition. Whenever your competitor(s) launch a new ad, you will be instantly notified by email so that you will never miss any moves your competition is making.
It is one of those native ad spy tools that support more countries when compared with other native ad spy tools.
Its interface is easy to use enabling you to find successful campaigns in any category quickly. It offers great filtering options making the search so much easy for you even with its huge amount of data.
You can search by keyword, or even by country. It offers a preview of the landing pages in an instant. It even provides ad network details. You can filter ads by different metrics like (days running, Alexa Rank, Ad-Strength, and Gravity).
Most importantly for you, with Anstrex, you don't have to spend hours searching and analyzing the best native ads in the market. It offers all the competitive intelligence data in just a few clicks. You can spy on most ad networks, as much as twenty-seven (27) ad networks.
It even offers alerts keeping you up to date with your competition. Its alert system lets you know about it whenever it sees a new ad matches your alert criteria. It has data on most affiliate networks making it easy to launch their campaigns.
It covers both desktop and mobile platform. You can spy on different countries such as USA, UK, Canada, South Africa, Japan, Italy, India, Mexico, France, Germany, Spain, Turkey, and many others. You can analyze native ads in various categories and languages.
Moreover, it's a perfect choice for all those who are on a stiff budget. Surprisingly, it is one of the cheapest native ads spy tool.
So, you see there are tons of reasons for utilizing Anstrex native ads spy tool.
The Anstrex Benefits for You
With Anstrex you can easily get a sneak peak on the ads that other advertisers run on native ad platforms. You can spy on all kinds of native ads.
You can explore new niches.
You can collect competitive intelligence data using Anstrex spy tool. You get an opportunity to improve and integrate your ad copy.
You can get all such information like how long the ad was running, on how many platforms the ads have been running, etc. A successful ad campaign is hard to materialize without all such data and metrics.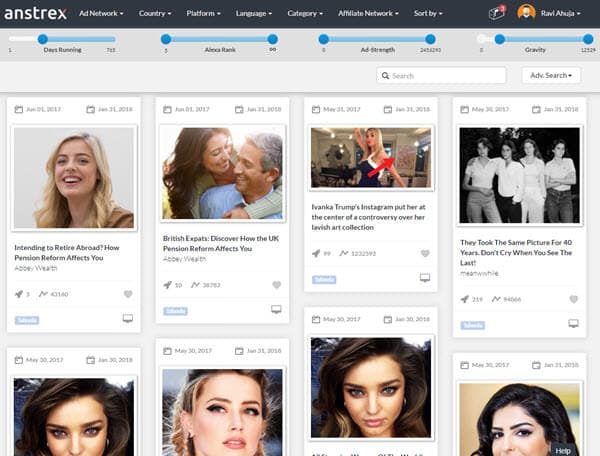 It's a great time saver as you can access tons of ads together with its data in just a few seconds. You can analyze or study those ads. You can improve your own or build a new campaign based on those data.
So, Anstrex provides you with the opportunity to race ahead of your competition.
You get to know what is trending in the market, what are the niches your competitors are eyeing upon, as well as get to know the reasons that make an ad effective.
At the least, you get deep insights about how to improve the ones you have thereby saving a good amount of time doing so.
So, Anstrex is an incredibly simple spy tool that enables you to stay ahead of your competition easily.
There's much that you can do with Anstrex:
You can maximize your advertising returns by spying on the most effective campaign strategies of your competition.
You can explore your niche from any angle as you get over

six

million up-to-date advertisements at your fingertips.
You can improve your ROI with its revolutionary

Affiliate Offer Wall

wherein you can analyze entire campaigns from competitors in your niche.
You can trace the affiliate campaigns of competitors in your niche. In fact, Anstrex monitors offer 200 networks.
Get access to profitable competitor data with

twenty-seven native ad networks

and more than

58000 advertisers

covering

fifteen countries

.
You can build landing pages. One click in its database takes you from ad to landing page.
It offers superior search and filter capabilities. You can filter by ad network, country, platform, language, category, ad strength, affiliate network, and much more.
It comes with a risk-free trial.
Plus:
Anstrex comes fully integrated with Alexa and Similar Web. It offers the facility to sort the ads by Alexa rank right inside Anstrex!
You can get high-resolution screenshots of every advertiser's page.
You can even join the overwhelming community of Anstrex power users on its private forum.
You can use its game-changing image search feature for finding the most successful pics in your niche.
Anstrex User Interface – The Synopsis Tab
You can get to the Synopsis Tab through the listing page.
On the listing page, you will see multiple ads based on your search criteria. When you click on any ad title, it will open a detailed view. The Synopsis tab opens by default. If it is not opened, you can always click on it.
The Synopsis tab gives a nice overview of the ad that you have clicked. It offers the following information as per the screenshot is shown below: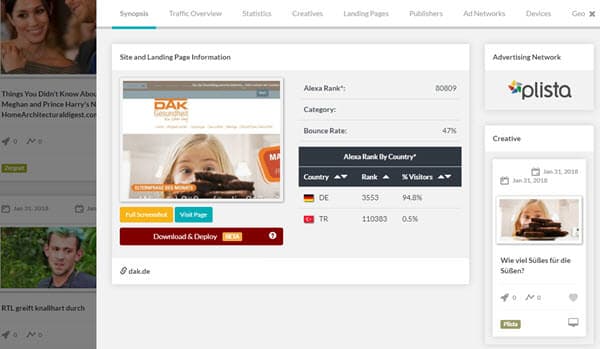 Landing Page Preview: This image is clickable. As you click on it, you will see a full-sized screenshot.
Full Screenshot button: Clicking on it will open a full-sized screenshot of the landing page.
Visit Page Button: It opens the landing page in a new tab on your browser.
Alexa Rank: It shows the Alexa global rank of the landing page root domain.
Category: It shows the category classification of the landing page.
Bounce Rate: It gives the bounce rate of the root domain as a whole.
Alexa Rank by Country: It is in a table format and shows the Alexa rank by country as well as %visitors for each country. The table is fully sortable.
Advertising Network: It gives the name of the ad network which delivered the ad.
Creative: It shows the preview of the actual ad.
The other Tabs in the Detailed View (User Interface) include:
Statistics
Creatives
Landing Pages
Publishers
Ad Networks
Platform
Geo
Pricing
The pricing range from $39.99 to $59.99 per month. However, earningguys.com visitors get a special 20% off lifetime discount. Use coupon code earning_guys_20 at checkout to receive your discount.
I don't think you can find a better value for your money.
We just have to say, Anstrex is certainly one of the best Native Ad Spy Tool that you can have for spying on native advertisers.
Give it a try and experience the Anstrex advantage!