Clickbank is one of the world's largest and most popular affiliate networks. So, if you are looking for an affiliate network which offers a good range of products (digital as well as physical), pretty high commissions, an easy-to-use system, and great support, then Clickbank comes out as an ideal choice.
There are several affiliates who are earning 5-6 figures commissions in a month using this platform.
So, its benefits are huge.
If you too want to earn high commissions through this platform, you simply have to know how to promote Clickbank Products.
Here, we list out different methods to promote Clickbank products so that you can also take advantage of this powerful affiliate network.
Clickbank can certainly make you rich if you know how to Promote Clickbank Products.
However, before we move to list out the methods for promoting Clickbank Products, here's a short overview of Clickbank and its benefits to help newbie affiliate marketers.
What is Clickbank?
Clickbank was founded in 1998. It is an affiliate marketing network which connects products sellers (also known as advertisers, merchants, vendors, product owners) with affiliates (also known as publishers). It is based in the United States. Over the years, it has become one of the most popular affiliates marketing networks in the world.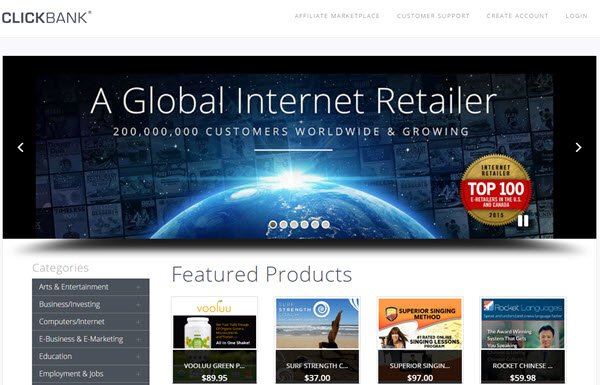 Clickbank functions as a marketplace and bridges the gap between product sellers and affiliates. It provides the opportunity to product owners to sell a variety of digital products and physical products. Product owners can sell digital products such as computer software and EBooks, as well as physical products such as health products, food supplements, etc.
So, Clickbank acts as an effective platform on which product owners can advertise their products. Affiliates can select products on Clickbank which they want to promote and can earn best commissions available on the Web.
Getting started on Clickbank is easy. You just have to fill in some basic information on Clickbank Sign up Form such as address and contact information. There are no preapprovals hassles.
It allows virtually anyone to sign up and start promoting. It is great for newbie affiliate marketers who do not have any programs or websites that they promoted. Moreover, it allows affiliates from over 150 countries for promotion using its affiliate marketing network.
Clickbank offers thousands of products. Most of its products are of high quality, but you should take a good look at the marketplace to find out the best products that you can promote. You should check the 'Gravity score' of a product. It is essentially a calculation that points out how many affiliates have made a sale in this product. You should aim for a gravity score of at least 30.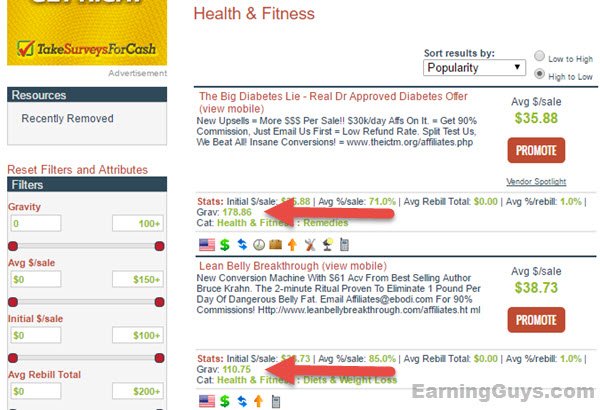 Besides gravity, there are a number of other statistics that are also shown for each product that is listed on Clickbank.
These are:
$/sale: it is the average amount that an affiliate can earn from each sale of the product.
%/sale: Commission rate
Other statistics include figures such as Future $, Total $/sale, % ref, etc. All these figures give you a snapshot of the products.
Clickbank provides two kinds of affiliate links:
Standard Affiliate Link which is also known as HopLink
And
Encrypted HopLink
Standard HopLink has the format –
http://affiliateid.vendorid.hop.clickbank.net.
The Encrypted HopLink hides the affiliate id and the vendor id.
Commissions are quite high on Clickbank. It ranges anywhere from 10% to 75%. Many are over 50% which means you are immensely rewarded for your efforts. It pays commissions every two weeks. Moreover, you can set the payment threshold which can be as low as $10.
All in all, Clickbank is a rewarding and easy to use affiliate network with easy signup and good support.
Benefits of using Clickbank Affiliate Network
To start with, it does not cost you a thing to sign up on Clickbank. Registration is free and there are no hidden charges, as well.
Secondly, Clickbank is very efficient in paying its affiliates. So, you do not have to fear about receiving your payments.
Thirdly, you have the freedom to choose what products you want to sell.
Fourthly, Clickbank offers a high commission rate. It is usually from 10% to 75%.
Fifthly, it offers a wide variety of products, both digital and physical. New products are being added on a regular basis.
Once you are through with the sign-up process, you can select a product and start selling it on your website or otherwise.
Ways to Promote Clickbank Products
Here, we list out the ways for promoting Clickbank products. Some of the methods require having your website. However, at this juncture, we reiterate the importance of pre-selling. People don't just like to be thrown to sales pages without any valid reason for buying that product.
So, pre-selling is HUGE.
It goes on to establish the trust, much needed to close a sale. So, build up to your sale. You would see that you are getting rewarded for your efforts as more and more opt for your product when they see value in it.
Here, it is important to understand that you essentially can promote Clickbank products either through direct marketing or by creating a sales funnel.
Well, both of these techniques have their obvious benefits, but on a long term the technique of creating sales, funnel pays you more.
Why?
When you create the sales funnel, you go out for building a relationship with your customer. You offer them free eBooks, software, course material, tips, resources. In return, you just ask for their email.
If the user gives you the email, he or she is convinced about your offering and see a value in your offering. Then you can go about providing him useful resources related to your niche. Finally, you can embed your affiliate link in one of your communications. Here, you should take note that you should promote Clickbank products that are related to your niche and adequately serves your users' interests.
As your users value your advice, they are likely to buy your affiliate products. Plus, it is not a onetime sale. You have the email address of your users and so can be in constant touch with them providing added value through eBooks, tips, free offerings, and services.
If you have any other product, you can promote them, as well. So, the customer stays with you and does not leave you in case a sale is made or not. If he is not satisfied with one product, it is likely that he or she gets convinced for some other product that you are promoting and goes on to buy it. However, the products should be related to the niche you are serving to your users.
Plus, there is every possibility that the prospects list (or email list) keeps on growing. New users like your offer that serves their interests. They provide you their email address and you go on to develop your sales funnel. It helps to build a long lasting relationship with your users. You get to know your users and their interests and then choose the product that best suits their interests.
So, it creates a Win-Win Scenario for you as well as for your users.
However, the final call is yours whether you would directly promote Clickbank products or go on to create a sales funnel and build a long lasting asset for your business.
Banner Ads
It is a simple yet effective tactic for promoting Clickbank products. However, it requires you to have your website. Herein, you have to find an article on your website that is related to the Clickbank product that you want to promote. You have to paste the banner ad on the sidebar or in the middle of the article without resorting to any form of pre-selling.
As the traffic is somewhat related to the offer, you could see some conversions coming your way. The banner ad holds the affiliate link. When a visitor clicks on the banner, he is lead to the advertiser's website or to a landing page where he gets more information about the product. When a sale is made, it is registered in your name.
If you do not have any related content on your website, you can opt for buying banner ads space on other websites that belong to the same niche. You can choose the websites which have high traffic volume and show your banner ads about Clickbank products on such websites. So, for your banner ad, you are getting traffic from different websites that are related to the product that you have chosen on Clickbank.
Article Marketing
In Article Marketing you paste In-content links directly in the text and come as recommendations from the author of the post. If you have built up an authoritative blog, chances are pretty high that visitors will click the affiliate link in your post. It is only because people believe what you say as you have built the trust level with your audience.
However, the in-content links are not very prominent and are noticed by only the attentive readers.
It requires you to have a blog or website with a large number of visitors so that the conversion rate is high. You can write product reviews or related topics on your website. Reviews traffic is extremely targeted and people visiting your post have a very high chance to buy your Clickbank products. You can even contact with other bloggers and write guest posts centered on the products and paste in-content links within your post.
Use Facebook
You would be crazy not to use Facebook for promoting Clickbank products. One of the easiest ways of promoting Clickbank products on Facebook is by writing product review style articles. Publish your review articles on the Facebook note. The articles should have eye-catching headlines.
You have to leverage the Facebook platform and increase your social circle on a daily basis.
You should promote the product on Facebook through your Facebook groups. You can join groups such as for online marketing or product category that you want to promote. You can post your
HopLink for the Clickbank products on the Facebook Page of your website. You can even resort to paid advertising on Facebook for promoting your chosen products.
Use Pinterest
Pinterest allows you to pin products from affiliate networks such as Clickbank. You have to use your affiliate link for each of your pins. When people follow the link to the specific website and make a purchase, you are seen as a referrer and earn the sale commission whenever a sale is made.
You have to come up with interesting pins that attract the attention of visitors. You can even post review articles about products and paste affiliate link in the post.
Email Marketing
The greatest benefit of Email Marketing is that you can take your time to convince them to buy the product. Plus, you have their contact details so you don't lose them and can expose them to the offer again. However, you should not be aggressive in your sales pitch. There should be a pre-selling element when you pitch the products to your prospects.
So, you should let them know why they need the product and how the product can be useful to them. You should let them know the unique features and advantages of using the product. It should preferably be a series of emails to the prospects leading to the sale. In the last email, you should attach the affiliate link of the product that you want them to buy. So, the whole process should not look as a blunt sales effort and should not come out as spam.
Participate in Forums
You should join and actively participate in Forums that are related to Clickbank products. Forums prove a powerful channel when it comes to establishing you as an expert. So, you should join in discussions and regularly post your suggestions and reviews. It goes to establish your credibility with other forum members.
It is your trustworthiness and expertise that will convince other forum members and instigate them to buy products suggested by you. To make things easier for you, you should use your affiliate link as a signature when you sign off on these forums and message boards.
Use Craigslist to Promote Clickbank Products
Promoting Clickbank Products on Craigslist is easy, effective and rewarding. Craigslist is one of the oldest classified advertisements website. It has sections devoted to jobs, services, housing, community, personals, goods, advice, for sale, items wanted, discussion forums, and just about anything.
Promoting Clickbank products on Craigslist involves getting the affiliate link and posting a classified ad on Craigslist. However, you should give accurate information and specific details about the affiliate products. You should clearly tell the user how the products can benefit them. It will generate more sales and your ads would not be flagged for false information.
Promoting Clickbank Products on YouTube
YouTube is a very effective medium for promoting Clickbank products. The method is simple. You have to make videos on the product keywords and upload them to YouTube.
You can come up with product review videos and show in detail what the affiliate product has in store for the users. In the description of the video, you have to place your Clickbank affiliate link or HopLink.
The benefit of using YouTube for promoting Clickbank products is that you get targeted visitors for your videos. If the visitors get convinced with what you say in the product review videos, they would eventually click on the HopLink and go on to purchase your product.
Use Squidoo
Squidoo is another effective platform for promoting Clickbank Products. It allows users to create pages, called "lenses", which could be used to sell products. So, you should create a Squidoo Lens for every Clickbank product that you want to promote.
You can add articles, write product reviews, or make a sales copy. You should add your affiliate link together with relevant keywords, customer testimonials, and products. Ideally, you should disperse the affiliate link throughout the page so that it becomes easy for potential customers to click and buy the product.
Other Advertising Options
Apart from the above techniques of promoting Clickbank products, there are quite a number of other advertising options that are available to you for promoting Clickbank Products. These are PPV Advertising, Pop-Under Advertising, Native Ads, and Mobile Ads.
Many Affiliate Marketers are almost ignorant about these advertising options or simply never try out these advertising options just because like Google AdWords does not allow affiliate promotions. They are only aware of Google AdWords and as it does not allow affiliate marketing, they never look out and try other advertising options.
However, with these advertising options, there is no such problem and you can easily promote Clickbank products.
However, you should be careful to use a suitable Ad Network for promoting Clickbank products with these advertising options. You should use an Ad Network that has a large number of publishers and is capable of providing a large number of highly targeted traffic.
So, we see that there are various ways for promoting Clickbank Products. It is an immensely rewarding Affiliate Network and if used correctly it can help you to earn thousands of dollars month on month.