Native advertising has been around since forever, but it's not until a couple of years ago that it's become one of the major sources of traffic comparable in size with Facebook ads.
Affiliate marketers are increasingly relying on native advertising as it presents a solution to "banner blindness" – a phenomenon that almost spoiled the party for web advertisers.
These day Affiliate marketers have limited traffic sources because of advertising network policies and the quality of the traffic source.
That's why affiliate marketers are always in search of new traffic source.
Native ads are one of the popular traffic options for not just affiliate but brands too as it doesn't look like traditional ads.
Native ads are everywhere these days, including on some of the most popular news and entertainment websites like Huffington Post, Business Insider, Time and many others.
It's these blocks of thumbnails you often see at the bottom of the article marked as 'You may also like', 'From around the web', 'Recommended for You' etc.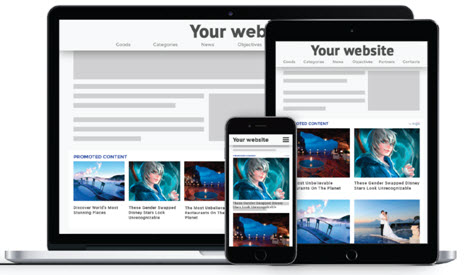 The beauty of this kind of ads and the fact that makes them so effective is that they don't stand out spoiling user experience and instead fit right in with the look, the feel and the content of the website. Here are some examples of actual native ads: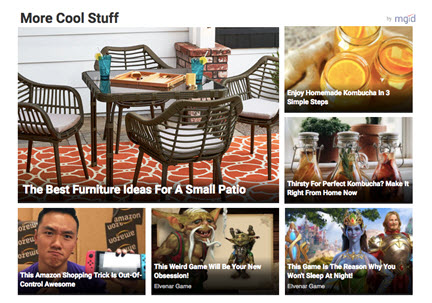 Native ads are meant to spark interest. Catchy pictures, engaging and somewhat provocative titles – all these are indispensable elements of a native ad.
However, in the pursuit of higher CTRs, many tend to overdo it and step over what's considered good practice. And while outright click-baiting is a definite no-no, there are some other, less apparent, reasons why an ad network may reject your creative.
Affiliates try to get a lot of traffic at a low price, and they try to make ads which attract users to click, and sometimes affiliates make mistakes of not following ad networks roles. The result is ad rejections.
When ads get rejected, you have to do some more work again which is time-consuming and stops you from earning. So you must avoid ad rejections.
If affiliate marketers follow ad networks rules, they can make the best use of current advertising options. Following certain rules don't affect their earning.
We've asked MGID, one of the leading content distribution networks out there, to share their policies on creatives and give some advice to those who are only considering running their first native ad campaigns.
The recommendations below are based on some of the most common mistakes made by affiliates which lead to their ads being rejected.
These recommendations may apply to other native ad networks and will be useful to anyone relying on native advertising for traffic acquisition.
It's actually easier than it seems to create and that will both grab readers' attention and comply with the creative guidelines. The rules laid out below are pretty straightforward, yet it's important that you stick with them to avoid your ad get rejected.
1. Work on your Landing Page
Make sure that:
There's no obscene or vulgar language in the name of the website or the URL;
You do not promise any reward for the purchased goods or services;
Your landing page does not spread any malware or contain any automatically loading elements;
The landing page does not contain nudity, sex scenes, vulgar or suggestive images;
Your landing page does not contain any emblems or logos of ministries and other authorities (e.g., the Ministry of Health), as well as companies that were not involved in manufacturing the product;
Your landing page is not showing any actual practicing doctors promoting health and beauty products or services;
The landing page is not showing any local or international celebrities, media personalities, musicians, models or scientists promoting the product, who are not in any way connected with the product;
Your landing page does not copy the design of other websites like Cosmopolitan or Instagram;

The product or service you promote is legal. This is something that will be determined by the legal compliance department;
What you promote is not a Ponzi scheme or any other kind of financial pyramid;
You hold a license, where one is required;
Landing pages are not showing any scenes of murder, violence, blood or other graphic images;
There's no prohibited content hidden behind spoilers or otherwise concealed in the page code;
Sponsored content is clearly labeled
2. Avoid Prohibited Practices
Do not cloak. The importance of this point cannot best dressed enough. It's always better to try and discuss and negotiate with MGID's manager about what's acceptable and what's not than wasting time setting up a campaign that will eventually be rejected and facing other sanctions.
3. Creatives Should be Engaging but not Manipulative
Make sure that:
Your creatives are of good quality. Avoid poor design or low image quality;
The images are properly cropped and centered;

Your creatives don't look cheesy and do not contain any repulsive images;
Sufficient attention is paid to details: your images should make logical sense and be consistent with the title;
There's no smoking, drinking, cruelty or racism in the ads;
Your title is a complete message. Do not end the sentence with an ellipsis trying to intrigue your readers and get them to click – use an original and engaging title instead;
Your title does not contain false or misleading information;
Where the ad is in a foreign language, it should be well translated. MGID accepts ads in 57 different languages and uses the services of native speakers to check if the level of the respective language. The better the language, the sooner the ad will be moderated.
4. Do Not Upload Identical Ads
Seeking good ad and landing page combinations and analyzing different angles are part and parcel of the testing process.
At the same time, copying active creatives within the same GEO and categories doesn't help the performance marketers to earn more.
To avoid this, MGID launched an automated image de-duplication, which prevents two identical ads from appearing in the same widget. Its purpose is threefold:
This image de-duplication ensures the diversity of ads shown to users;
It doesn't spoil user experience and keeps publishers happy;
It allows you to conduct A/B testing continuously.
URL de-duplicate or prevents two ads with the same link from appearing in the same widget, pretty much serving the same purpose as the image duplicator.
It's important to remember that the idea behind testing is to employ approaches that use some common as well as some different criteria and features. Uploading ads with completely identical parameters make no sense and won't get you anywhere.
A final word of advice – it's always a good idea to read the network's creative guidelines before starting your campaign.
If unsure, you can always contact your company representative for advice and clarifications. Following the guidelines is your first step on the path to native advertising success.
Ad rejections are annoying and waste your lot of time, so ad rejections must be avoided.
If you are new to native and want to give it a try, MGID is a great place to start. Follow this link and get a $100 bonus on your first $500 deposit: mgid.com/earningguys.