Is mobile marketing seems difficult to you?
Are you wasting your mobile marketing budgets?
Are you overspending resources on user acquisition?
Getting new users are taking a chunk of your time, and money?
Are you losing out on user retention, advocacy, or customer service?
Well, if you are plagued by any of the above problems, then it's certainly time to rethink and overhaul your mobile advertising strategy.
However, with App Samurai Mobile Advertising Platform, you certainly have a great solution up your sleeves.
App Samurai has come with its mobile, self-service advertising tool to help solve these problems for businesses of all sizes.
App Samurai is a mobile advertising platform that helps app developers and even high growth companies in creating, managing, and measuring mobile ad campaign for acquiring qualified users for apps.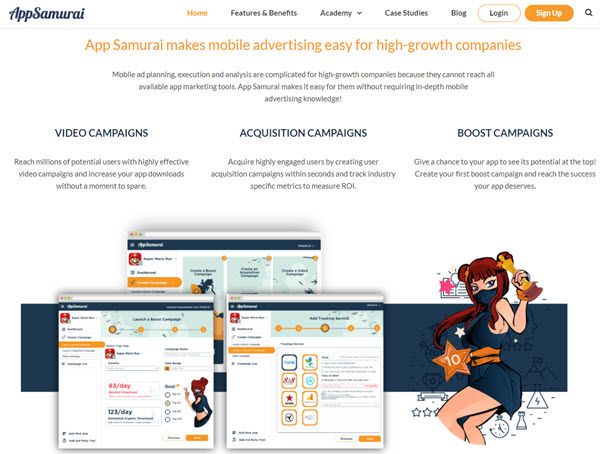 They help in every aspect of user acquisition right from strategy planning and campaign execution to post-campaign results analysis.
In fact, Mobile ad planning, execution, and analysis are particularly very difficult for startups as they are not able to access all available app marketing tools.
Herein lays the utility of App Samurai that makes it easy for them without having to know in-depth about mobile advertising.
App Samurai Overview
App Samurai allows you to follow all important metrics such as category ranking to watch the improvement of your startup in the app stores.
It even allows you to track your competitors' positions through important metrics.
With App Samurai, you can go on to create the best and most optimized ad spending plan. You can track every important key metrics!
You can go on to measure campaign performance with the major metrics and can even optimize your app marketing budget.
So, App Samurai allows you to eliminate ineffective channels.
You spend less and hit your marketing goals.
It offers actionable campaign offers!
In fact, App Samurai uses an interesting trick – Cost per Install (CPI) optimization.
Before we take up the features of App Samurai, here's a quick point or two about its CPI (cost per install) optimization.
You may ask why App Samurai focus on CPI when this acquisition method goes on to produces a high volume of low-quality users.
Well, certainly CPI is not always the optimal method for acquiring high-quality users. However, it's still attractive particularly for early-stage businesses as it makes it easy to track return versus spend.
Moreover, App Samurai has done much with its technology to make things better for app marketers while holding on to the benefits of CPI.
We need to emphasize that although App Samurai uses CPI payout model, they have built an ongoing optimization engine that successfully delivers the most engaged and high-quality users by the post-install events, like a level achievement, purchase, and registration.
So, the advertisers just need to track these events on their tracking provider. Moreover, the good thing is that App Samurai supports most of the leading trackers, so most developers, app marketers, and advertisers can use it.
It means that App Samurai keeps the benefits of CPI and helps advertisers drive more engaged users to their apps.
Plus, App Samurai comes integrated with major tracking providers (Adjust, TUNE, Kochava, and more) enabling events to pass automatically to App Samurai and the system optimizes sub-publishers accordingly.
In addition to CPI optimization, App Samurai also provides many other benefits, such as click spam detection, VPN protection, fraud prevention, and virtual device detection. In a world where mobile advertising has come under increased scrutiny, these additions are much welcome.
Plus, App Samurai provides a recommendation engine that delivers recommendations for stores and targeted countries, daily install estimations as well as an automated sub-publisher optimization by customer KPIs.
Best of all, App Samurai isn't stopping at CPI optimization only.
It has become one of the eight companies to join the 2017 Class at Techstars Berlin.
Moreover, App Samurai is also focusing on CPA (Cost per Action) and CPE (Cost per Engagement) campaigns.
They are even testing further optimizations delivering users who complete in-app actions like registration for shopping apps and even tutorial completions for gaming apps.
It's free to sign up for App Samurai, and it doesn't charge you until you create a mobile campaign.
You only need to pay when you get installs. Plus, there is no monthly payment or subscription fee. However, the minimum budget for creating an ad campaign is $100.
App Samurai offers three effective mobile adoptions (formats) that can be created within seconds in App Samurai dashboard.
These are:
Boost Campaigns: Give your app a chance to reach the top with your first boost campaign. It's the best way to see the success of your app.
Acquisition Campaigns: Get the opportunity to acquire highly engaged users by running acquisition campaigns within seconds. You can track industry-specific metrics and measure ROI.
Video Campaigns: Offers the opportunity to reach millions of potential users and increase your app downloads.
App Samurai offers a smart dashboard that shows all the performance metrics about in-app events. You can sign up for free and can easily reach the metrics by measuring how your app is doing in app stores. App Samurai allows you to create your ad campaign and boost your app easily.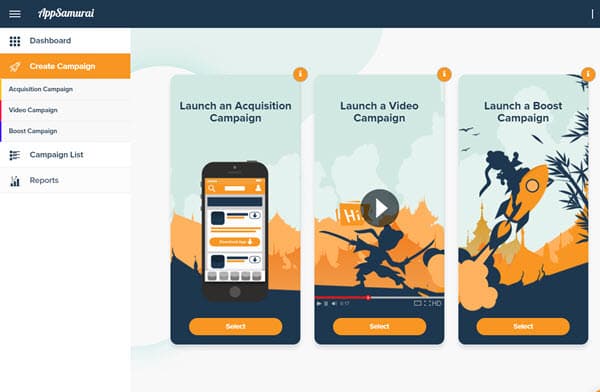 Key Features
Track In-App Events on One Dashboard
Track App Store Performance for Free
Reach Your Goals with Ad Campaigns
Get Unique Recommendations
Specifications
Intended Users: Small Business, Mid Size Business, Large Enterprises
Devices Supported: Windows, Mac, Mobile Web App
Supported Countries: United States, Canada, Australia, Brazil, Germany, Japan, India, Mexico, United Kingdom, Middle-East, Africa, Asia, and Europe.
Supported Languages: English
Support Options: Phone Support, Online Support, Knowledge Base, and FAQs.
So, App Samurai proves one of the best mobile advertising platforms and helps you to derive full benefits from your mobile marketing efforts.
It helps advertisers and app marketers in user acquisition without wasting money.
User retention, advocacy, and customer service are keys to successful mobile marketing strategy, and App Samurai excels in all these departments.