Success in the blogging front is determined largely by two factors.
One is the volume of traffic coming to your blog and the other is the level of monetization of your website traffic.
Well, it's a fact that people take to blogging because they foresee a huge earning opportunity in it.
They want to commercialize their blog and want to earn huge money out of their blogging effort.
The way out is through monetizing your blog traffic.
So, the level of your blogging success or your blog monetization depends upon how effectively you monetize your blog traffic.
As a matter of fact, blog owners are blessed with the fact that they have not one, but many ways in which they can start making money online with their blogs.
You must have heard about Google Adsense. It has been recognized as a viable and powerful method of making money with your blog. In fact, Google Adsense is PPC (pay per click) advertising network model for earning from your blog. When any visitor clicks on Google Adsense Ad, the blog owner earns a predetermined commission.
Bloggers also have the option of utilizing CPM Ad Network, which happens to pay to the blog owners based on the number of impressions.
Then bloggers can be associated with Affiliate Marketing. Placing affiliate links on your blog can entitle you to earn a commission when users click on these links, visit the merchant website and make a purchase.
Well, apart from using the above methods for monetizing your website, there's one more good alternative for making money from your blogs.
Yes, the good news is coming to you.
In fact, you can sell your ad space to an advertiser for a fixed amount of money for a certain period of time. The Ad Space can be sold to the advertiser for a certain period of time. The blog owner is paid a fixed amount of money irrespective of the number of clicks or impressions generated by the Ad.
So, this online advertising model creates a Win-Win situation for both advertisers and publishers. Advertisers get an opportunity to increase their target base easily with limited and fixed amount of money. So if their Ads generate a large number of views or clicks, they still end up paying only a pre-determined fixed amount of money to the blog owner. The Publishers also benefit as they do not have to worry about the number of clicks or impressions or leads. They know that they will receive a fixed amount of commission when they sell their Ad Space in this advertising model.
Here in, comes the role of BuySellAds.
BuySellAds is one of the most popular online advertising networks which bloggers and webmasters can use to sell their advertising space to advertisers.
So, you can use BuySellAds Advertising Network to make money online through your blog by selling Ad Space.
What is BuySellAds?
In fact, BuySellAds is a premium and high-quality online Ad Network. It is one of the best Direct Advertising Network where you can buy and sell ads. With BuySellAds, you get an excellent opportunity of monetizing your website by selling ad spaces (on your site or blog).
BuySellAds list down your blog in a category which best describes your blog's niche. Advertisers get to search for sites or blogs where they want to place or showcase their Ads. BuySellAds Network then informs the blog owner when an advertiser is interested in buying an Ad-Space on their website or blog.
The Ad-Space is directly purchased through the BuySellAds Network, so you don't have to get involved in the nitty-gritty of payments and stuff like that. The BuySellAds Network helps you with every bit of information in relation to direct Ad Space Selling. So, you get to know about Ad Space prices and other information as and when you need.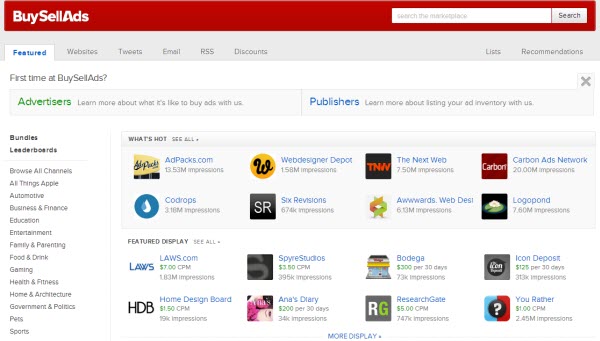 Why Use BuySellAds?
BuySellAds offers a great platform for blog owners to start making money with their blog.
Blog monetization is really very easy with BuySellAds. You just need to register, provide information about your blog, and need to insert HTML Code in your blog. The rest is managed by BuySellAds. Your blog gets listed in the publisher directory where advertisers can find it and can go onto buy ad space on your blog.
You are in full control as you get the freedom to decide which ads you want to have on your blog. Further up, you can choose the ad format, number of ads as well as the placement of ads on your blog. You get a number of customization options so that the ads fit into the overall blog design and can thus help in maximizing your earnings. Publishers also get the freedom to set the price on their ad space. Blogs from different niches can become BuySellAds publishers. Blogs from fashion, style, business, sports, automotive, food, marketing, software, technical, personal travel, humor, and others can apply as publishers on BuySellAds.
There are benefits for Advertisers, as well. Advertisers can select publishers according to their advertising budget. Suppose, an advertiser has allocated an adverting budget of $10 per month on BuySellAds. So he can select the publishers who have listed Ad Space selling at that pricing range. Then, advertisers know well in advance their advertising expenditure and so can plan their activities accordingly. Moreover, direct advertising through BuySellAds comes at a fixed cost to the advertisers. They just need to pay only a fixed price irrespective of impressions or clicks on their ads.
How BuySellAds Work?
Actually, BuySellAds Advertising Network works as a broker between website owners (publishers) and advertisers. It makes easy for advertisers to find blogs and websites suited for displaying their ads in line with their advertising budget. Currently, it has more than 30000 publishers in its network and features amongst the top advertising companies working online. It is an online space where advertisers buy ads and publishers sell ads. Advertisers regularly search for blogs on BuySellAds where they can purchase ad space for advertising their products and services.
You have to first add your blog on BuySellAds publisher directory. You can do this by registering on BuySellAds website with a free account. Once you get registered, you can then enter the information related to your blog into the form provided therein. BuySellAds will furnish you with an HTML code that you need to insert into your blog template so as to display ads on your blog once the ad space gets purchased by advertisers. Once you get registered in BuySellAds, your blog appears in the publisher directory.
The advertisers' search publisher directory in order to find a suitable site where they want to publish their ads. Once advertisers locate your listing on BuySellAds, the advertising network adds publically available analytical data to it such as Alexa Rank, Google Page Rank, Compete Rank, Number of RSS Subscribers and more. The Ad space is purchased by advertisers directly through BuySellAds. Typically Ad Space is purchased for a period of 30 days at a flat fee, which is assigned by blog owners. Once your account reaches $50 mark, you can ask for cash out and have your earnings.
How to get Approval from BuySellAds?
To get approval from BuySellAds, your blog should adhere to the following criteria:
Your Blog should possess a good Page Rank.
You should have an SEO Friendly Blog.
Your blog must have unique and quality content.
Your Blog should have RSS Subscribers.
The Blog must have at least two Ad Spaces.
Your Blog must receive at least 50000 page views per month.
BuySellAds for Advertisers
BuySellAds provides advertisers bunch of sites in accordance with their targeted niche. The BuySellAds is responsible for handling the transactions, and go onto provide relevant and necessary analytics in relation to publishers' site statistics. Advertisers get access to a control panel which helps them in tracking clicks as well as impressions.
It also records the CTR (click through rate) for every single website on which your ad is served. The minimum cost for selling advertisement is $10.00 on a monthly basis. They need to click on "Add to Cart" button for every single Ad Space purchase. They can post their ad creatives and can set their own link URLs.
The payments made are logged into the account of publishers, and the ads are sent for review. The process is automated and moreover is quick, reliable and safe.
BuySellAds for Publishers
Publishers or Website Owners first need to register at BuySellAds.com
Once done, your blog gets featured in the BuySellAds publisher directory, and you can go onto to enter the information for your blog into the form provided therein. After successfully submitting your website to BuySellAds.com, it is showcased in the publisher listing where advertisers view sites in which they want to place their ads.
When an advertiser finds your blog or site, BuySellAds appends necessary and relevant analytical information into it and furnishes it to the advertiser.
Benefits of using BuySellAds
It is a well developed, reliable, and rewarding online advertising system suited for both advertisers as well as publishers.
It is simple and easy to use. Both buyers and sellers can be found on this network.
The User Interface is easy, interactive, and engaging.
It caters to the emerging needs of advertisers and publishers.
It employs well-produced analytics program.
Payment options are secure and flexible.
By far BuySellAds is one of the best online advertising networks that you can find for direct ad space selling. Due to its ease of use, flexibility, security and robustness, BuySellAds is suitable for both advertisers and publishers.