Here, we have shared with you 11 Best & Must-have Apps for Bloggers. These apps can be a great help to you as they allow you to manage your time better and get more done.
So, you can blog more often, write better, and track your website and social media success. In short, these apps make blogging more comfortable. These apps allow you to make the best use of your smartphone for blogging success.
Well, it's a hard task to shortlist apps that are worth a try. So, we have come up with this list, which will help you to organize your blog better using your smartphone.
The good thing is the fact that these apps are available for free (Some of them may need subscription), so you don't need to spend your money on these apps.
Moreover, these are some of the best Apps for Bloggers out there. These apps help you to update your blogs easily and regularly. They make the process of running a blog from your phone painless and fun. They allow you to take advantage of your smartphone. Let's get started with the list.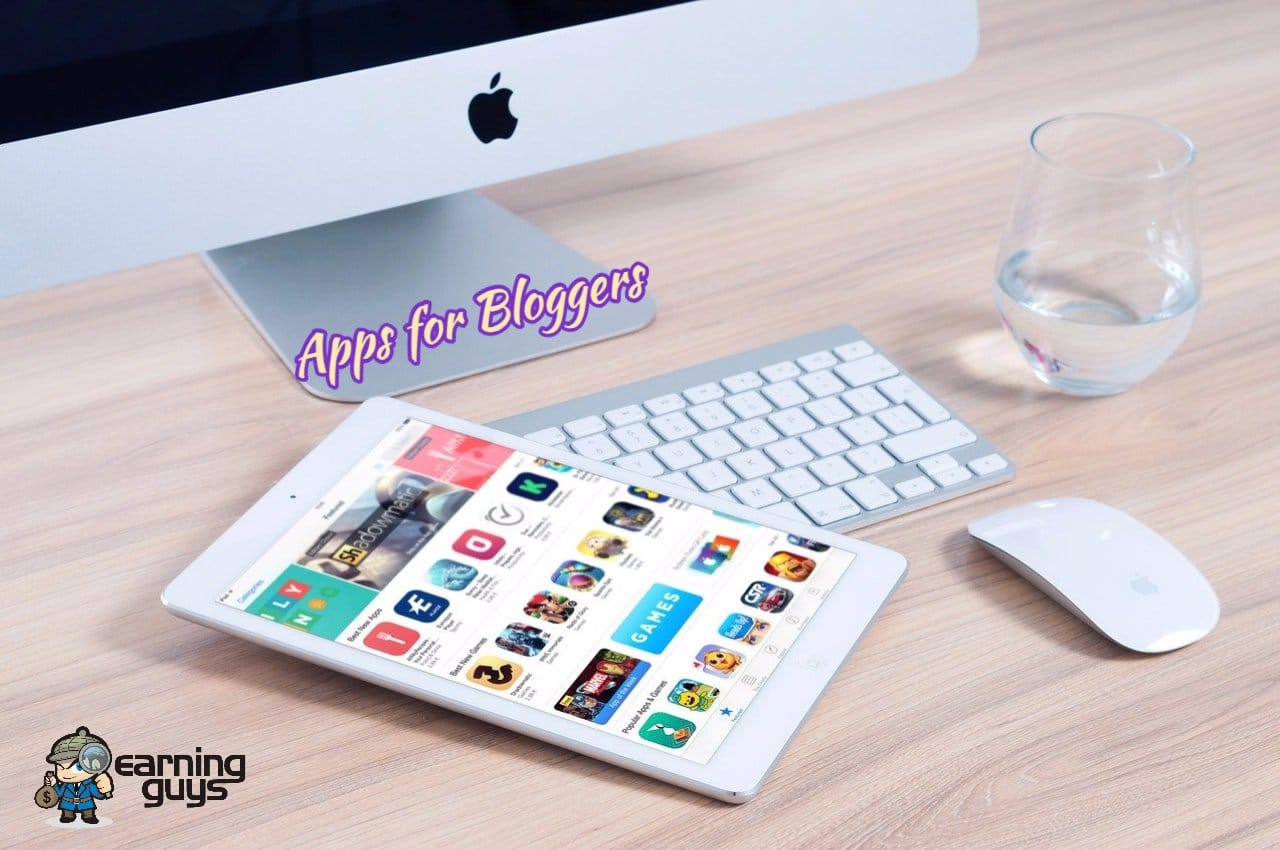 11 Best Apps for Bloggers
Here are the 11 Best Apps for Bloggers. We have featured the best android apps for blogs. So, simply read on to know more about these best blog apps.
WordPress is regarded as the most popular content management platform. It powers more than 35.2% of all the websites on the Internet.
The WordPress Mobile App provides you the power of publishing using your smartphone. It allows you to type your blog on the move. You can even add photos, publish, and respond to the comments right from the comfort of your smartphone.
So, you can publish blog updates from any corner of the globe. In fact, many bloggers are using the WordPress App for editing a post on their Android phone.
Moreover, there's much you can do with the WordPress App. For example, it allows you to keep track of your stats. So, you can have a peek at your visitors as well as views whenever you want.
It allows you to track the most popular stories of the day. You can even come to know where your visitors come from, all around the world. In short, it allows you to keep your finger on the pulse of your website.
You can follow popular sites and join the conversation anywhere, any time. You can browse new blog posts right in the Reader using your Android device. It allows you to engage with the community you've built. From notifications to sharing tools, it has got everything in your pocket.
Moreover, the WordPress app has been designed to be beginner-friendly, mobile-optimized, and easy to use. It has a built-in autosave feature that saves your posts locally on your device.
WordPress App is must have Apps for Bloggers.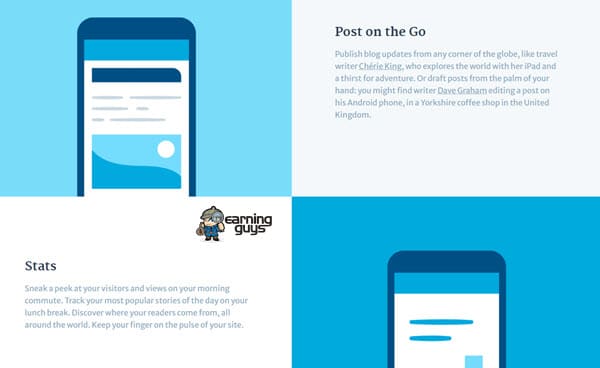 Google Analytics is a web analytics service by Google that offers you a better understanding of your website visitors and customers.
Its Analytics application allows you to see how many people visited your website in real-time. You can come to know how long they stayed there. It also offers information on what your website visitor locations are as well as how specific keywords perform and many more.
Google Analytics helps you measure site traffic, SEO, engagement, ad revenue, deploy A/B tests, and track engagement when you experiment with new content on social media.
Its Analytics application allows you to track a specific page. You can come to know how people interact with your website pages in real-time.
You can find out what keyword they use as well as track the bounce rate and traffic source. Moreover, you can know from which devices your site is accessed.
It allows you to integrate Google Products like your Adsense account, AdWord account & Search Console.
The Google Analytics Mobile App allows you to monitor your business on the go. The App enables you to:
Check key metrics in built-in reports
Compare date ranges and apply segments
Monitor real-time data
You can explore reports with any combination of metrics
Save the reports to your dashboard
It's available on Google Play and App Store.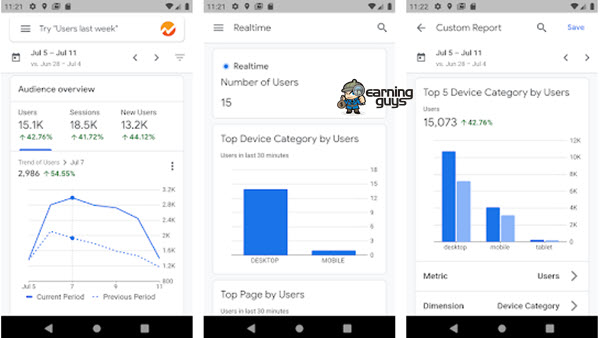 Facebook Pages Manager allows you to manage your business in a single place. It helps you to connect with your audience and see activity on up to 50 pages, all in one place using your phone or tablet.
This App is available for iPhone, iPad as well as Android.
You can use this App for:
Easily reaching your customers by creating & managing posts from a single place
You can view all the messages, comments, and activity that need your attention
You can track your business performance by getting insights for your audience
Stay focused and get notifications about important activity
Key Features of Pages Manager App:
Mobile posting: Post updates & manage your Page without having to use a computer
Messages: You can see and reply to messages that your customers send to your Page in your inbox
Link Accounts: You can link your Instagram and Facebook accounts for managing your Facebook messages, comments on your posts as well as Instagram comments in your Page Inbox
Push Notifications: You can see all your Page notifications
Insights: You get to build your business by tracking promotions, stats, and activity
Crosspost content: You can connect your Instagram & Facebook accounts to Crosspost Stories
You can post updates and photos as well as respond to comments
View and reply to private messages that are sent to your Pages
You have to install Pages Manager and then log in with Facebook for quickly accessing and managing all of your Pages from wherever you are.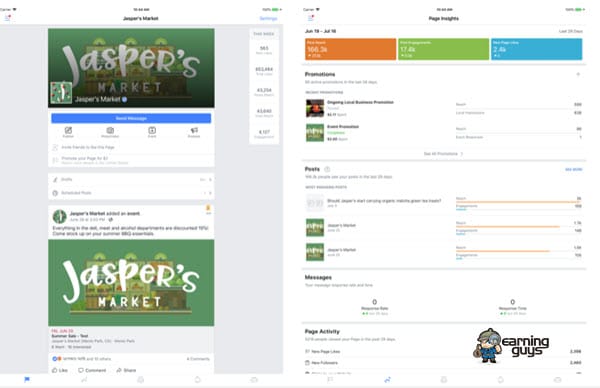 Grammarly Keyboard comes as a free productivity app that helps users to come up with error-free writing. This application allows you to check grammar errors, contextual spellings, as well as advanced punctuation, vocabulary enhancements, synonyms within texts, and lots more.
Grammarly is meant for both native as well as non-native English speakers. It is even useful for those who do not write in the English language that often. So, Grammarly is a full-featured grammar and spell checker application that makes writing easier by finding any errors in real-time.
It lists out grammar mistakes, suggestions, and corrections in real-time, as you keep on writing. So, with Grammarly, you get insights and suggestions. It helps improve the clarity and conciseness of messages, documents, and posts.
It comes with a free version app that is worth using. However, its premium version comes packed with all the wonderful premium features such as an advanced checker for errors in punctuation, plagiarism checker, sentence structure, etc.
So, if you're sending an urgent email, essential Facebook post, or even an important LinkedIn message, Grammarly allows you to write from your phone with confidence.
It's a power-packed app for mistake-free writing.
It works as a:
Sophisticated Grammar Checker
Contextual Spelling Checker
Advanced Punctuation Correction
Vocabulary Enhancements
It offers short, as well as clear explanations for every correction. It integrates smoothly with all apps and is easy to set up.
Every blogger must use the Grammarly app or computer. It is one of the must-have apps for bloggers.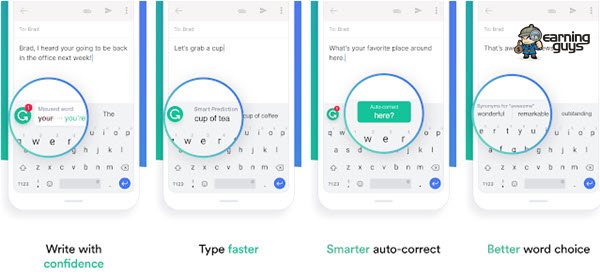 Flipboard is one such thriving platform where you can find quality stories on any interest. It works with the mission to advance conversation through important and influential stories that inspire people to engage, learn, and lead.
It's a platform to discover quality content for all your interests, including lifestyle, entertainment, tech, politics, sports, and personalized news. It delivers the latest headlines, events, and entertainment stories, making sure that you're always up-to-date with what's happening.
Here, you can come to know the latest news from The New York Times, National Geographic, Vanity Fair, and many other top newspapers and magazines, local, national, or even from around the world. Here, you get the latest headlines, trending events, important stories, and personalized news articles.
Flipboard has recently launched its Android app that allows users to browse through their Facebook, Twitter, and Google+ streams in a pleasantly flipping manner. It also curates a stream of important stories for the ones that are too busy to go through everything.
So, the App allows you to browse through interesting news content daily. It will enable you to get fresh ideas for writing in your next blog post. The application will allow you to read the stories and articles of your choice anywhere and anytime.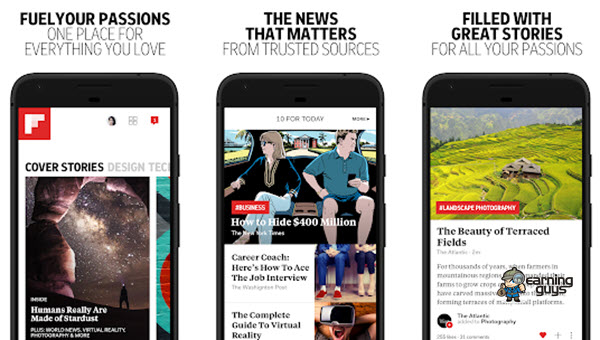 SocialPilot is one of the must-have apps for bloggers as it allows you to share your blogging content on social media platforms. So, SocialPilot App will not only improve your blog's engagement rate, but it will also attract new readers to your blog.
SocialPilot allows you to stay active on social media by updating your Facebook, LinkedIn, and Twitter accounts each time when you publish a new blog. The biggest highlight of the SocialPilot App is that it can share your post to all your linked social media platforms. You can even schedule it when you want.
It means that with SocialPilot, you can save a lot of time. Plus, you can keep your social media platform fresh without having to log in every time. It keeps you active on social media and improves your fan engagement rate as well as attracts new fans to your blog. It can share your post across social media platforms at the same time.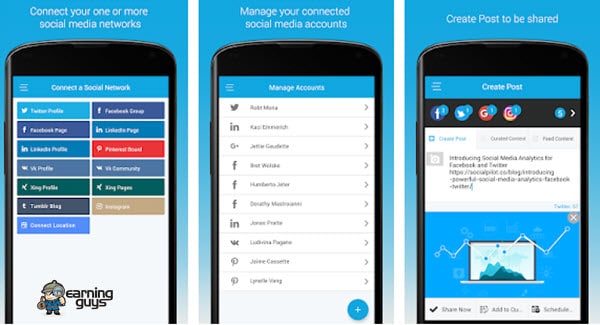 With Google Keep, you can add and store notes, lists, photos, and audio. It allows you to organize everything you decide by keeping into easily-accessible labels using various colors for easy finding later on.
So, Google Keep turns out to be a smart and useful app. Plus, there are note reminders and the ability to record a voice memo to be transcribed by the App later.
It's available for Android as well as iOS.
Here's an example of Google Keep in real life. For instance, you need to pick some groceries. So, you can set a location-based reminder for pulling up your grocery list when you get to the store. You can even set a time-based reminder so that you never miss a thing when you need to finish a to-do.
It allows you to quickly filter and search for notes by color and other attributes such as lists with images, audio notes with reminders, or just see shared notes. So, you can find out what you're looking for quickly.
Google Keep does the remembering for you. It works on your computer, tablet, and phone. Everything that you add to Keep syncs across your devices, thereby making sure that your important stuff is always with you. It keeps every thought of yours.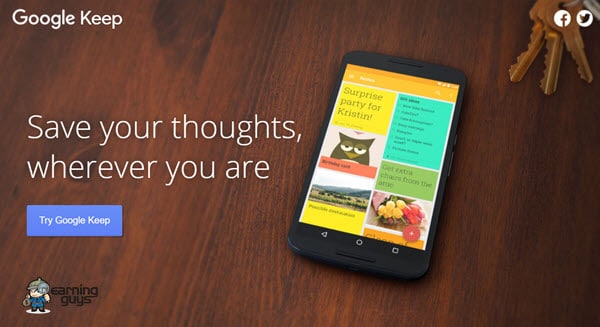 SEMRush is one of the top SEO tools that help in blogging. It is one of the must-have tools for digital marketing professionals. It's best for SEO, PPC, Social Media, Content Marketing, and Market Research.
With SEMRush, you can perform the following tasks:
Technical SEO Audit on any Site
Track your daily rankings
Analyze any competitor's SEO Strategy
Find out Keyword Ideas
Gain SEO Ideas
Analyze any domain's backlink profile
Unlock your 'not provided' keywords
So, SEMRush is one of the best tools for boosting your digital marketing efforts.
Its application allows you to check the updates on your top keywords. You can find out what positions you've won or lost in Google's top 3, 10, 20, or 100 results.
One can track the growth trend of your website's visibility, traffic, as well as average position.
You can overview you're tracking campaigns. You can get critical metric updates and tailor your keyword lists with advanced filters.
This App is available on the App Store and Google Play.
This is must have Apps for Bloggers for their SEO tasks.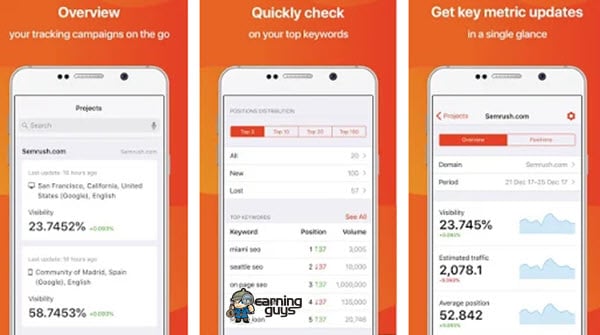 Canva is a graphic and photo editing app that can be used for creating graphics for blog posts. It is a must-have Apps for Bloggers to create images for their blog posts.
It makes designing amazing simple, and fun. You can use the App even if you're not a design expert for creating stunning designs with your photos & videos. It's a versatile graphic design app.
It can be used as a logo maker, poster maker, and video editor. You can use it for designing your Instagram Highlight cover, Instagram Story. One can create a banner for social networks such as Facebook, Twitter, and Pinterest. You can make birthday invitations or wedding invites.
You can even start from scratch or use any of its 60,000 free templates that have been created by professional designers. One can edit and add text to photos. You can change the font, size, color, spacing, and position. One can upload pictures & videos from your device gallery.
You can even use the library of premium photos & illustrations. It comes with a free image editor that can be used for applying photo filters. Lastly, you can share your designs on Instagram, WhatsApp, and Email. You can even save to your device.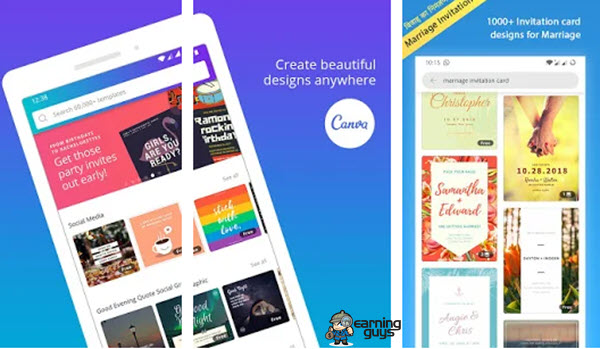 Feedly is one of the best apps when you want to read your favorite websites and blogs on the go. It's the smartest way to subscribing to your favorite sites. With Feedly, you can read them whenever you want. Moreover, on whichever device that you are using. Feedly is available for Android, iOS, Desktop, Browsers, and more.
In fact, Feedly is one of the best RSS feed readers on the market today. It offers a clean and clear reading experience. Feedly provides intelligent tracking of what you have read. It offers easy tools for organizing your subscriptions.
Feedly is an excellent place for discovering the best blogs on your niche and for reading posts from various bloggers. You can quickly add your favorite site to the Feedly app. It fetches new updates when available. So, with Feedly, you can follow all sites from one place.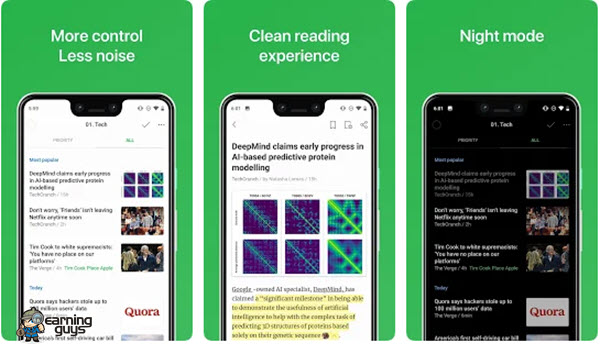 11. LastPass Apps for Bloggers
The internet is a place where identity thieves, malware, and cyber-attacks are always on the prowl. However, you can guard against these kinds of attacks by using a unique and strong password for all your online accounts.
Well, LastPass allows you to keep track of all those strong passwords. LastPass is a password manager app. It works on all browsers, OS, as well as on your iPhone. LastPass automatically saves and enters passwords. It enables you to share your passwords with co-workers safely. They would not be able to look at the password.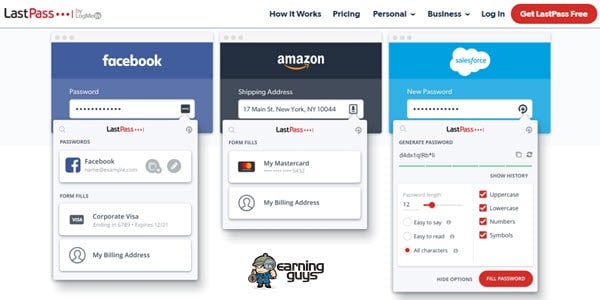 Now, we have come to the end of this post.
We have shared with you the best and must-have apps for bloggers. We hope that you would have found the list useful.
Thanks for visiting.
Please share the post across popular social networking channels like Facebook, Twitter, and LinkedIn.