You have created a great piece of content. That's awesome.
But is that all you require to get it to read and ranked?
Well, I must tell you that Catchy Headlines and Blog Titles help to sell your content.
In fact, a headline is the most important part of writing an article.
Headlines and Blog Titles are the first interactions that your readers have with your content.
It's where you can't just lose out.
In fact, Headlines and Blog Titles entice your reader to read your content.
If you have a Catchy Headline, you have won the battle in getting readers to read your content.
Crafting a catchy headline, you are sure to get more readers, more buzz, and more love.
When searchers on search engine see your listing first, they read your headline if it is attractive they may click on them, and if headline or title is not attractive, they may ignore your result.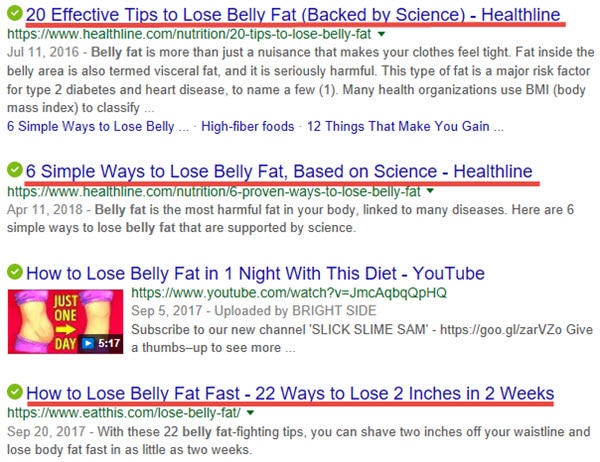 Here, we have come up with 200+ Catchy Words & 50 Catchy Titles for Catchy Headlines.
So, simply read on to get awesome tips on writing Catchy Headlines.
How to Write Catchy Headlines?
If you are of the opinion that writing Catchy Headlines and Blog Titles is a hard task, then let me tell you that's it's time to shrug that idea of yours.
Here, we will be sharing a foolproof method for writing catchy headlines and titles.
It's a simple and practical way for writing catchy headlines and blog titles.
Most often you are bombarded with tons of questions when it comes to writing (catchy) headlines and titles for your blog posts.
Crafting titles, you are faced with questions such as:
How long should the headline be?
What words should I put in?
What words should I avoid?
And many other questions as well.
Luckily for you, we have featured a simple formula wherein you get to know how to write catchy headlines and blog titles.
So, let's move ahead and get to know the techniques of writing catchy headlines and titles.
You may like: 14 Best Blog Title Generator Tools
Come up with a working Title
The work of crafting catchy headlines and titles start with a rough draft – your working title.
However, many people confuse working titles with topics.
Let's clear it up.
Topics are very general and can result in several different blog posts.
For instance, a topic might be about "raising healthy kids."
A writer might take this topic in different directions.
On the other hand, a working title is very specific and leads you to create a single blog post.
Taking the very topic, "raising healthy kids" you could come up with the following working titles:
The Right Nutrition for Strengthening Your Kid's Bones
Best Recipes for a Healthy Dinner that your Kid will love to Gobble Up
A Complete Guide to Promoting your Child's Social, Emotional, and Behavioral Well-Being
So, you see that a working title is very specific and leads you to a single blog post.
They might not be perfect 'titles' but specific enough to guide your blog post.
Be accurate – Add bracketed clarification
A catchy headline is all about setting clear expectations for your readers.
So, your headline or blog title should accurately reflect the content that follows.
Accuracy helps to refine your title as it sets clear expectations for your readers.
One easy way to impart accuracy to your title is to add bracketed clarification to your headline.
In fact, a study conducted revealed that headlines with clarification performed 38% better than headlines without clarification.
For example:
"Internet Ad Spend will Surpass TV Ad Spend [New Report]"
You must learn to respect your readers' experience.
So, be accurate and fulfill your audiences' expectations.
Make it 'Desirable'
Being accurate doesn't mean that you can't make your title pop.
In fact, there are a lot of ways by which you can make your title appear 'desirable.'
It requires you to understand your core buyer persona.
One need to choose a language that resonates with them.
You need to understand what they find valuable and incorporate it into your title.
You can try out these tips for making your headlines sound desirable:
Have fun with alliteration: It's a device to make your headline a little lovelier to read. It makes a subtle but strong impact on your reader. For instance: "Foolproof Formula."
Use strong words: Strong phrases such as "Brilliant" or "Powerful" make an impeccable impact on the reader. However, you must be careful enough to use them in moderation because if everything is bold, nothing is bold.
Use emotional adjectives: Emotional adjectives connect with the audience easily. You can use these examples in your headline – fun, free, strange, incredible, essential, absolute, effortless, etc.
Use unique rationale: A list post can quickly get the attention of the audience if it features a unique rationale in the headline. You can try out these examples – secrets, tricks, reasons, ideas, facts, lessons, ways, principles, etc.
Make it visual: If there's an opportunity to include visuals in your post, consider including the word "photo(s)" in your headline. A study conducted revealed that headlines with the word "photo(s) performed 37% better than headlines that did not feature this word.
Include "who": Headlines with the word "who" generated 22% better CTR than headlines without it.
Keep your Headlines Short
There is no standard size for a headline or title.
It all depends on your goals and where your headline appears.
That said it pays to keep your headline short.
You should rephrase your headlines and cut out extraneous words.
For example, if you want to rank high in search, you should keep your title under seventy characters so that it doesn't get cut off in search engine results.
For social sharing, headlines between 8-12 words in length work best for Twitter shares.
To get most Facebook Likes, you can make your headlines 12 or 14 words in length.
However, we must state that you must run a few tests to make out what works best for your audience.
The less is better when it comes to crafting a catchy headline that instantly grabs your readers' attention.
State the 'Big' Benefit
You are writing content for the benefit of your readers.
So, make sure to reflect it in the headline of your blog post.
The headline should motivate them to click and read.
When you go on to state the benefits clearly in the headline, it will assure them there's some useful information to satisfy their need.
The headline should convince them that the content contains the answers.
So, feature the big benefit in your headline.
Offer value in the headline and deliver that in your content.
It will make them read your copy.
Even if they don't visit your website, they at least have got your best selling point.
Examples:
Powerful SEO Techniques to Boost Your Search Rankings
Make Beautiful Business Cards in Minutes
Blog your Way to a New Career
Use Number (Odd Number) in your Headline
Studies have shown that headlines with numbers generate more clicks than headlines without it.
Research by Conductor has revealed that headlines with numbers generate 36% more clicks than headlines without it.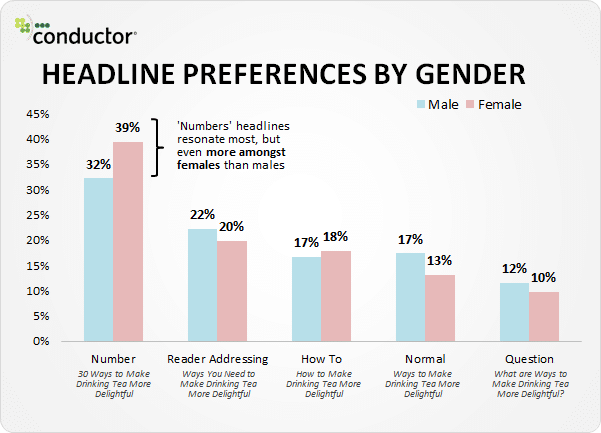 Moreover, odd-numbered headlines generate 20% better CTR than even-numbered headlines.
Numbered Headlines simply work with readers.
Numbered Headlines get more clicks than posts without it.
Numbers make the headline much more enticing.
People like numbers because they get something very specific to cling to.
See the difference between these two headlines:
"Ways to Lose Weight" vs. "21 Ways to Lose Weight Fast".
Here, the number "21" instantly catches your attention.
Use [Brackets]
An analysis conducted by Hubspot revealed that headlines with [brackets] bumped up CTR by as much as 38 percent.
Using [brackets] in your headlines makes a big impact on the readers.
[Brackets] offer a sneak preview of your post.
It helps people to know what's there in the post before they click.
For example, here's a headline with [brackets].
• The Complete List of SEO Tools [2018 Update]
Here, [2018 Update] tells people that the post is relevant for 2018. So, it is more likely to be clicked.
Use Headline Formulas from BuzzFeed
"Clickbait" sites such as BuzzFeed are true geniuses.
Their exceptional growth speaks for itself.
Buzzfeed.com is a top 50 site in the US.
Their headline formulas have been a massive hit with people.
You need to check out the recent posts on BuzzFeed and other Clickbait sites and draw inspiration for your headings, subheadings, and blog post titles.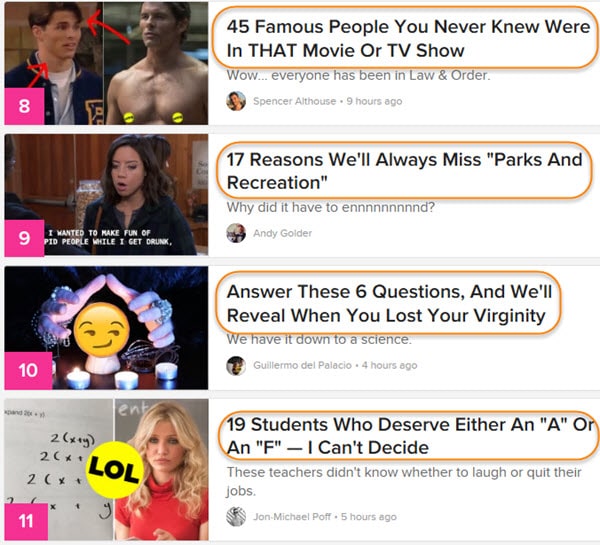 Optimize for Search and Social
Primarily you need to optimize your blog post title for your audience. However, it's great if you can optimize for search and social, as well.
Well, you need to focus on keywords that your audience is searching for and need to figure out the search volume for those keywords.
Once you have figured out the keyword, place it as close to the beginning of your headline so as to grab the attention of your readers.
Moreover, keep the headline under 70 characters so that it gets completely featured in the search engine results.
Here's a simple formula for writing a catchy headline or blog post title:
Number + Adjective(s) + Keyword + Promise + [Bracket]
Example: 17 Most Powerful SEO Techniques to Boost your Search Rankings [2018 Update]
Remember, people like to read something exciting.
Make it worth their while through Catchy Headlines and deliver it in your Content.
So, take your time to come up with catchy headlines that grab people's attention the most.
Your headline should describe your content honestly and attractively.
You can greatly benefit by using the above tricks for coming up with catchy headlines.
Catchy Blog Post Title Templates
Although we have listed out numerous ways for writing catchy headlines, you can still find it difficult to come with catchy headlines or blog titles.
That said there's no need to worry as we have brought a great collection of high-converting blog post title templates for more attention and clicks.
A catchy headline is the first thing that you need to set it right for the success of your article.
In fact, 100% of your visitors will read your blog post title.
So, it's important to come up with a catchy headline to grab people's attention instantly.
A catchy headline makes your blog posts more interesting. It increases the CTR and engagement and entices visitors to read your blog post.
More people are reading means more subscribers and sales for you.
Using these blog post title templates, you can create a rocking headline for your post.
These are fill-in-the-blank blog post title templates that enable you to personalize the headlines according to your requirements.
Importantly for you, these types of headlines are immensely effective.
It's a bank of catchy titles that you can refer to when you are short of ideas for blog post titles or catchy headlines.
Check out these awesome and proven blog post title templates for writing catchy headlines or titles.
It's a list of catchy blog post title templates that work.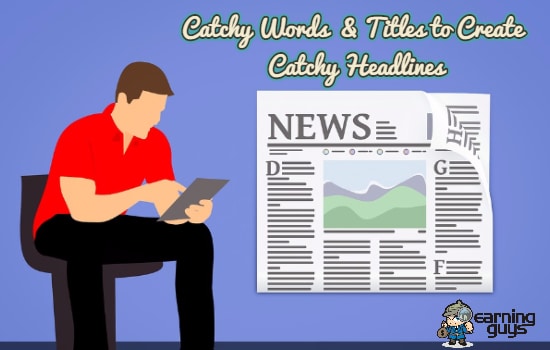 Here's the list for you:
20 Things You Didn't Know about _____
25 Questions You Should Ask Before Buying _____
How To _____ in 5 Easy Steps
How to Create the Perfect _____
10 Biggest _____ Mistakes And What You Can Do About Them
Why Haven't _____ Been Told These Facts?
The Practical Guide To _____
17 Resources To Help You _____
12 Things Nobody Tells You About _____
_____ Myths You Need To Ignore
How To _____ Like An Expert / Pro
5 Quick Ways to Fix your __________
The best-kept secrets of ________
27 Creative Ways to _____
10 Lessons About How Not To _____
The 10 _____ That Helped Me _____
How I Found A _____ Way To _____
7 little-known methods to avoid _______
_____ That Will Skyrocket By [20]% In 2 Years
14 Most Powerful ________ Techniques to ___________ [2018 Update]
How To Permanently Stop _____, Even If You've Tried Everything!
DIY: ___________
Who else wants a free _________ training?
15 of Our Favorite ___________ on ____________
18 Unbelievable Ways You Can ______________
Fast and Easy Way to Cook Delicious _____________
25 ___ That Will Change The Way You ___
Make Your Own __________ in Minutes
Top ______ Trends from the Past 6 Months
How to stop ________ right now and never start again
Ways to end your _______ problems for good.
Do you want to know the top 5 mistakes most ________ make?
Stop wasting money on __________. Create your ________ in minutes.
10 Most Important Steps to _________
28 Secret of effective ___________
Here's how experts get results from ____________.
How to Dominate the Market Like ___________.
Everything you need to know about _________.
12 Actionable __________ Secrets That Will Drive More ___________.
_______: The Complete List (2018 Update)
21 Best _______ Tips of All Time
50 _______ Factors: The Complete List
______ Case Study and Shocking Results
Use These 10 Simple Hacks For More ____. #6 Is Awesome
How To _____ in 25 Minutes
12 Amazing Tools To Simplify Your _____
10 Major Mistakes Most _____ Continue To Make
The Ultimate Cheat Sheet On _____
20 Tips For _____ That You Absolutely Can't-Miss _____
10 Things I Wish I Knew About _____
Catchy Words List
Crafting catchy headlines involves using words (catchy words) that work to entice your audience motivating them to read your blog post.
Making best headlines is all about using the right and catchy words.
In fact, a great headline is created when you use catchy words.
Catchy words are the most powerful words that you can use for crafting a great headline.
Here, we have featured a list of catchy words that you can use for coming up with catchy and great headlines.
Catchy words play a major role in enhancing the effectiveness of headlines.
Moreover, a large chunk of people just read the posts because they are influenced by the blog post title.
Using catchy words, you can make your blog post titles more engaging and enticing for your visitors.
Catchy words help to draw the attention of your readers.
They make the headlines eye-catching.
The headline must be appealing to the visitors if you want them to take any action.
The catchy words work as emotional triggers that motivate visitors to click and read your post.
So, if you want people to click and read your blog posts, you should use catchy words (power words) in your headlines.
Here, I have compiled a list of catchy words that can influence, encourage, and motivate people to click and read your articles.
Make sure to include these power words or catchy words in your headlines.
It works!
Here's the list of Catchy Words:
Adorable
Advice
Amazing
Anniversary
Announcing
Anonymous
Approved
As a result
Astonishing
Attractive
Authentic
Backed
Bargain
Basic
Beautiful
Because
Best
Best-selling
Better
Big
Bonanza
Bonus
Bottom Line
Breakthrough
Cancel Anytime
Caused by
Certified
Challenge
Colorful
Come along
Compare
Competitive
Complete
Compromise
Confidential
Consequently
Crammed
Daring
Delighted
Delivered
Destiny
Direct
Discount
Discover
Download
Due to
Easily
Easy
Edge
Emerging
Endorsed
Energy
Enormous
Excellent
Exciting
Exclusive
Expert
Exploit
Extra
Extraordinary
Fascinating
First
Focus
Fortune
Free
Full
Fundamentals
Genuine
Gigantic
Greatest
Growth
Guaranteed
Help
Helpful
Highest
HighTech
Hot
How To
Huge Gift
Hurry
Imagination
Immediately
Important
Improve
Improved
Increase
Informative
Innovative
Insider
Inspires
Instructive
Interesting
Introducing
Ironclad
It's Here
Join
Just Arrived
Largest
Last Chance
Last Minute
Latest
Launching
Lavishly
Learn
Liberal
Lifetime
Limited
Love
Luxury
Mainstream
Miracle
Money
Money back
Monumental
More
New
No Obligation
No Questions Asked
No Risk
No Strings Attached
Noted
Now
Obsession
Odd
Offer
Official
Opportunities
Outstanding
Perspective
Pioneering
Plus!
Popular
Portfolio
Powerful
Practical
Premiere
Privacy
Professional
Profit
Profitable
Promising
Protect
Protected
Proven
Quality
Quick
Quickly
Rare
Recession-proof
Reduced
Refund
Refundable
Reliable
Remarkable
Research
Results
Revealing
Revisited
Revolutionary
Reward
Safety
Sale
Save
Scare
Secrets
Secure
Security
Selected
Sensational
Shrewd
Simplified
Simplistic
Since
Sizable
Skill
Soar
Special
Special Offer
Spotlight
Startling
Strange
Strong
Sturdy
Successful
Suddenly
Superior
Surefire
Surging
Surprise
Survival
Technology
Terrific
Tested
Timely
Today
Tremendous
Trust
Ultimate
Unconditional
Under Priced
Understand
Unique
Unlimited
Unlock
Unparalleled
Unsurpassed
Unusual
Urgent
Useful
Valuable
Value
Verify
Wanted
Wealth
Weird
Willpower
Win
Wonderful