Dedicated Server Hosting is probably the best option available to you if you want to build a rock-solid website foundation that can sustain high traffic volumes.
Here, we have come up with a post featuring 10 Best Dedicated Server Hosting Service Providers that you can explore to choose the best one for hosting your website.
First of all, there are many levels of web hosting that are available to you.
There is Shared hosting, VPS hosting, Cloud hosting, WordPress hosting, and of course, Dedicated Hosting.
In all of these options for web hosting, dedicated servers are the most powerful options and are particularly suited for sites that get a lot of traffic or for resource-intensive sites.
With Dedicated Server Hosting, you get a physical server that is specifically devoted to a single organization, or for a single purpose, such as a website.
So, one of the obvious advantages of dedicated hosting is that you don't have to bother about problems that arise when other sites are hosted on the same servers as yours.
Plus, there's unprecedented flexibility with dedicated servers as you get complete control over every aspect of the server.
For example, you can install any software you want, or reboot the server when it is convenient for you.
While the dedicated server hosting is comparatively expensive when compared to other hosting options, it is perfect for the ones who need extra power and customization that is available only with a dedicated server.
If you are looking for website stability and reliability, then with a dedicated server, you get both of these benefits served to you.
Your sites get the server's full CPU, RAM, and storage resources. The server resources are exclusively available for your websites, as you don't have to share them with other sites.
Unlike Shared hosting, wherein multiple sites are hosted on the same server, in dedicated hosting, just one website (or websites of a single company) is hosted on a server.
So, in dedicated hosting, there is no sharing of the server resources. The server's full CPU, RAM, and storage resources are dedicated to you and your websites.
With dedicated hosting, there are no such issues as site speed, reliability, or downtime. There is greater control, and your website performance is exemplified.
Now, let's see the Best Dedicated Server Hosting options available to you.
10 Top Dedicated Hosting Providers
Here's the list of the Best Dedicated Server Hosting Providers:
1. Liquidweb Dedicated Hosting
Liquidweb offers fully managed single processor and dual processor dedicated servers. Liquidweb dedicated server solutions start at $199 and are engineered for complete peace of mind as you get Cloudflare CDN, backups, DDoS Attack Protection, and enhanced security.
Their Dedicated Server Solutions come with unbeatable Heroic Support®. They are available with Windows or Linux operating systems and are studded with 24×7 Proactive Sonar Monitoring and ServerSecure hardening. You can go with their fully-managed pre-configured bundle, or can even customize your own and receive the best value for your dollar with their renowned Heroic Support®.
2. KnownHost Dedicated Server
KnownHost is renowned for its professional and affordable managed dedicated servers. Its Managed Dedicated Servers are all custom built, secured, and optimized out of the box. It offers Linux based Managed Dedicated Servers, which are bundled with the cPanel control panel, and housed at its CentralU.S.S (TX) data center, including premium bandwidth like Internap and Level 3.
KnownHost dedicated server offering starts at $159 per month and maxes out at $339 per month. In addition to the baseline package options, you can even customize its dedicated server offerings to meet your specific needs.
All its Managed Dedicated Servers come with industry-leading uptime and are available at affordable prices. Plus, you get top-notch 24/7/365 managed support. In addition, they also offer custom configurations with varying SSD and SATA drives, Gigabit port upgrades, both hardware and software RAID configurations, and many other options.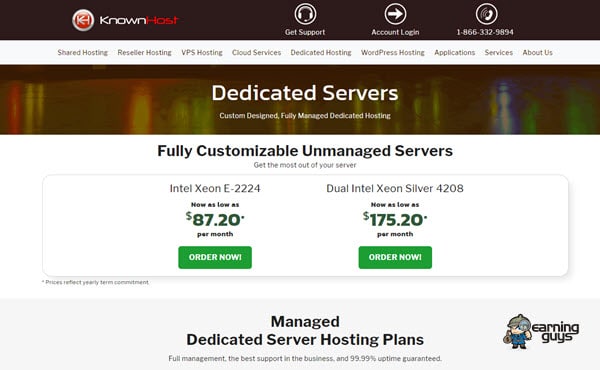 3. InMotion Dedicated Server Hosting
InMotion Hosting is another very popular, Dedicated Server Hosting Provider. Their Linux Dedicated Servers can be configured to suit the exact requirements of your enterprise. It offers single as well as dual processor dedicated servers that include Free SSDs. It's dedicated server offering has been built to provide you with scalability, flexibility, and reliability. It hosts its servers in a state-of-the-art facility near One Wilshire in Los Angeles.
InMotion Hosting provides Dedicated Hosting Plans starting at $99.99 per month. It's fully managed, custom dedicated servers come studded with LAMP stack. You get both cPanel and WHM free with all its Dedicated Servers. They go on to monitor your servers proactively. They offer a network uptime guarantee of 100%. Plus, they also offer 24/7U.S. Based Technical Support.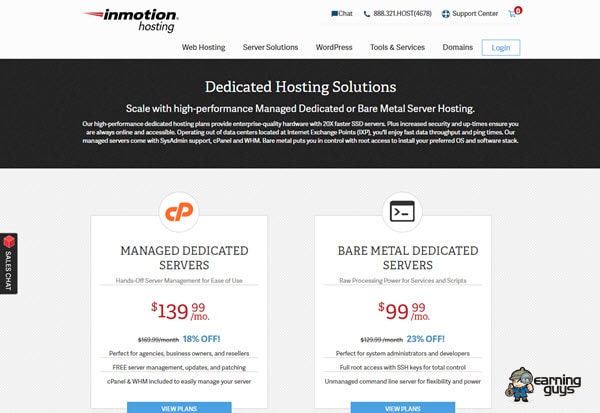 4. DreamHost Dedicated Servers
DreamHost is a leading provider of Fully-Managed Dedicated Server Hosting. With DreamHost dedicated server hosting, you get the ultimate in control, power, and security. It opens room for fast, smooth, and disrupt-free website performance.
You get access to all the server resources you need for your website. With its team of dedicated server experts monitoring and managing the performance of your server 24/7, you get to focus on your business.
Its custom-built control panel provides the power and control you need to manage your websites, domains, and email addresses. Plus, with DreamHost, you get lots of options to help you have the dedicated server you require for your websites. Their plans start at $149/month. All dedicated servers include unlimited bandwidth, DDoS protection, unlimited MySQL Databases, RAID 1 storage, full Root and Shell Access (SSH), 100% network uptime guarantee, and 24/7 technical support & server monitoring.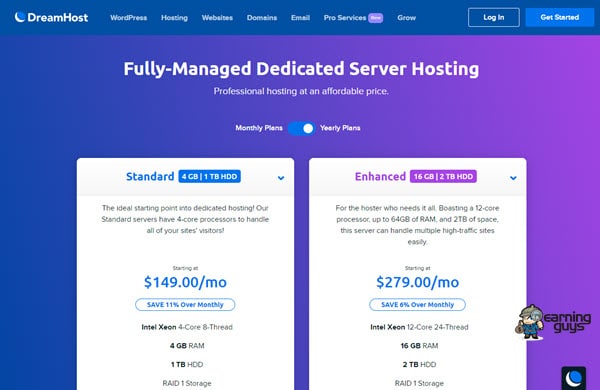 Media Temple Dedicated Server offering provides you with plenty of room for growth and power to take your online business to new heights. It's fully managed dedicated servers are loaded with features and provide you all the resources you need to build a secure and reliable online business. All of its dedicated servers are loaded with 128GB of RAM and 1TB of ultrafast SSD storage.
With its industry-leading SLA, you get hardware, network, and infrastructure uptime promise of 99.99%. You can even customize the dedicated servers, whether you are managing on your own or with the help of its CloudTech engineers.
You get lightning-fast SSD storage, multi-core hyper-threaded Intel processors, enterprise-class network equipment, all adding up to give you powerful server hardware, with fast and reliable hosting. Media Temple offers Fully Managed Dedicated Server Plans, together with Self Managed Plans. You get round the clock support by chat, Twitter, or phone.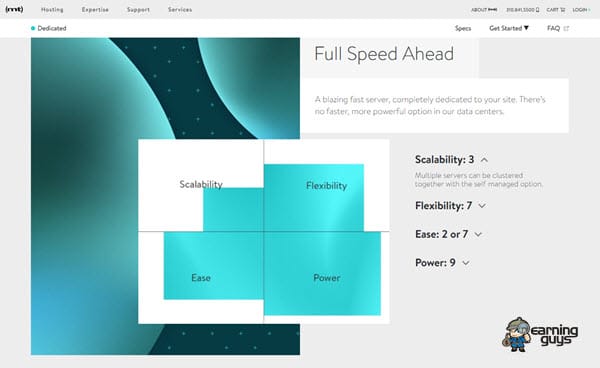 6. HostDime Dedicated Hosting
HostDime has a vast line of offering in fully managed dedicated servers, ranging from entry-level to the most advanced and high-performance servers in the industry. With HostDime, you get enterprise-quality servers at unbeatable rates. It's fully managed dedicated servers offer the best performance, stability, and reliability.
HostDime provides you with the opportunity to focus on your business goals and functions effectively, while it manages your server requirements. It's managed dedicated server plans start at $219 per month and max out at $1,199 per month. HostDime offers hardware-based DDoS monitoring and mitigation backed by Arbor Networks.
Its entire line of managed dedicated servers comes with built-in IPMI (Intelligent Platform Management Interface). All HostDime Managed Dedicated Servers have been loaded with Server Security Shield, which makes them secure and ready for production. It also provides CORE Client Portal.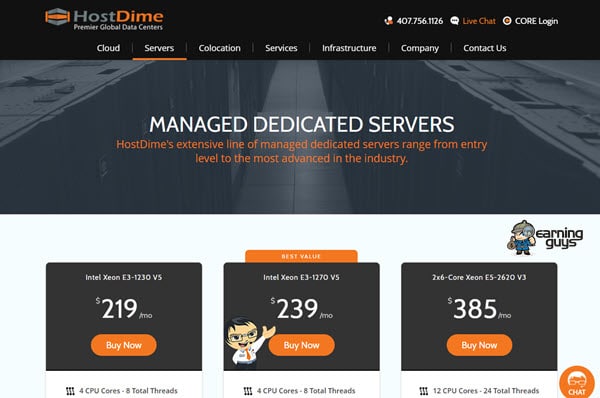 7. Bluehost Dedicated Web Hosting
Bluehost Dedicated Hosting options deliver you the ultimate in website performance, security, and control. BlueHost dedicated hosting options use OpenStack technology, with a minimum of four cores per server. Its dedicated servers are reliable and flexible and come at an extremely reasonable price. It uses high-quality storage with RAID level 1 support on its dedicated servers.
With its in-house reliability, Bluehost ensures that your site stays up and running at all times. Extreme speed and instant provisioning are two of its features that stand out from the rest of the dedicated server providers. Its dedicated hosting plans start at $79.99 per month. 24/7 support is also available.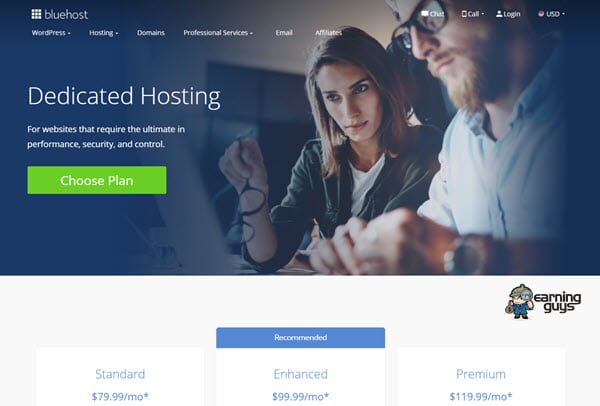 SiteGround is known for offering great hosting solutions at every level. Their cloud hosting is equivalent to any dedicated hosting. Their Cloud servers employ high-quality hardware that is always maintained to give a great overall experience. With SiteGround, you get an opportunity to host your website on a high-quality Cloud machine that is set up and managed by experts in dedicated hosting.
You get full management for your Cloud servers with SiteGround. It goes on to set up your server, keep its software up-to-date, monitor your machine 24/7 and helps you out in the case of any issue. Plus, there's blazing fast support on the phone, chat, and tickets. It offers Cloud hosting plans starting at $80.00 per month.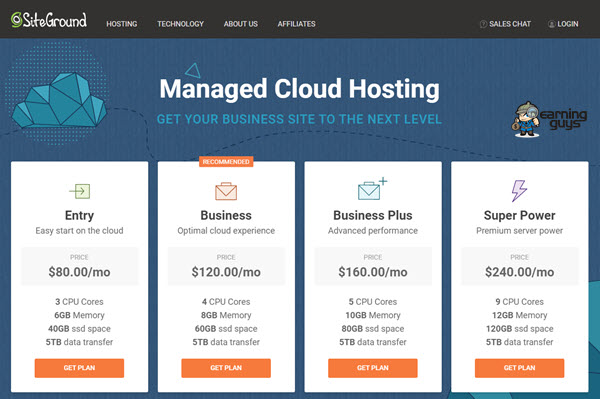 9. HostGator Dedicated Hosting
HostGator dedicated hosting options give you the power and control you need to get the ultimate in website performance. It is a quality hosting provider that provides premium dedicated server hosting. They have a good line of configurable Windows and Linux dedicated servers. All its plans are fully managed and have cPanel and Plesk.
The basic plan is available at $89.98 per month for both Linux and Windows and comes with 8GB of RAM. Its plans may look a bit pricey, but the selling point is its premium hardware, fully-redundant network, and its state-of-the-art data center in Houston, Texas. They have one of the best uptime stats in the hosting industry for their dedicated servers. Plus, the support team is available 24/7 to help you out with any issue.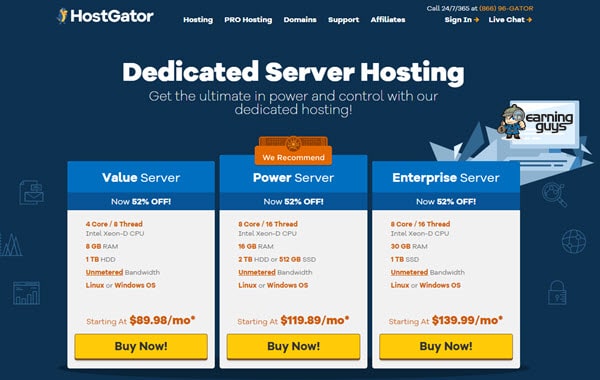 10. iPage Dedicated Server Hosting
iPage offers powerful Dedicated Server Solutions. You get independent control, cloud-based flexibility, and fully managed support. So, you can install applications without restrictions. It offers easy to use cPanel and optional root access. The dedicated resources ensure that you get fast operating speeds for high traffic sites.
You have maximum performance coupled with extensive security and mirrored storage for advanced data protection. And that's not all; you get ample room for growth and scaling as demand increases. iPage provides instant provisioning of resources, and there are seamless migration options.
iPage offers free domain name registration with every dedicated hosting plan. Plus, you can transfer already existing domain names. It provides a bunch of marketing tools and search engine advertising for reaching new customers and growing your business.
You get the option of personalized email ([email protected]) for enhancing your professional image. All its plans are studded with reliable and expert support through phone, email, and online chat – round the clock (24/7).

iPage offers three dedicated hosting plans. It's Startup Plan is available at $119.99 per month and comes with 2 Cores, 4GB RAM, 500GB Storage, and 5TB Bandwidth.
The professional Plan is available at $151.99 per month and comes with 4 Cores, 8GB RAM, 1000GB storage, and 10TB Bandwidth.
The Enterprise Plan is available at $191.99 per month and comes with 4 Cores, 16GB RAM, 1000GB storage, and 15TB Bandwidth.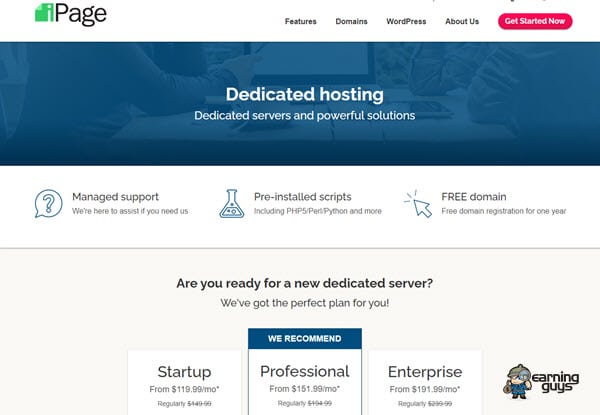 So, these are the best Dedicated Server Hosting Providers.
We hope that it proves immensely useful for you in selecting the most suitable dedicated hosting for your business or website.
Why You Need Dedicated Web Hosting
There are numerous benefits of employing a dedicated server for hosting your websites. Regardless of the fact that dedicated hosting is expensive, it is critically useful for hosting your business websites with a large volume of traffic.
Let's have a detailed overview of the benefits of dedicated hosting.
Customization – The control and freedom you get with dedicated hosting are unprecedented. The fact that you get a dedicated server with no cohabitants means that you can tailor the server to your needs. You can select and pay for the features you need.
Uptime – It is vital to ensure that your website remains functional at all times. Consumers are not used to waiting. If your website is down, the customer can shun your website and move on to the competitor. Downtime issues lower your reputation and brand image.
With dedicated hosting, you get unmatched performance and stability and make sure that your website and other business functions are operational, virtually 100% of the time. You get facilities such as server monitoring, backup services, and support services, which make sure that your website functions as seamlessly as possible.
Congestion – With dedicated hosting, server congestion issues are minimized to the lowest level. The other hosting options (especially shared hosting) run the risk of congestion as other websites and applications are hosted on the same server. There is intense competition among websites for bandwidth, disk space, and CPU usage.
However, in dedicated hosting, the server CPU, RAM, and storage resources are exclusively available for your website(s) and applications. So, server congestion is not an issue with dedicated hosting. Dedicated servers ensure that your websites function smoothly without facing any congestion issue.
Security – The use of dedicated hosting ensures that you are able to deploy security measures, like antivirus and firewall configurations, which are more tailored towards their own functions. You are able to avoid security vulnerabilities that can otherwise crop by the activities of neighboring clients when you use other hosting platforms, such as shared hosting. Moreover, dedicated servers that are located within data centers also benefit from the physical security measures, including security guards, mantraps, and biometric authentication.
Support – Dedicated hosting services are empowered with a certain degree of support. This is immensely important as most of the dedicated hosting customers go on to use the service for hosting mission-critical or important computing functions or websites.
Their effective support goes on to ensure that site disruption is minimized to the lowest degree. A dedicated hosting provider can provide support 24/7, 365 days a year. However, in the absence of support functions from your dedicated hosting provider, it is important for you to possess the skills of managing and maintaining a server effectively.