You might have seen earning reports of top bloggers and wondered how they are able to make money from blogging.
Well, the fact is that you too can make money from blogging.
It's not a rocket science.
And it is pretty much possible.
The heartening fact is that you have come to the right place.
Here, I will list out how to make money from Blogging.
By going through this post, you can start your journey on the road to make money from blogging. Here, you will get to know different ways to make income as a blogger.
So, if you are of the opinion that success is hard to come by in the blogosphere, let me tell you straight away to shed that idea off.
In this post, you will see numerous ways to monetize your blog.
But, before you can start making money from blogging, you still need to have a blog. So, if you still haven't started a blog, it's time to have one.
You can refer to my post – How to start a Blog – if you are confused about starting a blog or want to know how to start a blog.
This post lists out everything you need to do to start a blog and another post which will teach you how to setup WordPress Blog.
Once you have your blog, it's time to have great content on your blog.
Mind you that millions of blog posts are published on the internet each day and if your content is not of a high standard, then it might be overlooked by readers. So, publish great content that is of interest to your readers which they like to read and share on social media channels or on their own blogs.
As you start delivering valuable content, you should simultaneously need to make efforts in building your audience.
The money will come only when you have a large audience who are interested in what you say. So, you should start building your audience.
You can build your audience by developing genuine relationships via social media, forums, and groups. You can comment on other blogs and reach out to people in your niche. You should also start building an email list.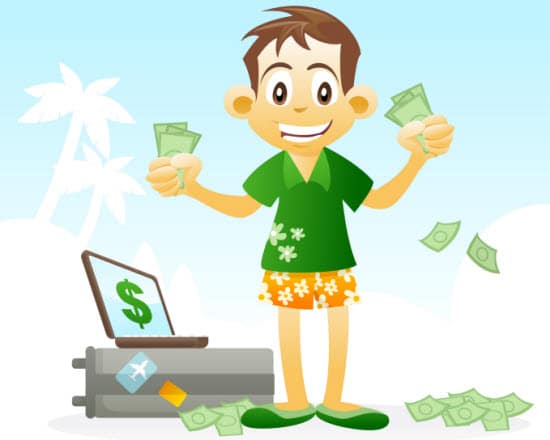 Ways to make money from blogging
Now, that you have your blog, it's time to look at the different ways of monetizing your blog. The key to making good money from blogging lies in having multiple streams of income. Blogging certainly provides you the opportunity to come up with different streams of income for monetizing your blog.
Here, is an overview of the streams of sources you can use to make money from blogging.
Advertising
Advertising on blogs is one of the most common ways by which bloggers make money. So, you can earn money by placing Ads on your site.
CPC Ads and CPM Ads are the two popular types of Ads that you can use on your blog.
CPC Ads
In CPC (Cost per Click or Pay per Click) Advertising Model you get paid whenever someone clicks on ad placed on your blog. These are usually banner ads that show up in your content or sidebar.
Google AdSense is one of the most popular networks for placing CPC Ads on your blog. By choosing Google Adsense, you need not be in direct contact with advertisers. You simply need to place an ad code on your site.
Google displays relevant ads that are related to your content. When viewers click on the Ads, you get paid. Earnings depend on some factors such as niche, geo-location, etc. It usually varies from $0.01 to $5+ per click. Sometimes it can also be higher than this figure.
If your blog has large audience base, then displaying Google Adsense Ads can be an easy way to make steady revenue. Plus, Google Adsense is easy to set up, and you don't require any coding knowledge to implement it within your blog.
CPM Ads
Similarly, CPM Ads which is "cost per 1000 impressions" are those types of ads which pay you fixed amount of money based on the number of people who have viewed ads. It is usually 1000 impressions meaning that when ad gets 1000 views you get paid. It can prove to be a good source of income for your blog. However, you should be getting large levels of traffic.
They are easy to set up. You just need to create a publisher account on CPM Ad Networks and add the code to your blog. You don't require any coding knowledge.
When compared to CPC Ads, CPM Ads deliver low payout. It usually starts as low as $0.10 per thousand impressions, but can go as high as $10 per CPM. So, you need to have a large volume of traffic coming to your blog to make a decent income from CPM Ads.
For further know-how on CPC and CPM Ads, I would recommend that you should read my blog post – CPC vs. CPM Ads.
Direct Ad Space Selling
Instead of tying with a third-party (such as Google Adsense) to broker your advertising deals sometimes it is better to work directly with businesses to promote their products.
For this, you can go for direct ad space selling on your blog. By direct advertising, you get a fixed payout from businesses who want to advertise on your blog.
It is usually a monthly payout.
Businesses pay for getting ad space on your blog. They advertise their products on your blog and pay you in return. So, it is a win-win scenario for businesses and bloggers. Whereas businesses get access to your audience base to which they can advertise their products or services, bloggers get decent revenue for selling their ad space.
Plus, you need not be concerned with click thru rate or numbers of impressions as you get a fixed payout for the ad space on your blog.
However, you should have a decent sized following for getting any substantial income from direct space selling on your blog.
Affiliate Marketing
You can use Affiliate Marketing to make money from blogging. It is a performance-based marketing in which you get rewarded for providing customer to a business owner whose products or services you are promoting on your blog.
In Affiliate Marketing, you have to join an affiliate network through which you can find offers to promote on your blog. You get a dedicated affiliate link through which all your sales are tracked. When a user clicks on your affiliate link and buys the promoted product or service, you get a commission on the sale. It is termed as affiliate income.
For promoting affiliate products on your blog, you can adopt different methods. The most common of them all is to write reviews of the affiliate products or services on your blog. In these reviews, you attach your affiliate link. When your reader clicks on this affiliate link and buys out the product, you earn a commission.
However, you should be careful in choosing the offers. In general, you should choose such offers which relate to your niche so that your readers may be interested in those products or services. If your readers find value in products, they will surely like to buy those products. So, Affiliate Marketing is simple and highly rewarding. For example, Bluehost Web Hosting Affiliate Program offers $65 to affiliates per customer.
Offer a Service
Offering your expertise is a great way for making income from your blog. So, if you have spare time, you can offer services to businesses in your area of expertise.
For instance, you can deliver training or consultancy services to businesses. If you are a competent writer, you can offer writing services to so many businesses that are running their blogs.
Similarly, if you are good at designing, there are many opportunities for you to market your expertise.
You can promote your services on your blog and can demand a high rate for your excellent services.
Sell Products
You can sell virtual as well as physical products on your blog. Virtual products include selling eBooks, courses, software, music, videos, apps, themes, plugins, domains, etc.
For selling physical products, you can create an online store and sell products online. However, for newbie bloggers, selling physical products can be a tough task. It is usually hard to set up. You have to deal with storage, shipping and things such as local taxes and distance selling laws. Plus, you have to focus on getting traffic and updating your website.
Create a Membership Site
In addition to your blog, you can create a membership site or a paid section in your blog. Here, you can offer exclusive content to your readers that are not available on your blog.
So, if your blog traffic is steadily increasing and you see that have gained a substantial trust from your readers, you can come up with a membership site.
This membership site or paid section in your blog is only available to readers who become members of your site. For this, you can charge a particular fee. It can be a one-time fee or even a monthly fee. To such readers, you offer premium tutorials, how-to guides, videos, EBooks, and stuff that are valuable to them. So, you can monetize your expertise by creating a membership site.
If you are using WordPress, setting up a membership site is quite easy.
Writing Paid Reviews
Writing paid reviews about products or services is another attractive income source for bloggers. If you have a large audience base and are recognized as an expert in your niche, businesses may approach you for writing reviews about their products or services. Your opinion matters to your readers and can influence them for patronizing or rejecting a product.
Businesses pay influential bloggers for writing reviews about their product. The paid review can be showcased on your blog, where your readers get an in-depth insight into the product or service.
However, you should come up with the honest review as your word matters to your audience. You can earn up to $500 per paid review depending on site traffic and reputation. The average rate for paid review is $100.
So, while writing paid reviews, you should be extra cautious and should not say good things about a brand just because they have paid you.
Note: If your blog traffic largely depends on Google then you should make sure you are following Google Webmaster Guidelines as Google don't like paid links.
Concluding
So, you see that there are various ways by which you can monetize your blog. Now, you know how to make money from blogging.
The biggest benefit of making money from blogging is the fact that you have diverse income sources at your disposal which you can pursue at the same time. Thus, you have multiple income streams when you monetize your blog.
So, you can earn from Google Adsense, can do Affiliate marketing, offer services, sell products and write paid reviews, all at the same time, thereby earning from different streams. Your blog can prove to be multiple income resources for you.
However, you have to put it into action what we have been discussing in this post. It is a good idea to make your blog a revenue resource for yourself. Many bloggers are already earning thousands of dollars by blogging. It can even be a reality for you. Just take the right steps and see that you can make money from blogging.