Banner Ad Maker helps you to create stunning web banners in minutes without any graphic designing knowledge. Today we are sharing some of the Best Banner Maker Tools, which will help you in creating web banners.
As a digital marketer, you invariably need to come up with Banner Ads. As you would know, banners have become an integral part of the web. Now and then, you need to design a promotional banner ad for your website.
Luckily for you, creating conversion-optimized banner ads has become easy. Thanks to the plethora of banner ad maker tools available online. Here, we have made it easy for you to come up with banner ads for your websites or online ad campaign by listing the 10 Best Banner Ad Maker Tools.
So, now there will be no challenge for you to create banner ads. We have shared all the possible ways by which you can design banner ads easily and quickly.
Well, the most popular banner ad sizes include:
250 x 250: Square
200 x 200: Small Square
468 x 60: Banner
300 x 250: Inline Rectangle
728 x 90: Leaderboard
120 x 600: Skyscraper
160 x 600: Wide Skyscraper
336 x 280: Large Rectangle
970 x 90: Large Leaderboard
300 x 600: Half-Page Ad
However, you must note that it is advisable to create HTML5 responsive banner ads. These banner ads look perfect on all screen sizes. Plus, HTML5 Banner Ads can easily scale to many formats and sizes.
Well, the good thing for you is that we have included ad creator tools that support building HTML5 banner ads. So, you would not need to search anywhere else.
Now, let's dive straight into the list.
We have listed the following Banner Ad Maker Tools:
Bannersnack
Adobe Creative Cloud Express
Snappa
Canva
Fotor
Visme
Design Pickle
Placeit
Fotojet
Fiverr
Note: If you don't want to design banner ads on your own, then you can use Fiverr. There are many freelancers who can create a banner ad for $5.
Let's take them one by one.
10 Online Banner Ad Maker Tools
Here's the listing of 10 Best Banner Ad Maker Tools:
Bannersnack is a very popular design tool. It is used by many digital marketers for creating Banner Templates, Social Media Ads, Website Banners, and more.
It's very easy to use an online app that's compatible with AOL, Google, OpenX, the IAB, and Yahoo's RightMedia for designing web banners.
The good thing with Bannersnack is that there is no coding required. You can easily upload your images (jpg or png only) into the editor.
It enables you to create GIF Banners for free. However, they will carry a watermark. You can even upgrade to its premium account which gives you the option of creating a Flash version.
Well, it doesn't allow you to download an HTML5 version. However, you can use an iframe embed code for publishing the banner that will render accordingly.
Moreover, the tool is very beginner-friendly. It offers many readymade templates. You simply need to select the template, upload your logo, change text, and that's it. Your banner ads are ready.
You can go on to add shapes, images, texts, as well as animations for making your banners unique. It allows you to save your banner design as JPG, PNG, MP4, HTML5, and also as GIF. So, you can create highly responsive banners that look perfect irrespective of the platform you see them on.
In fact, there are lots of free and premium templates available on Bannersnack.
They offer two different plans if you decide to go premium:
Individual plans: It is suitable for freelancers, designers, and small businesses
Team plans: It is suitable for startups, companies, and agencies
Its cheapest plan comes at $7/mo and offers 30 Designs per month.
On the whole, Bannersnack is an easy-to-use, cloud-based professional banner maker tool for all sizes.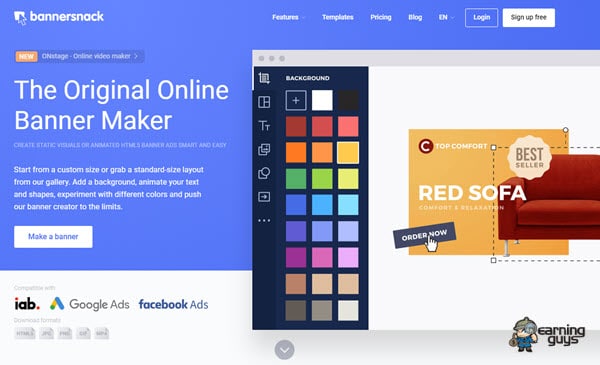 Adobe Express is a free banner maker tool. It's a web-based app suite that allows you to create amazing banners. With Adobe Express, you can design banners for free in minutes. You can create a banner for free for any of your digital or printed needs.
You get unlimited creative possibilities with the Adobe Creative Cloud Express Inspiration Gallery. It offers lots of templates for any occasion. There are designs that feature text and photo animation. This free banner maker effortlessly fulfills all your requirements.
It has a wide range of preset image sizes for nearly all the popular banner formats. So, you don't need to make an effort to search through the upload requirements of different sites where you would like to post your banner.
Here, you get almost any popular banner size, including print or digital. Moreover, if you have unique needs, you can as well create something custom. It offers countless template options that are made by professionals.
You can even upload your photos, logos, or branded elements for adding to your banner. You can also choose from Adobe's stock options. It means that you can come up with the best banner possible. It features beautiful typography, iconic imagery, and professional themes.
Another good thing with Adobe Express is that it is very easy to use. It allows you to come up with top-quality designs. You can combine unique text fonts and images of your choice for making professional banners.
Moreover, you can create and customize your banners so that they look stunning on every platform you upload them. For instance, a banner ad and a Facebook banner come in two different designs. So, they need to look different. With Adobe Express, managing such stuff is a walk in the park.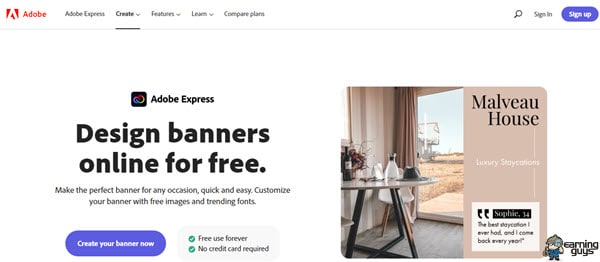 Snappa is one of the best banner ad maker tools out there. It has come out to be a "must-have" banner ad maker tool for the non-designers who usually publish content online. It offers lots of templates and is super easy to use. It's simple yet offers unlimited possibilities for creative minds.
Like Bannersnack, Snappa also has a template feature for creating banner ads within seconds. However, that's not all with Snappa as you would find it quite interesting with its impressive features such as:
Social media sharing
Create YouTube Banner Ads
Create a blog featured image
Custom font upload features
Here's a list of some of the outstanding features of Snappa:
It offers preset banner dimensions for Facebook ads. Display ads, Twitter covers, Facebook covers, and email headers
It offers the option of starting with one of many professionally designed banner templates that come with eye-catching graphics
Drag and drop to make your own custom templates for making banners that are always on-brand
It offers the option of accessing over 3,000,000 royalty-free stock photos from its library
Add the polish with customizable graphics, shapes, and text
You can download your banners as a web-optimized JPG, Retina JPG, High-res PNG, or Retina PNG
Repurpose one stunning banner for other platforms in just a couple of clicks
Here, the pricing is also one of the cheapest out there. You could get unlimited downloads for as low as $15/mo. Its free tier offers you all the 5000+ templates and over 3.000,000+ HD photos and graphics. However, it provides only three downloads per month.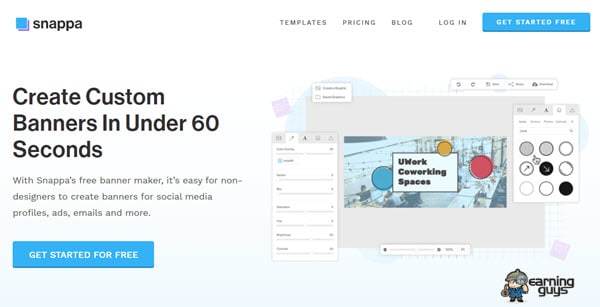 Canva is yet another very popular and free website banner maker out there. It's a great platform to build your website banner with over 8000+ editable templates and designs to choose from.
The good thing about Canva is the fact that even people that have little or no experience in designing can get started with Canva. Its user interface is appealing and very easy to use.
Canva allows you to customize the template that you have chosen by adding new colors to the existing elements. You can change and add unique fonts, experiment with different background colors, and even add shapes and images.
Moreover, Canva allows you to change and choose unique banner themes. The best thing with Canva is that it will enable you to develop new designs easily and quickly. With Canva, you can give your social media profiles a sleek & thoroughly professional look with just a few clicks.
Making an online banner with Canva becomes really easy. Its drag and drop editor allows you to customize thousands of free banner templates so that they match your brand's visual identity. You get to choose the layout, colors, font, and images. With Canva, you get the perfect dimensions every time.
It's easy to make an online banner with Canva:
You can design a banner from scratch or choose from thousands of professionally-designed templates.
One can customize your design by using colors, fonts, images, and illustrations that best fit your brand identity
You can even upload and insert your logo
Instantly download & add to your profile
So, Canva online banner maker helps you to communicate your brand story to the world. Once you have created a banner that you are happy with, you can easily repurpose your design for other online platforms with just a few clicks.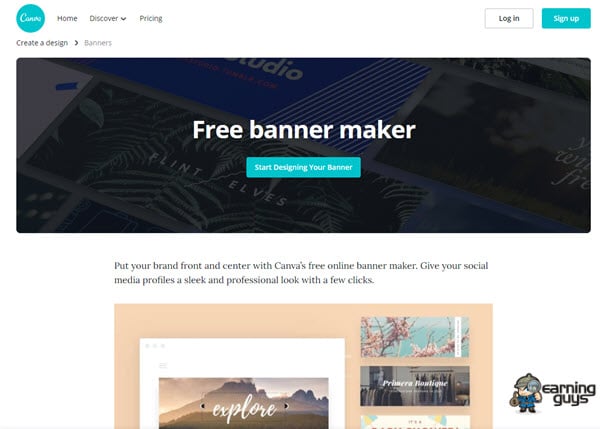 5. Fotor Banner Ad Maker
Fotor is one of the best online banner designers. Its design platform is even available for use on the mobile platform. It comes with a unique tool known as "One-Tap Enhance." This tool has been designed for helping to fix any creative blocks that designers might encounter. Fotor has a lot of cloning options. Plus, you get a plethora of templates to choose from. All in all, Fotor is a go-to place for quick banner design options.
Fotor's photo editing tools are like that of Photoshop. You can think of Fotor as the online version of Photoshop. It enables you to easily adjust the color, size, light, and other elements in the design. So, with Fotor, your banner design looks professional. It also offers HDR effects for advanced editing.
Plus, there are hundreds of fonts, a wide range of icons, and clip arts that come under different themes and styles, for creating better designs. Its website also offers tutorials for helping you design better. Overall, Fotor helps you to design professional banners.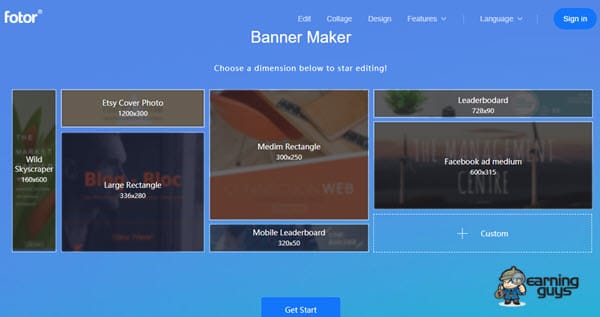 Visme is another very powerful banner ad maker tool out there. It's a free online banner maker. It allows you to make beautiful banners in minutes. Moreover, Visme is an easy-to-use banner maker that has hundreds of templates to choose from.
It allows you to create unified banners by easily resizing. It is being used by many leading trusted brands like Penske, Batteries & Bulbs, Grifols, Intuit, Voya, IBM, and many more.
Visme is the place to go for creating eye-catching banners of all types, including social media headers, banner ads, website graphics, and more. So, creating banners becomes easy with the Visme banner maker.
How does it work?
Five easy steps:
Log in to Visme and choose your banner type
Add your images and graphics or use the ones that are provided in the left-hand panel
Now, customize the fonts, shapes, and background colors to match your brand
Proofread all the text & double-check the quality of the images
Download the banner in the form of a high-resolution image for sharing online
Some of its stunning features at a glance:
Hundreds of pre-designed banner templates
Its easy banner creator allows you to design custom banners
You can choose from all types of banners such as ads, social media graphics, blog graphics, and headers of all sizes
Library of premade banner templates for creating a cohesive online presence
Easy drag and drop designing tools
Plenty of icons & photos to choose from
Download as a high-resolution image for sharing on social media
Allows you to create banners in various dimensions to fit each platform
Add your own branded fonts and colors for making it your own
Design Pickle is a solution for creating online banner ads. It takes care of all your current as well as future needs. However, it's different from all other services that have been mentioned in this post.
In fact, there are specialized design agencies that offer unlimited graphics design work at a fixed rate.
You can imagine Design Pickle as your virtual graphics design team and that too at a highly affordable price.
You can go for a monthly or yearly subscription based on your needs. The rate can vary from $300 to $1000. It depends upon which website you decide to work with.
It starts at a $399/mo flat rate wherein you get unlimited graphic design with unlimited revisions. The turnaround time is as low as one business day. In case you need things done instantly, then you can opt for their pro package which costs about $995 user/mo.
You even get an editable source code file, which makes sure that you can reuse the work in case you go on to cancel your contract in the future.
Overall, Design Pickle is one of the most popular unlimited graphic design services that you should give a try.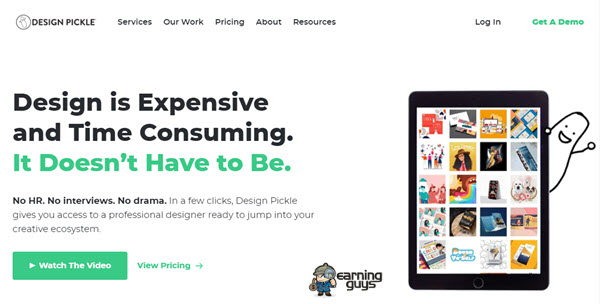 Placeit banner ad maker allows you to quickly make stunning YouTube banners, Facebook ads, Instagram posts, Twitch banners, and lots more.
With Placeit it makes it super easy to create great-looking banners. It's like filling out a form. So, with Placeit, you can create stunning banners easily and quickly.
Placeit banner maker lets you take one design, and with a single click, you can download banners formatted for every platform. It offers thousands of professionally designed banner templates for YouTube, Twitter, Twitch, Facebook, and Instagram.
Placeit helps you in more than one way by:
Creating stunning YouTube Channel Art
YouTube Profile Picture Maker
Youtube Banner Maker
Stunning Facebook Posts
Facebook Cover Maker
Facebook Ad Template
Design Twitch Stream Banners
Instagram Post Maker
Instagram Story Maker
Twitter Header Maker
YouTube Thumbnail Maker
So, with Placeit, you get unlimited design possibilities.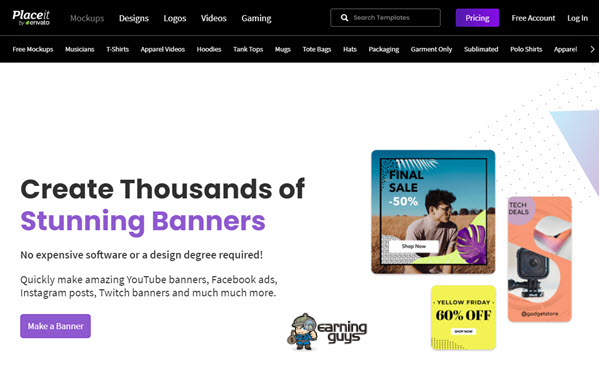 9. FotoJet Banner Maker
FotoJet is the ideal free banner ad maker for Facebook, Twitter, YouTube, and many other platforms. It's available Online, on Windows, as well as Mac Software.
The templates here are topic-oriented. So, you can have specific banners for your specific requests. The website offers easy-to-use editing options giving you complete control over your design projects.
Making a banner comes as a simple three-step process.
First, you need to choose a template.
Second, you need to edit the template as per your required needs by adding photos and customizing the banner freely.
Third, you need to save your banner or share it online.
In fact, FotoJet has over 700+ templates.
With an abundance of resources, FotoJet makes sure that you will always find what you want.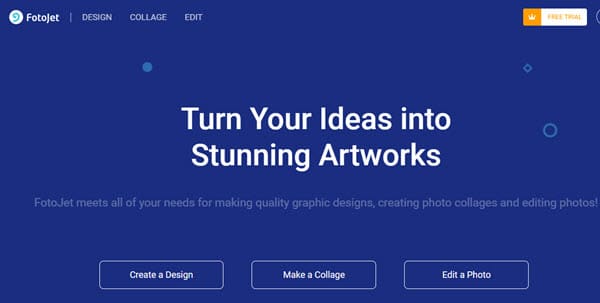 You can use Fiverr for getting your banner ad design done. Here, you can find many talented designers who are offering their design skills for hire. So, if you do not want to design the banner on your own, then you can use Fiverr. Here, many freelancers are available that can create a banner ad for as low as $5 only.
Fiverr allows you to get animated HTML5 banner ads done within a matter of hours. Fiverr is a perfect place for busy marketers who want to take the benefits of outsourcing.
For using this service, you need to:
Go to Fiverr
Create an account (if you don't possess one)
Search for "Banner Ads"
Now, you will get a list of experienced freelancers that are offering banner maker services.
You can use the below-mentioned factors for sorting the designers that fall within your requirements:
Price starting from
Reviews and rating
Portfolio
You can create a list of freelancers with whom you would like to work. You can make use of the "Save" feature for creating a list at the time of research. Lastly, when you're ready, simply go ahead and place the order.
With Fiverr, you will surely have a great experience. The freelancers here deliver on time. The pricing is also very competitive. So, Fiverr comes out as one of the best banner ad maker services that you could use.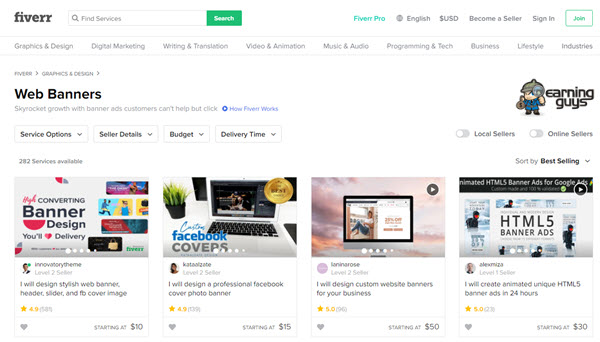 Well, with this, we have reached the end of this post on the best banner ad maker tools. We believe that it will help you to create banners quickly, efficiently, and effectively.
All the tools that we have listed come with a plethora of features that make banner designing a pleasure for you. These services & tools will get the job done for you in minutes.
In case you do not want to design the banner on your own, then you can use Fiverr services. Here, you can get many freelancers who can create a banner ad for as low as $5.
Thanks for visiting.
Please share the post across popular social networking channels like LinkedIn, Facebook, and Twitter.