In-Text Advertising is another excellent way of making money with your blog or website. In-Text advertisements do not take any extra space on your webpage.
In-Text advertisements convert keywords in your content into link ads.
Herein, we have come up with a post showcasing 7 Best In-Text In-Text Advertising Networks.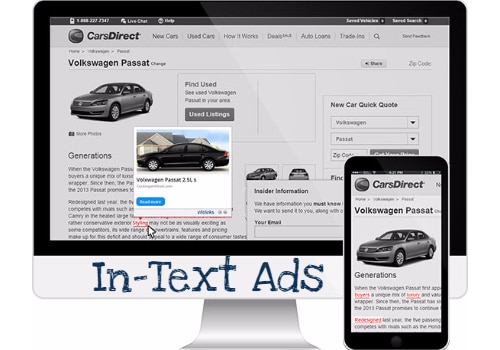 In fact, being a blogger, you should not limit yourself to one way of monetization.
So, apart from Adsense, you should also use other methods for making money from your blog or website.
You can consider joining In-text advertisement networks for making money through In-text advertising.
The good thing about in-text ads is that they can be easily blended with blog layout.
In-text advertisements do not distract the visitors and do not consume any extra space on your website. They make use of Javascript and don't hurt your site SEO.
Another very important aspect of In-text advertising is that they are compatible with Adsense. So, you can use In-Text Ads along with Adsense and face no issue whatsoever.
The in-text advertisement also works as contextual advertisements where ads are shown related to the topic or keyword.
It searches for related keywords in your content, which are related to available advertisements and creates a link on that keyword. When a visitor clicks on that link, it sends visitors to the advertiser website.
Some In-Text advertisement programs show a small pop-up when you move your mouse to text, and it shows an advertisement for that keyword.
This attracts visitor's attention, and they can click on that ad, which means you earn.
In-text advertising has proved a major income source for many bloggers. The In-text ads are largely based on Pay per Click basis, and a publisher gets paid for every click on the In-text ad.
Today there are plenty of In-text programs, which pay on per click basis.
Others pay affiliate commissions meaning when a visitor goes to another website through in-text ads and buy something on that website, and you will earn commissions.
Sometimes it can help you make more money compared to PPC.
Nowadays, many successful blogs run In-text ads along with other advertising options.
Moreover, bloggers are seen preferring In-text ads when they do not have an Adsense account.
So, In-text ads are best as Adsense Alternative.
The good thing for you is that there are many options available for In-text ads.
Below, I have featured 7 Best In-text In-Text Advertising Networks.
They can be used for text advertising. We have provided a brief snapshot of each of these In-text Advertisement Programs, together with their minimum payment and payout details.
We hope that this presentation provides you a good opportunity of figuring out the best options in in-text advertising.
However, before we move and showcase you the list of best In-Text Advertisement Programs, here's a brief but insightful account on In-Text Advertising and its benefits to publishers and advertisers.
So, let's get started.
What is In-Text Advertising?
In-Text Advertising is Contextual Advertising at its Best.
It is an innovative and cost-effective way of advertising over the Internet. It is an effective and efficient way to advertise and promote your products and services over the Internet.
In-Text Advertisements make the specific keywords listed in your website content as Link Ads.
In-Text Advertisements pop-up when any user hovers the mouse over the text, which carries the In-Text Ad.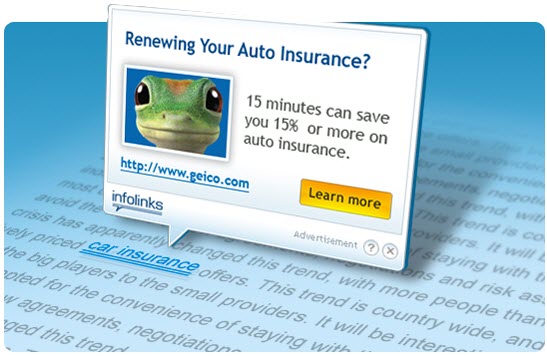 The advertisement is related to the keyword, so it is useful for visitors.
When a visitor clicks on an In-Text Ad link showing the advertisement, it directs the visitor to the advertiser's website.
Publishers and Advertisers both stand a great chance to profit from this powerful online advertising method. In fact, publishers do not have to find any extra space to showcase In-Text Advertising.
The keywords in your content are underlined and usually highlighted and carry In-Text Ads. This means that the In-Text Advertisements place hyperlinks directly into the text of a website's webpage. So, In-Text Advertising specific keywords in your website content are matched with related advertising or information units.
If you want to use In-Text Advertisements on your websites, or want to promote and publicize your products or services, then you have to join In-Text Ad Networks. So, Advertisers and Publishers need to connect to In-Text Ad Network(s).
In-Text Ad Networks connect advertisers and publishers and serve relevant In-Text Ads matching the specific keywords in the website content. Some of the top In-Text Ad Networks include sellers such as Infolinks, Kontera, Built-In Text, Triggit, Vibrant Media, etc.
The In-Text Ad Networks automatically handle the Ad serving, payouts, and all other tasks related to In-Text Advertisements.
The In-Text Ad Networks (Companies) select specific keywords from web pages (of publishers' websites), which have relevance or are in-context with advertisers' products or services.
The In-Text Ad Companies highlight these selected keywords. These highlighted keywords are shown to have a suitable color different from other texts in the web content of the web page.
Further up, these keywords have hyperlinks connecting to the advertiser's website or landing page and are shown with the double underline or a single dotted line. So when an In-Text Ad link is clicked, the user arrives at the landing page of the website of the advertiser.
In-Text advertising is usually based on CPC Model (Cost per Click). This implies that when a website visitor clicks on an In-Text Ad, the publisher (that is the website owner which showcases In-Text Ad) gets paid by the advertiser.
Other popular models for In-Text Ads are CPA (cost per action), CPM (cost per impression), CPP (cost per play) for multimedia In-Text Content Ads. So, with In-Text Advertisement, users are linked to the advertisement rather than content. When users click on (In-Text) Ads, the website owner is entitled to pay-per-click earnings.
In-Text advertisement is usually signaled by a double-underline instead of a single underline containing the standard content link. When a user moves the mouse over the link, the pop-up advertisement appears.
In-Text Advertising offers several internet-based advertising benefits to both advertisers and publishers.
Let's see what all benefits you can derive as an advertiser or as a publisher by following In-Text Advertising.
Benefits of Using In-Text Advertising for Publishers
For Publishers or website owners, In-Text Advertising brings in lots of benefits as far as monetization of a website is concerned.
Firstly, with In-Text Advertising, publishers do not have a lot of space to showcase these ads. As In-Text Advertisements are placed within the text or content of the website, publishers can utilize the website layout for showing and placing other relevant elements such as banner ads, related posts, Opt-ins, video files, sliders, etc.
So their website gets rich in useful elements for users, which can further enhance the overall usability of a website.
Then, publishers get to serve useful and relevant ads for their website visitors, which help in gaining their attention. The In-Text Ads do not distract the visitors in any way as they are showcased only when a user clicks on the highlighted links.
Then these are relevant and in the context of content for which the visitors have come to their website. When users click the In-Text Ads, the Publishers get paid. So, In-Text Advertising turns out to be a viable source for earning revenues by adopting internet marketing.
Benefits of Using In-Text Advertising for Advertisers
Like publishers, In-text Advertising brings in lots of benefits for Advertisers, as well. The online advertising model has huge potential as far as Internet marketing is concerned in the context of advertisers.
Use of In-Text Advertising can help Advertisers to increase their brand awareness among the online target audience. In-Text Advertising is based on specific keywords, which related to advertiser's products or services.
So, with In-Text Advertisement, advertisers can look forward to highly targeted traffic for their products and services. With targeted traffic, the overall conversion rate also goes up, which means an enhanced possibility of high earnings through online sales.
The brand recall increases and so advertisers get repeat visits from users and high conversions, which means the overall increase in brand equity of their advertisers.
Then, In-Text Advertising proves cost-effective in terms of gaining website visits and cost per conversion. As In-Text Advertising is based on Pay-Per-Click
Model, so an Advertiser has to pay when a user clicks on the In-Text Link, otherwise not. This further propels the development of customized products or services campaigns to gain maximum advertiser ROI.
Then, with In-Text Advertisement, Advertisers get various options for designing ad campaigns, such as flexible ad formats, picture & banner ads, rich video ads, etc.
Now, let's see the list of 7 Best In-text Advertisement Programs:
7 Popular In-Text Advertising Networks
Infolinks is one of the best Pay per click In-Text advertisement programs, which is a great solution for both publishers and advertisers.
Infolinks offer easy to run advertisements for advertisers and publishers. Also, get the best return on every click compares to other In-Text ad programs.
Infolinks ads are easy to implement and show beautiful ads. In fact, Infolinks is recognized as one of the most popular ad networks among bloggers.
It is easy to get started with Infolinks. You can control ads from the Infolinks dashboard. It has the related tags feature for boosting your earnings.
Each time a website visitor clicks on an Infolinks In-Text Ad, you get paid. So, more the clicks on In-text ads, the more revenue you earn.
The minimum payout with Infolinks is $50.
The payout is rendered through PayPal, Wire Transfer, Cheque, and Payoneer.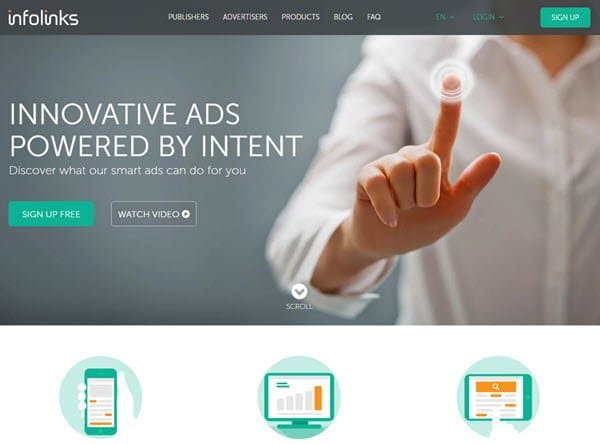 Vibrant is another very popular In-text ad network. It has more than 6000 partners. So, the chances of relevant ads increase automatically.
In fact, In-text advertising with Vibrant is fully user-controlled. Users get to view advertising when they choose to move their mouse over the relevant word of interest.
Vibrant is a leader in-text advertisements that are controlled by users only. It lines up numerous words through related information, sites, videos, and advertisements. Vibrant offers advertisements for hundreds of popular brands.
It is totally under user control as the user will see the ad only when they take their mouse over the link. It targets very precise words to link the related article.
Minimum payout is $50, and payment methods include PayPal, Wire Transfer, and Cheque.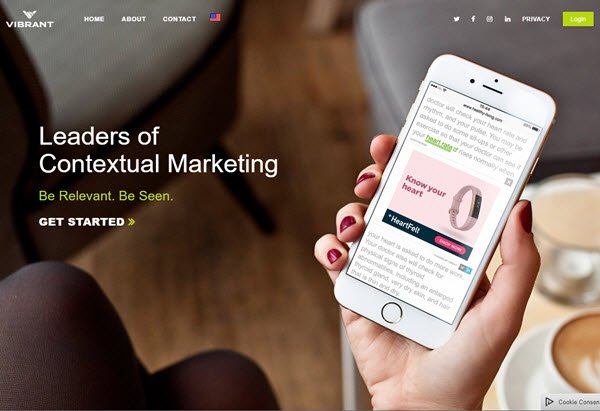 Skimlinks was launched in November 2008 and has become the world's leading content monetization service.
Skimlinks is engaged in creating innovative advertising solutions for online publishers.
Skimlinks has helped thousands of publishers from around the world to earn money from their content simply and easily.
Skimlinks advertising solutions can be easily deployed and customized to suit you. It is trusted by over 1 million top publishers in the world.
Skimlinks is free and easy to use.
Payment Frequency: Net90
Minimum Payment: $10
Payment Method: PayPal, Cheque, and Wire Transfer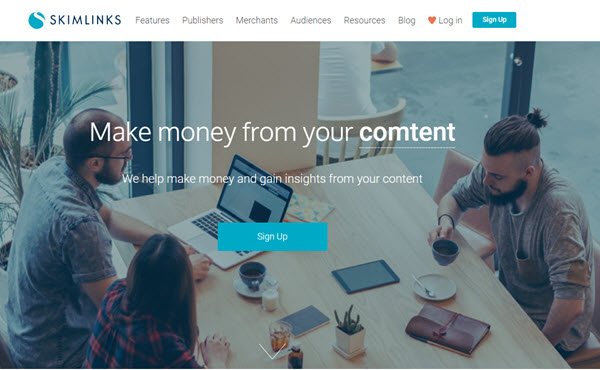 Sovrn was formerly known as VigLink. It has introduced a new advertisement concept by offering the opportunity of affiliate earning with your In-text ads.
So, it displays affiliate links (using link ads) across all pages on your website or blog. When some visitor clicks on the advertisement to land on the advertiser's page and buys something on that website, then you get to earn commissions. So, you have an excellent opportunity to earn a good amount with each of the affiliate sales.
Sovrn has grown to become one of the biggest In-text ad networks. For example, more than 300,000 websites have monetized their blog with Sovrn. Moreover, it is working with over 35000 merchants driving sales. Sovrn makes the eligible links to go with the highest bidding advertiser.
Some of its biggest highlights include context-aware, custom-designed, fully monetized product widgets that facilitate more user engagement and propel ad revenue.
In fact, you can generate a URL with Sovrn and share anywhere to make the sale. For example, social media visitors or email subscribers can click on your link to make a purchase, and then you will get to earn a commission.
Sovrn also comes with a suite of APIs and customization options that help to integrate the links directly into your app.
Some quick facts about Sovrn
Commission Type: CPC, In-Text
Payment Method: PayPal
Minimum Payment: $10
Payment Frequency: Net60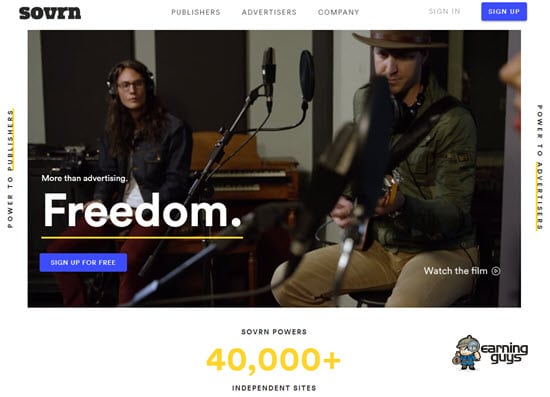 Linkworth LinkInTxt allows you to rent a specific keyword which will help you to make fix earning per month for rented keyword link.
You can rent more than one keyword on your website by which you can make unlimited earning.
The link you sold will be within your content, so you don't have to place the link in the sidebar, etc.
Its products consist of text link ads, in-text links, in-content pay per click ads, hosted content pages, rotating text ads, directory submission, and many more.
The payout is based on the Net20 basis. The minimum payment is $25, and payment methods include PayPal, Cheque, Wire Transfer, etc.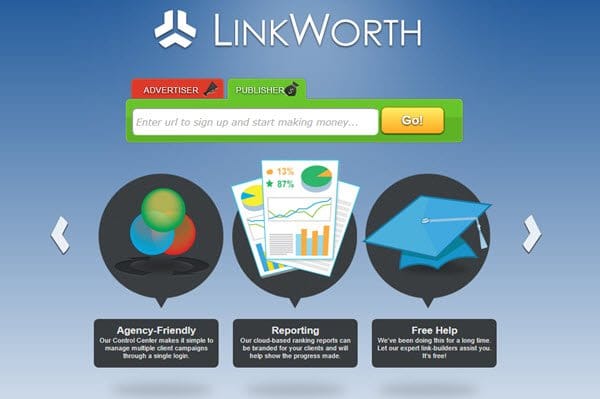 MageNet is one of the oldest ad networks that is working in the advertising industry since 2003. It has earned the reputation of being one of the most reliable in-text ad networks in the world. They are engaged in delivering unique brand experiences to more than 30 thousand publishers. It offers an easy ad integration process that involves the "copy-paste" method.
MageNet is known for offering enhanced consumer experience through superior phrase relevance. It facilitates user interaction and delivers superior campaign performance for advertisers.
They are unobtrusive and do not annoy your visitors. US-based websites stand to benefit from MageNet as it offers the opportunity to make steady revenue each month that doesn't fluctuate.
Publishers also make substantial revenue from MageNet. You can also earn money from their affiliate program. It offers an easy registration and integration process. There's the website monetization plugin that will monetize your blog automatically. Publishers can set their ad prices or agree with their recommended prices. You can select the payout method to receive payments automatically.
Some quick facts about MageNet
Payment Frequency: Net30
Minimum Payment: $50
Payment Method: PayPal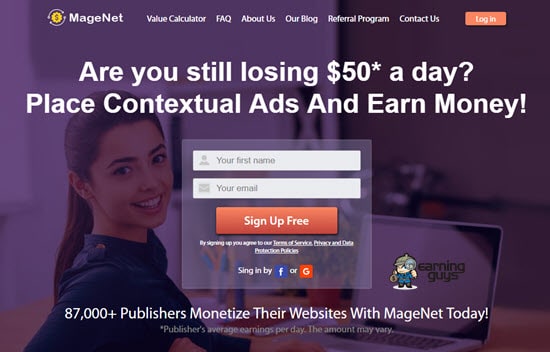 7 – Kontextua
Kontextua is one of the leading in-text ad networks. It is based in Argentina and suitable for the Latin American audience. Kontextua offers a fast, easy, and effective way to monetize your website through in-text, in-image, display and related tag solutions with multiple language support.
In fact, over 20k publishers are making use of this ad network for monetizing their blog and generating ad revenue.
Kontextua offers different ad formats, such as:
In-Text
In-Image
In-Footer
Slider
Display
Related Tag
Elevator
You can even customize their ads for maximizing your ad performance and boosting income. Kontextua is compatible with other ad platforms and networks, thereby allowing you to expand your monetization choices without hassles.
Some quick facts about Kontextua
Commission Type: CPC, CPM, POP, In-Text
Payment Frequency: Net45
Minimum Payment: No Minimum
Payment Method: PayPal, Payoneer, Wire Transfer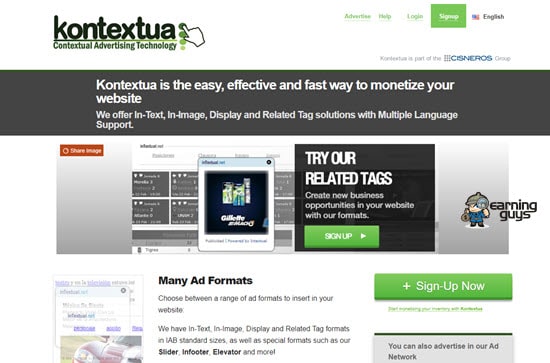 There are many more In-Text advertisement programs, but we have listed only a popular advertisement program which offers good earning for your text ads.
We hope that this post on 7 Best In-Text Advertisement Programs proves immensely helpful to you. We welcome your comments and suggestions. Do share the post with your friends and colleagues.