Pop-under Advertising is a popular form of online advertising. You need to join Pop-Under Ad Networks to advertise your product or services and as a publisher, you can join these networks to earn from your website.
The Pop-Under ads can be used for attracting web traffic and also for capturing email addresses, as well.
Pop-under Ads open in a new browser window which is hidden under the main active window. They do not disturb the user and are viewable once the main browser window is either closed or minimized.
Pop-under Ads can be used for promoting products or different services.
Get to know the best Pop-under Networks, which offer good rates and be considered.
If you too are looking for a formidable Pop-Under Ad Networks, then you are perfectly at the right place.
Here I have listed down 14 Best Pop-Under Ad Networks which you can use either as an advertiser or even as a publisher. They have been consistently delivering high performing solutions to online publishers and advertisers around the world.
These Pop-Under Ad Networks have much to offer to their publishers and advertising partners. Publishing clients can look up to top converting ad campaigns. They go on to offer extensive audience reach to its advertising partners.
Using these Pop-Under Ad Networks you get to drive converting traffic to your website and get an opportunity for selecting the best-performing ad campaigns. They offer real-time detailed statistics and also offer extensively qualified support.
Before starting I want to mention a network – AdSpyglass
You can work with all of these ad networks simultaneously with the AdSpyglass mediation service. It increases your website income from 32% up to 107%. AdSpyglass automatically chooses and shows ads with the highest CPM in your spots. You may apply for an account here.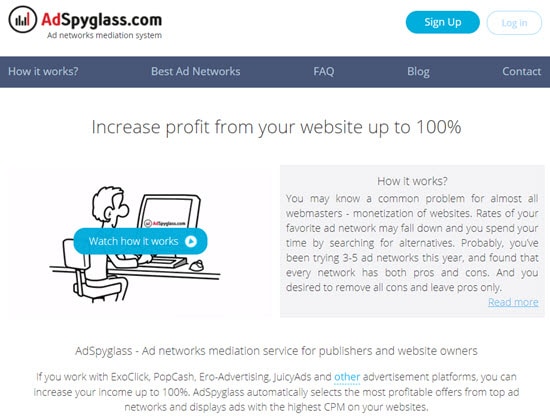 14 Top Pop-Under Ad Networks
So let us now see the 14 Best Pop-Under Ad Networks and I certainly hope that you would find the one matching your requirements.
1. Adsterra Best Pop-Under Ad Network
Adsterra is the fastest-growing Pop-Under Ad Network, useful for both publishers and advertisers. For publishers, Adsterra can be a good monetization option as they offer Display banner, Popunder, Direct Links, Siders, Push Up Ads, etc. which helps publishers to monetize their website with the best option. Above that, they offer on-time payment via a major payment system.
Adsterra is also a powerful option for advertisers, they offer CPM, CPA, CPL or PPI options which help the advertiser to get the best ROI. Advertisers can advertise their products or services through various options like Popunder, display ads, etc. Advertisers can make advanced targeting which helps them to target a specific audience. With real-time data, advertisers can optimize their campaigns and track ROI in real-time.
Minimum Payout: $5
Payment Method: PayPal, Webmoney & Paxum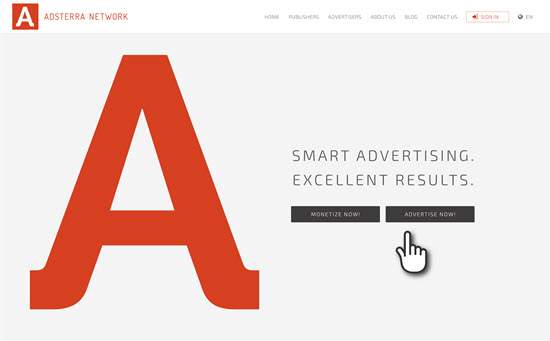 Propeller Ads is by far one of the best Pop-Under Ad Network. It has earned the tag of being the fastest-growing advertising company. They run ad campaigns based on CPA and CPL conversions. Publishers can look forward to payout 200% higher than anywhere else and 100% monetization for all visitors. In Propeller Ads, you get to have pop-under ads, pop-ups, pre-rolls, post-roll, and overlay ads.
With Propeller Ads, you get to select the best-performing ad campaigns. Propeller Ads offers you more than one reason for selecting it as your preferred Pop-under Ad network. With Propeller Ads, you get 100% inventory monetization, the own ad server solution, real-time detailed statistics, 24/7 qualified support and much more.
Minimum Payout: $5
Payment Method: PayPal, Payoneer, Skrill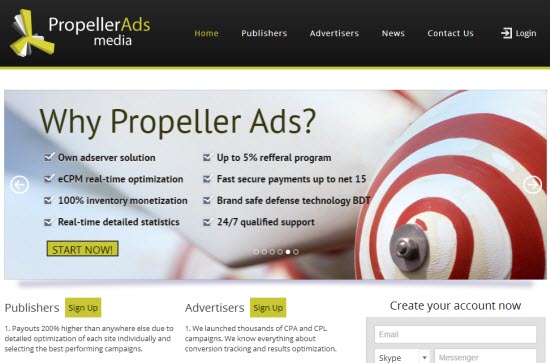 3. PopAds Popular Pop-Under Ad Network
PopAds advertising network specializes in pop-under ads on the Internet. It claims to be the best paying advertising network as far as pop-under ads are concerned. PopAds is a fast, efficient, and secure pop-under advertising network. It offers you an opportunity as an advertiser by bringing top-quality visitors to your website. You can even become a publisher and get an opportunity to monetize your website traffic with high-quality pop-under ads.
It promotes your website efficiently and processes the payment request on a daily basis for publishers. PopAds is currently hosting multiple category advertisers from as many as 50 countries. Picking the right category and keywords for your site you can effectively monetize your website traffic through pop-under ads. It offers a rate that mostly depends upon visitor traffic as well as website content. Plus: it offers high security and perfect support as well.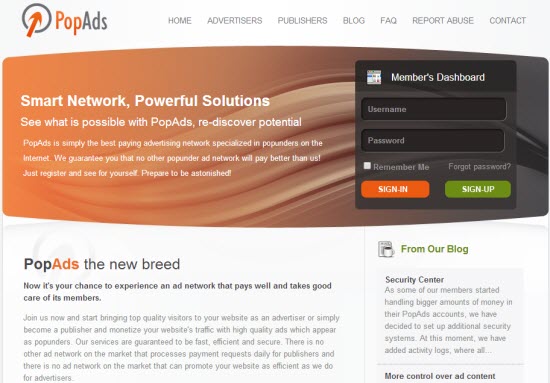 ClickAdu is one of the leading global Ad networks. It provides more than 150 million impressions daily from 240+ countries, including mobile web and desktop inventory. It takes every effort to help advertisers and publishers earn additional revenue from every click. Advertisers get fully managed campaign optimization. It provides advanced targeting and quality traffic with fraud and bot filtering.
Publishers get access to multiple payment methods with weekly payouts. It is easy to add any website, from blogs to microsites, all kinds of websites. ClickAdu focuses on Pop-Under and Click Under Ads. Its site validation process is quick and takes a maximum of 1 day. It ensures that the right people see the advertisements.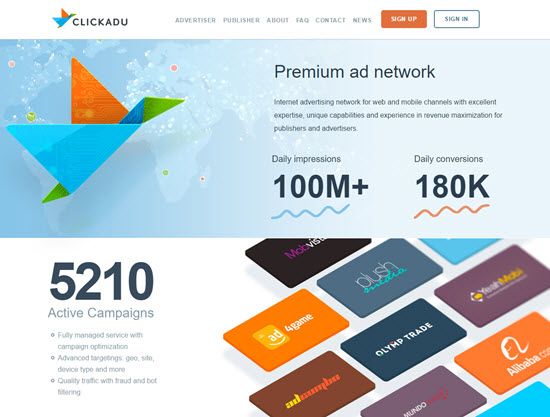 5. Ad-Maven Pop-Under Advertising
Ad-Maven is another popular Pop-Under Ad network for publishers and Advertiser. Ad-Maven serves more than 500 Million full-screen ads impressions every day. They do not just offer Pop-Under ads, but also Banner ads, NewTab, lightbox, slider ads, interstitial, and more. Ad-Maven Bypass all ad-block extensions thus Publishers earnings can increase by 25%. Ad-Maven pays publishers on a Weekly, Bi-Monthly, or NET30 basis.
For advertisers, Ad-Maven offers RTB technology which allows competitive bidding on desired traffic. Ad-Maven daily serves hundreds of millions of impressions in more than 200 countries worldwide. They offer great targeting options, so you get most of your advertising budget. The Ad-Maven products including Lightbox and Interstitial ads are fully compliant with Google Adblock scheduled to launch in January 2018 and will not be blocked.
AdMaven launched a couple of months ago their "Native push notifications" A compliant monetization method that you can use on your site with Adsense and does not interfere with Google policy in any way.
Their Native push product is a non-intrusive ad format designed to be clean and user-friendly to keep your audience happy.
The Native push generates extremely high conversion rates, both on desktop and mobile, focused on a quality user experience and adding a new revenue stream for every publisher.
Native push don't take up expensive space on your website or perform sneaky redirects to different sites, and It does not disrupt user experience while browsing on your website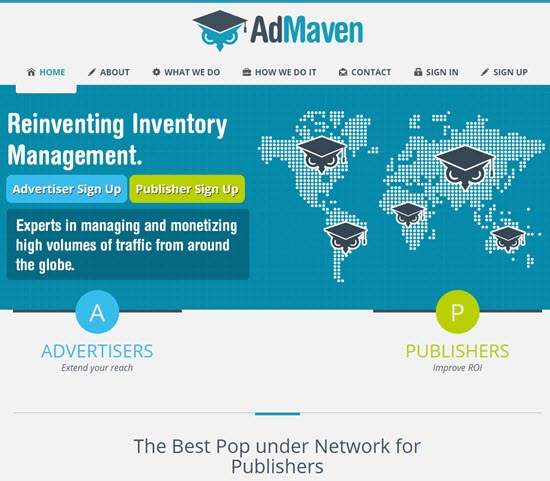 6. PopCash Pop Ad Network
PopCash is the most effective pop-under advertising network. It offers full control over your campaigns. You can choose when to start, pause or stop it. PopCash pop-under advertising network is fast, reliable, and secure. You get live and instant support through Instant Messengers. PopCash processes withdrawals on a daily basis so you get your payment super fast.
It provides detailed statistics through which you can easily monitor your campaign and or revenue progress. PopCash has kept low stakes such as a minimum amount of the withdrawal is only $10 and there is no minimum campaign budget with deposits kept as low as $5.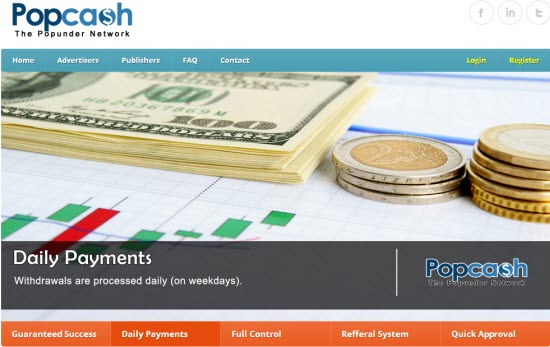 RichAds is a global high-quality pop traffic ad network. Generate conversions for any niche from daily 4 billion ad impressions Premium sources and 220 countries outreach.
RichAds flagship features help to drive performance. Source Sampling helps evaluate the quality of clicks users get from different sources and then make whitelists based on the data received. Micro Bidding allows improving your campaigns with bid adjustments for different parameters like OS version, etc. Automated optimization includes creating rules according to the most relevant conditions, like approved conversions or engaged clicks. RichAds also offers Anti-fraud solutions that help to prevent your campaigns from bot traffic.
Payment methods: Bankcard, WebMoney, Bank Transfer, Payoneer, Capitalist
Minimum deposit: $100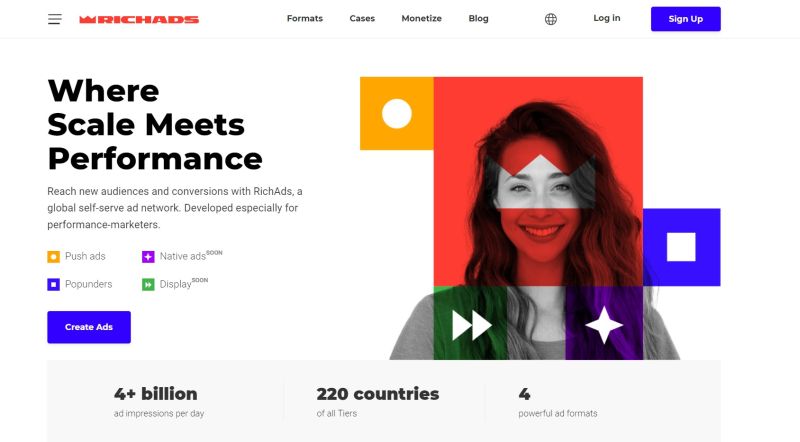 Adcash is recognized as one of the foremost advertising networks in the online advertising industry. It has successfully delivered high-performing solutions to online publishers and brand advertisers around the globe. Adcash has much to offer to its publisher clients and advertising partners. Publishing clients can look forward to top converting ad campaigns.
Its Pop-under ad campaigns come with exclusive pricing models so that you get an opportunity to monetize your online content and thereby increase your revenues. Adcash offers extensive audience reach to its advertising partners with its customized and targeted ad placement that go on to raise brand awareness and drive converting traffic. Adcash offers pop-under ads together with other ad formats including flash banners, etc.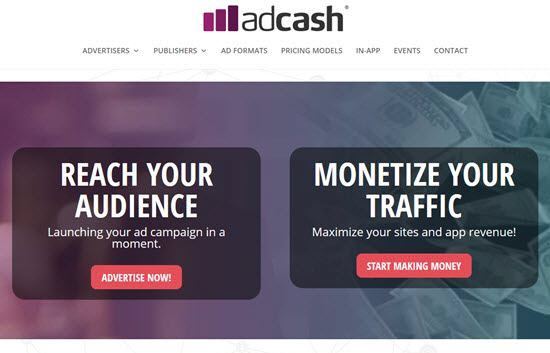 exoClick is a leading web and mobile ad network serving pop-under ads. It mostly caters to adult traffic serving global and multi-channel ad solutions through the web, mobile, tablets, smart TVs, and more. Moreover, ExoClick serves more than 20 ad formats. Its excellent customer support comes with 24/7 customer service, dedicated account managers, with weekly on-time payments.
You get access to its advanced real-time statistics. It is a recognized and leading ad network in the entertainment market which can surely help to monetize your website.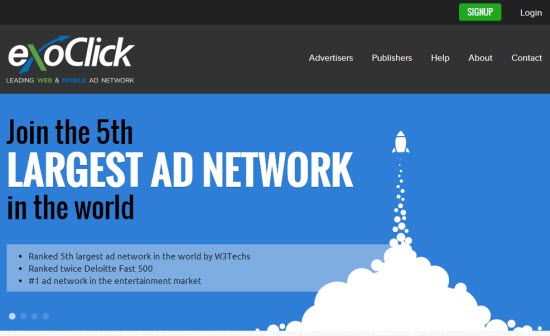 RevenueHits is a popular advertising network among publishers and advertisers. They offer lots of advertising options like Display, Text Ads, Apps & Widgets, XML Feeds, Custom Formats, and for sure Pop-Ups/Under. Publishers can expect eCPM up to $30 which depends on many factors.
For advertisers, they have created a self-serve ad platform named selfadvertiser.com from where you can advertise Pounder or Popup ads. For publishers, RevenueHits pays in net 30 terms and pays via Wire, PayPal, or Payoneer.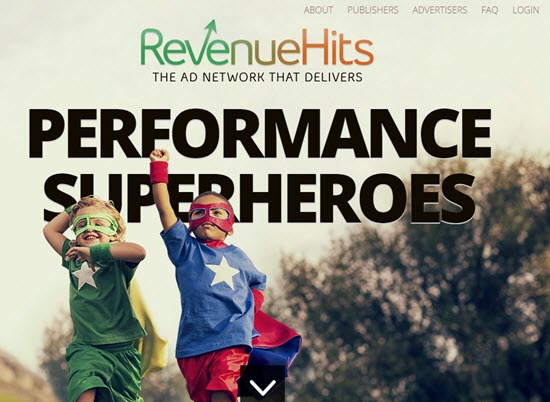 Ero Advertising offers one of the best Pop-Under Ad Networks. It allows you to set up an ad campaign quickly and increase your ranking and visibility. It offers a lot to advertisers and publishers.
Advertisers can look forward to a more successful advertising solution for their products. It makes every effort to understand your business and performance goals and comes with successful campaigns so as to maximize your results.
On the other hand, publishers get the opportunity to connect with the world's largest brands. It offers accurate and reliable tracking with weekly and monthly payments. It provides innovative campaign management tools. Publishers can look forward to excellent assistance from its highly responsive account management team.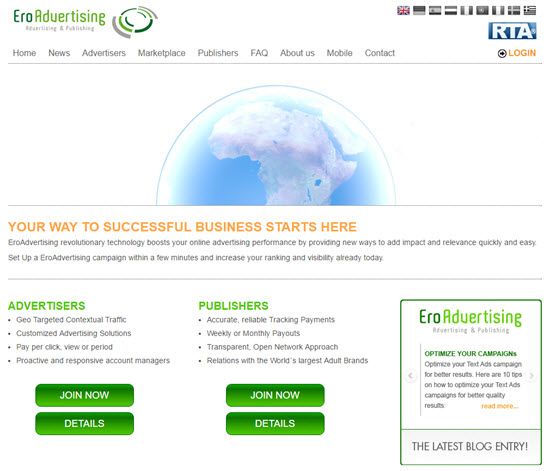 Galaksion is a well-known online advertising network that connects advertisers and publishers from across the globe. It offers maximum opportunities to advertisers and publishers for making money in a simple and effective way. Based in the UK, Galaksion focuses on POP, CPA, CPM, and CPC advertising formats. It specializes in serving media advertising on websites with Pop Up, Pop Under, Video Ads, Slide Banners, Interstitial Ads, Screen Savers, Running Text, and Splash Screens.
They support various ad sizes such as 240×400, 468×60, 728×90, 600×200, 300×250, 160×600, and many others. The hallmark of Galaksion Ad Network is innovation and efficiency. It undertakes a totally professional approach in the selection of offers. The offers are selected after a thorough assessment. It provides only the best offers so that clients get constant revenue by joining the network.
Galaksion provides a transparent accounting system, 24/7 support, Ad Material Management, together with Individual Approach. It provides the highest level of targeted advertising. It customizes to accommodate, geographical location, cookies analysis, time, and much more. They deliver timely payments. The minimum payout is $100 with multiple payment methods such as Pay Pal, Wire Transfer, and Bank Transfer.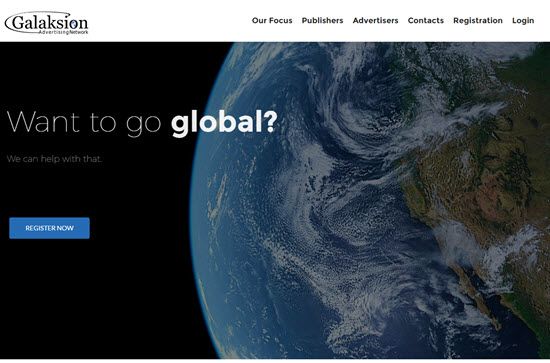 PopUnder Total is another very popular pop-under network based in Romania. It follows the Cost per View revenue model. The ad network constantly strives for the success of advertisers and publishers. It provides a high revenue share to publishers which are 80%. It reviews websites before approving them. However, there are no traffic restrictions on sites for joining the ad network. The ad network has lots of good things for both advertisers and publishers.
Advertisers can look up to premium traffic, premium publishers, numerous targeting options, and advanced real-time reports. They get the best traffic with the lowest investment. On the other hand, with their real-time bidding technology, premium campaigns, fast payment schedule, and real-time reporting, publishers can look to monetize every single visitor with their website.
Plus, the support is just fantastic which is almost instant regardless of your question. It also provides dedicated account managers. Payment processing is fast and is done once you earn $1. The payment options include Pay Pal and Wire Transfer. It has an easy sign-up process. Publishers get full control over ads. It also provides an efficient reporting system.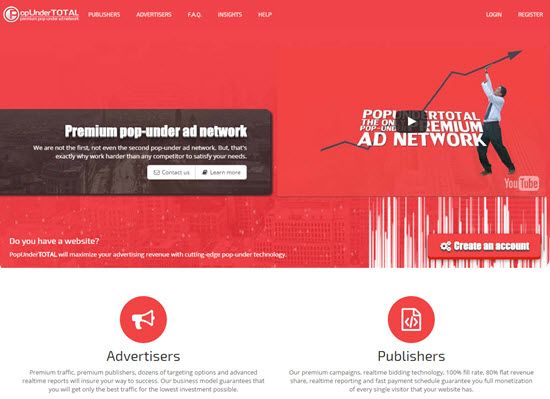 14. PopMyAds Pop-Under Ad Networks
PopMyAds is one of the fastest-growing Pop-Under Ad Networks. It makes internet advertising not only easy but also highly rewarding. You can register as an Advertiser or as a Publisher, and see your profits grow.
It accepts most of the sites, and there is no minimum traffic requirement. With PopMyAds, you get an opportunity to partner with a highly experienced monetization team. It offers industry-leading rates and the best international traffic coverage. It constantly works to connect brands with the most engaged audiences.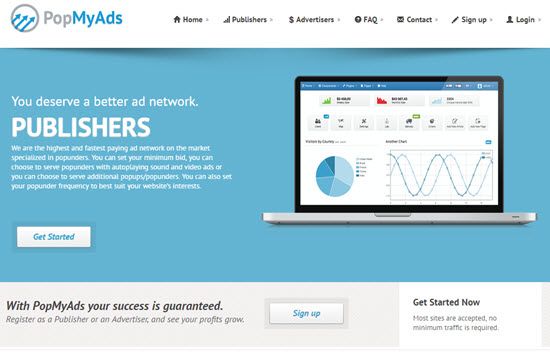 Please share which Pop-Under Ad Networks you using and which one is giving a good result.