About 2 months ago, I shifted from VPS hosting to WPX hosting, and it's easily one of the best decisions I made for my websites.
Here's my WPX hosting review, wherein I tell you why I choose WPX moreover why I'll continue to stick with it.
In these 2 months, I've run several tests to see the performance in terms of speed and security, and I wasn't disappointed.
Whether you are in the process of building your first website or are a veteran in the blogging game. Good web hosting can literally be the No.1 factor in making or breaking your website.
WPX was launched in 2013 as a web hosting service. Today, it has become the most recommended hosting service in the market. WPX is designed and marketed as the perfect hosting partner for WordPress users looking for a quick and minimalistic way to manage their website(s). It offers a ton of services with a super-fast CDN service and tons of other features like free site migration, malware protection, 20 server locations, etc.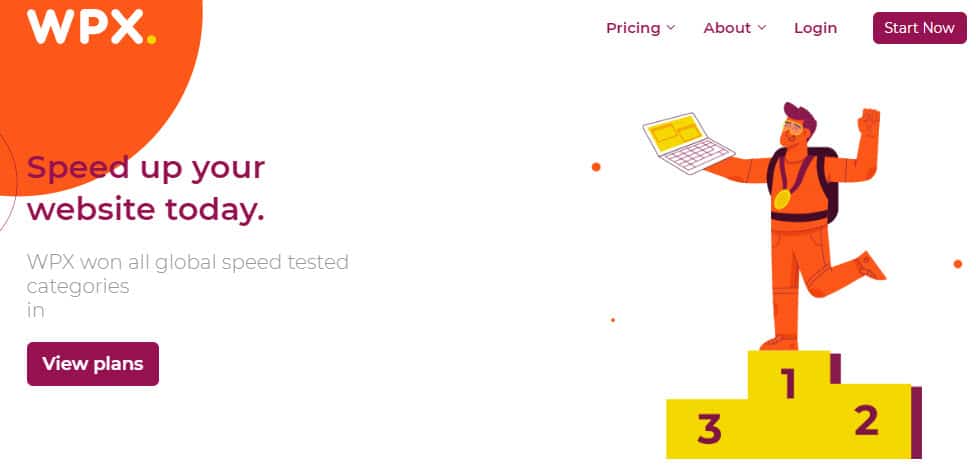 If you want to know more in detail about why WPX can be a game-changer for your website, keep reading!
WPX is Fast, Really Fast!
When it comes to creating a good web experience for your visitors, you can't ignore Speed. There have been a lot of cases wherein a fast website is shown to attract, retain and, most importantly, convert visitors into long-term customers.
You can have the most amazing content on your website, but if it is slow to load, you'll miss out on a lot of traffic (57% of it, to be precise). And that number gets even worse if you have an eCommerce site.
According to a study done by Google, an optimal loading speed should not be more than 3 seconds. And when it comes to providing the fastest hosting speed, WPX hosting ranks No.1 across the globe.
WPX Hosting offers its users a high-speed custom XDN which tremendously increases their websites load time. Based on our speed test results, the average load time of a website using WPX came out to be 0.8 seconds. Other popular brands like Godaddy or Bluehost took 1.70 and 2.09 seconds, respectively.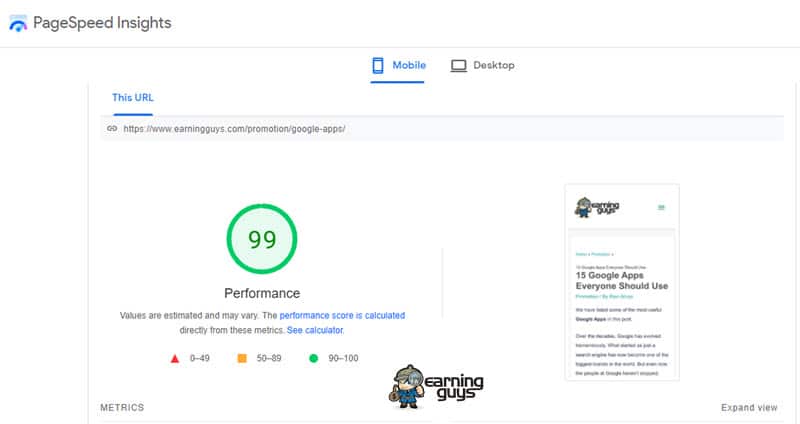 Top-Tier Security
WPX Hosting also offers top-notch security features to its customers, apart from having the fastest speeds.
WPX has a "malware detection and removal" feature for your website, including any plan you subscribe to.
This tool ensures that your site is safe from any online malware that could hack into your site or completely break your site.
Furthermore, When you buy a plan of WPX, it also offers you a "Free SSL certificate" for every website you launch. Today, SSL certificates are a must for every website owner to keep their data safe and encrypted from hackers. Having an SSL certification also allows you to build trust with Google.
Lastly, WPX has a DDoS protection policy. DDoS attacks mainly aim to disrupt the normal functioning of a website by sending fake and malicious web traffic to your site, causing a server overload and ultimately a slower and unresponsive website. With experts continuously monitoring your site at WPX, you can be stress-free.
Perfect For WordPress Users
WPX WordPress hosting can be a great choice if you use WordPress for your website. It is loaded with automation features that ultimately make it very convenient for owners to manage their websites.
Whether you already have any web hosting or are planning to avail of one, take it from me on how tiresome it can be to install/migrate your entire site from one web hosting service to another.
But not to worry because WPX offers you a "Free WordPress migration service." WPX WordPress hosting will take care of any and everything when it comes to replacing your current hosting with WPX without any loss of data, of course.
When you buy and log in to your WPX dashboard, you'll be given the option to send a migration request by submitting the necessary details of your site. From then, WPX does all the heavy lifting for you. Most sites take less than 24 hours to get their hosting transferred.
Besides that, the WPX hosting plan also includes a feature where it automatically creates a backup of your site daily if your site malfunctions and you need a restoration file. Each backup file is accessible for 28 days.
Remarkable Uptime
Can you guess what is worse than a slow-loading website? An incompletely loaded website. To ensure your site doesn't face this issue, it is best to check the uptime of your web hosting service.
Uptime refers to the period a web hosting company's servers are up and functioning.
WPX hosting claims to have 99.95% uptime, which is an impressive number considering how vulnerable some servers can be. With 99.95% uptime, it is safe to say that you will not have to worry about your site shutting down in the middle of a session.
Additionally, a better uptime also improves the user experience by ensuring your site functions smoothly.
If I had to share my personal experience, I would agree with WPX's claim. So far, I haven't seen any downtime on my website.
24/7 Support
One major aspect people tend to ignore when choosing a web hosting provider is the quality of their support services. It's no secret that tons of problems arise when you have a website (especially a new one). You might be able to solve some, but it's best to have it checked by professionals most of the time.
If you go on searching about support services of some big brands like Hostgator or Go-daddy, you'll find out that most of them don't offer much help.
This was one of my major reasons to shift to WPX WordPress hosting. It has one of the best support structures established. Not only did they respond anytime and every time I asked for help, but they also lived up to their promise of a guaranteed 30-second support response.
Easy to Use Dashboard
A complicated dashboard is the last thing you want in your web hosting. However, since the dashboard has become the primary way to monitor and manage your website performance, it should be as simple as it can be.
Contrary to my previous web hosting, WPX has a very easy-to-use dashboard.
When you reach the WPX dashboard page, you'll see a whole menu, including service details, databases, email boxes, file manager, etc. It's simply designed to help you go through the most important stuff, including the website's status, email, site statistics, billing details, and much more, in a matter of minutes.
WPX's minimalistic dashboard also comes in handy if you own more than one website. Here, you can add more than one website on the same dashboard and access both of their performance metrics simultaneously.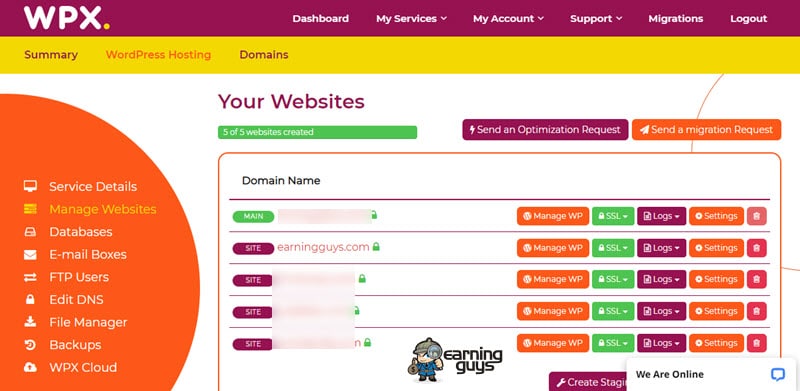 That being said, WPX also has allowed FTP/SFTP access folders to access servers for someone who wants to upload plugins, themes, etc.
Custom Email Service
Although a Gmail account can do most of the work, having a professional business email makes you automatically stand out from your competition.
Not only do custom emails promote your brand, but they also provide the surety that emails sent don't end up in the spam or junk folder.
With every plan of WPX hosting, you'll get a customized professional email for your business for free. Customized emails like these have a very low chance of getting hacked as compared to Google/Hotmail email services, so you'll be able to share confidential details without worry.
If you still hesitate to switch your email addresses, you can do what I did. WPX enables you to redirect the mails received on your customized email address to your main Gmail/Hotmail account. This way, you never have to really switch your email.
Staging Area For You!
Another unique feature WPX offers its users is a staging area for their website(s). A staging area is like a replica of your live website.
Since I have a lot of consistent traffic every day, this feature became a live-saver. In addition, as my site got bigger, I found myself making regular changes to my website.
WPX keeps your site up and running while testing everything in the staging area, saving you from any traffic loss.
This is really useful if you want to change/experiment with something new without risking your site's current performance.
Once you are done with the changes, you can choose to either discard them (in case they didn't work out) or put them into motion with just a simple click.
Pricing – Best in the Game
Ending our post with the most important factor when choosing a web hosting service, its price.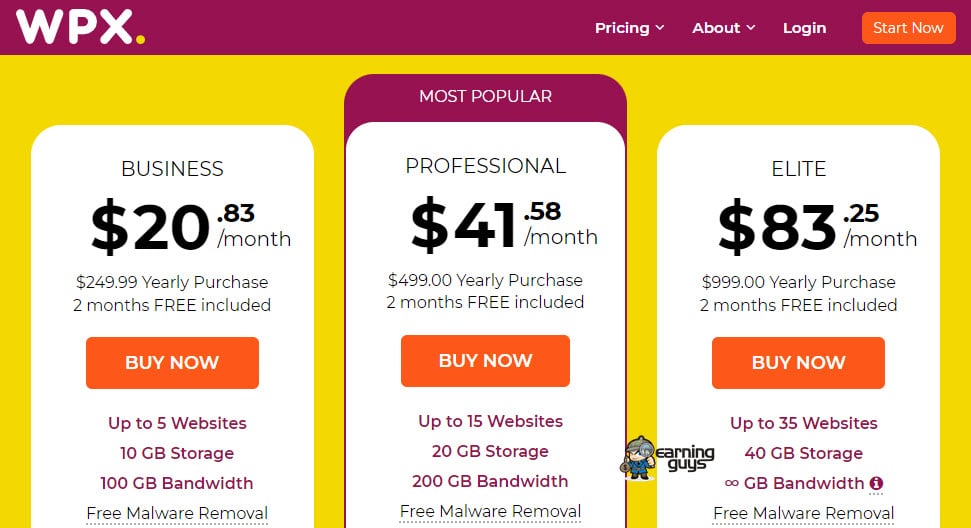 WPX has designed and marketed itself as one of the most affordable web hosting providers out there. All of their plans include all features and services I have mentioned above at no extra cost. Following is an in-depth explanation of the plans they offer:
Business Plan: The business plan is the cheapest plan out of the 3 plans WPX has. If you are planning to start a new blog/website for your small business or are looking to increase your site's speed and performance.
This plan starts at $24.99/Monthly and includes several features and benefits like:
Hosting for up to 5 websites
Malware and DDoS protection
10 GB Disk Storage
Up to 100 GB bandwidth
Professional Plan: As the name suggests, this plan is for people looking for something a little more advanced than just the regular features.
While most of the security features remain the same as the business plan, you'll receive some notable upgrades like
Hassle-free hosting for up to 15 Websites
Twice the disk storage, i.e., 20 GB
Up to 200 GB bandwidth space.
All this for $49.99/ monthly
Elite Plan: Designed primarily for large organizations and businesses, this is the most expensive plan WPX has to offer. If you have a website that attracts a lot of traffic, this will be perfect for you.
Herein, you get
Hosting for 35 independent websites
Unlimited Bandwidth
40 GB disk space
The Elite plan is available at $99.00/ Monthly
This brief should make it a bit easier for you to choose the right plan. But don't worry even if you choose the wrong one because WPX has a 30-day money-back policy.
Moreover, you can further avail a bonus of 2 months of free web hosting if you subscribe to their yearly plans instead of the monthly ones.
Is WPX worth it for you?
Having faced several issues in my previous hosting provider and getting it all fixed by upgrading it to WPX. The reason behind writing this WPX hosting review. If you are still skeptical about getting WPX web hosting, let me assure you it's completely worth it.
The reason is simple. WPX is the best web hosting because neither do they over-promise nor make false claims. For instance, WPX doesn't claim to be the cheapest web hosting available out there, but what they offer to their customers makes it worth every penny.
All the tools and features in WPX are made to help you simplify and automate almost every process related to a website. Whether it's backing up data, installing SSL certificates, optimizing your sites' speed, etc., WPX takes care of it all.
Every feature listed on the WPX website has been tested hundreds of times by different unbiased websites. All of them come out to be legit claims. If that doesn't spell reliability, I don't know what will?
Plus, WPX is designed for both audiences; it's excellent for beginners. Its advanced features have proven to aid even experienced site-owners in better managing their website.
Suppose you ever feel dissatisfied with their services. In that case, you are given the option to end the subscription and claim a 30-day money-back guarantee.
I hope you liked this post on WPX Hosting Review. Do share this post with your friends on social media.