There are a number of Popup / Pop-under Ad Networks and finding the best one for your website or blog can turn out to be quite a difficult task and you will love to know about PopAds.
So, we have featured PopAds.net Review which is regarded as one of the best Pop-under Ad Network out there.
So, just stick in here as we take you through this PopAds Review and show you why it is a leading pop-under ad network.
Nowadays, most Ad Networks have a stringent requirement of high traffic for joining their network as a new Publisher.
This can be quite annoying for new publishers who do not have high traffic volume reaching their website or blog.
Moreover, you cannot be sure whether they are legit or not.
Plus, there can be no guarantee of payments, and there can be issues with their rates and payments methods.
So, you see that there can be some issues that pop up when you go about selecting an Ad Network for monetizing your website traffic.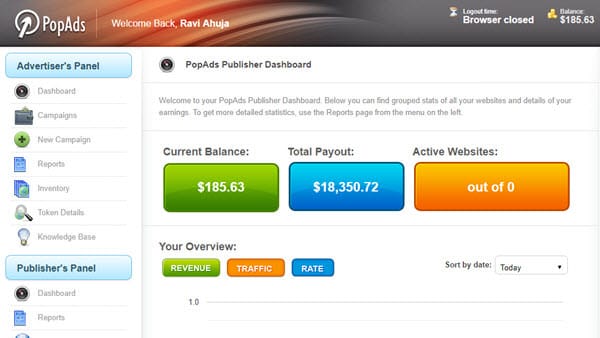 It means that you cannot just select any XYZ Ad Network for monetizing your website or blog.
Moreover, you want to join an Ad Network which is high paying, is legitimate, secure, has low payment threshold, delivers regular and timely payments, and offers a number of payment options.
These are some of the criteria on which you judge any Ad Network.
So, if you are pretty confused as to which Ad Network would be best for you, let me tell you that you need not panic anymore.
Here, we have come up with PopAds Review which is one of the best Pop under Ad Network in the Industry.
We have selected PopAds.net because it is a simple and secure advertising network which goes on to pay the highest rate to its publishers.
Now, let's see what PopAds.net has to offer to the publishers and why it is regarded as one of the best Pop under Ad Network in the World.
PopAds.net Review
PopAds.net has the reputation of being one of the most popular ad networks in the world of affiliate marketing.
In fact, they are one of the oldest ad networks around.
PopAds is running since 2010.
It is established in Costa Rica and has offices in Poland and the United States.
PopAds have earned the status of being a premium and specialized pop-under network.
They have a fairly large inventory list together with a wide range of available payment methods.
It is an immensely popular self-serve PopUnder network.
The traffic is generated when a visitor visits a website that carries the PopAds ad script.
As the visitor visits the website, a pop-under shows up displaying whichever URL the advertiser is advertising.
Advertisers can bid on this traffic through a self-serve RTB.
It offers tons of great targeting options.
PopAds is offering ads for an adult as well as mainstream content websites.
They specialize in Pop-under Ads.
However, they also offer other ad types including Pop-up, Tab under, and Tab up.
Most of the ad networks have one or the other issue such as payout threshold, entrance criteria, payment gateway, etc.
However, with PopAds Ad Network there is no such issue.
PopAds.net is considered to be one of the best advertising networks for entertainment websites.
With this ad network, you can generate a decent amount of revenue from your blog if your website traffic is high.
PopAds come as a CPV (Cost per View) Based Ad Network. So, your visitors need not necessarily click on anything. Whenever they visit your website and click anywhere on your web page a popunder ad will open in a new tab and, you will get paid.
Moreover, they offer the highest CPV Rates in the Industry which can be as high as $6 per 1000 Ad views.
However, the CPV Rates vary depending upon visitors' geographic location and website niche.
Obviously, you would like to know a lot more about PopAds Ad Network.
So, let's see why PopAds.net is considered to be the best Pop-under Ad Network for Publishers.
Publishers are in for big advantage when they join hands with PopAds. In fact, PopAds is one of the highest and fastest paying ad networks around.
Plus, they offer a very easy and quick website approval process.
PopAds also offer big benefits to advertisers – those who want to buy a pop ad space.
PopAds has a fairly large inventory of over 100 countries. It filters out all proxy, bot, and mobile traffic and works on traffic quality improvement.
Plus, it has lots of targeting options that include category, and keyword for best traffic control speed and quality.
Top Features of PopAds
First of all, PopAds is the best Ad Network because it allows even low traffic websites to join their network.
So, the amount of website traffic is not a criterion for joining PopAds Ad Network.
Secondly, PopAds specializes in providing Pop-under Ads.
Pop-under Ads do not require your website space as they show up in a separate browser window or Tab.
So, PopAds.net can prove a good medium as an extra source of income for bloggers and webmasters.
If you want to know more about Pop-under Ads, you can refer to one of my earlier articles on – What is Pop-under Ads?
Thirdly, PopAds CPM Rates is one of the highest in the Industry. It pays a very good eCPM Rates for publishers.
For websites receiving traffic from English-speaking countries such as the US, and the UK, the CPM rates can be as high as $6 per thousand impressions.
The eCPM rate varies according to the traffic coming from different countries. On an average, publishers can expect CPM rates from $0.60 to $3.00 per thousand impressions for worldwide traffic.
Fourthly, the Registration process is simple and quick. It just requires 5 minutes to complete the signup procedure.
PopAds provides a website review procedure for approving new websites. However, there are no hard terms and conditions for joining PopAds Ad Network.
It comes handy when other advertising networks are rejecting your site. PopAds accepts both adults as well as non-adult sites.
Fifthly, PopAds.net offers low payout threshold of $5, and you can expect instant payment.
So, whenever a publisher earns a minimum balance of $5, they can withdraw their earnings.
It offers numerous ways to make payments to its publishers such as Paypal, Payza, Payoneer, and Bank Wire Transfer.
It even supports 10% referral income, and that can be considered as a bonus.
It provides Ads which are clean and fast. PopAds.net performs as a high-quality Ad Network.
The Best Thing about Popads.Net
Now, it's time to share with you, the best thing about PopAds.
Taking the case of other advertising networks in the Internet world, most of them pay once in every 30 days.
However, the good thing about PopAds.net is that they pay every day.
Moreover, there is no need to wait to have a minimum of $100 in your Popads.net account, not even $50, and not even $10.
It's only $5.
Yes, you just need to have $5 minimum balance in your Popads.net account for withdrawing your earnings to your PayPal account.
I hope you liked this aspect about PopAds.
It may be surprising to you, but it's absolutely true.
So, PopAds can turn out to be the best way to improving the earnings from your blog.
Getting to know the Dashboard
PopAds offer a simple, functional, and user-friendly interface.
It is divided into three main sections on any account.
The Advertiser's Panel
The Publisher's Panel
Account Manager
Here, we focus on Advertiser's Panel since most of you would like buying traffic.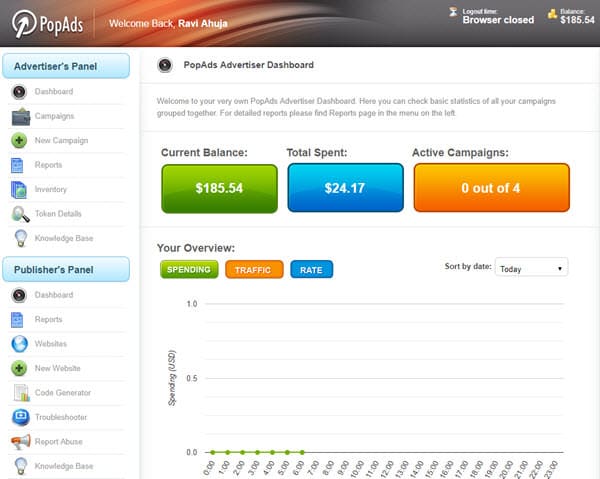 It features a section with active campaigns.
There's also a separate section that allows you to create a new campaign. Plus, there's a report section for tracking the performance of your campaigns live.
It also features an inventory section from which you come to know about inventory variety and estimated traffic volumes.
It has a token section with the tracking token details. Finally, it has a knowledge-base token with 17 questions currently available.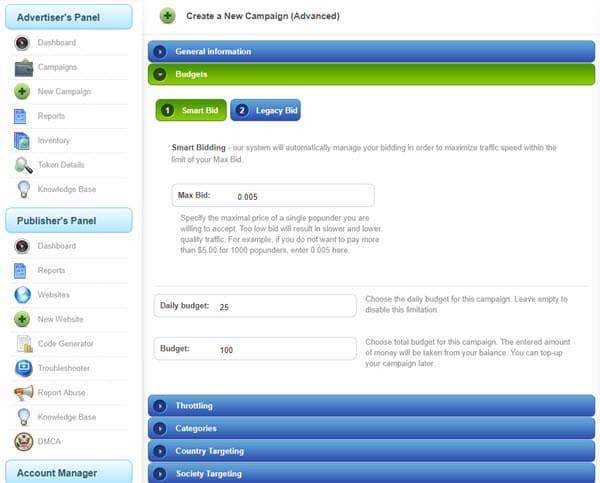 Stats and Optimization
Popads.net offers you with reports on the platform.
However, the reports are not very granular and detailed as you get with some other ad networks.
That said, you get to see overall stats, including impressions and costs. Plus, you can check data by Website IDs.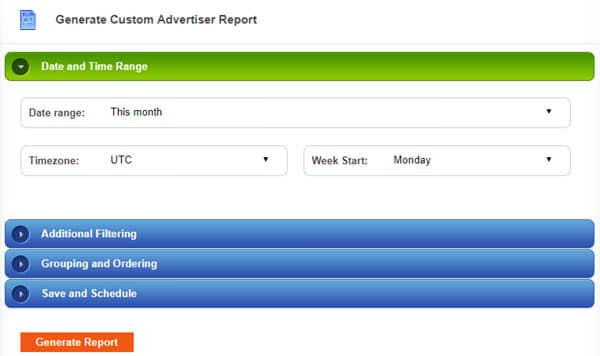 For this, you need to click on reports on your "Advertiser's Panel." Then, choose the date and time range. With the "Additional Filtering," you can choose to see the campaigns for specific countries.
In fact, you can explore lots of interesting stats – the traffic the website has; and the bids.
Traffic is Key
PopAds is one of the biggest Pop traffic networks out there.
Popads.net has very liberal terms and doesn't look for those hyper high-traffic websites from publishers.
Plus, it accepts all types of websites and supports all niches such as dating, adult, etc. And there's no minimum traffic requirement, either.
The good thing about PopAds is that it has assigned a quality rating. So, better the content of a website, the higher the rate is.
Another feature with PopAds is that it offers both mobile and desktop traffic. However, a great part of platform's traffic is a desktop.
Offers & Verticals
Ad Types: Exclusively pops (PopUnder, Popup, Tab-under, Tab-up)
Cost Model(s): CPV
Verticals: Adult and Mainstream
Payment & Investment
Minimum Deposit: $10 for PayPal and AlertPay. However, there is no minimum deposit for Wire Transfers.
Contact Methods: Email
Contact: [email protected]
Is PopAds Scam Network?
Although there are lots of Ad Networks which prove as a Scam, It's not with PopAds. I have written this PopAds.net Review to clear this doubt in the minds of publishers.
You can safely go ahead and test PopAds Ad Network for your blog or website. There are numerous payment proofs of PopAds which can be easily found over the Internet.
Moreover, their payments are always regular and on time. So, you can easily place Ad Code on your blog or website and expect to make handsome earnings through this awesome Pop-under Ad Network.
My PopAds.net Payment Proof.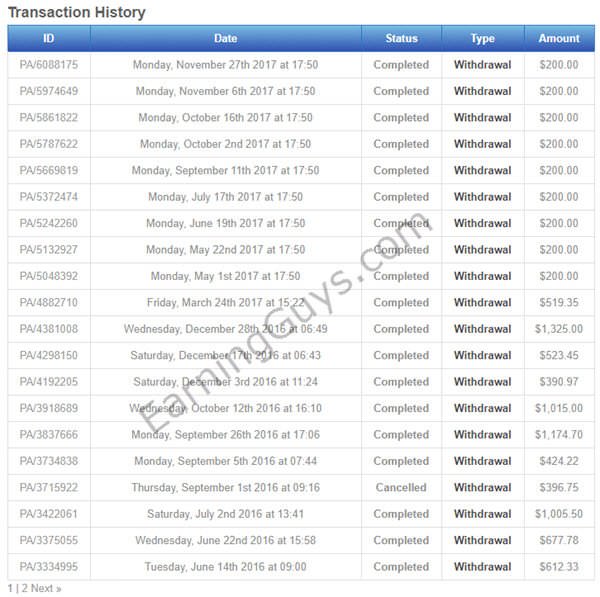 Requirements for Getting Approval
PopAds has no specific requirement to get approval for showing Ads on your website or blog. It accepts all types of sites such as adult sites, non-adult sites, sub-domain sites, etc.
The sign-up process hardly takes few minutes. Once you are through with the website review procedure, you get approved and can start earning from your website.
PopAds Payment Methods
PopAds offer a very good CPV Rate. They have a daily payment option. PopAds.net pays their publishers through PayPal, AlertPay, and Bank Wire Transfer.
Their minimum payout is only $5. You can withdraw your earned money anytime you want. Once your earnings reach $5, PopAds automatically processes your earnings.
On which Sites you should use PopAds
PopAds are not useful for high-quality content based websites. That's precisely the reason we are not using PopAds.net on our websites and blogs.
However, if you have high traffic blog or website, such as entertainment websites, then PopAds can be a very beneficial medium for making a good amount of revenue by showing pop-under ads on your websites. PopAds.net also work well on freebies sites.
The PopAds Advantage in a Nutshell
Popular Pop-under Ad Network
Offers High CPM Rates – Average $3: For US Visitors $6
No Minimum Traffic Requirement
Accepts World Wide Traffic
Low Minimum Payout Threshold – $5
Accepts Any Type of Website
Instant and Timely Payments
Offers Numerous Payment Methods
The PopAds Review shows us it is not only a popular Pop-under Ad Network but is also a Scam Free and legit Ad Network which you can safely test on your website.
It has an easy signup procedure with no minimum traffic requirement. Moreover, it offers highest CPM Rates in the Industry.
Plus, the payout threshold is also very low. So, PopAds offers numerous advantages to publishers who want to run Pop-under Ads on their websites for monetizing their traffic.
PopAds is a Pop-Under Ad Network with lots of traffic and features. There's certainly money to be made with PopAds.net.