Your website's popularity is directly related to the number of visitors coming to your site.
So being an intelligent blogger or an e-entrepreneur you invariably want to drive scores of traffic to your website.
One of your top most priorities is to ensure that you are successful in driving visitors to your websites and thereby go onto increase your website's visibility.
However, the important question remains that how you would be able to achieve this goal for your website or blog.
Well, you can readily achieve the goal of driving traffic to your websites by utilizing the prominent social networks and bookmarking sites as traffic generation points. It's a well established fact that social bookmarking sites, as well as social networks, are useful resources for gaining prominence and popularity in the online world.
If utilized properly, the social networks can provide thousands of visitors to your website or blog. You simply have to ensure that your submissions reach social networks.
Having said this, the only problem you might face is the posting of links to social networks and bookmarking sites as there are so many of them. The numbers are simply overwhelming. There is Facebook, Twitter, Google+, Stumble Upon, Linked In, Pinterest, Digg, Delicious, and many, many other social networks and bookmarking sites. Well, posting to social networks and bookmarking sites is really a big problem. Doing it manually may consume hours of your precious time on a daily basis.
This demand a solution and what better solution you can have than using OnlyWire, which is an automated solution to the problem of posting on the social networks and bookmarking sites manually. The problem of bookmarking on various social networking sites vanishes once you start using OnlyWire Automation Tools.
OnlyWire Software makes the content submitting process on social networks fully automated and simple. So with minimum effort your content reaches out to various social networks and bookmarking sites when you start using OnlyWire Tool.
Understanding OnlyWire
OnlyWire is an Automated Tool that allows you to syndicate your website content to a number of high PR social websites. So if you want to make your content viral and want to gain scores of traffic from the social hemisphere then OnlyWire comes as a viable automated solution for bookmarking your blog posts on social network sites.
With OnlyWire's automation tools, you can publish your content to 50 Social Networks with ease. With its automation and post-on-demand tools you can quickly and easily post your content to as much as 50 social networks. Using OnlyWire Automation Tools you can simplify and streamline your submissions on social networking and bookmarking sites. Moreover, OnlyWire Automation Suite includes WordPress Plugin, Developer API, and RSS Feeds. It regularly checks your WordPress Site or RSS Feeds for new content and submits to your chosen social communities or networks on your behalf automaticaly.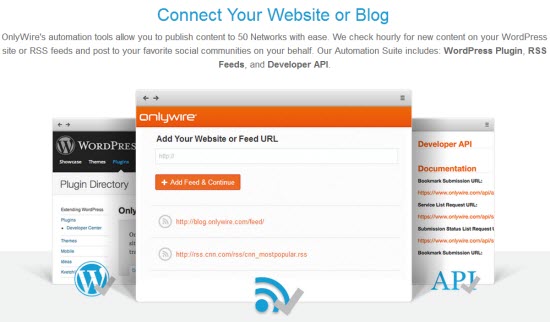 How to make it Happen with OnlyWire
The process of using OnlyWire for bookmarking your content on social networking sites is pretty straightforward and simple. You first need to sign up for an account on onlywire.com, Install the program, and finally have to set the account up for social networking sites where you want to get your content submitted. That's all you have to do. The rest is handled by OnlyWire Automation Tools. You can install OnlyWire WordPress Plugin on your blog and watch it all happen with OnlyWire submitting your blog post to social networks as and when you happen to update your blog.
More about OnlyWire
OnlyWire basically provides four set of tools so as to maximize your submission efforts on social networks and bookmarking sites. They come under the categories of submission, automation, reporting and sharing.
Using OnlyWire Submission Tools you can plan future submissions. The tools allow you to pick a time and date for scheduling posting on social networking sites. The OnlyWire Automation Tools make it possible for you for automatic submission of your WordPress posts onto social networks.
With OnlyWire Reporting and Analytics you can have a complete overview of your submission history with respect to the amount of traffic and backlinks you are generating from the submission of posts to social networking sites through OnlyWire.
Likewise, the Sharing Tools provide multi user function enabling you to create unlimited user accounts for different purposes. The package also includes share button option with which people are able to share your site's content onto your selected chosen networks.
As far as pricing goes, apart from its free trial version, OnlyWire is available in two versions. The first is the Pro version, and the other one is the OnlyWire Enterprise version. The Pro Version is suited for bloggers. However, it lacks for the support of unlimited users function. The OnlyWire Pro Version lacks upgraded support as well as the ability for branding your submissions. Having said this, The Enterprise Version of OnlyWire includes everything the Pro Version lacks.
Final Words on OnlyWire
So if you are looking for high rankings on search engines and want to drive traffic to your websites then submitting your content on social networks and bookmarking sites provides a good option for you. With OnlyWire Automation Tools, you can easily and quickly automate the process of submitting posts on as much as 50 social networking sites at once. Having said this, with OnlyWire you save your time, effort, and money and go onto build your brand awareness across vast segment of visitors from various prominent social networks and bookmarking sites.