Today we are going to look at different tools and resources for having insights into competitors' traffic data. So, here's the list of best website traffic estimator tools for you that will help you to get the number of visitors a website is generating.
We have taken care to include the best tools for spying on the website traffic of your competitors. We have shown their strengths and weaknesses, as well as look into the validity and usefulness of the data provided.
In fact, these website traffic estimator tools are great for competitor analysis as they help you to spy on the competitor website traffic.
Moreover, it is a helpful tactic to know how much traffic a top blog in your niche gets. By checking website traffic of your competitors, you can come to know what's working and what's not in any niche.
You can then go on to upgrade or amend your online marketing techniques so as to drive more traffic to your website. Having said that, there are tons out there that do not have an exact idea of what website traffic is and what does it mean?
So, let's see what web traffic is?
In fact, website traffic or web traffic is the amount of data sent and received by visitors to a website. It does not include the traffic generated by bots. Website traffic constitutes the largest portion of Internet traffic. It is calculated by figuring out the number of visitors and the number of pages they happen to visit.
For tracking web traffic of your website, you can use tools like Google Analytics. However, if you want to check out web traffic of other blogs or websites in your niche, you can use the tools that have been listed in this post.
These are the best website traffic estimator tools just for you. The best part is that they are free and easy to use. So, you can get website traffic report of any site easily.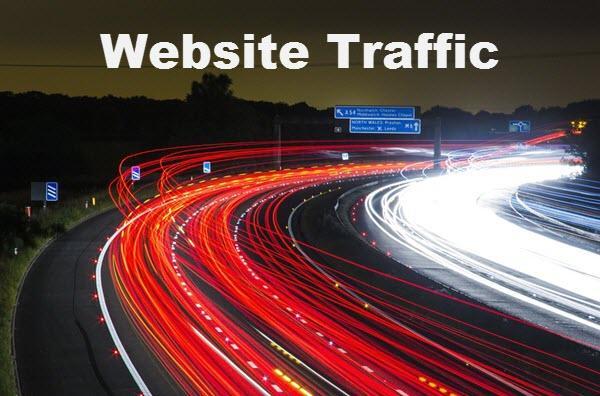 Why do you need to check your competitors' website traffic?
Getting to know the website traffic of your competitors has some huge benefits. Here, we list out some of the benefits of estimating web traffic or unique monthly visitors of a blog or website.
First of all, you come to know the estimated monthly or daily sessions that your competitor site is getting.
One can figure out the top traffic keywords. You can then target those keywords for driving more search traffic to your website.
You get to know the traffic breakup of any website. So, you come to know the exact amount of traffic coming from different sources such as Organic, Social, Referral, and Direct.
You come to know website engagement details such as Bounce Rate, Time Spent on a Website Page, Page Views per Visit, etc.
Last but not the least; you can create "suitable content" for your audience.
So, checking out your competitors' website traffic has some obvious benefits. Explore the post to know the Best Website Traffic Estimator Tools. Let's get to know the tools now.
12 Top Website Traffic Estimator Tools
1. SE Ranking Top Website Traffic Estimator
Finding out everything about your traffic could not be simpler with SE Ranking. All you have to do is enter the domain you want to know the traffic details of, choose the country and the search engine. The Competitor Research tool allows users to dive both into organic and paid search results, analyze traffic, keywords, rankings distribution, and even ad history.
Organic Traffic Overview shows the distribution of traffic around the world, including dynamics and forecasts. An indispensable tool in the Competitor Research module is Paid Traffic Research. With the data provided by this tool, you can analyze traffic at the keyword level, see ads and learn about the budgets of your competitors.
By choosing SE Ranking, you get an all-in-one SEO platform that is suitable for pros and beginners alike. Their toolkit includes Competitor SEO/PPC Research, Keyword Rank Tracker, Website Audit, Backlink Checker and Monitor, and much more.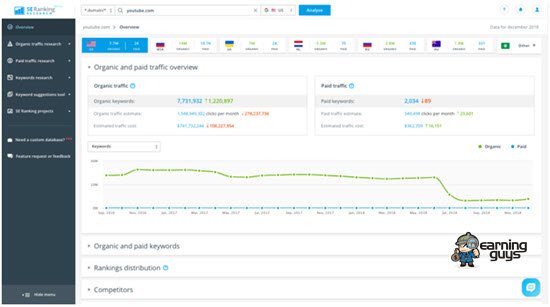 2. SimilarWeb Website Traffic Estimator
SimilarWeb is one of the most recommended tools for estimating the web traffic of any site worldwide. By using SimilarWeb, you can check the website traffic of any site for free. Finding website traffic details with Similar Web is very easy. You just have to launch SimilarWeb and type in your desired website URL and get the traffic levels of the site.
It not only furnishes competitive insights of any site but also goes on to show the ranking insights of any website. With SimilarWeb, you get a thorough competitor analysis. It shows you the traffic stats of any website, the number of page views, bounce rate, average time spent by visitors, referrals, social influence, etc. The best thing about SimilarWeb is that it delivers precise and detailed website traffic information and that too for free.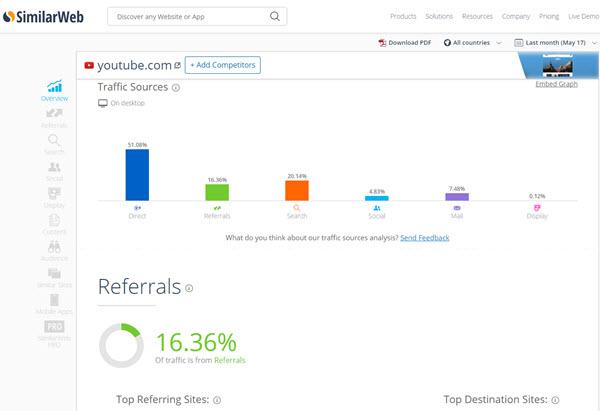 3. Alexa Top Website Traffic Estimator
Alexa offers one of the best website traffic checker tools. Moreover, Alexa is quite popular with webmasters and bloggers as it enables you to get insight into the website rankings. Using Alexa, you come to know website traffic for any site for free. It is one of the best ways to know the details of other blogs including unique visitors per month, bounce rate, and average on-page time.
For using Alexa tool, you have to launch the Alexa.com website. Then enter the website address of the site (for which you want to know the results) in the Search Box available. Once you enter a website address and press enter, you will be shown important website metrics such as Alexa Traffic Rank, Page Views, Bounce Rate, Search Percentage, and Time on Site, as well as Traffic Rank in specific demographics.
Apart from showing these website metrics, Alexa also provides search queries for a website. These search queries are the best performing keywords for that site. It can also be used to compare your website traffic with four other websites of your choice. So, Alexa stands out as one of the best website traffic checker tools out there. The data provided is accurate, so you can instantly figure out the traffic numbers of a website after using this tool.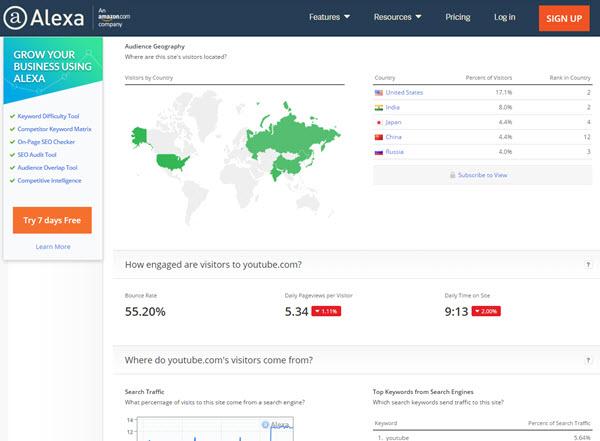 4. SEMrush Best Website Traffic Estimator
SEMrush is one of the most recommended tools by most SEO experts. Using SEMrush, you can get the website traffic report on any website. Most importantly, SEMrush accurately tracks web traffic of any website. With SEMrush, you get to have the nearest level of visitor count of the website you want to spy.
Apart from providing website traffic details, SEMrush also lists out all the keywords that are helping your competitors in growing their search traffic.
For using SEMrush, go to SEMrush site and enter the URL of the website whose visitor count you want to know. The results are displayed to you showing organic search traffic, paid traffic, and backlinks. You can use SEMRush as Google traffic estimator because it tells how much traffic a website is getting from Google which is quite accurate.
With SEMrush, you come to know the high performing keywords to boost your overall organic search traffic. You can also analyze the backlinks of any site and much more. So, you can use SEMrush to spy on your competitors no matter what your niche is.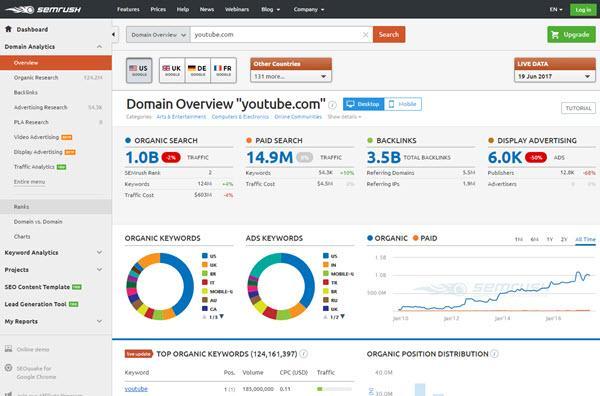 Google AdWords Display Planner helps you to figure out the amount of traffic a website gets. In fact, the Google AdWords Display Planner is a combination of the Contextual Targeting Tool, Google Ad Planner, and Placement Tool. Using the tool, you can check any website traffic for free.
Moreover, it is one of the most accurate tools to track website traffic. So, Google Display Planner comes out as a reliable web traffic checker tool.
This website traffic estimator tool shows important traffic metrics such as an average number of page views per visitor, unique visitors, total page views, average time on site, total unique visitors to a website in a month's time, and much more.
For using Google Display Planner, you have to enter the desired website URL in the "Get ideas and estimates" section and then click on the "Get ad group ideas."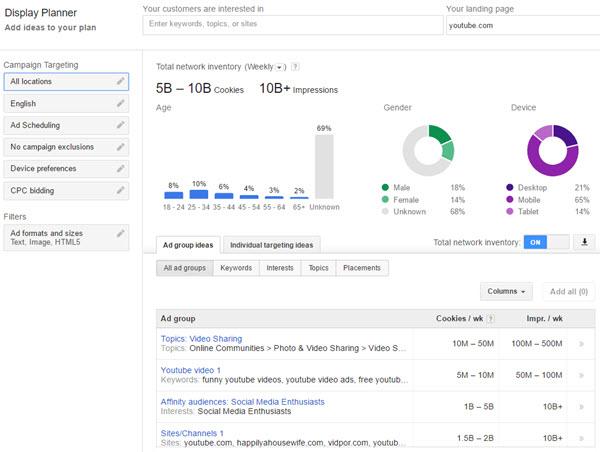 Known for its rank tracking reputation, Advanced Web Ranking also includes a specific module dedicated to competitor analysis. Here, besides getting intel on the market share, you can find information about the amount of traffic your competitors may receive from organic search.
The best part about this feature is that you can decide the exact keywords set for which to run an analysis of your competitors' estimated traffic at a given moment. This number of Estimated visits is calculated by multiplying the Click Share for your top 20 keywords with their related search volume of your specific geographical market.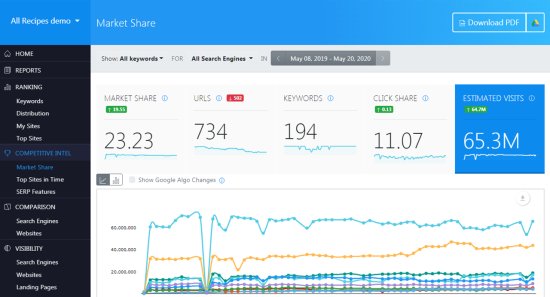 7. Quantcast Website Traffic Estimator
Quantcast is yet another very popular web traffic checking tool among webmasters and bloggers alike. In fact, Quantcast is a free website traffic estimator tool that delivers free direct audience measurement including information regarding web traffic, demographics, and many other details.
It shows a count of unique daily visitors as well as unique monthly visitors to a website. However, it is only useful if your website or that of competitors has decent traffic volume.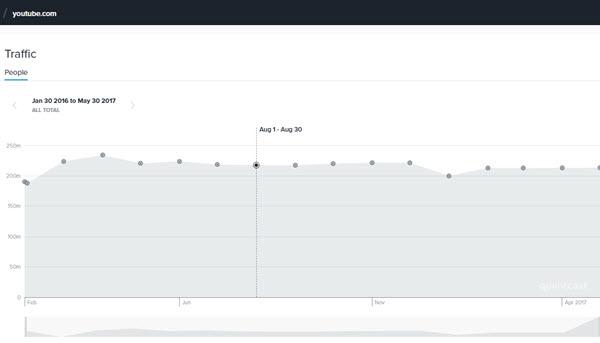 Google Insights is a free traffic checker tool which is useful in getting general trends when it relates to regional information, a list of key phrases, and key phrase groups. It provides insights into a market than your competitors.
Google Insights is mostly used to know about the best key phrases and groups of key phrases regarding rankings. You also get to know which key phrases in a group are most useful in driving more traffic to your website.
However, this free traffic checker tool can get quite tough for many newbie bloggers due to the complexity of data which makes it difficult to read. Its figures are more geared towards search terms, key phrases, and trends. So, the search volume corresponds to the site's traffic.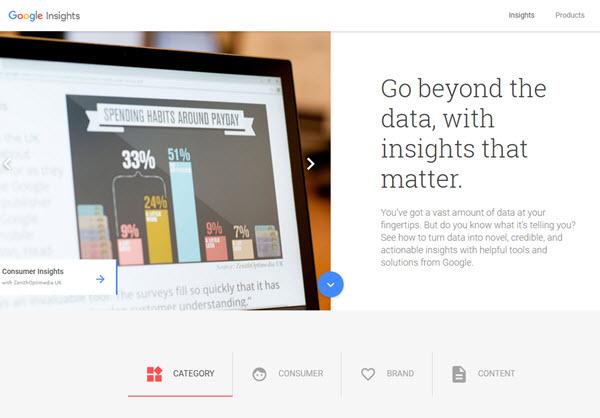 Ahrefs.com is another comprehensive tool to check site traffic. It is perfect for conducting link research. You get fresh and reliable data which is updated on their index every 30 minutes. Moreover, the site has a ranking database of about 45 million keywords coming from several countries including the United States. The results are shown efficiently, and you get to export data or filter reports as per your requirements.
Ahrefs functions more as a link checker tool than a web traffic estimator tool. It shows the number of new links gained or lost in recent times. However, Ahrefs also shows the organic traffic which can be useful for competitive analysis. That said Ahrefs is not a free tool. It has a subscription fee. When you subscribe you get access to its various features such as Labs/Tools, SERPs Analysis, Site Explorer, and Report. However, it comes with a free trial offer of 14 days.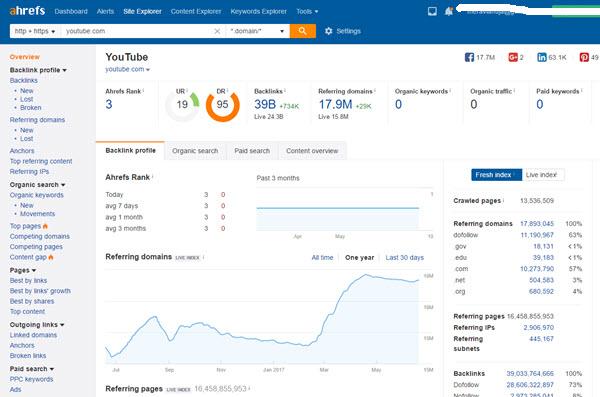 Website IQ is a new and easy to use website traffic estimator and analytics tool. The site makes it easy to get traffic charts for sites big and small with desktop traffic going back to 2011. It offers monthly, weekly and daily charts for most major sites, plus year-over-year growth charts, organic search keywords, and a list of websites competing for those keywords.
The best features of Website IQ include their comparison tool and their tracking tool. It is simple to add other domains to any traffic chart for a quick side-by-side comparison. And for websites you want to track regularly, like your competition, it's just as easy to add them to a custom tracking chart with up to 20 different websites.
The Website IQ service is free for up to 12-month traffic charts, but for longer charts and additional data, they have inexpensive Pro and Business plans. The major established players in the traffic estimate space cost much more and have additional features. Website IQ appears to be targeting small to medium website owners and marketers.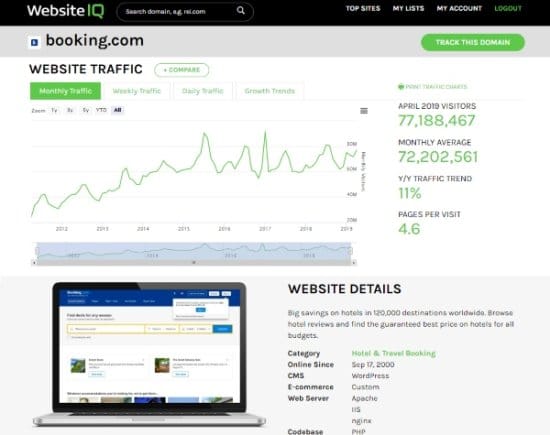 VisitorsDetective is another very popular tool for estimating the website traffic of any site across the globe. The VisitorsDetective allows you to check the website traffic of any site for free.
Moreover, VisitorsDetective makes it very easy to check website traffic details of any website. You simply have to launch VisitorsDetective and key in the desired website URL for which you want to get website traffic details.
VisitorsDetective shows you the traffic levels of the site. It furnishes traffic insights in the easiest way. VisitorsDetective shows daily visitors count. It shows traffic breakup by country. It offers statistics about the website together with incoming links and social networks.
The best thing about VisitorsDetective is the fact that it delivers precise and accurate website traffic information and that too for free.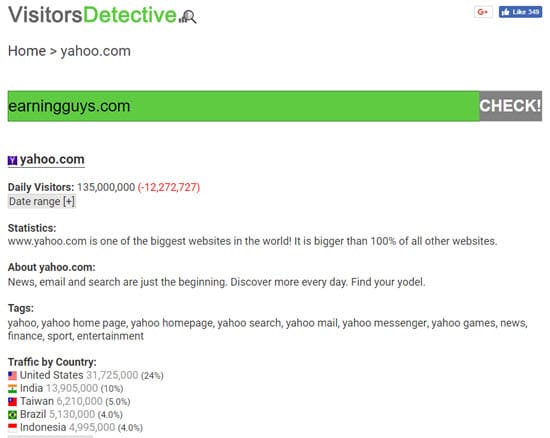 StatShow is a complete website analysis tool which offers vital and accurate information and estimated data of websites. With StatShow, you can understand your business better and run a thorough competitor analysis.
It uses mathematical and statistical methods to give you estimates about websites' value, advertisement earnings, as well as traffic such as visitors and page views. It also delivers internet safety reputation and social media analysis. It's an all-in-one tool for thorough website analysis. It's simple to use. Moreover, StatShow is a free tool.
It offers information such as:
Market Worth
Revenues – Daily, Monthly and Yearly
Traffic (Visitors & Pageviews)
Market Niche
Safety Analysis
Social Network Analysis
Alexa Rank
Backlinks
Dmoz information
Google Indexed Pages
Whois info
Site Age
Site Owner
Widgets

Bonus: Check Website's Advertising Page
Well, it's not a website traffic estimator tool.
Moreover, it's a very useful technique for getting website traffic details of your competitor(s).
Nowadays, many websites put their traffic estimates on a publicly accessible advertising page.
For example, the Digitaltrends website puts this information on its advertising page. It exhibits its monthly unique visitors, page views, and some other useful information.
This trend has been popular with big websites as well as even individual bloggers do this too.
However, not all bloggers publish these numbers on their advertising page. Moreover, these numbers are not always up-to-date.
The best way to use this technique is to look for blogs that go on to state (publicly) when these numbers were last updated. It allows you to trust these numbers. If websites fail to give a "last updated" date, then these numbers are likely not accurate. So, don't trust them.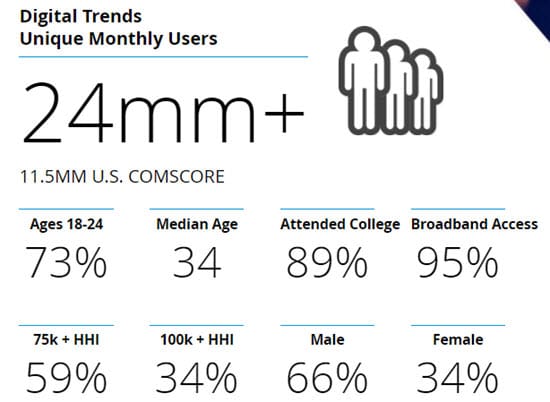 We hope that the article on Best Website Traffic Estimator Tools has presented you with lots of options for easily accessing web traffic. If you liked the post, don't forget to share it with your friends and colleagues. We welcome your comments and suggestions.