Today we are featuring Top Mobile Ad Networks for publishers and advertisers, by which one can promote their apps or monetize apps.
Online business is fast evolving. There is a vast scope for Internet marketing, but the relevance and importance of mobile marketing have increased by many folds in recent years.
Mobile Marketing has acquired the status of "Mobile Economy," and it has become a significant source of revenue generation for advertisers, publishers, and app developers.
So, any online business entrepreneur cannot just ignore the manifolds advantage provided by the mobile platform. In fact, Mobile Ad Networks have become immensely popular with advertisers and publishers as a major means of growing their business.
Advertisers use a mobile ad network to generate sales and lead for their products or services by placing their ads on a mobile app or website provided by scores of publishers.
Here, we showcase Best Mobile Advertising Networks, which can help boost your business by effectively utilizing the mobile platform.
Today, we explore the world of mobile advertising and showcase to you the list of the best Mobile Ad Networks available in the market.
Let's discover the wide range of possibilities out there with these best Mobile Ad Networks for App Monetization.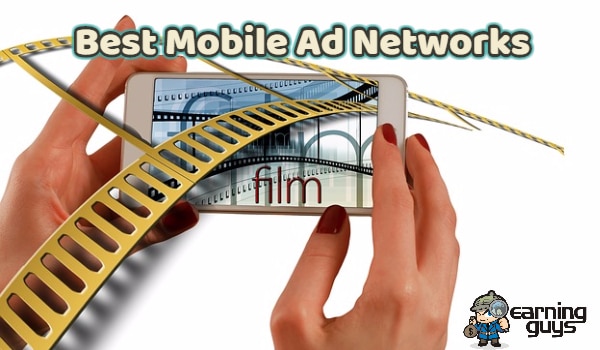 21 Top Mobile Ad Networks
The main advantage of Media.net is the fact that it offers highly targeted advertising irrespective of the industry you are in.
It focuses on the identification of user research intent. Media.net goes on to display different search ads (particularly Contextual Ads) that are purchased by advertisers on the CPC model.
Advertisers benefit from high conversion via the format and do not have to risk purchasing CPM based model.
Media.net is for higher revenue concerning the monetization of applications.
In fact, Media.net has the most comprehensive portfolios of advertising technology in the industry which includes search, mobile, products, display, native, local, and video.
Media.net leads in the display-to-search (D2S) ad format. It involves a highly sophisticated method of monetizing display placements. It identifies user search intent and displays relevant search keywords.
Advertisers have benefited from extremely high conversion/sales through this format.
Here are some of the unique benefits derived by running mobile ad units from Media.net:
Competitive CPMs
Publishers can monetize every impression across all devices
Mobile ads from Media.net are "docked" on the screen and remain in the viewable region all through
Ad units are fully customizable and blend with the look, feel, and layout of a site. Thus, Media.net offers a "native" experience to your users.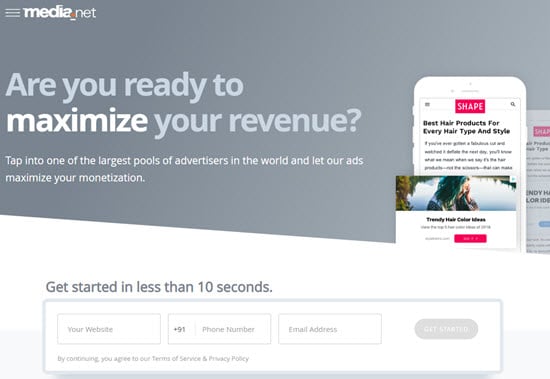 Google Admob Ads is by far the biggest Mobile Ad Network in the world. It's also one of the most popular mobile ad networks that have the cross-platform capability.
More than 1 million apps use Admob. It's popular because it offers high CPM and the best fill rates.
Google has a lot to offer to advertisers in the context of Mobile Advertising. Its SDK can be easily installed and provides relevant ads, which can be displayed in your application.
Moreover, Google Admob Ads has a flexible ad mediation system. It is an industry-leading mediation platform.
With Admob, you get added the advantage of over 40 third-party ad networks, which help you to maximize your fill rates and increase your earnings. You can optimize the Admob network. You can generate the highest CPM from your mediation stack in real-time.
One can also get the facility of a versatile monitoring dashboard that helps you to track mobile traffic.
Moreover, it is effortless to use. It is suitable when you are starting with app monetization. You can use its different tools and solutions.
You can even cross-sell your other apps or even those of your friends to your existing user base.
Key Highlights:
Campaign Type: CPC, CPM, CPI
Supported Ad formats: Interstitial, Native, True view, Banner, Lightbox, and Video
Supported Platforms: iOS, Android, Unity, Cocos2dx, Wp8
Minimum Payout: $100
Payout Terms: NET 21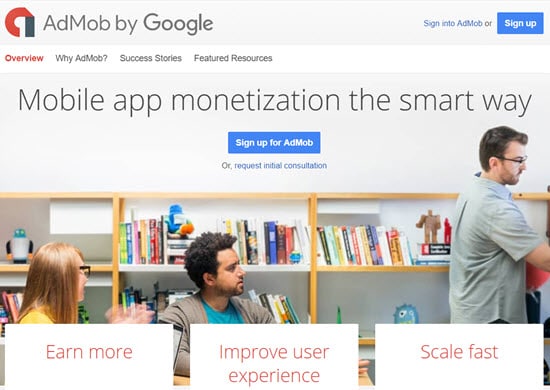 StartApp comes as a mobile advertising company that Gil Dudkiewicz and Ran Avidan founded in December 2010 in New York, US.
StartApp is one of the best Mobile Ad Networks. It is a highly innovative ad publishing platform available on the market.
With StartApp, app developers can add interactive ads like:
Virtual Reality Ads
360 Ads
Interstitial Ads
Native Ads
Video Ads
It allows you to implement interstitial advertising. This mobile ad platform is built upon mutual mobile app user data sharing principle and allows advertisers to build comprehensive user profiles.
StartApp functions as a self-serve platform helping advertisers to build and launch ad campaigns quickly.
StartApp is known for its uniquely designed animated and interactive ads, data-enhanced targeting with data derived from more than 300,000 mobile apps, and native ad units.
Some important aspects of StartApp include:
Supported Mobile Platforms: iOS, Android
Campaign Types: CPM, CPI, CPA, CPC
Supported Ad Formats: Interstitial, Full Page Ads, Video, App Icon, InApp Ads
Targeting: Device, Gender, Geo, Connection Type, Competitors, OS, App, Carrier
Key Markets: Global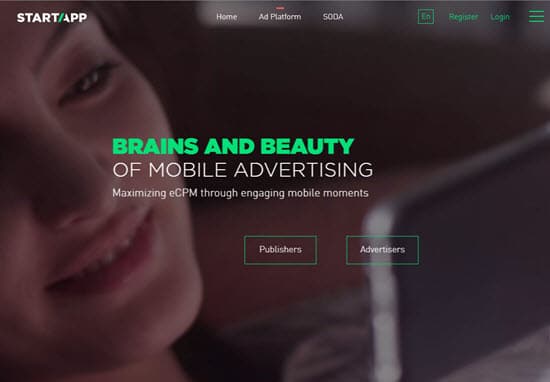 If you are a mobile website or App publisher and want to grow your mobile ad revenue, AdPushup is an ad network backed by Microsoft Ventures, which will help you to increase your mobile app or website earnings. Their optimization features optimize your ads for layout optimization, automated split testing, etc., to increase your mobile ad earnings.
For publishers looking to improve their monetization on the mobile web, AdPushup offers custom implementations of AMP pages, mobile header bidding, lazy loading functionality, along with mobile-specific ad formats such as sticky and docked ads in the best-performing sizes.
If you are the person who doesn't like to make changes in your app for ad optimization, AdPushp is for you as it is a managed service, and as a publisher, you don't need to do any ad setting or layouts updating the ad ops team at AdPushup will take care of that.
AdPushup is partnered with top ad networks and ad exchanges such as Google, AppNexus, Rubicon, and Criteo to help publishers gain access to top-paying campaigns. Their optimization tool helps publishers to increase ad revenue by an average of 33% by optimizing ads and increasing CPM rates and high CTR.
Features:
Easy and Quick setup
Powerful revenue optimization tools
Connected with top ad networks and ad exchanges
Dedicated account manager
Supported platforms: Mobile Web
Campaign types: CPM, CPC
Supported ad formats: Banner, native, docked ads, sticky ads
Key markets: US, UK, India, EMEA
Minimum payout: $50
Payment terms: Net-45

InMobi is one of the most popular Mobile Ad networks.
It is also one of the largest mobile ad networks. InMobi provides CPC as well as eCPM mobile ads.
It has been empowered with an advanced ad delivery system that goes on to serve the most relevant ads according to the context of the mobile web page.
InMobi is recognized for providing one of the highest CPM advertisements.
You can also monitor ads performance through its sophisticated analytics dashboard. Moreover, it provides a wide range of mobile ad formats.
It also has access to a rich media ad library. InMobi ad SDK can also be integrated easily.
Talking about its main highlights, the InMobi ad delivery platform is unique. It creates a discovery zone within apps. The ads are curated. Users can interact with the ads. It results in better offers and effective tailored ads.
They target users based on what they call Appographic targeting.
InMobi offers advertisers the opportunity to reach over 1.5 billion mobile users over 32,000 mobile properties. Advertisers can even launch user acquisition campaigns, brand engagement campaigns, remarketing campaigns, and more.
Key Highlights:
Campaign Type: CPM, CPC, CPI
Supported Ad Format: Banner, Video, Native, Rich Media, Interstitial
Supported Platform: Android, iOS, Unity, Air
Minimum Payout: $50
Payment Terms: NET 60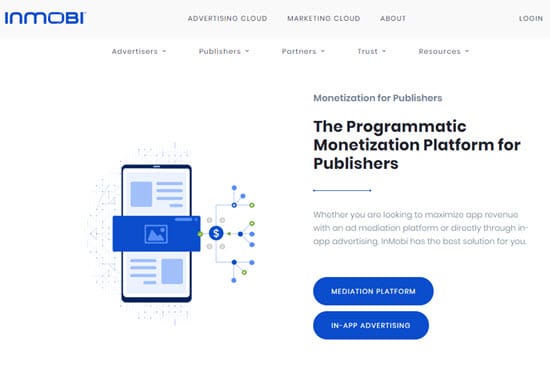 Unity Technologies launched the Unity Ads Mobile Ad Platform in 2014.
It functions as a premier ad monetization solution for mobile games.
Primarily designed for mobile games advertising, Unity Ads is centered towards game developers and helps them for monetizing on their games using video ads.
It serves native video ads solution and provides a perfect mobile ad platform for game advertisers for furthering their online marketing efforts.
Some important aspects of Unity Ads:
Supported Mobile Platforms: Android, iOS
Campaign Types: CPI, CPM
Supported Ad Formats: Interstitial, Video, and Banner
Targeting: country, connection, device, operating system
Key Markets: United States, Global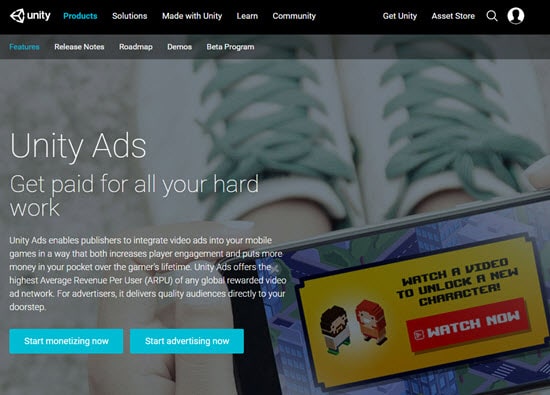 Epom comes as an ad serving company that Anton Ruin founded in 2010 in Kiev, Ukraine.
Epom Apps is one of the best mobile monetization platforms for Android and iOS developers who want to generate revenue from their applications.
One of the main highlights of Epom is the fact that they handle monetization all by themselves. So, the developer only integrates the SDK. Epom manages the rest.
They analyze and give suggestions on ad formats implementation. Epom selects the best matching advertisers.
They handle all negotiations on their own for selling traffic at the highest price.
Monetization of applications is done through ad mediation, and you don't even have to register in every single ad network that they use. Epom Apps manages it.
Presently, they support native ads, banners, and full-screen interstitials. They offer Net 30 or weekly payments.
Epom offers reliable 24/7 technical support covering tech issues, inventory management advice as well as media planning. Epom partners include (among others) AOL, Ask.com, Smaato, Amazon.com, and Aliexpress.
Publishers get 100% fill-rate, global reach, and the highest eCPM.
Key Highlights:
Mobile platforms: Android and iOS
Campaign Types: CPA, CPM, CPC
Supported Ad Formats: Banner, Native, Background, Interstitial, and Video
Targeting: Language, Country, OS, Browser, Demographic, and Behavioral
Key Markets: Canada, Europe, UK, Germany, United States, Ukraine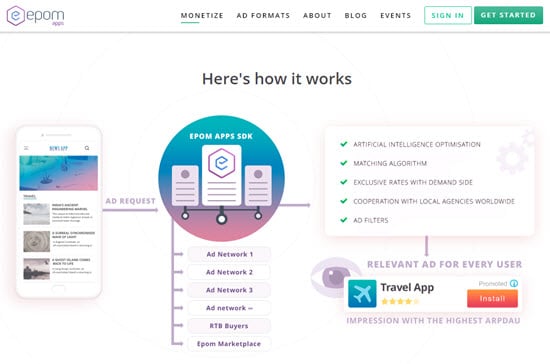 Tapjoy has been in operation since 2007. It was founded by Lee Linden, Ben Lewis, and Mitch Liu in the year 2007 in San Francisco, United States.
It is functioning as an app monetization and mobile user acquisition company. It's one of the top mobile advertising companies. The Tapjoy Mobile ad network is ever focused on helping premium mobile app publishers in increasing revenue for each user they have.
Tapjoy has devised a very engaging & innovative way of helping you out with monetization.
It works uniquely.
Users are offered virtual money in exchange for watching video ads. They need to subscribe to some services or download promoted apps. The virtual currency can be used for unlocking in-app content from publishers.
So, the audience can be targeted in a personalized way.
Some key aspects of Tapjoy include:
Supported Mobile Platforms: Mobile Web, iOS, Android
Campaign Types: CPM, CPC, CPI, CPD
Supported Ad Formats: Interstitial, Offerwall, Rewards, Content Lock
Targeting: Custom
Key Markets: UK, United States, South Africa, Kenya, Japan, Europe, India
The Tapjoy platform is for maximum mobile impact.
It drives peak performance for leading brands and highest-grossing app developers.
Its unparalleled technology, data, and expertise can fuel your mobile success with top-notch results.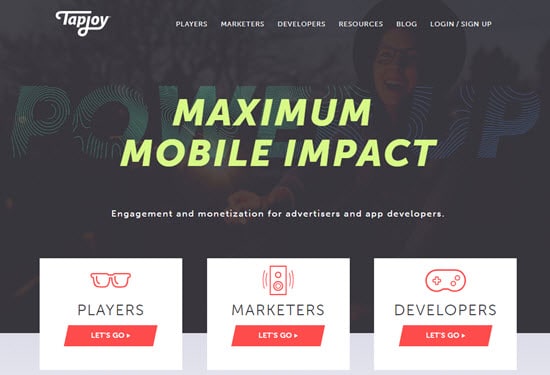 Airpush can rightly be called the "Future of Mobile Advertising." It has the most advanced targeting & optimization technology on the market.
In fact, Airpush is one of the largest Mobile Ad networks catering to the Android segment. Advertisers and developers can look forward to great performance once they join this extensive Mobile Ad Network.
Airpush already has a large list of advertisers to its credit. With Airpush, you get to have rich media ads which deliver high eCPM. They have innovative push ad technology which can send The oath advertisement directly into the top notification tray.
Airpush offers as many as 12 ad formats. Advertisers can choose to engage with users in an impactful and meaningful way.
Airpush not only offers banner and video ads, but it has also gone on to introduce entirely new formats such as Abstract Banners.
Airpush has re-engineered the push notification ad. Airpush offers its advertisers a highly unique channel for reaching users even when they are not actively engaged with the app.
Airpush has launched countless campaigns across a myriad of verticals. Moreover, it has powered some of the most successful mobile campaigns to date.
Scores of iconic brands and niche performance advertisers have leveraged Airpush's advantage and got amazing results.
Airpush offers unrivaled performance for mobile advertisers.
Its self-serve advertising dashboard enables you to purchase inventory from the Airpush network. It even offers actionable insights on all your campaigns.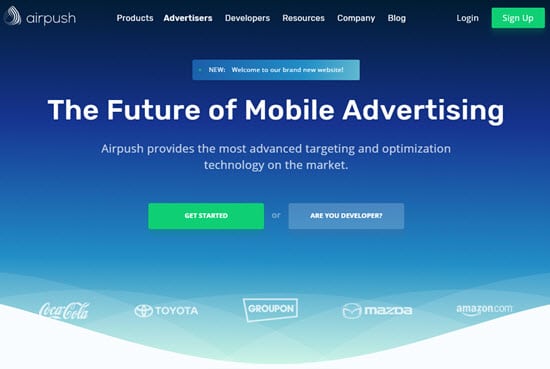 If you are looking out for the top mobile ad networks in 2018, you should surely check out Chartboost.
Chartboost is another very popular Mobile Ad Network. It has been functioning since 2011 as a mobile game user acquisition company. It provides a powerful platform for cross-promotion with native ads, sophisticated targeting, as well as tracking.
Chartboost is best suited for game app publishers helping them to monetize their app better. It's a mobile-only ad platform that focuses mainly on gamers.
Chartboost is well known for the cross-promotion of apps. Its ads are thoroughly focused on encouraging installs of new game apps. Lots of game app publishers have opted for Chartboost for keeping their user base together. Publishers go on to promote their new game apps in existing game apps.
Chartboost offers powerful analytics with plenty of insights on improving your campaigns. Plus, integrating with Chartboost SDK is very easy. You can see who advertises in your app and where. Moreover, you control the ads which your app users get to see.
Some key aspects of Chartboost include:
Supported Mobile Platforms: Android, iOS, Wp8, Amazon, Air, Cocos2dx
Campaign Types: CPI, CPC, CPM
Supported Ad Formats: Interstitial, Video, Native Ad, Offerwall, Content Lock
Targeting: Custom
Key Markets: Global, United States
Minimum Payout: $75
Payment Terms: NET 45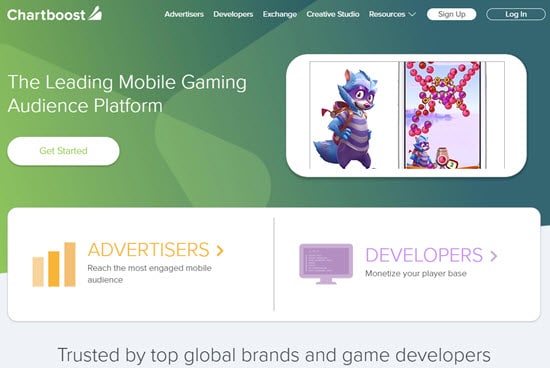 Appnext rightly deserves a place on this list as it is one of the best Mobile Ad Networks in the world. Appnext was founded in 2012 and functions on a self-serve CPI bidding basis.
Some of the important aspects of Appnext include:
Supported Mobile Platforms: Mobile Web, Android, iOS
Campaign Types: CPI
Supported Ad Formats: Interstitial, Notification
Targeting: Device, Country, Channel
Key Markets: Global
Appnext is helping scores of people in experiencing apps at the right moments throughout the day. It helps you to pick the right moments for monetizing and re-engaging users.
Appnext makes every interaction (that a user has with your product) meaningful and relevant. In fact, thousands of partners are using the Appnext platform for growing and monetizing with a premium video ad suite. It is designed and optimized to fit every app, game, device, and mobile site.
Appnext offers an unparalleled discovery experience by connecting users to their next action.
It works as a mobile monetization & app marketing platform.
Appnext comes studded with Timeline technology to tap into users' daily experiences with apps. It goes on to map their mobile route. Moment by moment and one app at a time. It's a user-centered mobile monetization platform that works to amplify revenue and secure engagement with your app, game, or website.
With Appnext, you can reach millions of users and get your apps discovered & used again and again. It makes it possible for you to grow your user base and run sophisticated retargeting programs.
All in all, Appnext functions as a powerful app marketing platform.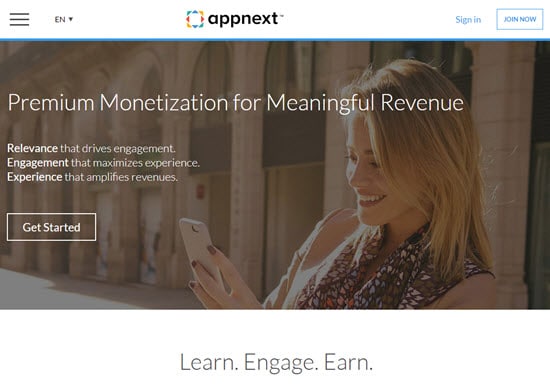 YeahMobi is a leading Mobile Ad Network.
Headquartered in China, YeahMobi is helping mobile technology companies to reach the pinnacles of global growth, acquire users, and monetize.
They operate in the field of consumer apps, internet finance, E-commerce, lifestyle, and other industries.
It runs thousands of active campaigns with premium payouts.
YeahMobi delivers real-time performance tracking with modularized reporting. It provides global coverage reaching users in over 200 countries and regions.
YeahMobi goes on to deliver a variety of Native Ad Formats with rich campaign fill rates, thereby providing inventory monetization for mobile apps.
With YeahMobi, mobile app advertising reaches hew heights, opening doors for greater app monetization.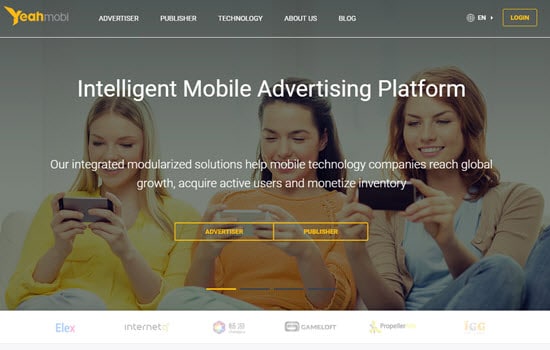 Oath, previously known as One by AOL, is a leading and well-known mobile monetization platform.
Its technology, tools, and services help advertisers deliver rich ads experience to viewers on their Smartphones. One by Oath helps advertisers bring large traffic to their offer and monetize their ad campaign.
Oath has unified multiple advertising technologies in a simple, open, and intelligent solution. It's one of the top ad networks for mobile apps.
The advantage of the Oath is the fact that it drives real results. It simplifies the entire digital media process. The platform increases efficiency and improves performance.
Oath works as a self-service mobile advertising platform. It is being used by as many as 50,000 mobile applications and websites.
It's a very flexible platform with a focus on targeting, bidding, and customizing creatives. It requires no minimum deposit, which makes it ideal for mobile advertisers who want to get started on a very small budget.
It offers robust and thoroughly intrusive advertising options for developers for monetizing their apps. They offer full-screen interstitial, video, and image-based ad formats.
It offers advertisers and developers a mobile-focused ad exchange. They also offer real-time reporting & analytics tools for enhanced targeting and brand planning.
Oath is the perfect place to find the best revenue option.
With Oath, advertisers and publishers get full control of their data, choice of tools, media, and, of course – their business.
Key Highlights:
Campaign Type: CPC, CPI, CPM
Supported Ad Format: Banner, Video, Interstitial
Supported Platform: iOS, Android
Minimum Payout: $50
Payment Terms: NET 45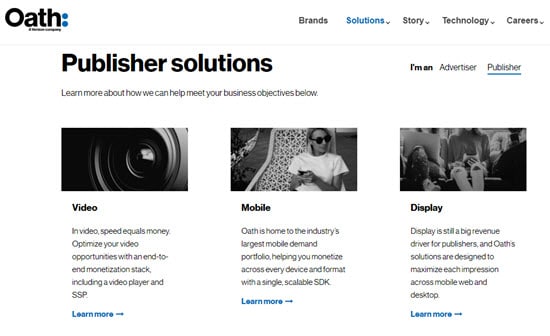 Leadbolt is an Australian company that's operating in the mobile ad network business since 2011. It's one of the top mobile advertising companies.
They have won many awards, including the Australian Business Award. Presently, they are serving more than five billion ads (monthly) across 65000 apps in as many as 150 countries.
Leadbolt has many neat features for developers. The App Wall is the best one of them all.
It allows you to integrate Leadbolt advertising into your application without using SDK or writing any single line of code. Leadbolt allows developers to control their applications and see their analytics.
It also offers app engagement statistics, which goes on to measure the users' engagement to the app.
So, developers can optimize the balance between the application and advertisements shown. There is no loss of user engagement due to the number of advertisements.
Another big highlight of Leadbolt is the fact that it offers almost ten different Ad Formats for applications. As the advertisements formats are different from banner ads, so you get to have a high eCPM.
It also provides an automatic Ad optimization feature.
Moreover, Leadbolt is equipped with an advanced segmentation tool and has a flexible and powerful SDK that helps deliver ads on different mobile platforms.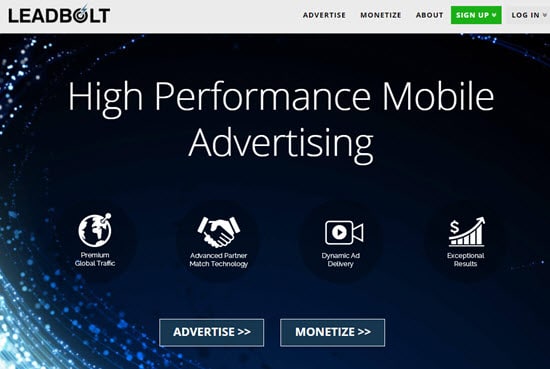 MobFox delivers a powerful mobile advertising platform to advertisers, app developers, and publishers.
It's one of the top mobile ad networks out there.
With MobFox, you can monetize mobile traffic on Android, iPhone, and also on Windows Phone 7.
MobFox lets you run mobile ad campaigns on a worldwide scale.
MobFox has gone on to become a leading mobile advertising platform and exchange.
Julian Zehetmayr founded it in 2010 in Vienna, Austria.
It has much to offer for mobile developers and advertisers.
MobFox is the largest mobile advertising network in Europe. It has a range of features for both advertisers and publishers.
Some of its key features include:
Open Source SDK
Real-Time Bidding Exchange
30+ Ad Networks Integrated
Android, iOS and Mobile Web Supported
High level of control offered through granular filters and block lists
Publisher platform used in more than 25000 Android and iOS Apps
Dynamic floor pricing
As for the publishers, the network offers an ad serving solution that works on all mobile platforms. Publishers can directly run sold and promotional campaigns, manage their ad networks, and connect to more than 100 demand partners with the MobFox RTB Exchange.
Moreover, MobFox has come up with a range of new services such as the RTB platform, the ability to use native ads in the apps (publishers), plus the facility to mediate third-party ad networks through the Publisher Platform.
MobFox is different from other ad networks because it offers over 30 integrated networks with no SDK required. It allows publishers to integrate multiple ad formats through a single SDK. Plus, they offer industry-leading eCPMs with a high revenue share for publishers.
Advertisers also stand to benefit from this ad network.
With MobFox, advertisers can buy, analyze and optimize their mobile ad inventory from publishers. In fact, there are more than 2000 advertisers who have chosen the MobFox Advertiser Platform.
Advertisers get a range of services, including a data management platform for audience analysis. They can run banner, video, and native ads at the same time. They have the option of creating lists of publishers for their campaigns in the future.
All in all, MobFox Ad Network is best suited for advertisers and publishers helping them enhance their mobile monetization and distribution strategies.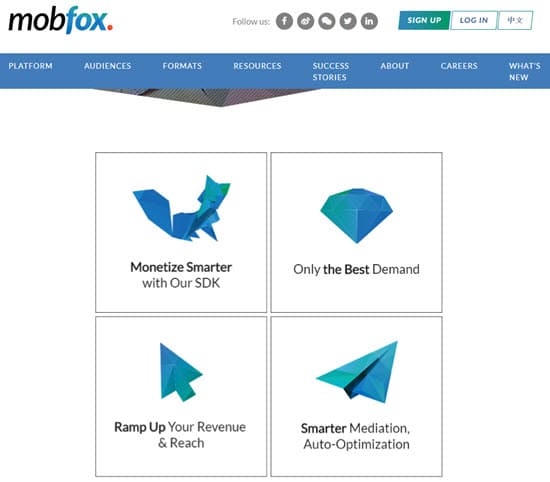 Phunware, which was previously known as Tapit, is another excellent Mobile Advertising Network.
It was founded by Alan Knitowski, Luan Dang, and Alan Kane on 23rd February 2009.
Its technical expertise combined with excellent market knowledge goes on to serve the needs of app developers, advertisers, and publishers in the best possible way.
You can also be the one to take advantage of Phunware's self-serve marketplace, which it has built with years of expertise and experience.
Moreover, Phunware offers every stage of mobile application lifecycle management. Phunware creates an ideal mobile application for your business.
It offers the opportunity to build and monetize your app's audience. It goes on to create hyper-personalized mobile experiences with its exclusive data.
Phunware is focused on building, engaging, and monetizing your app's audience. It helps you to find more users for your app.
You can target and engage audiences with enjoyable experiences. You can have a deeper level of insight about your current as well as prospective customers.
Phunware is helping the scores and scores of top brands to engage, manage, and monetize their mobile audiences.
All in all, Phunware is one of the best platforms to monetize your journey over mobile. It improves brand interactions, business results, and revenue. It enables precise, contextual audience targeting. Phunware offers tools like location marketing, blue dot wayfinding, and hyper-targeted push messaging.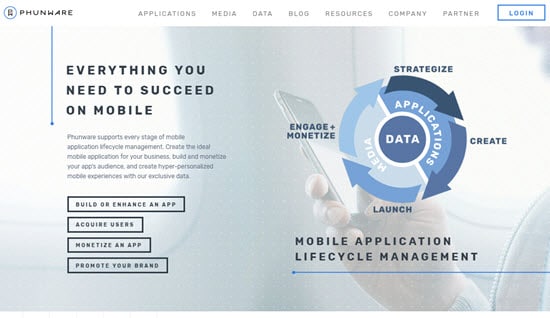 Search Ads by Apple was earlier known as iAd.
It's one of the best platforms to promote Apple Smartphones and tablet products' applications.
Search Ads offers an easy and efficient way of helping people discover your app on the App Store for iPhone and iPad.
It offers you the advantage of being seen at the top of the App Store search.
It has been empowered with various powerful features and tools like Web GL (with 3D Motion Graphics), which help you to create beautiful Ads and reach the right set of people at the right time. Using Search Ads (iAd), you can reach your target audience through various iOS Apps.
It's the best mobile ad platform for reaching high-intent, quality users.
As much as 65% come directly from a search on the App Store. With a 50% conversion rate, Search Ads proves one of the best mobile ad platforms.
It offers the advantage of getting a higher average revenue per user than other mobile ad platforms. Its "quick-view" dashboard tracks ad performance.
It allows you to set up your bids and budgets.
You can choose keywords and audiences for your ads.
You need to pay only when a user taps on your ad.
It offers detailed reports of all key metrics.
All in all, Search Ads (iAd) deliver results.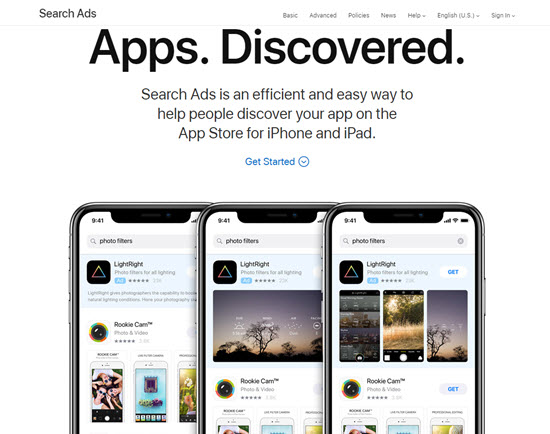 If you love the traditional way of online advertising as well as the new style of advertising, then Bing Mobile Advertising can be the best option.
You can advertise on mobile devices with Bing ads targeting mobile devices. Bing ads are a premium advertiser for mobile advertising, and you will love the quality of traffic.
Bing Mobile Advertising is one of the best mobile advertising platforms out there.
With Bing Mobile Advertising, you can reach millions of mobile searchers easily. Bing Ads allow you to influence a shopper's decision in their "mobile moment."
Moreover, Bing Ads reaches most of the major mobile operating systems together with dozens of OEMs and thousands of models. In fact, as much as 70% of Bing Ads mobile queries are from iOS platforms.
It helps you to create powerful mobile ads to target your customers in your specific line of business. There's also Bing Ads Analytics to devise your mobile ad strategy.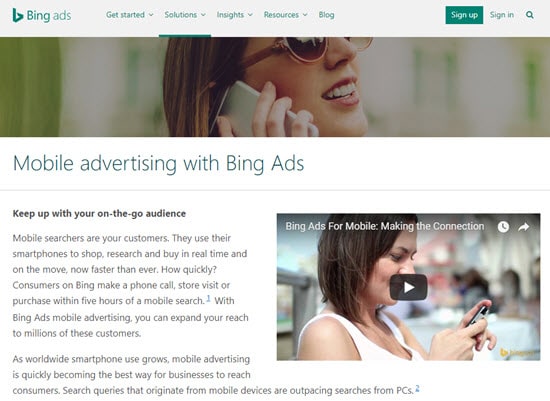 Fyber is one of the best Mobile Ad networks for app monetization. It brings in a new era of app monetization.
It's a global technology company that has developed a next-generation monetization platform for mobile publishers.
Fyber is all about proprietary technologies and expertise in mediation, RTB, video, and audience segmentation creating holistic solutions that are shaping the very future of the mobile app economy.
It offers a true state of header bidding for the mobile app environment. With Fyber, publishers get a holistic, efficient, and frictionless monetization environment.
Fyber offers its users an Ad Server.
It's serving more than half a billion active users monthly.
It functions as a full-stack mobile SSP and streamlines all ad monetization strategies.
Its 'Autopilot Feature' enables automatic optimization of ad revenue sources for developers. Fyber can run simultaneous campaigns across direct, programmatic, and mediated networks.
Key Highlights:
Campaign Type: CPC, CPI, CPCV
Supported Ad Format: Banner, Video, Interstitial, Offer Wall
Supported Platform: iOS, Android, Unity
Minimum Payout: $200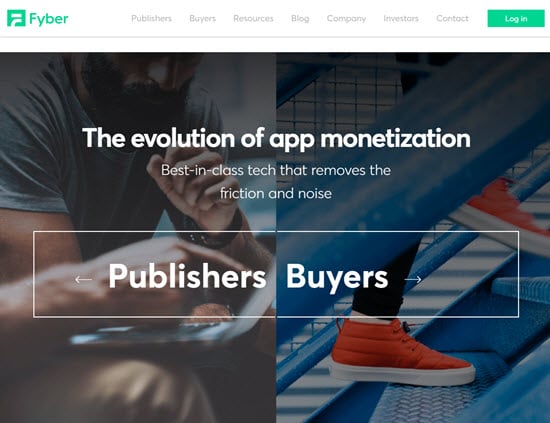 IronSource is one of the best mobile ad platforms. It was launched in 2012.
The IronSource mobile ad network offers a sophisticated campaign management solution with multiple ad-unit and campaign type-support, together with creative assets management as well as advanced reporting.
Its technological advances help app developers to take their apps to the next level. IronSource is one of the biggest in-app video networks; it functions as a mobile ad mediation platform as well as a data-driven user acquisition platform.
With IronSource, you get everything you need for app monetization. It's one of the industry's largest in-app ad networks, which leverage all available ad units driving revenue and user management. In addition, it ensures that you scale smartly and campaigns stay ROI positive.
Its dedicated creative studio boosts performance and delights users. Its analytics and reporting go beyond the obvious, offering access to actionable and user-level insight.
Key Highlights:
Mobile platform Support: iOS, Android, Windows Phone, Cocos, Amazon, Adobe Air
Campaign Supported: CPA, CPC, CPE, CPV
Ad formats: Interstitial, App Wall, Videos, Offer Wall
Targeting: Custom
Key Markets: United States, Israel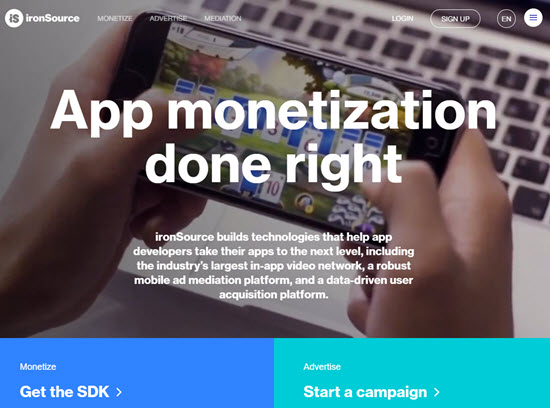 Smaato is one such mobile ad network that provides you with real-time data for each impression. It allows marketers and app developers to have ad-exchange actions.
It offers high-quality traffic optimization features as well as full pricing controls at the same time. You can target your audience by country, device, connection type, ad format, GPS data, and device ID.
Smaato is all about real-time bidding and programmatic advertising. It's one of the best mobile ad networks when it comes to high revenues for developers of mobile apps and websites.
Smaato Publisher Platform has come up with a "Dynamic Demand" platform with per-impression competition for all advertising sources for maximizing publisher revenue.
Smaato has promising revenue potential.
It's free to integrate and connect to more than 390 demand partners. Smaato is a strong player to the eye upon when you look for high revenue from your app.
Moreover, there are no downsides to this mobile ad network. On the contrary, it's just about catching the fancy of demand partners, and you can expect promising revenue.
It's a global real-time mobile advertising platform for both mobile marketers as well as app developers. Smaato is a mobile-first ad network and ad server solution for both publishers and app developers.
It has the largest independent mobile ad exchange with a global reach.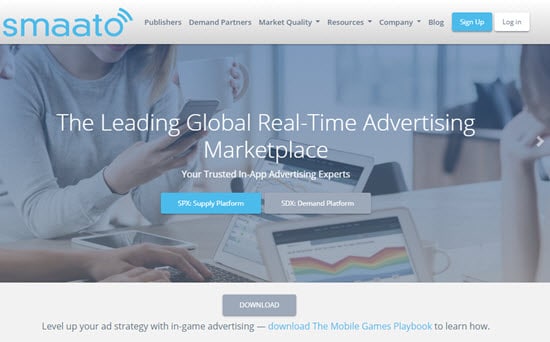 If you want to learn more about mobile advertising here, we have tried to answer the most common questions related to mobile ads.
Why Mobile Advertising?
The success of mobile advertising depends a lot on the quality of your product.
You should have something exciting for your users if you want them to download your app or game.
Focus on creating a quality product which people like. Creating any app will not work as the user will remove the app in a day or two if they don't like that app.
But that's not what you want.
So, first, come up with something unique and original.
Once you have a unique and original product, it's time to boost app monetization.
Herein comes the role of Mobile Advertising.
In fact, Mobile Advertising serves two-fold purposes.
Firstly, it paves the way to raise up your installs volume. It helps you to reach new markets and promote your app to new audience segments.
Secondly, it helps you with in-app monetization by placing advertising from third-party companies (inside your app).
Mobile Ad Networks are the best way for app monetization. Here, we will list out as many as 20 Best Mobile Ad Networks.
The Growth of Mobile Ad Networks
The growth of Mobile Ad Networks is not without reason.
Mobile traffic is rapidly on the increase. There are millions of people who are using mobiles and Smartphones. Then, mobile marketing offers a cost-effective means of promoting products and services.
All this goes on to show that there is a huge scope for mobile marketing.
You can also take advantage of this scenario and feature among the ones who profit from doing mobile marketing.
However, one of the most important things you need to do is to choose a competent, effective, and powerful Mobile Advertising Network.
These Mobile Ad Networks specifically provide ample opportunities for mobile segment advertising.
From the advertisers' point of view, they look for such a mobile advertising network that provides low eCPM and a large target audience, all leading to the low cost of advertising.
Here, we showcased you a compilation of 20 Best Mobile Advertising Networks. Depending upon your specific needs, you can go to select a suitable Mobile Advertising Network, which fulfills all your requirements.
These Mobile Advertising Networks specialize in one or the other form of mobile marketing. They cater to app advertising, mobile video advertising, iOS advertising, and as well as Android advertising.
These Mobile Ad Networks can help you in quickly monetizing your mobile marketing campaigns in a big way.
Business Models with Mobile Advertising
Mobile Ad Networks offer several types of business models for running ad campaigns.
The major ones are as follows:
With CPM (cost per mile) model, an advertiser is charged when his or her ads are shown 1000 times (so-called as 'mile').
In fact, CPM is regarded as the best business model for publishers. It allows them to make money every time an ad is displayed.
The publishers can even forecast their revenue if they have stable, predictable traffic.
However, the CPM model has a downside too.
They may lose some extra revenue if their audience is interested in a product or service they advertise.
With the CPC (cost per click) model, an advertiser is charged only when a click is made on his or her mobile ads.
This model is best suited for advertisers because herein, they need to pay only for instances when interest is explicit for their products or services.
It means that their ads were clicked.
For publishers, this model serves as a certain risk as there are lots of ad impressions for free.
In the CPI (cost per install) model, advertisers are charged only when a click on their ads results in an actual mobile app install. It's a more specific case of a generic CPC model.
In fact, CPI price is one of the most important metrics for mobile app marketers as it represents the price they pay to acquire customers. Moreover, the CPI price is factored into ROI calculations.
The CPA (cost per action) is a more advanced version of CPI. Herein, the advertiser is charged for a specific action (such as in-app sale, subscription, download, form submit, sign up, or more) that users take inside an app which is advertised on a mobile ad network.
The CPA model is beneficial for both advertisers as well as publishers. On the one hand, publishers get more opportunities to monetize their inventory, whereas advertisers get more options to grow their business.
Finally, we come to the CPV (cost per view) model.
It applies to mobile ad networks that offer video ad campaigns to advertisers.
Herein, the advertisers are charged for each instance when their video mobile ad is viewed.
This model is becoming more and more popular as video advertising is growing at a fast rate.
Different Types of Mobile Ad Formats
Here, we list out the five (5) major mobile ad formats that are supported by top mobile ad networks:
Interstitial
Banner Ads
Offer Wall
Interstitial Ads
It's a full screen that covers the interface of their host application. It is frequently used for displaying an ad between different app screens. For example, they are displayed at different levels in a mobile game app.
Native Ads
Herein a banner image or video ad is displayed that matches the form and function of the app interface. It is the least intrusive mobile ad format that mimics an app's interface.
Banner Ads
It's a classical static or animated image ad. It is placed inside an app's interface.
It usually advertises a third-party product, digital or physical goods, as well as expands an app's functionality.
Video Ads
It is a video clip to advertise products or services. It is usually used in media apps.
In fact, there are two types of video ads:
With in-stream type, video ads are displayed full screen inside an app before, after, and within video content.
With out-stream type, video ads are displayed inside a mobile app and even on a web page.
Offer Wall
It's an ad unit inside a mobile app with lots of offers.
For example, the offer walls may either advertise third-party games or even a series of games coming from the same developer in mobile games.
The Parameters of Mobile Ads Targeting
Mobile Ads Targeting Parameters allow narrowing down of a mobile ad campaign so that it can reach a specific audience.
These are named "Targeting Options."
Here, we list out the major Mobile Ads Targeting Parameters:
Geo
It is used to narrow down an ad campaign within a specific region or country. With Geo-targeting, mobile marketers can market a product or service within a specific region.
Device
Device targeting allows you to display ads on specific mobile models or device types. So, advertisers can choose a particular size of the screen and can avoid mobile ad experience degradation.
OS
OS targeting is used to show ads on the specific operating system or even particular versions of OS. It allows advertisers to show ads to mobile users on devices that are best for displaying those ads.
Interests
The mobile ad campaigns can be targeted based on an audience segment with specific interests only. Usually, most mobile ad networks collect such mobile users' data.
Gender
It is used to narrow down an ad campaign based on a particular gender. It is used to market goods specifically to males or females.
Mobile Ads Reporting
Mobile Ads Reporting offers advertising campaign performance data to advertisers through an online dashboard.
It's very crucial for the success of mobile advertising.
The data includes various parameters of ads performance such as clicks, video ad views, number of impressions, installs, platform, country, ad format, etc.
Now that you are familiar with the "ins-and-outs" of mobile advertising, it's time to check any of the Mobile Ad Networks to start promoting or monetizing your app.
We hope that the presentation 21 Best Mobile Ad Networks proves immensely useful to you and helps you in selecting the best Mobile Ad Network. Do share your comments with us.