As you can appreciate, collaboration and communication are the most crucial aspects for success in teamwork. It helps you to understand each other, establish clear goals for projects, and allows you to stay on top of your work. Collaboration Software and Team Chat Apps are the best tools that enhance collaboration and communication. This post shares with you 17 Best Collaboration Software and Team Chat Apps.
If you're eyeing for a fast and easy way of communication, then you should surely go for Collaboration Software and Team Chat Apps. These tools have become extremely popular in the business world.
They not only enhance communication and collaboration between teams but also between clients, stakeholders, and even organizations. It allows the sharing of files or information and helps you to stay organized.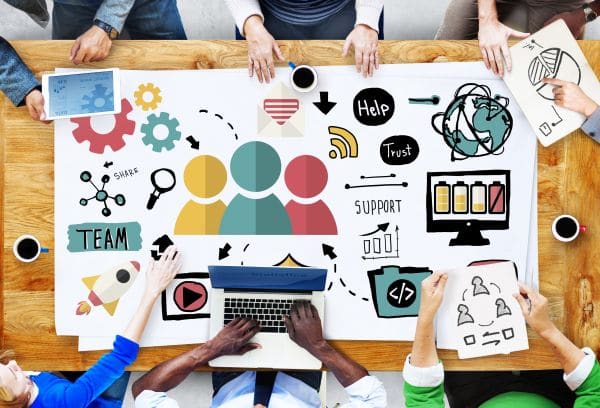 Nowadays, most of the organizations use chat to improve their teams' productivity and collaboration. It's the best way to communicate and exchange information between team members. It makes it easy to type a quick message and get on with your work.
In fact, team chat apps have become extremely popular with companies all over the world. It keeps all the company's communications in one place. So, it makes communication easier for everyone to talk together in groups or private chats. Everyone is just a tap away.
Moreover, team chat apps offer the facility of conference calls, video chat, and screen-sharing tools. They keep conversations organized into groups in the form of channels or rooms. For example, there can be a General group for random discussions.
It's one place for everything, including random conversations and private messages. It saves time and makes way for productive discussions. All in all, Team chat apps make your company an exciting place to work.
Here, we have showcased some of the Best Team chat apps that come with the perfect combination of features.
For a moment, let's get into the details and know more about Collaboration Software.
What is Collaboration Software?
Collaboration Software is described as software that supports intentional group processes. It uses existing technologies and allows groups to communicate, coordinate, share, and even compete for completing a task.
So, Collaboration Software is useful for managing, processing, and sharing of files, documents, and other types of data among users and systems anywhere and anytime.
It improves the productivity of individuals that work in a group or team within the organization, thereby helping them in achieving a particular goal. It helps users to coordinate tasks and create an individual workspace.
In fact, collaboration software technologies cater to the dimensions of time and location, such as:
Users can do tasks together at the same time
Users can work together at different times
Users can do tasks together in one place
Users can work together from various places
So, collaboration software helps to create a mobile workforce. Moreover, it facilitates remote work and creates an efficient communication system. It allows the sharing of files, documents, and all other forms of data. It also offers content creation functionality.
It has a robust search feature with which you can find old files, previous conversations, or past blog posts. Another integral feature of collaborative platforms is personal as well as group calendars that help team members to be present at all times, wherever they may be.
What are the different types of collaboration software?
Now, that you know what collaboration software is, it's time to look at its different types. In fact, there are three main categories of collaboration software that are based on their functional capabilities. Collaboration Software employs tools for:
Communication: It facilitates the exchange of communication between groups. There are systems and applications for email hosting, file sharing, project management, and more.

File sharing is the most common feature in collaboration software. Example tools: email, instant messaging, voicemail, and video calls.
Conferencing: It facilitates real-time collaboration among members. There are Groupware software tools that allow real-time discussions among project members.

Project members that are at various locations can hold online meetings and can decide important matters easily. Example tools: video conferencing, social media group chats, online forums, application sharing, IM conferencing, and community boards.
Coordination: It facilitates group activities, schedules, and deliverables. It is used to resolve complex interdependent tasks for realizing a common goal. It employs systems for time management, project management, and online proofing. Example tools: calendars, spreadsheets, client portals, time trackers, and status updates
What are the benefits of Collaboration Software?
Collaboration Software offers a lot of benefits that bring about effective and efficient completion of tasks and goals. Many organizations worldwide have implemented collaboration software to enhance the productivity of their employees. Here, we list out four good reasons for executing collaboration software in your organization:
Saves Time: Collaboration Software saves time and thereby unwanted expenses bringing about efficiency in your organization.

It results in better collaboration among employees and so quicker completion of end goals. It saves not only time but also resources and efforts.

For example, you can cut costs on your projects by implementing collaboration software in your organization.
Strengthens team relationships: Collaboration Software results in effective working relationships among employees. It allows teams to work like a concerted unit and achieve their purpose or end goal. It makes employees comfortable and confident in achieving common objectives.
Enhance project management: Collaboration Software allows you to achieve most out of your team. It fosters coordination and communication among employees so that projects can be completed promptly. It minimizes mistakes and confusion and keeps everything on track, thereby avoiding delays in projects.
Improve Organization: Collaboration Software improves project workflows and keeps things and tasks in order. It maintains order and manages the stages in workflows by improving open communication and coordination among team members. It helps website owners and bloggers to speed up their writing and SEO related work.
What is the cost of collaboration software?
The cost of collaboration software is based on its capabilities and features. It varies from vendor to vendor. You can get free plans which can be used for a small team.
However, flexible pricing options are depending on feature sets such as file storage capacity, several collaborators, customization, and integration with other apps, branding function, and advanced security, among others.
Below you will find a list of leading Collaboration Software and Team Chat Apps.
17 Top Team Collaboration and Chat Apps
Here is the list:
1. Slack Collaboration Software
Slack is one of the best team chat applications for team collaboration. It is widely used for improving team communication and efficiency.
It supports instant messaging (IM) basics as well as file sharing and automatic syncing through different devices. It was released in 2013 and is known for its friendly UX and a powerful search.
Slack is available as an online app as well as for mobile. It allows you to connect with your team from any location. You can even create channels for different teams, projects, or clients. You can hold a group or an individual conversation. It allows you to look for a specific file or chat through the search history.
It can also be integrated with different other tools for better collaboration. It allows you to drag-and-drop PDFs, images, videos, and other files directly into Slack. The Slack App Directory comes with over 1500 apps that you can integrate into Slack.
Supported Platforms: Windows, Android, iOS, macOS, Linux, and Web
Slack has three plans on offer such as:
Freemium
Standard ($6.67 per user, per month)
Plus ($12.50 per user, per month)
We must point out that Slack is not the cheapest tool on the market, especially when you have a big team.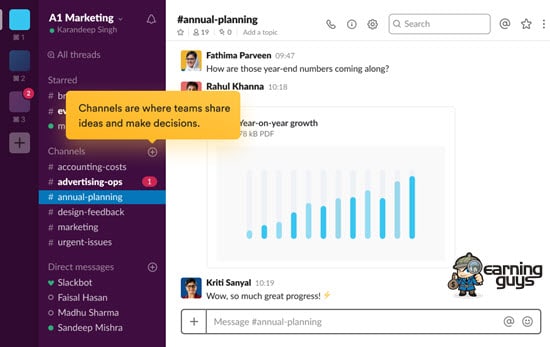 2. Discord Free Voice and Text Chat
Discord (Android, iOS) is one of the best go-to apps for gamers who want to coordinate and communicate both in and out of the game. It comes loaded with robust voice and text chat features. Users can create and join group servers. They can hold discussions around named text and voice channels for easily compartmentalizing discussion threads.
Discord allows users to engage in voice chat. They can send text and photo messages. Plus, users can easily send invite links to servers for their contacts. There are channels for every topic that you want to discuss. You can shoot Emoji reactions to give quick feedback. There's the facility of pinned messages so that you don't lose track of important ideas.
Discord offers voice channels so that you can talk to anyone on your team. Moreover, Discord has been designed for gaming. The overlay view shows voice channels on the side of your games.
It allows you to talk to colleagues while working remotely with a shared Google Doc. You can even add someone from another team to your chats. It is the fastest-growing team chat app on Zapier. Discord is one of the best options to start using team chat for free.
Pricing: Free for full features; $4.99/mo Nitro plan that offers custom Emoji, larger file uploads, and GIF avatars.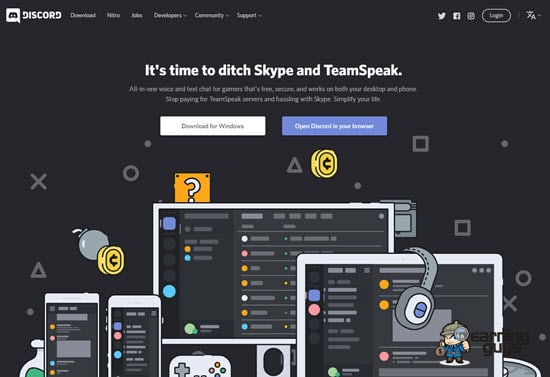 3. Flock Team Messaging
Flock is an Indian based (Mumbai) team chat app that was launched in 2014. It has gained good popularity in recent years due to its low price advantage. Its paid version is affordable and $2 cheaper than Slack. Flock offers high-quality video calls facility. However, its interface is rather overloaded.
Flock is a popular online collaboration platform that offers great features in one software such as team messaging and project management. All your conversations are organized effectively in one place to allow what matters the most. Moreover, Flock is convenient and real-time. It makes communication seamless and easy.
Here, we offer you some of its prime highlights:
It allows you to create channels that facilitate focused discussions as well as meaningful discussions
It allows you to make video calls with just a click and connect with remote team members
You can drag and drop files and have the previews of shared files
You can access the entire company directory and enhance collaboration
Integrate over 60+ third-party apps
Pricing: Free as well as Pro ($2.11 per licensed user per month billed annually) and Enterprise (It can be requested on the website)
Supported Platforms: Android, iOS, and Web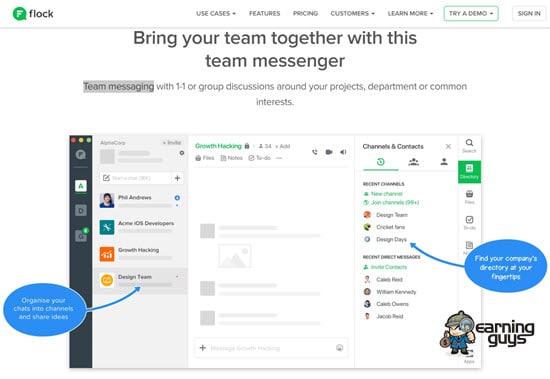 4. Glip Collaboration Software App
Glip is a solid team chat app with third-party integrations. It was released in 2012 and was bought by RingCentral in 2015. Glip has been integrated with the RingCentral Office Phone System. So, Glip users can make calls anywhere in the world.
In fact, Glip is one of the best collaboration software apps that offer free messaging as well as group video chat, and task management for enhanced team communication.
With Glip, you get superior team messaging, task management, and screen sharing capabilities that allow you to work, meet, and message anywhere and anytime across multiple devices.
Here, we list out the main highlights of Glip:
It allows you to chat in real-time via text, voice, and video
You can share your screen instantly and collaborate for live chat with teams and clients
It allows you to keep your projects on track with the use of action items and timelines
Add comments to shared-files directly
It offers team messaging with file sharing, screen sharing, and task management
Pricing: Free as well as Standard ($5 per user, per month)
Supported Platforms: iOS, Android, Web, and Desktop Apps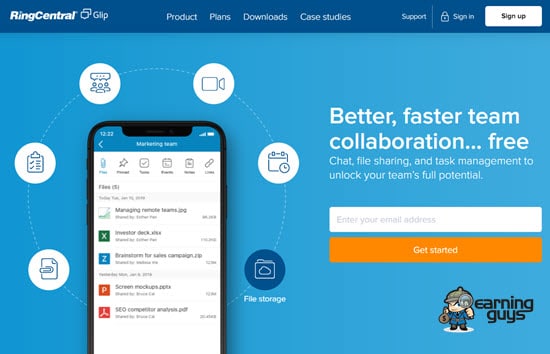 Microsoft Yammer is an online business social network that fosters communication among employees. It's a part of Microsoft Office 365. It gives your employees alternatives to email for getting the work done. Microsoft Yammer comes in a freemium model that offers an array of features.
Yammer's greatest strength lies in its ease of use. It is utterly simple to use for workplace management, project management, scheduling, workflow monitoring, time tracking, and other common business processes.
In fact, Yammer has mastered UI simplicity. The navigation is highly streamlined. You get buttons for home, inbox, and alerts.
It proves a good choice if your employees need to talk to one another. Users can even establish groups and communicate with one another. It also comes with some extra features such as a chatbox and polls that are thrown in for good measure. You can upload images and attach files.
Moreover, Yammer serves as a private social network. Yammer allows staying connected with each member of the company. It allows you to create groups that are relevant to your work and interests.
Pricing: Yammer offers a free account. Its next tier comes in the form of Enterprise Network that costs $3 per user per month.
It is available as a mobile app for iOS and Android.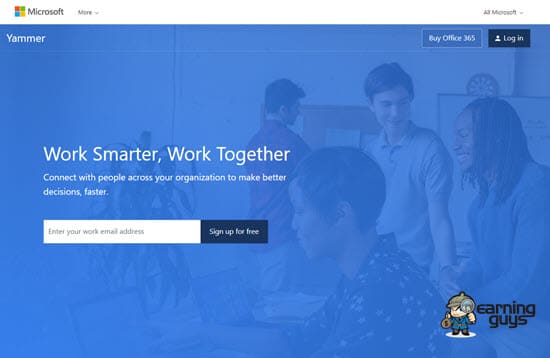 6. Zoho Cliq Team Communication App
Zoho Cliq is an interesting team chat software. It is recognized as a very popular tool for communication. It allows you to create different channels. You can hold a group or an individual conversation.
You can even share files or carry out video chatting. It makes collaboration and communication smooth and convenient with vendors and clients. Moreover, it's perfect for Zoho users as it can seamlessly integrate with the software and with many other apps.
Zoho Cliq is interesting in its look and style. Instead of the usual one conversation in view at a time, Cliq allows you to open up multiple chats as well as private messages with each in its column.
Another very distinguishing feature, known as Prime Time, allows you to use Cliq as a broadcasting service. So, you can stream video in real-time to anyone that's on your team who tunes in.
Pricing: It's pricing starts from $3 per month per person unlimited. The free option is also available.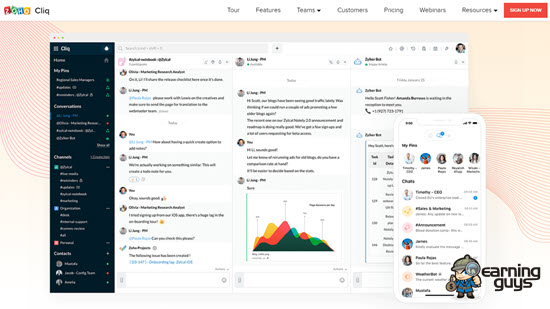 Each corporate workplace needs excellent communication and collaboration tool to always stay connected with each other. Troop Messenger is one such business communication software that makes teams work better with its powerful feature-stack. It makes teams stay connected round the clock across the platforms of Windows, Linux, Mac OS, Android, and iOS. One of the best SaaS-based freemium business model applications available in any of your web browsers. Where ever you are across the globe, just simply login to your web app, desktop app, or mobile app with your credentials to collaborate with your co-workers and access work.
Troop Messenger is perfect and easy to use office messaging tool with seamless UI and UX. The features and their functionalities are well crafted across the application making the learning curve simply even for a novice user. It offers a wide range of features such as one-on-one messaging, group conversations, file previews, voice-video calls, screen share, Burnout, Forkout, etc., to deliver uninterrupted work-flows.
Application highlights
A real-time business chat platform with great features.
An exceptional support team, along with the product help center.
Advanced search filters to filter out images, videos, contacts, files, URLs, and locations.
Finger-print and passcode authentication.
Desktop, web, and mobile notifications.
It supports Self-Hosting, Custom App, and API integration.
It extends live chat support to answer all the customer queries
Get connected with your clients, customers, and vendors with the feature of Orange Member.
A well-defined dashboard for Admins.
Pricing: Troop Messenger is a freemium pricing model with affordable paid plans. The users who register for Free Plan receives the features of Enterprise version for 30 days. The paid plans of Premium and Enterprise are charged at $10/per user and $30/per user annually. No other competitors in the market have come with such an amazing pricing structure as the Troop Messenger does.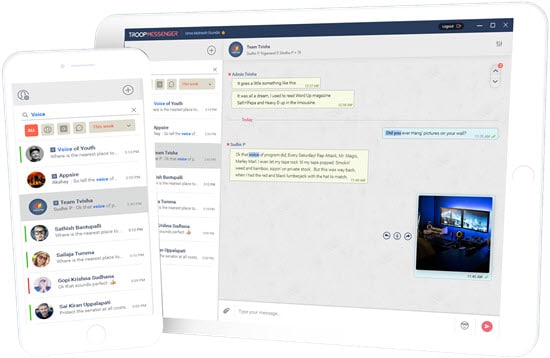 8. Twist Team Communication App
The Twist is one of the most trusted team communication apps that offer a high standard of communication and facilitates remote teamwork.
Twist proves especially useful for people that work from home or in remote areas. It acts as an organized hub and allows you to discuss ideas, share updates, and even for building knowledge which the team can use even after several years.
So, Twist allows you to focus on real work. With Twist, you can easily connect with others in real-time.
It changes all team chats into threads. It comes with standard channels for group conversations. Twist even offers traditional chat experience. With the Messages Tab, you can send a direct message to anyone on your team.
Some of its main highlights include:
It keeps discussions organized and accessible to everyone
It has clearly defined threads and powerful search that allows you to find the information quickly
You get full control over notifications
Get updates from apps such as GitHub and Todoist
You can launch video calls and automate reports
Pricing: Free as well as Unlimited ($5 per user per month)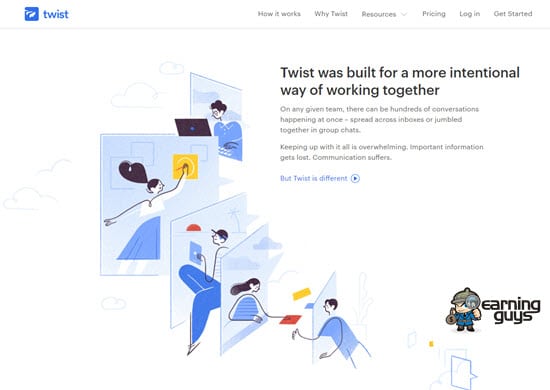 9. Chanty Team Chat App
The Chanty team chat app has been designed as a simple AI-powered tool that comes with an intuitive and easy-to-use interface. It creates a stress-free and seamless experience for its users.
For example, the chats have been neatly organized in public, private, and one to one conversations. Moreover, links, files, and pinned messages for every conversation have been neatly organized so that you can instantly find what you need.
Chanty comes with a built-in Task Manager that allows you to turn any message into an assignment. It has also launched voice, video calls, and voice messages.
Now, Chanty has become the go-to app for office workers and desktop workers as well. Moreover, Chanty allows you to turn your team chat into a single notification center. It is known for offering super fast and easy communication.
So, if you want to go for a team chat app that offers intuitive user experience, seamless collaboration, organized communication, voice messages, audio & video calls, adjustable notifications, integrations, and many more features, then you should surely check out Chanty for best team chat experience.
Pricing: Free Plan which is limited to 10 people on a team; Paid Plans start at $3 per user, per month
Supported Platforms: Android, iOS, Windows, Web, and macOS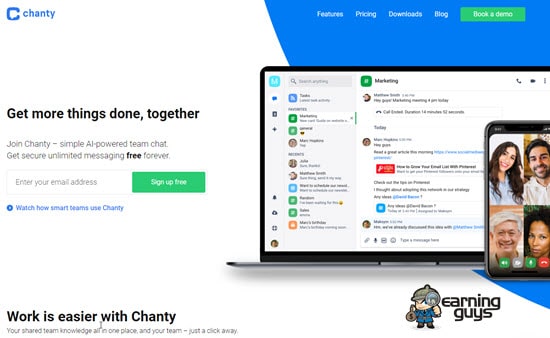 10. Rocket.Chat Team Communication
Rocket.Chat is a Brazil-based team chat app that was released in 2015. Unlike other team chat app that has been featured in this list, Rocket.Chat is an open source app. So, it allows you to customize and add new functionality to the tool as per your need.
Rocket.Chat comes out as an interesting solution for teams that want their own way to create a suitable chat. It's a great tool that can privately host your own chat service. It's a splendid option when you have a creative team or want to build your own solution.
The tool has a customizable UI as well as threading that adds to its list of features. It also has an automatic real-time message translation feature. Rocket.Chat is best for technically-savvy users.
Pricing: Free, Pro ($3 per user, per month) and Enterprise
Supported Platform: Android, iOS, Windows, macOS, and Linux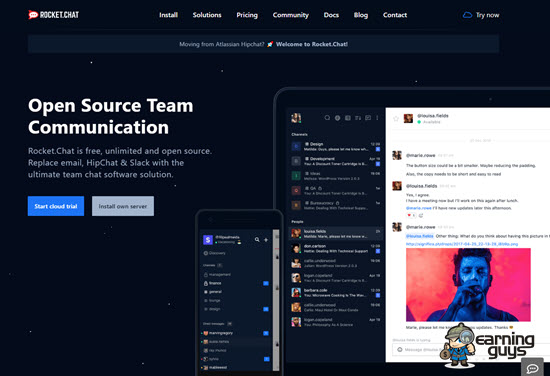 CA Flowdock is one of those real-time team chat solutions which brings all of your workplace conversations, work items, as well as tools at one place.
Initially, Flowdock was designed as a real-time collaboration service for developers. However, now, it works as a team communication platform that can be used for multiple use cases.
Flowdock allows you to prioritize work, solve problems across teams, locations, as well as time zones. A shared inbox comes as the main feature of Flowdock. It stores activity from project management tools, version control systems as well as a customer feedback channel.
Threads keep the topics organized and make it easy to follow multiple discussions simultaneously. Video conferencing is another salient feature of Flowdock.
Pricing: Flowdock has no freemium version. Its paid plans start at $3 per month, per user. The Enterprise option is available at $9 per month, per user.
Supported Platforms: Android, iOS, Web, macOS, and Linux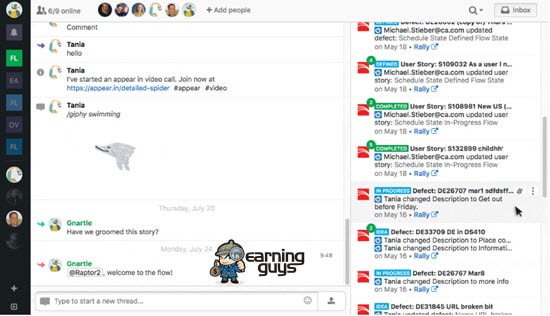 12. Samepage Collaborative Platform
Samepage is one of the best team chat app that combines elements of communication and collaboration. In fact, Samepage comes out as a good choice, no matter what size your team is.
Samepage includes features such as team chat, task management, and video conferencing; file sharing, real-time document collaboration, and much more.
Moreover, it's a simple yet efficient solution. It allows you to see all tasks for your team members in one place. So, Samepage proves great chat software for teams who would like to have all the data in one place.
Pricing: Free plan for a small team, Pro Plan starts at $8 per month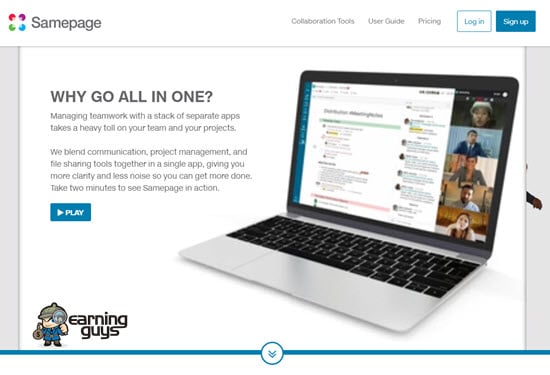 Cisco Webex Teams is a powerful team chat app that is meant for creative teams who want to discuss things in pictures. It makes chat simple and offers straightforward messaging, allowing you to make a new room in one click.
It has an app pane that allows you to start a voice or video call or share files within your team. It offers a Whiteboard that has blank space allowing you to sketch your ideas on a "virtual" whiteboard.
So, you get a quick way and show your team what you want to discuss. Moreover, you can even talk instead of chat with Cisco-powered voice and video chat that is included in Webex Teams.
Pricing: Free options allow unlimited team messaging and ten integrations. You also get the Plus plan ($12/month for unlimited integrations, support, admin controls, and Cisco conferencing tools connections).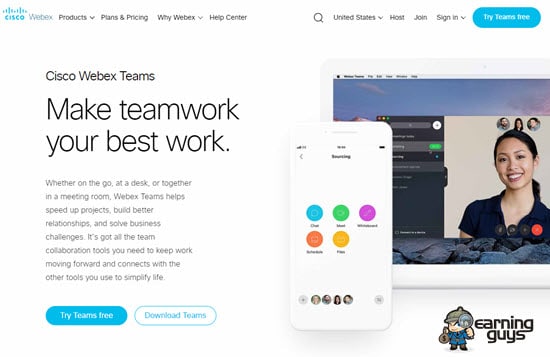 14. Mattermost Open Source Messaging Platform
Mattermost is one of the best self-hosted team chat apps in the market. So, it can run on your company's servers and is deeply customizable. It has all the core chat tools that your team wants. It offers options to customize almost everything related to your team working together.
Mattermost shows all of the replies together that are in-line with the rest of the chat conversations. You can come up with as many teams as you want. As it is hosted on your servers, you can tweak everything: the languages available in the UI, the design of your login page, the file storage server, how your team logs in, and more. It even allows you to make custom builds of its mobile apps.
So, Mattermost is the chat app that can work the way you need.
Pricing: It's available in the free edition. The Enterprise E10 hosted edition starts from $3.25/month per user.
Supported Platforms: Android, iOS, Web, Linux, Windows, and Mac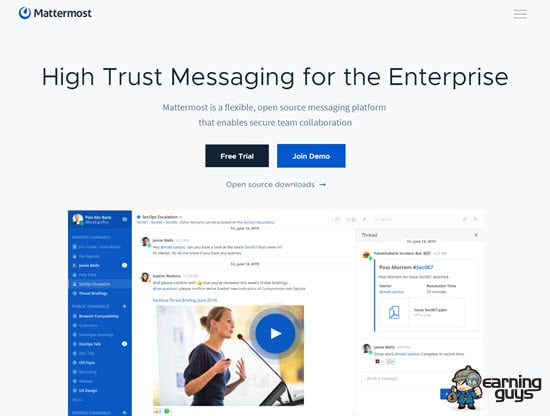 Google Hangouts Meet offers you one of the newest ways to indulge in a chat with your team.
It facilitates conversations in semi-private rooms. You can even invite team members to the rooms that you create. You can add your ideas in new conversations. You can even follow older ideas in the form of a reply to the existing conversations.
So, you can keep the chat more focused. It allows you to share Google Docs, Sheets, as well as Slides files. It's the perfect platform for holding video meetings for your business. You can connect with your team from anywhere and join calls without the added cost of travel.
It offers a lightweight interface and smart participant management, thereby making multi-person video-calls a breeze. It is fully integrated with G Suite.
Pricing: Starts at $6 per month
Supported Platforms: Android, iOS, and Web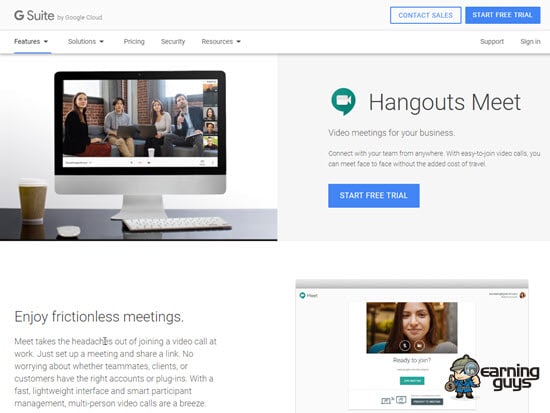 The Facebook Workplace platform comes as a team chats app that was introduced in October 2016. It's a collaboration tool that comes with quite an unusual layout and features. For example, it allows you to live to stream your meeting.
Moreover, it's a no-ads platform, unlike Facebook Social Media. Plus, it comes studded with next-gen technology and versatile features. It's one of the most sorts after platform in the world of communications for businesses of different sizes and nature.
Employees can use instant messaging and connect with each other. It's also useful for those who work in common departments. They can make groups and carry out meaningful conversations.
Some of its major highlights include:
It facilitates better conversations and knowledge sharing
It offers effective employee engagement as well as cultural change
It offers enhanced administrative controls
APIs for custom integration and bots
Pricing: Standard (free) and Premium ($3 per user per month)
Supported Platforms: Android, iOS, and Web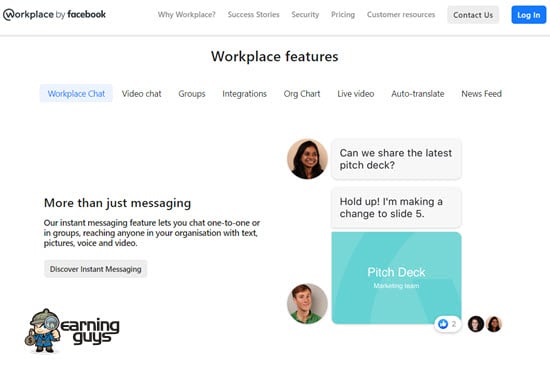 17. ProofHub Project management and collaboration software
ProofHub is a project management and collaboration software. What's best about ProofHub is that it doesn't only help to communicate but also acts as a single platform to manage all your work throughout every phase — planning, collaboration, organization, and tracking work progress.
When you don't want to invest both time and money in multiple apps and instead replace them with one tool, that's when ProofHub shines.
Any team — small or big, any industry, any department, remote or in-house or even cross-functional can use ProofHub and put all their tasks, clients, and projects under one roof.
Here are some of the notable features:
Multiple task views: list, board, Gantt chart (timeline view), calendar
In-built chat, proofing tool, Kanban boards
@Mentions to grab attention and loop anyone in discussions
Custom roles and custom workflows that you can save and edit any time
Threaded comments for proofing and reviews on files
It integrates with the apps you already use — FreshBooks Classic, FreshBooks, QuickBooks, Google Calendar, iCal, Box, Dropbox, Google Drive, OneDrive, and Outlook — and the list of tools is increasing over time.
Pricing: No per-user fee, $89/month (limited time offer)
Supported platforms: Web, the mobile app for Android & iOS
Well, with this, we have reached the end of this post on best collaboration software and team chat apps. We hope that you have found the post useful. Thanks for visiting. Please do share the post across popular social media channels. We welcome your comments and suggestions.