An FTP (File Transfer Protocol) Client is a must-have tool for any computer professional, server administrator, or a webmaster. It is used to transfer files between two computers.
You may have to take backup of your files or need to transfer files to the web server.
At times you have to share your files with your friends or colleagues. In all these cases, you have to use an FTP Client.
Today, we share with you 10 Best FTP Clients for Windows and Mac.
With a right FTP Client, you can transfer files between computers easily and quickly, and every blogger needs an FTP client to manage their blog.
The goal should be to find the easiest to use, reliable, and secure FTP tool for all your file editing and uploads.
Here, we have hand-picked some of the best FTP Clients for Windows and Mac.
With FTP Client, you can upload files from your computer to a web server or even to your WordPress site.
An FTP Client comes with a desktop app and connects your computer to your WordPress or blog hosting account or the web server.
It has an easy to use graphical user interface and allows you to perform FTP functions such as copy, upload, rename, delete, and edit files/folders on your web server.
Although there are lots of FTP Clients available these days, what you require is a solid, feature-rich, easy to use, secure, fast, and reliable FTP Client to meet your needs in the right manner.
With a powerful FTP Client, you can easily upload/download files to and from a remote server. You can even share your files with your friends and colleagues.
Here, you get as many as 10 Best FTP Clients for Windows and Mac. So, you can easily choose the one which best meets your requirements.
So, let's take a look at these best FTP Clients for Windows and Mac.
10 Best FTP Clients
FileZilla is by far the most popular FTP Client for Windows and Mac. It comes as a free and open source FTP, SFTP, and FTPS Client. It is thoroughly reliable and fast in operation.
FileZilla provides an intuitive graphical user interface and is very easy to use. It provides comprehensive documentation so that it is easy for you to get answers to your query.
Some of the salient features of FileZilla are as follows:
Supports FTP, FTPS, and SFTP
Cross Platform. It runs on Windows, Mac, Linux, and more.
It is easy to use.
IPv6 support.
Tabbed user interface.
Supports transfer of large files >4GB
Bookmarks
Remote file editing.
Drag & drop support.
Network configuration wizard.
Filename filters
HTTP/1.1, SOCKS5, and FTP-Proxy support
Synchronized directory browsing
Price: Free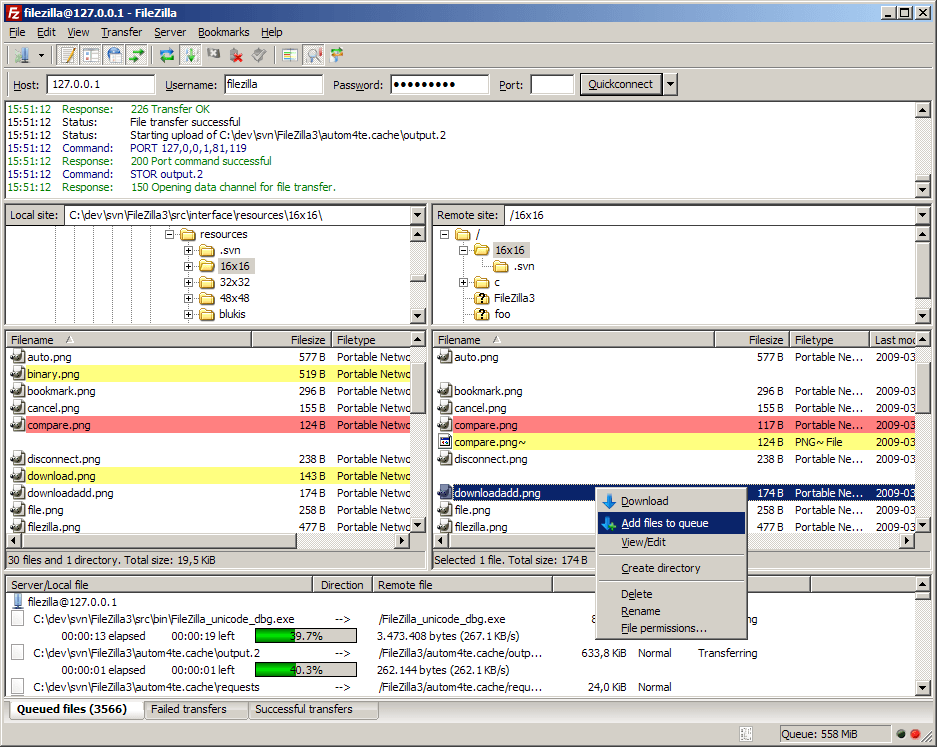 Windows Secure Copy better known as WinSCP is an award-winning, free and open source SFTP, SCP, FTPS, and FTP Client for file transfer to FTP server or secure SFTP server.
It functions to transfer file between a local and a remote computer. WinSCP also offers scripting and basic file manager functionality. It is truly lightweight, fast, and reliable. WinSCP offers remote text editing.
Let's take a look at the main features of WinSCP:
Graphical user interface
Integrated with Windows
Translated into many languages
Command Line Interface
Integrated text editor
Explorer and Commander Interfaces
Stored site information
Batch file scripting
Support for keyboard-interactive, SSH password, public key, Kerberos (GSS) authentication
Price: Free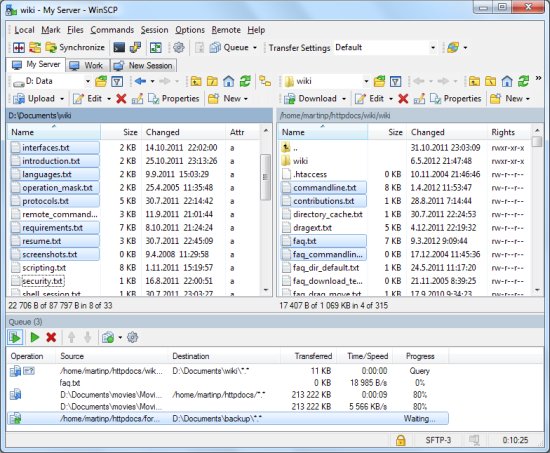 FireFTP is a plugin for Firefox that brings FTP functionality to Mozilla's web browser. Although FireFTP isn't a standalone application, it is on par with all the other tools in this roundup.
The best thing about this FTP Client is that it is cross-platform. It works on Windows, Mac OS X, and Linux. It becomes fully functional, features rich FTP Transfer software once it is installed.
It is empowered with all the notable features that you expect from typical FTP software. It offers support for various protocols, including SFTP.
It comes with drag-and-drop support, file compression, proxy support, timestamp synchronization, IPv6, and File Hashing. It offers simple and easy to use interface. FireFTP is available in more than 20 languages. Last but not the least, FireFTP is free.
Price: Free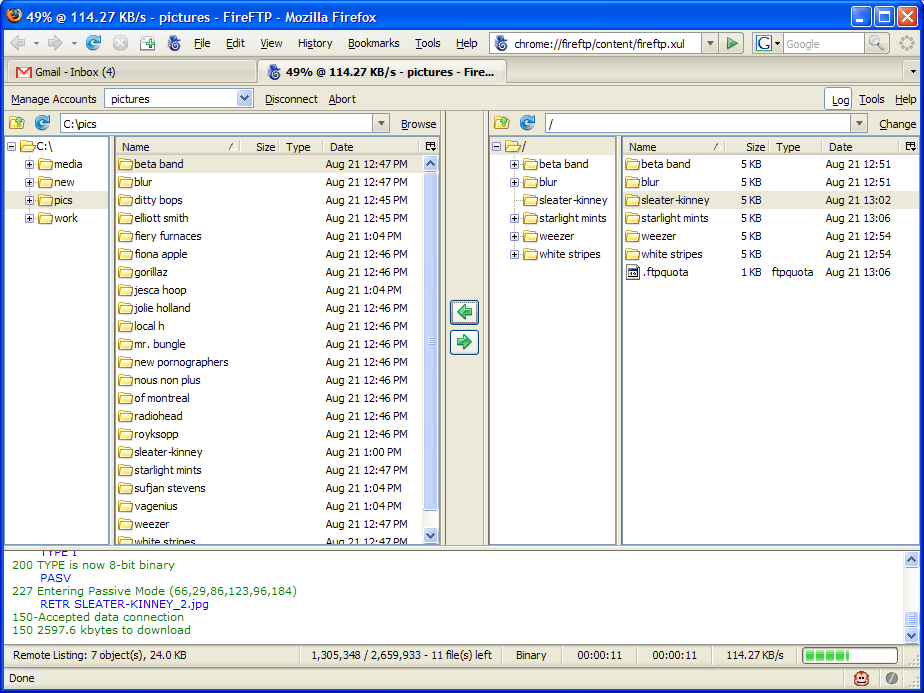 Cyberduck is a very popular and user-friendly FTP Client. It is available for Windows as well as Mac OS operating system. Cyberduck has a simple and easy to use interface which makes it a good choice for first time FTP users.
It offers a lot of premium quality features, including SSH functionality and bookmarking.
Although Cyberduck is free, it offers every feature that you look in advanced and reliable FTP software. Cyberduck offers support for FTP, SFTP, WebDAV, Amazon S3, and OpenStack Swift.
With Cyberduck, you also get support for using Google Cloud Storage and Rackspace Cloud Files. Cyberduck has an impressive Graphical User Interface making it easy for you to browse files. It lets you select your preferred code editor and open files to edit with a click of a button.
Price: Free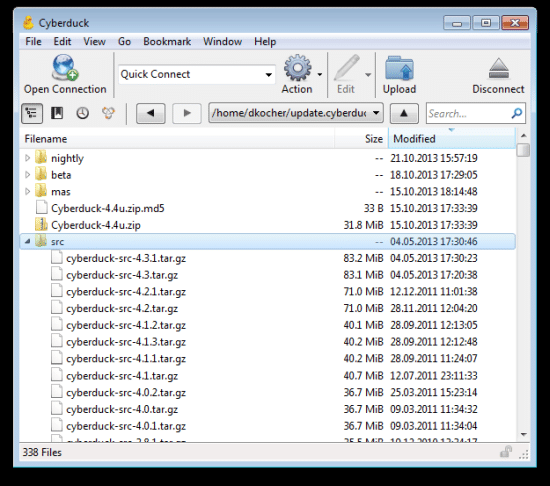 Transmit is one of the best FTP clients that you can use for your Mac. It's Mac-only FTP software. It is most reliable and fastest FTP Client for Mac.
Transmit sports a simple user interface and has stunning features. It supports FTP and SFTP protocols. Plus, there's also support for Amazon S3 and WebDAV.
It uses a Twin-Turbo engine for transferring files at a super fast rate. The Multi-Connection transfer feature helps you to transfer files with stability. Transmit has advanced file skipping options.
It's a premium FTP Client and delivers unmatched performance and reliability.
Price: $45.00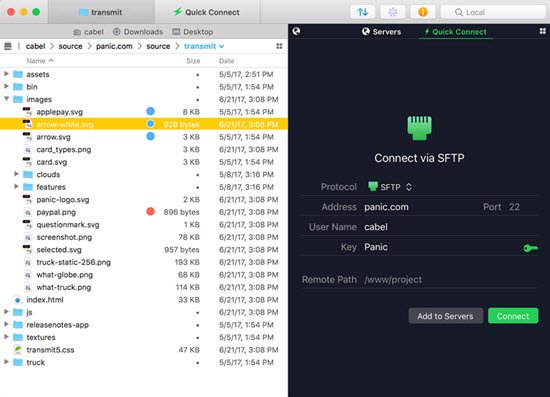 WS_FTP Professional is one of the most popular FTP clients. This FTP software provides the safest and easiest way to exchange sensitive information. It comes with best-in-class security together with the highest levels of encryption. WS_FTP is easy to use and reduces administrative burden.
It provides 256-bit AES, FIPS 140-2 validated cryptography and OpenPGP file encryption. It offers powerful file search, drag and drop transfers, faster speeds, scheduled transfers, and other advanced features.
It is easy to use with a customizable display, drag-and-drop functionality, and many time-saving features. It is loaded with the backup ability which allows you to archive your most important files and folders. It compresses files automatically into a .zip format before uploading. WS_FTP Professional comes as premium FTP software.
Price: $49.95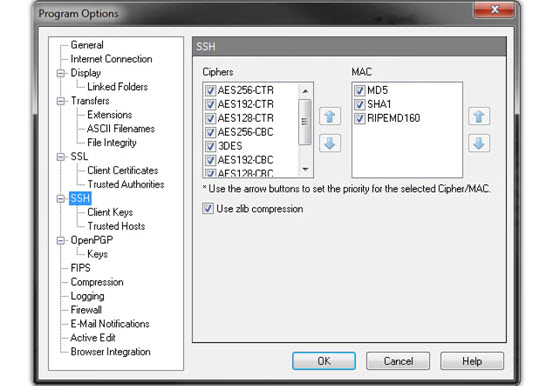 SmartFTP is a truly smart FTP Client with top quality features. It is an FTP, SFTP, FTPS, Amazon S3, Google Drive, OneDrive, SSH, WebDAV, Backblaze B2, SSH, Terminal Client.
It is Windows-only FTP software and also supports Windows 10. It can be used to transfer files between your local computer and a server on the Internet.
SmartFTP offers reliable, fast, secure and efficient file transfers which make it powerful FTP software. SmartFTP can be used for web site publishing and maintenance, uploading and downloading of images, documents, as well as music and movie files. It can be used for backup and synchronize local and remote files.
Price: Premium/Paid (79.95 USD)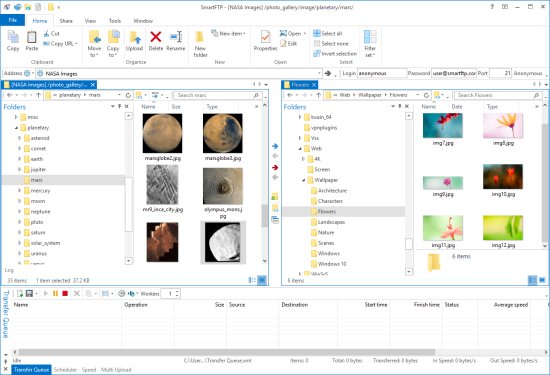 CuteFTP is powerful FTP Software in the premium category. CuteFTP is available for both Windows and Mac platforms.
It is loaded with advanced features and provides premium support to FTP users. Most importantly, CuteFTP is a reliable, secure, feature-rich, and powerful FTP Client.
It supports SFTP and SSL protocol for transferring files. It allows transfer of multiple files. You can even split a transfer into multiple files.
Price: Paid (US$59.99)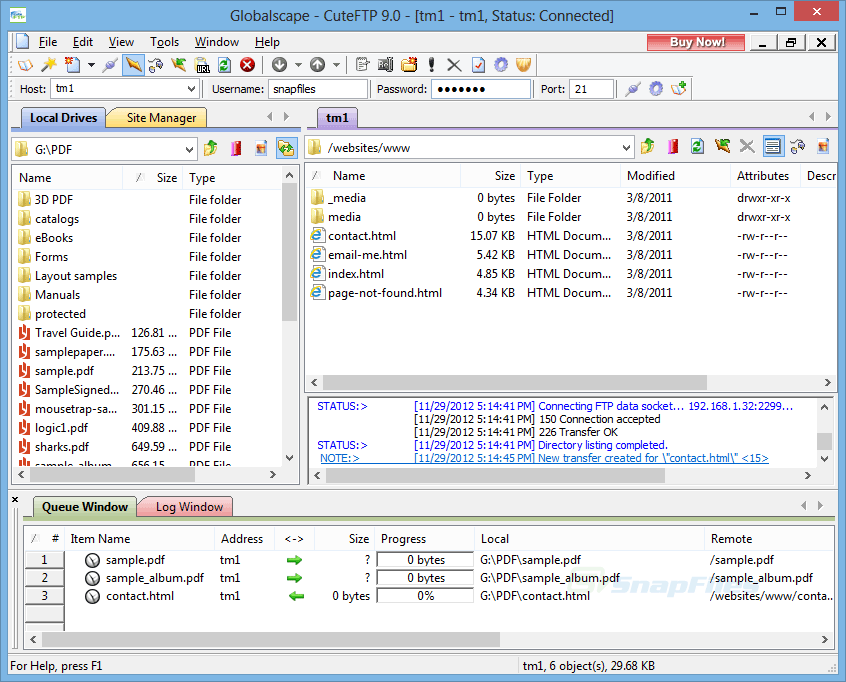 Classic FTP is free and open source FTP software for both Windows as well as Mac platforms. Classic FTP comes as a secure, reliable, and easy to use FTP Client.
It transfers files over an FTP SSL connection. Plus, Classic FTP is compatible with all major FTP servers. It also offers drag and drop functionality.
Price: Free
CrossFTP is one of the best free FTP software. It offers a user-friendly interface and is loaded with tons of features making transferring files quick and easy for you. It allows you to schedule upload within the application.
Some of its notable features include
Tabs (many site connections inside one window)
Password Encryption
Archives (compress, browse, and extract archives)
Internalization (Unicode, CJK, and international encoding support)
Quick Search (Narrow a long list of files in a flash)
Batch Transfer (drag a number of files)
Web Search (Search item on the web by one click)
Previews with Zoom
Sound & Event Notifier
Favorites (convenient favorites and history information).
Price: Free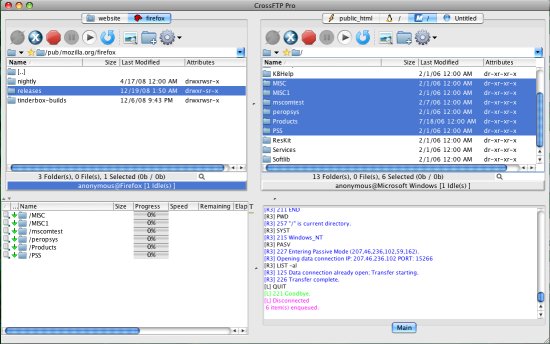 We hope that this list of 10 Best FTP Clients for Windows and Mac proves immensely useful to you. Do share your comments and suggestions with us.