When you talk about Affiliate Marketing, the all-important thing that first comes to mind is "traffic." After all, Affiliate Marketing is all about selling products, and for that, you need people to view the offer and buy it. So, today, we share with you 12 Best Affiliate Traffic Sources for High ROI.
You may have a great offer to promote, a killer landing page, and have built a top-notch sales funnel, but at the end of the day, you still need the traffic to promote your affiliate offers.
Moreover, you need high quality targeted traffic to your affiliate offers.
Many Affiliate Marketers struggle at promoting offers. They run out of ideas and cannot figure out how to promote affiliate offers.
Over the years, it has become the biggest issue with Affiliate Marketers – Finding the best traffic sources for promoting Affiliate offers.
It is a big question and needs appropriate answers.
That's primarily the reason which prompted me to come up with a post wherein I will show you the paid traffic sources for promoting Affiliate offers.
Why Paid Traffic Sources?
It is because paid traffic sources help to bring targeted traffic to your offers which are interested in your offers niche and are likely to buy. Paid traffic can bring a lot of visitors from the very first day comparing to free search traffic, which is not possible with search traffic. Free Search traffic can take months to years to get free traffic.
So, you get fast and better results meaning more sales for your affiliate products.
Moreover, that is what you want: More sales for your Affiliate offers.
However, you need to have money for taking up paid traffic sources. If you have money at your disposal, you can go for taking up paid traffic sources for promoting affiliate offers.
More importantly, you need to know what the paid traffic sources for promoting affiliate products are.
It is where this post will help you.
It shows various paid traffic sources for promoting affiliate offers. The affiliate offers can be CPA offers or CPS offers. These paid traffic sources will help you to send high quality targeted traffic to any CPA or CPS offers.
However, before we drill down and list out the paid traffic sources for promoting affiliate offers; we highlight the most important aspects that you should consider before picking a traffic source for your affiliate site.
Here, it goes:
The Cost of the Traffic Source
Every traffic source comes with a certain cost. It depends upon the type of traffic it has, the quality of traffic provided, as well as the number of GEOs you can monetize it.
Some sources offer high converting traffic while others don't. Moreover, the competition is tough. Some traffic sources are overpriced. However, there are cheap traffic providers, as well, that can make your traffic grow to new heights.
So, you should do extensive research on various traffic sources. It will help you a lot in selecting the right traffic source for your affiliate site or offer.
The Niche or Target Audience
Affiliate marketing requires you to focus on a specific niche and learn as much as you can about it. So, you'll come to know everything about the products you're working with. Moreover, you'll establish yourself as an authority and gain your audience's trust.
It will build your audience's confidence, and they will buy your affiliate products. There are many paid traffic sources that can help you in achieving this. So, you can attract the right audience that will buy from you.
Rules, Regulations, and Restrictions
Traffic sources usually have pretty tough restrictions that you should be careful about. So, you need to check out misleading banners and content that don't fall in line with their guidelines.
Moreover, you should take out time and read the restrictions of each traffic source carefully. Otherwise, you can be banned for breaking the rules.
The Quality of Affiliate Traffic Source
When it comes to the overall quality of a traffic source, there are two things that you need to take into account:
Some networks offer low-quality traffic
There are a lot of bot traffic providers
Moreover, you need to be cautious of fraudulent traffic. There might be instances when the affiliate community gets a false appearance of offer success.
So, you need to look out for real traffic. You need to work with credible traffic sources that have a clean reputation in the market.
The Amount of Traffic Available
The amount of potential traffic that you could generate varies from one ad network to another. So, you should choose a network that offers you "a ton of traffic."
Moreover, some traffic sources provide a lot of traffic for a reasonable amount of cash. In fact, the traffic quality correlates to the price you offer for each visit.
The Targeting Options
Some of the common examples of targeting options are as follows:
Gender
Age
GEO
Operators
Time of Day
OS
Languages
Websites
Categories
Devices (Desktop/Mobile)
Specific Browsers
Traffic Sources
With targeting, you can choose specific aspects of your campaign. There are traffic sources that come with limitations as to what/whom you can target. So, you should review the features that are offered by a traffic source.
Now, after understanding these crucial aspects of traffic sources, we head straight to the list and share with you the best affiliate traffic sources for high ROI.
12 Top Affiliate Traffic Sources
Let's get started:
Push Notifications is a relatively new type of ad format which has become hugely popular with advertisers.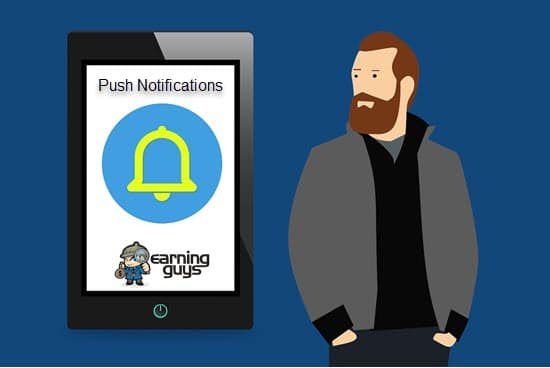 The Push Notifications Ads started in the form of instant notifications on mobile devices or desktop. However, they have evolved into a powerful ad format for affiliates.
The advantage with Push Notifications is that they offer higher CTR than other ad formats. The rates can be as high as 30% for some verticals. So, you get great results with CPC or CPM cost models when buying push traffic.
Moreover, Push ads have already become a big thing as more and more ad networks have added them to their available ad formats. It's an ideal format for increasing your subscriber list.
The biggest advantage of push traffic is that you get genuine users who have opted-in to receive notifications. So, with push ads, you get high-quality traffic.
Moreover, the push ads are displayed on the user's device at eye level. So, every ad impression gets seen by a real user. Plus, the ads can be customized with titles, descriptions, logos, and images. The reach is tremendous as you can target millions of global users across all GEOs, including the city level. So, you get enough volumes for your campaigns.
Although the push ads are good for any vertical, they particularly excel in sweepstakes, mobile content, finance offers, coupons & vouchers, as well as Nutra.
You can check out the following platforms that will make you a push ads ninja:
They offer advanced campaign optimization, and you can launch your campaign in less than five minutes.
2. Native Ads Best Affiliate Traffic Source
Native ads have gained huge popularity with affiliate marketers. It's a mix of image and text ads and looks like editorial content when placed on the website.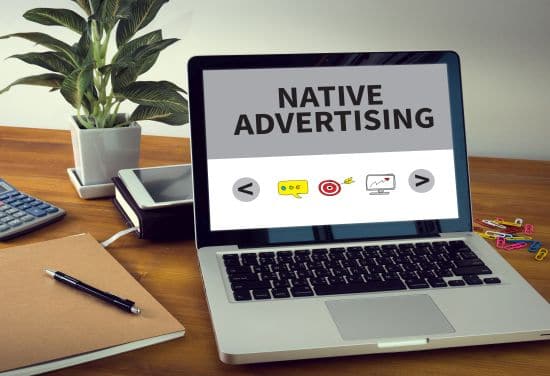 These advertisements can be in social media, search, and even in the open web. They are suitable for affiliate marketing when you have good offers.
Its Click-Through Rate is three times higher as compared with a banner advertisement. Moreover, it has been found that native ads grow engagement by 60%. Native ads are more engaging with users over traditional banner or display ads as they don't feel that their online experience is being hampered by actual advertising.
Plus, native ads do not cost much and can be placed on concurrent websites. They are extremely effective as a non-disruptive form of advertising. Native ads usually come in the form of "Recommended Articles" or "Sponsored Content" on a website.
If you want to use native ads as a traffic source, then you need to sign up for a native ad network that will allow you to place your ads on various websites. These ads then direct users to the landing or sales page of the offer that you're promoting.
Here, we share with you the most popular native advertising networks:
However, in native ads, the rules are strict. So, you must avoid misleading banners.
Search Traffic is rather diversified.
In fact, there are two kinds of it:
Organic Traffic
Paid Ads or PPC
Organic traffic is free or unpaid traffic that comes from the search engines.
Paid ads or PPC function with the help of Google Ads. Its an advertising service helping businesses to display advertisements on Google.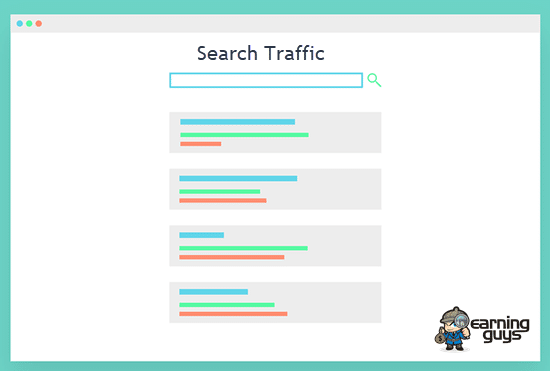 However, we must point out that organic traffic has been the best thing of all time. In fact, chances of conversion from Google's organic search listing are seven times higher than if you look for conversion that comes through a paid ad.
It's because people know that you can't pay to be featured organically. They immediately respond to organic as proven "officially commendable" ads. So, organic traffic comes as a digital seal of quality.
Google happens to be the most visited website on the World Wide Web. So, when your product sits at the top of SERPs for a specific keyword, you can be sure that there is loads of traffic coming your way. Moreover, with organic traffic, you can go super specific, thereby allowing the right users to check your ads.
However, Google Ads is user-friendly and allows you to pay your way to be listed at the top of paid search results for targeted keywords. It offers you a host of tools so that you can create the most relevant, powerful, and cost-efficient campaigns in minutes.
The advantage of Search Traffic is that it is easy to promote affiliate offers. You simply have to choose a product for promotion, get its affiliate link, and set up a PPC Ad to promote that link.
Microsoft Bing: The best thing with Bing is the fact that it is friendly with affiliates. It even allows placing affiliate links directly in your ads. You simply require your promotion URL and then create a Bing PPC Ad using that affiliate link.
Secondly, there is no difference between organic results and Ads. So, people click on Ads and are taken straight to the sales page of the product. All you have to do is to create a simple Bing Ad.
Google Ads: It is not friendly with Affiliates if you do direct promotion. However, if you go through a proper sales funnels with nice websites and lead capture forms, it can work.
Social networking sites have garnered huge popularity worldwide and hold a sheer amount of traffic. They have massive user bases and so massive audiences, thereby making them a desired source of traffic for many affiliates.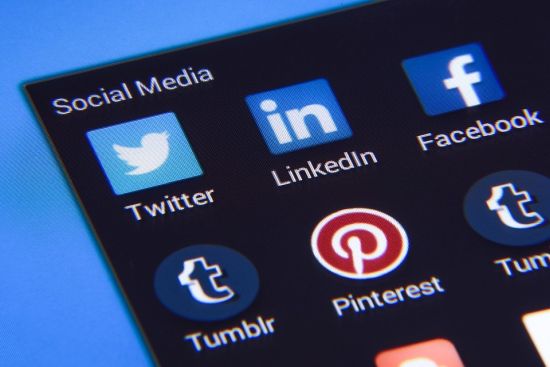 Traffic sources such as Facebook, LinkedIn, Twitter, Pinterest, and Instagram can offer you some serious revenue that you would not like to miss out on.
Moreover, we would like to emphasize that when it comes to social traffic, "targeting is king."
On Social Media, you can target ads based on age, location, interests, demographics, etc.
One of the best things about Social Traffic is that it includes relevant people who share similar interests. If a product is liked or recommended by someone, it carries a stamp of appreciation.
The post gains a certain value of trust, which is again liked or shared by friends or followers. There are various social networks which can be used for promoting affiliate products. Here, we have listed some of the very prominent ones.
Facebook Ads: Facebook can be an important ad network in your affiliate strategy. Most importantly, it works with many niches and approvals are quick. You can target just about anything on Facebook. However, it is strict with certain niches such as Dating, Gambling, and Weight Loss.
Twitter Ads: Using Twitter for promoting affiliate offers requires you to build relationships and create targeted lists based on interests.
Let the content do the selling and not the Tweet. On Twitter, it's the relationship that sells and not the message. So, build credibility first, and then you can create a successful business.
Plenty of Fish: It allows very detailed targeting and works well with many niches. You can target right down to smokers, non-smokers, overweight, or married.
LinkedIn Ads: LinkedIn works well with many niches, including lead generation in business and finance. It allows you to target by job function and global location.
5. PPV/CPV Ads Best Affiliate Traffic
PPV Traffic stands for "Pay Per View." PPV traffic is also known as CPV (Cost per View).
It simply means that you pay an advertising network when your ad or website is shown to a given user.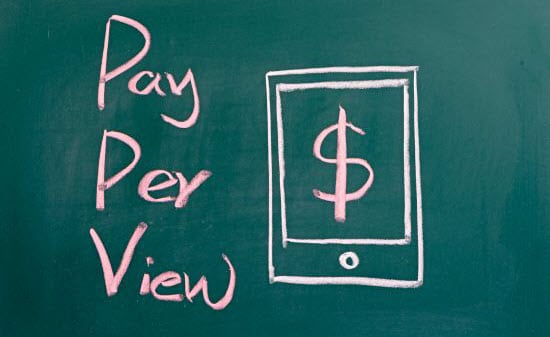 However, PPV Traffic should not be confused with PPC Traffic sources. In fact, for PPV Ads, the networks install toolbars on a user's computer and go on to earn money by advertising pop-ups on those computer screens. The advertiser bids on a particular site. When users reach that site, they are greeted by a full-screen ad.
Moreover, PPV Ads provide an opportunity for keyword targeting. So, when users go on to type that specific keyword, the ad will appear.
The distinct advantage of using CPV/PPV Ads for promoting Affiliate offers is that it is very cheap. You can get your website to pop up with as little as $0.01.
So, for getting 100 pop-ups, you just need to put a single dollar. So, PPV Ads are much popular with affiliate marketers. The cost of the ad campaign is determined by the number of views that the ad gets. The PPV Networks offer few restrictions with easy targeting.
Propel Media: Propel Media is one of the most popular PPV Ad Network. It was earlier known as Trafficvance. Propel Media provides an easy to use interface for optimizing ads. It delivers high-quality traffic. However, you need a referral for getting your application approved.
RTX Platform: It is another very popular PPV traffic source. It offers worldwide targeting at a very low price. Its dashboard is one of the easiest and most powerful.
In Pop-Under or Pop-Up Ads, a full web-page is opened in a new window or tab parallel to the website that the user is trying to access.
Pop-Under/Pop-Up Advertisement employs a pay-per-view advertisement model. So, you need to pay each time when your web-page is shown on a pop-up or pop-under window.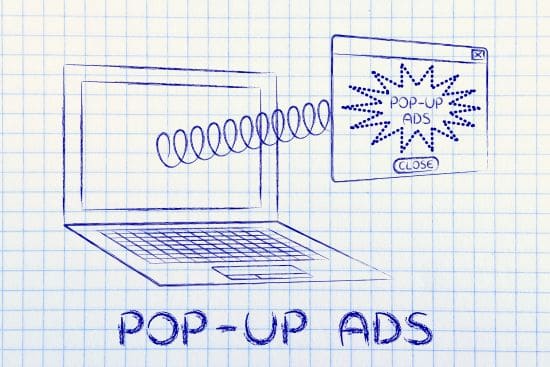 However, Pop-Under or Pop-Up Ads are much annoying to the user as they distract them from the original content which they want to access. Moreover, visitors usually close it even before the window loads completely (especially in pop-up traffic.
So, Pop-Under/Pop-Up Ads result in low engagement and higher exit rates. Plus, the traffic quality is low when compared to PPC or Social Media Traffic.
Pop-Under Advertising offers top converting ad campaigns. They offer extensive reach to their advertising partners. The Pop-Under Ads can be used for capturing email addresses, promoting shopping sites, and many other things you can promote on Pop Ads.
The Pop-Under Ads open up in a new browser window or Tab and do not disturb the user.
Propeller Ads: It is one of the fastest-growing ad company. It offers pop-under ads, pop-ups, pre-rolls, post-rolls, and overlay ads. It provides 100% inventory monetization, detailed real-time statistics, 24/7 support, and much more.
PopAds: It is one of the best paying pop-under advertising networks. It processes publisher payment requests on a daily basis. It has advertisers from as much as 50 countries. With PopAds, you can look up to perfect security and superb support, as well.
Adsterra: It is another highly rewarding Pop-under Ad Network. It is regarded as the fastest-growing Pop-under Ad Network. It offers Pop Under, Push Up Ads, Display Banners, Direct Links, etc. Plus, they offer on-time payment.
PopCash: It offers full control over your affiliate marketing ad campaigns. It is reliable and secure. It provides detailed statistics. Plus, it requires no minimum campaign budget.
It has been estimated that about 30% of the content on the Internet is adult. So, there's a huge monthly traffic volume coming from the adult niche. Traffic from adult sites is much larger than Amazon, Twitter, and Netflix combined.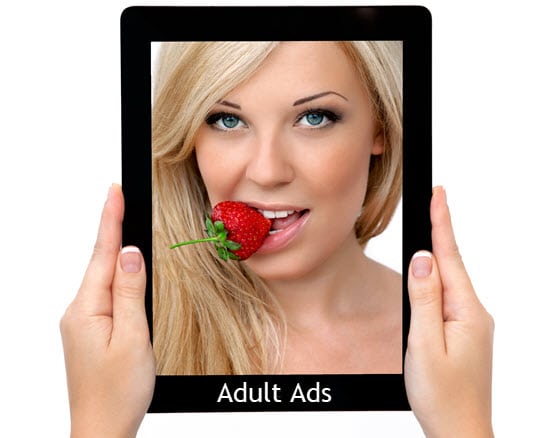 It means that the adult niche is a very lucrative sector for gaining traffic. In fact, adult content has a huge potential for an insane amount of traffic. Plus, the rules here are less adverse. There is also an opportunity to use plenty of free adult traffic.
That said, there is a lot of competition around it, so it can be tough for you to monetize it properly. Moreover, some products have moral restrictions. So, you cannot advertise everything. Plus, the quality of the traffic is not good. You require shelling out a good amount to get noticeable results.
Nowadays, lots of affiliates are using adult traffic for driving to dating offers. However, you can use adult sites for driving traffic to any other product or service.
Adult sites get huge traffic, and you can profitably utilize this traffic for promoting your affiliate offers. Here, I have listed some of the best sources for adult traffic:
EroAdvertising: EroAdvertising is one of the most popular adult traffic networks. It offers PPC, CPM advertising solutions. It serves ads in more than 200 countries. For the publisher, they pay on a weekly or monthly basis.
ExoClick: It figures amongst the largest advertising networks in the world. It offers CPC, CPM, and fixed price ads. For the publishers, payment is made on a weekly or monthly basis.
Mobile Advertising is perfect if you are looking to drive traffic to your Mobile App or website. It is meant exclusively for mobile devices. It serves banner ads, text ads, and multimedia-rich ads.
In fact, about 55% of online traffic is derived from mobile devices. So, it's in your benefit that you target these devices for getting traffic for your website or app.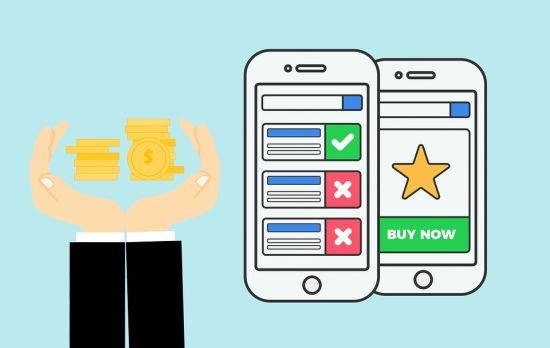 In Mobile Advertising, you can rely on banners, display, pop-under, push notifications, and redirects.
It's very profitable. Plus, you can optimize for carriers and operating systems.
Here, we list out some of the best sources for mobile traffic:
Airpush: It offers one of the best targetings in the industry. It allows real-time optimization up to the device level. It has introduced new ad products, such as abstract banners. Airpush also offers a clean and easy to use interface.
InMobi: It is perfect for utilizing mobile traffic with 1 Billion Monthly Unique. It offers high-quality traffic. You get an easy to use interface.
9. Solo Ads Email Affiliate Traffic Source
Solo Ads can be used when you do not have an email list of prospects for promoting your affiliate offers. It requires finding a vendor who has a large list of subscribers related to your niche who may be interested in your affiliate products or services.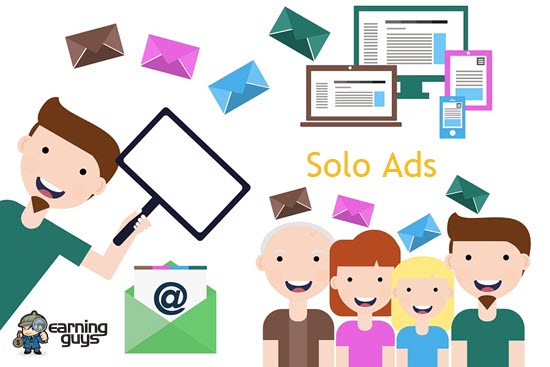 You pay the vendor for renting out the list of subscribers to you.
In a Solo Ad Campaign, the vendor sends out an email (written by you) to its subscribers (for which you have paid to the vendor) which include message together with the affiliate link, and images of your offer.
However, you should take care to choose vendors who have a genuine list of subscribers.
Solo Ads work best for:
Marketers who have a decent budget
When you're in a niche where pay per click prices are high
If you happen to be in a niche that's oversaturated with content (such as weight loss)
If you're in a niche that has intense competition for search engine traffic
When you're about to launch a product
When you need traffic sent to a page quickly
10. In-Text Ads for Affiliate Traffic
You can use In-Text Ads for promoting Affiliate offers. They convert keywords in your content into link ads. They also do not take any extra space on your web page.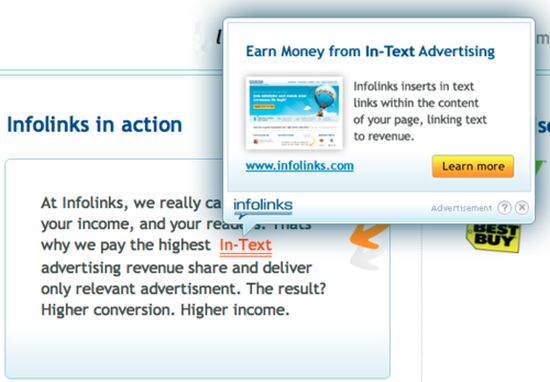 In the In-Text Advertisement, ads are shown related to the keyword or topic. Links are created on the keywords in the content of your web page or post.
When a user clicks on the link, he or she is directed to your sales page. You can also directly promote your affiliate offers through In-Text Ads. Here, we list two of the most prominent In-Text Programs.
Infolinks: It is a Pay per Click In-Text Advertisement Program. They are easy to implement and show beautiful ads.
Vibrant Media: It is a very popular In-Text Advertising Network. It offers as much as 70% sharing with the publishers. Look at some more In-Text Advertisement Programs
11. Banner Ads for Affiliate Offers
You can use CPM Ad Networks for displaying Banner Ads for promoting your affiliate offers. Here, we have listed the top CPM Ad Networks which can be used for Banner Ads.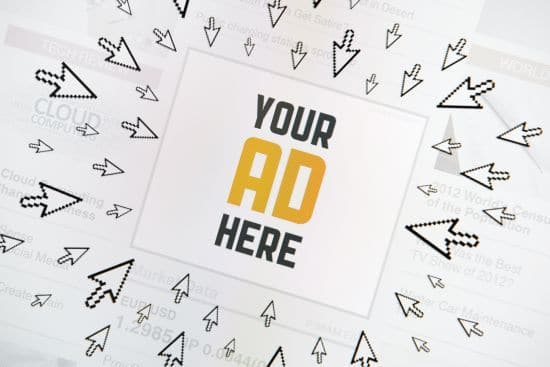 Google Ads: Google Ads the largest Ad network in the world. It provides Banner Ads that show up on its huge publisher networks. It has easy and extensive targeting and offers a wide variety of niches.
Propeller Ads: It is a very popular Ad Network. It offers various advertising options such as Banner Ads, Pop-under Ads, Mobile Advertising, etc. Most importantly, they offer the best CPM rates in the industry.
Adsterra: It is one of the fastest-growing CPM Ad Network. It offers Banner Ads, Slider Ads, Pop-under Ads, and many other options for publishers.
12. Mainstream Traffic
Mainstream Traffic can be best understood as all the traffic that can be seen by the general population. In fact, these are all PG-13 advertisements. So, you get plenty of offers under Mainstream Traffic. Moreover, you can advertise anything in any niche.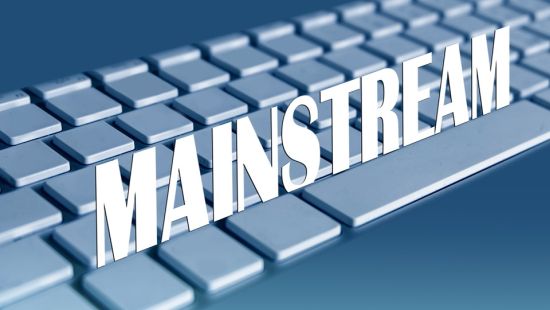 However, you need a huge budget to get started with mainstream traffic. It's the only downside that's worth mentioning with mainstream traffic.
You can check out Propeller Ads and Go2Mobi which happen to be one of the largest mainstream traffic platforms.
Moreover, there are a lot of mainstream traffic verticals that you can dive into, such as Gambling, Dating, Travel, Finance, eCommerce, Nutra, as well as Mainstream VOD.
Wrapping it up
So, you see that there are various traffic sources (paid as well as free) for promoting affiliate offers.
You can choose a combination of these methods for promoting affiliate offers. However, as most of these are paid traffic sources, so should come up with a budget for promoting affiliate offers.
If returns are favorable, you can increase your budget for promoting affiliate products or services. Plus, you should test these traffic sources to ascertain which of these is most rewarding for your ad campaign.