Content Optimization Tools help you in creating amazing content so that you can shine among your admirers. Here we have listed 12 Best Content Optimization Tools for SEO in different categories so that you can select each one according to your preferences.
These Content Optimization Tools can help you in more than one ways:
You can identify content problems that prevent you from ranking higher in search engines
These tools provide specific recommendations for your pages
These tools help you to get more traffic, and that too only quality traffic
So, you see that these content optimization tools ensure that your content shines.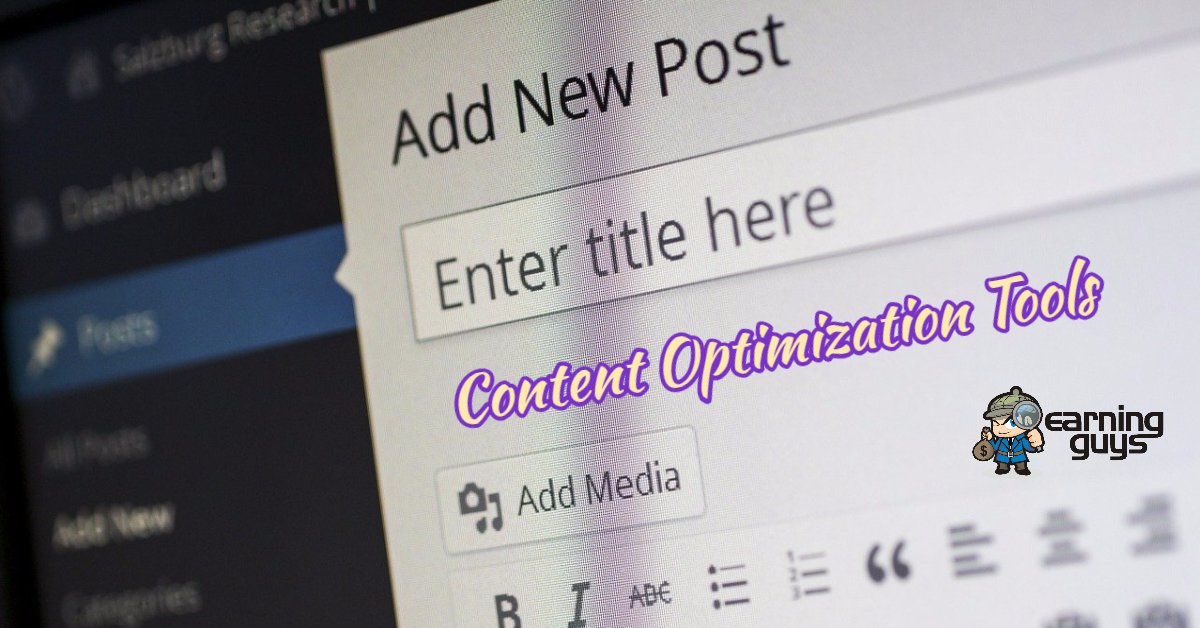 It means that these tools prove an effective strategy for driving traffic to websites and generating leads.
In short, they ensure that your content is appropriately optimized, meeting Google's requirement of quality, readability, and consistency.
Moreover, as Google continually updates their content optimization policies, content producers have to continually adjust their websites and content accordingly.
Here, technology can help you as content optimization tools can maximize your chance of ranking high in Google's search results.
What is Content Optimization?
In simple terms, Content Optimization can be understood as a range of techniques and strategies that make your content more actionable, helpful as well as attractive to Google and other search engines. The main focus of Content Optimization is for your readers, which can help you make the content more readable, error-free, and scannable.
So, Content Optimization targets search engines and your readers, making it easy for them to find and rank your content. It means that with Content Optimization, you can dominate the search engine space. It helps to generate more leads, close more sales as well as improve your marketing efforts.
Now, without further ado, let's explore the Content Optimization Tools that not only save your time but provide ideas for great content as well as help you in lead generation up the ladder.
Here, we have categorized the Content Optimization Tools into different categories, such as:
Content Optimization SEO Tools
Writing Tools
Content Optimization WordPress Plugin
Image Optimization
Website Speed Test Tools
Let us look into these tools one by one.
Here we go:
Content Optimization SEO Tools
The Content Optimization Tools for SEO listed below help optimize your content for SEO and your user. It suggests readability and SEO issues within your content.
SEMrush Writing Assistant is a handy tool that automatically checks your content for SEO-friendliness based on your target keywords.
The tool offers the best SEO recommendations for content optimization. It checks the quality of texts before publication. It comes as a smart extension for the Google Docs service.
The tool uses recommendations from the SEO Content Template (SCT), thereby ensuring that your text is written in an SEO-friendly style. The recommendations have been based on your Google top 10 rivals for a given keyword.
It offers a variety of metrics and functions:
You get to know the overall quality of your article based on readability, target keywords, etc.
It offers the "reading-ease" score
SEMRush gives recommendations for the given keywords, their volume, and difficulty
It offers a list of semantically related keywords which you can add to your text
It allows you to download an original SCT template that contains a list of articles that have been analyzed by the tool with tips on a page title, Meta description, as well as recommended resources for getting backlinks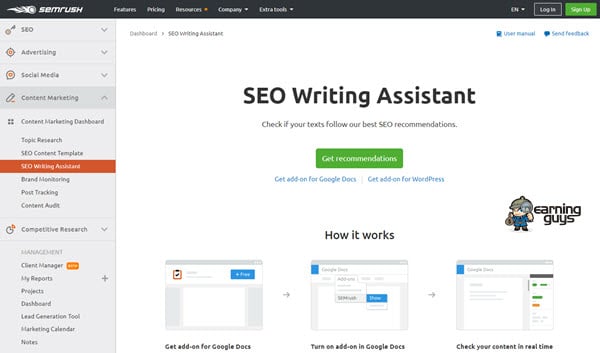 Website Auditor is a very powerful tool for seamless content optimization. It's one of the best content optimization tools that allow you to create, edit, and optimize content. It offers SEO tips as you're writing. Moreover, you can create copywriting tasks in a single click.
The Website Auditor comes as an all-in-one tool for managing your website's content. You can come up with new content, edit the pages that you already have, and create SEO tasks for your content team. All these things can be done in a single module of the Website Auditor.
So, the entire content creation journey can be managed with this SEO Content Editor tool. It means that you can find target keywords, write your page's text, optimize content, and do optimization analysis.
The tool offers Browser mode and Document mode. In the Browser mode, you can see and edit your content exactly as it appears in a web browser.
At any time, you can switch from the Browser mode to Document Mode, wherein you get a completely stripped-down version of your page, which is perfect for in-depth optimization.
Writing Tools
Writing tools helps you to solve the grammar and punctuation issues in the content. The tools also suggest how difficult the content is easy or difficult to read for the users.
If your aim is to come up with bold, clear, and mistake-free writing, then you should give Grammarly a serious look. In fact, Grammarly is an AI-powered writing assistant tool for professional writers, bloggers, and webmasters.
So, Grammarly simplifies excellent writing. Moreover, Grammarly comes as a free writing assistant tool (you can add it to Chrome).
Grammarly takes the guesswork out of excellent writing. It corrects grammar mistakes in your writing and makes your content error-free. You get a second pair of eyes that inspect every inch of your writing.
It corrects your writing while you write on Gmail, Twitter, LinkedIn, and elsewhere. It finds the perfect words to express yourself and corrects your grammar and spelling errors. It gives your writing an ideal style and tone. It makes you confident in your writing. It's a little superpower working for you as you write your content.
So, Grammarly elevates your writing.
Plans:
Free (Basic writing suggestions)
Premium (For work and school – includes Plagiarism Detection)
Business (For teams of 3 to 149)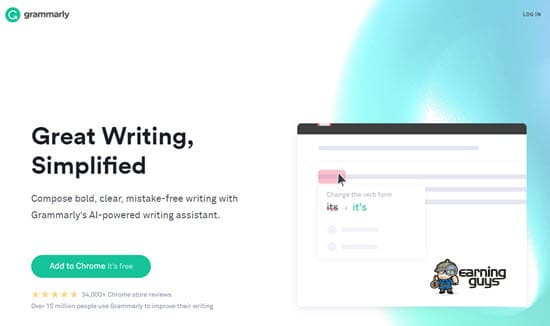 Frase writing assistant tool allows you to create content that ranks. Its built-in editor identifies topic gaps and opportunities for improvement. So, you can level up your content and improve its ranking.
Frase will compare your content to the best-performing related content on the Internet. It generates a "clear" blueprint of relevant topics about which you should write.
Frase carries out:
Google Search (Top 20 search results)
Analyze (NLP text analysis)
Topic Score (Identify opportunity topics)
With Frase, you get simple blueprints that bring clarity to your optimization workflow.
Frase works to refresh your existing content. It means that you can get more out of the content that you've already created. You can optimize your content for a relevant search query.
Its proprietary algorithm benchmarks the quality of your content against your competitors. Your Topic Score will improve as you fill in topic gaps and optimize your content. Frase seamlessly inserts SEO into your content writing workflow.
Moreover, you can try it for free.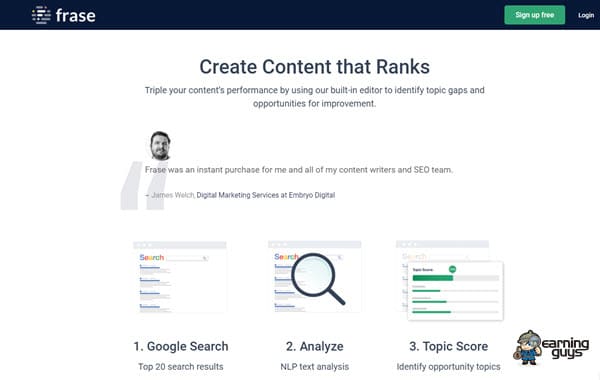 Copywritely is a thriving SEO Content Software for improving content optimization. It makes your content perfect for both people and search engines. It checks your content for SEO issues and offers tips on how to fix them. So, you can rewrite text and publish updated content.
Features:
It detects content problems
Copywritely makes comprehensive SEO content analysis and identifies problems that prevent your pages from higher ranking in SERP.
It offers interactive writing tips
Copywritely offers specific recommendations so that you can rewrite, replace, or delete content with low quality in an online editor.
It boosts traffic and conversions
Copywritely delivers well-polished, unique, and high-quality SEO content to boost your traffic as well as conversions.
It fixes problems with plagiarism and keyword spamming to increase your website's rankings.
It makes your content understandable and easy to read.
It is an excellent tool for copywriters as it improves efficiency with the help of grammar checkers, word counter, and paraphrasing tools.
Copywritely analyses competitors' content and finds out keywords that should be used on your website.
It comes stuffed with a Readability Checker that checks your content using the Gunning fog index and the Flesch index. As a result, your content becomes easy to understand.
Full support for platform-related and content creation issues.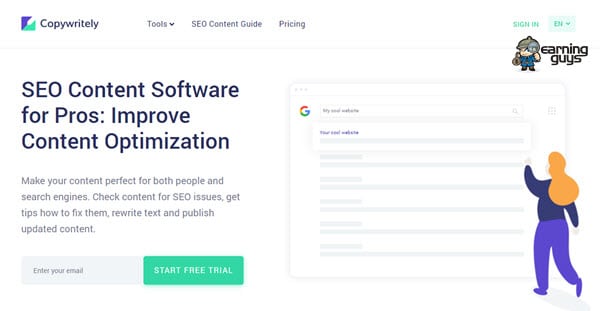 Content Optimization WordPress Plugin
The Content Optimization WordPress Plugin listed below is a must for any WordPress based site as they improve your site SEO and suggest content optimization, which is very useful for site SEO ranking.
Yoast SEO is a leading WordPress SEO Plugin. It's available as Yoast SEO Free and Yoast SEO Premium (only USD 89, including 1 year of free updates and support).
This WordPress SEO Plugin allows you to:
Get more visitors from Google and Bing
Increase your readers' engagement
Attract more visitors from social media
The plugin has helped millions of websites around the world to rank higher in search engines. It aids in your search engine optimization. You can outdo your competitors with Yoast SEO with its WordPress SEO efforts. It does everything to please both visitors and search engine spiders.
Yoast SEO offers:
Title and Meta Description Templating
A state-of-the-art Schema implementation
Advanced XML Sitemaps
Full control over your site's breadcrumbs
Automatically set canonical URLs to avoid duplicate content
Full support for Yoast SEO Premium users
SEO Analysis
Readability Analysis
Keyword Optimization
Internal linking suggestions
Content Insights
Get a distinct overview of your focus keywords and SEO scores (CSV export)
Moreover, much more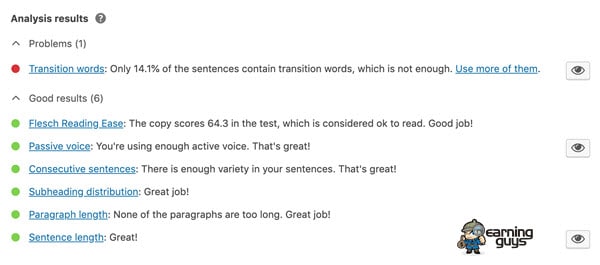 Rank Math is one of the most effective WordPress SEO plugin that improves your SEO and attracts more traffic to your website. It has more than 500,000+ active installations. Rank Math brings top SEO capabilities to your hands; it's a game-changing SEO plugin with loads of powerful features.
Some of its features, which are exclusive to the Rank Math SEO plugin, have been listed below:
Easy to follow setup wizard that sets up SEO for WordPress perfectly
It supports more than 15+ types of Schema Markups, including the Rating Schema. So, it allows you to optimize your posts in a matter of just a few clicks
One can optimize WordPress posts for unlimited focus keywords per post
It is integrated with Google Search Console. It allows you to get all information about your website right inside WordPress
It allows you to track your keyword rankings in Google
Rank Math comes with optimal default settings, which are ideal for most websites
It comes integrated with the LSI keyword tool allowing you to get multiple keyword variations for your focus keyword so that you can attract more traffic to your posts
It gives you the option of overlaying a GIF or a video icon on the thumbnail
Rank Math can perform an SEO audit of your website
It can supercharge your website's SEO with its 30 detailed SEO tests
It comes with a module-based system which allows you to have extra speed and control
Rank Math can be used by Global websites and local websites alike
It can display SEO optimized Breadcrumbs on all websites
It comes with a built-in 404 error monitor for a better user experience
Rank Math offers in-depth content analysis and precise SEO recommendations
It offers internal linking suggestions
Rank Math fully supports the WordPress Multiuser project
It comes with simple yet powerful user-interface
Moreover, much more
So, Rank Math is a must-have WordPress SEO Plugin if you want to get ranked higher in search engine results.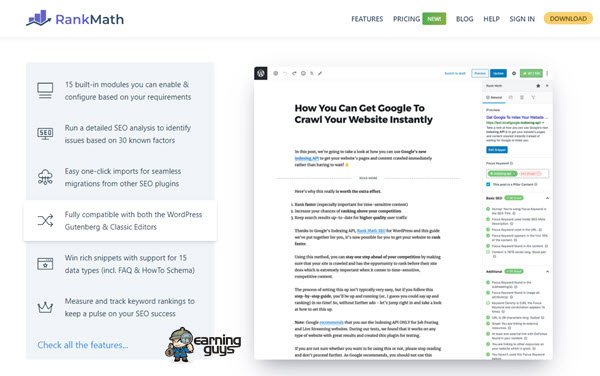 Squirrly SEO is a powerful WordPress SEO Plugin for increasing your search engine traffic.
Working:
It checks your traffic
It tells you how well people engage with content on your site
Squirrly SEO sees your positions for all pages inside Google
It gives you recommendations for bringing in more traffic
It tells you how to make your pages visible
Squirrly SEO gives you "solid" advice for getting more clicks
In short, Squirrly SEO functions as your private SEO Consultant. It has been powered by Machine Learning and Cloud Services. It is suitable for WordPress site owners, professional bloggers, small business owners, freelancers, and agencies.
It analyzes your website, revealing priority tasks that need solving. It monitors SEO performance and gives strategy recommendations.
Plus, it identifies actionable steps that are needed for boosting Google rankings. So, Squirrly SEO can think of all of the complicated SEO aspects on your behalf.
It means that if you want to be competitive, you'll need Squirrly SEO for sure.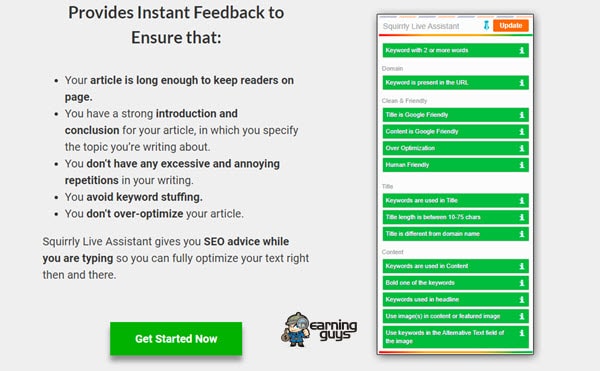 Image Optimization
Optimizing images reduce the image size, and this can improve your site speed. Image optimization is good for SEO ranking. Here are some of the tools to optimize images on your website:
ShortPixel is a leading image optimization tool that helps compress and optimize images to increase your site's SEO ranking.
So, ShortPixel helps to improve your website performance by reducing the image size.
Moreover, ShortPixel retains the quality of smaller images that are no different in quality from the original.
ShortPixel offers both lossy and lossless optimization. You get up to a 90% compression rate. The supported formats include:
So, ShortPixel is your answer to get a pleasant user experience and better search ranking. It makes use of advanced compression technology to reduce image without any reduction in quality. Hence, ShortPixel helps to make your pages load faster.
Some key features of ShortPixel:
Less bandwidth usage
It supports batch image optimization
Powerful algorithms
Image quality is preserved
Quick backups
The ShortPixel plugin is also available, which can be directly installed into your WordPress Dashboard to manage the image reduction process.
Plans & Pricing:
Free: 100 images/mo
Short: 5000 images/mo @ $4.99
Large: 12,000 images/mo @ $9.99
XXL: 55,000 images/mo @ $29.99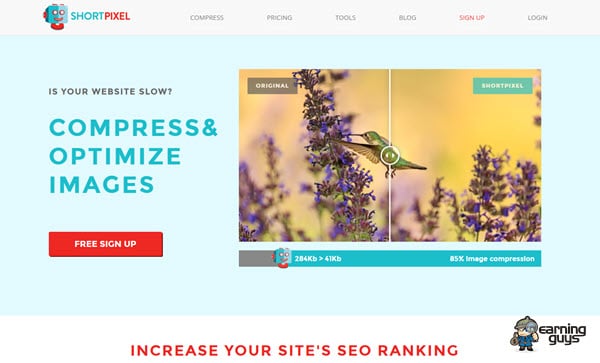 Imagify is another powerful image optimization tool that helps in speeding up your website with lighter images. It's an image optimization tool made for everyone.
You will gain in speed as well as in user experience and also in SEO. Imagify reduces the weight of your images without affecting their quality. So, your pictures will remain beautiful.
Some key features of Imagify:
The images are automatically optimized in the selected compression level
You can optimize all your images in one click
You can resize your images on the fly
One can even restore your media in their original versions when you need to
So, offer your visitors an ultrafast experience by using Imagify. It improves your SEO and increases your traffic, subscribers, and sales. You can choose different levels of compression – Normal, Aggressive, and Ultra.
Imagify is available as an online app and also as a WordPress Plugin. You can optimize 25 M.B. of images for free. Converting to WebP is free. Supported image formats include:
The max upload size (image) for free accounts is 2 M.B. However, there is no max upload size limit for paid accounts. All plans begin as a Free Account.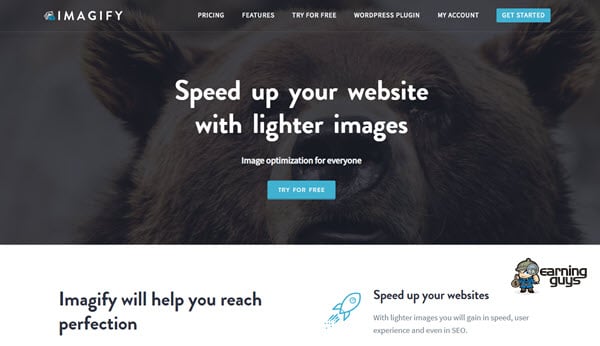 Website Speed Test Tools
Website speed is one of the significant SEO factors these days, and to rank your site on top of the search result, your site speed should be fast. The tools listed below will help you check your web page speed and suggest how you can improve your web page speed.
Pingdom Website Speed Test is an easy and effective online tool for analyzing your website load speed. It allows you to run the website speed test by entering a URL. You can test the page load time, analyze it, and find bottlenecks. You can run the test from:
Asia – Japan – Tokyo
Europe – Germany – Frankfurt
Europe – the United Kingdom – London
North America – USA – Washington, D.C.
North America – USA – San Francisco
Pacific – Australia – Sydney
South America – Brazil – Sao Paulo
The tool is easy to use. It can be used by experts as well as novices. The tool aims to help webmasters and web developers optimize their website performance.
Price: Free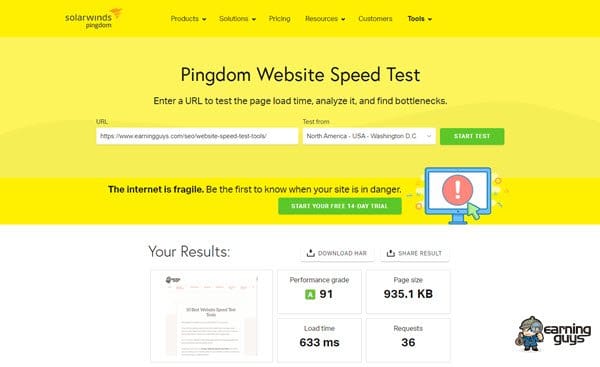 Google PageSpeed Insights is another easy-to-use and free online tool for analyzing your website load speed. You need to enter a web page URL and hit the "Analyze" button.
It offers the website load speed for mobile as well as desktop platforms. It uses different metrics to analyze the performance score of your website. Some of the metrics used in calculating the website load speed include:
First Contentful Paint (FCP)
Speed Index
Cumulative Layout Shift
Time to Interactive
Largest Contentful Paint (LCP)
Total Blocking Time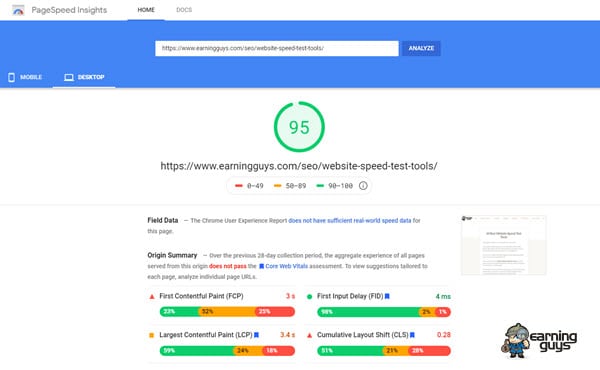 That's all we have got for you in this presentation on the best Content Optimization Tools for SEO. We hope that this presentation proves useful to you. Thanks for visiting. We request you to please share the post on popular social networking channels.