Pay per Install or Cost per Install Networks is one of the best ways to monetize your website or mobile app.
So, if you're looking for CPI Networks, we must tell you that you have come to the right place.
Here, we have featured 15 Best Pay per Install Networks for publishers and advertisers.
Before we take up the list, here's a snapshot about Pay Per Install Networks and how you can benefit from them for increasing your revenue.
What is the Cost Per Install?
Cost per Install is a very common pricing model that is used in mobile user acquisition campaigns. Here app advertisers pay each time when a user installs their app from their ad. We must tell you that CPI Pricing Model is specific for mobile apps only.
CPI Formula
CPI (Cost per Install) = (Total Ad Spend/Total Measured Installs)
What does it mean?
Total Ad Spend: Amount of money that is used on a set of ads
Total Measured Installs: The total number of installs of an app (It is counted by the advertiser's server)
What is the CPI Campaign?
CPI campaigns are specifically meant for mobile apps. Here, we will tell you how the campaigns work.
A mobile app owner or developer wants to promote its app through paid advertisements. So, they collaborate with advertising networks or publishers to increase the exposure of the app.
They place the advertisements within other apps or mobile websites in various formats. The most popular formats used are as follows:
Banners
Interstitial
Native
Videos
Offerwall
When a user clicks on an advertisement, that click leads to an installation. The advertiser or app owner gets charged.
In fact, CPI is one of the most popular pricing models for app advertising campaigns. Other options include:
Cost per mile (CPM)
Cost per click (CPC)
Cost per view (CPV)
Cost per action (CPA)
So, if you compare CPI to these other campaigns, you'll deduce that CPI is actually more beneficial as it leads directly to app installs.
Moreover, it is not necessarily the case with CPM, CPC, CPA, or CPV campaigns.
However, it should be noted that Pay Per Install campaigns usually cost more than these other formats.
The Importance of PPI Networks
CPI or PPI Networks are beneficial in many ways.
For advertisers: Advertisers can create unique ad campaigns and apps for driving quality traffic to their website. It offers the opportunity to generate quality content for attracting audiences. It can guide them for purchasing that product or downloading the apps.
So, Pay Per Install Networks help you grow a lot of monthly active users, thereby producing more revenue.
Moreover, CPI Networks help increase your app store's ranking because, with every download, your app is promoted to the next level.
For Publishers: CPI Networks offer you the opportunity to earn money based on impressions as they are highly integrated with CPC and CPM campaigns. So, based on the impressions, you can make money every day. Moreover, you can also charge an amount based on clicks. It means that the more the number of clicks, the more income for you.
Average Cost per Install
The average cost per Install depends on the country, platform (iOS or Android), and Ad Unit. For example, the average CPI for iOS devices is $2.37 in the US. Overall, the average global Pay Per Install stands at $2.24, considering every region, platform, and device.
In this article, we have featured 15 Best Pay per Install Networks for Publishers and Advertisers to encourage you to move further toward your goal of increasing ROI.
Here is the list of 15 best Pay per Install Ad Networks for Publishers and Advertisers:
1. Google Ads App Campaigns
2. Twitter App Installs Campaign
3. Facebook Ads
4. Tapjoy
5. YeahMobi
6. StartApp
7. AppLovin
8. Chartboost
9. InMobi
10. Appnext
11. NativeX
12. Fyber
13. Applift
14. Leadbolt
15. Unity
15 Top Pay Per Install Ad Networks
Google Ads is Google's mobile advertising network. It has been set up by combining the Google AdWords ad-buying interface with Google traffic sources (like its own platforms and servers) and the legendary Admob platform. It was in July 2018 that the platform was rebranded from AdMob to Google Ads.
Mobile platforms: iOS, Android, Unity, Cocos
Campaign Types: CPM, CPC, CPI
Ad formats supported: Interstitial, Native, and Video
Targeting: Country, Connection Type, Region, Mobile Platform, OS Version, Device, Audience
Key markets: Global
Moreover, the App Campaigns allow you to promote your iOS or Android App on Google Search, YouTube, Google Play, and more. Its technology will help your App ads to reach the audience most interested in apps like yours.
You can start by using these three easy steps:
Create your App Ad
They help you to create the ad from your app information. You can even add images and videos.
Choose your Budget
You can set your own target pay per Install (CPI) and max daily budget. Moreover, you can adjust them anytime.
Tell your Goals
You can tell what action you want users to take. They will set up your ad and showcase it in front of the right people.
Your App Ad will be shown to the people most likely to perform the action by optimizing for installs or engagement. You can decide whether you want people to:
Simply install your app, with no further action needed
Or take an in-app action, like ordering a product
They will help to create your Ad using your app information in the Play Store or App Store and add four lines of text that you provide. You can even customize your ad with images or video.
It rotates your ads and adjusts bids automatically so that your ad shows up for the right people at the most suitable price for your business. Further up, they'll optimize your ads, bids, and budget once they have enough data (approx 100 conversions).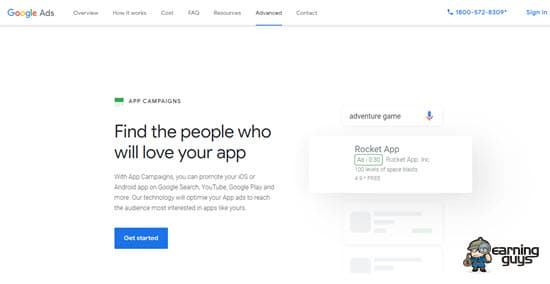 You can advertise and promote your app using Twitter App installs campaign. With Twitter, you can reach a target audience and connect with mobile users who are very likely to download your app, thereby helping you achieve fast and effective results. It turns out to be one of the best marketing platforms for driving app installs.
You can drive people to download your app with an app installs campaign. It allows you to showcase new features and get widespread visibility of your app.
It uses App Cards to easily transit your audience from Twitter to the app store. In fact, App Cards is a powerful ad format. It displays an image or video, app ratings, and a click-through all in one place.
You can design and build your App Card with eye-catching visuals, a tagline, and supporting copy. Your app rating will be automatically imported from your app store reviews.
Your ad will get displayed in multiple locations on Twitter, such as home timelines and profile, as well as Tweet detail pages, search results, and apps across the Twitter Audience Platform. It will be labelled as "Promoted."
How you can create an App Card
You have to visit ads.twitter.com and navigate to the "Creatives"> "Cards" tab.
Click on "Create Card" & select "App Card" from the drop-down.
You can choose between an "Image app card" or a "Video app card."
Input your selected image or video
You need to select your geographical region, call-to-action and need to follow the steps for driving to your app download link
Name your card and click "Create."
When the card is created, it will be shown in your "Cards library."
Now, you can hover over your desired card, click on the "Tweet" icon, add Tweet copy and Tweet it!
Best practices to follow
App Cards can host videos as well as images. So, you need to test and iterate with 3-5 creative options for knowing what your audience is most drawn to.
Moreover, you need to refresh them every few weeks so that your Tweet stays relevant and timely.
You can test a few different copies and CTA variations too. You have to make sure that your copy is short and communicates your app's unique value.
What you pay for?
You only need to pay for clicks. It leads to your install page on the Google Play Store or App Store. Impressions that do not get these actions are free.
The cost that you pay per app install depends on the budget and bid you set for your campaign and the targeting you select. Plus, you receive real-time bid guidance during the setup process.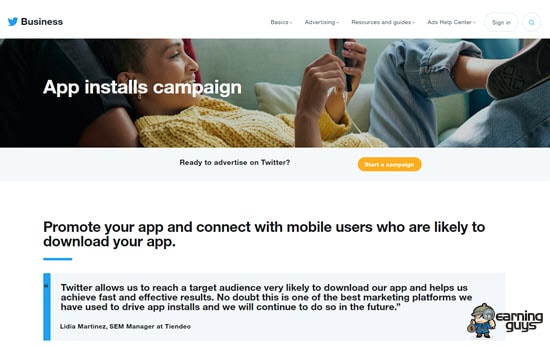 Facebook Ads has been recognized as the biggest digital advertising platform. Its major focus is on mobile ads. It is known for the best ad format, targeting, and reporting capabilities in the industry. The platform allows you to acquire more users for installing and engaging with your app.
As a mobile app advertiser, you can use the platform for running ad campaigns of your choice on Facebook itself and on its Messenger app, Instagram, Audience Network (for showing ads across the web), and its app used in the businesses Workplace.
Mobile Platforms: iOS, Android, Web
Campaign Types: Pay Per Install and CPM
Supported Ad Formats: Banners, Video, Slideshow, Carousel Banners
Targeting: Age, Gender, Device, Mobile OS, Location, OS version, Interests, Mobile User Language
Key markets: Global
Key Features
You can reach a highly engaged audience
You are allowed to enter your daily or lifetime budget as well as the time (period) for how long you wish to run your ads
One can select from six versatile ad formats
You can edit your campaign in Ads Manager
Extensive analytics and reporting feature
Audience selection tools for showing ads to the people that are suitable for your business
Moreover, much more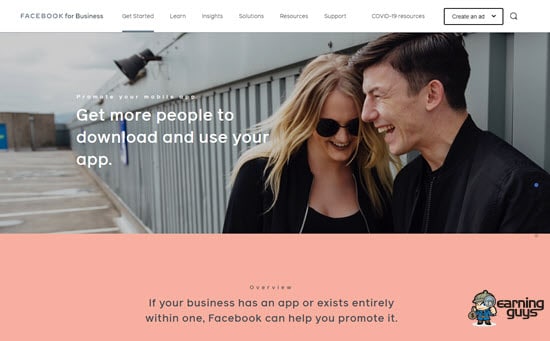 Tapjoy is one of the best advertising and app monetization platforms on the Internet. They are known for offering a novel way for users to engage in mobile advertising. They are helping premium mobile app publishers to increase their revenue on each user they have.
They offer users virtual currency for watching video ads, downloading promoted apps, and subscribing to services. It allows users to spend that virtual currency on unlocking in-app content from publishers.
The key benefit that you get with Tapjoy is that it allows app developers & brands to monetize users who do not possess credit cards and even those who do not want to spend real currency on app content.
Mobile platforms: Android, iOS, Mobile Web
Campaign Types: CPI, CPC, CPM, CPD
Supported Ad Formats: Offerwall, Rewards, Content Lock, Rewards
Targeting: Custom
Key Markets: Europe, South Africa, United States, UK, Japan, Kenya, India
The network uses the Pay per Engagement model to distribute apps and collect market data, thereby offering a more reliable ROI than typical CPC or CPM networks.
YeahMobi is a well-known mobile marketing company which is helping mobile businesses to reach global growth. The company was established in 2011 and is headquartered in Xian, Shaanxi, with its other offices in Germany, China, Japan, and the US. It has a professional team of 400+ employees. It offers one of the best platforms for advertisers and mobile app developers to achieve global growth.
YeahMobi is known for its modern technology, innovation, and big data. It helps advertisers and developers solving their issues and guides them with specific marketing solutions such as performance network, social, search, display, and offline.
YeahMobi has also come up with an ad-based monetization solution to improve the performance of the created App through API and SDK integrations. The company is driven by technology, data, and innovation to offer a complete suite of mobile performance and programmatic marketing solutions.
Founded: 2011
Company Size: 400-500 employees
Location: Xian, Shaanxi
Mobile Platforms Supported: iOS, Android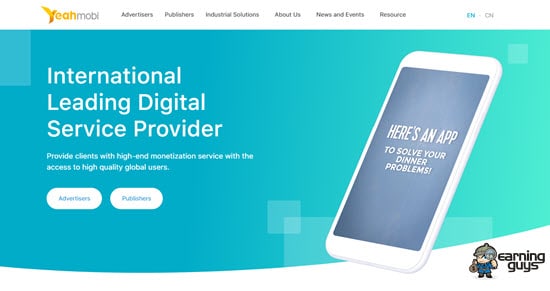 StartApp is a reputed mobile advertising company based in New York, NY. It was founded in 2010. StartApp offers a "self-serve" platform for advertisers to easily build and launch ad campaigns.
It enables advertisers to control the audience, creatives, and budget aspects of their campaigns. They have come up with a technology that is helpful for the partners in fulfilling mobile moments.
StartApp comes with an awesome set of features that sets it aside from other ad networks. It offers uniquely designed animated and interactive ads and data-enhanced targeting.
Moreover, StartApp uses data derived from over 300,000 mobile apps and native ad units. So, StartApp is helping its partners to optimize and better execute their strategies. It has partnered with over 350,000 applications and has reached 1 billion MAUs worldwide.
Mobile platforms: Android, iOS
Campaign Types: Pay Per Install, CPC, CPM, CPA
Supported Ad Formats: Full Page Ads, App Icon, InApp Ads, Interstitial Ads, Video
Targeting: App, Connection Type, Device, GEO, OS, Gender, Carrier, Competitors
Key Markets: Global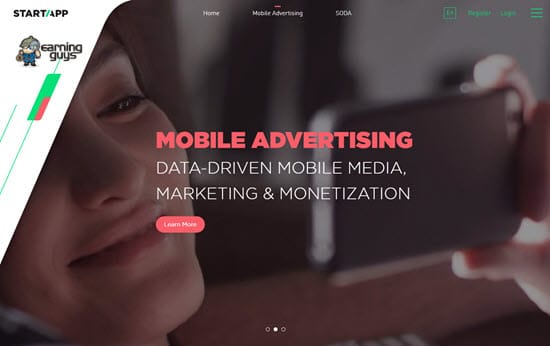 AppLovin is a comprehensive platform that allows app developers (of all sizes) to connect with their ideal consumers and get discovered.
It was founded in 2012.
The company helped both indie and established developers grow. It offers expertise and insights to finance, market, and expand their businesses – all in one place.
In fact, App developers recognize AppLovin as a trusted partner. The company offers everything to succeed in the mobile app ecosystem to help them reach their goals. It allows developers to advertise, promote, and expand their business.
Founded: 2012
Company Size: 51-200 employees
Location: Palo Alto, CA
Supported Mobile Platforms: iOS, Android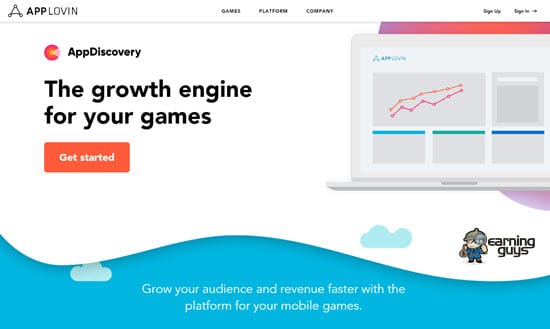 Chartboost is the world's leading platform that focuses on mobile games. It helps the advertisers, publishers, and web developers monitor, optimize, and monetize the app, thereby making the right decisions.
The company is headquartered in San Francisco. It also has branch offices in Amsterdam and Tokyo. Chartboost has accessed more than 200,000 games and has reached 700 million active players worldwide monthly.
Chartboost focuses on offering direct deals and cross-promotions with full transparency and control for the users over the game.
They even run a mobile ad network, allowing advertisers and publishers to instantly compete in the ad campaigns. Its mobile ad network provides advertisers with a platform for cross-promotion using native ads, tracking, and sophisticated targeting.
In fact, Chartboost has become a reputed in-app monetization and programmatic advertising company. They are engaged in providing mobile game owners with a developer-to-developer mobile ad marketplace so that they can exchange ads inside their apps directly.
Mobile Platforms: iOS, Android
Campaign Types: Pay Per Install, CPC
Ad formats supported: Interstitial, Offerwall, Content Lock, and Video
Targeting: Custom
Key Markets: Global, United States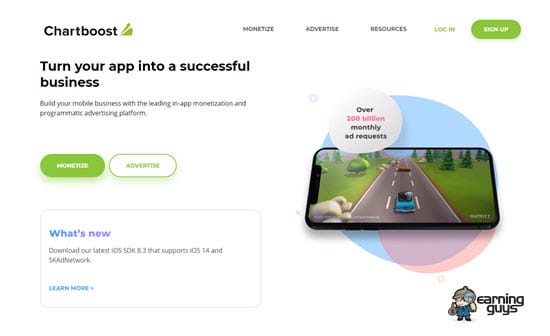 InMobi is recognized as a global mobile advertising platform. It specializes in delivering the best ROI for mobile marketers. It is better known as a mobile-first and mobile-only platform. It has been focused on pioneering the next generation of ad experiences, such as video advertising.
InMobi helps brands, performance marketers, and app publishers engage mobile users across different stages of their lifecycle. So, InMobi is engaged in converting each mobile moment into an opportunity, thereby driving engagement and revenue.
InMobi has been recognized by Fast Company as one of the most innovative companies in 2016. InMobi has redefined business models for the mobile ecosystem and has reached over 1.5 billion unique mobile devices worldwide.
Founded: 2007
Company Size: 501-1000 employees
Location: Singapore
Supported Mobile Platforms: iOS, Android, Web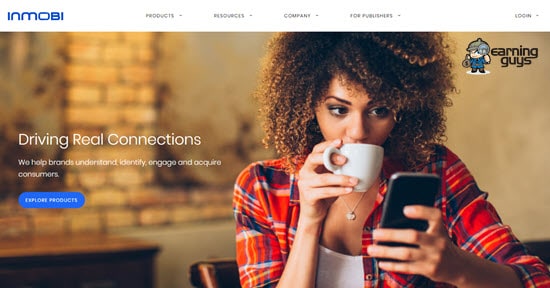 AppNext was founded in 2010 and is headquartered in London, U.K. It is a top-rated ad network that has specialized in mobile app video advertising.
AppNext has rendered high integration with developers, publishers, and mobile operators that partner with them to promote their newly launched app to generate the best results.
AppNext has over 60,000 developers and 650 million users from all over the world. They have built a marketplace facilitating the developers to link with the advertisers as well as publishers directly.
The advertisers and publishers partner with them for using the right techniques for monitoring the app and analyzing its performance.
AppNext values your efforts. So, you can partner with them to utilize your efforts in the best possible way. It's one of the best marketplaces that directly connects publishers and advertisers. They amplify their monetization and advertising efforts.
Founded: 2012
Company Size: 51-200 employees
Location: London, United Kingdom
Supported Mobile Platforms: iOS, Android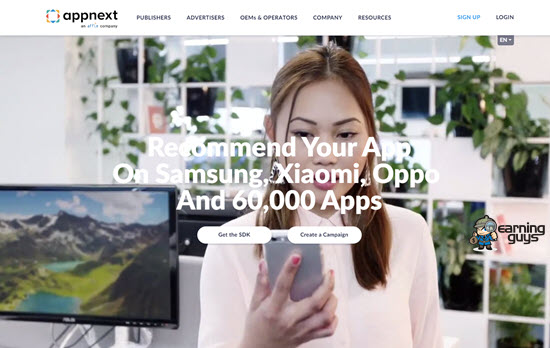 NativeX is part of Mobvista Company, which is a leading Pay Per Install Network. It was created in 2000 and is located in San Francisco, California, and St. Cloud, Minnesota.
NativeX leverages native ad technology for mobile apps and games. It promotes your campaigns at a global level, thereby increasing ROI.
They focus on providing publishers with successful native mobile app monetization using a wide range of both reward and non-reward rich media ads such as Lightning Play Video, Offerwalls, Banners, Interstitials as other innovative native formats.
NativeX has pioneered ineffective user acquisition strategies and ad performance solutions for growth.
With NativeX, you greatly expanded international reach as they always endeavour to deliver quality global campaigns.
It allows you to promote your app and improve your app's performance by delivering real active users all across the world to your app or website.
Founded: 2000
Company Size: 11-50 employees
Location: San Francisco, California
Supported Mobile Platforms: iOS, Android, HTML5, Unity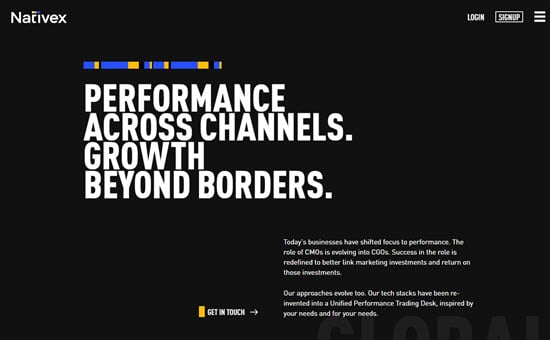 Fyber is a well-established and renowned mobile advertising technology company. It is focused on helping app developers, publishers, and advertisers execute smart ad monetization strategies across various connected devices by using a worldwide supply-side platform (SSP).
Fyber is serving approximately 150 million unique users per month. It has pioneered in offering mediation, user acquisition, exchange, analytics, and ad format solutions. Fyber was created in 2009 and is based in Berlin, Germany, and has an additional office in San Francisco, CA.
Applift is a leading global mobile ad technology company. It is focused on helping mobile app advertisers at every stage of the app marketing lifecycle.
Applift has come up with a unique programmatic platform known as DataLift 360. It allows app marketers to programmatically access all major mobile ad inventories worldwide.
It controls its campaigns through a single proprietary technology platform. It offers advanced data integration, and extended targeting, and has excellent audience management capabilities.
Applift has been headquartered in Berlin, Germany. It has nine other global locations with an employee strength of more than 200 people.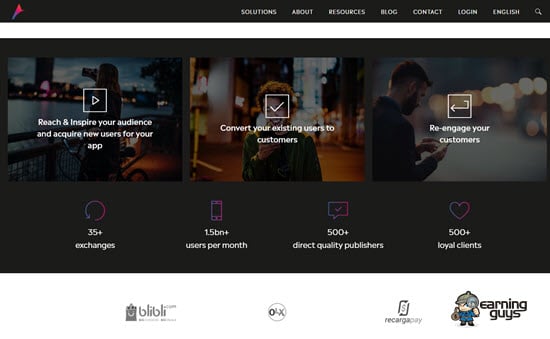 Leadbolt is another well-known high-performance mobile advertising platform that is focused on user acquisition and in-app monetization.
To help mobile advertisers reach and acquire loyal users at scale, they leverage direct relationships and dynamic ad-serving technologies.
Leadbolt employs AI and Machine Learning technologies to help advertisers with advanced targeting, thereby achieving greater user engagement with maximum ROI.
Mobile Platforms: iOS, Android, Windows Phone
Campaign Types: Pay Per Install, CPV, CPC, CPM
Supported Ad Formats: Interstitial, Video, Native
Targeting: Country, Region, Connection Type, Mobile Platform, OS version, Device, Category
Key Markets: USA, UK, Canada, Australia, Brazil, Russia, India, China, and Global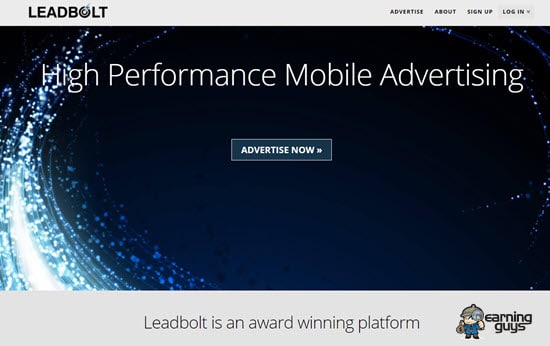 Unity Ads is a leading ad monetization solution for mobile games. It was founded in 2014 by Unity Technologies.
This mobile ad platform has been designed to advertise mobile games. It is focused on helping game developers to monetize their games more easily using video ads.
Unity Ads is also keenly delivering native video ads solution allowing game advertisers to get more out of game players by making in-app purchases more than the industry average of 3%.
Mobile Platforms: iOS, Android
Campaign Types: Pay Per Install, CPM
Supported Ad Formats: Interstitial, Banner Ads, Video
Targeting: Country, Device, Operating System, Connection
Key Markets: United States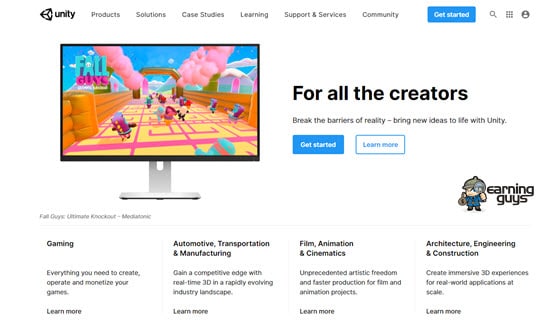 With this, we have reached the end of this post on the best Pay per Install Networks. We hope that this post proves beneficial to you. Thanks for visiting.