Affiliate Marketers need some tool to improve productivity, but sometimes they need tools which are essential for them. Some tools may not improve affiliate earning, but are must have, and such tool is CyberGhost VPN.
CyberGhost VPN is VPN client software which helps you connects with worldwide VPNs. If you are not aware of VPN, then here is the short description of VPN.
Virtual Private Network or VPN is a group of computer networks connected with shared public networks like Internet. VPN is used to connect your network or computer to remote datacenters which are not on the same local area network (LAN). VPN enables security and encryption to connections when your networks are connected to untrusted public network. It is like connecting to a network without disclosing your original network location like your IPs.
How VPN can Benefit – Suppose you are from Japan, and you want to surf a US site, but that site do not allow visitors from outside countries. With VPN, you can access that site by using a US VPN server, and it will show your IP as US IP. Now you can easily surf that website from Japan.
Another benefit can be that if you don't want to unveil your IP for security purpose like accessing your Bank account online, shopping online, or sharing files over the internet. By using VPN, you can hide your real IP and access internet from VPN server IP.
By this hackers or website you visit can't know your real location or IP.
This was little about VPN, but what about affiliates why they should use VPN?
Why Affiliates Need VPN?
As an affiliate, I promote offers for specific countries. Most affiliate networks give the option to preview offers landing page, but sometimes they don't. As I am from India, and if I promote offer for US, and if I want to check the landing page with my affiliate URL, it may not open, or it will divert to a different offer because that affiliate offer is just for US.
Some time I have to test self made landing pages and have to check that affiliate links are placed properly, but I can't access right offer page. To get rid of this problem I use VPN service.
With VPN service I can choose a country from where I want to visit a website, say I want to use US IP. Now my computer starts using US IP and now I can check my affiliate URL, and landing page URLs.
Affiliates can check their affiliate URLs with the help of VPN even they are not from targeted countries.
There are plenty of VPN service providers which offers software or IP for a particular country, but I prefer CyberGhost VPN.
Why CyberGhost VPN?
As an affiliate, I need to use VPN to check my affiliate links and offer pages. I don't have much to do with VPN. I was looking for some easy to use and affordable VPN service, and found CyberGhost VPN.
CyberGhost VPN came as free and paid service; I started with the free version. CyberGhost VPN is easy to install and easy to access VPN. CyberGhost VPN free version offer to access 14 countries from 22 servers and paid service offers 23 courtiers from 227 servers.
The free version covers most countries I target as affiliate, and paid service enhances my reach. Paid service comes as Premium, and Premium Plus. With Premium option, you can use CyberGhost VPN on one device and with Premium Plus you can use CyberGhost VPN on 5 devices at a time. Both these Premium services come at affordable price.
Not just that CyberGhost VPN connects you with 256-Bit Encryption, which helps you to surf securely. CyberGhost VPN encrypts your connection as you connect from CyberGhost, thus no-one can filter your personal data.
There are various features and advantages of CyberGhost VPN; I am giving you this option as an affiliate, so I am not going to talk more technical things here.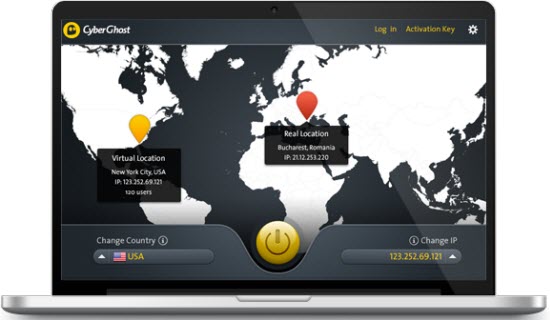 Main reason to use CyberGhost VPN is that it is FREE. If you want to access more countries, than you can opt for premium service which is affordable.
It is easy to use after opening CyberGhost VPN software you can select from which country you want to connect, and in one click it will connect you from that country. When you want to close the VPN connection just click stop button, and it will disconnect from VPN.
With the free version, there are some disadvantages like when you connect to VPN you have to wait for 60 seconds before connecting. You get little slow speed with the free version, and you will only get 14 countries to choose in the free version and sometimes free connection is not available for some countries in free version. (It's okay we are using it for free.)
So as an affiliate if you want to access your affiliate URL, which is for different country you need VPN service. CyberGhost VPN is best and free option to surf anonymously. You can choose different courtiers server to access offer for that country. This solves the problem for most of the affiliate.
Another point I forgot this can be useful too if you are spying on other affiliate. This will help you to check which offer they are promoting without revealing your real location.
You can also check adverting for different countries on Google, Facebook, or sites on which you are promoting your offer. This will help you to choose what's working on that websites or which offers are hot these days.
Discount Tip: CyberGhost Offer special discount offers time to time like you can get Premium service for just $20 per year which normally cost $69.99 per year or offers like 12+12 months free. Never miss such great offer premium service will give you more features, countries and speed at such low price.