Well, online marketing offers big rewards.
However, you need to structure your marketing campaigns in the right way so that your efforts yield results for you. And that's not all as you have to test, track and optimize your campaigns across various traffic sources. So it is not only necessary to run online campaigns, but it is vitally important to track their performance so that you can ultimately enhance your returns from your online marketing efforts.
Tracking is the most important part of CPA marketing. Knowing what is working best is important. Most of the time CPA marketers use different traffic sources to generate traffic. If affiliate offer is performing than it is more important to know which traffic source is working. This helps to optimize our campaigns and get most from the profitable campaign. But how one can track their CPA marketing affords and performing traffic source.
So what is the solution for you?
Well, the solution is simply perfect and comes to you in the form of competent CPA affiliate tracking software named as CPV Lab.
It is a software tool that you cannot simply afford to miss out. Moreover, CPV Lab is CPA affiliate tracking software par excellent. If I say you would be overly impressed, I would not be exaggerating in any way.
So, if you're running PPV Ads, Facebook Campaigns, CPA Marketing or Campaigns over Google, CPV Lab can solve your entire tracking issues related to such campaigns.
Describing CPV Lab, Its Usage and Benefits?
CPV Lab is a self hosted software suite which you need to install on your server. The installation process is relatively painless. The process is pretty much similar to installing any web based script. You initially need to upload it your server, then in the config file you need to enter your MySQL database, and then need to run the installer script.
This means that all the data is there on your servers and is also secured. You can make any of your domain as a tracking URL. Basically, CPV Lab helps to optimize and track PPV Campaigns. It provides an advanced analytics platform and comes with a powerful reporting functionality. It's thoroughly lightweight and quick in performance. The interface design is simple and easy to use without any flashy elements.
It is easy to set your campaign using CPV Lab. You simply have to paste your affiliate link or your landing page URL and set up other things, which you want, to rotate. Well, you get different advanced campaign types but primarily you can set up either Landing Page Campaigns as well as Direct Link Campaigns. At one, time, you can run different direct link campaigns by using the rotation feature.
So if you are running two direct link campaigns, users get to see these campaigns alternatively as they have been set on a rotation basis. Likewise, you can set up one landing page, or you can choose to rotate several landing pages. The multiple offers on the backend can be rotated with respect to each of your landing pages.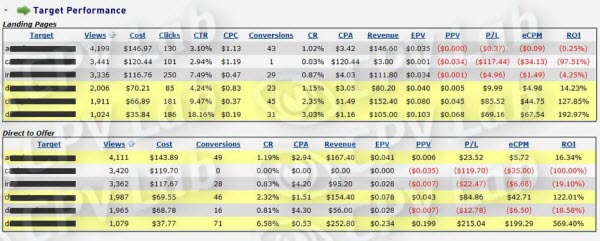 As one of the marketing strategies, you can split test direct link offers against landing pages. You can also apply weightage for each of your split test campaigns. For example, you can set the weightage factor as 10% of the total traffic for testing one of your campaigns and the other can be for 90% of the traffic. So with CPV Lab you can split test run different campaigns with various percentage of traffic visibility.
Once the campaign is setup on CPVLab, you get a link which you need to put on your campaign in your traffic source. One of the amazing features of CPVLab is the fact that tracking URL is not changed at any time. The offers can be changed landing pages can be altered or removed, and you can change rotation weights, and can implement other changes without having to get re-approved by the Ad Network/traffic source.
All the Stats and Metrics are highly organized which help you in increasing your ROI. As soon as you have enough traffic, you can start analyzing the stats with CPVLab. It has been highly optimized to show you in-depth details about how your campaigns are performing. Analyzing these results you can further improve your campaigns. You can set different criteria to mark your campaigns as a winner or loser based on the ROI.
So, suppose a one traffic source has 25% ROI, you can do the settings so that CPVLab marks it as a winner. Actually the options are limitless. If you ask me what is the single biggest benefit of using CPV Lab, I would definitely say it has the capability to track any type of traffic source. Then you get perfect control over the elements which you would like to track. You can have a landing page variations and can do a split test, as well. CPA Lab is simply flexible indeed. You can drill down to find variables which are responsible for your profit or loss.
CPVLab supports about all traffic source, and any CPA affiliate network.
CPV Lab Pricing
CPV Lab cost onetime fee of $297 which include 1 year of free update. If you need updates after 1st year, you have to pay $147 per year. Beginners in affiliate marketing may think that price is too high, but it's not true when you compare it with how much you can lose without proper tracking. There are many hosted solution which charge on monthly basis which can cost you a lot compare to CPV Lab.
The bottom line is that CPA Lab is simply amazing. It is a must if you are doing CPA Marketing. CPV Lab will help you in optimizing your campaigns and improves your productivity. All-in-all, save your time, money, effort with CPV Lab testing, tracking, and optimizing software. So improve your ROI on campaigns across various traffic sources with full control and unlimited flexibility.
Without proper tracking in affiliate marketing one can lose lot of money.