Google is perhaps the biggest name in the world of web. It has surpassed Apple to become the most valuable company in the world with worth more than $500bn. You must be wondering how Google makes money when its core service – search – is free for users.
Many people still don't know or not bothered to know about the source of Google's income.
It's a multinational company so it must be earning a lot, but the question arises from where Google earns?
Does it manufactures any products or develop software to make money? The answer is big no.
Well, it is the core focus of this post – How Google makes money?
Learn How Google Makes Money
Ever since its inception in 1998, Google has seen an enormous growth. It has now become a global technology leader. In 2015 alone, Google's revenue touched the figure of $75bn.
Everyone knows that Google is the best search engine. Along with its search engine website, Google also has many other sites like Orkut, YouTube, Gmail, Google Plus, and many others. Even
Android, the most emerging operating system among the Smartphone, also belongs to Google.
You well might be aware that Google offers its products for free to the online users.
However, you might not be aware that Google primarily earns by selling online advertising over its sites and its network member sites.
According to Google 2015 Annual Report, Google's total advertising revenues for 2015 stood at a whopping figure of $67.4bn of which $52.4bn came from adverts on Google websites and $15bn from adverts served by Google on its network member sites.
Google also generates a small percentage of revenue from its enterprise products, consumer content platforms, commerce, and hardware products.
There's a big list of Google's offerings.
Let us see some of its biggest offerings for online users, Advertisers, and Enterprises:
Google Web Search: It is used by users to find information on the web. It can be accessed by visiting Google.com.
Gmail: It's a free webmail service offered by Google for sending and receiving emails.
Google Chrome: It is a web browser which allows users to surf the web.
Google Docs: It enables users to create, edit, and view documents, spreadsheets, and presentations using a browser.
Android: It is a free, open-source mobile operating system for Smartphones.
Google Play: It is a digital entertainment store.
YouTube: It is a video sharing site.
Google+: It is a social networking site.
Blogger: It is a web-based publishing tool.
Consumer Hardware Products: It includes products such as Nexus Smartphones & Tablets, Chrome OS Notebooks, and Chromecast.
Google AdWords: AdWords is an auction-based advertising program. It delivers ads based on keywords used by users. Advertisers are required to bid on keywords. These keywords trigger the display of their ads. Advertisers can choose to display ads on Google web sites or Google Network Sites. When users click on those ads, Google receives money from advertisers.

3 Step Guide to Get Cheap Clicks on Google AdWords
Google Adsense: It helps Google Network Sites (Publishers) to monetize their content. By joining Google Adsense Program, publishers can deliver relevant AdWords Ads on their web page. The revenue generated is shared between member sites and Google.
Other offerings include Google Drive, Google Maps, Google Calendar, Google Cloud Platform, etc.
Google Earns from Advertisements
As we have seen above, the main source of income of Google is from the advertisements which run on almost every Google's site.
Whenever you search for anything on the Google, you must have seen ads at the top of the search results marked as "Ad"
The top results may not be organic search results but rather are the advertisements which run on Google search engine. Please see if it is marked as "Ad" or not.
Not only at the top but also on the bottom of the search results there are advertisements which keep displaying on the end of the search result page.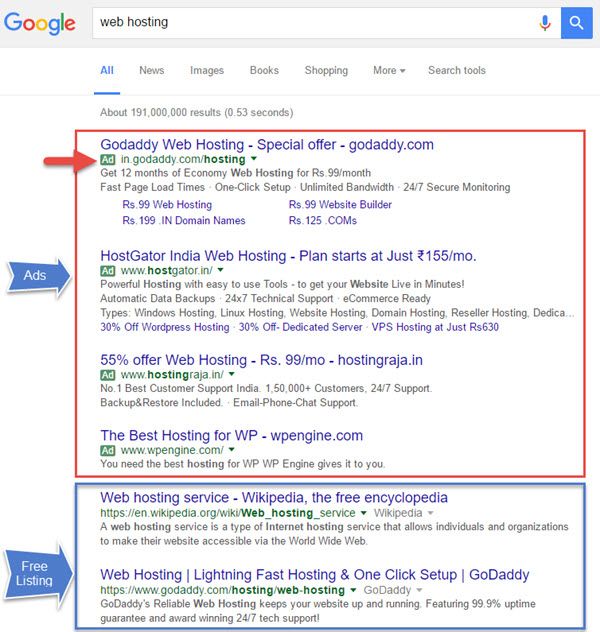 How the Advertisements Make Google Earn?
You must be wondering how these ads make Google earn?
The simple concept behind this is whenever a user clicks on the ad links, Google earns.
Each time a click on any of the ads makes Google earn money.
How much it earns depend on the advertisers.
The ads shown on search results are based on a bidding system. As higher amount, advertiser bids its ads shown on the top.
There is a minimum bid value for the advertisement for a particular keyword (Search type) and advertiser's bids for a higher price and the one who bids the maximum price gets the top rank on
the ads list.
The amount that is given by the advertiser to Google depends on the number of clicks and cost per click made on for that advertisement. The price per click may vary from $0.01 to even $5 which depends solely on the ad keyword and bidders.
The priorities of the listing of the ads also depend on the number of clicks made on the ads. More number of clicks, higher is the priority.
To advertise on Google, you have to use a program created by Google called Google AdWords. Anyone can create an account on AdWords and set up its payment method and can start advertising on Google.
Google earns the maximum revenue from advertisements on its site Google.com while it also earns from its other sites like Gmail, Orkut, and YouTube, etc. by ads clicks.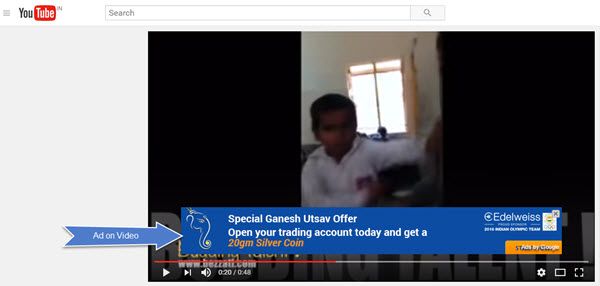 Learn more: Ultimate Guide to YouTube Monetisation
Besides earning from ads on Google's sites, there is another way Google shows advertiser's ad on other websites this is revenue sharing concept named as Google Adsense.
Many times an advertiser wants to advertise on other sites also besides Google.
Google have given the option to website owners as AdSense where website owner can show Google ads on their website.
So, when the publisher of a website sets the ad on his page and the viewer clicks on the ad Google shares the revenue with the publisher. Google do not disclose the percentage of revenue sharing with publishers. The publisher may get sharing from 30% to 60% which is not disclosed to publishers. Advertisers give revenue to Google and Google, in turn, gives revenue to the publishers.
Other Ways Google Makes Money
Although advertising accounts for a large chunk of the money Google is making, it's not the only revenue resource for Google.
Now, Google has diverse streams of revenue resources.
Its "other revenues" resources are steadily contributing to the overall revenue that Google makes online. It's now making money on different products and services.
Here, is a list of Google's other revenue resources.
Google Play Store
Google Play Store has rapidly become a big revenue resource for Google. It's largely attributed to the massive market share held by Android. Google Play Store showcases free as well as paid apps and games. Whenever a user, buys a paid game or application from Google Play Store, Google keeps a percentage of the money, and the rest is paid to its developer.
In 2014 alone, Google paid out nearly $5 billion to app developers. So, you can imagine how much money Google is earning from Google Play Store.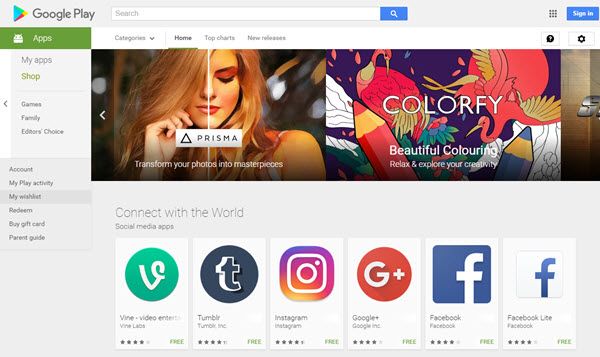 Google Apps
Google offers the whole suite of web-based tools. It includes a version for the enterprise known as Google Apps for Work, and other for schools known as Google Apps for Education. Google claims that more than five million business use Google Apps. Google Apps for Education are also being used by millions of users including top universities of the world. Moreover, It charges on a per user basis.
Google Cloud Platform
It includes a suite of infrastructure, cloud services, query tools, database, and storage options to help users build their online service. Google charges users by the specific tools and services they use. It has been estimated that revenue contributed by Google Cloud Platform is around $1.6bn.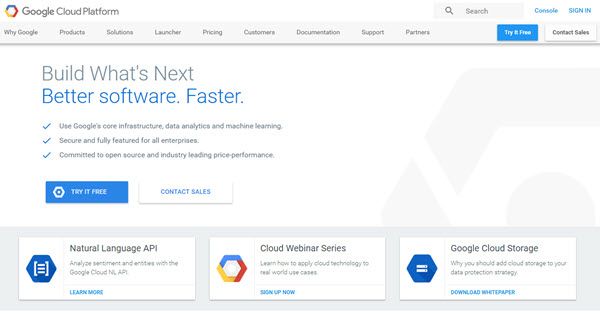 Google Fiber
Google Fiber is a fiber optic broadband service by Google. It is predicted that this service has great potential in making the company richer by billions. It has currently been rolled out in Kansas, Austin, Texas, Provo, and Utah, US. The Internet service starts at $70 a month. Users can also get the service with television channels for around $120 a month.
Concluding
So, in spite of any major tangible products, Google has still managed to become one of the biggest companies in the world. The majority of Google's revenue comes from advertisement. However, Google has also diversified to include other big revenue generating streams. Google is the largest search engine and one of the biggest multi-national companies in the world. I hope this article clears all your doubt about How Google Makes Money?
Hats off to Google!